Founded in 2017, XIGE Estate is one of the younger and yet most successful Chinese wineries, equipped with a first-rate technical team and a winery and grounds that to define as spectacular is probably shortchanging it. To be crystal-clear, I find that the majority of wineries were money has been lavished on the buildings make mostly average wines at best, rarely hitting any particular world-class highs. If you've tasted in some of Burgundy's or Barolo's best estates, you know that many who rate among the best of the bunch will have you tasting in cellars that are anything but museum-worthy. But XIGE is one of those rare places were the beauty of the physical structure matches the beauty of the wines made there.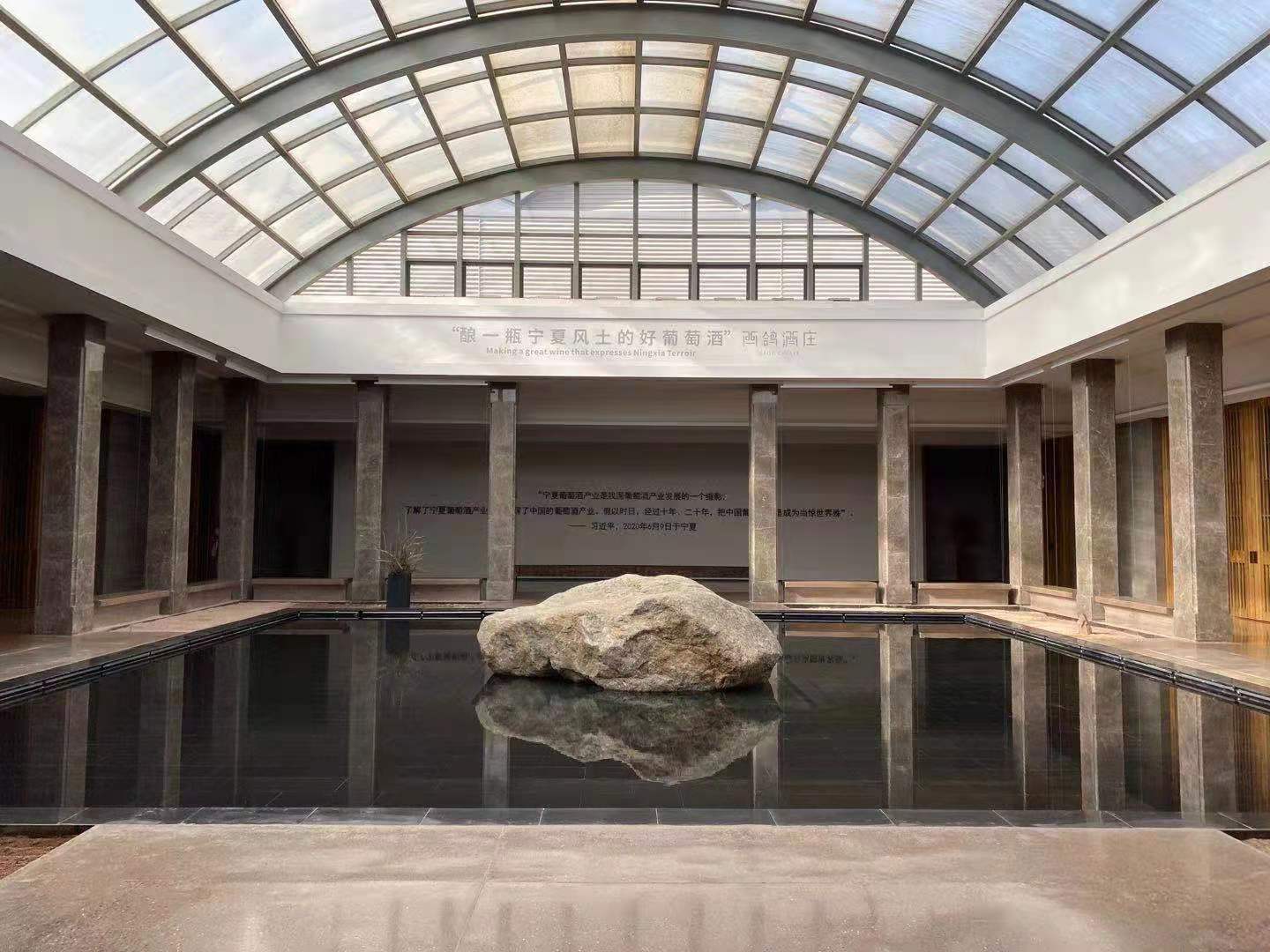 Clearly, XIGE Estate is not comparable to anything Romain Lignier or the sisters (of Lafleur) used to pull out of their dim (or bordering on the dingy) cellars: it is a huge operation that has more in common with Penfold's than it does with anything resembling, for example, the Côte d'Or's or the Langhe's family-run operations. But like those smaller estates, it has an eye for quality and for terroir, a truly commendable approach to their winemaking that is more often than not the coin of wineries pumping out millions of cases of wine a year who are more interested in sourcing millions of grapes, from anywhere, with which to make millions of bottles of wines. Not so at XIGE Estate, where they do make millions of bottles/year of wine (currently about 6 Millions bottles annually as some of the new vines planted recently haven't bear fruit yet) but they are also extremely proud of their origin, their somewhereness, their terroir. And it shows when you talk to them and when you taste (at least some) of their wines. Speaking of numbers, XIGE Estate farms about 2100 hectares that are all actually planted to vines (the estate also grows thousands of trees), with about twenty different grape varieties. They don't yet make wine from all of them as the study period is necessarily long in winemaking, but there are a number of very promising varieties the wines of which will be coming out shortly. The winery has many different brands selling at different price points, so that there are about twenty labels (SKUs) in total (bit some haven't been released for sale yet: for example the "Terroir wines in cans"). For the moment, the winery is very much focused on two main brands (Xige N & Jade Dove) that offer about twelve different labels.
The average age of the vines varies: about 1000 ha are of 25-26 years old vines (planted in 1997-1998); 1100 hectares are of only 1-6 years old vines (planted between 2017 and 2022). The oldest vineyards are the former, mainly Cabernet Sauvignon, Cabernet Gernischt, Chardonnay, Pinot Noir and few other varieties in very small proportion. As mentioned earlier, terroir is important at Xige. Unlike at other wineries were trying to figure out the exact sub-denomination and /or region is not especially easy with often confusing statements made, not so at XIGE. For XIGE, it is important to promote the "appellation" they are situated in: in fact labels carry the name "Dove Mountain" because it is the key wine region within the Qingtongxia sub-region of the Ningxia Eastern Helan Mountains wine appellation (others examples of Ningxia sub-regions are Yongning and Yinchuan, though many at other wineries will tell you that they are all Yinchuan, which makes little sense). All the XIGE wines back labels use the logo of the Ningxia Helan Mountains Chinese Geographical Indication as well as that of Dove mountain. The lake on Xige Estate property, located on the western side of the Dove Mountain, is called West Dove Lake. Xige Estate itself is named after this locality to show the importance and the great respect the winery holds terroir in. "Xi" in Chinese means "West", and "Ge" means "Dove", but in order to assume and promote their Chinese identity, they chose not to translate the name of the winery in English and use the Pinyin alphabetic Chinese wording.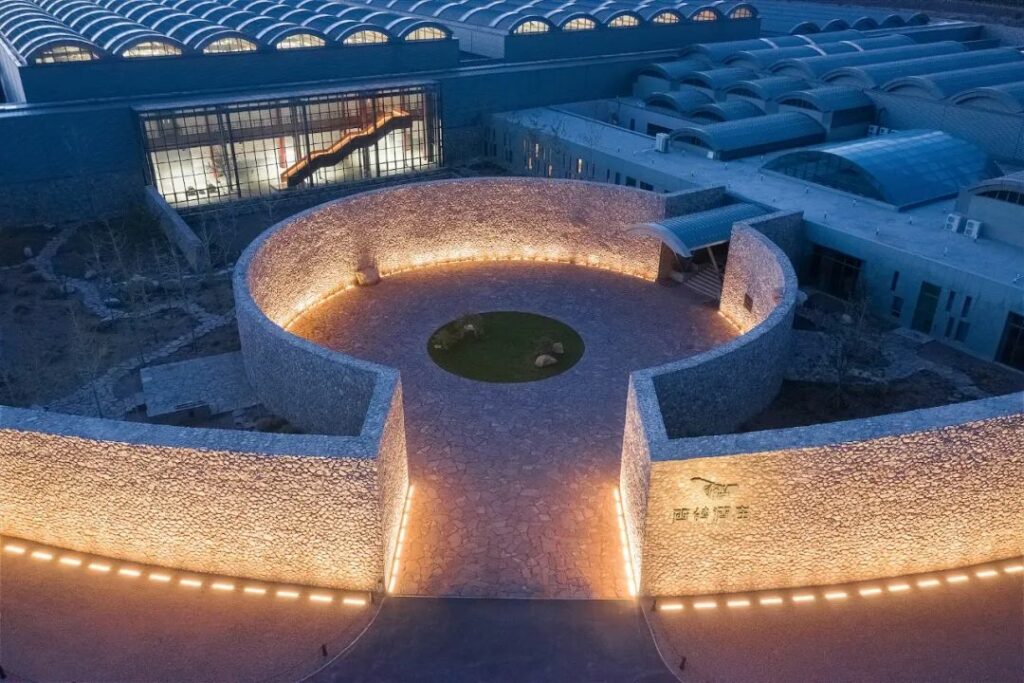 Actually, Dove Mountain's role in creating a specific wine terroir is more cultural than geographical. In fact, it is not really a mountain: it's more of a little slope such that the geographical/topographical role in the local terroir is forcibly limited. The Dove Mountain is more known locally for its historical heritage with an archeological site dating back to 12,000 years (more or less at the transition time from the Paleolithic Age to the Neolithic age). Interestingly, much as it has been elsewhere in the world, cultural relics unearthed on Dove Mountain hint at the transformation of the local human society from a hunting and gathering economy to an agricultural one.
However, the local terroir in the area of the Dove Mountain can be easily characterized by the presence of a penetrating wind (because the winery and vineyards are situated at the foothills of the lowest part of the Helan Mountains (further to the south the land is mostly a desert, given that it lacks the protection of the Helan Mountains), which, clearly, helps to lower the risk of pests and diseases, not to mention help keep cooler temperatures during the day and preserving a good acidity and enough freshness in the wines. The soil is mainly composed of sand and small to mid-sized gravels on the surface (importantly, these are much smaller and fewer in number than those found in the northern part of the Helan Mountains Wine Region, something that is easily visible to the naked eye) with copious red clay deeper below. The latter is an important feature given that Ningxia is not blessed with large amounts of rainfall and so such a soil allows good water retention. Recently, the estate has planted a new area in the Dove Mountain (in 2021 and 2022), closer to the foothills of the Helan Mountains in Qingtongxia where there are more slopes than in the winery's oldest vineyard area, such that there are many different kinds of micro- and meso-terroirs with which to work and hopefully express such differences in the estate wines one day.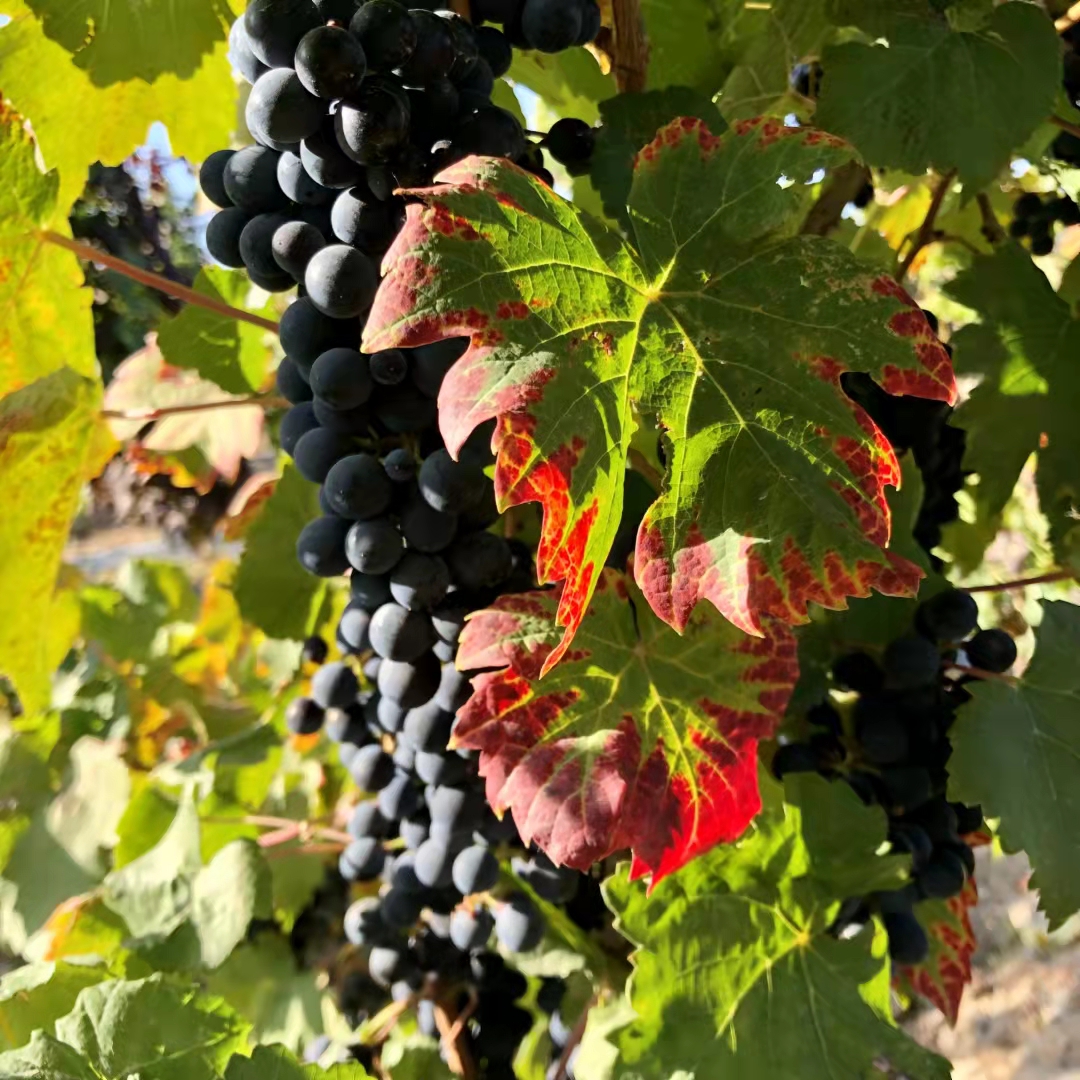 XIGE Estate is one of the Chinese wineries that is most identified with the Cabernet Gernischt variety, increasingly referred to as Gernischt only. While Gernischt has been identified with Carmenère by some researchers, others have identified it with Cabernet Franc and despite the often comically one-sided reporting that is done, there is no clear-cut consensus on the matter. Furthermore, the oldest Gernischt wines are very old indeed (the variety was first planted in China at the end of the 1800s); and so, the grapevine has adapted over the centuries to a new habitat. This means that it has mutated time and again in the process such that today Gernischt has to be viewed, at the very least, as a Chinese biotype of one of those two grapes, if not a distinct variety altogether. (For more information on Gernischt, I refer you to my long article on this grape in TerroirSense Wine Review: Cabernet Gernischt: A Chinese grape variety and wine, Sept. 24, 2021.) In any case, Gernsicht is in fact their star variety, and this for a variety of reasons. Especially in Ningxia and thanks to their relatively old vines  of it that offer more concentrated flavors and more complex aromas (not to mention finer tannins and greater depth), XIGE has long established itself as a leader in quality Gernsicht wine production in China. Thanks to the Helan Mountains high number of sunshine hours, and its warm and dry climate, Gernischt can reach good maturity and express all its flavors without any pyrazinic notes typical of unripe Carmenet family members (beware: Carmenet, not "Cabernet", as the name of the family of the Cabernets, Merlot and other related grapes is "Carmenet") varieties. After taking over the old vines in 2017, the winery spent years changing the training system of most of the varieties growing there (and especially so of the Gernischt) from the traditional Chinese Fan to the Crawled Cordon Training System so as to ensure the variety can, at least potentially, reach perfect maturity through the entire vineyard in most years, while at the same time controlling its yields. Clearly, given Ningxia's hot climate, canopy-management is all-important, as is the picking date of the grapes (at XIGE Gernischt is harvested much later that people used to before they took over the old vines in this part of the region: previously, all the attention was lavished on Cabernet Sauvignon which fetched higher prices for the farmers) to ensure a slow maturing process while reaching a good phenolic ripeness. To this effect, the specific terroir of the Dove Mountain region helps greatly, given it offers cooler conditions with more sandy soil and smaller gravels that allows good water/rain penetration and fresher temperatures. The Dove Mountain area is also known for its cool wind that helps keep more freshness and acidity in the wine and allows a slow maturing process so phenolic ripeness can catch up with sugar ripeness which is especially important for Gernischt. Furtehrmore, at XIGE they believe (not at all unreasonably I may add) that Chinese fine wine should have its own Chinese characteristics and should bear an "Eastern flavor" to be representative of its country and region of production. No other grape variety in China currently can offer both high quality together with a distinctive "Eastern flavor" (such as for example Chinese medicinal herbs flavors) the way Cabernet Gernischt does. Add that Gernischt is somewhat of a novelty internationally where people are understandably tired of all the usual Cabernet Sauvignon, Merlot and Chardonnay wines available under almost every rock, and you understand why Gernischt holds much appeal.
The wines in this tasting
I retasted these wines in the TasteSpirit office in June 2023, after having already tasted them in May 2023. You can see my other, previous tasting notes and scores, on these wines in the TerroirSense Wine Review: China Wine Summit 2023:Tasting notes and scores of the Chinese medal-winning wines; July 3, 2023) though for the most part the scores are the same.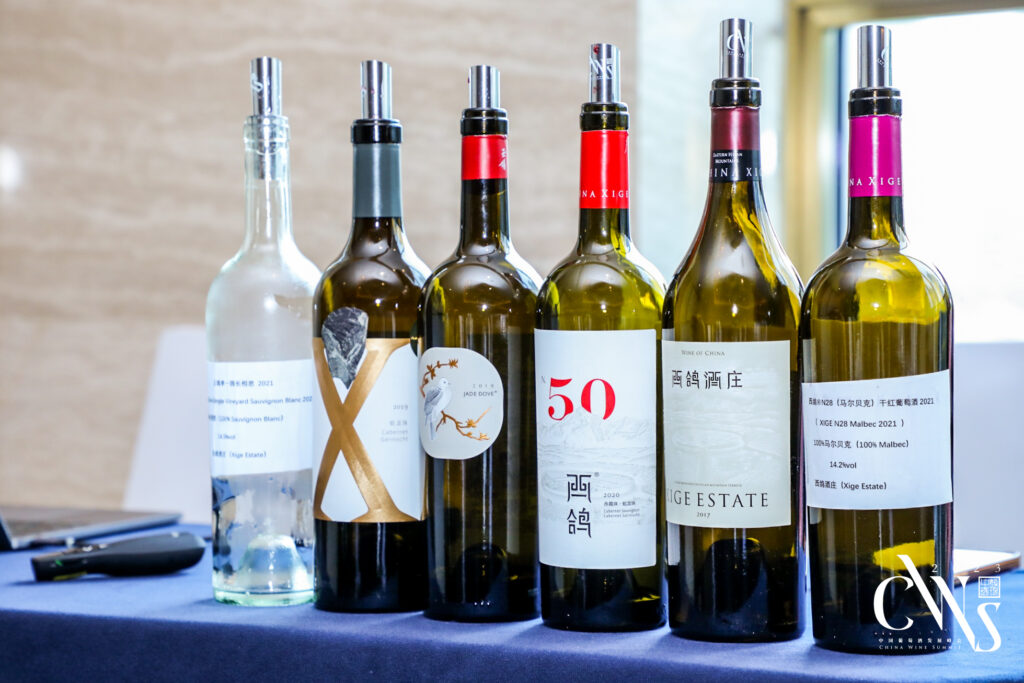 XIGE Estate 2021 Sauvignon Blanc Jade Dove Single Vineyard Qingtongxia Ningxia                90
Straw-yellow. Classic if slightly simple Sauvignon Blanc with the usual array of aromas and flavours typical of this variety (gooseberries, lime, green fig) but without any of the excessive pungency of some examples of this variety. Fresh and mellow on the long bright finish. Drinking window: 2023-2025.
XIGE Estate 2021 Chardonnay N28 Qingtongxia Ningxia                    93
Golden straw yellow. Vanillin and spices on the currently oak-dominated nose, but this will resolve with proper cellaring. In the mouth, this is mellow and concentrated with very pretty flavours of tropical fruit (mango, banana) and a wisp of minerality. The aftertaste is long suave and rich. This struck me as being less warm on the finish than previously. Well done. Drinking window: 2024-2028.
XIGE Estate 2020 Marselan Jade Dove Single Vineyard Qingtongxia Ningxia                    92
Bright red ruby. Spicy nuances of cinnamon, nutmeg, and Oriental wood complicate red and dark fruit aromas and flavours. Still fairly closed and tight, I would cellar this for another four years or so for maximum enjoyment. Drinking window: 2025-2032.
XIGE Estate 2021 Malbec N28 Qingtongxia Ningxia                             92
Deep purple. Enticing aromas blackberry, lily, dried rose and violet are penetrating and pure. Then similar flavours at the aromas, with silky tannins and very good freshness despite the Ningxia region's heat. The finish is long and ripe, featuring a delicately smoky nuance. I especially like this wine's fruit/acid/tannin balance, and at this price it's areal good buy. Well done. Drinking window: 2024-2029.
XIGE Estate 2019 Cabernet Gernischt Jade Dove Single Vineyard Qingtongxia Ningxia                    94
Bright red ruby. Concentrated, complex and precise aromas and flavours of medicinal herbs, red fruit, blueberries and sweet spices. Long and precise on the creamy,, noble finish that features repeating notes of strawberry. Drinking window: 2024-2032.
XIGE Estate 2020 Xige N50 Qingtongxia Ningxia                        92
Fully saturated inky-ruby. Deep brooding aroams and flavours of dark berries, tar, cedar and herbs. Ripe and smooth, but with its flavours nicely framed by smooth tannins, this lingers impressively on the long, perfumed back end that really hints at the Gernischt presence. An 85% Cabernet Sauvignon and 15% Cabernet Gernischt blend.  Drinking window: 2025-2030.