That's right: "wines of the Champagne region", and not just "Champagne", because this world-famous wine production area makes more than just bubblies. At the UI Art Centre, a well-known museum in the Chinese city of Suzhou, a recent art show combined music, food and wines to provide a feast for the senses. A recently opened a large-scale immersive light and shadow exhibition on the life of Paul Cézanne provided the spark. The art show devoted to Cézanne, the "father of modern art", attempts to recreate the nineteenth century Provence of Southern France through digital technology and has been highly successful, such that the show's run will end only December 4.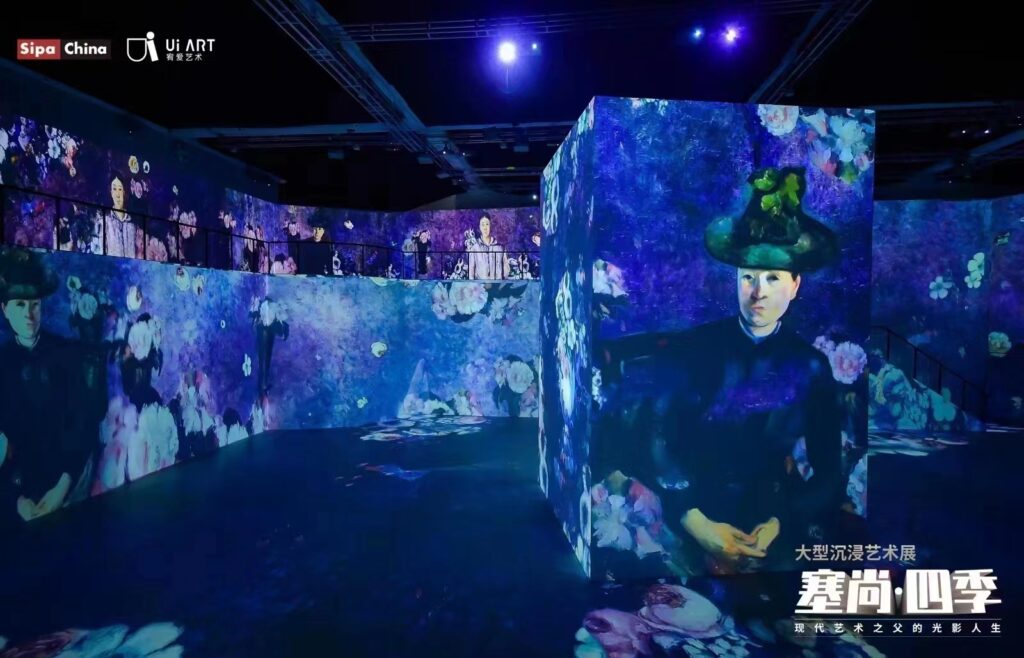 Cézanne, known as the "father of modern art", was one of the greatest painters at the turning point of the era when classicism was transformed into modernism, and is regarded as one of the "three greats of post-impressionist painting", along with Van Gogh and Gauguin. He created the paradigm for the abstract and representational style of modern art and influenced the formation of the Fauvists, Cubists and Abstractionists, as well as many famous masters including Matisse, Picasso and epigons of modern art in general.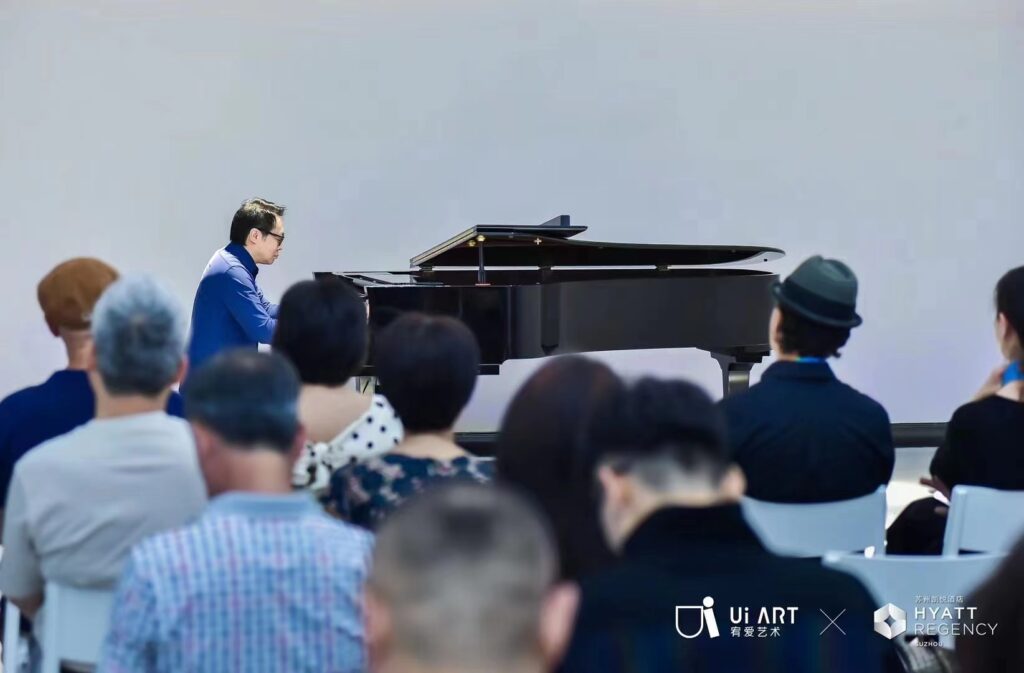 The exhibition is a joint production of Sipa China and the Guardian-Yu Ai Art Centre. Sipa Press is generally regarded as one of the world's top three photo agencies; it was founded in 1969, and is based in Paris. In 2013, Sipa Press started its full-scale business in mainland China. The Guardian Ui-ART Center, located on the shores of Yangcheng Lake in Suzhou, is the first international art centre with "life" as its core theme.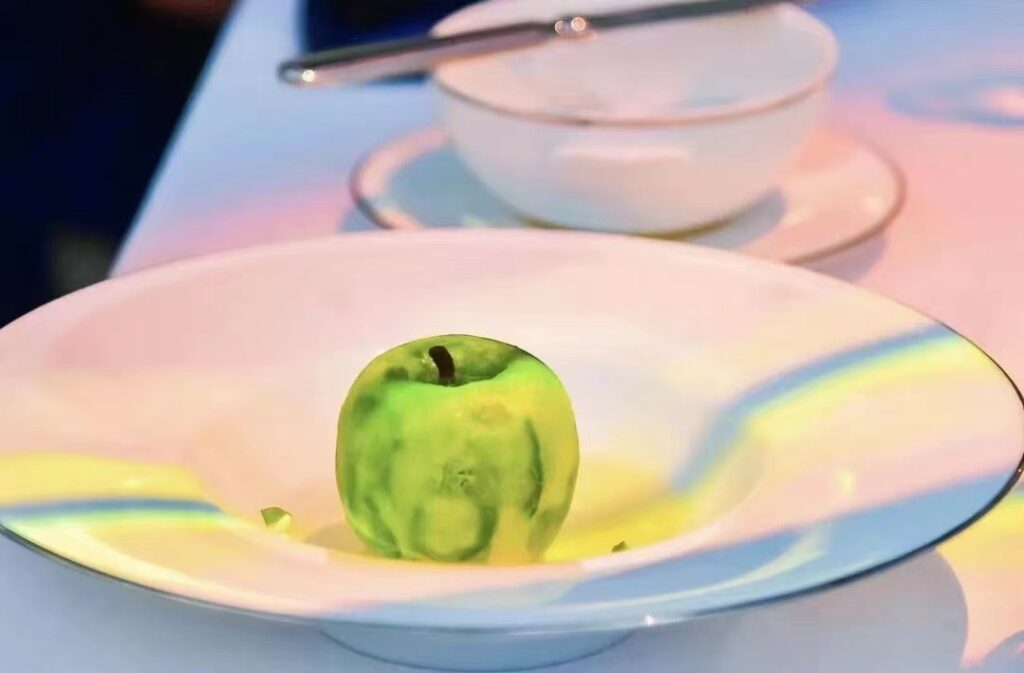 Cézanne – The Four Seasons" uses Cézanne's early works from the "Four Seasons" series as an index, presenting over one hundred and fifty of Cézanne's wonderful masterpieces that, through light and shadow technology, help tell the story of Cézanne's art and his life. In The Four Seasons series, Cézanne uses early delicate brushwork and romantic colours to depict female figures suggesting the four seasons of winter, spring, summer and autumn. The show therefore acts as an index in the sense that it links together the four stages of Cézanne's life, exploring his path from dormancy to recovery, growth, and abundance in his artistic life.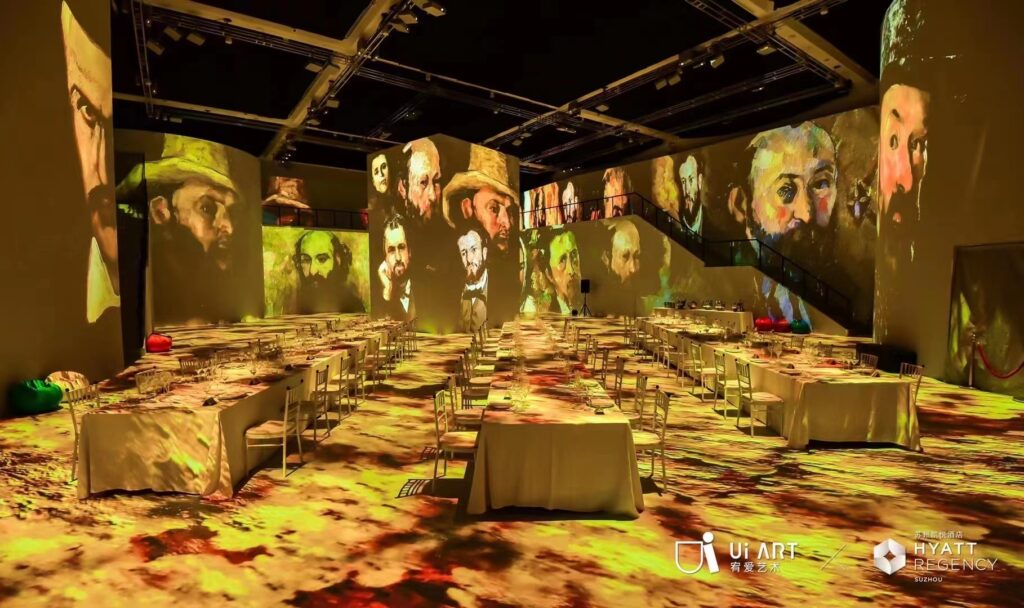 "With one apple, I could turn the whole of Paris upside down." Entering Hall 1, one is greeted by a giant colourful apple suspended in the air, with over fifty of Cézanne's classic masterpieces of secondary creation changing on a 3D display. With headphones on, visitors can enjoy elegant music while admiring the special artworks. The exhibition covers an area of over 2,000 square meters, with a single immersive space of 882 square meters; a floor height of 9 meters; a 5-meter-high 270-degree grandstand; more than 100 Panasonic HD projectors with the largest single projection area in China; and 5.1 cinema-grade surround sound for a truly impressive audio-visual effect. A recent private invitation to the show also featured a concert and a Champagne dinner. The concert, by way of a special invitation to the famous pianist and educator Professor Du Taihang (Professor and Doctor of the Piano Department of the Central Conservatory of Music) was a great success and it allowed guests to gaz eat the artwork while connecting to music. Last but not least, the Champagne dinner allowed guests to further enter the world of the senses already enlivened by the Cézanne Seasons light show and the music concert by broaching it with great food and champagne in hand. The event's dinner was overseen by Hyatt Regency Suzhou's Executive Chef Mr. Wang Eibing and Hyatt Regency Suzhou's Chef de Cuisine Mr. Yang Yuming. Given the evening's theme, you might say the pair presented an immersive dinner for guests.
The wines in this report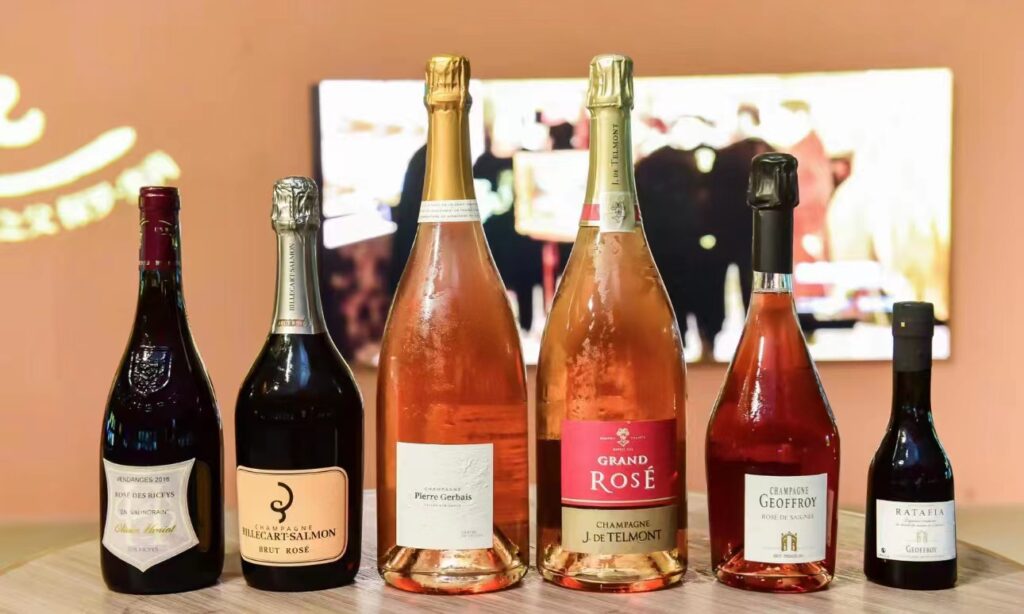 De Telmont NV Champagne Grand Rosé Brut   91
Pale pink in colour, with fine and persistent bubbles. On the nose it has aromas of fresh citrus fruits such as grapefruit and lemon, as well as fresh red fruits like raspberries and cherries. Juicy and lively, it boasts flavours similar to the aromas and a gently piercing quality. Closes long and quite fruity. Easy to drink and suitable as an aperitif. Made by the blending method, this Champagne is 85% Chardonnay to which 15% Pinot Noir and Pinot Meunier still red wine is added. It was fermented in stainless steel tanks and aged in the bottle for 2-3 years with a dosage (sugar supplement) of 8 g/L. (Tasted from magnum.) Drinking window: 2023-2027.
Pierre Gerbais NV Grains de Celles Rosé                    91
Have you ever tasted a Rosé Champagne made with Pinot Blanc? Probably not, for it's really not that common an occurrence. Light pink colour with a persistent stream of small bubbles. Strawberry, raspberry aromas on the enticing nose. Then more raspberry in the mouth, with the red berry flavours complicated by a hint of chalky minerality. This closes long and penetrating and is really irresistible. Perfect for parties and summer sipping! The grapes are sourced from the excellent vineyards of the village of Celles-sur-Ource; the wine is a blend of 50% Pinot Noir with 25% Pinot Blanc and 25% Chardonnay. Malolactic fermentation and ageing take place in stainless steel tanks. Drinking window: 2023-2027.
Geoffroy NV Rosé de Saignée Premier Cru Brut          92
Bright ruby red. Very intense aromas and flavours of rose and raspberry, complemented by sweet wild strawberry and pomegranate, with a rich mineral nuance adding further complexity and charm. The aftertaste is long, suave and luscious. The skin contact production method gives this Champagne a slightly "chewy" texture, which makes it ideal for pairing with fatty meats such as roast pork and Peking duck. Drinking window: 2023-2028.
Billecart-Salmon NV Rosé Brut  `                      95
Beautiful salmon pink colour with a strong bead of lingering fine bubbles. Red fruit aromas immediately soar out of the glass, but with aeration the aromas gradually evolve, becoming deeper, hinting at exotic tropical fruits, herbs and spices. Then rich and round in the mouth, but with very good freshness leaving an impression of crispness to its red berry, cinnamon and candied violet flavours. Finishes long and complex, while boasting noteworthy elegance and balance. Billecart-Salmon Rosé is, by many expert accounts, one of the two or at no worse three best NV Rosé Champagnes in the world and you won't get any argument from me. This is yet another spectacular bottling for this world-famous pink bubbly. Drinking window: 2023-2028.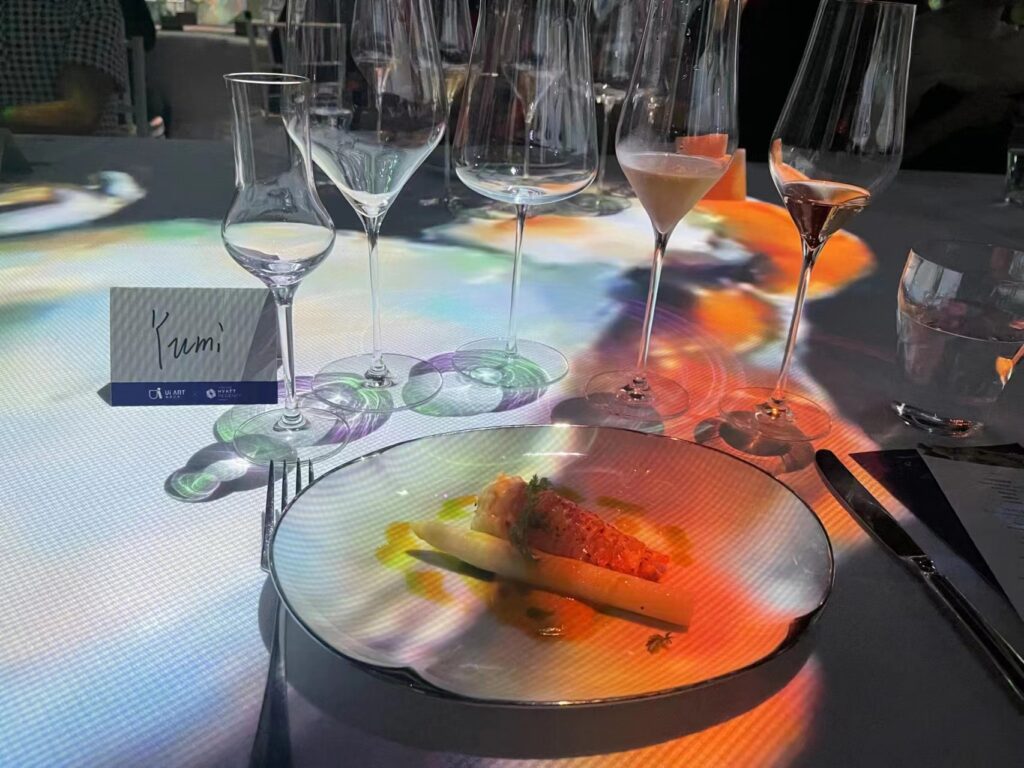 Olivier Horiot 2016 Rosé des Riceys En Valingrain    93
Bright pink-red. Aromas and flavours of red cherry, raspberry and dried rose, with a long finish of licorice and spice, and hints of smoke. This pretty pink wine boasts sneaky complexity and is very good value for the money. 100% Pinot Noir Dry still wine from the En Valingrain parcel, bottled unfiltered and aged two years. Rosé des Riceys refers to the rosé wines from the village of Les Riceys on the southern slopes of the Champagne region, which is not only the largest village in Champagne in terms of vineyard area (866 hectares), but is also the only place in the entire region with three AOCs (Champagne, Coteaux Champenois, and Rosé des Riceys). Rosé des Riceys requires far more ripe fruit than Champagne and some of the south-facing slopes of the town of Les Riceys provide the perfect conditions. Although located on the same Kimmeridgien limestone belt as the famous Chablis appellation, Les Riceys has more clay in the soil, giving Pinot Noir richer fruit notes and fuller body, making the area ideal for the production of pink wines. Drinking window: 2023-2025.
Geoffroy NV Ratafia de Champagne              95
Brick-red amber colour. Cativatuing aromas of red cherries macerated in alcohol, sweet spices and blackberry coulis. The wine is round and soft, with ripe peach, fig and almond flavours and a refreshing acidity with a slightly sweet, long finish. The sweet fortified wine is made with the addition of a house-made 60 degree Champagne distillate and aged in oak barrels for eight months. Ratafia has been made in Champagne since the 13th century, when the juice was fortified with alcohol to stop it fermenting in order to keep it fresh and sweet. Though Ratafia is not commonly seen on wine lists and even in wine shops outside of France, it is a delicious drink and is part of the history of winemaking in Champagne. Geoffroy Champagne was founded in the 1950s by Roger Geoffroy, whose family has been making wine in the village of Cumières in the Marne Valley in Champagne for over 400 years. Today, the estate is run by Roger's grandson, Jean-Baptiste, who moved the estate to the nearby village of Aÿ in 2008. Drinking window: 2023-2032.