On June 9 and 10, the city of Yinchuan in the autonomous region of Ningxia Hui welcomed guests from China and all over the world to the 2023 International Grape And Wine Industry Conference. Participants from over forty countries including officials, delegates, industry leaders, and wine professionals from Australia, Chile, China, France, Georgia, Germany, New Zeland, South Africa, Spain and other major wine-producing regions convened to discuss and facilitate the exchange of best practices in wine production and development, thus helping to further both innovation and growth of the domestic wine industries of China and the world. The event proved a smashing success not just from an intellectual and academic perspective, but from a business one too, with a reported 224 deals worth 30.72 billion yuan ($4.3 billion) inked.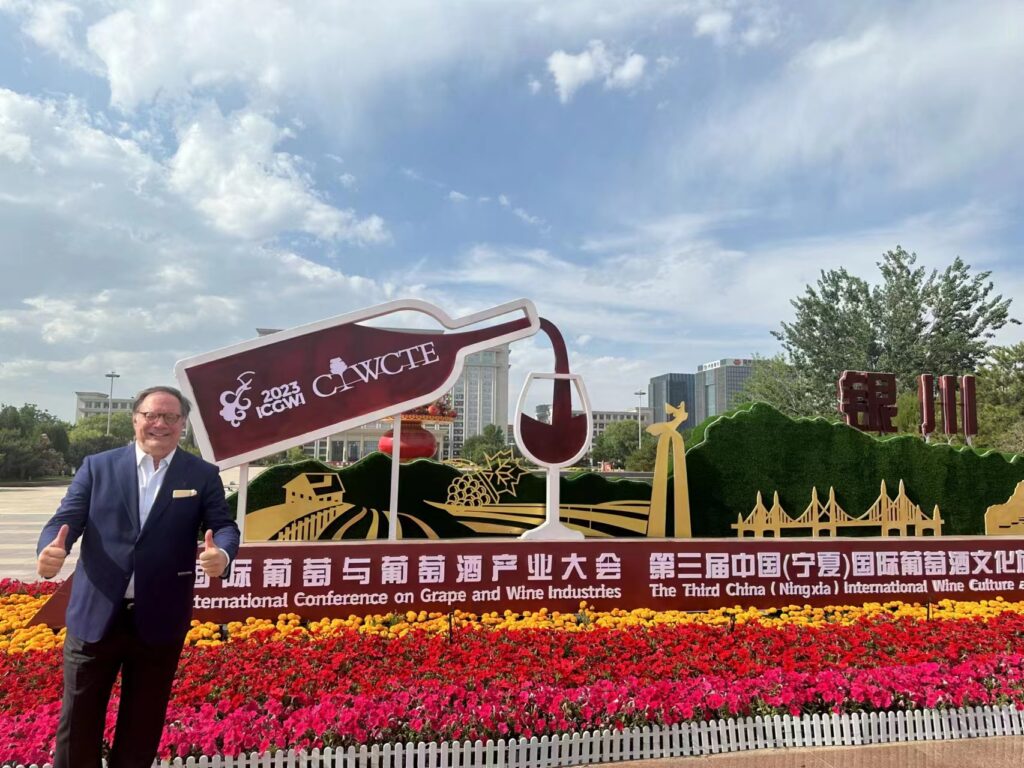 The conference, the first of its kind hosted in China, is co-hosted by China's Ministry of Agriculture and Rural Affairs, the Ministry of Industry and Information Technology, the Ningxia government as well as the Organization Internationale de la Vigne et du Vin (International Organization of Vine and Wine), and took place in conjunction with the Third China (Ningxia) International Wine Culture and Tourism Expo.
It is no surprise that Ningxia was chosen as the site for the Conference and meetings, as it is one of China's best-known wine production areas. While China is one of the world's most ancient countries and has a grape-growing and winemaking tradition that reach back thousands of years (for example, Marco Polo described vineyards in China already in the thirteenth century, but grapes were known to be cultivated in the country long before then), it is a relative newcomer to the modern international wine market. Clearly, the world's third biggest country boasts a mind-boggling diversity of terroirs, and so it is only logical that it is still in the process of figuring out what these many different terroirs can deliver in terms of wine, as well as which wine grapes, and where, express themselves best. However, it has become abundantly clear that parts of the Helan Mountains in Ningxia, characterized by abundant sunlight, low precipitation, significant diurnal temperature variation (difference between day and night temperature), and low humidity are one of the most suitable places in the country for growing wine grapes and producing excellent wines. In recent years, Ningxia has created and implemented policies to attract investment and advanced technologies at home and abroad, allowing sustained development of its wine industry. In fact, today roughly thirty-five percent of China's total area under vine is in Ningxia (38,866 hectares planted to vineyards, and expected to increase dramatically over the next decade), where there are currently a whopping 228 wineries and grape-growing enterprises (with 116 wineries built on the eastern foothills of the Helan Mountains, the most famous viticultural area of Ningxia Hui autonomous region). The average annual wine production hovers around 138 Million bottles (and expected to more than treble by 2035), with wines now being exported to more than forty countries and regions around the world. Over the years, numerous Ningxia wineries and wines have won very important awards, medals and high scores in international competitions such as the Concours Mondial de Bruxelles, Decanter's World Wine Awards, the International Wine Challenge, and TasteSpirit's and SUMG's China Wine Summit, as well as from important wine magazines including Decanter and the TerroirSense Wine Review.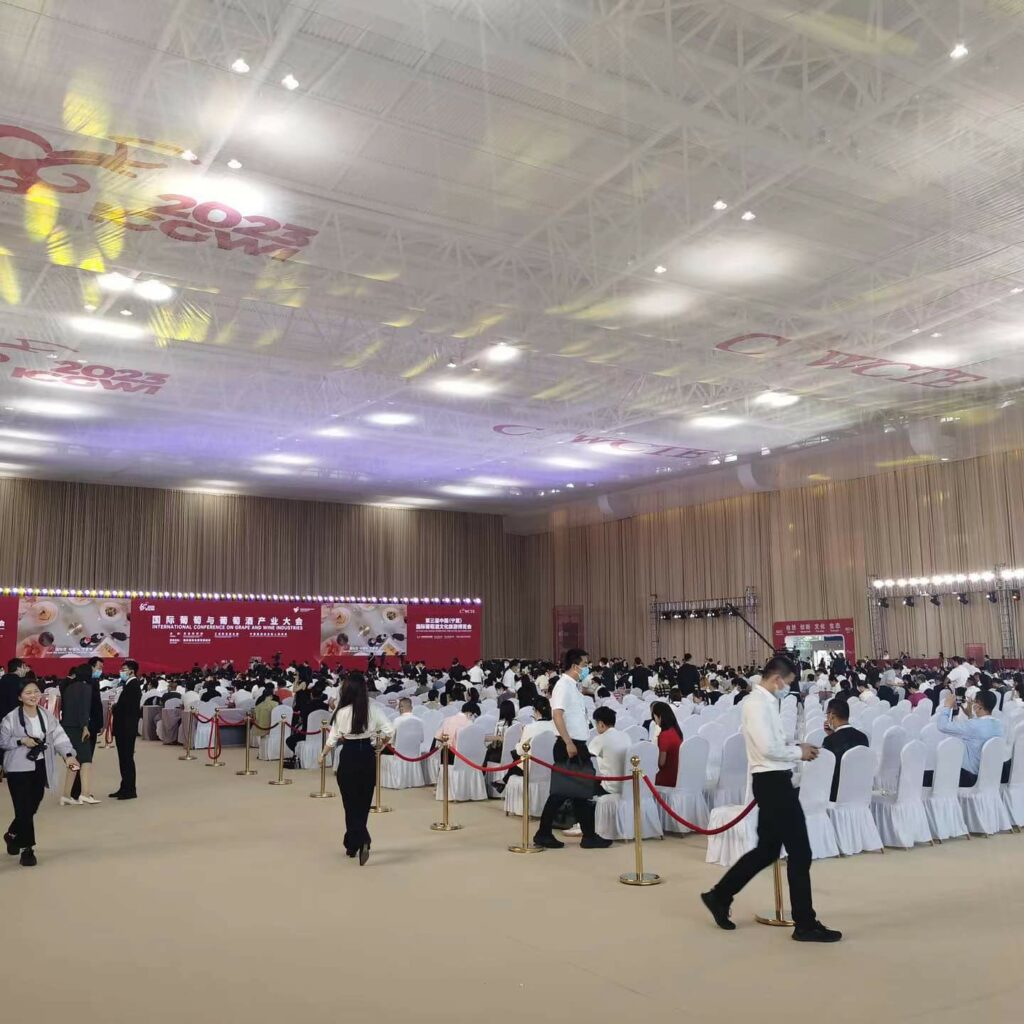 The two-day Conference began on Saturday June 9, hosting an Opening Ceremony with a welcome from Ningxia and central Chinese government authorities; the Industry Summit, with speeches from various leaders of wine-relevant countries, officials and delegates including Ministers and Deputy Ministers of Agriculture; plus, business meetings, winery visits (such as at Chateau Mihope) and an evening banquet and concert. The Opening ceremony was an admittedly grand affair, with Deng Xiaogang, Deputy Minister of Agriculture and Rural Affairs of the People's Republic of China, moderating; a Keynote Speech delivered by Lu Guozhong, Member of the Political Bureau of the CPC Central Committee and Vice Premier of the State Council of the People's Republic of China; and specific addresses delivered by Tang Renjian, Minister of Agriculture and Rural Affairs of the People's Republic of China; Liang Yanshun, Secretary of the CPC Ningxia Committee and Chairman of the Standing Committee of Ningxia's People Congress; Pau Roca Blasco, Director General of the Organization Internationale de la Vigne et du Vin (OIV); Vladimir Bolea, Prime Minister and Minister of Agriculture and Food Industry of the Republic of Moldova; Nelly Paredes del Castillo, Minister of Agrarian Development and Irrigation of the Republic of Perù; and Yuan Hui, founder of Yuanshi vineyards.
By contrast, Sunday June 10 featured four important Parallel Forums, in which Chinese and international speakers were invited to talk on a specific subject pertaining to their field of expertise in wine. In the afternoon, winery visits followed, and in the evening a fireside banquet was held at XIGE Estate.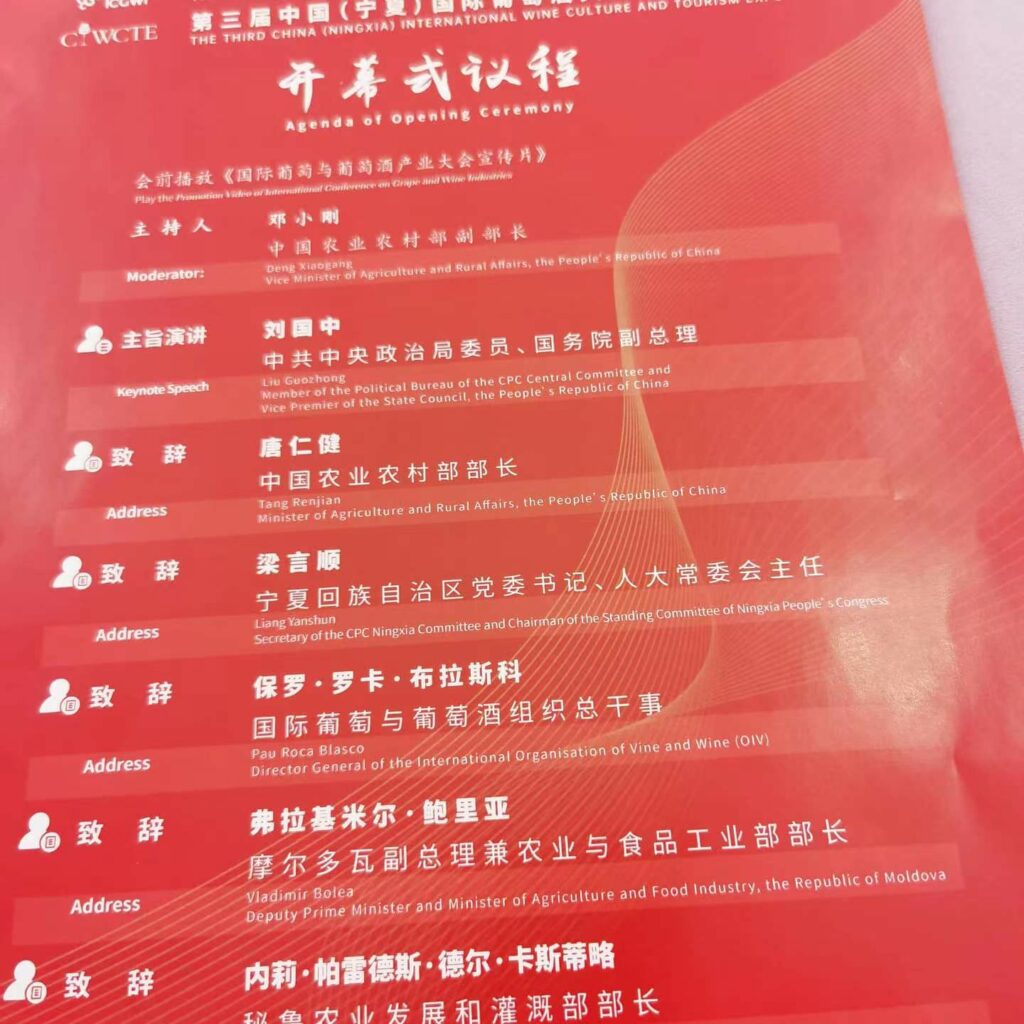 The morning's four forums ran, as their name implied, in parallel fashion (at the same time) and were divided among four different broad wine topics: 1. Nature & Terroir; 2. Science & Innovation; 3. Trade & Investment 4. Culture & Integration. Importantly, simultaneous translation in Chinese and English, Chinese and French, and Chinese and other Western languages was available throughout the whole two days of conferences. Invited guests, moderators, entrepreneurs and speakers from China and the world included, among many others (individuals listed in alphabetical order): from China, Duan Changqing (Professor, China Agriculture University); Hao Linhai (Vice Chairman of the Ningxia Hui Autonomous region); Huang Yutong (Professor of CFFIRI); Li Demei (Chinese wine master), Lu Yang MS (international sommelier); Ma Huiqin (Professor of CAU); Qian Xuhong (CAE member and President of East China Normal University), Sui Pengfei (Director General of MARA); Sun Dongshen (Deputy Director, Institute of Economics, Chinese Academy of Agricultural Sciences); and Sun Jian (General manager of Yantai Changyu Pioneer Wine Company). International presences included Ann Derwin (Ambassador of Ireland); Andrian Digolean (Deputy Minister of Agriculture and Food Industry of the Republic of Moldova); David Allen (Director of Wine Searcher App); Iuri Nozadze (Deputy Minister of Environmental Protection and Agriculture of Georgia); Jancis Robinson MW (wine critic); Neslihan Ivit (Head of the OIV Eonology and Methods of Analysis Unit); Rachel Trigg (CEO of Wine Australia); and Regina Vanderlinde (First Vice President of the OIV). (Our own Ian D'Agata, Chief Scientific Officer of TasteSpirit and Editor-in-Chief of the TerroirSense Wine Review, was among these prestigious invited speakers.) Each session saw about eight speakers or so alternate at the podium or connect by video link and broach their topic. All four sessions ran about three to four hours long, basically lasting the entire morning of Sunday.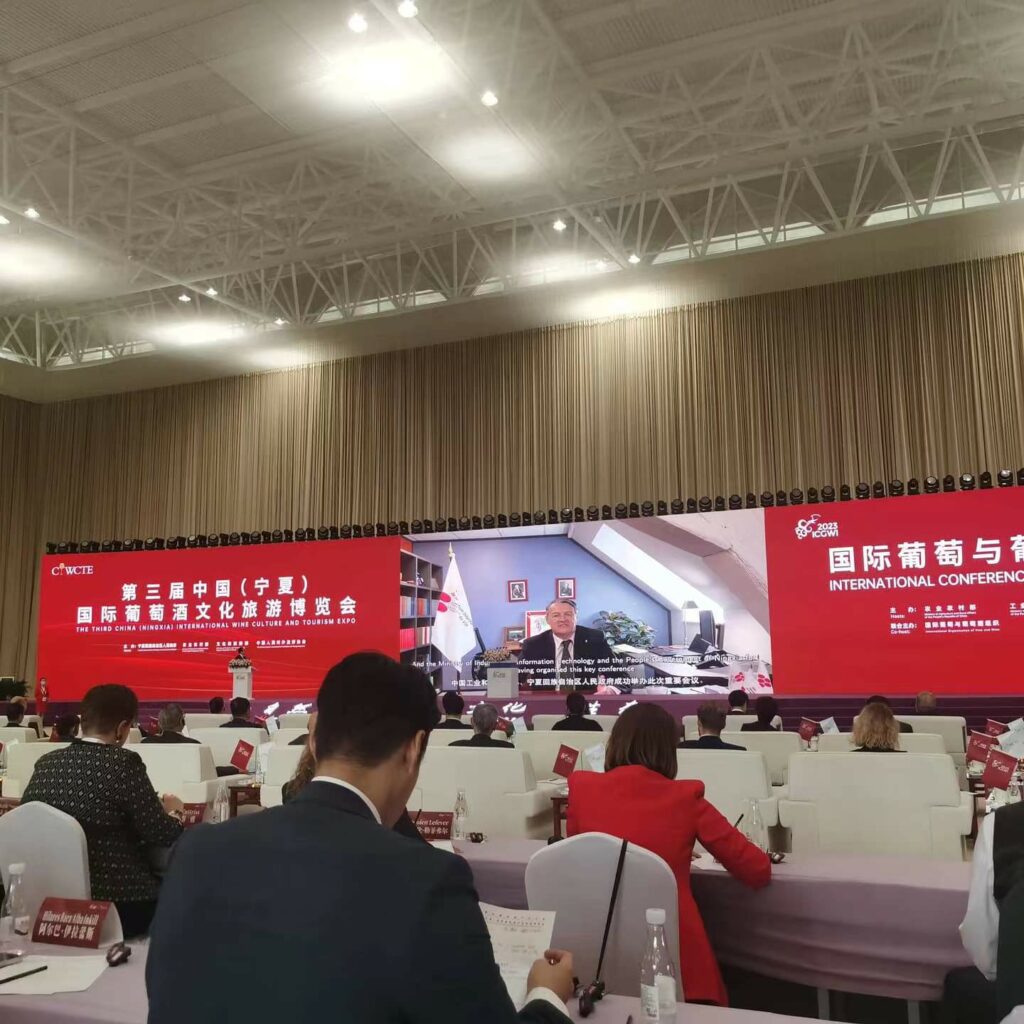 Academic conferences can sometimes turn into heavy-handed, even slightly boring affairs. But not this time, not at all. By any measure, the 2023 Ningxia International Grape and Wine Industry Conference turned out to be a marvelous affair, one that successfully brokered knowledge, understanding and friendship between many major players of wine-producing countries and their people. To use the words of Liang Yanshun "…With wine as the common platform, we invite friends from all over the world … Welcome to Ningxia and to communicate more about the wine industry and its culture". Indeed.
THE NATURE-TERROIR FORUM
by Yumi Liu
The forum on Nature-Terroir had as its main objectives the discussion and analysis of the profound significance of the environment, climate and soil on the development of the grape and wine industry. This was achieved through a dialogue between experts on China's wine regions and on the world's leading wine regions. To this effect, the Nature-Terroir Forum Association saw the following Invited Speakers, who were (listed in order of appearance at the podium): Sui Pengfei, Director General of the Department of International Cooperation of the Ministry of Agriculture and Rural Development, who served as session moderator, brilliantly summarizing the single interventions of each speaker, with his observations helping to stimulate both questions and answers; Lincoln John Hoyt Hart, President of Wine Australia; Hao Linhai (Vice Chairman of the Ningxia Hui Autonomous region); Iuri Nozadze, Deputy Minister of Environmental Protection and Agriculture of Georgia; Su Bin, Vice Chairman and General Manager of CITIC Guoan Wine Industry Company; Fabien Bova, Director General of the Bordeaux Wine Association in France; Dai Zhanwu, Researcher and Doctoral Supervisor at the Institute of Botany of the Chinese Academy of Sciences; Ian D'Agata, Chief Scientific Officer of TasteSpirit and Editor-in-Chief of the TerroirSense Wine Review; Yang Zhengjian, Editor-in-Chief of Yan Wine Business Observation; and Xu Xiaofeng, President of the China Meteorological Services Association. The speakers addressed issues ranging from the profound significance of climate, soil and other terroir on the development of the grape and wine industry, to the value and use of terroir in individual wine regions of different wine-producing countries, as well as the challenges and opportunities facing the wine industry in the context of climate change. Regina Vanderlinden, First Vice President of the OIV and Jancis Robinson MW, Head of jancisrobinson.com, each gave a brief salutation to start off the proceedings via video links.
Though all the presentations I attended were very interesting, relevant and informative (such as for example, Iuri Nozadze's useful description of Georgia's large diversity of terroirs and wines or Xu Xiaofeng's interesting description of climatic realities of Chinese viticultural areas), what follows here is a personal summary of the presentations that addressed the concept of terroir in both broader and more specific individual aspects that were especially interesting and thought-provoking.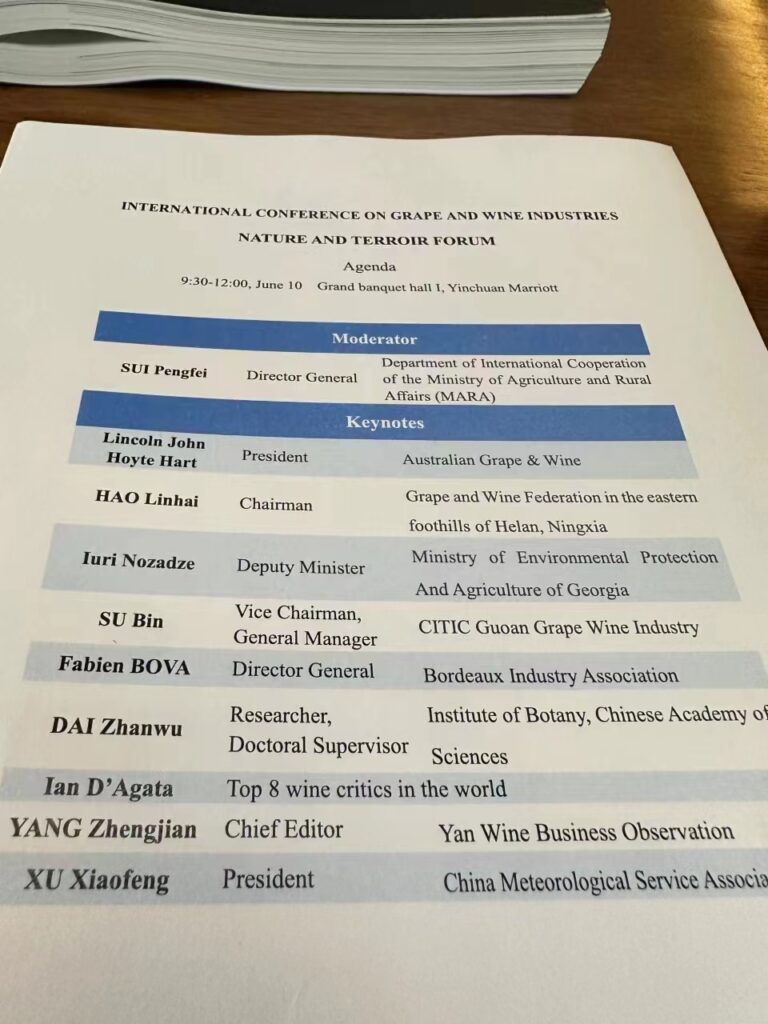 Hao Linhai: "Terroir is a concept that has to be attached to a land, or in other words, terroir has a 'place of origin'."
According to Hao Linhai, Chairman of the Ningxia Helan Mountain Eastern Foothills Grape and Wine Federation, based on the specific local climate, geography, geology and hydrological environment, the concept of terroir must be based on the region's characteristics, including its topography, the vineyards and the grapes. Differences depending on people's attitude to nature and their understanding of wine will ultimately influence how grapes are grown and the kinds of wines made. Hai Linhai underscored the importance of understanding that "terroir" can be divided into three or more levels, depending on the region, the appellation and the vineyard plot: these are the "grand terroir" of a country or a large national region (the macro-terroir); the "medium terroir" of an appellation (the meso-terroir); and the "small terroir" of a winery plot (the micro-terroir). To that end, the northern burial zone, the arid and semi-arid zone, the abundant light, the large temperature difference between day and night, the low rainfall, the alkaline soils and the combination of agrarian and nomadic civilizations are the defining characteristics of the "big terroir" of all and each of the Chinese wine regions. The "medium terroir" of China's wine regions is characterized by region-specific differences: so, for example, Ningxia, with mineral-rich soils, the Helan Mountains and the Yellow River, surrounded by desert on three sides and the presence of the ancient irrigation area of the area, all determine the specificity, the uniqueness even, of Ningxia's wines. Last but not least, the "small terroir" of Ningxia wineries is characterized by what each small winery does and has on its land within the context of a much larger appellation but characterized by hundreds of different micro-terroirs.
Fabien Bova: "Terroir is also an environmental expression".
In a rather simple, straightforward but easy to grasp presentation, Fabien Bova, director of the Bordeaux Wine Institute, said that in his view, the fundamental reason for Bordeaux's quality wines is the terroir and winemaking techniques that are unique to this part of France. Hence terroir wine as an expression of the habitat or environment in its greater sense. Therefore, it is important that the concept and reality of "terroir" in Bordeaux (for example) not be limited just to its expression and promotion, but also be applied to its defense and protection. He pointed out how this should be the prerogative in all of the world's wine regions, including the wine-growing regions of China. For protecting terroir means also protecting products from counterfeit goods and Bordeaux counts on the potential advantages that Chinese law can offer by registering all appellations of origin as collective trademarks and giving these products protected geographical indications in China. According to Bova, it behooves all countries to work together to ensure that what goes into a bottle represents the best and truest example of what that specific country and its terroirs can offer, in other words a reflection of the totality of the environment that wine comes from.
Dai Zhanwu: "Grape fruit quality is regulated by terroir".
A researcher and doctoral supervisor at the Institute of Botany of the Chinese Academy of Sciences, Dai Zhanwu believes that grape fruit quality is highly dependent, determined even, by the many factors (human, physical, biological) that make up "terroir". At the same time, the latter needs to be viewed as an expanding, dynamic, concept. For example, climate change is currently reshaping the landscape of the global wine industry. As a result of rising temperatures, extreme weather, droughts and other climatic influences, grape yields have decreased, fruit quality has declined, and changes in the phenological period have led to changes in the wine industry as well. Therefore, climate change is likely to have a significant impact on the terroir of our existing winegrowing regions in the near future too. The terroirs that are sought after today may not be those sought after tomorrow. Dai Zhanwu believes that big data is the basis for accurate evaluation and prediction, through the creation and use of mathematical prediction models that are destined to become an important tool in the study of the impact of climate change on terroir. The planning of wine-producing regions (in other words, where and what to plant) should take into account the sustainability of current and future climate scenarios.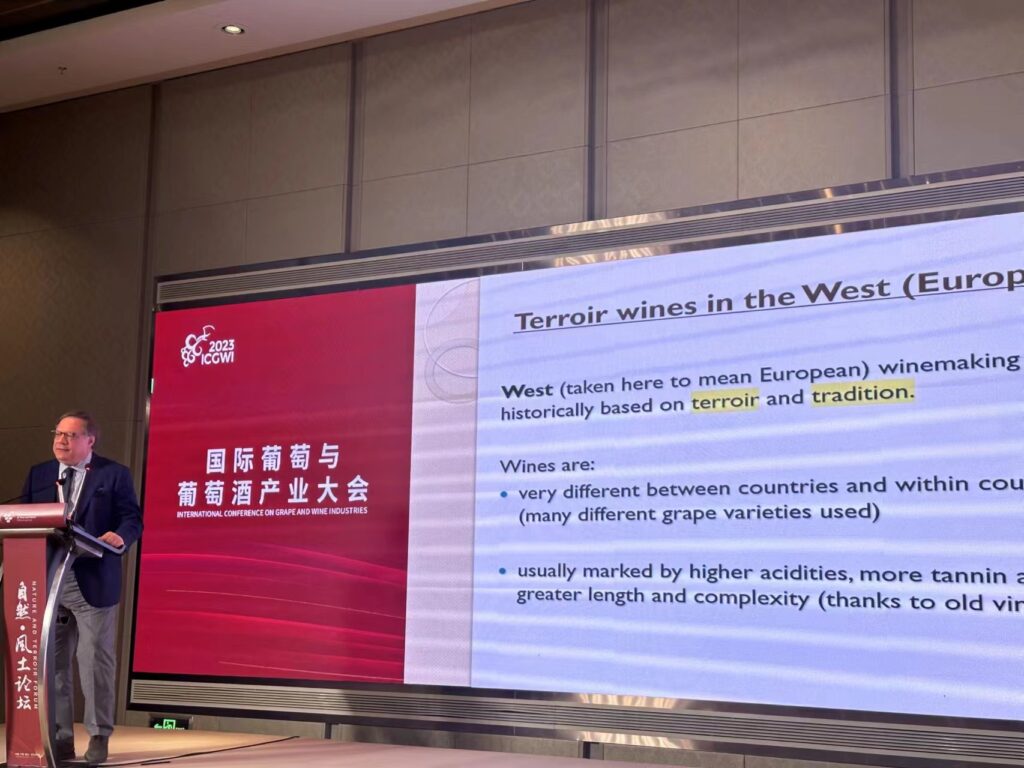 Ian D'Agata: "Grape varieties are an integral part of the concept of terroir, contributing immensely to the establishment of a 'Country of Origin' brand and value."
To his credit, D'Agata made a difficult subject extremely easy to understand, with his presentation so linear and logical that I saw many in the audience literally giving him the thumbs up sign at the end of his presentation. In brief, he basically outlined how the world's wines differ not just between but within countries. Clearly, the wines of France are very different from those of Germany, Spain and Italy, for example; but the Syrah-based wines within France differ too, such that the wines of Cornas are recognizably different from those of Hermitage. The same can be said for the Riesling wines of Australia's Clare and Eden Valleys and myriad other world wine zones. Why that is, is paramount to the understanding and establishment of a terroir-identity, with such differences helping to create a "Country of Origin" value and brand. The more terroir-association there is in a wine, usually the higher its perceived value and actual cost. The Pinot Grigio wines of Italy sell well, but at a much lower price (even if in greater numbers) than the Pinot Gris wines of France (Alsace), this is partly because while Italy makes Pinot Grigio wines with little in the way of further differentiation, Alsace has not just Pinot Gris wines, but rather those of Wettolsheim and of Riquewihr, and even more importantly, those of the Grand Crus Hengst, Brand and others. By contrast, with Italian Pinot Grigio wines people might know to look for the best from Alto Adige's or Friuli Venezia Giulia, but have little understanding of the differences between those, for example, of the Colli Orientali and of the Grave areas of the latter region; and hence have no reason to pay more for one or the other. Finally, and this was by far the most fascinating if complex part of D'Agata's presentation, he stressed and explained the importance of biotypes (rather than clones) in expressing the "true-to-type" nature of a terroir: it it is not enough to say "… I'm growing Cabernet Franc (or Pinot Noir or Nebbiolo, choose any grape you like) and making wines that express my terroir…" because if said grapevines were sourced from another country (rather than using selections of local grapevines that have lived there for decades if not centuries), there's not much specific local terroir to speak of then, is there?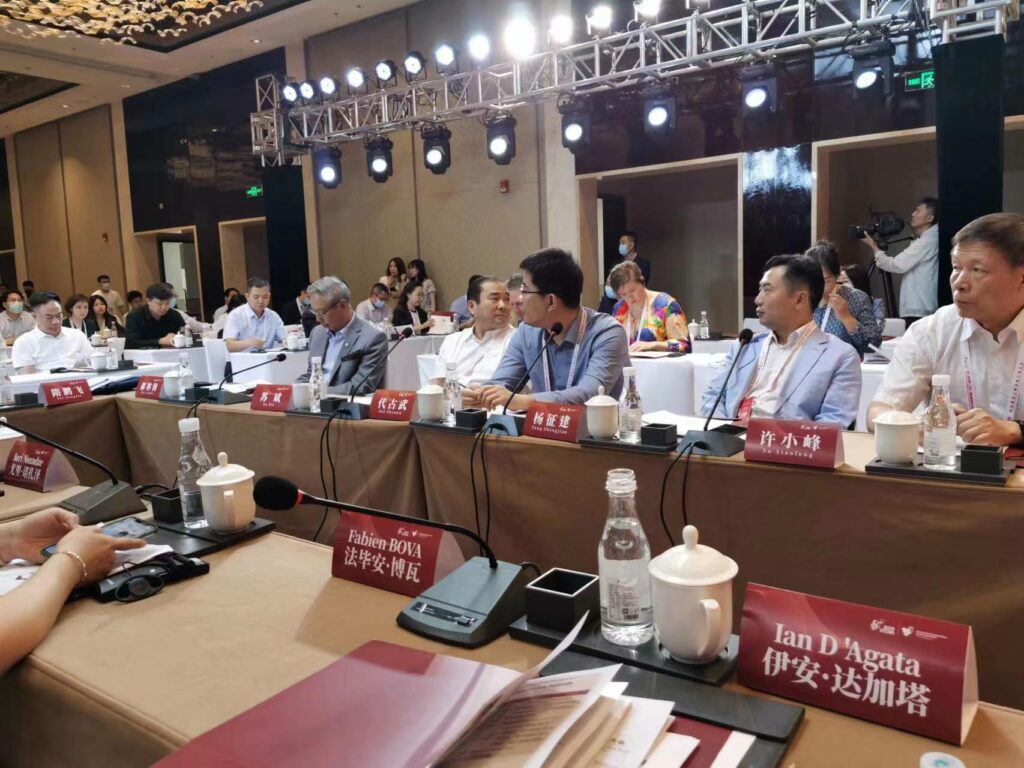 Su Bin: "Terroir means different things to different people, and what we believe to be relevant about it in China may not be quite the same as in other countries."
Su Bin, Vice Chairman and General Manager of CITIC Guoan Wine Company, broached the concept of terroir from an entirely different angle, applying different thought processes to its meaning than those employed by others who spoke during the Forum. He said that as an agricultural product, the style and quality of wine is certainly determined by "soil and water", but for him that is a too simple understanding of "terroir", what it can stand for and what its deeper meanings might be. Su Bin's view is that because the reality that is terroir includes human activities, such as the choice made of grape varieties to plant, cultivation patterns, winemaking traditions and which winemaking techniques to use, one cannot and should not reduce the reality of a "terroir wine" to just an expression of soil or climate. For him, a "terroir wine" can be taken to represent, and to embody, much more. "A winemaker's control of wine style, the use of winemaking techniques and the judgement of grape ripeness can all enhance or detract from the ultimate influence of the environment on the wine" he said. In other words, by intervening in specific, pre-planned ways, humans can fashion wines that while expressing the physical parameters of terroir, can also answer to the prevailing fashions and desires of the times, thereby fulfilling society's current needs. According to Su Bin, the world's wine regions are marked not just by different physical parameters of terroir but different cultures too, all of which have their own deep meanings, rich connotations, and diverse applications to everyday lifestyles. So wines aren't only reflective only of geology, for example. Similarly, China is a vast country with a large diversity of wine regions including Xinjiang, Ningxia, Hebei, Shandong, Yunnan, Gansu, Shanxi and Northeast China, each with its own complex terroir conditions and distinct cultural characteristics; this in turn means that what one population might want out of its wine is not necessarily what another might want somewhere else. It follows that wines need to, and if warranted can be made to, express specific facets of terroir in greater or larger quantity depending on what the market demands are of each wine-producing region.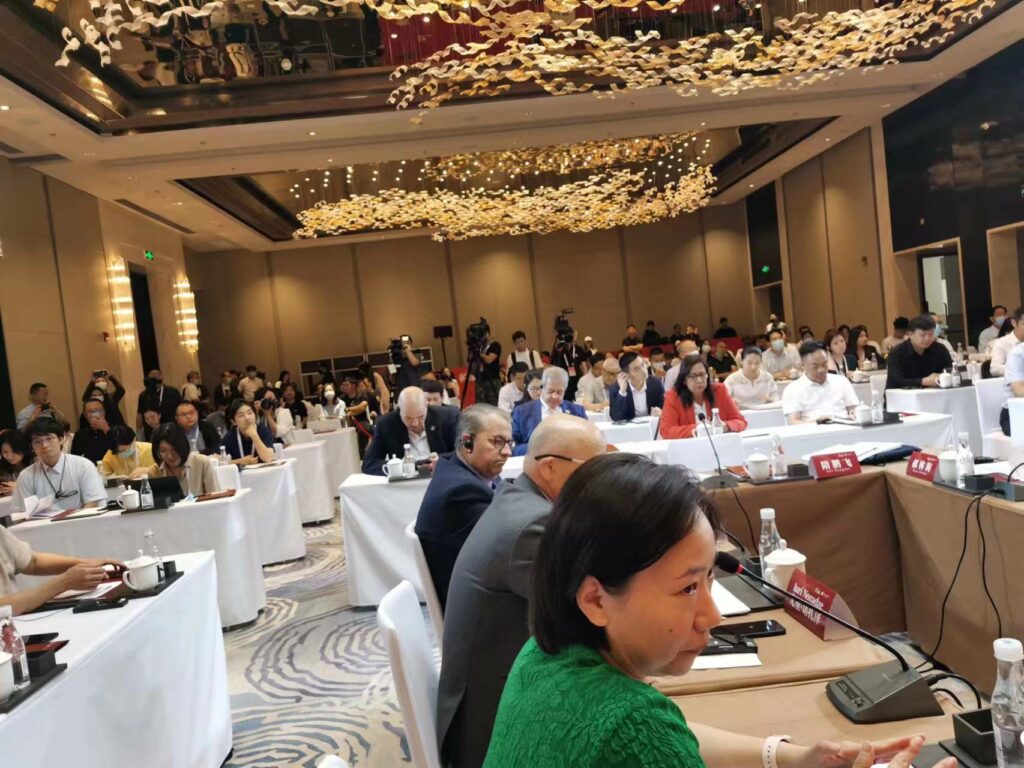 At day's end, when all was said and done, given how interesting many of the presentations were all I can say is that I and all others in attendance were left really looking forward to next year's conference and speakers!