Maison Lameloise Shanghai
68F, Shanghai Tower
501 Middle Yincheng Road
Shanghai, China
Tel. +86 21 68816789
The dishes
Bamboo shrimp / confit in blackcurrant oil / creamy foie gras and fennel / orange jelly
Snails / squid / white beans & mushroom stew / cabbage & hazelnut bouillon
Bluefin tuna / slowly cooked / ginger & red pepper corn / green asparagus & lemon balm sabayon
Pigeon / roasted filet & confit leg / lightly spiced corn emulsion / blackberry jus
Crêpes Suzette / flamed in front of you with Grand Marnier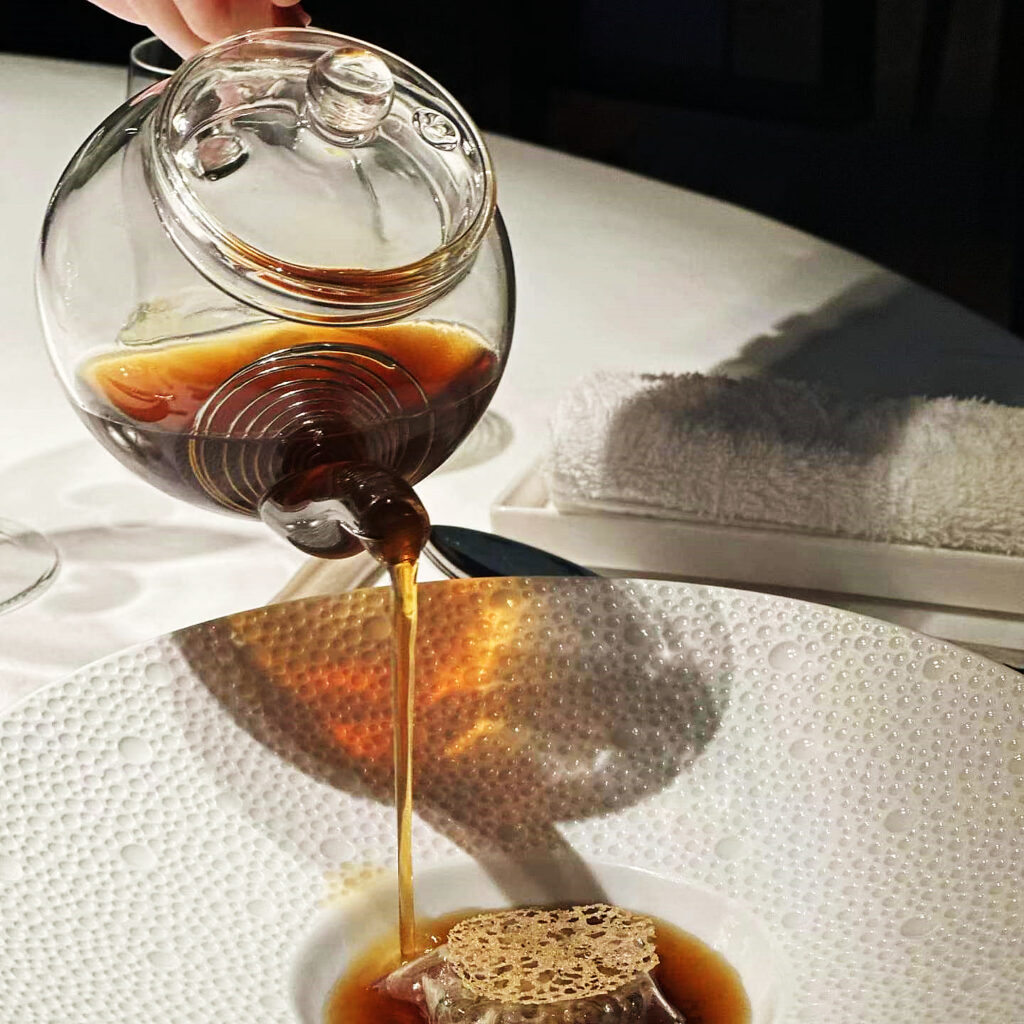 Maison Lameloise in Shanghai is the first ever Asian location of the famous Burgundy three Michelin star restaurant, situated in a prestigious location overlooking Shanghai's Huangpu river and prestigious Bund district. It is perched on the sixty-eighth floor of the city's tallest building, the Shanghai Tower, from where just about every table basks in an amazing180-degree view of city's beautiful Huangpu riverside skyline.
Lameloise in Shanghai is a simply stellar dining destination and one of the city's six or seven best restaurants: don't believe for a second the laughable ratings of some guides and classifications that place the restaurant in the back half of their listed great eateries, or award it the same rating as bistros that are not just uncomfortable to sit at but characterized by dishes that are very disappointing. Hey, everybody is entitled to their opinion, so all is fair game. Ultimately though it's the usefulness and the credibility of such lists and guides that come into question, and so everybody loses out: restaurant, critic, guide/list and customers. Sure, not all is perfect at Lameloise, but I ask you, who and what is? Yes, the washrooms are located outside the restaurant, near the elevators that take you to the sixty-eight floor, which is admittedly less than ideal: but if we had to downgrade every restaurant in the world for the status of their bathrooms, well then there would be many storied names that would have to be lowered in points, stars, hats, forks, spoons, plates and just about any other symbol you can think of. And granted, the place is expensive, certainly one of the city's dining experiences that will hit your wallet hardest (and though a lot depends on what you choose to drink, anytime dishes start hitting 1000 RMB well, you cannot really argue that it is not expensive). But at the same time, the service, the dishes, the décor, and the wines at Lameloise in Shanghai are such that the dining experience offered is really no different than those of Arpège, Per Se, Piazza Duomo, The Ledbury, Commis and other famous names among the world's restaurants. And dinner in none of those storied places comes cheap. And even though all are great restaurants (with very different strengths and weaknesses, I may add), if I wanted to find flaws with each one, I certainly could: but really now, what's the point? What matters most is that you will walk out of Lameloise Shanghai thinking that you've had one of the better dining experiences of your life, and that has to count for something.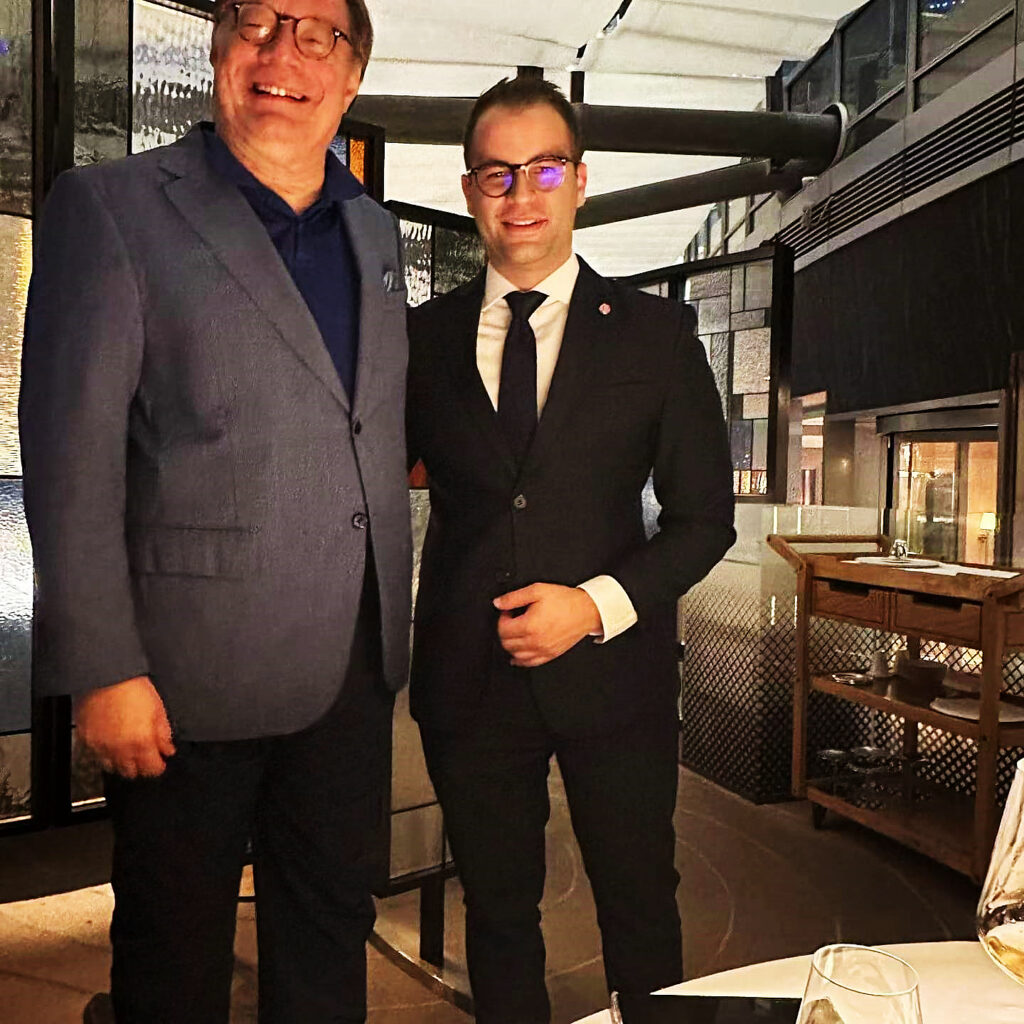 The chef at Lameloise in Shanghai is Yannick Klein, one of the most talented chefs not just in Shanghai but anywhere in the world. You don't need to be a restaurant critic to gauge that reality, one taste of the dishes will tell just about anyone as much. Klein obtained his Bachelor of Culinary Management at the Institut Paul Bocuse in France; he worked with Burgundy Lameloise chef Eric Pras for over ten years, and prior to that also trained and worked with Emmanuel Renault (Flocon de Sel), Anne-Sophie Pic (Beau Rivage Palace), and the Troisgros family. The Shanghai restaurant aims to remain faithful to the cuisine of Lameloise in Chagny (the town in Burgundy where the original Lameloise is located) in terms of sourcing, organization, service and more, and it is very successful in recreating an authentic Burgundian dining experience but with Asian influences. These flourishes can be as discreet as using Chinese caviar from the Sichuan province with Burgundy pancakes, buckwheat crêpes and arctic char (by the way, perhaps you are not aware that much of the world's caviar served in top-end restaurants is actually from China) and cooking the likes of Chinese hairy crab, yellow croaker fish, and Xinjiang lamb, or can be more involved such as they are in the bamboo shrimp dish, one of the restaurant's more complex and interesting creations that clearly tastes very Chinese. Clearly, classic Eric Pras dishes are, or have also been, on the menu, such as the hot and cold langoustine (Norwegian lobster) dish, a signature creation of Chagny's Lameloise.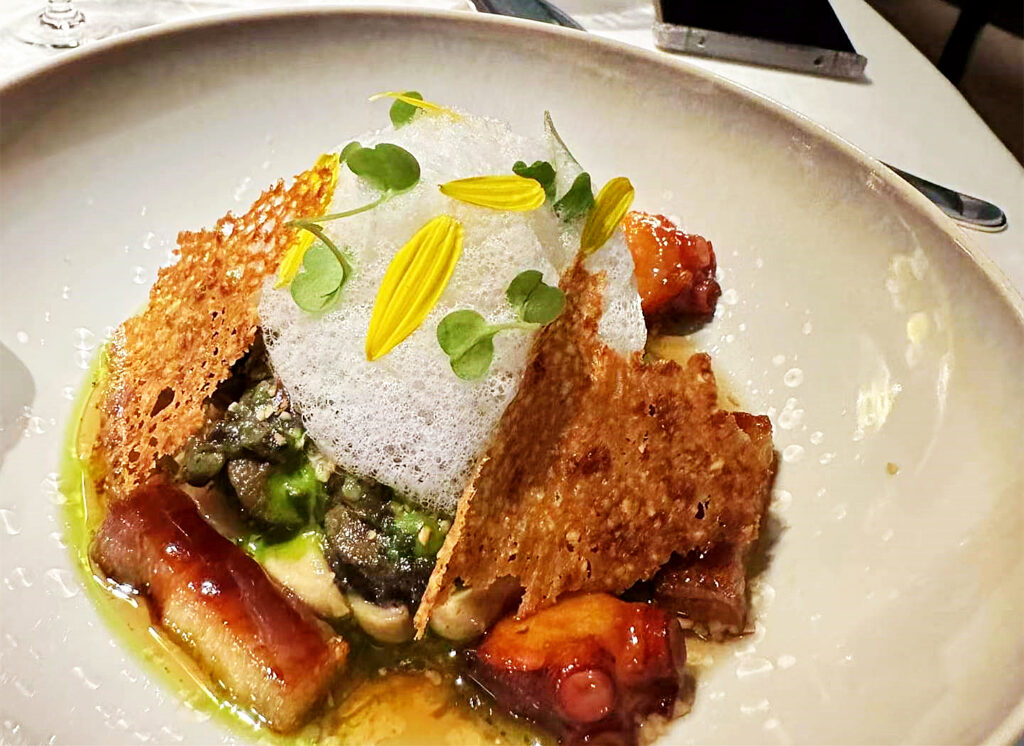 My evening dinner this past month featured many outstanding dishes, but my favourites were the bluefin tuna and the pigeon; the latter was remarkable, possibly the best such dish one can have in the city. But I humbly suggest you leave room for the excellent cheese trolley (a Lameloise classic) and the crêpes Suzette, a sultry, sweet, sexy and showy way to end any dinner.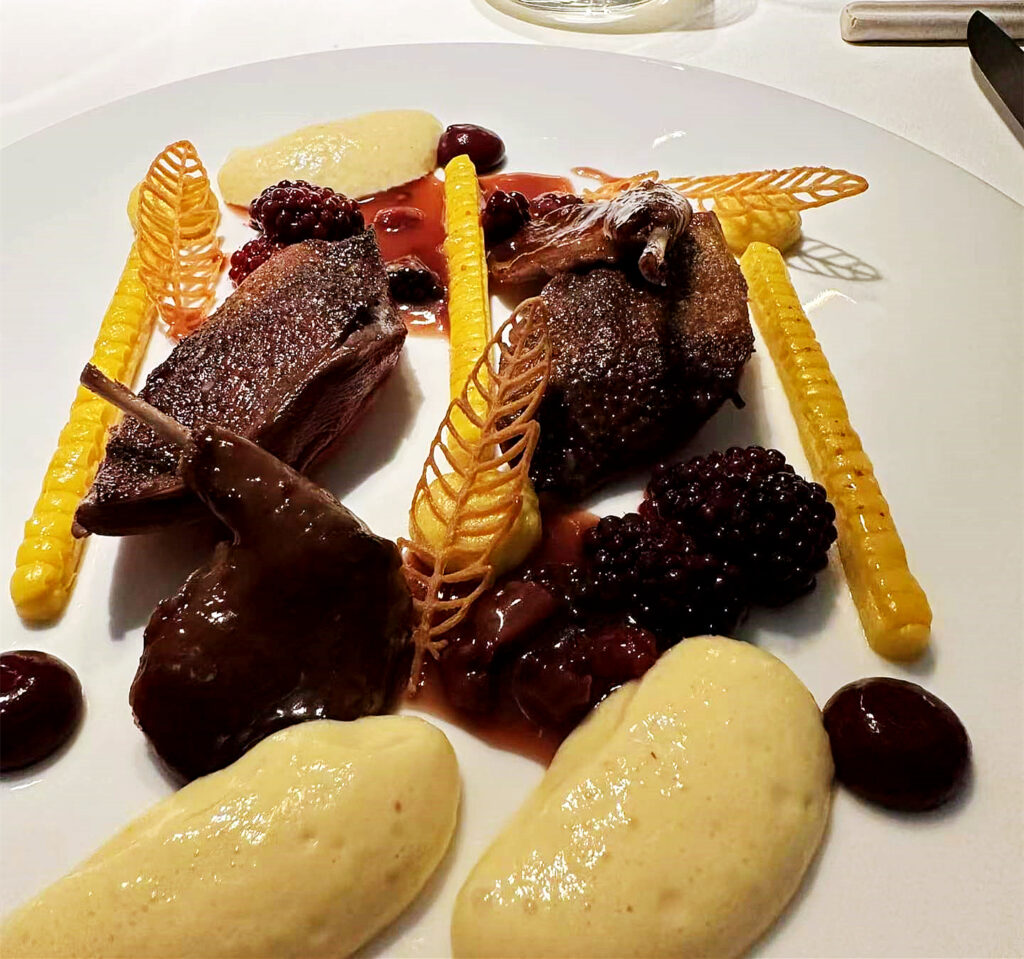 Kevin Chatain is the restaurant manager: he joined in the summer of 2021, after having previously been at famous spots including La Manoir aux Quat'Saisons (in the United Kingdom), Regis and Jacques Marcon, and Jacques Decoret. The wine list at Lameloise in Shanghai is excellent: top-heavy in Burgundy as you'd expect, but with plenty of choices from around the world.  Kitty Lao (the Head Sommelier, who has been at Lameloise Shanghai for two and a half years), Kevin and the team have worked closely together to expand the wine list over the years to include more choices from Champagne, the Loire and the Rhône especially. That said, I point out that the house Crémant de Bourgogne (Lameloise label) is remarkably good, easily the equal of many grower Champagnes that are less than what the hype surrounding them would lead you to believe.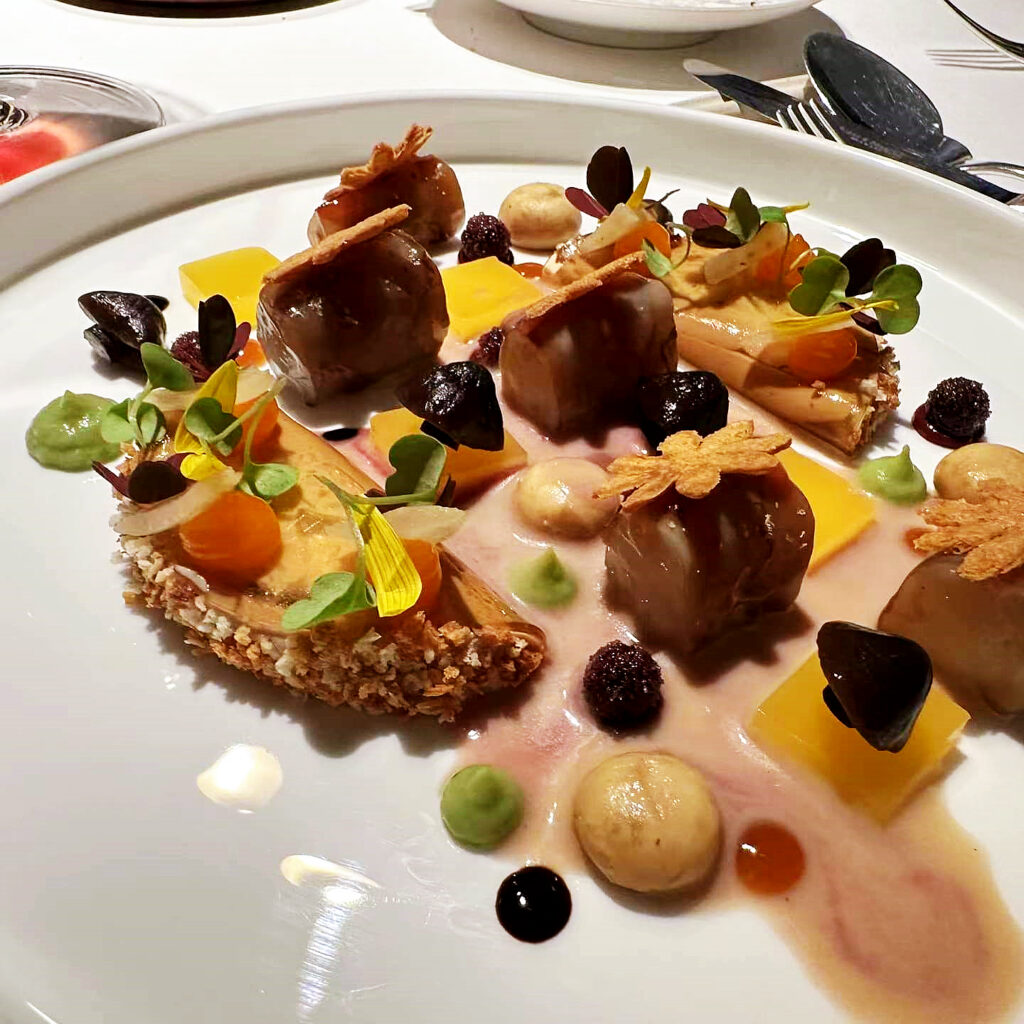 The wines
Daniel-Etienne Defaix 2008 Chablis Blanchot                            93
Vincent Girardin 2005 Pommard Premier Cru Les Argillières              93
On my most recent night at the restaurant I drank very well indeed. Boasting fifteen generations spanning about 400 years in wine, Daniel-Etienne Defaix releases his wines late (the Premier Crus are released with about eight years of bottle age, and the Grand Cru wines fifteen): they stay on the lees in tanks the whole time, and no oak use is contemplated at all (a good thing, given that all that time spent on the eles makes for some pretty nutty wines). The Daniel-Etienne Defaix 2008 Chablis Blanchot is medium-deep yellow gold in colour. Almond, hazelnut, smoke, biscuits and ripe peach aromas are lifted by sweet spices and herbs; a subtle trace of oxidation is evident on the nose, but it is nuanced enough to add interest rather than compromise the wine. Then rich, layered, and deep, with very complex flavours of buttered croissants, ripe yellow fruit and minerals lingering nicely on the suave, multi-faceted finish. Much fresher in the mouth, this is a beautiful aged Chablis that will last a few more years in a good cellar, though I suggest drinking it up now for maximum enjoyment. Clearly, the note of oxidation I found in this bottle was a bit troubling, but I had another bottle of this wine just a few months ago and it was fine, so I have no worries presently. But still, I suggest drinking this specific cru and vintage of Defaix up now: really now, why run any risks? The Vincent Girardin 2005 Pommard Premier Cru Les Argillières is bright red colour with little or no rim. Perfumed aromas of red cherry, red berries, sweet balsamic oils, violet, flint and sweet pipe tobacco. At once plush and lively in the mouth, with soft flavours of red berries and cherries complemented by herbal nuances and boasting outstanding inner-mouth perfume. Neither the last word in concentration nor a blockbuster in real Argillières mode, the wine is wonderfully well-balanced and silky on the long, pure, fruity aftertaste. It's hard to resist gulping it down all too quickly, and even at eighteen years out, it is still remarkably young and with plenty of life left. Even better, it is a very typical example of what this underrated Pommard Premier Cru can deliver, wines that are less massive and tactile that those of Rugiens for example, but that are usually endowed with a bit more elegance.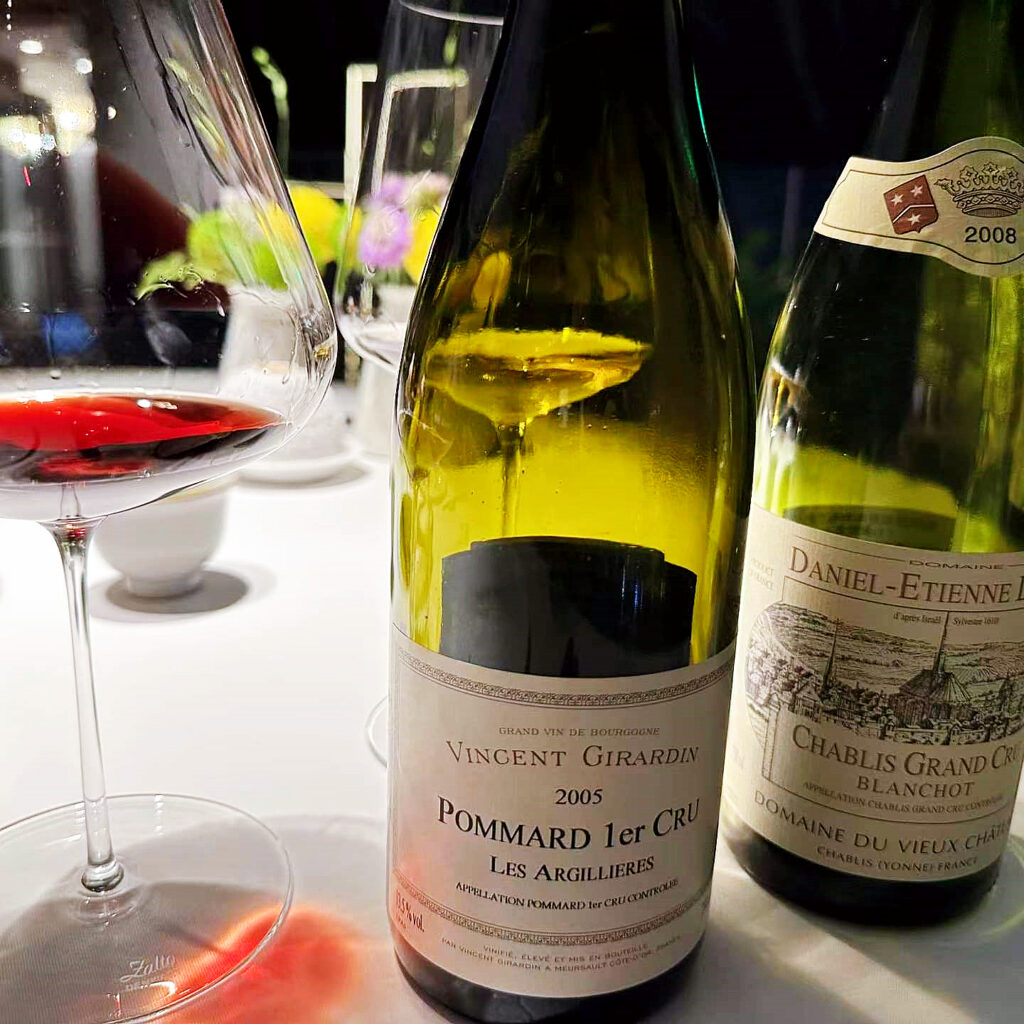 Lameloise in Chagny was founded in 1921 and three generations (Pierre, Jean and Jacques) followed one another at the helm; Eric Pras joined Jacques in 2008 (he moved from marcon, where he was second in command) and took over the stoves in 2009, when Jacques retired.
Lameloise in Shanghai was opened in July 2018, and will soon be celebrating its first five years. Though it has a way to go before it reaches the number of years that the Lameloise in France has been in business for, there is no doubt that the Chinese outpost is stellar enough to reach similar milestones. Hopefully it will, because it is an exceptional restaurant the likes of which there really aren't too many of around.