Domaine Gauby 2018 Vieilles Vignes Côtes Catalanes                 94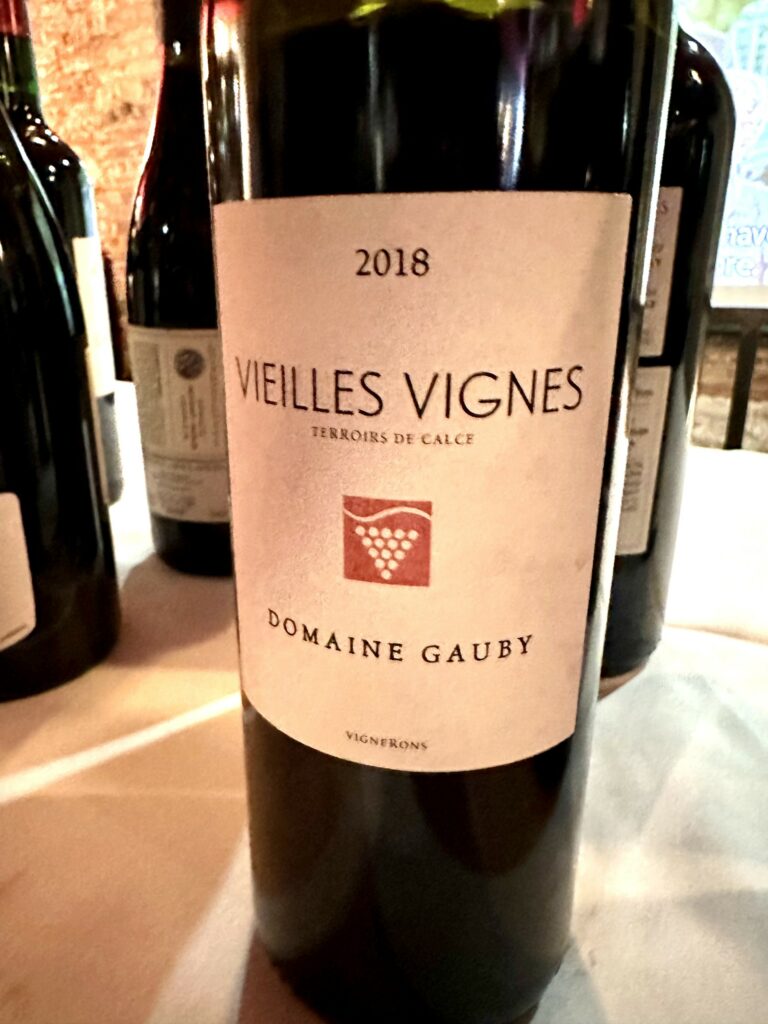 The Languedoc-Roussillon is one of the least experienced and understood regions for fine red wine in France. Hugging the eastern side of the Mediterranean and running from Montpellier in the north and Perpignan in the south, the main red wine grapes include Carignan, Cinsault, Grenache, Syrah and Mourvèdre. One famous Languedoc estate, Mas de Daumas Gassac, brought Cabernet Sauvignon from Bordeaux into its blend with great success; in general, mono-variety wines from the Roussillon are rare. Each estate adapts its selection and percentages of the grape varieties to the terroir (soil, microclimates) which defines its unique potential. The most famous wine from the whole region is Grange de Père, a bottle of which now sells for cult wine-like price levels. Nearly as good, but blessedly spared 'cultification' , are the wines of the Domaine Gauby estate, technically located in the Côte de Catalanes which flank the Roussillon to the southwest. This large estate is comprised of nearly eighty-five hectares of which forty-five are planted to the principal variety most suited to the local habitat: Syrah (and so, often dominant in the blends). Grenache, Cinsault and Mourvèdre most often round out the mix. From the 1990s onward, the estate has moved progressively from rich, dense extracted and oaky wines to wines of lower alcohol and much greater refinement and definition. To that end, the bunches are not destemmed, and the wine is matured only in foudre and demi-muid containers. Some of these casks come from the Austrian cooperage Franz Stockinger, where the wood is dried for four years instead of the usual twelve to eighteen months. Recently there has been a reduction in the time spent maturing the wine, with the view to keeping it on the fruity side. Naturally there is no fining or filtering of the wine.
In total, Domaine Gauby makes five red wines and two whites. The Vieilles Vignes bottling is the estate's signature wine. Vines range in age from 40 to 120 years old. Every time I have tasted a newly released vintage I am struck by the hypnotic beauty of the wine's aroma: spicy with accents of dried dark cherries, boysenberry, underbrush and dark unsweetened chocolate. Being an aroma freak, I find bouquet to be the most compelling aspect of red wines. The Gauby Vieilles Vignes is one of those perfumed wines which live in memory for a long time. On the palate the wine is intense yet graceful with brisk acidity, moderate tannins, and a core of earthy sweet/dark fruit flavours, descriptors that are also found in the wine's bouquet as aromas. This is one of the most attractive, interesting and reasonably prices wine from the southwest of France. Drinking window: 2023-2030.
Donnafugata 2020 Ben Ryé Passito di Pantelleria              94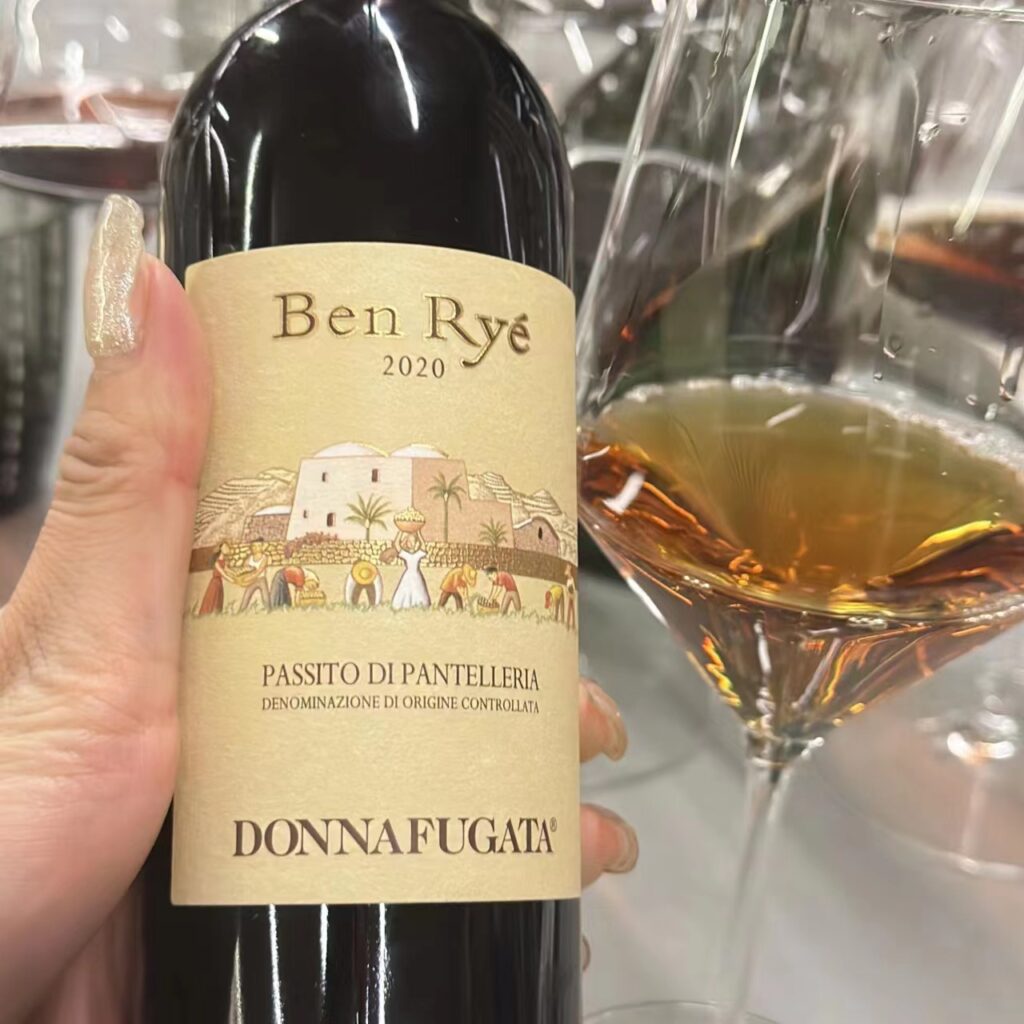 One of Italy's best sweet wines (for many Italian lovers, Ben Ryé merits a top-5 spot in any such classification), this delicious sweet wine also showcases the greatness of the Moscato di Alessandria (Muscat of Alexandria) grape variety, called most often Zibibbo in Italy. Very misguidedly, some will argue that Zibibbo is a less noble Muscat variety giving less refined wines than, for example, Moscato Bianco, the oldest member of the Muscat family (all Muscats essentially descend from it: so does the Muscat of Alexandria, that resulted from a natural crossing of Moscato Bianco and Tres Bias Axina, a table grape). Not so: the wines of each of the two oldest Moscato varieties are remarkable, and very different: wines made with Moscato Bianco are lighter in step and more floral and citrusy, while those made with Zibibbo are thicker, richer, and more raisiny in profile. To be crystal-clear, it is complete nonsense to write or say that wines made with Zibibbo are coarser or less refined than those made with Moscato Bianco, for they are too different to compare in such a manner. Unless you are of the admirably insightful sort who think that Monet's waterlilies are "coarser" than the ballerinas depicted by Degas: really, now. Zibibbo/Muscat of Alexandria's wines rank with the best white wines in the world, and this is true both of the classically dry and sweet wines made with it.
A case in point is Donnafugata's ultra-delicious Ben Ryé, a Passito di Pantelleria made from air-dried Zibibbo grapes grown in the amazingly beautiful volcanic rock island that is Pantelleria, off the southwestern coast of Sicily. To put it succintly, Ben Ryé is so good it will blow your socks off in most vintages. The Rallo family, owners of the large high-quality Sicilian Donnagugata estate well-known for its large production of many fine wines, deserves all the credit and admiration in the world for the passion, energy and finances they have devoted over the decades to the island's viticulture and wines, given that making sweet wines is not the most remunerative of wine-related activities nowadays. But the tradition of Passito-winemaking is an ancient, eminently Sicilian one that dates back to the ancient people who colonized Sicily already millennia ago, and it is feather in the Rallo's cap that they brought attention back to Pantelleria's excellent sweet wines. For sure, Donnafugata's large international network of importers and agents has allowed Passito di Pantelleria to reach more foreign countries and wine lovers than it previously had.
The Donnafugata 2020 Ben Ryé Passito di Pantelleria is beautiful pale yellow-gold in colour. Penetratingly perfumed, with aromas of orange peel, crystallized mango, ripe apricot, sultanas, dates macerated in alcohol, and grapefruit nectar that are remarkably pure (a Ben Ryé trademark) and absolutely captivating. Then smooth, luscious and blessed with gorgeous inner-mouth perfume, with flavours similar to the aromas that linger impressively on the very sweet but very well-balanced (192 g/L residual sugar and 7.5 g/L total acidity), long finish. This struck me as being a lighter-bodied, more lifted version than some other recent Ben Ryé bottlings, and those who prefer their sweet wines on the more fragrant, less thick side will no doubt be smitten by it. Made from Zibibbo vines averaging sixty years of age and planted in twelve different contrade of Pantelleria (Barone, Bugeber, Bukkuram, Favarotta, Gibbiuna, Karuscia, Khamma, Martingana, Mueggen, Punta Karace, Serraglia, and Tracino) ranging in altitude from 20 to 400 meters above sea level, it's another in a long line of very, very, very impressive Ben Ryés. Drinking window: 2023-2032.