"Odds & Ends", followed by the month and year in which it appears, is the name of a brand-new feature that will grace the virtual pages of the TerroirSense Wine Review regularly every month or so. It became apparent to everyone at the magazine that we were simply getting overwhelmed with the amount of wines being tasted and that were deserving of a writeup and score; and so, rather than wait until a critical mass of wines from the same region or country had been accumulated (which can objectively take some months) we have decided to launch this new section of our magazine so as to deliver tasting notes and scores in perhaps more timely fashion. Clearly, the hope is to provide a service to wine professionals and wine lovers all over the world. Each month or so, the wines of many different countries will be features: in this first installment, we have wines for you from Argentina, China, France, Germany, Italy, New Zeland and South Africa, but all wine-making countries will be covered. For instance, our next Odds & Ends feature will showcase wines from Australia, Canada and the USA as well. Odds & Ends will bring to light not just information concerning very recent vintages but older wines too, so as to give our readers intelligence on how some wines they might have resting in their cellars are developing.
We hope you like this new source of wine information and scores and we look forward to hearing from you. Cheers, and enjoy!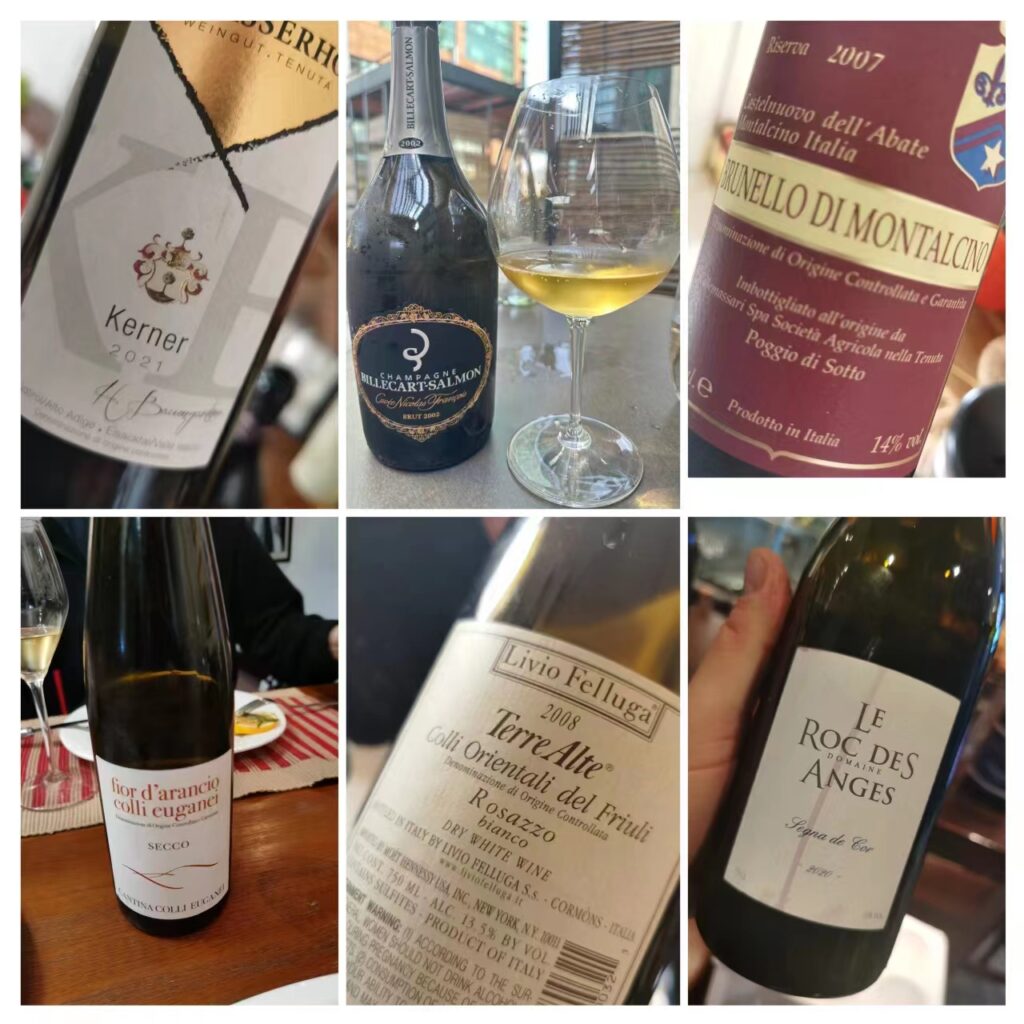 Argentina.
Bodega Septima.
The winery's name, Septima, translates in English to "seventh", because it is in fact the seventh estate owned by the well-known Codorniú-Raventos family (actually, though it probably has no bearing on the matter, the number 7 comes back into play because the winery is located on International Route 7 in the Agrelo area). Besides the Malbec Special Parcel n.9 described in this report, the estate also makes a Special Parcel n.10 bottling.
Bodega Septima 2015 Malbec Lote Especial Special Parcel n.9 Luján de Cujo Mendoza                             93
Deep ruby. Refined aromas of blackberry, balsamic oils and underbrush. Then suave and creamy at the same time, but with harmonious acidity (5.4 g/L total acidity) that provides lift to the ripe, compellingly sweet dark berry, coffee and milk chocolate flavour deepened by strong hints of cedar and spices and that help leave an elegantly austere impression. Finishes long and creamy but with good mineral and cedary lift. A single-vineyard 100% Malbec made with grapes picked in three different passes (on March 10, March 24 and April 8 so as to achieve grapes of different freshness and concentration levels) from the C9 plot at about 1050 meters above sea level in Agrelo, Luján de Cujo, in Mendoza. According to the back label, this spent fourteen months in new French and American oak barrels and another five in bottle prior to going on sale (however, beware that the website specifies the 2015 spent twenty months in first and second fill French and American oak and then twelve months in bottle). This is a knockout Malbec wine that is a far cry from many overly-sweet wines that give the variety and wine a bad name; it helped of course that 2015 was an outstanding year, with a hot spring and slightly rainy summer that allowed for the springtime buildup of aromatic precursor molecules that were then not burned off in the coolish summer. Drinking window: 2023-2035.
Pyros Vineyard.
Pyros is a wine brand created by Mijndert Pon, the founder of Bodegas Salentein and Bodegas Callia who wished to showcase the diversity of terroirs and high-quality fruit grown in the Pedernal Valley.
Pyros Vineyard 2018 Malbec Block N.4 Valle de Pedernal San Juan        92
Good full purple ruby. Floral accents of lavender and violet complement aromas of blueberry, dark plum and cocoa. Rich and creamy but with good fresh lift that avoids it from being over-the-top, this offers an intriguing herbal nuance to the chocolaty and balsamic dark fruit flavours. Long and suave on the close. Made with grapes sourced in Block 4 of the Pyros vineyard of the Firestone estate (where the soil is characterized as a mostly sandy-loamy complex rich in limestone, granite, schist, and flint) high up at 1400 meters above sea level. The wine is aged in new, first and second-fill French and American oak barrels (and 10% in stainless steel) for twelve months and then for another twelve months prior to going on sale (beware that you might read reviews and tasting notes of this wine stating that it was aged in French oak only, but the winery's technical sheets of the 2018 wine clearly state the presence of American oak too). Interestingly, this is a "limited edition" wine but still available in over 26,000 bottles so this is one "limited edition" wine people ought to be able to find.
Susanna Balbo.
There's no beating around the bush: Susanna Balbo, Argentina's first woman to graduate with an enology degree back in 1991, is a lady of immense talent who is seemingly gifted with just about any variety she touches (for example, you must try her Torrontés wines: in fact, the first wine she ever made, in 1993, was a Torrontés wine from the Salta region).
Dominio del Plata 2021 Malbec SB Mendoza        92
Deep vivid ruby-purple. Explosively fruity, juicy aromas and flavours of dark fruit (blueberry, plum, blackberry) complemented by hints of smoke and spices. Then like a very pure black fruit cocktail in the mouth with a little alcohol for an added adult kick, with a smooth texture and a long lively finish that lasts and lasts. Balbo created the Dominio de Plata in 1999 and made her first wine there in 2002. Don't confuse this Malbec wine, part of the Susanna Balbo signature line, with those of her "Crios" line of wines (made from younger vines) or the premium BenMarco range; this Malbec SB is an unabashedly fruity, in your face bright, juicy red that is simply impossible not to like. It might not be the last word in concentration, but fewer wines will perform better this summer at barbecues and with grilled meats in general. Really well done: if you know someone who's not (yet?) into wine, this is the wine you have to get them to try, and my bet is they'll be converted to the cause, so to speak.
Susanna Balbo 2020 Crios Dulce Natural Mendoza    88
Pale straw-green. Intense aromas of grapefruit, orange blossom, acacia honey and lemongrass on the aromatic nose. Nicely sweet and well-balanced, this offers flavours similar to the aromas and a refreshing medium-long finish. Though it tastes remarkably like a wine made with the Moscato Bianco grape, this is a 70% Torrontés, 30% Viognier blend from grapes picked in the Uco Valley that carries only 8.5% alcohol by volume. It boasts lots of flavour if not world-beating amounts of complexity, which cannot surprise given that the "Crios" line features wines made from younger vines that are easygoing and full of early appeal. Drinking window: 2023-2025
Austria.
Prieler.
Back in 1972, Engelbert and Irmgard Prieler turned the estate over to quality viticulture and today their son Georg is continuing their fine work. The winery is located in the sunny and warm northern Burgenland at Schützen on the western side of the Neusiedlersee (Lake Neusiedl). Their vineyards (such as the Schützen Stein, Seeberg, and Sinner) benefit from being their geographical position [situated between the Lake Neusiedl (the presence of which helps mitigate the hot humid weather typical of the Pannonian plain) and the Leithagebirge, an outcropping of the eastern Alps that helps form a barrier against cold westerly winds] and the unique highly diversified soils of the area. The estate is especially famous for its Pinot varieties and Blaufränkisch especially.
Prieler 2020 Pinot Blanc 2020 Schützen am Gebirge Ried Seeberg             88
Bright straw-green. Fresh, relatively simple aromas and flavours of pear, apple and white flowers. Juicy and straightforward with a clean medium-long finish. Made with 100% certified organic Pinot Blanc vines planted in the Seeberg, characterized by marine limestone and mica-schist soil that warms up relatively easily. Macerated three days on the skins, this was fermented and aged in stainless steel tanks. Drinking window:
Prieler 2019 Pinot Blanc 2019 Leithaberg             91
Medium straw yellow colour. Dense aromas and flavours of orchard fruit, minty herbs and butter. Ripe but not creamy, with very good mineral lift on the long aftertaste. This strikes me as it will benefit from further cellaring to open up further. Old vine organic certified Pinot Blanc (alte reben, but the front label does not stet this) that was fermented and aged in 500 liters oak barrels. 14% alcohol, but so well-balanced you really can't tell. Drinking window: 2025-2032.
Prieler 2019 Pinot Blanc 2019 Ried Haidsatz Schützen am Gebirge Leithaberg          95
Luminous medium-pale yellow with golden-green tinges. Musky, complex, and deep aromas of yellow apple, ripe pear, pineapple, pink grapefruit, beeswax, chamomile and stone. The palate offers uncanny intensity and freshness; not especially glyceral but utterly seamless, with wonderful purity and clarity to its classy flavors of ripe grapefruit and tangerine complicated by hints of honey and minty herbs. Closes long with astriong sense of saline extract. This already stains the mouth with near-painful flavor intensity but it's an infant today and will develop splendidly in a good cellar. Made with fifty years old Pinot Blanc vines planted on a limestone soil with schist below. This is a real knockout, and a world-class Pinot Bianco/Pinot Blanc wine. Drinking window:  2025-2035.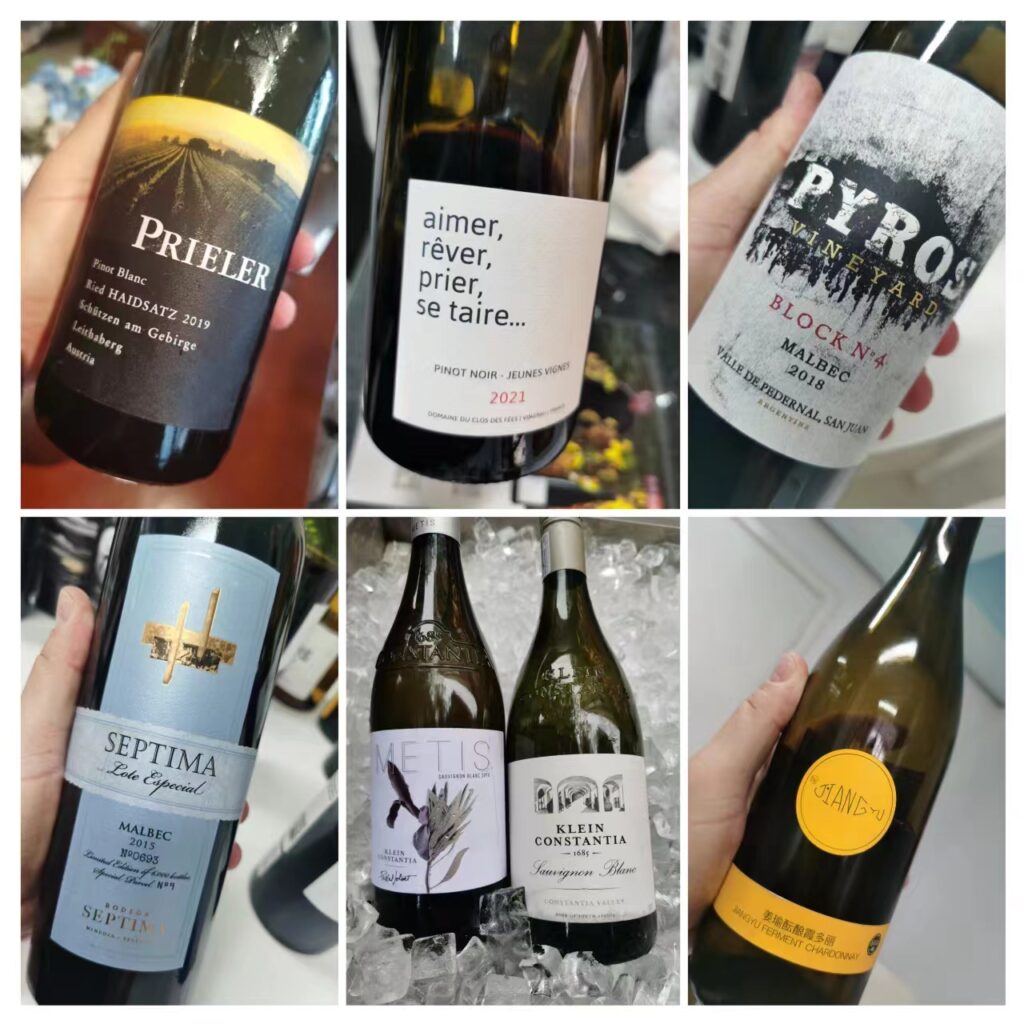 China.
Jiangyu Winery.
Probably China's smallest winery, this labour of love is a one man show with the owner taking care of everything. And given the results of the Chardonnay wine I tasted, I'd say there's plenty to look forward to in the near future.
Jiangyu Winery 2021 Chardonnay Ferment China     90
Pale straw-yellow color. Lemon, banana and minerals on the classic Chardonnay nose. Rich but taut, with nicely coiled flavors of wet stone, lime, banana and anise. This really lifts the palate and tickles the taste buds on the penetrating pineapple-accented finish. Easygoing and approachable, this has sneaky concentration: there's a lot of wine here, and strong harmonious acidity to carry it in bottle for a few more years. Drinking window:  2023-2026.
France.
Billecart-Salmon.
Billecart-Salmon 2002 Champagne Brut Cuvée Nicolas François  96
Bright, pale golden-yellow with an extremely tight powerful core of remarkably small, pinhead-sized, bubbles. Sexy aromas of orange, herbs, hazelnut and yeasty bread. Piercing yet silky, rich and deep but not especially broad or thick with its yeasty and hazelnutty personality currently dominating the palate. A downright profound prestigée cuvee with outstanding persistence. The long finish offers hints of enticing minerality and orange cordial. Knockout bubbly from a stellar vintage that is drinking splendidly right now: so while this will undoubtedly age well in a good cellar, my advice is to drink up and enjoy. Drinking window: 2023-2035.
Chateau Bonnange.
Situated in the heart of Blaye in the larger Bordeaux viticultural region, Chateau Bonnnage is making exceptional wines that are still flying somewhat under the radar. Owned since 2015 by Michael Huang, there are numerous noteworthy wines to be had from this address, especially those made with Malbec which is a bit of a house specialty (besides the outstanding full-throttle Malbec wine called "Noir" (while "Pourpre" is the name given to their premium Merlot wine), don't miss out on the unabashedly excellent Malbec wine simply labeled Cot).
Vignobles Bonnange 2020 Silice Vin de France            94
Deep straw-green with gold highlights. Intense, herb-inflected nose combines green fig, ripe pear, grapefruit peel, crushed stone, juniper, and tomato leaf. Rich, broad, concentrated and slightly sweet, with enticing notes of lime, menthol and rosemary. Dense, bracing and long, this is a viscous, authoritatively Sauvignon Blanc wine that will win many admirers: it's very much like something you'd expect from Dagueneau or Miani: really very well done here especially in light of the relatively young vines. 100% Sauvignon Blanc from soils rich in silica and limestone with gravelly clays on top. Barrel-fermented and aged eight months in oak with daily batonnage for the first six months. Only 3000 bottles were made: the 2020 is the first vintage. Drinking window: 2023-2028.
Vignobles Bonnange 2018 Malbec Noir Vin de France      96
Deep inky-ruby. Blackberry syrup, fresh black cherry and vanilla on the nose, with complicating notes of anise, black tea and coffee.  Supple and sweet on entry, then firmer in the middle, offering complex, deep dark cherry and berry flavours complemented by hints of cola and cocoa.  A musky minty note emerges with aeration and carries through the long, suave and multilayered finish, where the cola and cocoa notes recur.Best ever Noir, that manages to combine not just creamy richness but elegance and lift too. Drinking window: 2023-2028.
Vignobles Bonnange 2015 Chateau Bonnange Blaye Côtes de Bordeaux         91
Good moderately saturated ruby. Open-knit floral aromas of cassis, black cherry, menthol and violet. Not a fleshy wine but offers good floral lift to the savory, herbal flavors of plum, dark berries and herbs. Finishes with rising but smooth tannins and good length. Mostly Merlot and some Cabernet Sauvignon matured in oak. Drinking window: 2023-2026.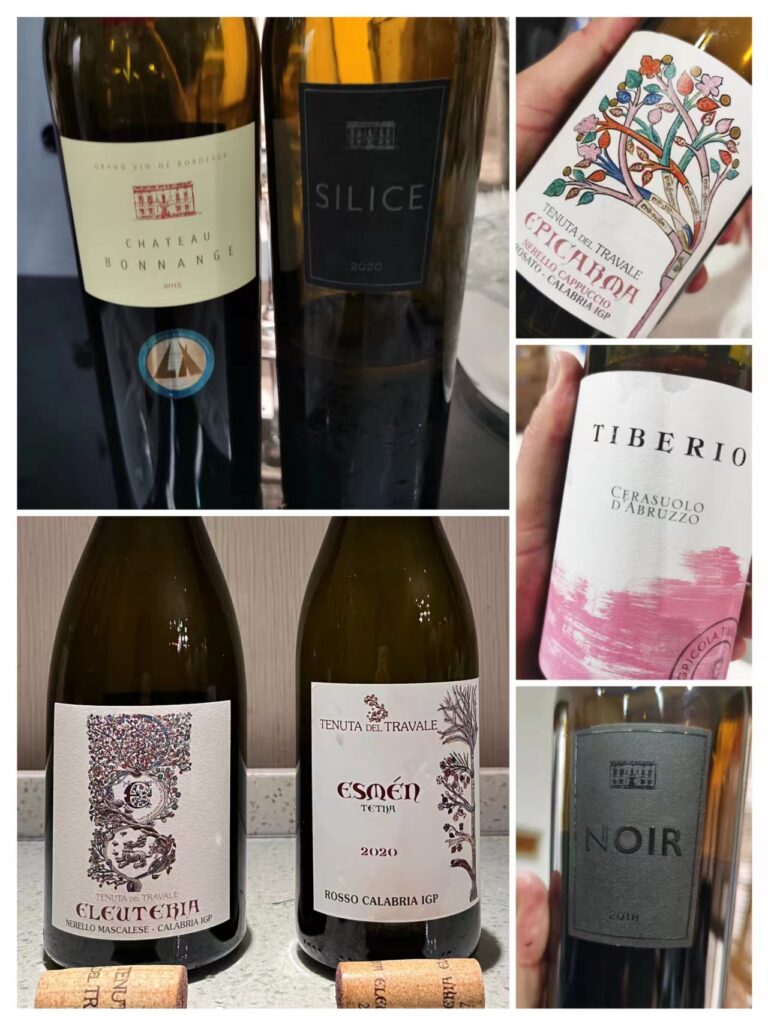 Chateau Palmer.
There's probably not much need for me to describe Chateau Palmer, one of the most important wine estates not just of Bordeaux but the world famous for its amazingly silky wines that owe much of their success, but clearly not just to, some very old vine Merlots. Originally  part of the much larger Chateau d'Issan, also in Margaux, it was sold to the de Gasq family (and was so renamed Chateau de Gasq); then, in the early 1800s, Mme. De Gasq (Marie Brunte de Ferrière) sold it to Charles Palmer,  and the rest, as they say, is history. For such an ancient and storied property, their Alter Ego wine is a relative newcomer to the Bordeaux scene (the first vintage saw the light of day in 1998 when an additional eight hectares of vines were bought). Contrary to popular belief, Alter Ego is not the winery's "second" wine, but rather a different interpretation of the Chateau Palmer and Margaux terroirs. Alter Ego is an altogether different wine from the Chateau Palmer grand vin, with a different grape blend and from mostly different vineyards, and  made in such a way to be readier to drink and fruitier at a young age.
Chateau Palmer 2009 Alter Ego du Chateau Palmer Margaux   94
Medium ruby. Sexy aromas of blackberry, dark plum, milk chocolate, caramel and cedar.  Silky but with a firm spine of rather suave tannins nicely supporting the ripe, creamy dark fruit and coffee flavors. Round and smooth, with fruit and polished tannins really saturating the mouth in a 2009 Bordeaux-typical way. Showy wine that really speaks of the vintage and of Palmer's uncanny ability to always produce wines that are at once plumper than the norm in Bordeaux but also extremely elegant, a neat trick. This is a lovely 2009 that's drinking fabulously. Drinking window: 2023-2035.
Chateau Sénéjac.
About forty hectares of the property's 150 hectares are planted to vines, and they are the source of one of the better Cru Bourgeois Supérieur of Bordeaux. It is an estate with a remarkably long vine-growing history, even by Bordeaux standards: documents show that owner Nicolas de Bloys planted vines at Sénéjac already in the sixteenth century. Since 2011, the property has been run by the descendants of Lorraine Cordier, who at the time was also owner of Saint-Julien's Chateau Talbot.                         
Chateau Sénéjac 2018 Chateau Sénéjac Haut-Médoc               91+
Good deep ruby-red. Reticent, refined aromas of cassis, minerals, cedar and herbs. Then juicy and well-delineated on the palate, with firm acidity giving an angular quality to the blueberry, licorice and stony flavors. Not a fat or fleshy style, and evolving slowly, but this very elegant, precise Bordeaux will likely have a long life. Don't touch a bottle for another four to five years, and get ready to be amazed by just how much and how well it will have developed (hence the + sign on my score). The 2018 is a blend of  59% Cabernet Sauvignon, 29% Merlot, 7% Cabernet Franc and 5% Petit Verdot aged for fifteen months in oak barrels (30% new). Drinking window: 2023-2035.
Domaine du Clos des Fées.
One of the most prestigious wineries in the Roussillon section of the Languedoc-Roussillon, is the brainchild of Hervé Bizeuil, who started his project in 1990 (his impressive resumé includes having been an extremely successful sommelier -for example, winner of the best French Sommelier title at only 21 years of age-and restauranteur) and has since launched a series of terroir-driven wines made with the typical local varieties (Grenache, Mourvèdre, Syrah and others).
Domaine du Clos des Fées Pinot Noit Jeunes Vignes aimer, rêver, prier, se taire…Côtes Catalanes          91
Medium red-ruby. Aromas of dark plum, red berries, smoke, black pepper, violet and earth. Not an especially fruit-driven style of Pinot Noir but dense, vibrant and light on its feet, with subtle notes of red and dark berries underneath the cloak of spices and herbs. Solidly structured, lively and long, this is actually a really pretty good Pinot Noir wine for the money. From the north-facing Cabrils plot characterized by red and black clay soil. Drinking window: 2023-2035.
Domaine Le Roc des Anges.
The winery was created in 2001 in the Roussillon by Stéphane and Marjorie Gallet, but Stéphane also worked at Mas Amiel and so was able to devote himself fully to his own domaine only as of 2008. Not that it slowed down the winery's success any, as its wines met with success almost immediately; in fact the estate rapidly grew from its initial ten hectares to the roughly forty of today, obtaining its biodynamic agriculture certification in 2010.
Domaine Le Roc des Anges 2020 Segna de Cor            91
Good dark ruby. Dusty black cherry and licorice on the nose, with some minty herbal notes that mostly dissipated with air.  Then sweet and pliant in the mouth, with menthol and mineral flavors complicating the creamy black and red fruit flavours. Finishes with serious palate-saturating tannins but with noteworthy delicacy too. The wine's name, Segna de Cor, is an anagram of the estate's name and is a blend of mostly young Carignan vines with a little Syrah and Grenache. Drinking window: 2023-2028.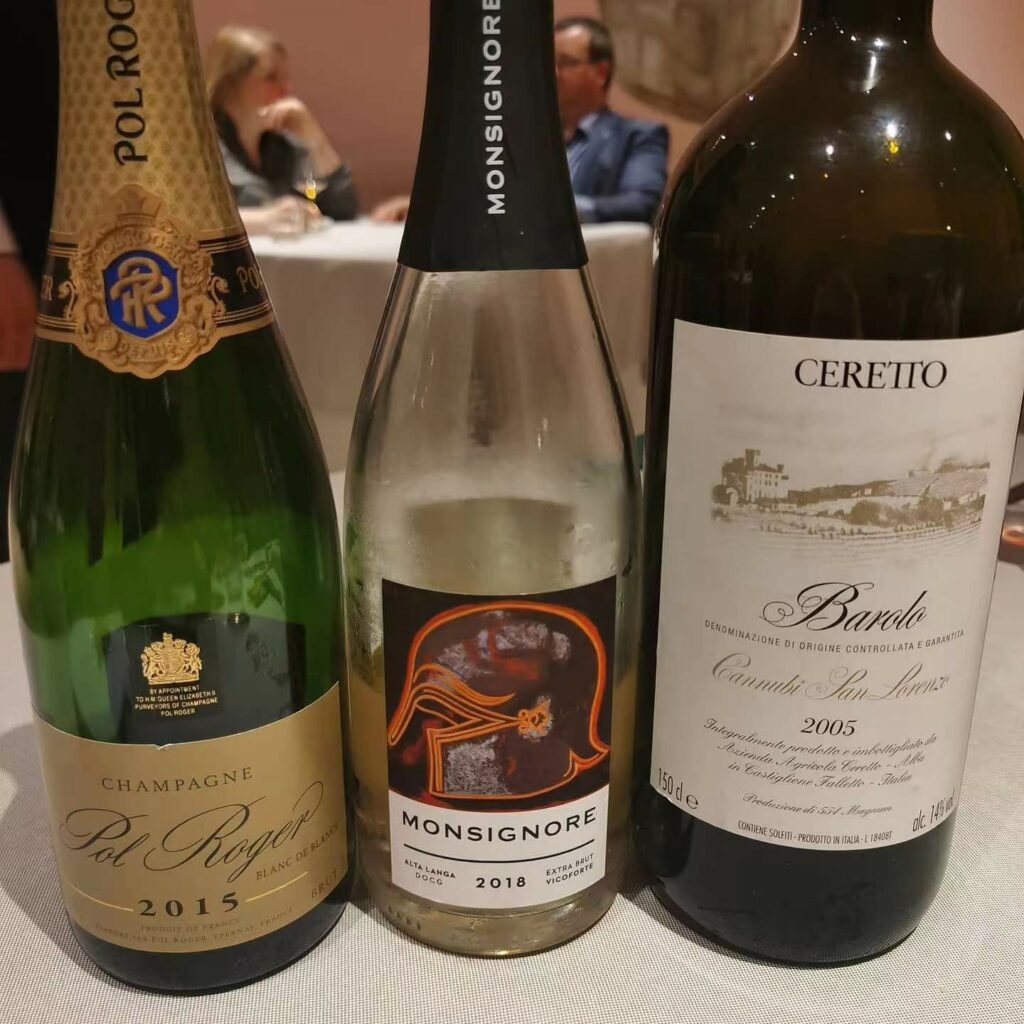 Pol Roger.
Pol Roger was just nineteen years old when he founded his estate in 1849: I'm not sure he could have imagined back then that he was giving life to what would become one of the foremost names in quality wine of any kind, the top cuvée of which is named after an ardent admirer, no less than Winston Churchill. Pol Roger is still today a family-run enterprise, with fifth generation Hubert de Billy managing the house. The winery can count on over ninety hectares of vineyards; its cellars in Epernay are famous, boasting 7.5 kilometers of underground tunnels.
Pol Roger 2015 Champagne Brut Blanc de Blancs             93
Medium-deep bright yellow with a string mousse of small bubbles. Strong vanilla, mint, white flower, pepper, and orange scents on the pretty nose. Densely packed with sweet fruit (dosage of 7 g/L) but also showing a powerful underlying mineral spine providing support. Closes juicy, soft and creamy but with good saline lift and nice length. Not an especially high-acid Champagne but aging very well nonetheless and quite fresh and lifted. Chardonnay from the cru vineyards of Oiry, Oger, Chouilly, Le Mesnil-sur-Oger, Cramant, and Avize. Drinking window: 2023-2028.
Pol Roger 2009 Champagne Extra Brut Winston Churchill    95
Bright, good full yellow with a persistent bead of small bubbles. Lemon oil, pear, yellow apple, pickled ginger, apricot, herbs, flint and whiffs of stony reduction and grapeyness on the nose. The palate is very round and ample, beginning with almost a sweet impression, but there's also good energy and tension to the flavours of glazed almonds, hazelnut, green fig and orange jelly. I love the combination of chewiness, ripeness, sweetness of fruit and minerality here. A big, creamy Winston Churchill vintage, but with superb lift and length, finishing with terrific fruitiness. Maybe not the most potentially ageworthy example of this prestige Cuvée and very ready to drink, but a real knockout nonetheless. Drinking window: 2023-2033.
Germany.
Keller.
Keller 2014 Nierstein Hipping Riesling Riesling Beerenauslese            96
Deep golden-tinged yellow-green colour. deep, sweet and very complex aromas of pineapple, lemon cream pie, crêpes suzette, minerals, acacia honey, jasmine and rose. Vigorous on the attack, then seductively sweet and velvety in the mouth, with a honeyed richness nicely complemented by enticing harmonious acidity that really extends the ripe, precisely delineated fruit and floral flavours on the long, suave, juicy back end. Very lush but at the same time boasts exceptional lightness of touch and terrific thrust. Captivating, classy glass of sweet wine that you won't want to let go. Drinking window: 2023-2045.
Keller 2013 Westhofen Brunnenhäuschen Abst E Riesling Beerenauslese            92
Bright medium-pale yellow. Perfumed nose combines honey, lime, honeysuckle, flint and jasmine, with a sappy element of floral oils and a piercing suggestion thanks to lively, harmonious acidity. Glyceral-sweet yet fresh on the palate, with dried fruit notes complicated by lemony herbs and marzipan. Finishes long and pure, with noteworthy juiciness and lift. A wine of considerable nuance but not especially concentrated, I liked this but also think that it will appeal more to those who prefer their sweet wines on the lighter, fresher side of the sweet wine spectrum. Drinking window: 2023-2036.
Robert Weil.
Robert Weil 2004 Kiedrich Gräfenberg Riesling Trockenbeerenauslese Rheingau        94
Deep golden amber colour. Fruit-driven and marmelady noble rot aromas of yellow peach, lime, lemon peel and tropical fruit cocktail nicely complicated by hints of sultana raisins, chestnut honey and candied figs. Juicy, massive and somewhat monolithic, with mouthcoating,  honeyed tropical fruit and raisin flavors that grab your taste buds and just won't let go. Quite complex and rich, but still relatively but lacy and light on its feet so that it is neither cloying nor over the top. Finishes long and with its chunky personality dominating. A real mouthful of sweet wine that it is undoubtedly very impressive: I'm one of the world's biggest German sweet Riesling wine fans (in fact, they're the wines I'd want with me on a desert island) but I find this could use a bit more definition and penetrance for an even higher score. Drinking window: 2023-2036.
Robert Weil 2002 Kiedrich Gräfenberg Riesling Eiswein Rheingau        97
Deep yellow with golden-amber highlights. Pure, refined aromas of lime blossom, tangerine, crystallized mango, lemon curd, verbena, and minerals. Chewy and extremely dense but with fabulously harmonious piercing acidity that provides the minerally citrus and sweet spice flavours great cut and clarity. Despite this wine's richness, the crystalline aftertaste leaves the palate feeling lively and fresh, and wanting to drink more. This is absolutely drop-dead gorgeous stuff. In the way only Riesling can, this little beauty (little in the sense that I drank it from a 375 mL bottle) offers an immense amount of flavour and only 6.5% alcohol. There really is no grape like Riesling in the world. Drinking window: 2023-2045.
Italy.
Ca' del Bosco.
Ca' del Bosco 2013 Curtefranca Bianco                 93
Luminous straw yellow. Captivating nose offers pear, orange, banana, grilled hazelnut and walnut aromas lifted by a white flower note. Then round and full in the mouth, but with fresh acidity nicely framing the sweet orchard fruit and grilled nut flavours. Seamless, shapely and persistent on the long vibrant, minerally finish, this is an absolutely knockout Italian Chardonnay, a grape variety with which Italy does generally very poorly with. Ca' del Bosco has always made one of the country's five or six best chardonnay wines and this now ten-year old beauty is a case in point. Well done. Tasted from magnum. Drinking window: 2023-2030.
Cantina Colli Euganei.
Cantina Colli Euganei 2018 Moscato Fior d'Arancio Colli Euganei           90
Medium bright yellow. More exotic and richer on the nose than a wine made with Moscato Bianco might be, this offers perfumed aromas of mirabelle, lemon jelly, orange blossom, honey and sweet spices. Silky and broad in the mouth, with a juicy texture nicely persisting on the floral, spicy finish. Lovely white wine but not especially high on acidity: drinking splendidly right now, there's not much to gain by holding on to it anymore, so drink up. Drinking window: 2023-2025.
Ceretto.
Ceretto 2005 Barolo Cannubi San Lorenzo           98
Vibrant red. Perfumed nuances of rose, violet, sour red cherry, dark plum, aromatic oak, sweet spcies and menthol on the perfumed, profound nose. Then magically silky and suave in the mouth, with an almost weightless texture and lingering flavours of spicy red fruits and flowers that are both multilayered and remarkably precise. Ceretto's Barolo Cannubi San Lorenzo, from one of the best parts of the extended Cannubi hill, is Barolo at its suave and pure best. Served from the usual magnum bottle (this wine is only bottled in magnums), this is perfect wine and vintage to drink now, not to mention ideal to serve in a restaurant setting. The wine boasts the Cannubi San Lorenzo's magically silky tannins (it's one of the two sandiest parts of the extended Cannubi hill), knockout balance and perfume. While many Barolo producers use the name of "Cannubi" generically on their bottle labels (because the law allows it and because they all look to cash in on the magic of the name "Cannubi" as opposed to using less sexy and qualitative names such as Cannubi Valletta or Cannubi Muscatel, where their plots of vines really are) make sure you do not do so too (not just because you know better, but because you are better than that). After all, it is only logical that just as the parts of the extended "Cannubi" hill differ in altitude, topography and soil, so do its wines. Drinking window: 2023-2040.
Grifalco.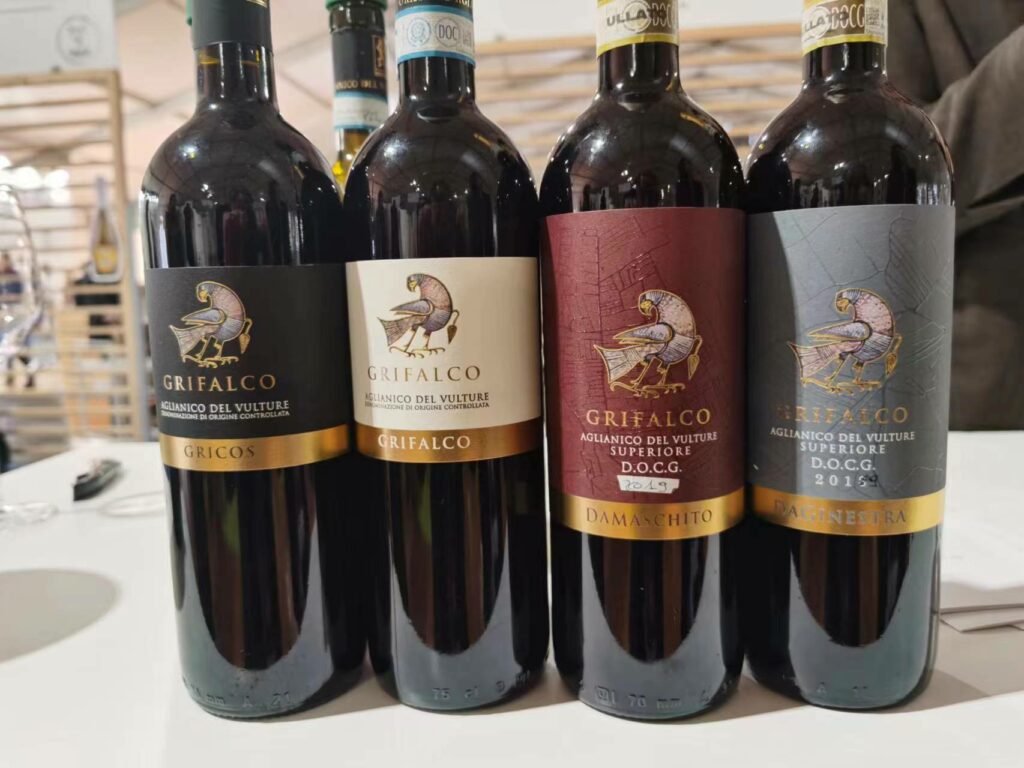 Grifalco 2021 Aglianico del Vulture Gricos       93
Bright, deep red. High-pitched, very pure and precise aromas of raspberry, red cherry jelly, fresh herbs, flowers and minerals. Boasting very inviting inner-mouth perfume, with racy acidity and a mineral spine nicely framing its juicy and bright red fruit flavours. Neither especially fleshy nor complex, but crisp, lively and very food-friendly, this Aglianico's precisely-delineated fruitiness is absolutely captivating. Finishes smoothly tannic and persistent. Unless memory fails me now, I think this is the best young Gricos I have ever tasted at a similar young stage of development. Drinking window: 2023-2026.
Grifalco 2020 Aglianico del Vulture Grifalco      94+
Deep red-ruby. Complex, very deep and intensely floral nose of raspberry and red cherry, violet, cedar and star anise, accented by a subtle flinty overtone. Pliant and sappy on entry, then more serious and elegantly austere in the middle, offering precise mineral red fruit flavors that gain weight and intensity with aeration. The extremely refined, energetic finish repeats floral and mineral notes showcasing remarkable purity and focus. While I don't ever remember if I have had a better Aglianico del Vutlure Gricos bottling from Grifalco than this year's version, I have no such doubts here: this is the best version of the Aglianico del Vulture "Grifalco" (the winery's main wine) ever made by the estate. Give it a few years in a good cellar to build up further complexity and open up a bit before you decide to pull the cork on a bottle. I think it will likely deserve an even higher score then, hence the "plus" sign on my score. Drinking window: 2026-2038.
Grifalco 2019 Aglianico del Vulture Damaschito         95
Bright purple. Open-knit and nicely expressive on the nose, with ripe strawberry and candied red cherry aromas joined by suggestions of potpourri, sweet spices and licorice. Broad and sweet on the palate, with creamy red berry and ripe cherry marmelade flavors showing a metallic and brown spice note that is typical of the vineyards of Forenza and Maschito. The soft fruit expands and deepens on the finish, which features velvety tannins and faded floral notes. Already approachable and easy to drink, this may actually not last as long as the Aglianico the Vulturee "Grifalco" bottling, but it offers a fascinating glimpse into what Aglianico can deliver in different soils and habitats. Drinking window: 2025-2035.
Grifalco 2019 Aglianico del Vulture Daginestra          96
Saturated full red. Less flamboyant on the nose than Grifalco's 2019 Aglianico del Vulture Damaschito release, with flinty mineral nuances dominating blueberry and black cherry today. Then very deep, pure and elegantly austere in the mouth, with currently youthful, slow-to-emerge flavors of dark plum, blackberry, violet and sandalwood. Ultimately fresher and gutsier than the spicier and more forward Damaschito, but each one of these two cru wines from Grifalco will have its share of fans. Finishes with fine-grained tannins and good grip, not to mention extreme length and outstanding inner-mouth energy. Even better than another bottle I had tasted a month before this one. Drinking window: 2025-2036.
I Parcellari.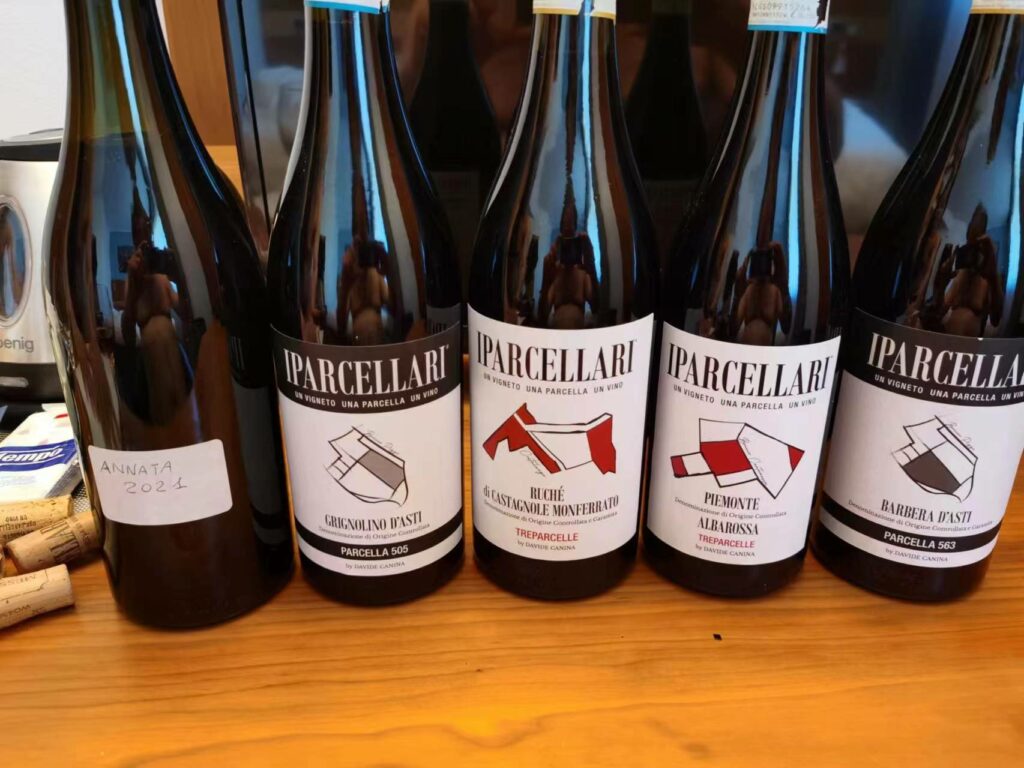 I Parcellari is yet another very small Italian wine producer and yet another labour of love, this time founded by a professional piedmontese sommelier, Davide Canina along with the help of Agostino Malvicino director of the Govone cooperative. The word parcella in Italian means a "plot of vines"; hence the name of the company, dedicated to producing wines highlighting single expressions of terroir through mostly single, specific lieux-dits and individual grape varieties. Besides the wiens reviewed here, I point out that a Chardonnay, a Sauvignon and a Nebbiolo wine are also made; that much admitted, in my view the best wine of the bunch is a really spectacular Grignolino d'Asti, though just about anything from I Parcellari is both varietally accurate and well-made,a nd worthy of your attention.
I Parcellari 2021 Grignolino d'Asti   Parcella 505            94
Slightly orange-tinged red. Open, forward aromas of red fruit and rosehip. Then wasygoing, broad and mellow in the mouth, with flavours of red cherry and tar, complicated by a delicate herbal nuance and an earthy undertone. Finishes long and savory with a whiplash of refreshing peppery acidity that really focuses and energizes this very pretty wine on the long back end. Benchmark Grignolino d'Asti, beginning with it's orangy colour which is absolutely typical of the variety. Great stuff that all those who like lighter-bodied but very flavorful reds will enjoy. Drinking window: 2023-2026.
I Parcellari 2019 Grignolino d'Asti Parcella 505         92
Pretty medium-dark red. Sweet spices dominate the red cherry, blackberry and floral aromas on the captivating nose. Then bright and energetic, with spicy red and dak cherry fruit that is fresh and flavourful. Finishes very long with a welcome mouthcoating presence and a hint of vanilla from the aging in oak, but also plenty of freshness. Knockout Grignolino that, beginning with the deep colour (almost as if a little Barbera snuck its way in here), could not be anymore different than the softer, broader, less spicy and seemingly more forward I Parcellari 2021 Grignolino d'Asti; in fact, this 2019 Grignolino wine has more in common with the Grignolino wines of the Monferrato Casalese than it does with those of Asti. But it's absolutely exceptional rendition of Grignolino wine that will appeal to those who like their red with a little more body than Grignolino variety is usually known for. Well done. Drinking window: 2023-2028.
I Parcellari 2021 Ruch di Castagnole Monferrato Treparcelle          92
Deep ruby-red. Initially reduced on the nose, then opens up considerably with aeration to showcase Ruché's trademark aromatic nuances of cinnamon, nutmeg, and coriander that complicate nicely ripe dark red cherry and raspberry fruit aromas. Then rich and creamy, but with lively harmonious acidity providing lift to the suave spicy red and dark cherry flavours. Finishes long and spicy, this is another knockout wine from I Parcellari but make sure you decant it thirty minutes ahead for maximum enjoyment. Drinking window: 2023-2026.
I Parcellari 2019 Albarossa Piemonte Treparcelle             91+
Medium-deep ruby. Slightly reticent nose hints at the variety's tell-tale tobacco and red cherry fruit aromas. Then more expressive in the mouth, with a solid tannic backbone providing noteworthy underpinning to the rich red fruit and spicy flavours. Closes long and with rising austerity. Very serious, even austere Albarossa wine that will benefit from proper cellaring: give this another year or two in a good cellar and enjoy. Drinking window: 2025-2030.
I Parcellari 2020 Barbera d'Asti Superiore Parcella 563          90
Deep purple-red. Grapey aromas and flavours of dark plum, red cherry and violet. Juicy, telltale Barbera acidity really lifts the fresh dark fruit flavours on the juicy high-strung back end. Fresh and lively but not especially complex Barbera wine that will match well with fried and fatty foods, but at the same time too serious and rich for pizza and simple pasta dishes. Drinking window: 2023-2026.
Livio Felluga.
Livio Felluga 2019 Friulano Friuli Colli Orientali      91
Bright greenish-yellow. Laid-back but focused aromas of green fig, chamomile, lime, ginger and wild herbs. Pure and elegant, with reticent, youthfully taut flavors of lime sherbert and almond paste. Showed more texture and sneaky concentration on the long clean aftertaste thanks to a bit of aeration. While it's deceptively easy to drink, this 2019 Friulano from Livio Felluga strikes me as being a notch up in quality compared to some other recent vintages of the same wine: I just find the 2019 to have better depth, focus and energy than is usual for the Friulano wine from this winery. Drinking window: 2023-2025.
Livio Felluga 2008 Rosazzo Bianco Terre Alte Colli Orientali del Friuli          94
Good full straw yellow colour. Drop-dead gorgeous, complex, and deep aromas and flavours of grapefruit, yellow apple, beeswax, lemon ice, sweet spices, and honey. Rich and ripe but penetrating, with distinctly mineral and floral elements and a brisk note of fresh citrus oils on the long textured finish. Knockout white wine that is still very youthful at fifteen years of age. Gorgeous stuff. Drinking window: 2023-2030.
Mustazza.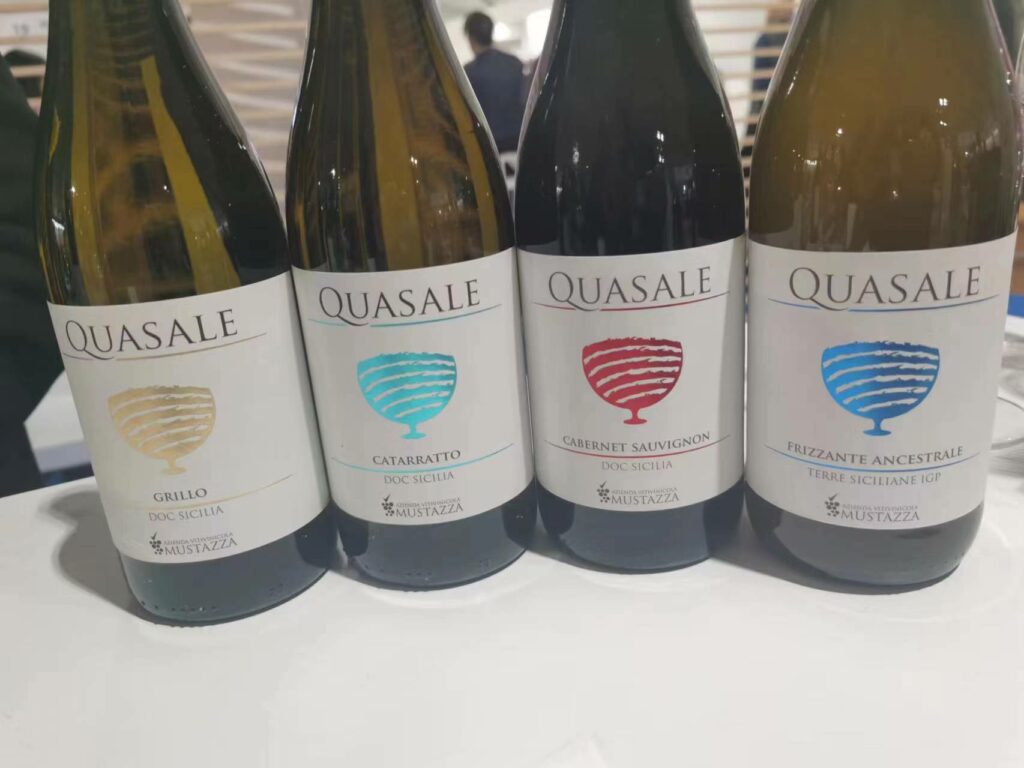 In 1955, Cristoforo Mustazza bought forty hectares of land ideal for cultivation. Today, it's his grandson, also called Cristoforo, who tends to fifteen hectares in the commune of Buseto Palizzolo devoted to vineyards and is making some very interesting Sicilian wines. The estate is in fact a very young wine: imagine that wine was first made only in 2015 and sold in bulk; while in 2020 the first estate-bottled Mustazza wines see the light of day.
Mustazza 2022 Frizzante Ancestrale Quasale Terre Siciliane      91
Hazy orange-yellow. Exotic, high-toned honey and spice notes complicate aromas of orange and apple. Lively and bright in the mouth but with a glyceral nuance, with lovely stony undertones to the orange blossom flavours. Finishes clean and brisk, thanks to crisp acidity with notes of dusty stone and orange peel. A blend of Grillo and Cataratto varieties picked from roughly twenty years of vines planted between 350-450 meters above sea level; the wine spent roughly ten months on the lees. Drinking window: 2023-2026.
Mustazza 2022 Grillo Quasale Sicilia              91
Vivid straw yellow. Bright aromas of citrus peel and pineapple have a subdued musky undertone. Juicy and round in the mouth, with penetrating acidity and cool tight quality giving the middle palate and long aftertaste a high-pitched and vibrant character. Drinking window: 2023-2028.
Mustazza 2022 Cataratto Quasale Sicilia       92
Pale straw-yellow. High-pitched, musky aromas of white flowers, yellow fruit, quinine, ginger, and herbs. Broad, classic, and tightly coiled in the mouth, with the fruity and herbal flavours leaving an impression of great freshness. The clean, rising finish shows terrific clarity (about 5.8 g/L total acidity) and sneaky depth of flavour, not to mention noteworthy delicacy. While Grillo is generally considered to be the most important Sicilian native white wine grape along with Carricante, I find that Cataratto Comune and Cataratto Lucido grapes can give utterly compelling wines when made by competent, passionate producers. Drinking window: 2023-2028.
Mustazza 2020 Cabernet Sauvignon Quasale Sicilia         88
Bright ruby-red. Nicely scented nose of dark berries, cherry-cola, dried lavender and musky herbs. Powerful but fresh in the mouth, with chewy cherry and blackberry nuances picking up extra sweetness and energy in the mid-palate and on the long, smooth and vibrant finish. 100% Cabernet Sauvignon grapes grown between 300-400 meters above sea level; stainless steel- fermented and aged, this is no blockbuster but very easy to drink. Drinking window: 2023-2030.
Podere Sabbioni.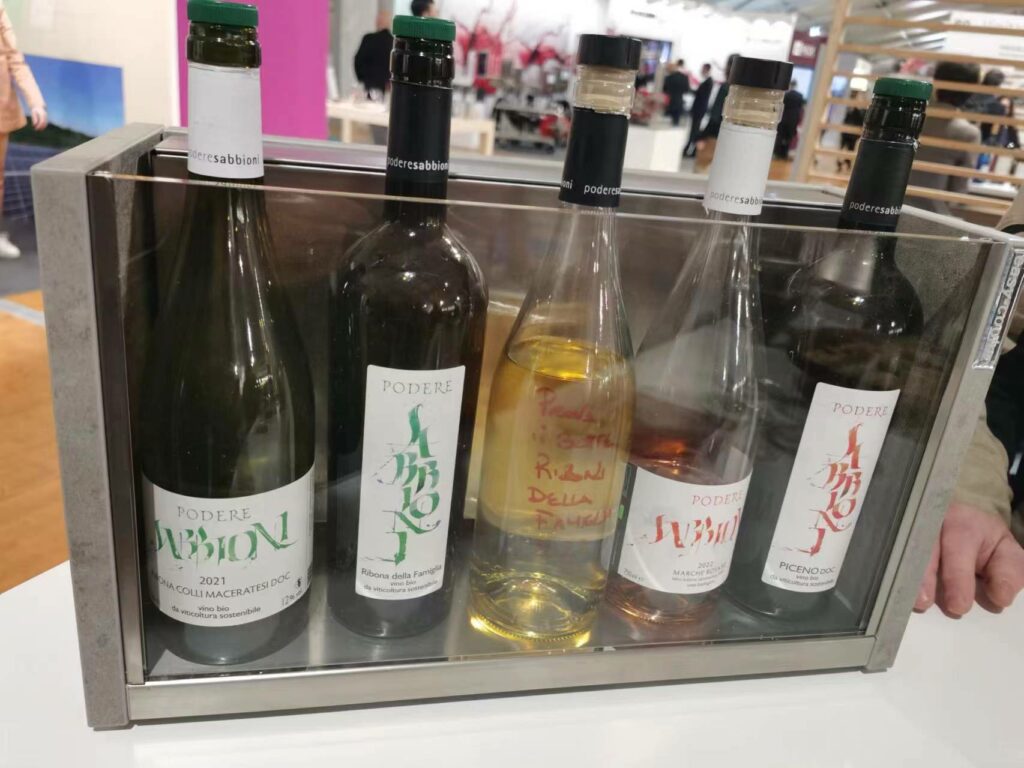 Podere Sabbioni is a small estate run by a husband and wife team who are remarkably passionate and talented. Just about any wine made at the estate is more or elss at the top of its respective category and it can be argued that this is in fact the best producer of Ribona wines in the Marche (made with organically farmed Maceratino grapes). But don't forget the winery's delicious reds, which are very well-balanced and authoritatively flavoured.
Podere Sabbioni 2021 Ribona Colli Maceratesi           91
Vivid straw-green. Delicately musky aromas and flavours of green apple, lemon oil, and crushed stone. Thicker than the 2020 Ribona but just as elegant, with cool flavours of orchard fruit and minty herbs that spread out impressively to coat the mouth. Bright and crisp, this leaves a strongly mineral presence behind. Drinking window: 2023-2028.
Podere Sabbioni 2022 Ribona della Famiglia Colli Maceratesi       94
Now this is a knockout. Vivid straw-yellow. Perfumed, extremely deep aromas of ripe orchard fruit, yellow melon, blood orange, mint and chamomile with a bright floral topnote. Then remarkably rich and multilayered in the mouth, with concentrated but piercing flavours of green herbs, orchard fruit and lime. This multifaceted wine finishes long with building complexity and length. Will only be on sale later in the autumn of 2023, but this promises to be the best ever Ribona made by this estate, which is saying quite something given that Podere Sabbioni is generally considered to be the best at making Ribona wine Drinking window: 2023-2030.
Podere Sabbioni 2021 Ribona della Famiglia Colli Maceratesi              92
Luminous straw-green. Pure but youthfully reticent nose hints at oyster shell, ginger and nutmeg; more classic than the 2022 Ribona della Famiglia, but less showy and concentrated than that wine. Tightly coiled and herbal on entry, then risingly tactile and taut in the mid-palate, offering very good energy and cut on the subtly citrus-accented long finish. Best in a year's time. Drinking window: 2024-2023.
Podere Sabbioni 2022 Marche Rosato                    90
Light, bright pink. Aromas and flavours of violet and strawberry, with a touch of nectarine adding depth. Fresh, and open-knit, offering good focus and verve to its red berry and orchard fruit flavors. Finishes juicy and broad, with lingering red fruit notes and a simple, easygoing, approachable personality. Drinking window: 2023-2025.
Podere Sabbioni 2021 Piceno                           92
Good full red. High-pitched, perfumed scents of red cherry, quince and violet, with a balsamic nuance gaining strength with aeration. Tactile and textured, but shows very good energy and a light touch to its vibrant red berry and mineral flavours. While boasting noteworthy concentration of fruit, this still manages to close on a brisk, spicy note, with excellent focus and mineral-driven persistence. Easy to drink and to like, there's a lot of wine here for the money. Drink this 85% Montepulciano and 15% Sangiovese blend slightly chilled (but don't exaggerate: Montepulciano is a very tannic variety and this wine was aged fifteen  in small oak barrels) mwith grilled summer foods, but has enough class and stuffing to match with more serious, complicated fare and dinners. Drinking window: 2023-2028.
Poggio di Sotto.
Poggio di Sotto 2007 Brunello di Montalcino 96
Pale red. Complex and very pure aromas of red cherry, strawberry, sassafras, violet and minerals; also very fresh, so much so that I would have placed this as coming from less warm year than 2007. Enters creamy and ripe, but quickly shows superb lift to the red cherry and blood orange flavours along with hints of candied rose, cherry cola, licorice, underbrush and violet pastilles. Lush and generous but very fine-grained on the long, suave, penetrating finish. To make a wine this great in an overly hot, utterly forgettable and hopelessly overrated year (overrated by others) such as 2007 was for Brunello is a testament to the simply amazing talent levels of the staff and ownership at Poggio di Sotto. To put it simply, a wine such as this is right up there with anything made by Roumier, Lafite, Bruno Giacosa and similar great names in wine. Drinking window: 2023-2038.
Strasserhof.
Strasserhof 2021 Kerner Alto Adige         90
Pale yellow. Exotic hints of peach, lemongrass and orange zest, plus a whiff of lime. Juicy and fresh, but with a supple quality to its strong stone fruit flavours complemented by eucalyptus and white pepper notes. Brisk lemony acidity rises on the long brisk finish. Not the most concentrated Kerner wine you'll ever drink but faithful to the variety and very approachable, not to mention food-friendly. Drinking window: 2023-2026.
Tenuta del Travale.
Tenuta del Travale 2022 Nerello Cappuccio Epicarma Calabria Rosato          94
Tenuta del Travale 2020 Esmén Tetra Calabria Rosso             92
Bright red. Very inviting on the Pinot Noir-like nose, with perfumed, whole bunch-type aromas of floral red cherry, redcurrant, and herbs. Very juicy and fresh, offering a penetrating mouthfeel thanks to harmonious acidity lifting the red berry and dark cherry flavours. Closes smooth and long with repeating floral echoes. An 80% Nerello Mascalese and 20% Nerello Cappuccio blend from Calabria that puts many Etna wines to shame. Drinking window: 2022-2028.
Tenuta del Travale 2020 Nerello Mascalese Eleuteria Calabria Rosso          94+
Deep red. Deep, still youthfully reticent aromas of ripe red and black cherry, strawberry jelly, aromatic herbs, aromatic woods, sweet spices, and flint with a bright violet topnote. At once elegant yet broad, with pure deep red and blue fruit flavours that are still youthfully clenched but beginning to open thanks to the passage of time. Complex and multilayered, with rising polished tannins on the long smooth finish. Verry good already now, but better still in a couple of years. Drinking window: 2025-2035.
Tenuta del Travale 2020 Nerello Mascalese Eleuteria Special Edition Affinato in Anfora Calabria Rosso      94
Medium dark red. Open-knit aromas and flavours of dusty red cherry, violet and tobacco, complicated by scorched earth nuances. Very fine-grained and smooth, boasting notewiorthy energy and focus on the long creamy finish. Much less brooding than the "regular" (not amphora-aged) Eleuteria, but each will have its share of fans. Only 600 bottles made but unlike many amphora-aged reds that seem mostly gimmicky and little else, this is the real deal and a smashing success. Well done. Drinking window: 2023-2026.
Tiberio.
Tiberio 2022 Trebbiano d'Abruzzo                 93
Pale, bright yellow-green. Aromas of crisp yellow apple, white flowers, lime and hazelnut: this is very pretty and very Trebbiano Abruzzese, not Trebbiano Toscano. For all its juiciness this is tactile and blessed with sneaky concentration, boasting excellent energy to its bright lemon, herbal and toast flavors. Uncharacteristically for this wine, there's a suggestion of opulence here joining in the more usual elements of freshness and austerity. Finishes long, classically dry and laid-back, with a light saline component and outstanding freshness. Chill this well and get ready to drink it all summer long. Drinking window: 2023-2028.
Tiberio 2022 Pecorino Colline Pescaresi         94
Straw-green. Perfumed lime, sage, and herbs on the fresh nose, with hints of guava, green fig and papaya. Then also bright and fresh in the mouth, with a glyceral but lifted mouthfeel on the long energetic finish. Long and lively, this is absolutely thist-quenching and delicious. Strikes me as one of the best Pecorino wines ever made by Tiberio and that's saying something, given they have made so many great ones. Drinking window: 2024-2030.
Tiberio 2020 Trebbiano d'Abruzzo Fonte Canale       96
Pale yellow with gold-green highlights. Youthfully reticent but very pure and penetrating aromas of lime peel, lemon, almond flower and minerals. Deceptively open on entry in the manner of a great Chablis from Les Clos, with a suave set of citrus oil-accented flavours of orchard fruit and guava. Then much more like a Chablis from Blanchots on its lifted, fine-grained and extremely long mineral finish. citrus oil. A powerful, broad wine yet almost magically weightless as is absolutely typical of Fonte Canale, one of Italy's best 10-15 white wines in practically every vintage. The 2020 is good to drink now but will be so much better five years from now. Don't say I didn't warn you. Drinking window: 2027-2035.
Tiberio 2022 Cerasuolo d'Abruzzo                  95
Deep pink: this is a much deeper colour than usual for this wine, almost pale red in fact. Red cherry, cranberry, almond paste and flowers on the perfumed deep nose. Nicely fleshy on the palate, with red berries and chewy herb-accented forest floor flavours that are very pure and fresh. The energetic and brisk finish showcases surprising weight and glyceral personality to the repeating red cherry and berry nuances. Maybe the best ever Cerasuolo from Tiberio: the 2022 vintage benefited from noteworthy wind currents that led the grapes to develop thicker skins, meaning more extraction and a rounder, bigger mouthfeel to the wine but without losing any of its trademark elegance. Drinking window: 2023-2026.
Tiberio 2021 Montepulciano d'Abruzzo         93
Bright ruby. Bitter red and black cherry, blackcurrant, tobacco and violet on the perfumed, inviting nose, along with an intriguing flinty quality. Fresh and energetic, but at the same time suave and silky in the mouth, with a concentrated dark cherry and fresh plum flavours. Impressively dense and serious for a wine in this price range, finishing with broad, fine tannins and outstanding length. Drinking window: 2024-2030.
Tiberio 2019 Montepulciano d'Abruzzo Archivio       95
Modearately glass-staining purple. Surprisingly low-pitched for a Tiberio wine, with a spicy nose evoking red and dark cherries, violet, licorice, underbrush, allspice, and cocoa, plus a touch of licorice for added interest. Creamy-smooth and rich on the palate, but also vibrant and precise despite its size, with flavours that echo the aromas. The aftertaste hints at cinnamon, vanilla, cocoa, and smoke. Drinking window: 2026-2040. 
Tiberio 2019 Montepulciano d'Abruzzo Colle Vota    96
Good full purple-red. Intensely floral notes of violet and lavender complicate black cherry, dark plum, smoke, minerals and sweet spices, along with a peppery herb nuance. Classically dry in the mouth but with a sultry core of superripe delicately smoky red and black cherry and sweet spices that reminded me of something that Dujac or Méo-Camuzet might make. Closes tangy and primary, silky and penetrating, with lingering perfume. Knockout wine, and don't kid yourself: you have literally no idea just how good, great, Montepulciano wines can be unless you drink this wine (and Valentini's) regularly. Drinking window: 2025-2038.
Tramin.
Tramin 2021 Pinot Grigio Unterebner Alto Adige             93
Bright straw-green with golden tinges. Inviting nose offers currently more spice (cinnamon, white pepper) than fruit (yellow apple, pear), along with a floral element. Then remarkably penetrating and pure, with a strong but harmonious acid spine providing the clean ripe orchard fruit with plenty of support. Though this is not the deepest or most concentrated version of Unterebner I have tried over the years, this vintage still boasts superb fruit-acid balance on the long layered, lifted finish. If you don't think Pinot Grigio can be a serious or even a world-class wine, you've got to try Tramin's Unterebner (even better if you can find a bottle with three or four years on it). Drinking window: 2025-2038.
New Zealand.
Craggy Range.
Craggy Range 2019 Syrah Single Vineyard Hawkes Bay         92
Vibrant ruby-purple. Sneakily concentrated black cherry and blueberry aromas are complicated by dried flowers, allspice and minerals. Bright and juicy but also fleshy, with gently sweet and smooth\ black and blue fruit flavours firmed up by a silky tannic backbone. Closes bright and sappy, with building oiliness and spiciness. This will drink well young but also has the depth for aging. Very nice New Zealand Syrah wine. Drinking window: 2025-2032.
South Africa.
Klein Constantia.
Klein Constantia 2020 Sauvignon Blanc Constantia Valley       91
Pale, green-tinged color. Fresh aromas of peach, white flowers, anise and lemon pepper, plus a suggestion of tropical fruits. Vibrant and juicy, but with an impression of good extract to its precise flavours of white (not pink) grapefruit, pungent spices, and herbs showing very nice clarity and cut. Slightly tart persistent finish features a repeating note of white grapefruit. Drinking window: 2023-2026.
Klein Constantia 2018 Sauvignon Blanc Metis Constantia Valley          92
Pale, bright yellow. Ripe lemon, yellow peach, green fig and flint aromas lifted by spices and flowers. Round, ripe and glyceral, with layered flavours of fresh citrus fruits, grass, pepper, and mint. Closes broad, dense and rich, with hints of tarragon and licorice. A rather sophisticated Sauvignon Blanc wine. Drinking window: 2023-2030.
Piekenierskloof.
Piekenierskloof 2019 Samson Old Vine Straw Wine   95
Vivid golden yellow color. Spicy, sweet, perfumed aromas of pineapple, mango, nutmeg and ginger, with a complicating vanilla and guava nuance. At once juicy, pure and penetrating, but also richly ripe and sweet, with very harmonious acidity lifting the tropical fruit, yellow peach, caramel, cinnamon, and citrus flavors.  Knockout sweet wine that is so good I would have emptied the bottle of all by myself. Drinking window: 2023-2038.