Clendenen Family Vineyards 2017 Nebbiolo The Pip Santa Maria Valley                    94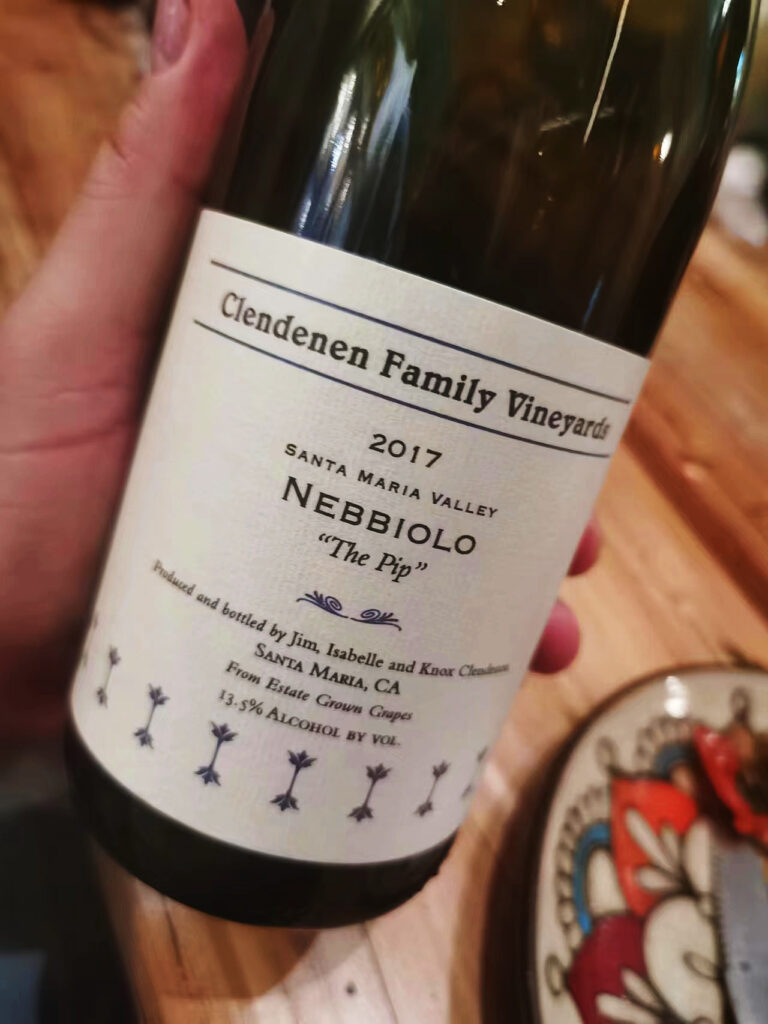 by Ian D'Agata
Jim Clendenen's absolutely crystalline talent was in full display with the understated by precise and very flavourful wines he made over the years at Au Bon Climat (or as wine lovers referred to the winery, ABC), one of California's four or five best sources for Chardonnay wines that had not been over-oaked to death and Pinot Noir wines that actually tasted of the grape and not of fruit juice made from dehydrated berries. Unfortunately, Clendenen passed away unexpectedly at only 68 years of age on May 15, 2021; however, his legacy lives on thanks to the myriad ABC wines he made over the years as well as the just as excellent ones he made at Clendenen Family Vineyards, a highly meritorious and noteworthy wine project he launched in 2000. The latter brand included wines made from many less common grape varieties and pushed the winemaking and territorial expression envelopes of each to very good effect. An excellent example of this is provided by the Clendenen Family Vineyards 2017 Nebbiolo The Pip Santa Maria Valley, an absolutely outstanding example of New World Nebbiolo wine that actually looks, smells and tastes of the variety and clearly gives some Nebbiolo wines made back in Italy a run for their money.
Bright dark red with a hint of garnet: it's a very pretty hue and it is just as it should be, because it's Nebbiolo we are talking about and not Merlot or Cabernet Sauvignon, and so the colour of this wine is red and not inky. The truly enticing nose is redolent of sweet ripe red berries, dark cherries, red plums, rose petals, cinnamon and violet, with a delicate reminder of herbs and underbrush. Multilayered, suave and loaded with compelling fruity sweetness, it just glides across the palate, smothering your taste buds with glyceral red fruit and floral flavours that are beautifully delineated by harmonious acidity. Long and smooth on the aftertaste, that features rising polished tannins and nicely lingering, repeating floral nuances. Quite simply, this is a knockout red wine and a very good example of just how good Nebbiolo wines can be from California (its cooler reaches, at least). The grapes for "The Pip" are sourced from vines that are now more than 20 years old and planted in a small section (about 0.66 hectares large) of the well-regarded Bien Nacido Vineyard, located in California's cooler Santa Maria Valley. The wine is aged for four years in 500 liters Hungarian oak puncheons, then another year in bottle prior to release for sale. A super-pretty, super-juicy, sure-fire crowd-pleaser, this will match perfectly with grilled foods of all kinds (chicken, sausages, beef). Drinking window: 2025-2031.
Château L'Evangile 1961 Bordeaux Pomerol                               98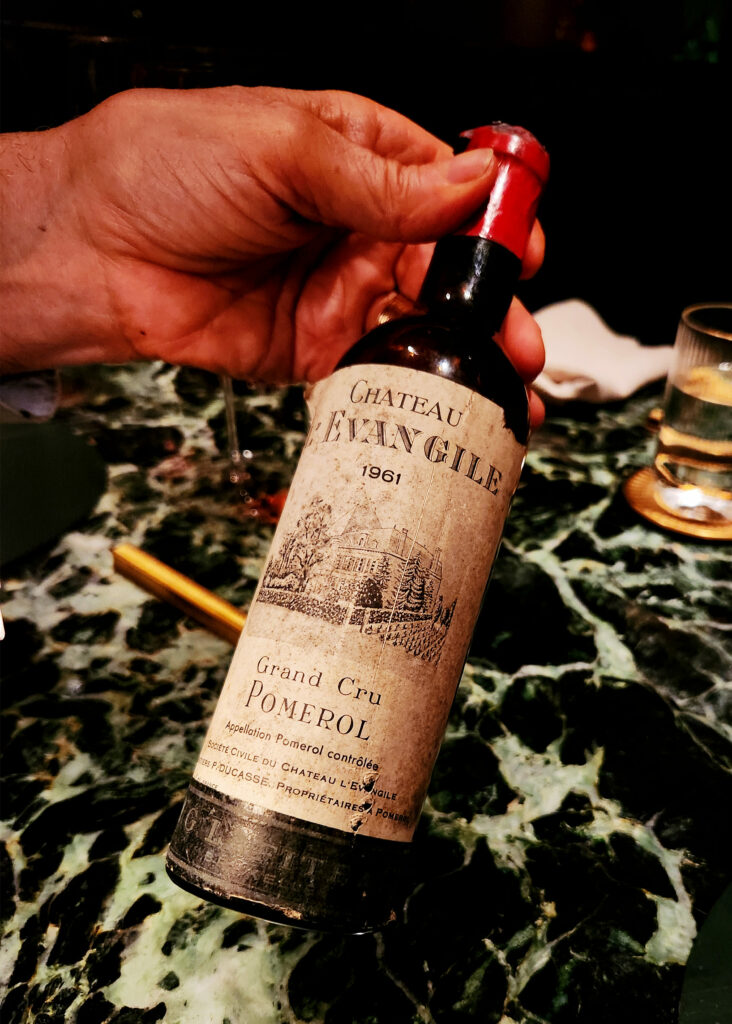 by Robert Millman
Subscribers to the TerroirSense Wine Review may recall that one of my first essays was a report on the magnificent 1961 Château Ausone which I enjoyed thanks to the generosity of my friend Dr. Harry Snady. He is a savvy collector of old Bordeaux, Burgundy and Rioja who began collecting many years ago, well before issues of authenticity began infecting wine auctions. In this essay I report on a half bottles of 1961 Château L'Evangile which he was kind enough to bring to a dinner we had together (Editor's note: interestingly, though the website repeatedly writes the name of the property as "L'Évangile", neither the wine's logo nor the label have the "E" on its own, which appears without an acute accent). The 1961 vintage has proved to be one of the greatest in Bordeaux's illustrious history. It was a painfully small crop: In fact, 1961 is the smallest fine vintage after World War II (even smaller than the 1945). It was the cold winter weather that did the damage, while the summer was warm and very dry. From the outset it was clear that 1961s had a special concentrated flavor and hypnotically sensual aromas which stayed with the best wines for years. The vintage was especially successful for the Medoc wines. The Pomerols and St. Emilions, having suffered a devastating frost in 1956, were just recovering from the severe damage done to the vines. In this period, Petrus and Cheval Blanc were the leading wines by far, followed by Vieux Château Certain, Trotanoy and Figeac. L'Evangile, magnificently situated just across from Cheval Blanc had not achieved the reputation which it has enjoyed for since Château Lafite acquired the property in 1990. Prior to the "Lafite" era, L'Evangile's grape composition was quite different from today. According to Edmund Penning Rowsell's magisterial The Wines of Bordeaux, back then it was 67% Merlot, 33% Cabernet Franc. Since the 1990s, it has been 80-90% Merlot. I have never tasted a L'Evangile older than 1995 and had no idea what to expect, especially from a half bottle. Wines in small formats tend to develop much faster than in larger bottles, and are notoriously variable, one half bottle to the next. I am delighted to report that this little bottle proved to contain a mighty wine whose depth and textural integrity simply defied all expectation.
We could hardly believe our senses. How could a 60+ year old half bottle be in such remarkable condition? Dr. Snady has had the wine in his impeccable cellar for more than thirty years. Perhaps this is the place to discuss "plateau" in Bordeaux. More than any other wines, good Bordeaux not only develop over a twenty-year period but hold on to peak development for many years thereafter. In this instance, something in the constitution of the wine did more than resist time and oxygen. The vigor of the 1961 even in a small bottle revealed a majestic plateau which was not merely a continuation of the life of the wine. Time has stood still in the interior of this wine. The same was true of the 1961 Ausone. But that was a full bottle and Ausone's terroir is especially suited to longevity. L'Evangile by all accounts was not a top performer among Pomerols until Lafite took over the property. Somehow its superb terroir more than compensated for what might have been slightly indifferent wine making in the pre-Lafite period. I understand but do not agree with often repeated adage: There are no great wines just great bottles. Those great bottles are not an accident. In the case of the 1961 L'Evangile, an outstanding terroir and a remarkable vintage "conspired" to produce and immortal vinous masterpiece.
The 1961 Château L'Evangile is deep black-garnet in color (already a good sign that oxidation had not undermined the wine) with a normal, age-appropriate paler rim. The nose was full of iron, smoke, and leather, while the primary fruit had been absorbed and modified into savory, tertiary qualities. On the palate, the wine was unexpectedly powerful, earthy and rich with more than a little tannin supporting its terroir-rich attributes on the long, rich finish. Window of Drinking: 2023-?!