The Benanti family made its fortune in pharmaceuticals, but it was also the family that put the wines of Etna on the world map. Prior to 2000, very few outside of immediate Sicilian drinking circles knew much or anything about the wines of Etna, that were not famous in any way. Even less was known about the local major grape varieties typical of the place. Giuseppe Benanti founded the farm on Etna at the end of the nineteenth century; but it was his grandson, also named Giuseppe, who launched the modern day winery in 1988, originally calling it Tenuta di Castiglione, after a four-five years long study of Etna soils and local grape varieties and biotypes. I first met the younger Giuseppe when he and his then winemaker Salvo Foti visited Rome in 2000 (or 2001, memory fails me now) and presented their wines to a group of wine professionals: hardly anyone in the room knew much about, or had even heard of, Nerello Mascalese, Nerello Cappuccio and Carricante. (Locally, I remember my grandfather, who was from Etna, telling me that the red wines made there were generically referred to as "vino nero", or black wine.) Even less was known about the less common local varieties such as Minnella Bianca, Minnella Nera, and Nerello Mantellato (the latter nobody knows anything about even today, but I will be soon be forthcoming with never-before published data and tasting notes on wines made with this grape variety in what will be yet another scoop in my writing career on Italian wines and for the TerroirSense Wine Review). In fact, Benanti himself was unsure of the exact value of all the local grapes: few of those writing and talking about wine today are aware that back in those days Benanti was also making a monovariety Cabernet Sauvignon wine and a Chardonnay wine (bottled with the iconic black label of the monovariety selections the estate was slowly becoming famous for). But that first prolonged tour across Italy sent the message (to Benanti too) that the Etna wines made with the local varieties were indeed excellent, convincing him to continue along this track (and tellingly, the estate has since stopped making those aforementioned Cab and Chardonnay wines). It was after Benanti's initial, and then fast-growing, success of the early 2000s with Etna wines made with local varieties that everybody else started following suit (producers both local and not: Donnafugata, Firriato, Tasca d'Almerita, Cusumano, Planeta are just some of the Sicilian estates that have since bought land on Etna and started making wines there, with other Italian and foreign investors soon arriving on the scene as well). Although it is only fair to recognize that Etna estates like Vini Franchetti (then called Passopisciaro) and Tenuta delle Terre Nere did as much and probably even more to broadcast the quality of Etna's wines internationally, it cannot be denied and must always be remembered that it was Benanti that first brought attention to Etna wine, and since launched into the stratosphere of the world's greatest wines. It is to Giuseppe Benanti's credit, his then winemaker Salvo Foti (and since 2013, new winemaker Enzo Calì), and the whole Benanti winery team that Etna is where it is today. But as good as Benanti's red wines have always been (again, to the family's never ending credit, they were also the first to bottle a monovariety Nerello Cappuccio wine) it is their white wine called Pietra Marina (previously Pietramarina) that is not just their best wine overall, but actually one of Italy's five best white wines. And for many a wine professional, arguably Italy's best white wine of all.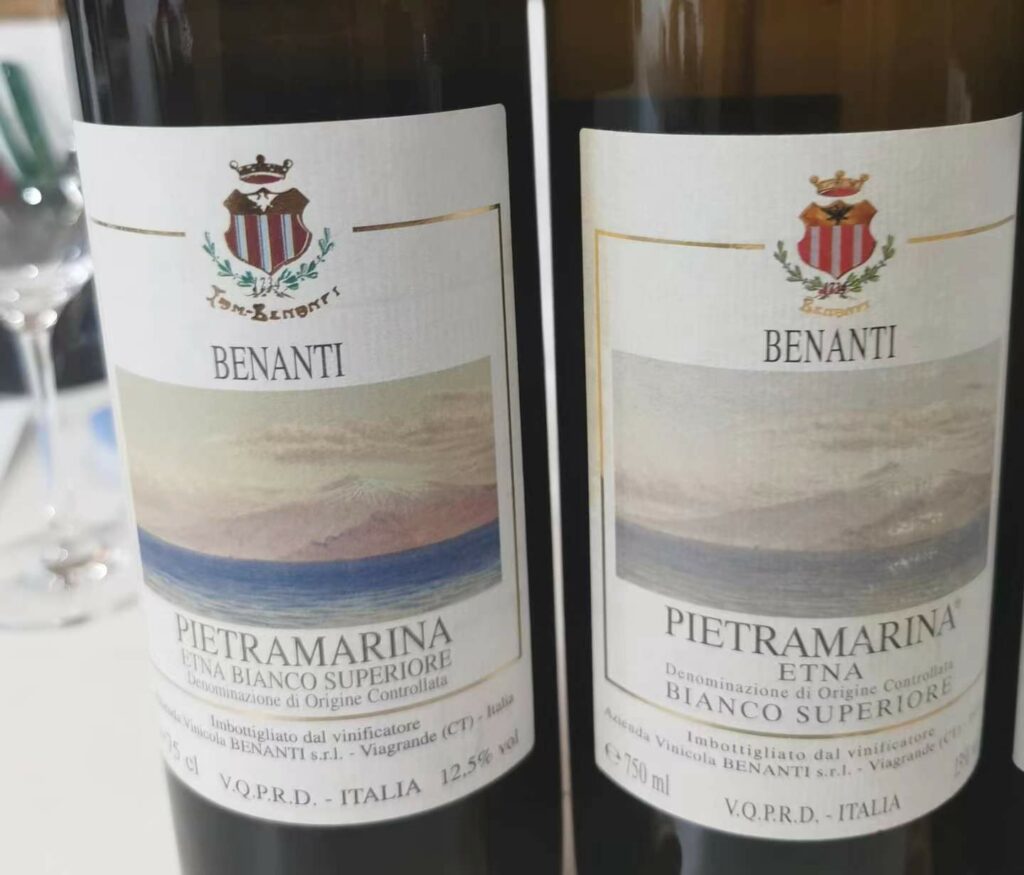 Knowing a little about Etna Bianco wines
There are two types of Etna Bianco wines: Etna Bianco and Etna Bianco Superiore. Normally, the "Superiore" monicker on a wine bottle from Italy has little added value, as it tells you more or less only that the wine was made with riper grapes (and hence carries a slightly higher minimum alcohol by volume). But Etna Bianco wines constitute a very rare case where the "Superiore" tag actually means something, signaling important differences from an Etna Bianco-only wine. First, while both wines are heavily characterized by the Carricante grape variety, an Etna Bianco is made with only a minimum of 60% Carricante, while an Etna Bianco Superiore has to be at least 80% Carricante. Furthermore, in a very rare example of having given thought to the existence of terroir ("rare" for Italian producers and the legislators, that is) wines from the latter category can only be made with Carricante grown on the eastern slope of the Etna volcano only, the one grand cru area for Etna's white wines. Despite what many would like you to believe and might tell you today, historically there was little white wine made on Etna's northern slope, which has always been the source of the volcano's best reds. That state of affairs is starting to change today as wineries replant Carricante close to their red grape vineyards (more often than not located on the northern slope), but the fact remains that historically Etna's best white wines were always made from grapes picked on the mountain's eastern flank.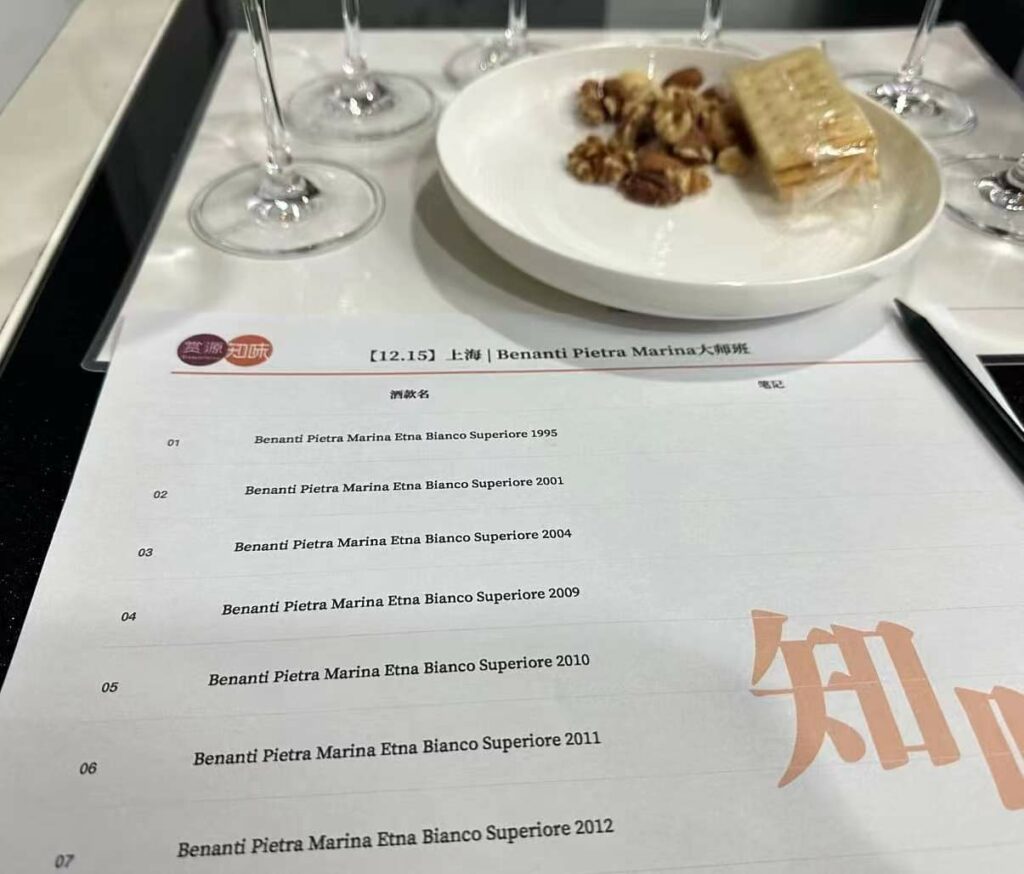 Another modern-day change is that, though historically rare, 100% Carricante are now increasing in number, as estates everywhere realize that it is a uniquely qualitative grape variety ideally suited to the volcanic soils and high altitudes of Etna's vineyards.  Such 100% Carricante wines are very mineral, highly marked by a lemony acidity (which can actually be a total turnoff to many tasters weaned on buttery and oaky Chardonnay wines, for example), and develop notes of diesel fuel, herbs, and musk as they age (turning into a drink that is not unlike a classically dry old Riesling wine). To be crystal-clear, Etna Bianco wines that are rich and creamy and buttery are not, no ifs, buts or maybes, at all typical of the Carricante variety; rather, they are the result of large quantities of other varieties included in the blend, especially one of the Cataratto varieties and/or Chardonnay, but also Minnella Bianco, Inzolia, Coda di Volpe Bianca, and Grecanico (the latter having historically been planted on the northern slope of Etna). These wines rich in other varieties besides Carricante can be very good wines too, but they do not deliver a full-fledged Carricante drinking experience, which as mentioned, may be akin to drinking a minerally lemonade but is at the same time one of the world's most unique, spectacular white wines. There's nothing quite like it, frankly.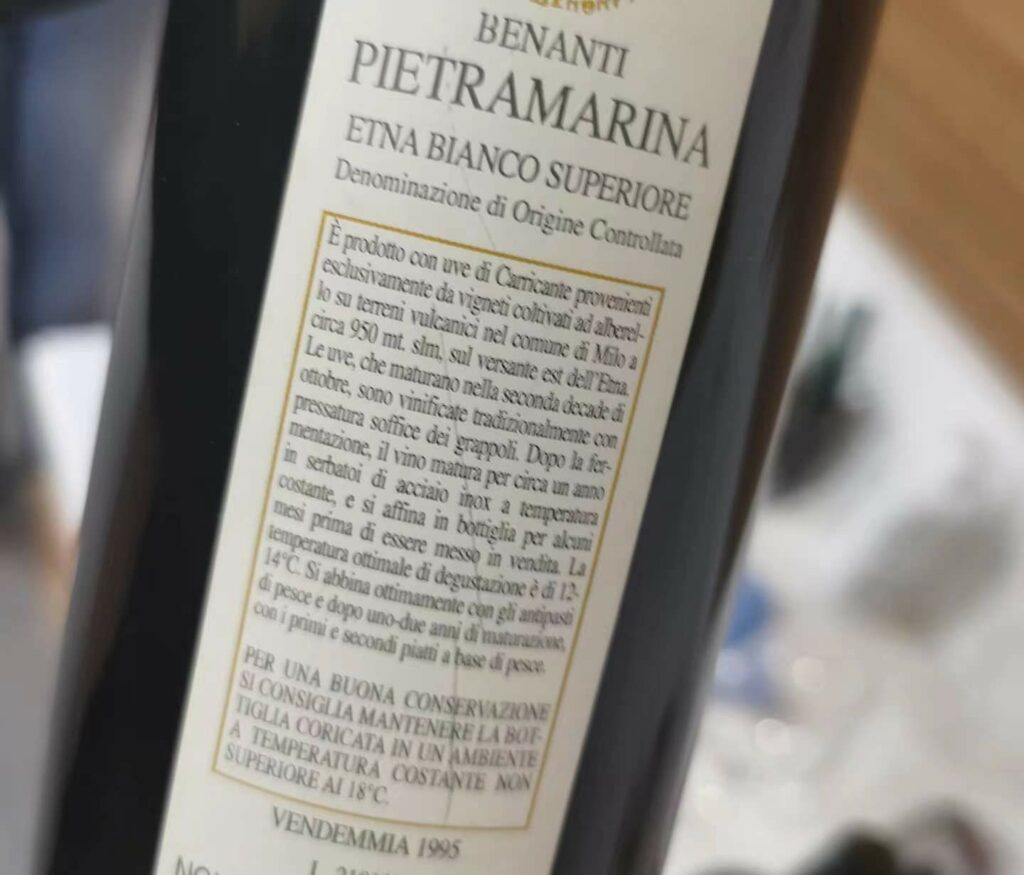 Unlike the Nerello varieties that do not ripen fully above 800 meters in altitude, Carricante grows especially well at very high altitudes (up to 1000 meters above sea level without problems) on mostly the southern and eastern slopes of the volcano (again, although there has been a recent uptick in plantings on the volcano's northern slope, Carricante was historically most present, what there was of it, on the other two flanks). The epicenter of the Etna's best Carricante vineyards are located around the town of Milo, on the eastern slope. Last but not least, it is worthwhile knowing that the 100% Carricante wines (especially) are some of Italy's most ageworthy wines (aging and improving for fifteen years or more is not a problem, usually).
Benanti's Pietra Marina wine
The Etna Bianco Superiore Pietra Marina is one of Italy's greatest white wines and it ages spectacularly well. Indeed, a case can be made that it is best at least ten years after the vintage, when it takes on a completely different, more profound dimension, veering from the merely mineral, floral and refreshingly lemony to the also minerally, floral and lemony, but  musky, fruity, herbal, spicy, and earthy too, complemented by nuances reminiscent of walks along the seaside. The wine's name was originally spelled as "Pietramarina" (check any old label prior to 2002) but that was changed to the current "Pietra Marina" with a trademark sign (®) next to it when identifying the wine with the name of a contrada of Etna's northern slope (Pietramarina, in fact) was no longer a viable option. Benanti's benchmark white wine has in fact always been made with grapes from the Rinazzo contrada of the eastern slope near Milo, but clearly pietramarina /pietra marina (or "marine stone", in English) was, and is, a much more beautifully evocative name. And so, you can hardly blame the Benanti family for wanting to continue using it.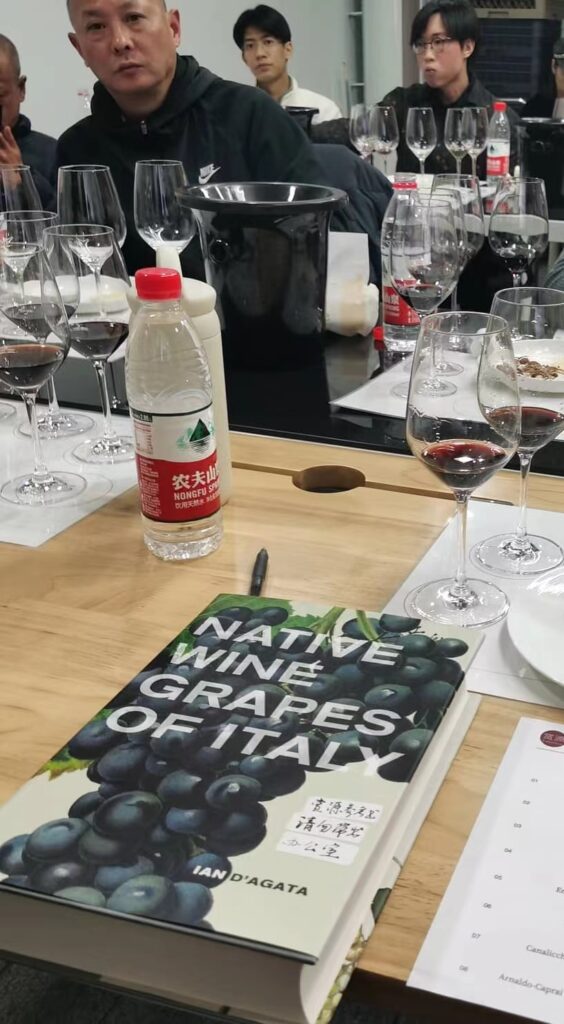 The now roughly eighty years old bush vines are planted at about 800 meters above sea level on sandy volcanic soil along the Etna's eastern slope, a habitat characterized by great humidity, noteworthy luminosity, ventilation and diurnal temperature shifts. In fact, Benanti has begun also making an Etna Bianco Superiore (Contrada) Rinazzo wine too: it too is made with grapes from the same contrada as the Pietra Marina, but differently from its more famous sibling, it is made from the contrada's younger and usually also lower-lying vines. The Pietra Marina is stainless steel-fermented with natural yeasts that are now specifically selected from the vineyard (this after a five years long study -from 2005 to 2010- in which four proprietary yeast strains were isolated and then  propagated); the Pietra Marina wine then also ages in stainless steel vats with frequent stirring for about thirty months. It usually spends another twelve months in bottle before going on sale. The wine was first made in 1991, and be aware that the 1991, 1992, 1993 and 1994 vintages were labeled under the then winery name of Tenuta di Castiglione, later changed to Benanti.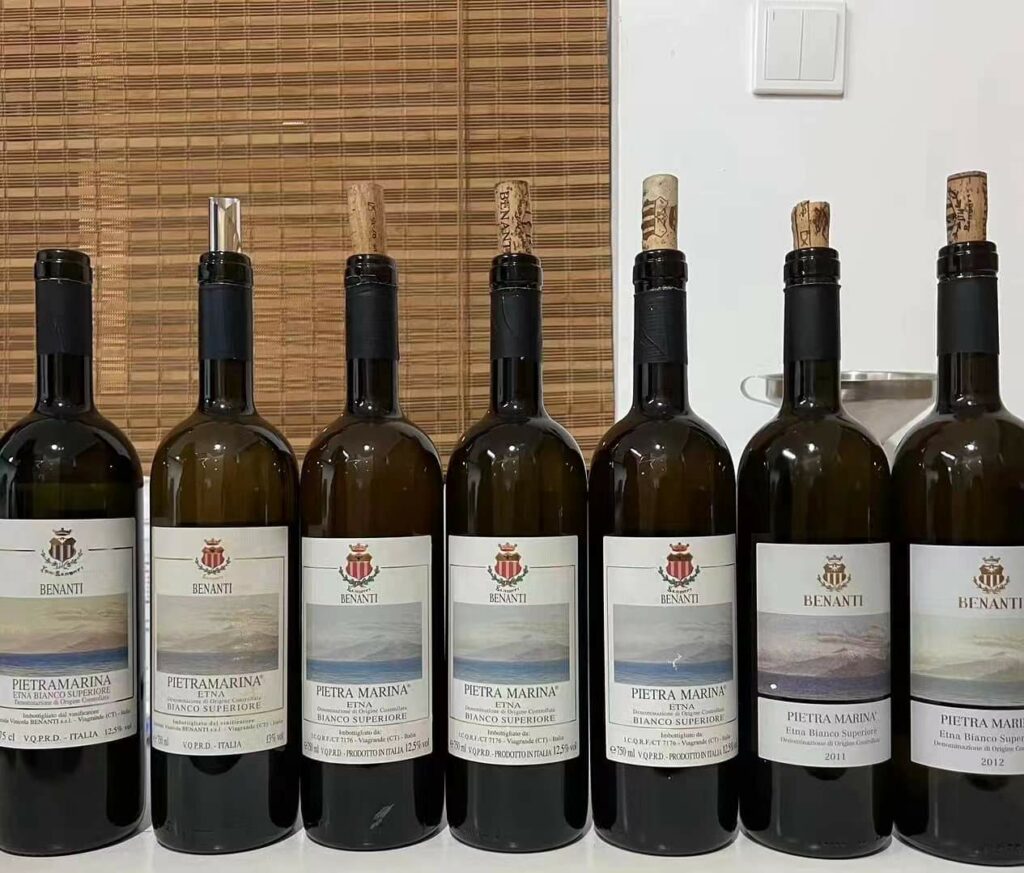 The wines in this tasting
All the wines in this tasting were tasted in Shanghai (China) in December 2022 where I live and work and were sourced either directly from the winery or from my private cellar.
Benanti 1995 Etna Bianco Superiore Pietramarina           94
Deep golden-tinged yellow. Subtly complex aromas of yellow apple are complicated by almond oil, nutmeg, rosemary and anise. A big, almost fat, wine with noteworthy palate-staining concentration and expressive, lava-inflected in-your-face flavours of minerals, nut oils, and faded yellow flowers. Chewy but at the same time also wonderfully light on its feet on the nicely persistent finish. Still reasonably youthful for an almost thirty years old white wine, something that goes a long way in explaining the magic of Carricante and Etna Bianco Superiore in general and of Benanti's interpretation in particular. Drinking window: 2023-2030.
Benanti 1996 Etna Bianco Superiore Pietramarina           95
Bright medium golden-straw yellow colour, and less dark than the 1995. Wonderfully subtle nose offers Meyer lemon, Golden Delicious apple, apricot, baking spices, grilled nuts and wet stones. Focused and energetic, with complex flavors of stone fruits, baking spices, minerals, thyme and rosemary. Still drinking gloriously, this is even better than the 1995 (more lifted, more mineral). Drinking window: 2023-2033.
Benanti 1998 Etna Bianco Superiore Pietramarina           94
For some reason that I cannot quite explain, or that I have no recollection of, this is the single vintage of Pietramarina that I have had the most bottles of over the years, having tasted it at least a dozen times and probably more ever since its first release on the market (and in four different countries, if not more). Which is strange in and of itself, for the 1998, though an excellent wine, has never been one of my favourite Pietramarina bottlings. Medium-deep straw yellow gold. Very musky on the nose, with strong herbal tones to the notes of yellow fruit, honey and oyster shell reduction. Rich and layered in the mouth, broad even, with a little less of the penetrating minerality of other Pietramarina vintages, but a very dry Riesling wine-like set of flavours (diesel fuel, aromatic herbs, ripe citrus fruit). Closes long and mouthcoating, with less verve than usual for this wine, but then the 1998 has always been like that: a bigger, more showy, less nuanced wine than usual for Pietramarina. All that admitted, it's a great white wine. Drinking window: 2023-2028.
Benanti 1999 Etna Bianco Superiore Pietramarina           93
Good full straw yellow with some gold. Delicate aromas of green apple, Kaiser pear, thyme and nuts. Lively and juicy in the mouth, with enticing gently fading floral and orchard fruit flavours. This has harmonious acidity and no obvious exotic or diesel-like character and seems to be aging effortlessly well, in a more discreet style than almost all the other wines in this tasting. I have always found the 1999 to be a very underrated vintage of Pietramarina, but I'd drink this up soon in order to enjoy it at its apogee. Drinking window: 2023-2026.
Benanti 2000 Etna Bianco Superiore Pietramarina           92
Moderately saturated yellow-gold colour. Clove, rosemary and flint on the broad, open-knit nose. Dense and powerful but not especially nuanced in the mouth, with a creamy, distinctly old vine-like texture. The long tactile finish boasts noteworthy richness and extract, saturating the palate with flavor, but I would have preferred a little more lift and refinement. Drinking window: 2023-2026.
Benanti 2001 Etna Bianco Superiore Pietramarina           94
Medium-pale straw yellow colour: this is one of the lighter hued older Pietramarina bottlings. Lemon zest, tangerine oil, honey, and smoke complement the yellow apple and apricot aromas and flavours. Finishes long with bracing acidity, but with a spicy herbal character that camouflages the underlying orchard fruit presence. The 2001 Pietramarina might finishes long and with a whiplash of mineral juiciness. The 2001 is an excellent wine, though it has always struck me as being less than what it might have been. Drinking window: 2023-2032.
Benanti 2004 Etna Bianco Superiore Pietra Marina          90
Medium bright straw yellow. Hazelnut, almonds and chamomile dominate the nose, with tangerine peel and orange cordial emerging with aeration among crooked rocky crag-like nuances. Then rich and broad in the mouth and not especially understated, with an obvious almondy minerality and sea water saltiness in the mouth. Closes medium-long to long and fairly ripe on the aftertaste. Drinking window: 2023-2032.
Benanti 2009 Etna Bianco Superiore Pietra Marina          96
Pale green reflections highlight a full straw yellow colour. Very pure aromas of apricot and lime are complicated by lemon, chamomile, minerals and spices.  Sweet, rich and shockingly fresh considering its age, with piquant flavors of roasted pineapple and grapefruit glaze. Very long on the citrussy, flinty aftertaste. One of the best Pietra Marina wines in memory. Drinking beautifully right now, this has the stuffing to still age well in a good cellar. Drinking window: 2023-2033.
Benanti 2010 Etna Bianco Superiore Pietra Marina          95
Luminous golden-tinged yellow. Nicely ripe but pure and lifted aromas of candied lemon peel, chalk, flinty minerals, beeswax and white flowers. Wonderfully dense and old-viney, with its mouthcoating texture of brisk tangerine oil, lemon curd and liquid mineral flavours given a piercing quality by strong but balanced acidity. Almost tannic on the finish, with a jagged minerality that is absolutely captivating. Nota s rich and complex as the 2009, but even more vertical. Drinking window: 2023-2033.
Benanti 2011 Etna Bianco Superiore Pietra Marina          92
Bright pale straw-green. Clean, ample nose offers orchard fruit, nuts, mint and lemon zest. Then sweet and lush in the mouth, but with good saline lift thanks to harmonious acidity. This grew nicely with aeration, showing increasing notes of pineapple, fern and flint notes nicely complemented by hints of orange marmalade and minty underbrush. Drinking window: 2023-2033.
Benanti 2012 Etna Bianco Superiore Pietra Marina          93
Aromas of yellow peach, green apple spring flowers and thyme. Densely packed and powerful, but also shows excellent energy in the mouth. Similar flavours to the aromas are long, textured and lively. Finishes with a real whiplash of herbs and ripe fruits, and a subtle suggestion of fern. Drinking window: 2023-2032.
Benanti 2013 Etna Bianco Superiore Pietra Marina          94
Pale straw-green. Still rather youthfully raw aromas of orange zest, beeswax and broom are lifted by bracing minerality. Wonderfully tense, but ripe and full, with perfectly integrated acidity buffering the wine's compelling sweetness and intense minerality. Consistent from start to very long finish, this is a real beauty. Drinking window: 2023-2036.
Benanti 2017 Etna Bianco Superiore Pietra Marina          94
Vivid straw yellow. Scented aromas of orange, white flowers, flint, beeswax, glazed kumquat and rosemary. Nicely rich and full, with excellent volume along with balancing ripe acidity. Impressively long on the aftertaste. This offers the best combination of fat and focus. Drinking window: 2025-2032.
Benanti 2018 Etna Bianco Superiore Pietra Marina          95+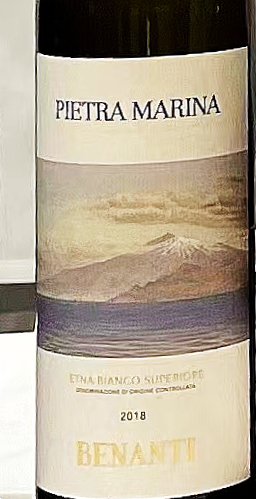 Luminous straw green. Nuanced nose combines nectarine, citrus skin, spring white flowers, minerals, mint, and tangerine zest. Dense and vibrant, boasting outstanding inner-mouth perfume to the juicy, crisp flavours of citrus and spices. Impressively rich and fine, with terrific depth of fruit and a light on its feet quality despite its obvious concentration. This has real grand cru texture and length, and will improve with firther aging. My score will seem stingy then. Drinking window: 2026-2038.