The 2020 White Burgundies
The association of Burgundy producers come to the United States every year to conduct a series of wine events under the La Paulée umbrella. The original La Paulée is a famous night of festivities held in Meursault after a vintage is completed. The traveling version started in the late 1990s and has been a sold out event ever since. This year's event featured the 2020 vintage, the third in a series of hot years. After two decent sized crops in 2017 and 2018, 2019 and 2020 were short crops, especially 2020. It was so warm and dry that the vendange was completed in August. It was the earliest vintage on record. Perhaps the drought conditions were more significant than the heat per se. The harvest took place during the first wave of Covid which created all sorts of personnel issues. Grapes were picked in the morning and collected bunches had to be cooled down. Almost everyone who tasted the wines early on made the point that the whites were a brilliant success in 2020. The grapes retained healthy acidity and seem to have weathered the conditions as if there were no problems. The reds were more variable. Deficient juice in the berries, wrinkled skins and high sugar levels resulted in wines that reached 14.5 and at time 15% alcohol.
My experienced at the La Paulée event confirmed these reports. The whites were much easier to read than the reds, many of which tasted very similar to one another. I will discuss the reds in Part 2 in an upcoming article for the TerroirSense Wine Review. Below are highlights among the many excellent whites I tasted. It is important to remember that the vignerons in Burgundy have been dealing with elevated heat and drought conditions to say nothing of hail and frost in late winter/early spring since 2015! Intelligent vineyard management and precise picking can turn vices into virtues—sometimes. Below are 2020 white Burgundies which captured my palate. Listing is alphabetical:
Chateau du Beru 2020 Chablis Montserre                   93
This singular estate traces its history back 400 years, But it was in 1987 that its modern era began. The vineyards were replanted and within a decade organic farming was employed. Almost all the vineyards are on the hill of Beru in eastern Chablis. The wines are aged in stainless steel for 14-16 months then bottled unfined and unfiltered under a mere 2 mg of sulfur at bottling. The Montserre is at the very top of the hill of Beru which contains a large quantity of kimmeridgian soil. All the wines were very good but the Montserre shines with electric energy and definition. The wine lights up the plate with pure, clean Chablis expression. Far superior of many 1er Crus I have tasted. Jasper Morris calls them "fascinating wines". I concur. Drinking window: 2023-2028
Pierre Yves Colin-Morey 2020 Meursault                    93
The Colin Morey wines are among the most highly reputed and sought after in Burgundy. The range, from village St. Aubins to Grand Crus is extraordinary. Fruit is built on a deep terroir foundation which is evident in very wine. I was particularly struck by a village Meursault which in individuality and range of flavors could easily pass for a weighty Premieer Cru. A blend of four lieux-dits the wine exhibits what makes the Colin Morey so special: the underlying soil character speaks with such persistence and depth. I could hardly imagine a better representation of Meursault. Drinking Window: 2023-2028
Henri Germain 2020 Chassagne Montrachet Morgeot 1er Cru             95+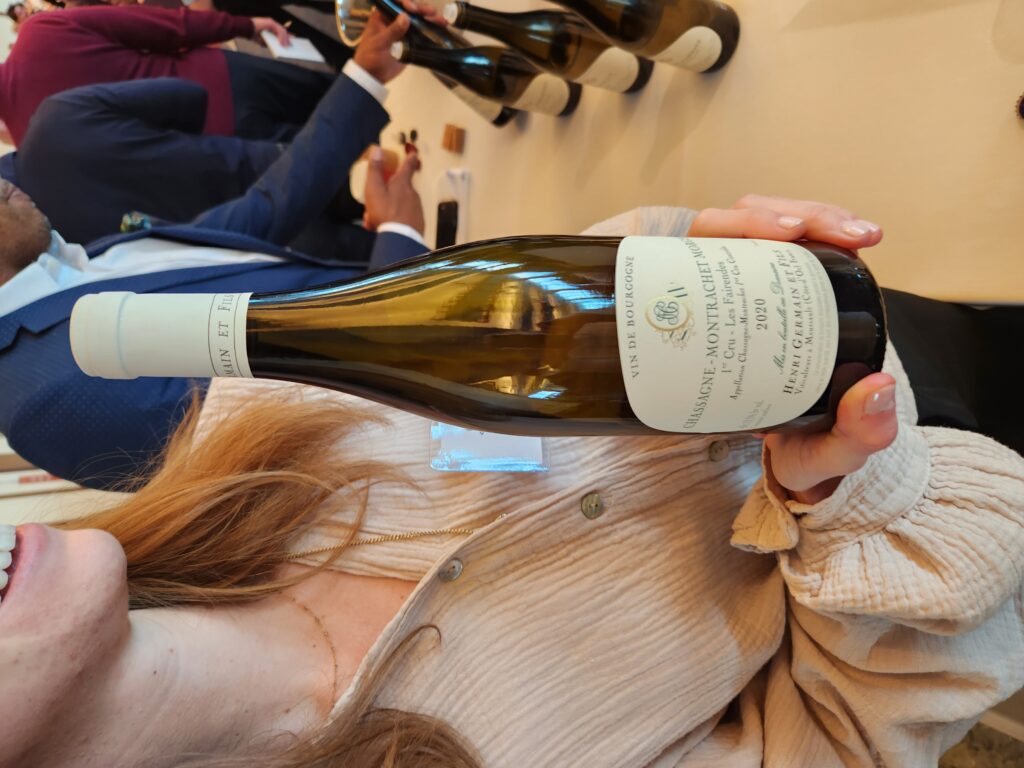 One of the Côte de Beaune's finest estates, It dates back a mere 50 years. Owners of eight hectares mostly in Meursault, the domaine is now run by Henri's son Jean-François. All the wines are so terroir rooted than one thinks one is tasting liquified limestone. The finest wine is the magnificent Morgeot from the Fiarendes sub-district. Scaled like a Batard-Montrachet, it dominates the palate with minerals with a chewy, meaty texture over-laid with citrus, nuts and white pepper. One of the wines of the afternoon.                                                                   Drinking Window: 2024-2035.
Louis Jadot 2020 Beaune Greves 1er Cru Le Clos Blanc                 92
Jadot is a specialist in the wines from the Beaune Village. Of the 16 Beaunes made at Jadot a mere two are white.  In 2020 The Clos Blanc is arresting in weight, richness and length. It is a red wines, as it were in white wine clothing! Strikingly different from most of the other whites at the La Paulée it is as much as food as a wine. Drinking Window: 2023-2030.
Benjamin Leroux 2020 Meursault Les Vireuils                         93+
Leroux operates a négociant business, making a wide range of both white and red Burgundies. One of the most astute judges of terroir potential, he usually hits the bullseye.  I was particularly struck by his Meursault Vireuils, an elevated vineyards which usually produces wine on the austere side from the village, but not in this case. The complexity and variety of flavors and penetrating mouth feel were more Premier Cru than lieux-dits. The fact is that each location in Burgundy typically has multiple representation. Leroux found a grower which terrific vines. Drinking Window: 2024-2030.
Domaine Paul Pillot 2020 Chassagne Montrachet Les Grands Ruchottes Premier Cru             96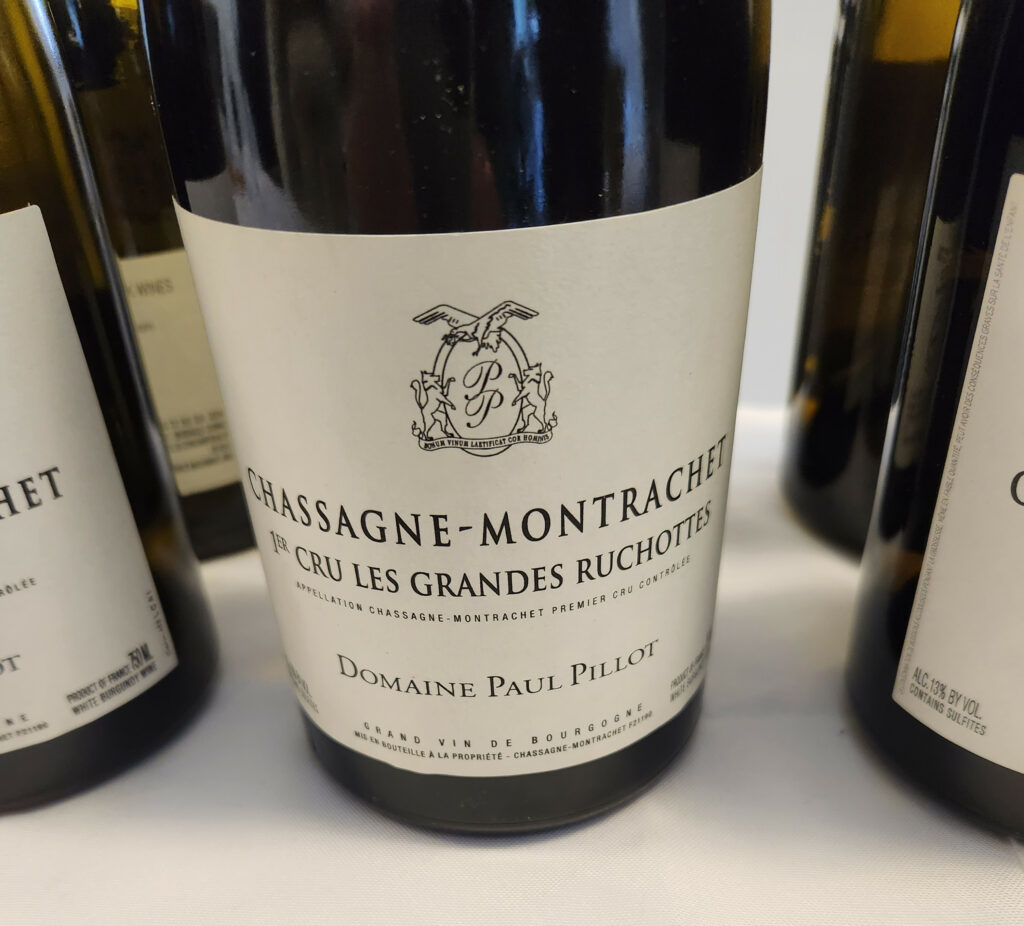 This excellent domaine, one of five with Pillot in the name, is now run by Pauls's son Thierry. The wines seem to get better with each vintage. Their three top holdings are in Caillerets, Grands Ruchottes and La Romanée, the latter two nearly contiguous vineyards in  the southwest area of Chassagne. Thierry uses very little new oak and like his contemporaries eschews lees stirring. The hands off, light touch allows each site to talk its own language. The wines tend to be accessible at an early age, even the big one. In 2020, the Grandes Ruchottes stood out for its density and full throttle expressiveness. The size comes from the vineyard as it should. A nearly endless finish brings the wine into near Grand Cru level. Bravo! Drinking Window: 2024-2030.
Domaine Roulot 2020 Meursault Meix Chavaux         94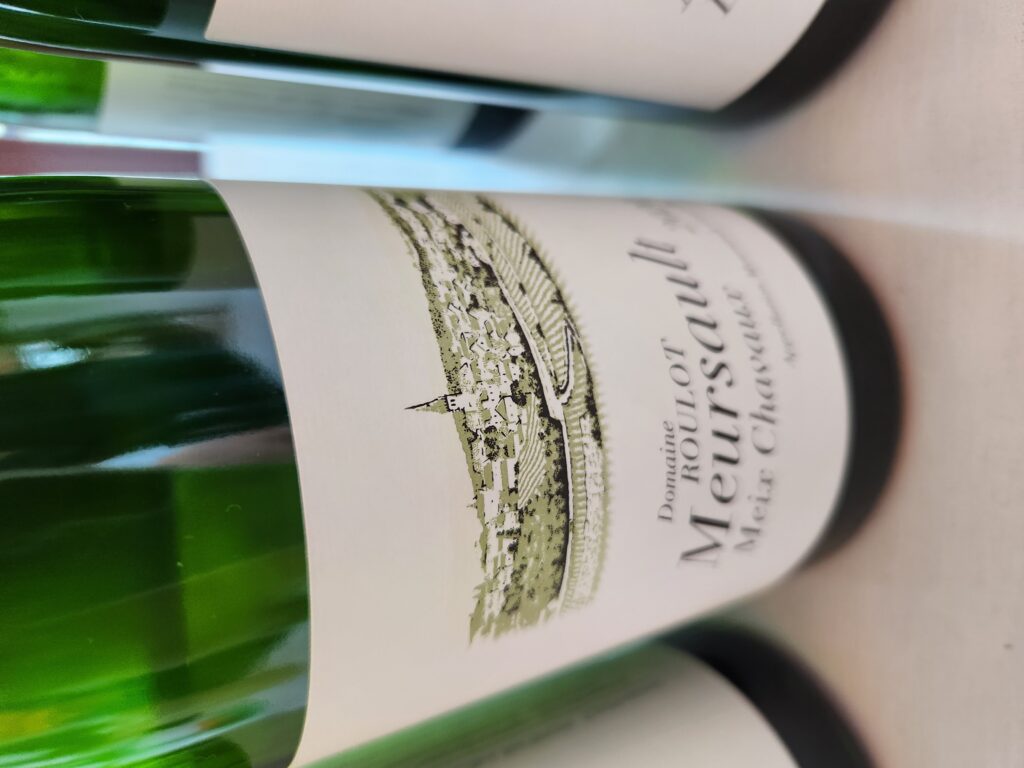 It is always a privilege to taste the Roulot wines. The estate is in effect a microcosm in Meursault with its four Premier Crus and 8 lieux-dits. The Perrières is the estate's most famous wine now commanding nose-bleed prices to say nothing of very limited availability. But for me it is the wonderful area of lieux-dits which defines Roulot. All different, each a facet of the world's most popular source of Chardonnay. The wines combine intensity with precision and subtlety hardly equaled elsewhere. The alcohol level of the Meix Chavaux is a mere 13%, quite an achievement in so hot a vintage. Jean-March Roulot is famous for picking early. His wines typically take a decade to unfold. In 2020 the Meix Chavaux is a happy wine going between ripe sweet, nutty fruit and a delightful lemony undercurrent. Everything works harmoniously. This is textbook white Burgundy. Drinking Window: 2024-2035.