Guigal 2006 Condrieu La Doriane                          96
The famous Côte-Rôtie-based Guigal estate produces two Condrieu wines; a regular bottling and a specialty cuvée they named La Doriane. The wine is made from grapes grown in five lieux-dits spanning pretty much the length of Condrieu which in total comprise the best terroirs for Viognier, the grape from which all Condrieu is made. La Doriane's production is miniscule—a mere 6000 bottles on average. The first vintage was 1994. At this point the vines are at least 35 years old. The juice is fermented and aged in 100% new oak for twelve months before bottling. None of the technicals can possibly prepare one for the experience of the wine: at once luxuriously rich and creamy with an amazing energy and acidity which keeps the exuberance in check. Typically, Condrieus are best when they are young. Most Condrieus do not have sufficient acidity to allow for significant aging. Nor is it beneficial in most cases. But La Doraine is different as a recent tasting vividly demonstrated. The 2006 is now seventeen years old, about fifteen years in bottle. To make the importance of aging La Doraine crystal-clear, a bottle of the 2020 was also opened. Way too young and totally front-loaded, the 2020 was almost painful to taste. The 2006, which has retained a remarkably youthful structure, has developed into a magnificent wine redolent of peach, almond pit, pear, apple and white pepper with an electric current of energy running from the front to the back of the palate. Had it been served blind I might have guessed it to be wine ten years younger than in was. A bottle of the 2004 Rostaing Condrieu was also poured which proved to me a rather dull, aging wine in comparison with Guigal's La Doraine. Comparisons can often be invidious at wine tastings, making perfectly fine wines seem quite uninteresting in contrast to the best wines on the table. Such was the case at this event. La Doraine is a demanding wine which needs a fine roast chicken or possibly grand cru quality hard cheeses to balance the intensity of the wine. Drinking Window: 2023-2030+.
Emidio Pepe 2021 Cerasuolo d'Abruzzo                95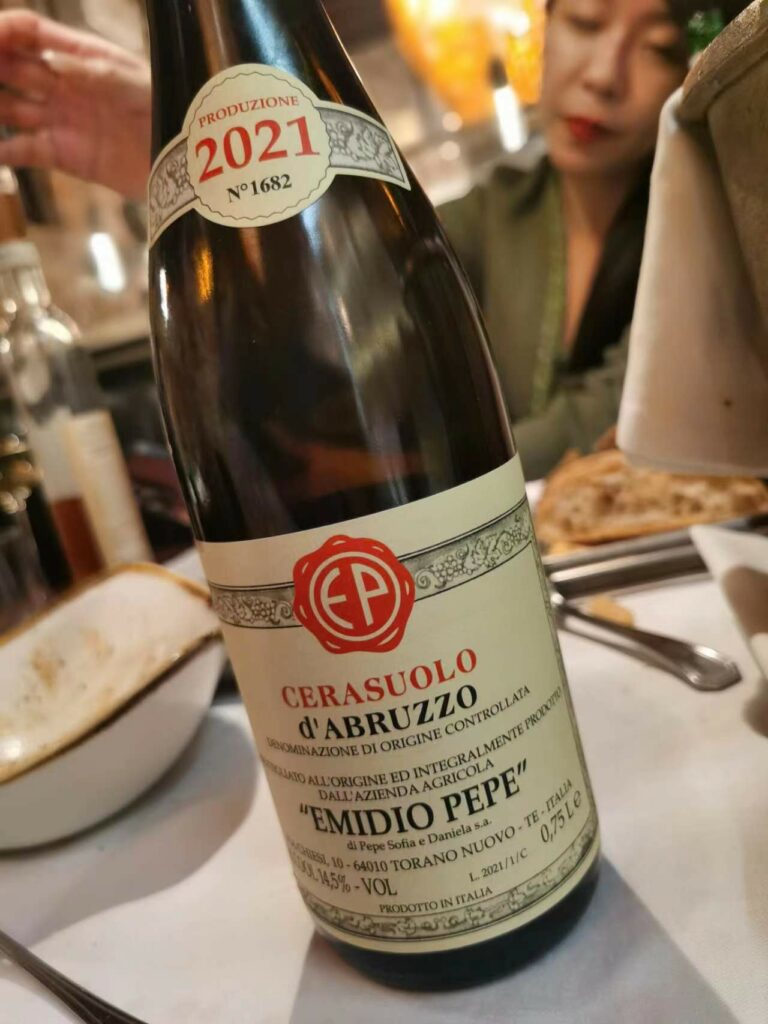 And to think that for the longest time, the folks at Emidio Pepe never thought of exporting what is easily one of Italy's three best Rosato wines, generally preferring to sell it in Italy. To be clear, it is the best wine, by far, that the winery even makes. Yes, you read that right: better than their expensive Montepulciano d'Abruzzo "old vines" red or their Trebbiano d'Abruzzo. Take it from me: if you are amongst those who just cannot get past the funkiness of the Montepulciano d'Abruzzo red wine or the whites by this estate, then the Cerasuolo will prove a walk through nirvana, as it is a wine of the utmost precision and purity. You simply cannot easily find similarly complex, deep, rich, layered pink wines anywhere in the world, never mind Italy.
Bright medium-dark pink colour. Perfumed aromas of red cherry, rosehips, botanicals, pomegranate, sweet spices and violet. Then rich and layered, with flavours similar to the aromas, a voluptuous texture and an extremely long, mouthcoating noble and energetic finish, featuring repeating notes of red berries, cherries and sweet spices and herbs. More like a pale red wine than a pink wine, if all you have ever drunk is sugary Blush wines or watery southern French pink wines, give this a try and get ready to be jolted out of your seat. Drinking window: 2023-2030.