The Colle Massari group of wineries all share the same owner, Claudio Tipa, and the same level of exceptional quality wines. The group is made up of four Tuscan wineries located in three denominations: Castello Colle Massari (or Colle Massari for short) in the Montecucco denomination; Grattamacco in the Bolgheri denomination; and Poggio di Sotto and San Giorgio, both of which are in the Montalcino denomination.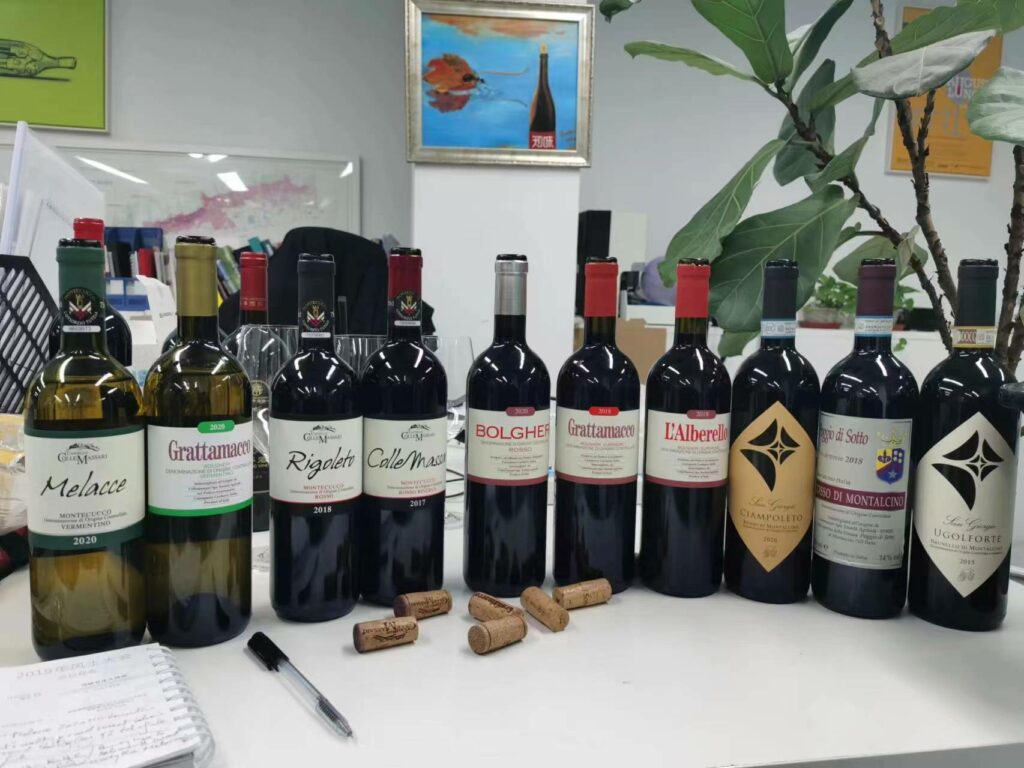 Claudio Tipa, a nice and competent man whom I have had the pleasure of knowing now for almost twenty years, has bought wisely and now boasts some of Italy's most iconic, historic and best wineries. It is not an exaggeration to say that three of his wineries represent if not the pinnacle of quality in their respective denominations, then they are at no worse in the top two or three. That he has met with success in his enologic endeavours cannot surprise given that he and his extended family have been amazingly successful in many other fields, ranging from fashion to sports. For example, his brother-in-law Ernesto Bertarelli and his Alinghi crew has twice won the America's Cup, sailing's premier international competion (and for land-locked Switzerland, no less).
Similarly successful has been Tipa's foray into wine, which began auspiciously enough when he bought the amazingly beautiful Castello Colle Massari in 1999. Located in the little-known Montecucco denomination (roughly sandwiched in between Montalcino and the Morellino di Scansano denomination) the estate's wines were a hard-sell at first, but wine lovers and professionals all over the world have come to realize over the years that some of Italy's most interesting Sangiovese grows in this denomination. In fact, I can make a case that sections of the Montecucco denomination has better quality Sangiovese than some sections of the much more prestigious Montalcino denomination, so that tells you just how good the Montecucco's Sangiovese wines can be. The Sangiovese from Montecucco is generally riper and especially spicier, benefiting from its proximity to the sea (something that Sangiovese does not like at all) which allows for slightly drier and warmer conditions but still located far enough aways such that there is neither too much salinity in the air nor heat and light units. Colle Massari has become in a very short time the quality leader of the Montecucco denomination and its wines are the benchmarks by which all the others made there have to be judged by.
The next jewel to enter into the Tipa portfolio was Grattamacco, bought in 2002. Grattamacco is truly one of Italy's historic estates, in that it was the second estate ever founded in Bolgheri, after Tenuta San Guido (the winery that produces the world-famous Sassicaia) and well ahead of Ornellaia. Grattamacco makes the classic Bolgheri blend but its namesake flagship red wine distinguishes itself for an inclusion of Sangiovese, a variety that has all but vanished from Bolgheri and the northern Tuscan coast (because, as I mentioned previously, Sangiovese rarely if ever gives truly noteworthy results in coastal sunlit and hot areas). The Grattamacco estate (the name is a Tuscan dialect word meaning "iron" and hill) boasts not just a long line of outstanding wines to its credit, but many other "firsts' as well: first Vermentino vineyard planted in Bolgheri; first alberello-trained (bushvine/gobelet) vineyard; and first certified organic winery of the area. Its wines are all characterized by a noteworthy salinity and power, thanks to a rare white clay rich in sodium and calcium that account for the former, plus iron inclusions that are responsble for the latter.
If you are reading me, then my guess is that the Poggio di Sotto winery in Montalcino probably needs no introduction. It is quite simply the best producer of Montalcino today: while others make spectacular Brunellos (Soldera, Fuligni, Biondi-Santi Riserva are just a few of the names that come to mind), no other winer makes a Rosso and a Brunello of similar quality levels. Poggio di Sotto was founded by then owner Piero Palmucci in 1987 (some report this as 1989) in the Castelnuovo dell'Abate territory in the south-eastern part of the Montalcino denomination, at a time when nobody gave the area much of a second thought. Today it is considered to be one of the very best areas of the denomination in which to make Brunello (especially) but Poggio di Sotto's remarkable track record for amazing wines is due to the specific microclimate and soil mix, but even more so to the old Sangiovese biotypes that are planted there between 200-400 meters above sea level. Take a walk through the winery's vineyard and you'll find you don't need a degree in ampelology to realize that Poggio di Sotto's Sangiovese vines just plain look different from most everybody else's; and the juice you get from those grapes is like nothing else around. Tipa bought the estate in 2011 and to his credit has not just kept up the extremely high-quality level of his predecessor's wines, but has perhaps even improved on them and that's saying quite something. Last but not least, it is worthwhile knowing that all of the Sangiovese at Poggio di Sotto is picked to be of Brunello caliber, such that the estate's Rosso di Montalcino is really a declassified Brunello (in fact it is released one year later most other Rosso di Montalcino wines). Finally, in 2016, Tipa bought Poggio di Sotto's neighbouring estate, San Giorgio, well-known for its good Rosso di Montalcino Ciampoleto and Brunello di Montalcino Ugolforte. Differently from Poggio di Sotto, at San Giorgio there are Sangiovese vines that are slated to provide fruit for Rosso di Montalcino production, a very good wine that is flintier and steely compared to the richer and broader Brunello di Montalcino made at the property. The estate released the 2016 Brunello, but clearly that wine was not entirely made by them, though it was the Colle Massari technical staff that selected the best lots prior to bottling the wine (therefore, it's the 2017 that has to be considered the first vintage produced under new ownership). The wines are made with the same care as those of nearby Poggio di Sotto's, but reflect the different soil (more volcanic than that of Poggio di Sotto) and the different Sangiovese biotypes planted in the vineyard.
Clearly, Castello Colle Massari's galaxy of wineries could not have met with the success they have over the years without an ultra-competent technical staff. The estate has been blessed with some of the most crystalline viticultural and winemaking talent that Italian wine circles has ever known: the group winemaker is Luca Marrone who has been in the group for close to twenty years now, and with consultants such as Luca D'Attoma (who was briefly at Castello Colle Massari before moving on), Maurizio Castelli (long the man behind the Grattamacco wines and then Castello Colle Massari too) and Federico Staderini (at Poggio di Sotto) that have been part of the technical staff for part or all of the Tipa ownership years, excellence was the least one could hope to achieve over the years. In my view, one of the big secrets to Claudio Tipa's success, and one he should be credited for, is that he has always tried to keep intact the technical teams he found at the estates he bought: unlike many other moneyed owners who arrive at a new winery and want to change everything, often making a mess of things, Tipa has known better than to do this, and the results are there to show for it. And excellence it has been, and then some: I have no problems writing, clearly, that the lineup of wines I tasted this year from the Colle Massari group is the best lineup of wines I have tasted from any Italian winery in 2022. And given that I am writing these words on December 14, 2022, I doubt that this performance will be beaten before year's end. Well done, everyone.
The wines in this report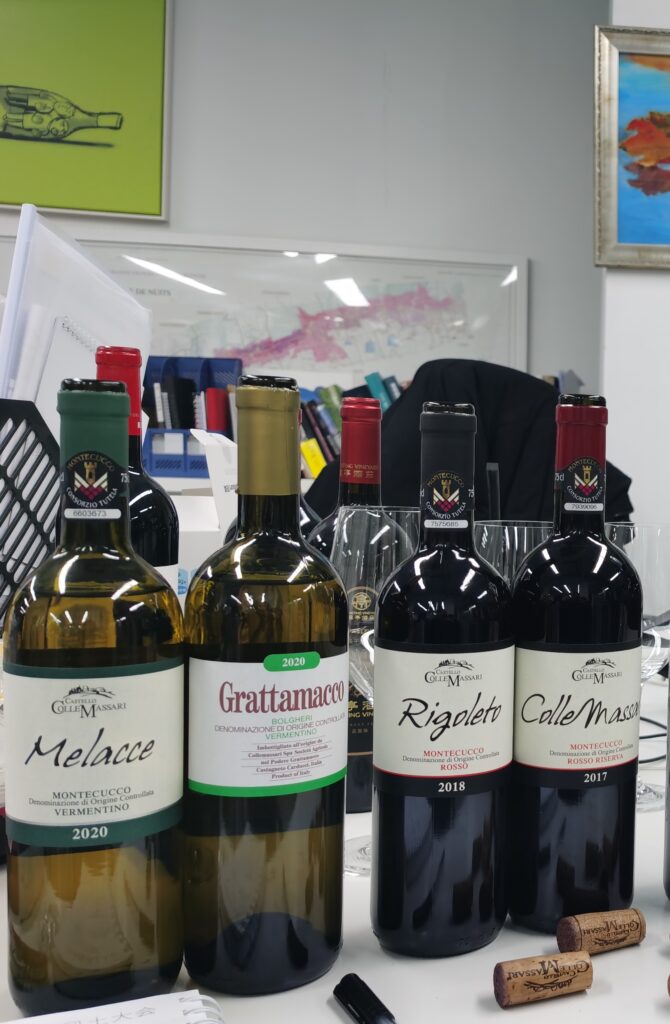 Castello Colle Massari.
Colle Massari 2020 Vermentino Montecucco Melacce              92
This is the best ever Melacce made, or something very close to that. Bright pale straw green with golden tinges. Very intense aromas of aromatic herbs, citrus fruits, white flowers and mint are fresh and pure. Then rich and layered, with impeccable balance to the fresh orange, lemon, grapefruit and menthol flavours that linger on the long suave vibrant finish. Delivers a ton of flavour and only 13.5% alcohol. Drinking window: 2022-2026.
Colle Massari 2018 Montecucco Rosso Rigoleto                        94
Vivid deep red. Perfumed, deep, pure aromas of superripe red cherry, raspberry nectar, flint, aromatic herbs and violet. At once juicy and vibrant, with nicely delineated flavours of red berries, cherry and aromatic herbs, with a very pure mineral vibrancy persisting nicely on the long fresh but suave finish. There is a marvelous purity to this wine that is hard to describe: my score isn't even higher than it already is because the finish could be just a tad longer, but wow, what a knockout. Much like with Colle Massari's Vermentino Melacce, this is also the best Rigoleto ever made: nothing to say, Colle Massari is very much on a roll. Drinking window: 2022-2029.
Colle Massari 2017 Montecucco Rosso Riserva                         95
Deep ruby-red. Captivating nose offers ripe red berries, red cherry, coconut, vanilla, minerals, dried rose, violet and minerals by the boatload. Then very densely packed and youthful but boasting an enchanting silky texture and considerable early appeal owing to its ripe, sweet sexy red fruit and sweet spice flavours. Subtle notes of smoke, herbs, spices and coffee carry through onto the rising, fairly long, palate-dusting and very noble finish. I'm not scoring this even higher because it could have done with just a tad more length, but there's no possible ifs or buts here: this is an absolutely superb red wine, and unless memory fails me now, most likely the best Montecucco Riserva ever made by Colle Massari. A spectacular wine, this 80% Sangiovese, 10% Ciliegiolo and 10% Cabernet Sauvignon blendwas aged eighteen months in oak barrels and goes straight into my list of "Best Italian Wines of 2022" (and in a very high position). Drinking window:
Grattamacco.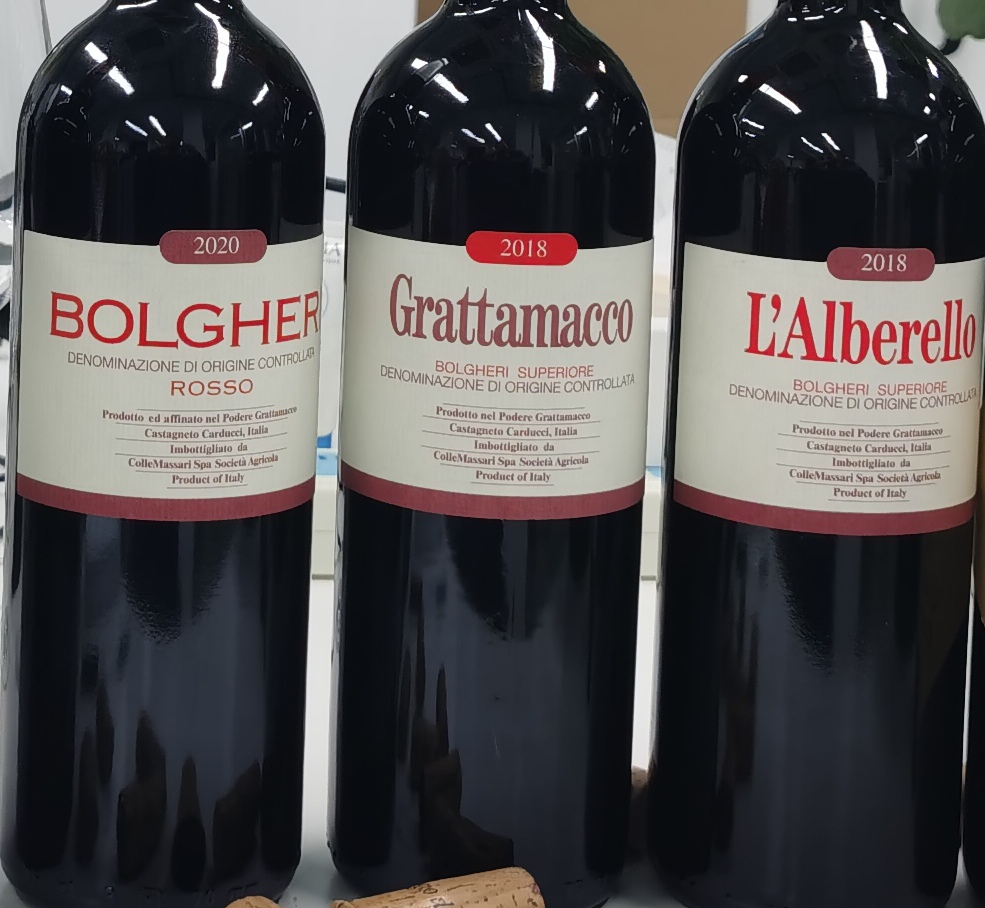 Grattamacco 2020 Vermentino Bolgheri                             91+
Bright pale golden yellow. Aromas and flavours of grapefruit, apricot, medicinal herbs, and green figs, complicated by a strong sweet balsamic note. A lemony tinge adds lift on the long ripe rich finish. Strikes me as slightly less balanced than its stablemate, the 2020 Vermentino Melacce from Colle Massari, as the Grattamacco Vermentino's 14.5% alcohol is a lot more obvious, especially on the back end. Better in a year's time or just remember to decant it an hour or two ahead for maximum enjoyment. Drinking window: 2023-2027.
Grattamacco 2018 Grattamacco Bolgheri Superiore                96+
Good full bright red-ruby. Sour red cherry and raspberry are lifted by violet, pepper and herbs on the perfumed nose. Slightly medicinal, leafy flavours of red cherry and licorice show a very pure and vibrant quality. Finishes with a light resiny nuance and repeating delicate nuances of bell pepper and forest floor. Very lively and long, this is certainly not the most powerful version of Grattamacco ever but is certainly one of the more elegant, reflective of the long hang time and the cool climate of the 2018 vintage, a throwback to the 1980s. A blend of 65% Cabernet Sauvignon, 20% Merlot and 15% Sangiovese, this is just beautiful stuff. At almost forty years out, keep in mind that the 2022 vintage will be this wine's 40th anniversary; the winery is planning to release it with a special, commemorative label. Drinking window: 2026-2036.
Grattamacco 2018 Bolgheri Superiore l'Alberello                    94+
Deep red. Very pure, deep, rich aromas and flavours of ripe red and black cherry, blueberry reduction, forest floor, black tea, leather and licorice. Mouthcoatingly dense, glyceral and rich in the mouth, the rising polished tannins nicely frame the sweet deep ripe red and blue fruit adding a strongly sweetly-spicy smoky oak-derived nuance. The harmonious acidity extends the flavours on the long suave and broad finish. An outstanding red wine but that is currently dominated by its spicy oak, this has enough depth of sweet fruit such that it will likely only get better with another few years in the cellar, and that's saying something, seeing just how good it is already. Drinking window: 2025-2035.
Poggio di Sotto.
Poggio di Sotto 2018 Rosso di Montalcino                                  93
Bright medium-deep red. Musky, sweet aromas of red plum, red currant, minerals and tobacco leaf. Juicy, sappy and rather stylish, combining subtle white peppery and mineral qualities with a subtle touch of sweetness. Not a hugely concentrated wine in the style of the year but silky and insidious, finishing with suave, spreading tannins and compelling sweetness and balance. I've said it before and I will say it again, Poggio di Sotto makes the best Rosso di Montalcino of all, or at no worse one of the top three in each vintage: it really is a lighter-styled Brunello in everything but its name. Drinking window: 2022-2030.
San Giorgio.
San Giorgio 2020 Rosso di Montalcino Ciampoleto                  92
Bright red. Flinty nuances complement red berry, violet and herbs on the fresh nose. Very light and lively but with sneaky concentration to its flinty, steely flavours of red fruit and minerals. This boasts lovely purity and lift on the long zingy, very fresh finish. A very successful Rosso di Montalcino that leaves the mouth feeling clean and refreshed. Drinking window: 2023-2027.
San Giorgio 2015 Brunello di Montalcino Ugolforte                 94
Good full ruby-red. Lovely floral nuances to the rich, ripe aromas of dark plum, red cherry, star anise, tobacco and cinnamon. Then chunky and thick, with a sweet, lush and round personality that is typical of the excellent 2015 Brunellos, with a slightly high-toned quality contributing to the wine's impression of early personality. Finishes broad and long, with ripe, sweet tannins and plenty of size and personality but without being over the top or heavy, and that, is developing more nuance and grace as it ages than is common with San Giorgio's wines that are usually more about power and chunkiness than nuance. But this has developed into a beauty, and I underestimated it when I tasted it at the Brunello Primeurs (Benvenuto Brunello) scoring it only 91; in fact, this is one of those rare wines that after a short number of years (almost three) I have to hike my initial score on by three points, something which Ii have verified over the years practically never happens (unless I place a + sign next to the score). The 2015 Brunello Ugolforte has turned out to be yet another in a long line of very attractive 2015 Brunello wines. It's maybe not the most nuanced or complex Brunello you'll ever taste, but I am willing to wager that you will love its balance as well as its combination of texture and focus. Drinking window: 2024-2033.