Often described in terms of being a trailblazer, honesty dictates that not everyone agrees (some fellow producers included) with the trail that Jean-Michel Deiss has blazed over the years. But the man's intelligence and doubtless charisma has gradually won even doubters over to his cause and the estate's wines rank today with the best of the region, even thought they march to the beat of their very own drummer. Today, it's his just as talented son Mathieu running the show, clearly in team with his father, and the wines have never been better.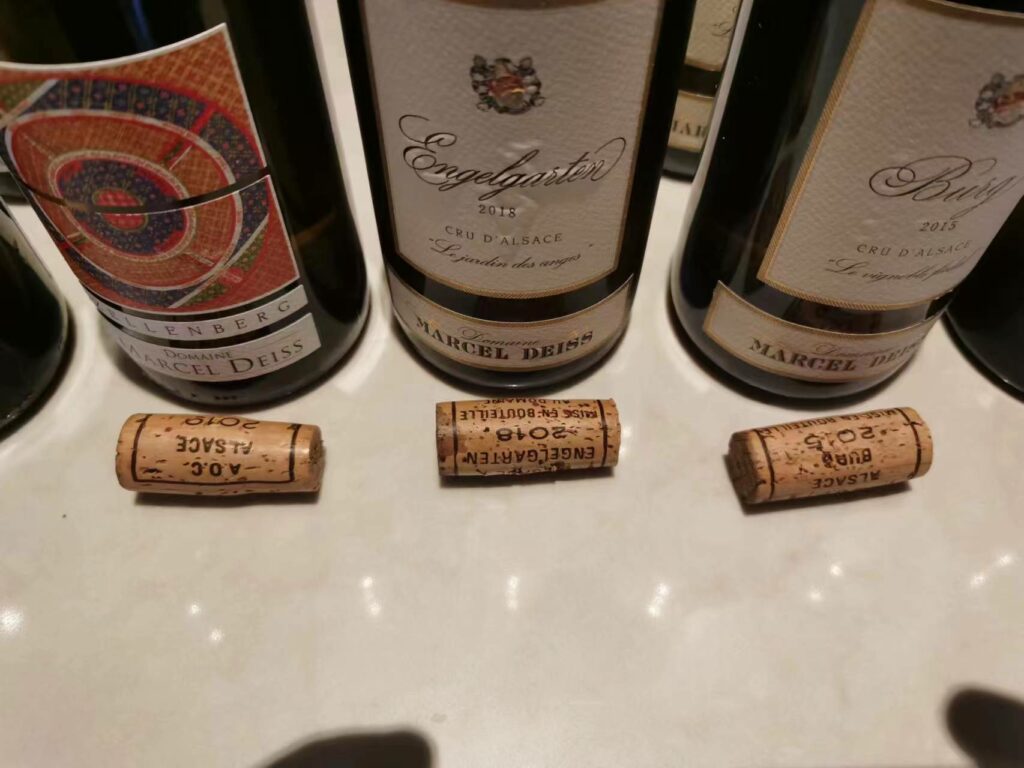 Jean-Michel and Mathieu believe in expressing site as much if not more than anyone you'll ever meet in the world of wine. Their belief is that this has to be done through the co-plantation of vines in a specific spot as opposed to monovariety winemaking. In their view, by so doing, it allows for the true expression of site, or of terroir, which as they explain so eloquently, is a multifactorial concept, very complex, the result of the interactions between man (or woman) and place, such that the finished wines are an "object in movement, a work in progress".
In fact, it was years ago that Jean-Michel, entrusted with parcels in the grand cru Schoenenbourg, found that it had been planted not just to one or two varieties in different sections of the vineyard, but rather to a field blend, or "co-plantation". Field blends had been the norm in Alsace in centuries past (and elsewhere too, as co-planting different grapes in the same plot allowed farmers to hedge their bets against diseases and bad weather during the growing season that might target one or two grape varieties only; therefore, to have different grapes growing in the same vineyard was a means by which to have a little insurance against such vagaries). However, in the twentieth century field blends had given way to intensive single variety plantings just about everywhere (and if and when field blends were still being used, it was usually only to make entry level wines, for the most part generic "Alsace" wines). The estate moved to co-plant their other vineyard sites as well (and not just different grape varieties: but different trees, herbs, and shrubs are planted too, such that a walk in one of their vineyards is like taking a stroll through the forest), but also turned to organic farming and finally, in 1998, to biodynamic agriculture.
Today the estate identifies a series of different wines in their portfolios, from the entry-level wines labelled "Alsace", to the villages-level (the three wines of Riquewihr, Ribeauvillé and Zellenberg), the lieux-dits and premier crus (the latter category is not yet officially recognized in Alsace though it is in the works) such as the Engelgarten, and the grand crus, which include some of the very best vineyard sites of not just Alsace but the whole world (the Schoenenbourg, the Mambourg, the Schlossberg, the Altenberg de Bergheim-don't confuse the last of those with the Altenberg de Bergbieten, which is a different site).
The vineyards of Domaine Marcel Deiss
The estate boasts about forty hectares today located on the various hillsides of the communes of Bergheim, Ribeauvillé, Riquewihr, Rorschwihr, Sigolsheim and Zellenberg. The territories of these communes are marked by some very high quality lieux-dits, premier crus and grand crus. Due to their different soils, altitudes, slopes, exposures, sunlight hours, soil water regimens, microbiology and wine currents, these various terroirs are highly different (for example, even though they are only twelve kilometers apart, there are as much as thirty days of difference between the harvest in the Altenberg of Bergheim and the Mambourg grand crus), and their differences can easily be traced in Deiss' wines.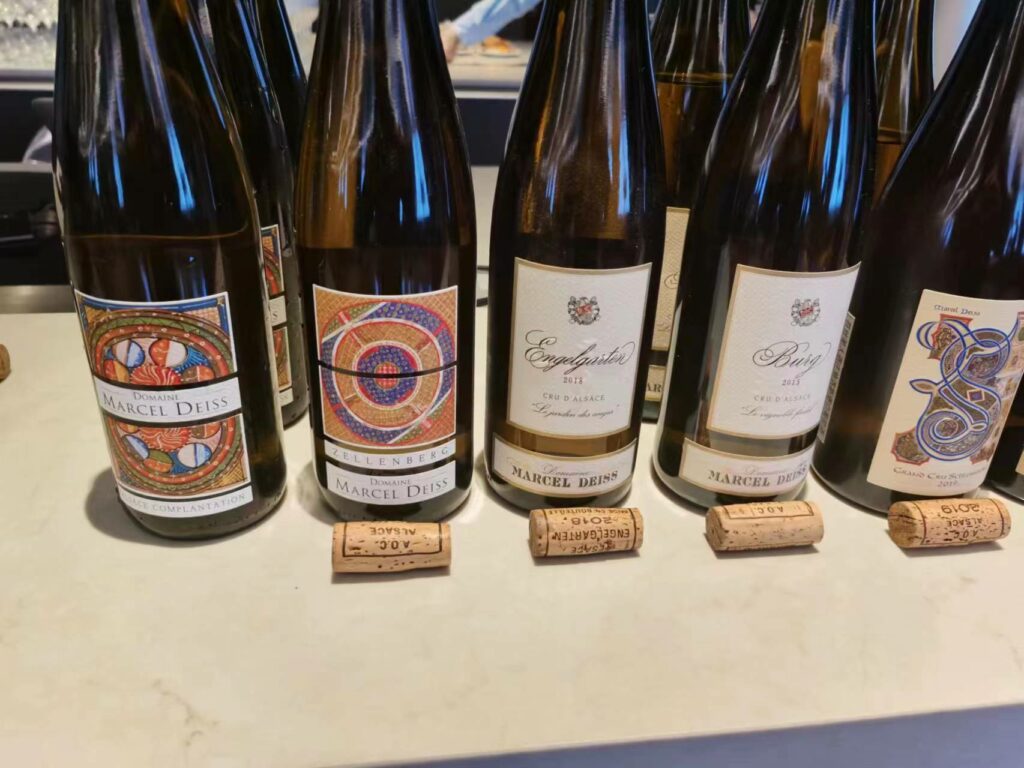 The wines in this report
Marcel Deiss 2020 Alsace Complantation                                   88
Bright pale straw yellow. Peach, orange, lemon and white flowers on the simple, fresh nose. Then nicely energetic in the mouth, with similar flavours to the aromas and very good length. The 2020 vintage will not be remembered for high acidities, but Deiss aced this wine which is very well balanced, fresh and precise. There's a lot of wine for the money here, and given that the quality of a Domaine is judged by the entry-level wines made in large numbers and not just by the super-expensive micro-cuvées, this wine is a testament to the talent of Mathieu Deiss. Drinking window: 2022-2025.
Marcel Deiss 2019 Zellenberg Alsace                                   90
Luminous straw yellow. Tangy nose dominated by ripe peach, herbs and citrus fruits. Lively and vibrant, with very good nuance and grip, but not to mention lovely finesse and purity of its orchard fruit and herb flavours. Closes long with lingering floral reminders. Made with grapes from the co-planted plots on the Zellenberg area (lieux-dits Graffenreben and Ritterpfad) on essentially calcareous coastal conglomerates and some quaternary crystalline contributions. In amny respects, this is almost always my favourite of Deiss's "villages" wines, not because it is the biggest but because it is usually the liveliest and best-balanced. An airier and lighter on its feet type of wine, vertical even, as compared to the thicker and more horizontal "villages" wines of the domaine from Ribeauvillé (more horizontal) and Riquewihr (thicker). Drinking window: 2022-2026.
Marcel Deiss 2018 Engelgarten Alsace                                 94
Luminous stray yellow with pale green tinges. Captivating nose features green apple, fresh apricot, lemon verbena, jasmine, crushed rocks, and talcum powder. Penetrating, sappy and vibrant, with flavors of fresh fruit salad, apple nectar, flint and mint. This is really amazingly fresh in the middle palate and on the aftertaste; comes across as remarkably pure and mineral, closing with terrific cut and grip, and a distinctly repeating mineral edge. Really a very mineral Engelgarten, and to my taste one of the best Deiss has ever made: there's something vaguely Mosel-like here, in this wine's levity and purity. Wonderful, and a really remarkable wine given that the Engelgarten's mostly gravelly soil should have placed this site at a disadvantage in the dry, warmer 2018 vintage, but clearly, not so. I liked this wine so much, I bought a case the same day of the tasting. Drinking window: 2022-2030.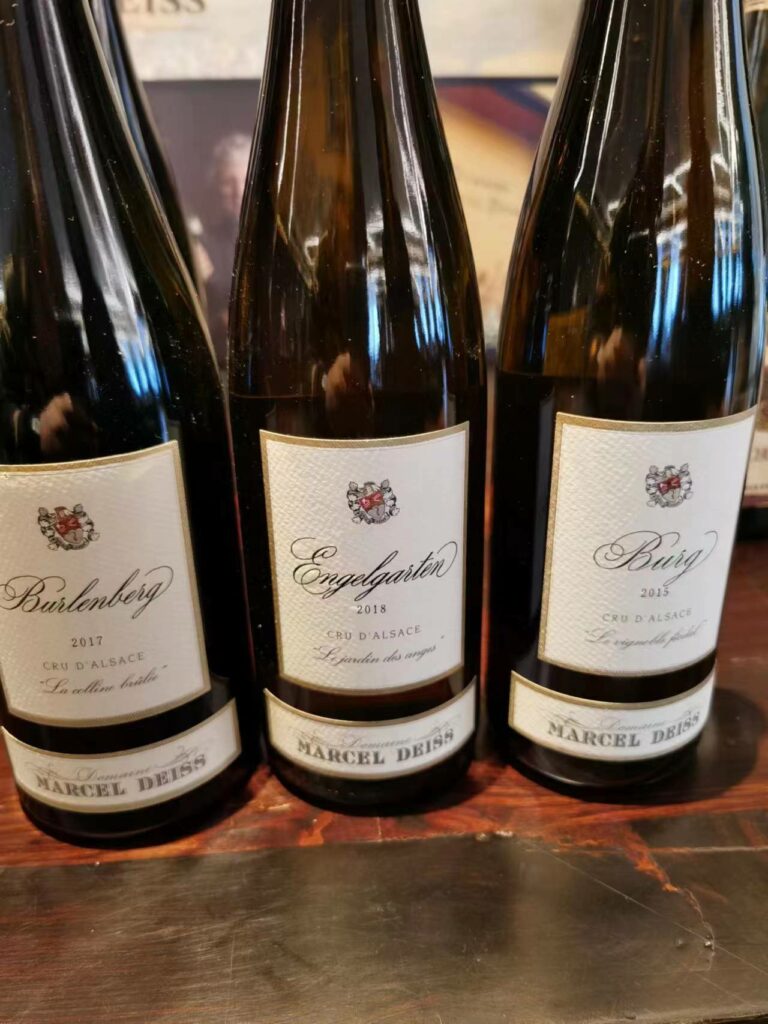 Marcel Deiss 2015 Burg Alsace                                      93
Ok, if you love botrytis and off-dry wines, this is the babe for you! Sort of a gold capsule-like Auslese in its rich and sweet delivery of flavour but with enough acidity to come across as less sweet than it really is. Bright medium golden-yellow colour. Superripe, rot-ennobled aromas of honey and apricot are interwoven with ginger, glazed kumquat and sweet spices. Very smooth and suave, with medium-sweet, honeyed flavours similar to the aromas that are very rich but not at all cloying thanks to strong balancing acidity. Finishes very long, luscious and powerful. From a co-plantation on mixed Keuper marls with rare calcareous intercalations, this is a joy to drink.  Drinking window: 2022-2028.
Marcel Deiss 2019 Schlossberg Alsace                                 94
Good full straw yellow. Fresh, complex nose features spicy pit fruit, mandarin, white flowers and candied grapefruit peel, plus a whiff of thyme. Nicely lifted and succulent, with well-delineated mineral bounce to the herbs and spices accenting the white fruit flavours. A dense wine with considerable power and impressive structure that finishes firm and vibrant, with a delicate spiciness that is typical of granite soils. Only the second vintage Deiss made from the grand cru Schlossberg; mostly Riesling planted between 1977 and 1997 on the typical granite soil of this grand cru. This is a really noteworthy wine but decant an hour or two ahead for maximum enjoyment. Drinking window: 2025-2034.
Marcel Deiss 2016 Altenberg de Bergheim Alsace                     96
Good full golden-yellow. Gorgeous aromas of lemon curd, caramel, orange jelly, honey, and sweet spices are enlivened by hints of citrus peel. Really very dense and layered, with mouthcoating but lively tropical fruit and peach flavours complicated by minerals and herbs. Closes very long and suave but fresh, and with a multifaceted quality. From a multitude of grape varieties planted on fossil-rich, iron-rich Jurassic limestone and Lias marls, and blessed with a rather hot and dry microclimate, a voluptuous, heady white wine that is at once very complex and vibrant. Knockout achievement in a difficult vintage, I've loved this wine since day 1 (when I first tasted it at the winery now many years ago) and nothing has changed my mind since then: it's still a wonderful wine. Drinking window: 2023-2033.
Marcel Deiss 2019 Alsace Rouge                                           91
Bright red-ruby. Aromas and flavours of red berries, dark cherry, violet and coriander. Fresh and lively but with sneaky concentration and depth to its nicely persistent flavours. 100% Pinot Noir that benefited from what is an excellent Alsace vintage for red wines. Made with whole bunches and fermented with indigenous yeasts like all the Domaine's wines this matured on its fine lees for one year. An excellent wine for the money, I'm not sure people realize just how good the red wines of this winery really are. Drinking window: 2023-2026.
Marcel Deiss 2017 Pinot Gris Sélection de Grains Nobles        97
Vivid golden yellow. Honey and pineapple, plus roasted mango and lemon jelly, complicated by marmelady botrytis on the knockout nose. Supersweet and thick but not at all heavy, with vibrant, palate-staining flavours of strawberry, quince, pear nectar and honey. A real fruit bomb that boasts impeccable acid-sugar balance and superb persistence. Here the noble rot concentrated the acids along with the grape sugars and boy can you tell. A Sélection de grains nobles made with grapes grown in a plot on the Altenberg, it's a mesmerizingly good wine like this one that makes me think Mathieu should try making SGNs a little more often (if and when nature allows, clearly). Outstanding stuff. Drinking window: 2023-2034.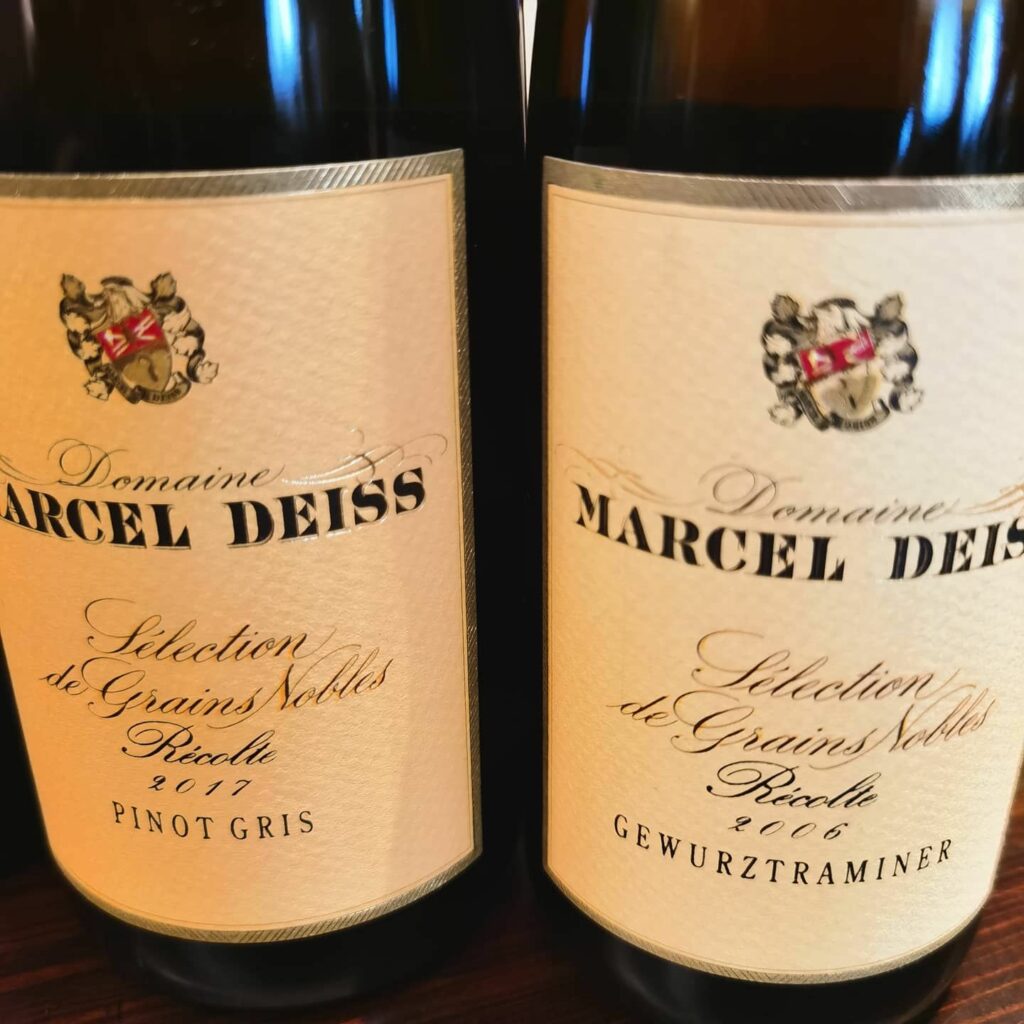 Marcel Deiss 2007 Gewurztraminer Sélection de Grains Nobles    89
Deep lively golden-tinged yellow. Aromas and flavours of tropical fruit, honey, caramel and candied quince. Luscious and rich but lacking a little in acidity, with a suave medium-long closure but not much complexity. The first ever vintage for a then very young Mathieu at the winery (who was not yet in charge, clearly), this is not the most successful wine the estate has ever made but it's enjoyable to drink right now on its own or with an aged cheese (Munster?) or a nice fruit salad. Drinking window: 2022-2025.