Domaine Filliatreau 1989 Saumur-Champigny Lena                       94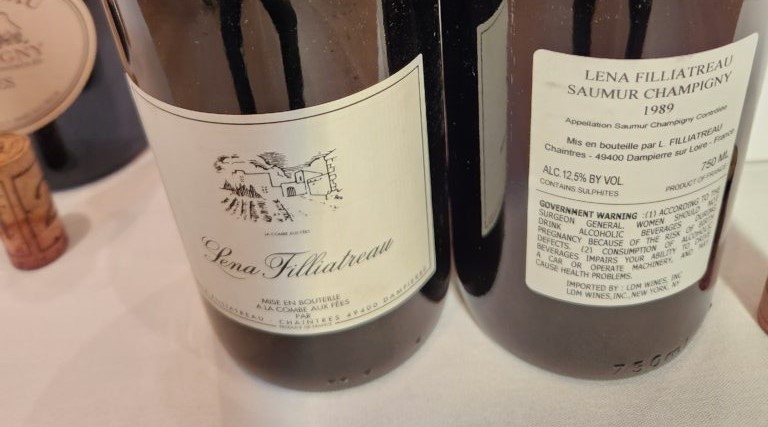 It is only in the last decade that Saumur-Champigny has come to be perceived (correctly) as home to the best stand-alone Cabernet Francs in the world. The grape plays a hugely significant role on the right bank of Bordeaux but there it is invariably blended with Merlot. Cabernet Franc works brilliantly in Bolgheri as well where it produces a richer, fuller bodied style of wine than in the cooler central appellation of the Loire Valley. Global warming has done wonders for Cabernet Franc which is given to producing wines both high in acidity with overtones of green vegetables. This vegetal aspect of Loire Cabernet Franc wines has all but gone away with warmer growing seasons.
I recently had the opportunity to taste several wines from the Filliatreau estate. This 50 hectares Domaine began operation in the early 1970s by Paul Filliatreau. In addition to making estate bottled wines, Filliatreau makes a limited amount of wine from purchased fruit which it bottles under the moniker Lena. The grapes are destemmed and usually see twenty days of maceration. All aging is done in stainless steel. The "lesser" wines are very popular in Paris bistros and wine bars where they are priced like Beaujolais. The best wines take on a more serious cast but are still a pleasure to drink young.
But here I am talking about a thirty-three years old wine. It seems that a large stash of the 1989 has been lying undisturbed at the estate all these years. And what a bonanza for those who are lucky enough to get their hands on the wine! The 1989 vintage was born in what was a famously hot year in the Loire Valley. Memorable late harvest Chenin Blanc wines were produced in Vouvray from this vintage, but this is the first time I have tasted a Saumur red wine from 1989. I will begin by saying that I would never have guessed the wine to be as old as it is, even after repeated tastings. Somehow the wine has matured but not aged in the usual sense of the word. Having tasted a half dozen younger Filliatreau Saumur-Champignys before that fateful 1989 bottle, I was deeply impressed by how much depth and nuance the older wine has achieved. Cigar wrapper, espresso, dark chocolate enlivened by berry acidity all sit on a foundation of earthy ripeness. The top notes and the bottom notes are perfectly aligned. This is a wine which can be drunk for itself. Age does not always make wine better, let alone more interesting. In this case, the combination of a great vintage and aging under ideal conditions have worked together to fashion a beautiful wine. Drinking Window 2022-2032.
Ceretto 1970 Barbaresco Vigneto Montefico                                     94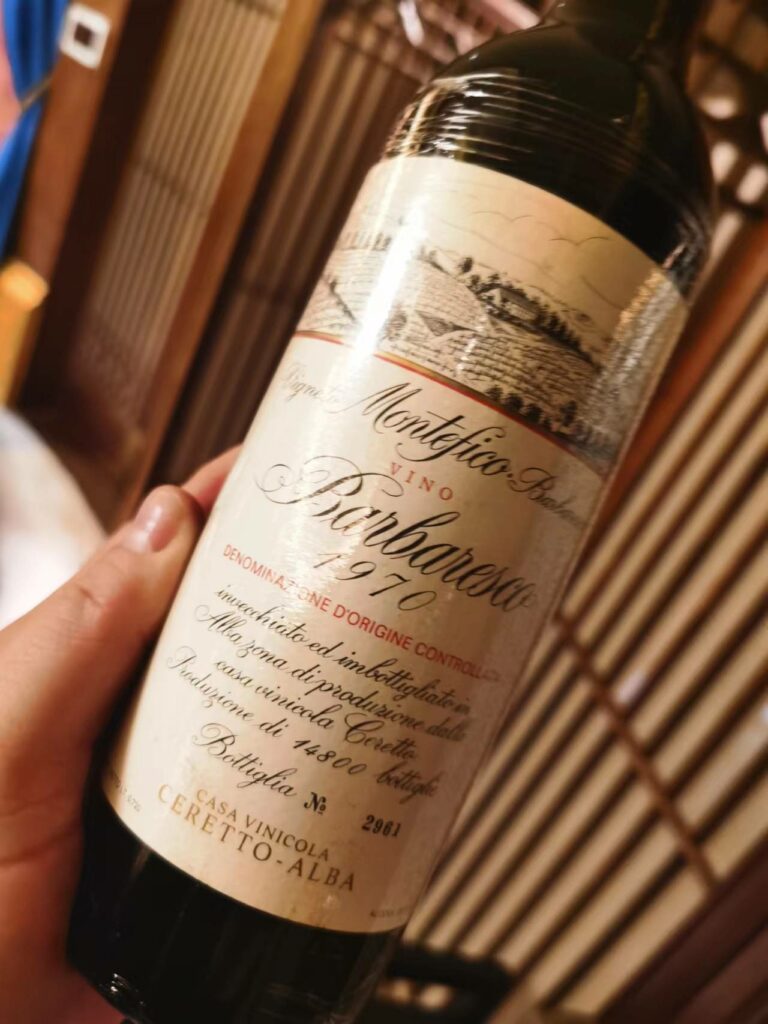 One of the ten or twelve most important and best estates in all of Italy, the Ceretto family has contributed much to the fame and the success, but also the improvement, of Italian wine over the last fifty years. There's an embarassment of riches to choose from in their portfolio, and though the Barbaresco and Barolo wines always seem to get top billing, the winery makes many other wines that are absolutely delicious (the Moscato d'Asti Vignaioli di Santo Stefano and the Arneis Blangé are cases in point). The Ceretto 1970 Barbaresco Vigneto Montefico is a spectacular wine that harkens to another day and age: I can't begin to tell you what a joy it is for me every time I get to taste these beautiful vestigia of the past. Bright garnet-tinged red with a pale rim, the wine's colour is really very pretty and not especially orangy-garnet. Obviously, this had been a well-stored bottle. On the nose, there is complex array of tertiary aromas of forest floor, licorice, camphor, and tar that complement delicate notes of red cherry and red berry fruit. Then pure and still vibrant, with a hint of incipient oxidation starting to show and savoury nuances of potpourri, salted almonds, and underbrush complicating the ripe and still intense flavours of red cherry. The aftertaste is very precise, long, and smooth. Though this wine will last a little longer in a good cellar, it is best drunk up relatively quickly for it is on the descending slope of its maturity curve. Montefico is one of Barbaresco's best vineyard districts and yet one of the least well-known, something that its relatively small size probably has a lot to do with. Situated between the Ovello vineyard district to the north and the Montestefano vineyard district to its south, Montefico is a warm site that benefits from cool winds coming in from the Tanaro river. This explains certain steeliness and lift to Montefico's wines, descriptors that are not typical of other sites of the Barbaresco commune's territory, such as Asili and Rio Sordo. Drinking window: 2022-2028.