Kistler 1996 Chardonnay Vine Hill Vineyard Russian River California      94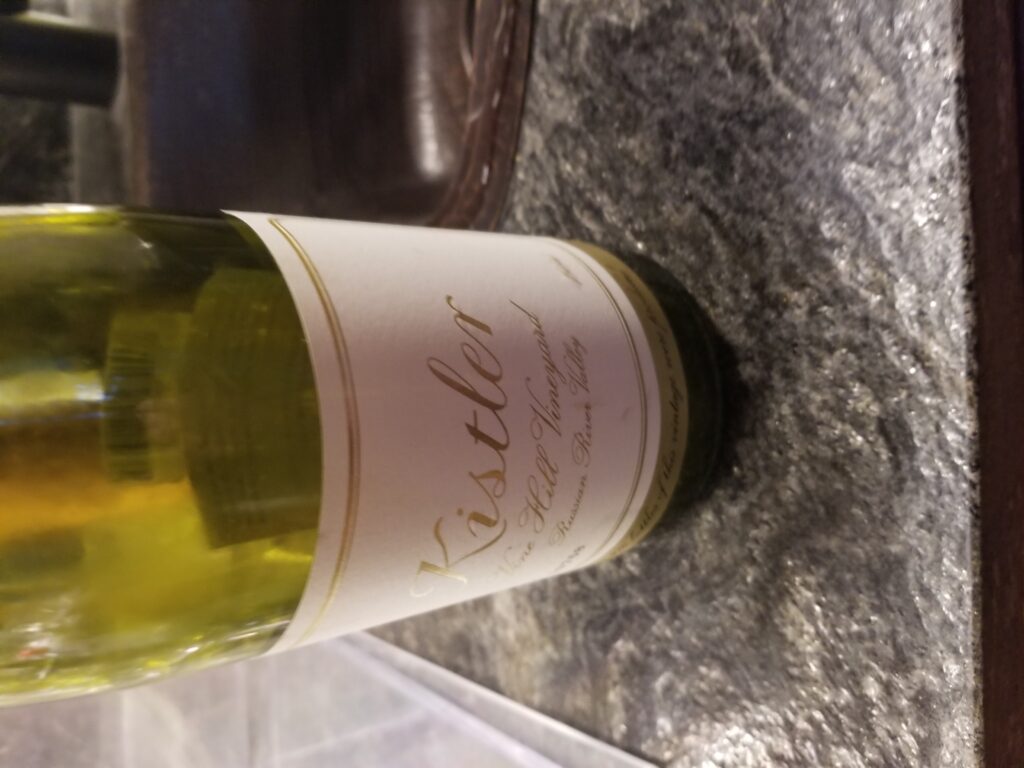 by Robert Millman
So you might be wondering how a nearly 26-year-old Chardonnay from the Russian River Valley is doing. Before I tell you, let me add one more important detail: the wine had been opened twenty-four hours before I tasted it. Furthermore, the bottle had somehow been forgotten and was sitting open on a kitchen counter. I was expecting a mouthful of oxidized old Chardonnay. This was one instance in which expectation proved to be totally mistaken. The wine was, and is still, outstanding despite the neglect. Vine Hill is one of eleven vineyards from which Kistler produces its quite distinctive Chardonnays: the Kistler project began in 1978 by Steven Kistler and Mark Bixler. Their goal from the outset was to apply strictly Burgundian techniques to the growing conditions in four growing areas in California: principally Sonoma Coast, Sonoma Mountain, Russian River and Carneros. It took several vintages for the Kistler project to begin to reach its intended goal: to capture terroir characteristics in a rich, buttery, lushly rich manner punctuated with currents of citrus acidity and palate-energizing minerals. One can always tell that a Kistler is a Kistler. There is a Kistler "style". Yet the different wines can never be confused with one another. François Frères barrels used exclusively, with always three years air-dried staves. This dedication to 70s and 80s style Burgundian richness is the constant at Kistler. The winery believes in and practices lees stirring which has been all but banned in Burgundy. The current obsession with lean, mean, austere Chardonnays–pure minerality and acidity—is alien to the Kistler philosophy and aesthetic. From the outset, the team worked exclusively with the Wente Clone of Chardonnay brought to California in 1963. It is said that the clone is derived from cutting from Louis Latour's Corton Charlemagne. One could hardly imagine a better source.
Let me return to the wine in question. Vine Hill was one the first vineyard sites used by Kistler and Bixler. The first release was the 1991 vintage. Permit me to quote from Kistler's site about the vineyard: "Planted in a pure sand subset of the Gold Ridge soil series. A Chardonnay of delineated concentration, energy and verve with stone and orchard fruit toned aromas capped by a penetrating minerality. One of our best examples of the tension that can be created between density and lift."
At 25 years, oxygen has softened the original impact of the acidity and the minerality of the wine. It is my belief that there is an optimal time when wines like the Kistler Vine Hall reach a balance between the gorgeously expressive fruit and the underlying structure. I would say that that ideal balance was likely achieved 10-12 years ago. What is remarkable is how much of the expressive nature of the wine has remained intact, unaltered by time. An orchard-like essence of pit fruits is at the center of the wine both on the nose and the palate. An impression of natural sweetness enhances the fruit expression. On the palate the richness carries on in waves from start to finish. I noticed a sneaky persistence of tartness and citrus-ness to counterpoint the rich creaminess. This continued for two hours undiminished. The 1996 Kistler Vine Hill is a stunning example of a style of California Chardonnay that has all but gone away. Only a snob might say that the Kistler way "tastes too good". Pleasure and quality are not antithetical in great wines! Drinking Window: now-2025
Sous le Vegetal 2019 Livia Samos Greece                                                          91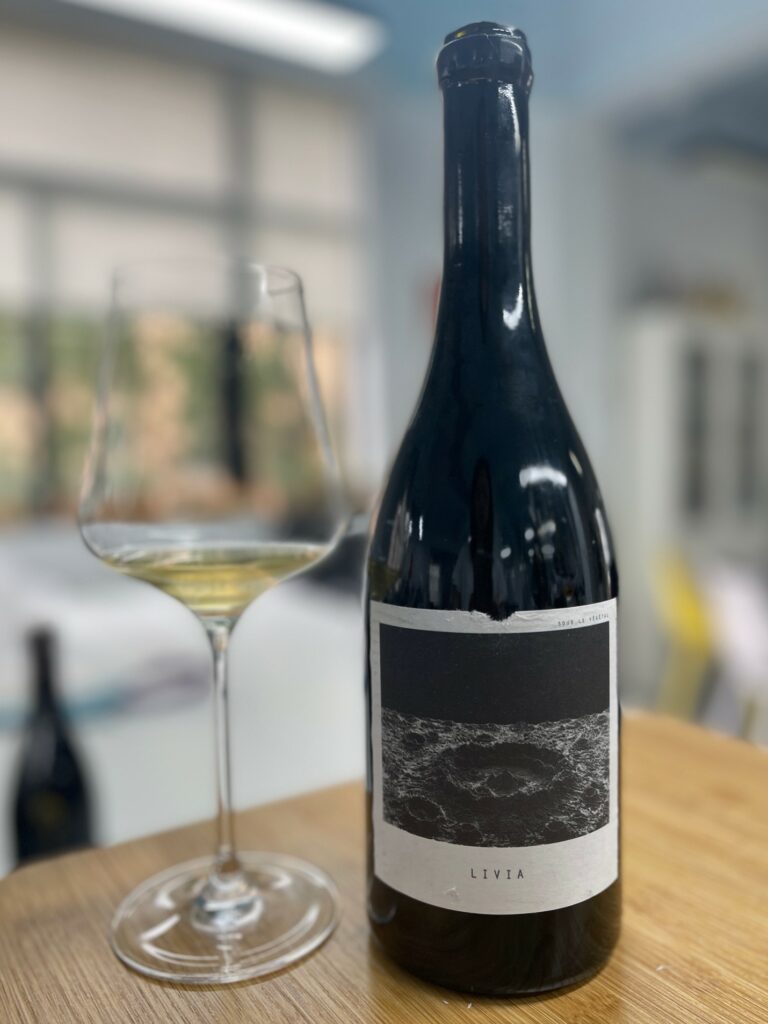 by Echo Miao Zhou
Located on the island of Samos in Greece, only a few miles sea distance away from Izmir in Turkey, the winery Sous Le Vegetal is a hidden gem in the remote Aegean Sea.
As a biodynamic and organic winery, this winery is a project collaboration of the young Greek winemaker Jason Ligas and the famous natural wine vigneron Patrick Bouju. Jason was born in a Greek wine family, that of Domaine Ligas, and determined to make local terroir wines since young. After a coincident tasting of 1958 vintage of Muscat Blanc a Petits Grains (Italy's Moscato Bianco and one of the most classic grape varieties in Samos Island), Jason felt a strong calling to make a great wine using this variety, and he then persuaded Patrick to join him.
They follow a philosophy of ultimate patience that might not go well with fast-paced lifestyle and the obsession for productivity and efficiency today, their goal is to protect local varieties from extinction, and fight against damage of industrialization brought to local wine industry. The two continue to explore micro-climate and respect local traditions of winemaking: hand harvesting, whole bunch fermentation, ageing the wines half in oak barrels and half in concreate egg vessels, no filtration and clarification, and without added sulfur. Jason also follows biodynamic practices using chamomile extract sprays and olive oil and wax to heal the wounded vines.
As we know, Samos Island is typical Mediterranean climate with extremely dry and hot summer and mild wet winters. The challenge for viticulture lies in rapid rise of temperature under direct sunlight which easily goes up to 40 degrees. The winery has slopes with 800 meters altitude and the best lieu-dit always dispersed in different slopes apart. The Sous le Vegetal 2019 Livia Samos Greece is pale lemon gold with a slightly milky hazy tinge. The very clean nose offers floral, mineral, salty and savory notes. Then very juicy lemon zest and bruised apricot and pineapple flavours on the palate, with very nice mineral notes lifted by an abundance of citrus peel and dried mango. Herbaceous undertones supported by bright edgy citrusy acidity nicely framed by a round mouthfeel lingering long on the zingy saline finish. I loved this wine's concentration and length. Drinking window: 2022-2026.