East Meets West (or EMW) is one of China's leading wine and spirits importers, distributors and brand builders. Edouard Duval (of the famous Duval-Leroy Champagne family and owner of his own Champagne brand, Domaine de Eulalie) and Gregory Bielot (Edouard's best friend, who graduated in business administration from a Chinese university, speaks the language fluently and has since set up EMW Hong Kong) joined in 2005 and helped bring the company founded in Shanghai to national prominence, opening offices in Beijing and Shenzhen (the company has since increased to offices in seven different cities). Today, Edouard is the Chairman of the Board and Gregory is the company's Managing Partner; Olivier Six the Chief Executive Officer (he joined the company in 2009 and has quickly moved up the ranks to his current position). In 2019, the Cool Japan Fund invested in the company allowing EMW to move into the Sake business, with direct importing from the brewery, a big commercial advantage bypassing agents. The undeniable success of EMW over these years is attested by the fact that 98% of the brands that originally started with the company are still in its ranks, an impressive figure no matter how you slice it. Another figure that helps put matters in perspective is that today EMW employs over 150 people dislocated in twenty-two different cities but its team in its various offices cover the wine, sake and spirits business markets of more than 160 cities in the greater China market (including Hong Kong and Macau). Last but not least, the awards EMW has won over the years (such as "China's Best Wine Importer) are really too numerous to count.
EMW's brands are divided up between wine (over 100 wineries from sixteen different countries: at over 1000 SKUs, wine represents over 90% of EMW's portfolio), plus Sake (nine different brands) and one Cognac (Boirin-Godet). Sales of the latter do especially well in southern China, which has always the best market in China for spirits of all kinds. And of the wineries in the portfolio, fifteen are organic certified (over 50% of the portfolio's wineries are either organic certified or work eco-sustainably) and others will be soon. Part of EMW's appeal and serious approach to its craft is its cooperation with professional logistics service providers and uses temperature, humidity and CCTV monitoring systems to ensure wine quality remains constant and of high standard throughout the entire supply chain.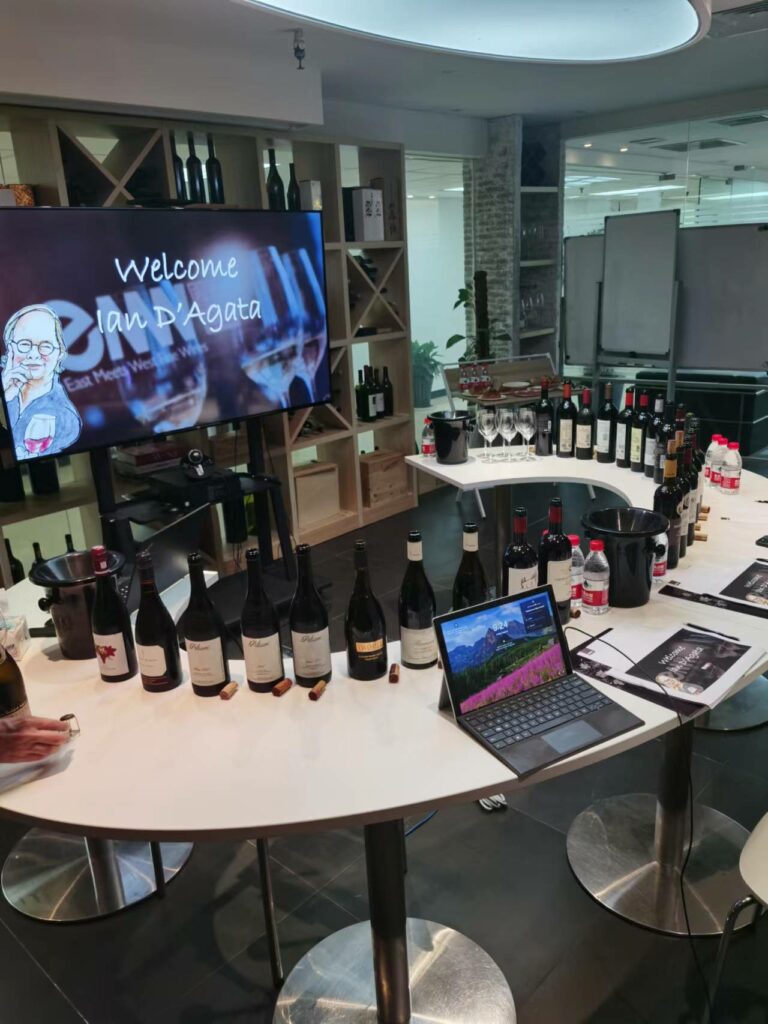 The wines in this tasting report
Chile
Viña Casablanca.
An estate in Chile that ahs built a good reputation for its cooler-climate varieties, this year's wines tasted from Viña Casablanca are clean, fresh and very typical of the respective grape varieties. Established in 1991 in its namesake valley, the estate is divided between two wineries (Céfiro Estate and Nimbus Estate) and farms close to ninety hectares.
Viña Casablanca 2021 Sauvignon Blanc Nimbus Casablanca Valley       89
Pale straw colour. Very intense gooseberry and green bell pepper and finishes fresh and peppery, with hints of white flowers and lemongrass. Easygoing and accessible, think of what a new World Sauvignon Blanc wine might taste like and you have this wine. Try it with oysters and shellfish, not to mention a good fresh goat's milk cheese. Drinking window: 2022-2025.
Viña Casablanca 2018 Syrah Nimbus Casablanca Valley         90
Deep purple-ruby. Eucalyptus and fresh grass nuances complement dark plum and smoky aromas and flavours. At once fresh and chewy, this is nicely persistent featuring repeating grassy and balsamic notes. The Nimbus estate is located in the westernmost area of the Casablanca Valley, about 20 kilometers from the ocean. Aged 10-12 months in French oak barrels. Drinking window: 2022-2026.
Viña Casablanca 2018 Neblus Limited Icon Blend Casablanca Valley        91
Deep full ruby. Strong green bell pepper nuances complicate the ripe dark fruit and herbal aromas. Then less capsaicin-influenced nuances in the mouth, where it is sweeter richer than the nose suggested. Very fresh too on the long nicely balanced and very peppery finish. A blend of Merlot, Syrah and Cab Sauv, this was aged 18 months in 40% new oak; it's cool climate habitat is obvious from the aroma profile of the wine, but this is a large-scaled and rich enough not to have plenty of appeal, especially for all those who like generous, richly flavoured, bigger reds. I'm usually not in that crowd, but this struck me as the best wine I tasted from this estate this year. Drinking window: 2023-2028.
China
Tiansai Vineyards.
A very modern winery that boasts about186 hectares located at the foot of the Tianshan Mountain are farmed by one of China's up and coming wine estates. All the wines made are generally precise, not over-oaked, and clean.
Tiansai/ Skyline of Gobi 2019 Chardonnay Reserve Xinjiang        90
For those who don't know much about Chinese wines and have never tasted any, this one is really pretty good. Bright straw yellow colour. Rich and ripe but lifted, with aromas and flavours of tropical fruit, some butter and vanilla galore, complicated by peanut butter too. All that may sound like a caricature of Chardonnay from the new World, and yet the wine comes across as balanced and light on its feet, a neat trick: well done. The finish is long and zippy. 100% fermented in oak, and aged eight months in 40% new oak barrels. Drinking window: 2022-2026.
Tiansai/ Skyline of Gobi 2016 Marselan Xinjiang                     90
Deep purple-ruby. Big rich spicy, with aromas and flavours of dark plum, herbs and and balsamic traditional vinegar. This very ripe fleshy red has a slightly Porty nuance to it yet is light on its feet enough not to induce palate fatigue after just a few sips. Closes long and bright with smooth tannins. Aged in 40% new oak for seventeen months. Drinking window: 2022-2026.
France
Bila-Haut .
Bila-Haut 2020 Cotes de Roussillon Blanc Les Vignes de Bila-Haut     93
Pale yellow-green. Delicately smoky, waxy and honeyed aromas of white stone and orchard fruit are followed up by very similar flavours on the palate. The honeyed, noble bitterness is very typical of these Roussillon white wines on the compellingly sweet and long finish. A blend of Grenache Blanc, Roussane, Marsanne and Macabeo from limestone, gneiss and clay soils in the Agly Valley and from granite soils at higher altitude (500 meters asl), this is a very pretty wine boasting noteworthy acid-sugar-fruit balance. Beginning in 2021, the wine's name will be changed from Les Vignes de Bila-Haut to Bila-Haut only, probably making it somewhat easier for people outside of France to pronounce and remember. Drinking window: 2022-2026.
Chantal Lescure.
Founded in 1975 by Chantal Lescure and Xavier Marchand de Gramont, this is a family run estate that has nineteen hectares. Their two sons Aymeric and Thibault now run the show with director François Chaveriat. Use of herbicides was stopped in 1996, and the estate has been practicing fully organic methods since 2000, certified since 2009.
Chantal Lescure 2019 Cotes de Beaune Blanc Le Clos des Topes Bizot              90
Apples and lemon curd on the nose and in the mouth with very good freshness to the creamy long mouthfeel. Very pure and long on the aftertaste, this offers plenty of flavour and density for a fraction of the price of a Meursault or Puligny. Fermented in 228 liter barriques with no lees stirring and aged in a small percentage (10%) of new oak for about fifteen months. Organically farmed, the Le Clos des Topes Bizot is high on the slope in Beaune just above the premier Cru L'Ecu. It's east-facing, clay and pebbles over limestone soil ensures very good freshness even in warmer years. Drinking window: 2022-2026.
Chantal Lescure 2018 Pommard Les Vaumuriens                    91
Deep bright ruby-red. Aromas of violet and plum are complemented by delicate sweet spices. Enters fresh and juicy, with ripely fruity notes of dark cherry and plum complicated by iron and cinnamon. Then remarkably ripe and almost porty in the mouth, with a fairly typical structure for this wine, usually one of the most hefty if not the heftiest of the domaine. Offers a nice contrast between nose and palate, I quite liked its exuberant ripe fruitiness; lovely to drink now but this will age and gain in refinement. Excellent, really. From over forty-five years old vines planted on the left slope of Pommard on strongly limestone soil, this is aged in 500 liter, 30% new, oak barrels. Drinking window: 2023-2028.
Chantal Lescure 2017 Clos de Vougeot Grand Cru                   93
Good full ruby. Aromas and flavours of blackberry, blueberry, violet and minerals are deep and still relatively brooding. Nice complexity and concentration on the pure clean and still young finish. Planted in a lieu-dit called Montiotes Hautes, up high on the slope, about half the vines are 70 years old and the rest replanted in 2011, this is a mostly clay-limestone and stony soil. Fermented in 18 hl wooden vats with natural yeasts and aged in 50-100% new oak barrels for to 16-18 months, this was bottled unfiltered from organically grown grapes. Drinking window: 2024-2030.
Domaine Fouassier.
Ten generations and counting (the estate was founded in 1742) and about 60 hectares of vines (80% Sauvignon Blanc and 20% Pinot Noir) tell only part of the story of Domaine Fouassier. Mostly associated with Sancerre and one of the Loire's odlest wine-making families, the estate pays attention to vinification by lieux-dits is a firm believer in biodynamic agriculture (Ecocert and Biodyvin certified). And though made with minimal intervention, the wines are clean and have no off-putting smells.
Domaine Fouassier 2019 Pouilly-Fumé Domaine des Cassiers        90
Deep yellow. Aromas of white flowers, minerals, lime and gooseberry. Big, rich, round and smooth, not especially lifted but very well balanced with flavours similar to the aromas. The Domaine des Cassiers Pouilly-Fumé has been vinified for more than thirty years by the Fouassier family. From clay-calcareous soils and roughly 10-40 years old vines, this is steel-fermented. Drinking window: 2022-2026.
Duval-Leroy.
A company in the sign of Venus, the Chef de Caves (winemaker) is Sandrine Logette-Jardin who is making very fine chiseled wines (originally Head of Quality Control and then head winemaker). In fact, Carol Duval-Leroy is the president and manager: there aren't that many Champagne houses that can say they are owned and managed and their wines made by women: but at Duval-Leroy it is just so, and excellently so. The wines have never been more precise and delicious than they are today, and consider the house was founded in 1859, when Edouard Leroy, a wine trader from the town of Villers-Franqueux joined forces with Jules Duval, a grape-grower and winemaker from Vertus. Located in the heart of the Côte de Blancs in the village of Vertus, it was Raymond Duval-Leroy, a descendant of the founders that created the first Champagne wholly from Premier Crus grapes only. Duval-Leroy has an impressive portfolio of vintage and non-vintage wines (plus a line of organic wines) and is especially noteworthy for its superlative vintage Champagne made from Petit Meslier, an all but forgotten local grape variety that gives a gorgeous Chamoagne that rounds out sooner than those made with Champagne's more typical graces. At only about twenty hectares left in the region, credit must go to Duval-Leroy for having decided to go ahead with what might have been thought as a marketing gimmick only, and is instead an intelligent contribution to upkeeping the world's biodiversity and offering wine lovers something that goes well beyond the tried and true.
Duval-Leroy NV Champagne Blanc de Blancs Prestige                   92
Golden-tinged dark yellow. Very yeasty, musky and grapey on the nose, but for all its intensity this does not lack refinement. Almond and tangerine flavours have good inner-mouth perfume with an obvious note of white flowers especially lingering nicely on the tactile but fairly silky finish. 100% Chardonnay from six grand cru villages (Le Mesnil sur Oger, Oger, Avize, Cramant, Chouilly, Oiry), this is a lovely Blanc de Blancs. Drinking window:
Duval-Leroy, NV Champagne Grand Cru Femme de Champagne            93
Medium dark yellow. Slightly oxidised, evolved nose in contrast to the typical acid- and mineral-driven Duval-Leroy house style offers dominant aromas of grilled hazelnuts, almond paste, and ripe yellow pit fruits. Finishes long with notes of butter, custard cream, grilled hazelnuts, caramel and yeast, complicated by obvious notes of crystallized orange peel. A rather big, textured Champagne in the mouth, but with noteworthy elegance too, and quite perfumed. This is a 80% Chardonnay and 20% Pinot Noir from Mont-Aigu de Chouilly, Chapelle d'Avize, Ambonnay, and Chétillon and Aillerand du Mesnil sur Oger), though the exact percentages might vary from release to release (like for example, 87% Chardonnay and 13% Pinot Noir). Drinking window: 2022-2028.
Edouard Duval.
Edouard Duval of Duval-Leroy fame inherited some land from his father in the 1970s, and decided to make his own wine, launching a company under his own name and Champagnes with his name on the label in 2019. The vineyards are in the Côte de Bar and this is why Edouard hopes to become an important player in Pinot Noir Champagne, though all the wines in his portfolio are extremely well-made, originating from twenty-eight contiguous hectares farmed ecosustainably (Viticulture Durable en Champagne, or VDC). The name of Sainte Eulalie is taken from that of a Priory built in 1095 in the Côtes de Bar region and donated by the Abbey of Cluny to the Abbey of Clairvaux. The Duval-Leroy family bought the estate in the 1950s, and Edouard took over in 2000.
Edouard Duval, NV Champagne Rose de Saignée Extra Brut Saignée d'Eulalie              93
Bright pink-red colour with a steady stream of fine bubbles. Smoke, strawberry and pomelo at first, then with aeration also offers aromas of red cherry, hazelnuts and delicate sweet spices. Creamy and smooth, finishing long with hints of herbs and strawberry jelly. Strikes me as much better than the previous year's release, in that this is riper, sweeter, and deeper. Drinking window: 2022-2030.
JosMeyer.
Officially founded in 1963 by Hubert Meyer, who added the first three letters of his father's name, Joseph (from whom he took over in 1941) to the family name, such that Jos+ Meyer became the winery's name of JosMeyer. It was his son Jean (who passed away in 2015) who turned the estate to organic faming, and greatly increased its export markets. Today the estate is brilliantly run by Celine and Isabelle Meyer, who make some of Alsace's recognizably best classically dry wines, with an especially noteworthy range of Pinot Gris wines that are guaranteed to forever change your mind about this grape variety. JosMeyer's Pinot Gris wine from the Brand is as good and ageworthy as just about any grand cru Burgundy you can think of (no surprise, given that Burgundy was once long planted to hefty amounts of Pinot Gris, and not Chardonnay). The Sylvaner, the Rielsing Hengst and Auxerrois "H" are also, each in their own way, iconic wines. For more information on JosMeyer, see TerroirSense Wine Review, Producer Insight, August 22, 2022: Josmeyer: Q&A with Ian D'Agata and Celine and Isabelle Meyer, of Poems, Grape Varieties, Biodynamics, Great Wines and Terroirs)
Josmeyer 2018 Riesling Le Dragon Alsace                                 91
Golden yellow. Diesel fuel, custard cream and herbs on the inviting, ripe nose. Round rich and ripe in the mouth too, finishing long with a lemony twist that adds freshness. From forty years old vines that are biodynamically farmed, a very solid, classically dry Alsace Riesling wine. Drinking window: 2022-2026.
La Grange Tiphaine.
The La Grange Tiphaine winery  produces wines from the appellations of Montlouis-sur-Loire,Touraine and Touraine-Ambroise. The winery was bought in 2002 by Coralie and Damien Delecheneau who converted the estate to organic farming and obtained biodynamic certification in 2014.
La Grange Tiphaine 2020 Touraine Ad Libitum                       90
Deep blue-red colour. Blueberry and citrus fruit aromas and flavours are juicy and bright. The finish is nicely floral and long. A blend of Malbec, Cabernet Sauvignon and Cabernet Franc made from vines that are up to forty years of age. A bit funky initially, but clears with aeration, so as to turn into a very pretty, clean and precise wine, closing long and juicy with a chalky nuance. Fermented and aged in concrete tanks, I'd drink this slightly chilled for maximum enjoyment. Drinking window: 2022-2026.
Olivier Merlin.
Olivier Merlin has carved out quite the reputation for himself, and his success with what were long viewed as less prestigious Appellations is there to showcase his talent. He started out in with 4.5 hectares rented from the retiring René Gaillard of the Domaine du Vieux Saint-Sorlin, but Merlin continued to rent and buy and expand the property. In September '97 Olivier took out a négociant's licence in order to be able to make some Pouilly Fuissé, given that vineyards there are hard to come by, and he now makes a bunch of wiens from this very prestigious Appellation. Look for his three cuvées of Pouilly-Fuissé (one each from the top cru villages of Fuissé, Vergisson and Chaintré) but also an excellent Viré-Clessé. Single-vineyard wines such as the Mâcon-La Roche Vineuse, Les Cras and St Véran Le Grand Bussière are aged with as much as 50% new wood for up to eighteen months. Oak is a bit of a signature of this winery's wines, so keep that in mind, and give them the required cellaring to show all they have to offer, which is plenty.
Olivier Merlin 2017 Pouilly-Fuissé                                       88
Pale straw green. Aromas of pear, apple, pineapple and sweet spices. Fresh and mineral on entry, with citrus and orchard fruit dominating, but then turns a little warm and oaky in the mouth with a mouthcoating, slightly bitter mouthfeel on the finish. This was fermented in oak barrels and the oaky presence hasn't resolved yet. I always love a good Pouilly-Fuissé, and Merlin is certainly a very talented winery, so try cellaring for another year or so to see if this develops better balance.  Drinking window: 2023-2026.
Paul Jaboulet Ainé.
The Paul Jaboulet Ainé estate was long one of the Northern Rhônes most important wine estates, making numerous famous wines such as the Hermitage La Chapelle, but also one of the first Crozes-Hermitage of renown, the Domaine de Thalabert (in fact Jaboulet once owned more than 5% of the land under vine in the Appellation). The estate was sold to the Frey family in 2006 and since then Caroline Frey has converted the entire estate to biodynamic farming.
Paul Jaboulet Ainé 2016 Crozes-Hermitage Domaine de Thalabert      94
Red-ruby with orange rim. Perfumed, delicately peppery nuances to the black fruit, leather, wild herb and grilled pork belly aromas. Then very smooth and elegant on the palate, with long clean flavours of candied violet, cassis and red cherry, complicated by mint, olive tapenade, red licorice and woodsmoke. Very pretty Crozes that is beautifully pure and silky, finishing long, lifted and juicy. One of my favourite Thalaberts in many years, this is a knockout Crozes-Hermitage. Readers may not know that for the longest time, the Domaine de Thalabert was the only estate wine being made in Crozes-Hermitage. Drinking window: 2022-2032.
Germany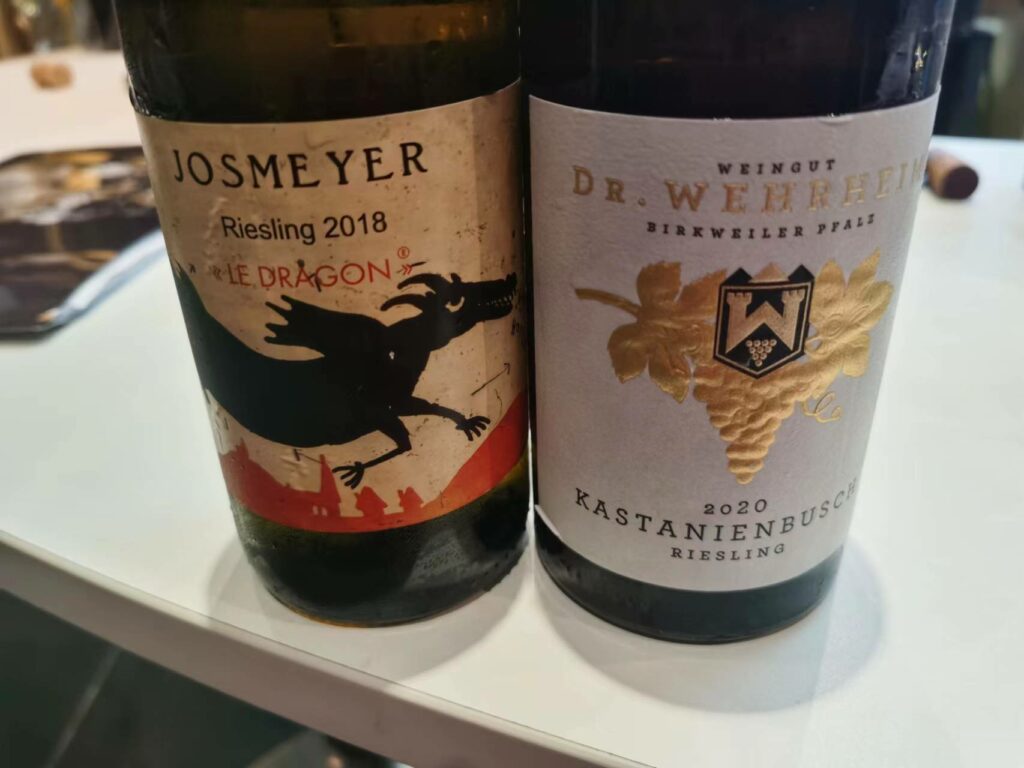 Dr. Wehrheim.
Now in its fourth generation of family winemakers, Dr.Wehrheim is a small but exciting German estate that is lucky enough to farm four completely different soils including the Rotliegend (bright red mix of slate and sandstone), Bunter sandstone, shell limestone and Keuper shale. More importantly, the family is talented enough to mix and match the grape varieties to the correct soil and bring out the best those combinations have to offer. The Riesling wines are excellent, and the Pinot Noirs are noteworthy too, something which in all honesty, despite the hype associated with Spätburgunder these days, is quite frankly very rarely the case. Here at Dr. Werhrheim instead, the Pinot Noir is actually interesting and worth following up on, a case in point being the one I report on here, but previous vintages have been excellent too.
Dr. Wehrheim 2020 Riesling Kastanienbusch GG Pfalz                93
Bright golden-tinged straw green. Lovely aromas and flavours of orchard fruit, white flowers and spicy minerals. Rich and textured but very lively, with zingy freshness nicely lengthening the flavours on the long cool suave finish. Excellent. A red slate vineyard and you can tell from how spicy and rich this is, with vineyards growing at 320 meters above sea level on a 33% steep slope. Biodynamically farmed.  The Riesling wine from the Kastanienbusch Köppel, a small vineyard that has a sandstone soil, is also noteworthy, as is the Pinot Noir. Clearly, the GG in the wine's name above refers to Grosses Gewächs , a top quality dry Riesling from a top quality site. Drinking window: 2022-2032.
Dr. Wehrheim 2019 Spätburgunder Pfalz                               91
Bright ruby. Delicate aromas and flavours of small red berries, flint, violet and delicate spicy note emerging with prolonged aeration in the glass. The finish is long and vibrant, not to mention enticingly juicy. Great food wine. From coloured sandstone (coloured because of different concentrations of iron oxide) soils, destemmed and stainless steel fermented, this is aged twelve months in barriques. Very well done here: I love the wine's purity of fruit, complete absence of green notes and lovely acid-fruit-tannin balance. Drinking window: 2022-2028.
Italy
Mazzei.
The Mazzei family has been involved in wine since the eleventh century, and one of its members, Ser Lapo Mazzei is the author of the first known document to use the "Chianti" denomination in 1398. For over twenty generation since then, the Mazzei family has produced wine at the beautiful Castello di Fonterutoli in Castellina in Chianti, but has expanded over time. Its most recent addition from Radda has given birth to some of the winery's best wines in years.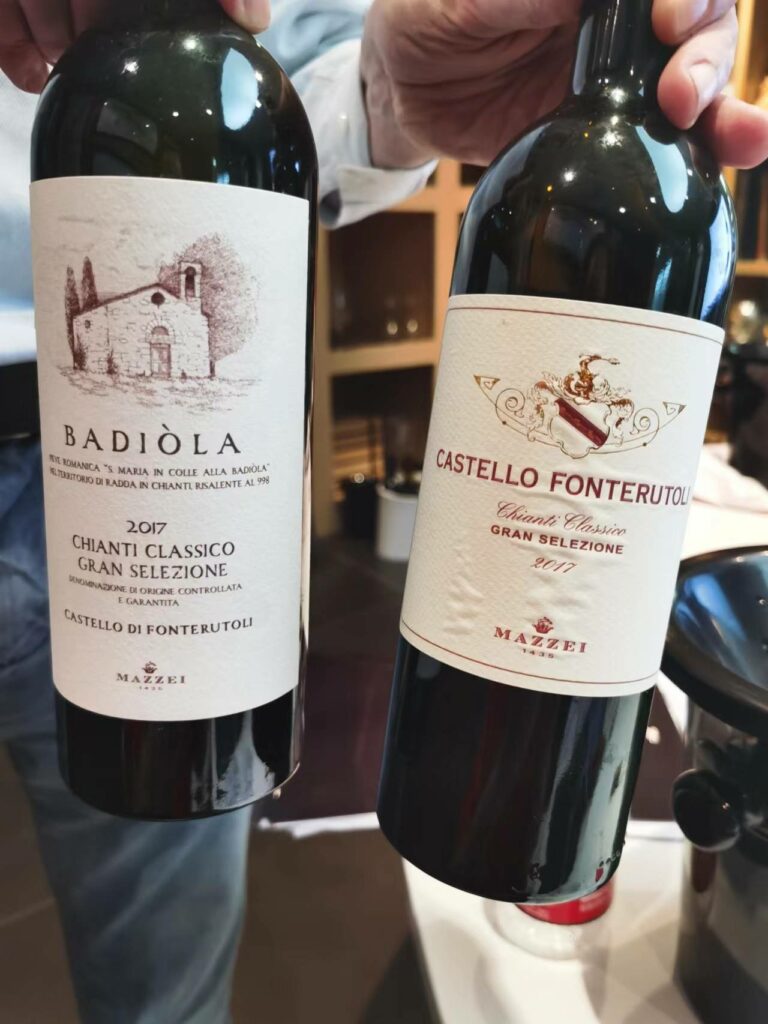 Mazzei 2017 Chianti Classico Gran Selezione Badiòla                     95
Medium vibrant pale red: very pretty red colour and nothing like the laughable almost black colour of many "Sangiovese" wines of Italy's sorry recent past. This is absolutely lovely, with intensely perfumed, precise aromas and flavours of strawberry, raspberry, blood orange, sour red cherry and minerals, lifted and nicely framed by citrussy acidity. Very long and pure on the floral finish, with a rigid, classically austere and refined personality that is very Radda. From an estate located in that commune, this is the first vintage Mazzei has made from this area with vines that are about sixteen years old (three clones and three massal selections). A 100% Sangiovese aged 16 months in 300 liters 30% new oak barrels and finished five months in concrete tanks that showcases just how important it is to have high altitude vineyards in a hot year such as 2017. A beautifully perfumed and lifted wine, that speaks clearly of its vineyard position amongst the highest in Chianti Classico (over 500 meters above sea level), this is a knockout Chianti Classico and Sangiovese wine that is easily one of my favourite wines from Mazzei in years. The name Badiòla refers to a small Romanic parish that overlooks the vines. Drinking window: 2022-2032.
Mazzei 2017 Chianti Classico Gran Selezione Castello Fonterutoli       93
Darker in colour thanks to higher clay content of these particular soils but still acceptably red in colour for a wine made with Sangiovese. Rich and ripe on the nose and in the mouth, but with very good lift to the darker red cherry and berry notes, complicated by hints of licorice and tar. Closes long and clean, this is a very pretty wine. Less of the citrussy acid thrust of Radda's limestone here, but more size thanks to the vines being in Castellina, so this will appeal more to those who like their reds with a bit more flesh and size. Made from 11 parcels of vines that are roughly between 25-30 years of age, this was aged eighteen months in 50% new oak barrels and finished in concrete tanks for another four months. Drinking window: 2022-2030.
Pellissero.
Pellissero is a high-quality estate of the Barbaresco denomination now run by a brother and sister team that represent the third generation of the family. The winery was founded in 1957 and its focus has always been primarily native varieties (like Nebbiolo, Barbera and Dolcetto) with the grapes sourced from the estate's roughly forty hectares. Pellissero's wines are known for their purity and elegance. I point out their Moscato d'Asti made with the Moscato Bianco variety is also very good and better than many extremely cheap and downright undrinkable Moscato d'Asti wines available everywhere, so do yourself a favour: don't be cheap and avoid drinking something crappy when for just a little more you can have something well-balanced and fresh like Pellissero's very pretty wine.
Pellissero 2018 Barbera d'Alba Piani                                  91
Bright medium purple-ruby. Exuberantly floral and fruity Barbera wine that lingers nicely on the juicy suave finish. At once big and lifted, this will be great with grilled meats of all kinds. Spends 8-9 months in 50 hl oak barrels. Drinking window: 2022-2026.
Pellissero 2017 Langhe Nebbiolo                                         92
Bright pale medium red colour. Spicy, sexy sultry Nebbiolo wine especially on the nose (red roses, sour red cherry, sweet spices, minerals), then a little chewy in the mouth thanks to the warm year, but still very nicely polished. Beautiful wine, from an estate that insiders know is especially good with its entry-level Nebbiolo wines (for example, the Barolo Nubiola, the entry-level in the estate's range, is often their best Barolo of the year) giving wine lovers a chance not to have to spend an arm and a leg to enjoy great Nebbiolo wines. This Nebbiolo Langhe wine is made with grapes grown in Treiso, Neive and Barbaresco planted in 1964 at 300-350 meters asl and is a very good showing indeed in a hot year. Drinking window: 2022-2028.
Pellissero 2016 Barbaresco Vanotu                                       94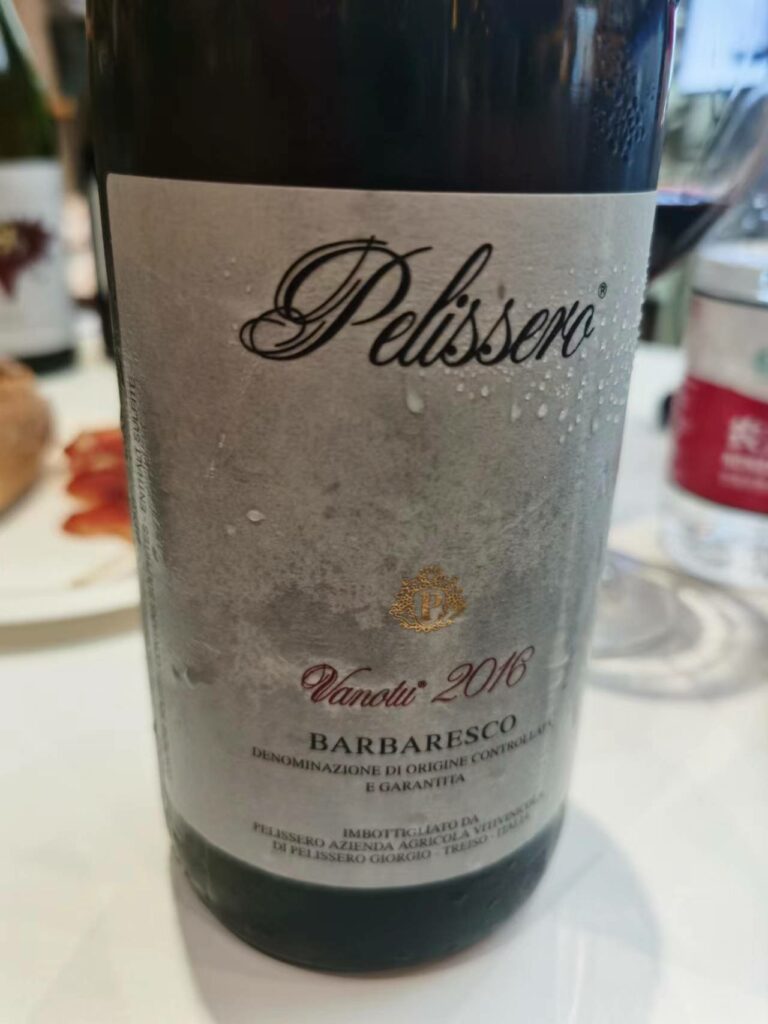 Deep red. Ripe red cherry, balsamic oils, coconut and herbs on the nose and in the mouth. A hint of coffee and of vanilla emerges on the long juicy ripe finish, but lifted by a fresh violet presence. Named after Giorgio's grandfather Giovanni, or "vanotu" in Piedmont dialect. A single-vineyard wine that stretches over Treiso, Neive and Barbaresco. Aged 20-22 months in 80% new oak, this is always the ripest and fleshiest wine in the Pellissero portfolio but also has plenty of charm and grace. Drinking window: 2024-2030.
New Zealand
Craggy Range.
Established in 1998 in the shadows of the Te Mata peak in Hawke's Bay this family-run winery has long focused on single-vineyard wines from different viticultural zones of New Zealand (Hawke's Bay, Martinborough, Marlborough and Central Otago). The estate has two wineries (one in Giants Winery in Havelock North, and another in Gimblett Gravels) and also features an award-winning restaurant and a luxury lodge, as well as vineyard cottages. The Peabody family travelled the world before deciding on this particular spot for their winery and time has shown, especially thanks to one great wine after another throughout the years, that their decision was an excellent one. Ecofriendly too, they have studied a project whereby hundreds of native trees in their Martinborough vineyards will be planted in an effort to maintain biodiversity.
Craggy Range 2017 Pinot Noir Te Muna Martinborough        91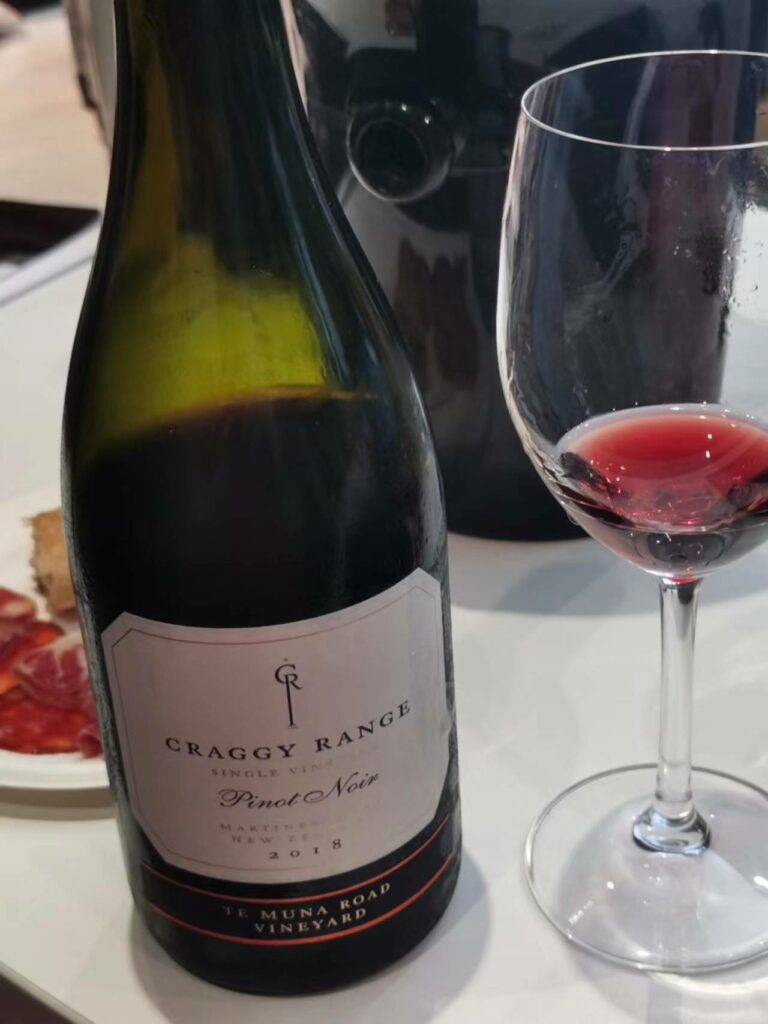 Bright red. Simple, straightforward but very pure fruity aromas of red berries, earthy spices, and flint. Then rich and ripe but with lifted acidity, leaving an impression of precision, freshness and juiciness on the long bright finish and its flavours of red berries, licorice and spices. A single vineyard wine from grapes selected from the higher terrace of the vineyard, partly destemmed (85%), fermented with indigenous yeasts in both steel and French oak, and aged in 22% new oak for ten months. Drinking window: 2022-2026.
Craggy Range 2019 Syrah Gimblett Gravels Hawke's Bay             91
Violet and perfume on the reticent nose, then very large and broad with hints of blue fruit, herbs, violet and peppery spices; I suggest you decant an hour ahead at least to enjoy this at the fullest, as aeration greatly increases its complexity. Then very big and very "garriguy" in the mouth, with black pepper, tarragon, olive tapenade and mint on the long spicy finish. The oak needs to be resolved still, but this is a lovely New World Syrah that will gain by another year or so in the cellar and by decanting ahead. Drinking window: 2023-2029.
Spain
Bodegas La Horra.
Bodegas La Horra is a project of the Rioja's Bodegas Roda, but its vineyards are in the Ribera del Duero. The wines are made in the same style as at Bodegas Roda with a generally red fruit-driven aromas and flavour spectrum. The La Horra project started in 2006 and construction of the new bodega started in 2012.
Bodegas La Horra 2015 Ribera del Duero Corimbo                 94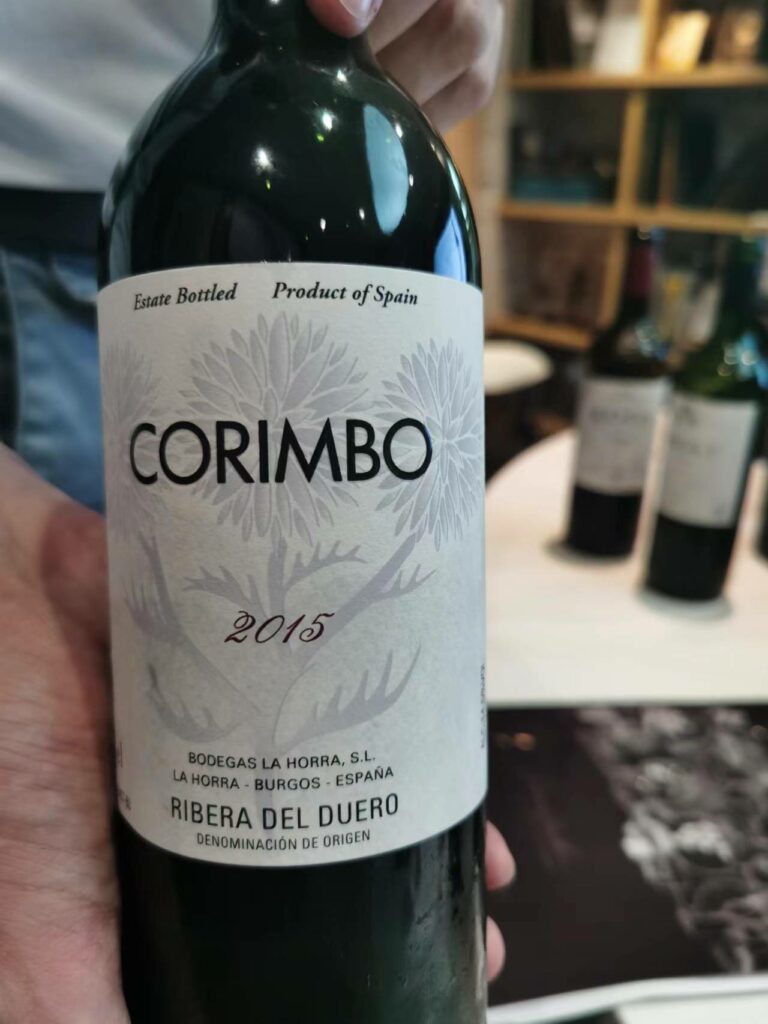 Pretty dark red. Blue and black fruit (cherry, plum, blueberry) has a penetrating aroma and flavour of minerals, lavender, green peppercorns, licorice and potpourri. Boasts lovely acid-fruit balance on the long suave finish. Outstanding Spanish wine that is clear and pure, and that will likely age well for another ten years. This is a 100% Tempranillo wine, the vineyards of which are owned by Bodegas Roda but differently from Roda's Rioja location, the La Horra vineyards are in the Ribera del Duero. Made with 100% Tinta del País (Tempranillo), the organically grown grapes are picked from bush vines that are twenty years old planted in the surroundings of La Horra and Roa de Duero (Burgos). The wine is aged fourteen months in 80% French and 20% American oak (of which 10-15% are new). The wine is named after a botanical term: a corimbo is when the thistle flower is blooming horizontally (a rare event). Drinking window: 2022-2032.
Bodegas La Horra 2014 Ribera del Duero Corimbo I               91
Moderately saturated ruby. Juicy, spicy and tarry, this is better with prolonged aeration showing balsamic nuances to its blue and black fruit presence. Closes long and fairly smooth, but this is a bit more oaky and candied than the "normal" Corimbo from the 2015 vintage: I actually like the "normal" Corimbo better, finding it purer and fresher than the Corimbo I which ahs these candied rhubarb notes that I find tiring and unappetizing [though the two different vintages (2014 and 2015) may have also something to do with this]. From certified organic bush vines that are sixty years old and planted at about 800 meters above sea level on soils that are a mixture of sand, limestone and clay. The wine is aged sixteen months in 80% French and 20% American oak. Drinking window: 2023-2032.
Bodegas Roda.
Bodegas Roda was founded in 1987 by Mario Rottlant and Carmen Daurella (and hence the winery's name, derived from uniting the Ro and Da portions of the two last names: interestingly Bodega Roda's excellent Olive oil, Dauro, is named the same way, but the order in which the portions of the two names is used is inverted, such that the name derives from the uniting of Dau and Ro). Bodegas Roda has always been seen as a fairly modern producer, trying to make fruit-forward wines that are nonetheless faithful to tradition and that will age well. Roda makes its wines from roughly 120 hectares of vines (seventy owned by Roda and fifty by contracted growers) that are mostly quite old, bush-trained, and non-irrigated. Synthetic pesticides are not used and cover crops are planted between rows. There is a large research and development department that is geared to always improving the quality of the wines made, which are based on very old wines (thirty-five years and up, but most are fifty years old plus) but the estate also planted many new vineyards when it started out with the grapes from these younger vines sold on the bulk grape market (only once they reached twenty years of age did the winery use the grapes to make a young vines release wine called Sela). And although the founding of Roda goes back to 1987, the building of the bodega only began in 1991 and was finished in 2001, being completed in three separate phases under the direction of different architects.
Bodegas Roda 2017 Roda Reserva                                        92
Deep ruby-red. Easygoing aromas of plum, strawberry, tobacco and smoke. Then nicely balanced with well-integrated oak contributing to a creamy nuance on the palate where the fruit flavours are a little darker than usual, consistent with Tempranillo, and ripe. A little bit of Graciano in the blend helps add freshness. This modern styled fruit-forward Rioja is a blend of 89% Tempranillo, 6% Graciano & 5% Garnacha, where the roughly thirty years old Tempranillo grows on limestone soils in the Estacion area of Haro, while the Graciano grows further south at the border between Rioja Alta and Baja on more alluvial soils. Fermented spontaneously, this is aged fourteen months in 40% new oak barriques and then another thirty months in bottle. It is the same wine that was once called Roda 2. Drinking window: 2022-2028.
Bodegas Roda 2015 Roda I Reserva                              93
Deep ruby. Dark blue fruit, cola and herbs on the intense nose. Big and deep flavours of blueberry, smoky licorice follow on the palate, with plenty of structure but the tannins are polished and smooth. Closes long and ripe, focused and energetic, with a ferrous mineral note and hints of kelp and graphite. This blend of 86% Tempranillo, 8% Graciano and 6% Garnacha is a modern styled, fruit-forward Rioja wine from old bush vines in Haro and from further south, but the Roda I is much more blue-fruit dominated and more structured than the Roda Reserva, which tends to be more about red fruit and earthy notes. This fermented spontaneously from seventeen different parcels and is aged longer than the Roda Reserva (aged sixteen months in 50% new oak barriques and then a further 48 months in bottle). Drinking window: 2024-2032.
Emilio Moro.
Three generations and counting lead the Emilio Moro estate: today it is brothers José and Javier Moro, who based in the world famous village of Pesquera de Duero in the heart of Ribera del Duero region are crafting balanced, smooth wines of real freshness and complexity that have flown under the radar of late. But there's lots of bang for your buck awaiting here: knowledgeable insiders know to look for these wines, among Spain's best.
Emilio Moro 2019 Ribera del Duero Finca Resalso                   92
Deep red. Very fruity (the typical Tempranillo notes of blackcurrant and blackberry dominate) and floral aromas and flavours that are fresh and vibrant with good finishing juiciness. Nicely smooth and lively on the long sweetly fruity aftertaste, this is downright seamless. Will surprise those who still think of Spanish wines in terms of sweet oak and ripe fleshy flavours, as this is beautifully lifted and light in frame. Finca Resalso is the name of an historic vineyard planted in 1932 the year Emilio Moro, the family's second winemaking generation was born. This is the winery's most approachable wine, a fresh red fermented in stainless steel and macerated twelve days on the skins, and matured four months in French oak barrels. Drinking window: 2022-2027.
Emilio Moro 2018 Ribera del Duero Emilio Moro                     93+
Deep purple-ruby. Brooding coffee and cocoa stained tobacco nuances to the ripe plum and blackberry fruit. Multilayered, big, smooth and clean, with very good inner-mouth perfume and a lively peppery nuance on the long finish. Very powerful but also very nicely balanced this is ripe and structured but not at all over the top and does not induce palate fatigue after just a few sips: well done. A 100% Tempranillo wine that carries the name of its creator and is the estate's flagship wine made from some of the winery's oldest vines planted on clay-limestone soils. Aged in French and American oak, this is an excellent showing from a difficult vintage. Drinking window: 2024-2032.
United States
Twomey.
Now owned by Silver Oak, the wine consultant from 2012 to until recently was Jean-Claude Berrouet (for over forty years the winemaker at Petrus and the many prestigious properties of JP Moueix, including California's Dominus winery) and his light touch is evident in the absolutely beautiful, polished Pinot Noir wine reviewed here.
Twomey 2017 Pinot Noir Russian River Valley                         94
Vibrant deep red with purple highlights. Pretty, perfumed violet, strawberry and raspberry aromas are complemented by subtle, slowly-rising notes of cola, herbs and smoke. Lively and juicy, with a light on its feet quality but also sneaky concentration and noteworthy purity to its flavours of red cherry, blueberry, and herbs, that turn riper and deeper with aeration.  The finish is long and mineral. Aged for fourteen months in French oak barrels (27% new), with 22% whole clusters used, this is a truly delicious, very pretty Pinot Noir wine. Drinking window: 2022-2028.
Uruguay
Bodegas Garzón.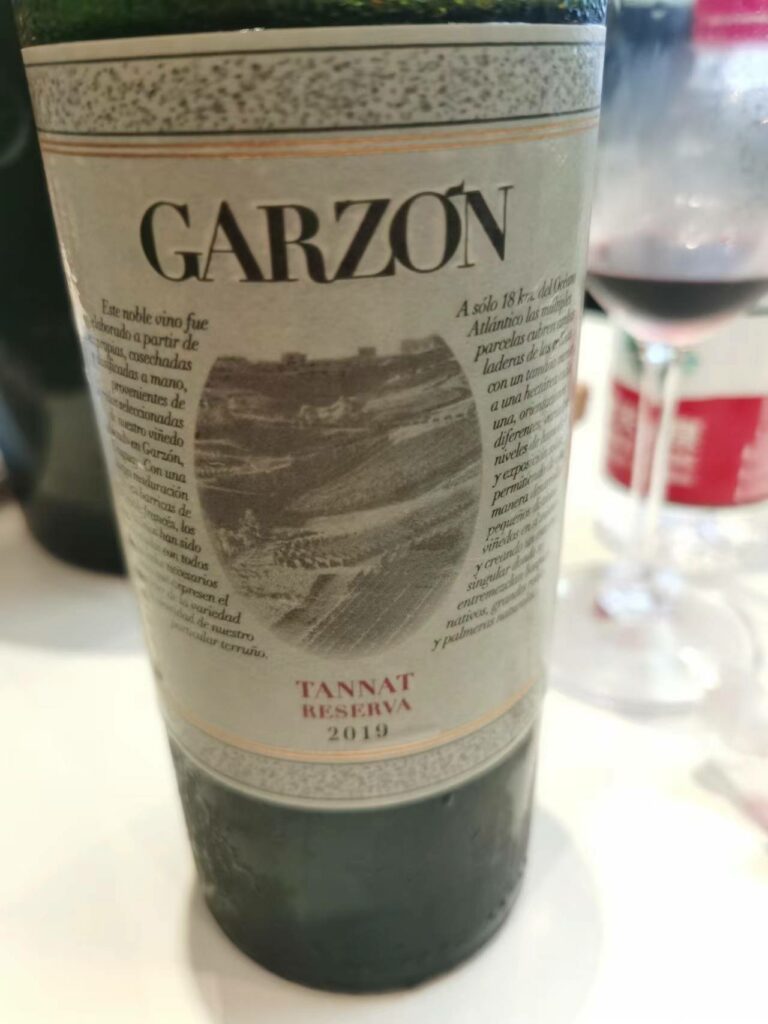 One of those wineries that is successful with just about every grape variety it touches and that cannot seem to make a bad wine even if it wanted to, Garzón is a sure-fire address at which to stock up with one great wine after another. Created by Alejandro Bulgheroni, an Argentine billionaire who gave life to a 240 hectares estate in the Maldonado coastal area of Uruguay. A little-known fact about this estate is that it is the first sustainable winery beyond North America to have earned  LEED certification (Leadership in Energy & Environmental Design), and the first in the world to have 100% of its facilities awarded Silver certification – from the offices to the wine cellar.
Bodegas Garzón 2019 Tannat Reserve                                 93
Deep purple-ruby. Blackberry, iron shavings, coffee and violet on the perfumed nose and luscious mouth. Ripe but fresh, smooth and yet blessed with a polished tannic spine that provides support to the rich flavours. Closes long, juicy and suave, this is a lovely, elegant red that spends 6-12 months on the lees in French oak barrels and casks. Sneaky concentration and real complexity here. Drinking window: 2022-2028.
Bodegas Garzón 2017 Balasto                                        91
Dark purple-red. Aromas and flavours of blackberry, strawberry, coffee, violet and cocoa. Ripe and multilayered in the mouth, with harmonious acidity nicely extending the rich flavours on the long smooth back end. Depending on the vintage, the blend changes: this is Cabernet Franc, Marselan, Malbec and Tannat, planted on weathered granite soils. The wine's name, Balasto, is a reference to the ballast soil. Aged for 20 months in unroasted French oak barrels. Drinking window: 2022-2032.