Domaine Laroche 2019 Chablis Les Blanchots Réserve de l'Obédience                     95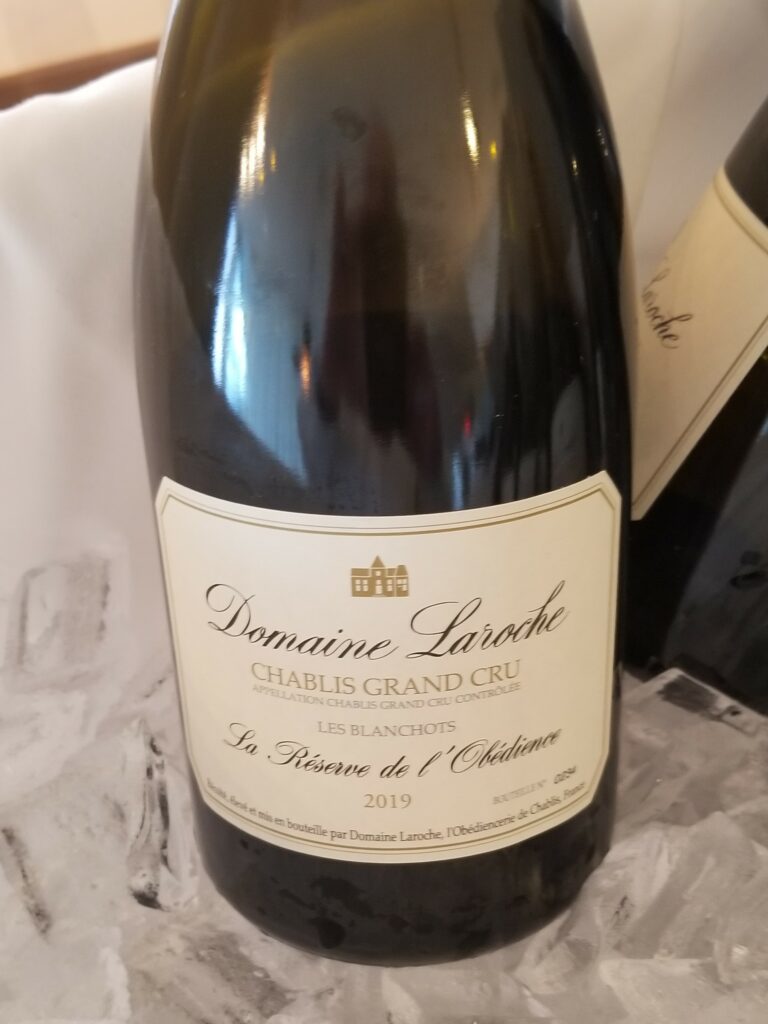 One of the most extraordinary wines made in Chablis is a special cuvée made from Domain Laroche's holdings in the Blanchots Grand Cru vineyard. I recently had the opportunity to taste the 2019 version along-side the regular bottling of the 2019 Blanchots. What a revelation! But first some relevant facts about Chablis that helps put the rarity of the Grands crus as a whole and the Réserve de l'Obédience from Blanchots in context. Total acreage in Chablis is 4042 hectares (9780 acres). Of this total, 775 hectares comprise the twenty-nine Premier Crus and a mere 104 hectares the eight Grand Crus. That means that Grand Crus are a mere 2.5% of Chablis production. Blanchots is unusual for a Grand Cru climat as it faces southeast rather than southwest, giving it more protection from the intense afternoon sunshine. Instead, exposure to the gentle morning sun makes for a much slower ripening period for the grapes, which develop less-pronounced fruit flavors and retain more acidity.
This cooler mesoclimate means that the Blanchots climat is often the last of the Grand Cru vineyards to be harvested, often producing wines of great finesse and delicacy. The name Blanchots refers to the distinctive white color of its terroir. In Blanchots, the well-drained white clay soils are combined with some deposits of iron-rich blue clay, reportedly giving added minerality to the wines. Of Blanchots' thirteen hectares, 4.5 are owned by Domaine Laroche. Laroche's offices and facilities are housed in  the Obédiencerie of Chablis, the very place dating back to the Middle Ages when the Canons of Saint Martin of Tours were making wine. Saint Martin's relics were hidden in the Obédiencerie for a decade.  Domaine Laroche still elaborates and ages its Premiers and Grands Crus in these historical cellars. Its wines are a testimony to 1000 years of history.
Beginning in 1991, the Laroche family made a decision to make a special cuvée from its extensive holdings in Blanchots. Each of the seven parcels is treated as if it were a separate climat. The wines are made separately and aged mostly in older oak barrels. In May following the vintage, each wine is tasted. The wines are then divided into those which are too high in acidity, too phenolic, etc. Only the few barrels which seem perfectly harmonious and precise are included in the final blend. Of the more than 10,000 bottles that are made from their Blanchots only 2500 are bottled as Réserve de l'Obédience. This must be the most rigorous selection process done at any domaine! The 2019 Blanchots bottling is a wine of considerable finesse and energy with a bouquet of white flowers, crushed mollusk shells and sea salt. The wines from Blanchots are typically lighter in body and texture than their Grand Cru relatives—especially nearby Les Clos. By contrast, the 2019 l'Obédience is far richer and weightier in mouth feel with a wider expanse across the plate and longer finish. The salinity and sea-shell flavors are quite striking. One feels the character of the site very powerfully in each sip. This is a noble wine which truly lives up to Grand Cru status. One might say that Laroche's Réserve de l'Obédience captures the very heart of Blanchots, the "Terroir of the Terroir", so to speak. Drinking window: 2023-2033
L'Ecole No.41 2008 Merlot Columbia Valley                                     91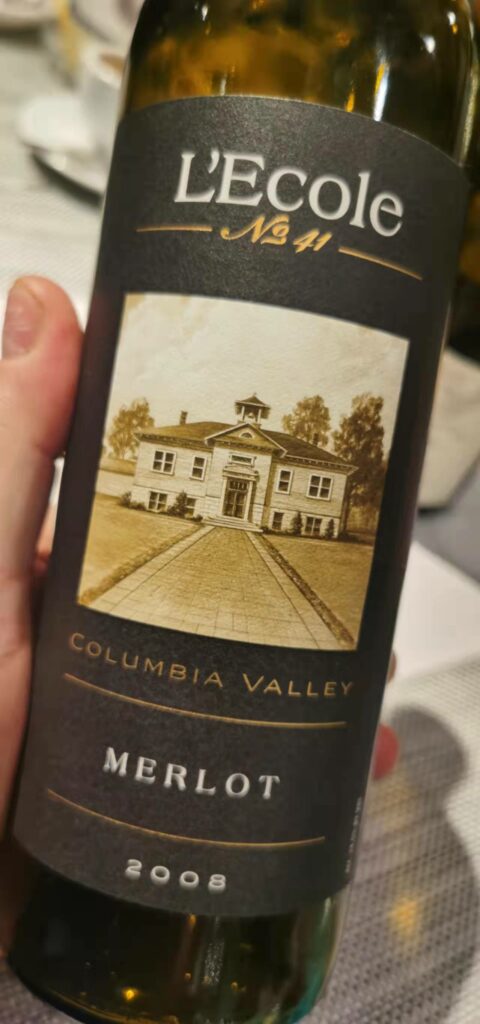 L'Ecole N°41 is a third-generation family-owned winery that has made so many great wines over the years that it seems like it has been around forever. And yet, the estate was really founded only in 1983 (then again, it's the whole Washington wine industry that is relatively young: imagine that at the time, L'Ecole N°41 was only the third winery to start up in Walla Walla Valley). Over its relatively short existence, the estate has proven remarkably adept at making a slew of excellent and at times thrilling  wines (often from less common but thrilling grape varieties such as Semillon), ranging from very well-made easygoing, great values that appeal to all wine palates to deeper, more complex offerings that rank along with some of the USA's most compelling wines. The estate takes its name from the historic Frenchtown school depicted on the iconic label and in which the winery is housed in. A proponent of sustainable farming and a winner of numerous awards and accolades over the decades, the estate has rightly garnered a real reputation for its Merlot wines. The L'Ecole No.41 2008 Merlot Columbia Valley is a case in point. A big red wine that offers oodles of charm and easy drinking bliss, it nonetheless delivers enough sneaky complexity and concentration at every satisfying after satisfying sip. For sure, it's good enough to give one pause, showcasing just how successful,a nd underrated, the Merlot grape variety is in Washington State. Of course, you could successfully argue that the USA's Merlot wines (not just those of Washington, but of California and other wine-producing states too) really aren't Merlot wines at all (much as Saint-Emilion's aren't Merlot wines either). This is because they almost always also carry significant percentages of Cabernet Sauvignon, Cabernet Franc, and other varieties, but it is what it is (for example, is a Mercedes Benz that is made for 25% with Hyundai, Seat or Skoda parts really a Mercedes? I think not). This wine is no different, given that while mostly Merlot, it is a blend of various percentages of Cabernet Franc, Petit Verdot and Malbec too. But for the most part, this beautiful wine is clearly and recognizably Merlot, and a very excellent Merlot wine at that. Bright red-ruby and not impenetrably dark like some Merlot-behemoths out there, this wine speaks of elegance right from the first look. An elegance that is then confirmed on the nose and in the mouth: the aromas and flavours of red and dark cherry, blackcurrant, coffee and violet are refined, and nicely complicated by likewise cool and polished hints of graphite, cedar and botanical herbs. The finish is long and suave, with highly smooth tannins providing ample support to the crisp, cool fruit and herbal flavours. A nice floral lift and just the slightest hint of cocoa rise at the back, adding even more interest and nuance to the drinking experience. At fourteen years of age, this 2008 Merlot wine is still relatively young: it will last, if kept in a good cellar, another five to ten years easily. Clearly, the herbal, graphite and cedar notes, plus a certain steely charm to the wine's texture, speak of the Cabernet Franc presence and push Merlot's typical plumpness into the background, but the end result is that of a more complete, dare I say serious wine (and that's not to say Merlot can't give a serious, complete wine: after all, Petrus and Le Pin are pretty serious stuff). Drinking deliciously well now, this wonderful wine is not the last word in concentration and/or complexity, but boasts almost magical balance, and will leave a lasting, pleasant, memory on your palate and on your brain cells. Would all red wines one tastes and drinks have the same effect.  Nicely done! Drinking window: now-2030.