Château le Puy 2011 Marie-Elisa Vin de France                                            96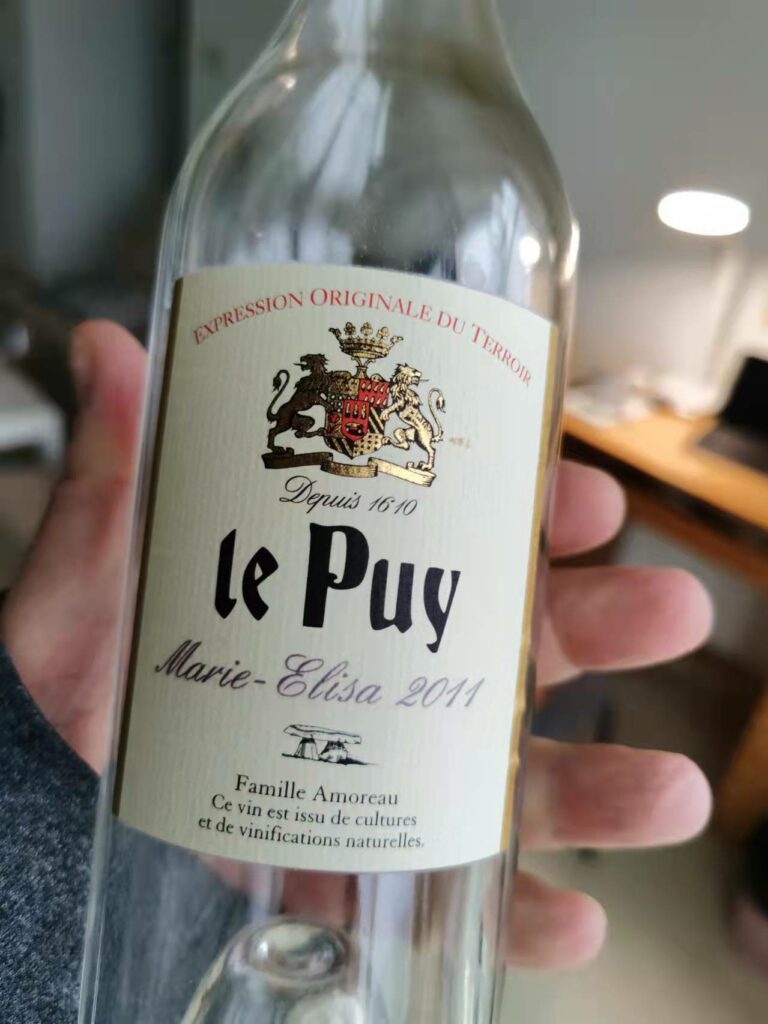 Fifteen generations and counting of the Amoreau family (documents trace the existence of Amoreau ancestors back to 1610), have been busy making wine, and for the most part, given how truly great their wines are, you'd say that time has been well spent. Château Le Puy is located in Saint-Cibard, at the second-highest point in Bordeaux on soils rich in mostly red clay, silt, and limestone resting on top of the Astéries limestone plateau that extends to the area from Saint-Émilion.
Named after Marie-Elisa, the grand-daughter of Barthélemy, one of the more illustrious winemakers in the family, the Château le Puy 2011 Marie-Elisa Vin de France is a simply spectacular 100% noble rot-affected old vine Semillon (roughly 60 years old) made from successive passages in the vineyards in the late autumn (their Marie-Cécile wine is instead a 100% Semillon wine that is classically dry). On that note, it appears that the Marie-Elisa wine really is nothing but Semillon, and does not contain any Sauvignon Blanc or Muscadelle in the blend, has is stated instead on some websites. For that matter, its Appellation of origin is also a quandary, and you will find different appellations associated with the 2011 Marie-Elisa on various websites; and while the estate historically labeled many of its wines with the Francs-Côtes de Bordeaux monicker, it has apparently, like many others in the area, gotten fed up with bureaucracy and is now labeling its wines under the banner of Vin de France. No matter: the wine is simply fantastic, and that's really what counts here. Deep golden yellow in colour, the nose offers a very complex array of aromas, ranging from marmelady botrytis to ripe yellow peach, mango, thyme, honey, quince paste, lemon peel and saffron. In the mouth it features luscious, downright sultry-steamy flavours similar to the aromas but that are nicely lifted and extended on the long back end by vibrant yet harmonious acidity and bright floral note. Trust me: one sip, and you won't need to be a wine expert to realize you are in the presence of wine greatness in the glass. Unfortunately, sweet wines like this one (as well as Sauternes and similar "stickies") are currently not too popular, and sales are lagging; but even though this is admittedly not inexpensive, it is one beautiful wine that merits your loosening the purse strings. Enjoy it not just at the end of a meal as a dessert all on its own, or with desserts such as apple pie or the more, noblesse oblige, française tarte tatin, but also as an aperitif or all through your meal with blue cheeses, foie gras and liver patés, grilled chicken, turkey or pork with mushrooms, samosas, scallops and salmon with citrus-tropical fruit chutney or coulis, pumpkin soup and roasted butternut squashes with nutmeg and cinnamon. You'll be positively surprised by how well these foods go well with a similarly sweet, luscious sweet wine.
Château Le Puy is certified biodynamic by Demeter and certified organic by Ecocert: no synthetic treatments have ever been used at the estate (only copper-sulfate), and there exists documentation of the Amoreau family's looking long and hard at doing away with sulfur in vinification more than a century ago. While Le Puy's level of winemaking is considerable, such that, at least here, bottling without sulfur is not the liability it is almost everywhere else, honesty dictates that I write clearly that not all runs smoothly. For example, while the estate's 2019 Rosé Rose-Marie (a 100% Merlot blush wine) is quite simply one of the ten or so best pink wines you'll taste in your lifetime (and given it's a pink wine made with Merlot, that makes the wine that more impressive), and the Marie-Elisa described here is an absolute show-stopper, really a "get this or else be forever doomed" wine, it behooves me to mention that the red 2017 Emilien is, at least to my taste, funky beyond acceptability (and despite what you'll hear and read, if it tastes so to my rather open-minded palate, I guarantee you it will taste just so to many other palates out there too). This small caveat notwithstanding, the 2011 Marie-Elisa is one of the ten or so best wines I have tasted this year and will no doubt make my "BEST Wines of the Year" year's end recap (and for that matter, the exceptionally good 2019 Rose-Marie as well) and I urge you to do what you can to find a bottle. You know how the saying goes: try it, you'll like it! Drinking window: now-2032.
Ronchi di Cialla 2015 Schioppettino Friuli Colli Orientali Sottozona Cialla                      93+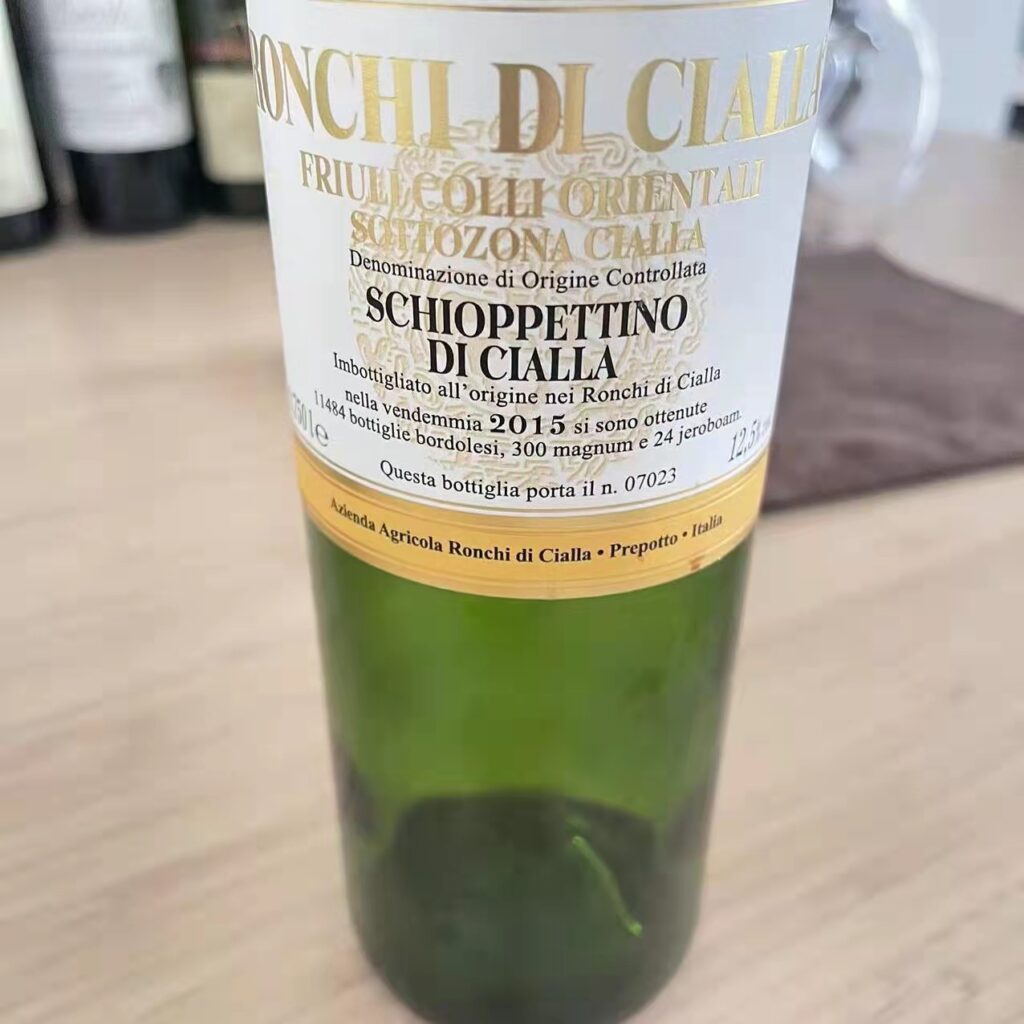 The Ronchi di Cialla estate was founded in 1970 at Cialla (the estate's name derives from the Italian word ronchi, meaning a well-exposed, sunlit hill, and the Slovenian word cela, meaning stream), a hamlet close-by the much bigger towns of Prepotto and Albana in the Friuli Colli Orientali, the territory of which has always been Schioppettino's home. However, it is in the shadow-rich, especially cool-climate area of Cialla, where vineyards are created robbing space to the surrounding and ever-encroaching forests, that Schioppettino reaches its noblest version. By no means the biggest, richest version of Schioppettino wine you'll ever taste, but certainly the most refined of all renditions, it is thanks to Cialla's terroir that the wines are usually those that are most brimming with the variety's telltale green peppercorn nuances and gushing with crisp red and blue fruit aromas and flavours. Forever to their credit, it is the Rapuzzi family, owners of Ronchi di Cialla (founded by the husband and wife team of Dina and Paolo – the latter very sadly no longer with us- and now just as capably run by sons Ivan and Pierpaolo), who saved Schioppettino from oblivion (if not downright extinction) and whose wines were the first to showcase the greatness that the Schioppettino cultivar can deliver when turned into a red wine. The Ronchi di Cialla 2015 Schioppettino Friuli Colli Orientali Sottozona Cialla is a fine case in point. Deep ruby with purple tinges, the nose offers aromas of blackberry, blueberry, black cherry, green peppercorns, oregano, mint and pine cones. Then compellingly sweet and smooth on entry, with a tight fruity core in the middle and lingering flavours of blue and balc fruit sexed up by spicy and herbal nuances. No blockbuster, but marvelously elegant and balanced, it dances gracefully on your tastebuds while leaving behind a whiplash of harmonious acidity that makes this one of the food-friendliest reds you'll taste this year. One caveat: as good and as ready to drink as this is, it is still not exuding noteworthy complexity, that will come instead with time. So while you may decide to enjoy this midweight beauty right now, cellaring for another five years or so will greatly increase this wine's multifaceted appeal it is only hinting at currently (hence the '+' sign on my score ,as I expect this wine, when retasted in about five years, to warrant a higher score). Drinking window: now-2036.