It's not often that one can say he or she has reached the top of his or her profession, to be the best of the best at what one does, no questions asked. Number one, numero uno, le premier. But so it was with Alain Jean-Jacques Graillot, the undisputed master of Crozes-Hermitage whose wines were the recognized benchmaks of the Appellation. Graillot passed away just last week, but then again, there really is no passing away when your name marks a place, its people, its wares indelibly. Graillot's wife, Elisabeth, died in 2019; he is survived by his sons Antoine and Maxime and their families.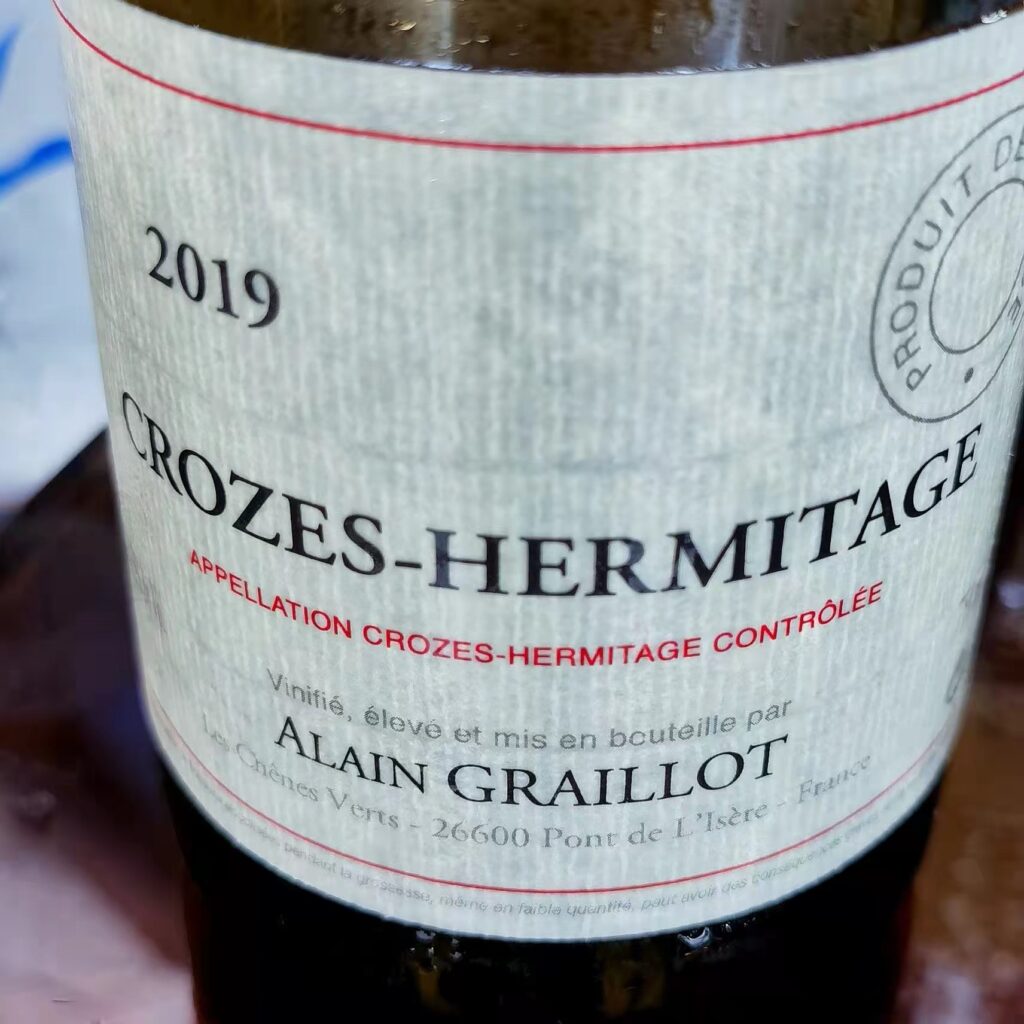 I first met Alain Graillot at the end of the 1990s, in Italy, of all places. I liked him immediately, and had always loved his wines just as much. He was a nice, modest and soft-spoken man, but also one of uncommon talent and vision. He single-handedly launched the wines of Crozes-Hermitage, white and red, into the quality stratosphere. His wines were the best of their Appellation, and his estate was ranked by experts everywhere as one of the top ten in the Rhône, and among the best in the world.
It all almost never came to be.
Though born in Lyon with family roots originally from Vienne (a wine-associated city if there ever was one), Graillot was not born into a winemaking family. His father, Daniel, headed a cement factory near Lyon, and his mother, Jeannine, was not in wine either. He trained as an electrochemical engineer and spent the first half of his life working for international pharmaceutical companies, namely Roussel-Uclaf (which has since become part of the bigger Sanofi Aventis), and living and working in places like Guatemala and Costa Rica. But wine was always on his radar, and not just because he was born in the Rhône. A big wine lover, he had become friends with famous Burgundy vignerons, such as Jean-Pierre de Smet and  Jacques Seysses (of Domaine Dujac), whom he had met while ski racing in the 1960s. Over the years, he  befriended many other winemakers, including Patrick Bize, Gérard Chave, Dominique Lafon, Jean-Pierre Perrin, Paul Amsellem and Christine Vernay, and Christophe Roumier. Once Graillot moved back to Paris in 1980, he used to regularly visit estates, the wines of which he would buy directly there and then. Graillot didn't care much for life spent at a desk and would have loved to make wine in Burgundy, but price of land there was prohibitive already then. As destiny would have it, during one of his many winery forays, a vigneron one early September day of 1985 told him that there was a local wine estate selling grapes (the owner had died in the middle of that growing season, and the heirs were looking to sell their grapes), and that since he liked wine so much he should think of getting more involved. And so he went to see the domaine on the Friday, then decided to go back for another look with his friend Patrick Bize (a star Burgundy vintner who unfortunately passed away in 2013). That was on September 7; on the nineteenth, Graillot was already harvesting, after leasing the vineyards and making his wine (in this he was helped by Jean-Pierre de Smet, who was later to be the co-founder of Domaine de l'Arlot, who helped him rent a local winery to make the wine); within five years, Graillot had become a vineyard owner, establishing his domaine (though everyone refers to the estate as simply "Alain Graillot", in fact the name of the domaine is that of the toponym, Les Chênes Verts, where it is located). Over the years, Graillot became famous for his winemaking skill and wines (both white and red) that were clean, precise and ageworthy.
Make no mistake: it was Graillot's wines that literally put Crozes-Hermitage on the short list of those world wine Appellations that made quality wines (in which, prior to Graillot's arrival on the scene, no wine expert worthy of his or her spittoon would have ever thought of placing the Appellation). In the 1980s, Crozes-Hermitage was more famous for its fruit trees than its wines, that were difficult to sell despite the proximity of the famous Hermitage hill (and despite the word "Hermitage" included in their own Appellation's name). But Hermitage and Crozes-Hermitage, though similarly named and not too distant from each other, are in fact worlds apart. The red and white wines of both are made with the same grapes (Syrah for the reds, Marsanne and a little  Roussanne for the whites) but the topography and geology could not be anymore different. Hermitage is a small Appellation characterized by a steep hill of mostly granite-rich soil, while Crozes-Hermitage is a much larger (as it covers the territories of eleven different communes, it is in fact too large) mostly flatland, very fertile area that gave wines that were, at best, simple and fruity, but with little or no ageing potential. The problem was that back then a kilo of apricots was worth more or less as much as a kilo of Syrah grapes, and so there was little or no interest in applying viticultural and winemaking techniques aimed at quality as opposed to quantity. Hence, machine harvesting was commonplace, and copious use of pesticides and herbicides was routine.  Graillot changed all that by applying pioneering organic farming principles – along with Combier, he was the first in the area to ban chemicals in his vineyards- and greatly reducing yields, while applying viticultural and winemaking techniques he had learned from his Burgundian friends (use of whole bunches, long cuvaisons, and avoiding new oak, his preference going to one to three years old barriques he'd buy from some of Burgundy's best domaines). In so doing, he was able to make wines that showcased the magic that was possible from the alluvial, stone-rich soils (the famous galets roulés) of the Châssis subzone. Over the years, both his white and red wines gathered awards and accolades, and his top red wine, called La Guiraude, made only in the best years, quickly became the reference point for Crozes-Hermitage wines everywhere (and in fact, Graillot also made an excellent St.-Joseph from a holding of about 1.5 hectares). In the early 2000s, Alain was joined at the estate by his son Maxime (who founded his own estates, the Domaine Equis and des Lises), and then in 2016 by his other son Antoine (who had been busy working in renewable energy as well as on a project with Raoul Perez in Spain), ultimately turning the estate over to the siblings who have been running it for the past five years or so. Out of respect to their father, the two have continued to make wines in the same vein (while for his own Equis wines, Maxime prefers to use new oak and to destem).
Even though later in life Graillot stepped back from the day-to day running of his winery, he certainly kept busy. Much in demand as a consultant, he enjoyed visiting new lands and working with new people. And so it was that, often along with his sons, he ventured in as diverse places as Beaujolais (domaine de Fa, with vineyards in Fleurie and Saint-Amour), in Luberon (La Cavale with Paul Dubrule), in Australia (with Robert Walters), and in Marocco (with Thalvin, where he made a red Syrah wine called Syrocco and a Rosè called Tandem made with Cinsault) where he discovered the Thalvin winery and its Syrah vineyards while cycling in the Zenata region between Casablanca and Rabat (tandem: get it?). But Graillot also consulted in Italy , with the Orto di Venezia project, an outstanding wine I got to know well made in the Venetian lagoon of Italy (it's one of Italy's fifty or so best white wines). As if travelling and winemaking wasn't enough, since 2016 Graillot was also President of the Académie du vin de France; recently, he published a book, Parcours de Vignerons: Éloge de l'Entêtement ("Winemakers' Journey: In Praise of Stubbornness"). But as impressive as all his individual achievements and collaborations were, there can be no doubt that Graillot's lasting contribution to the world of fine wine as we know and enjoy it, his legacy even, is the catapulting of Crozes-Hermitage into world wine stardom, as well as acting as a trailblazing figure for entire  generations of vignerons that looked up to him and followed in his footsteps.
Alain Jean-Jacques Graillot was born on Dec. 10, 1944, in Lyon.
Alain Graillot died on March 3, 2022 in a Grenoble hospital.
He was seventy-seven years old.