Also see: The Peru Diaries: My Favorite Barrio in Lima – Barranco….Definitely
The Peru Diaries Part 3, A Pachamanca Day
Peru is a gastronomic wonderland and home to one of the unique cuisines of the world.  My husband, Cesar, is originally from Peru.  I not only fell in love with him a million or so years ago but fell in love with his homeland.  We've been traveling back and forth for more than fifteen years and every trip involves a serious debate over our restaurant itinerary.  We spar and compromise deciding which restaurant friends to visit, which long time favorites make the list and what new spots are musts. There's never enough time and never enough space in our tummies.
One restaurant that inspires complete agreement between the two of us is La Picanteria (Francisco Moreno 388, Surquillo, Lima, Peru).  I hesitantly call it my favorite BUT…. We never leave Lima without a visit to La Picanteria AND we coerced them into catering our wedding reception…. SO, I guess by default, I'm calling it my favorite.
Before I tell you about the wonders behind the very humble doors of La Picanteria, indulge me with a few words on why the cuisine of Peru is so very special, unique and extraordinary.   There's a reason why six of the 100 Best Restaurants in the World are in Peru and it comes down to history, diversity and an abundance of superior natural products.  Essentially, Peruvian cuisine relies on a complicated history of Spanish, Asian, African and Incan influences.  There is a fusion of cultures, distinct cooking techniques and biodiversity. It is as diverse as the landscape of the country.  Peru is home to three distinct geographies:  Amazon Jungle, Andes Mountains and the Pacific Ocean Coast.  Even dividing Peru into three regions is not quite enough detail to describe the difference within each region of culture and natural ingredients.  You can find extraordinary flavor in a humble restaurant as well as a beautifully designed establishment with an internationally acclaimed chef at the helm.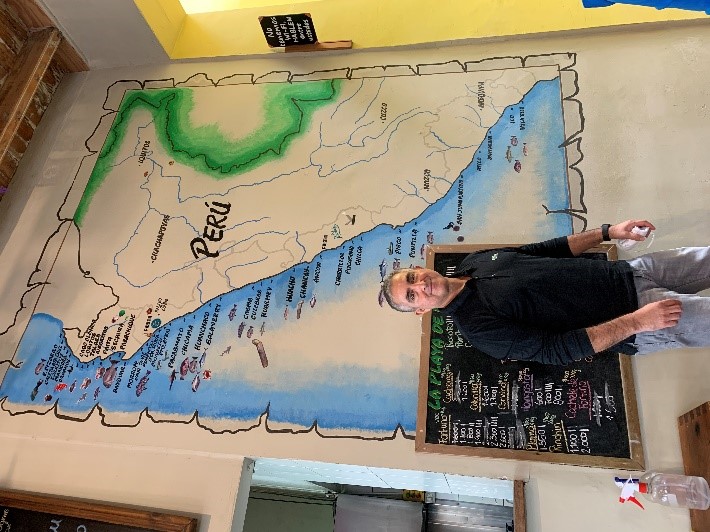 The tradition of a picanteria originates from and is mostly known south of Lima in Arequipa and north of Lima in Piura and Chiclayo.  The history of a picanteria is the epitome of entrepreneurism, national pride and completely charming.  A hungry guest is invited to knock on the door of a known picanteria held inside a family home where treasured family recipes are prepared and turned into a culinary event.  Kitchens and patios were mostly used until the small home-based business transcended to a neighborhood dining room open to the public.   A few picanterias opened in Lima as residents of Arequipa migrated to the big city of Lima. Traditionally, they are only open for lunch.
Chef/Owner Hector Solis sought to revive this tradition.  Set in the humble Limeno neighborhood of Surquillo in a simple wooden house, La Picanteria opened to the public in 2012 and is only open for lunch.  Pre-COVID, the dining room consisted of large communal style tables and benches and seating was first come, first served.  Today, tables are set by the number of your party and reservations are required.
Upon entering, you are greeted by a fantastic array of freshly caught fish all waiting to be transformed into classic criolla-style flavor bombs.  As they sit in their ice beds waiting to be chosen, they seem to all be sparkling and showing off attempting to gain the most attention by screaming "Pick Me, Pick Me!"  Most restaurants in Peru tend to feature Lenguado and Corvina, noble and delicious local fish species.   The selection at La Picanteria is like looking at a wine list featuring a ton of Grower Champagne you've never heard of.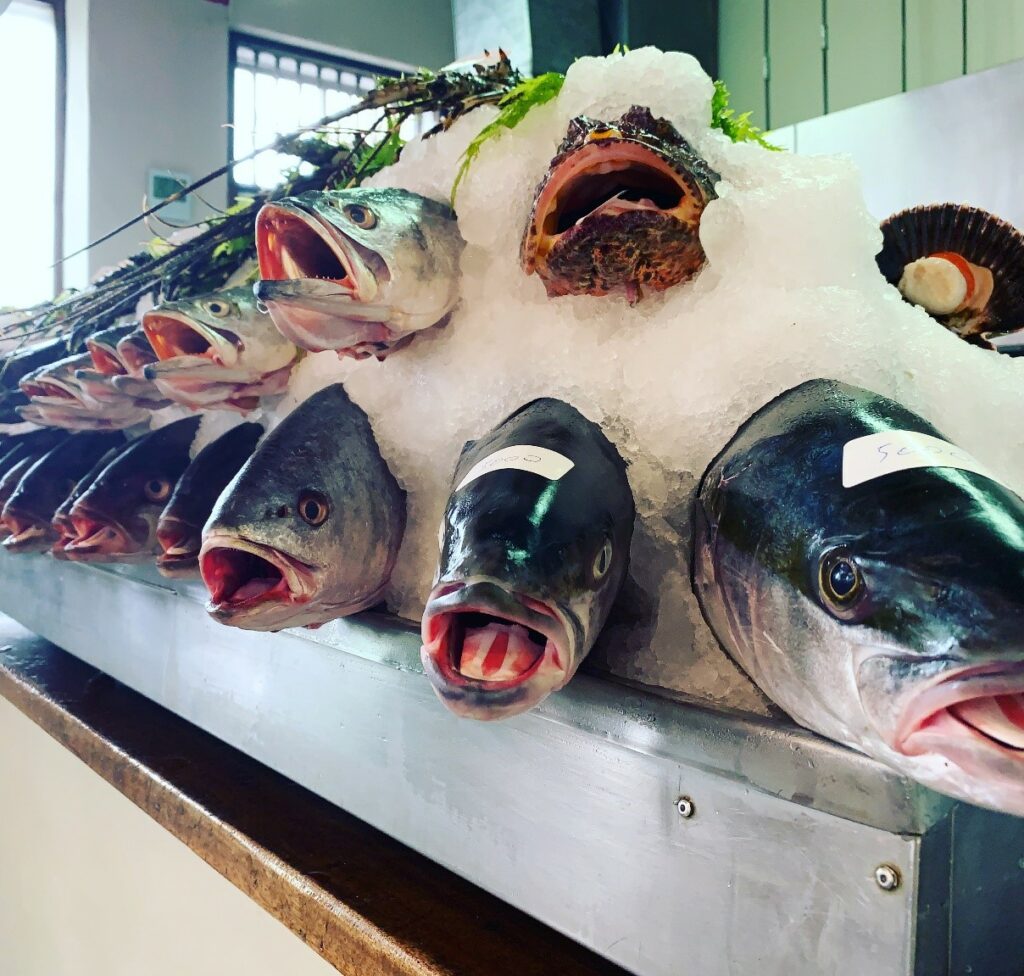 A chalk board mounted on the wall lists the weight and species of the current fish all-stars.  As you negotiate with the very helpful and knowledgeable servers about the number of dishes you desire from your fish (3 or 4), your selection is erased from the board and your fish is whisked into the kitchen where the magic happens.  We chose a fortuno which is also known as a longfin yellowtail or amberjack.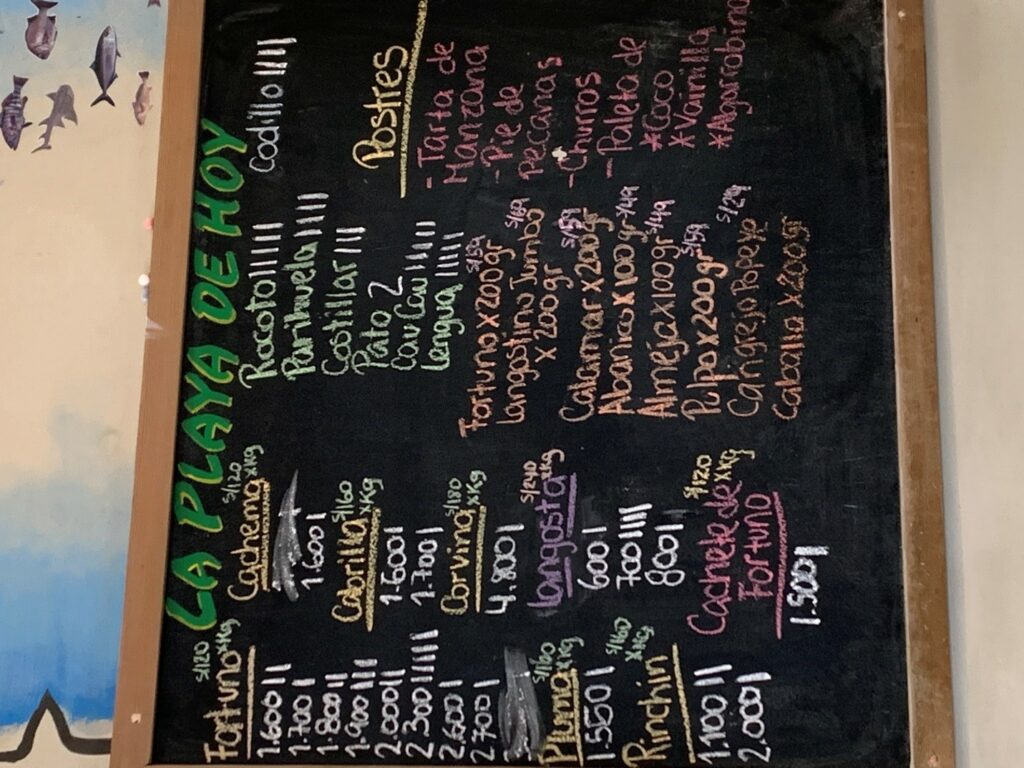 And that's it.  You've chosen your fish and number of courses.  Settle in and prepare for mind-blowing deliciousness.  The wine list is sparse so order up a cocktail.  Choices are easy… Pisco Sour or Spicy Bloody Mary and YES, they are Big & Bold.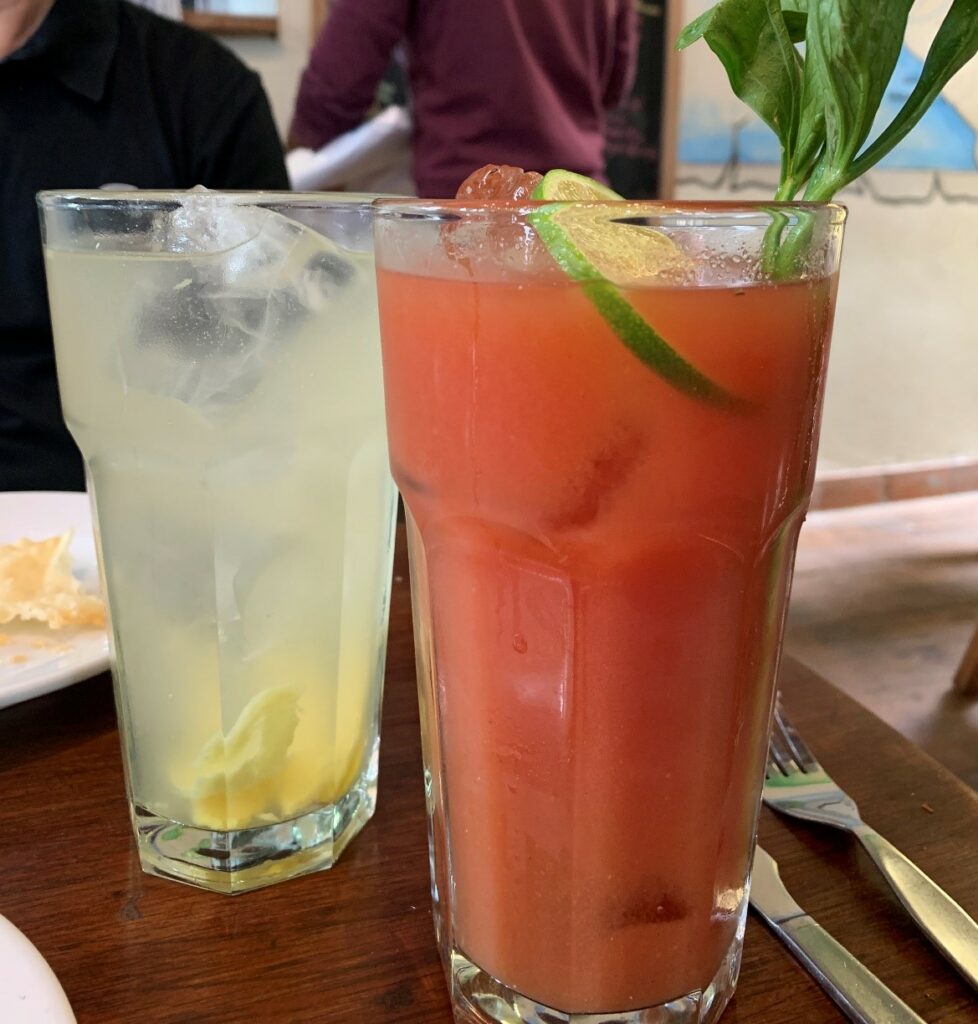 If available, Cesar cannot visit La Picanteria without having one of these: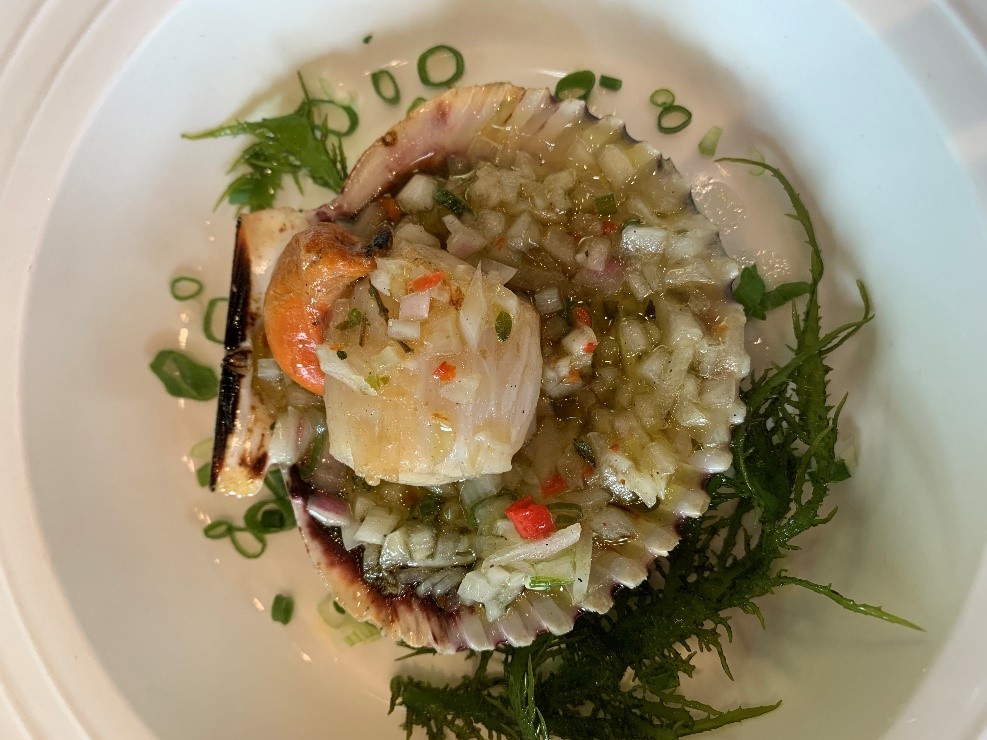 It's a day-boat Scallop with the roe attached lightly marinated and "cooked" with limon, ginger and tossed in salsa criolla.  Salsa Criolla is EVERYTHING here.  For me, it's everything all over Peru.  I'm always amazed at the refinement of the knife work and balance of flavors from every service no matter where of salsa criolla. Finely chopped onion, cilantro, more citrus juices and a touch of rocoto chile pepper are tossed together and seasoned creating the perfect balance of spice, heat, acid and umami.  It's a bright refreshing bite and a perfect appetizer with a pisco sour.
Dishes are presented on big platters and served family style.  Our first fish transformation appeared as a take on a tiradito.  The fish is thinly sliced and marinated in citrus and aji amarillo chile. It is topped with seaweed and an indigenous large kernel corn called choclo.  It's bright, spicy and high in acid.  The creaminess of the choclo and the bits of fried fish parts adorning the sides of the plate add a salty fattiness that cuts through the acidity of the marinade.  There's a rusticity in the slices of fish and the fried fish bits that brings a picanteria authenticity to the preparation.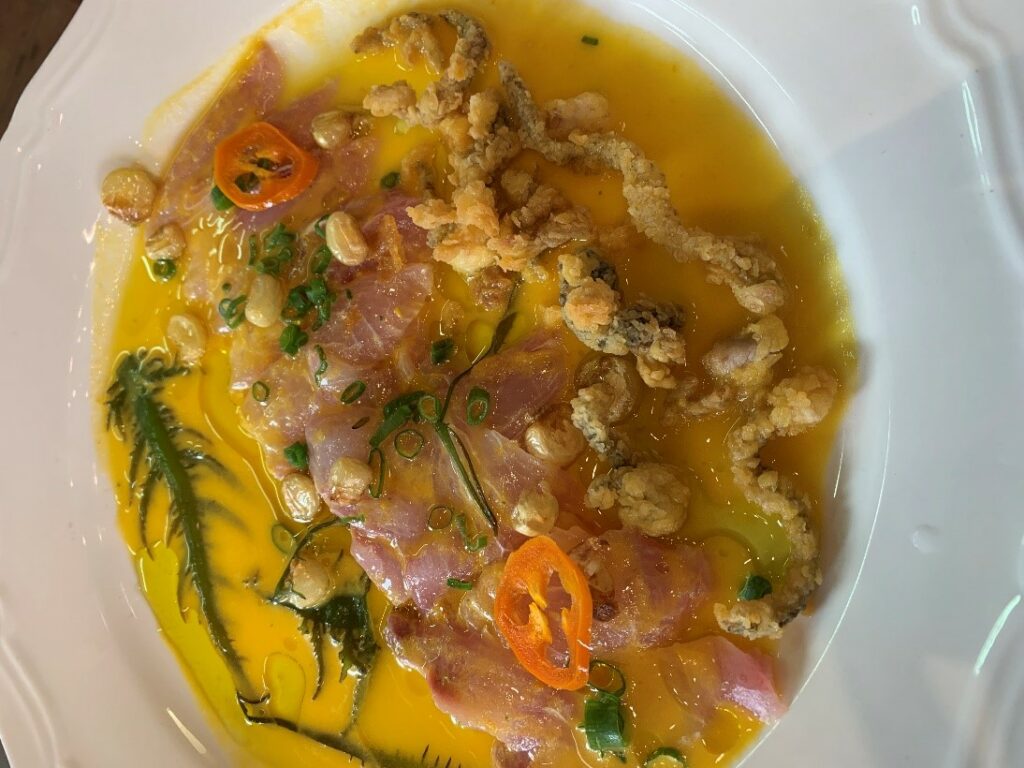 Our next dish was Chef Solis' take on a classic ceviche.  Chunks of our fortuno were tossed in citrus and salt lightly "cooking" the fish and served resting in leche de tigre with sweet potato and more fried fish bits.  In the spirit of a picanteria, nothing is wasted.  A giant slice of rocoto chile added a picante bite to the plate.  The sweetness of the potato cuts the heat and citrus.  It's a rustic but beautiful dish packed with flavor.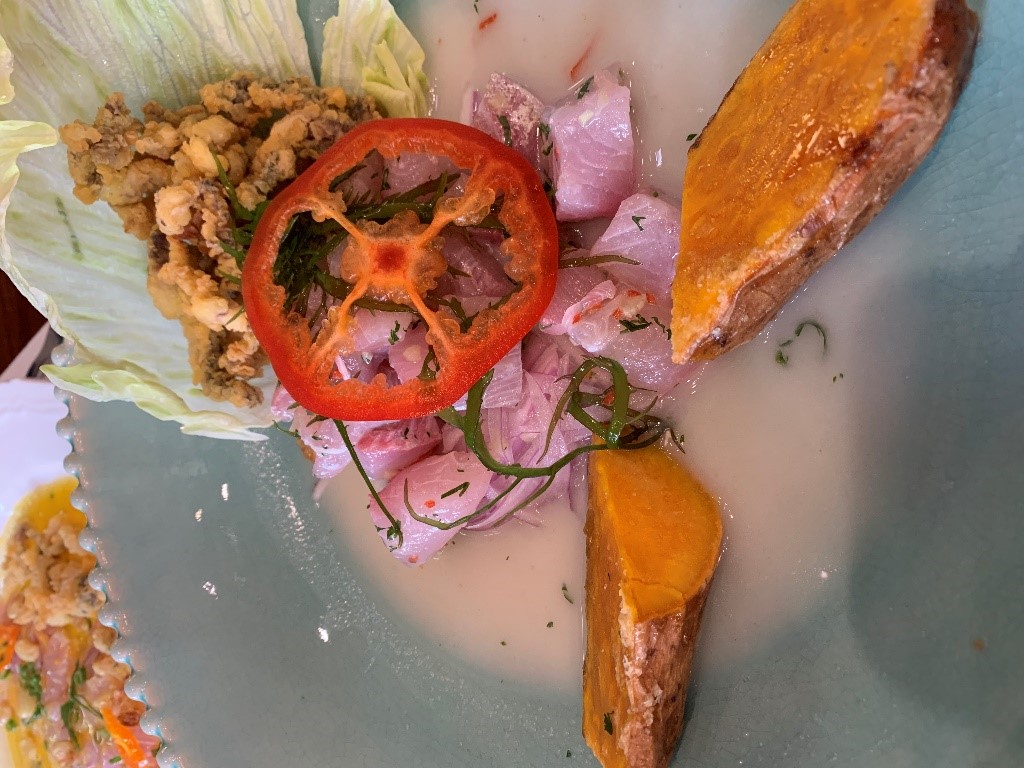 Lima tends to be grey and chilly.  Criolla cuisine aims to be filling, comforting, flavorful and warming.  Chilis add spice and heat.  Soups and dishes based in broth bring warmth.  Traditional Sudado is a fish based broth with tomato, onion, scallion, seaweed, leche de tigre and aji amarillo chile.  Since we chose four preparations from our fish, we received two different sudados.
In our first sudado, the fish was grilled and served in a spicy broth with an abundance of aji amarillo cream accompanied by some starchy lightly fried yucca batons.  The fish was fresh and sweet with a touch of char.  It clearly stood up to the heat and weight of the broth.  I'm generally not a big fan of yucca.  I often find it too starchy and bland but sitting in a fish broth of citrus and heat, I found it compelling and delicious.  I had to be careful not to eat too many batons because they will fill you up quickly.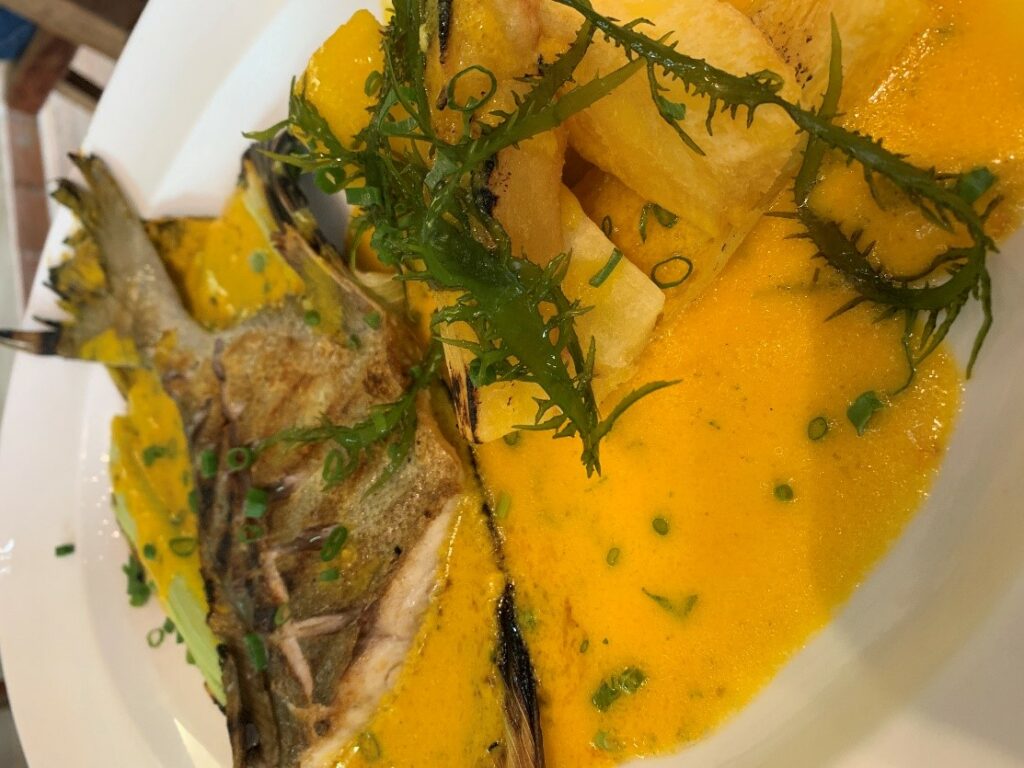 Our second sudado was more traditional.  The last pieces of our fortuno were poached in the broth with the classic tomato, onion, scallion, seaweed and leche de tigre citrus.  Served with rice and choclo, the "soup" is intended to be ladled and mixed all together.  It is not only delicious but soothing, somehow light and delicate and layered with deep sea flavor.
Needless to say, we were stuffed and I mean roll me out of the restaurant and onto the street, stuffed.  We waddled out and across the street for a much needed cafecito.  I know La Picanteria has desserts or postre available but I've never been able to muster the appetite after all that savory goodness to explore them.  Instead we chose a walk around Surquillo and chance to see the sights and hear the sounds of a people that is rich in diversity, history, culture and gastronomy.