Lima is a large sprawling metropolis with almost 11 million people densely packed into over one thousand square miles.  It is arid, damp, grey and beautifully bathed in a chiaroscuro light.  Bordering the Pacific Ocean, the altitude ranges from sea level to over 5,000 feet sitting on cliffs overlooking the surf.  It's noisy, bustling and energetic.  Life in Lima is a hustle with the common denominator being food.  Rich or poor, young or old, conversation eventually winds itself back to la comida… what are we eating next?  Arguments over the best ceviche, the best jugo de frutas, the best type of fish, the most authentic lomo saltado are as common as the constant grey mist of the city.  I love it.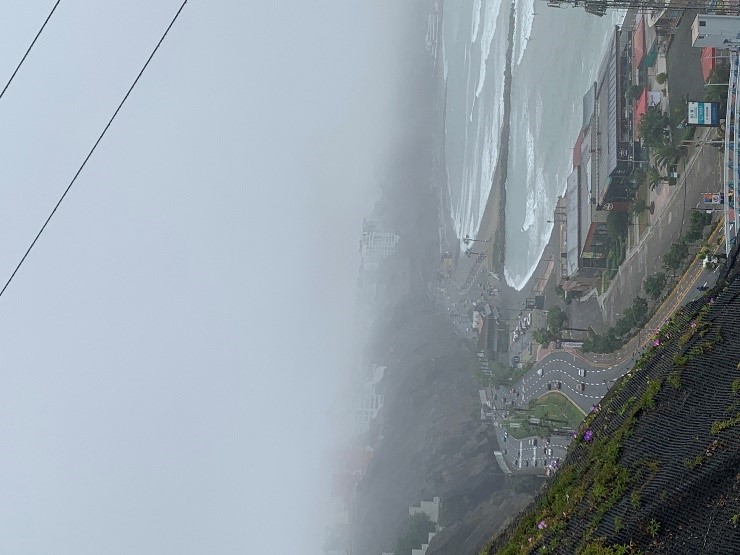 The municipality is divided into barrios or neighborhoods.  If you're a tourist, chances are you'll book a hotel or AirBnB in Miraflores or San Isidro but my favorite neighborhood by far is Barranco.  Don't get me wrong.  Both Miraflores and San Isidro are fabulous with plenty of shops, parks, some of the top restaurants in the world, spectacular views of the Pacific Ocean and the Lima panorama but Barranco speaks to my soul.
El Malecon, the coastal walking path in Miraflores, spans the cliffs high above the Pacific Ocean.  On any given day you'll find joggers, families, dog clubs, skateboarders, cyclists and city workers tending the precious green spaces all clamoring for a few moments of calm in the boisterous city.  If you continue walking north on the path and take a little detour in land and then back towards the ocean, you'll arrive in Barranco and a whole different world.
Barranco is the bohemian, artsy neighborhood with a different energy.  Old Belle Epoque style villas have been renovated into grand residences or apartments, art galleries and boutique hotels or languish in decrepitude waiting to be reborn.  Restaurants are stylish and the vibe is young… but not necessarily in a chronological way.  Coffee houses are on every corner.  The internationally famous fashion photographer Mario Testino has a gallery here.  Nobel Prize winning author Mario Vargas Llosa is in residence.  All kinds of music leaks onto the street from behind closed doors.  Street Art is everywhere you look.  Barranco vibrates with creativity and possibility.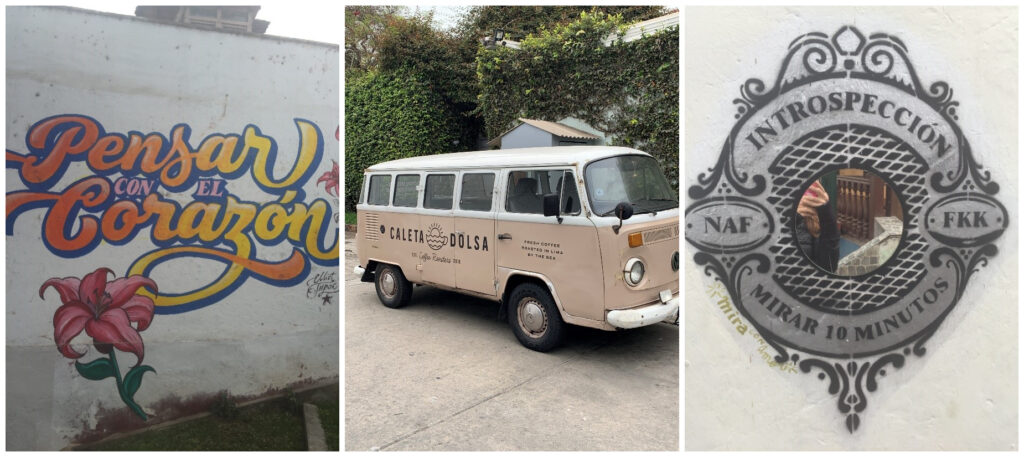 On this trip we were finally able to book a suite at the coveted Hotel B (Jiron Saenz Pena 204, Barranco), Lima's only Relais & Chateaux property.  It did not disappoint!  Each suite or room is uniquely designed.  Over 300 pieces of contemporary art adorn the common spaces.  As you wind your way around the hotel, you continue to discover super cute sitting areas where the staff will bring you a snack, glass of wine or cocktail or you can just sit and admire the décor.  There are several dining areas to take in breakfast and a roof top deck for eating or drinking.  A well-appointed gift shop and gallery complete the experience.  The concierges are so helpful including arranging takeaway breakfasts for those super early flights.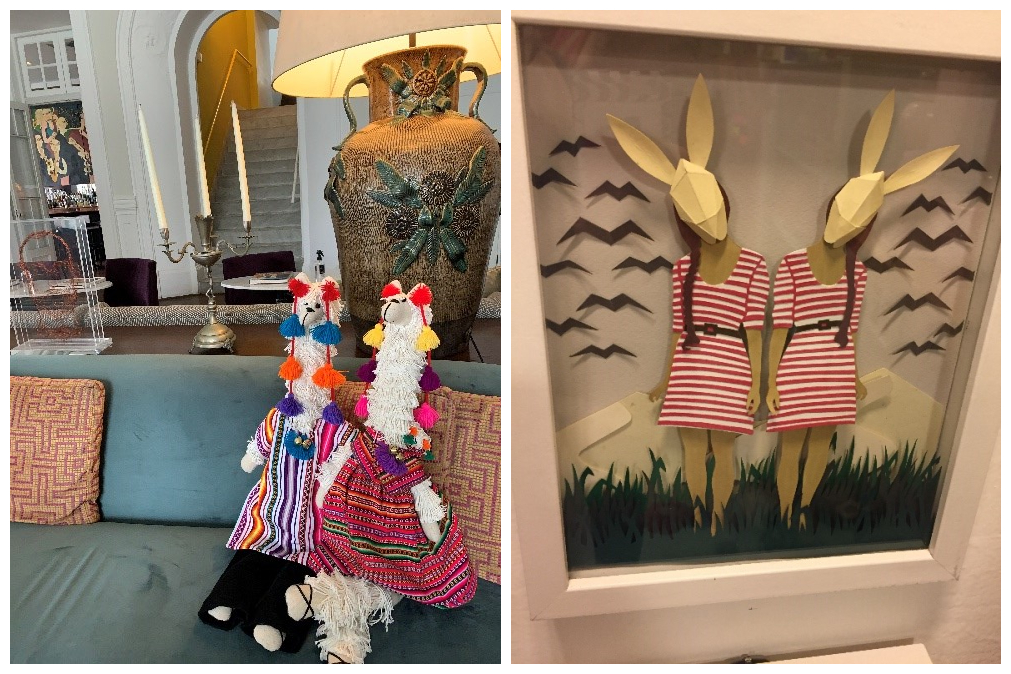 After we checked in and got a little settled, we raced down the street to one our most favorite restaurants, Isolina (Av. San Martin 101, Barranco).  It's not fancy.  In fact, it's not even that comfortable.  Simple wooden tables and chairs cover two floors with the kitchen located on the second floor.  The food however is classic Peruvian all things crave-able perfection.  Dining at Isolina is like scratching an impossible to reach flavor itch.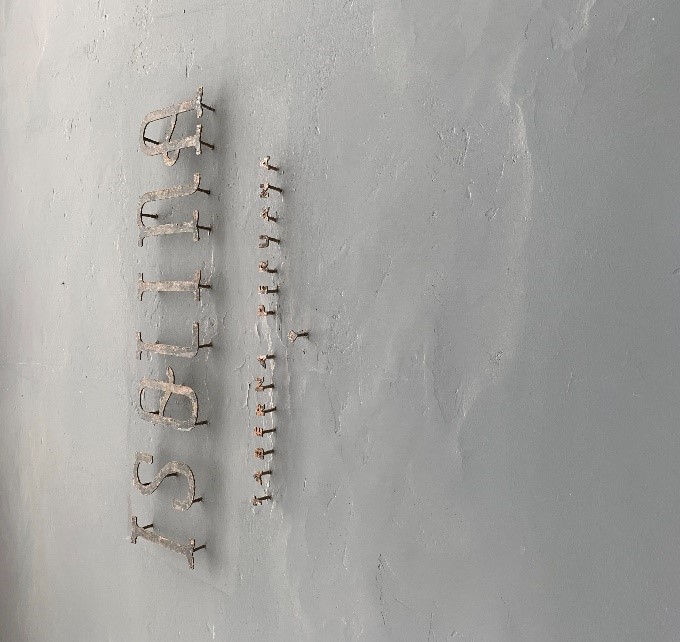 We started with the very dangerous maracuya sour cocktail.  Pisco, lime, passion fruit and egg white are shaken, not stirred and poured over ice to delight the imbiber and fool them into thinking it's just a little fruit juice.  Pisco however packs a punch.  It is seriously easy to down three of these before you even know what happened. The alcohol will sneak up and hit you upside the head like a 2X4.  You have been warned.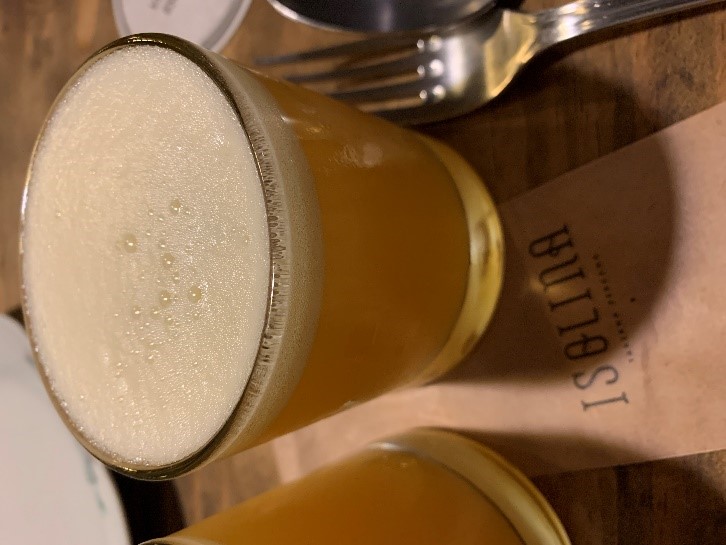 We ordered our favorite classics… a butifarra sandwich, the ceviche of the day and of course, lomo saltado.
I think a butifarra may be the world's greatest sandwich.  Seriously.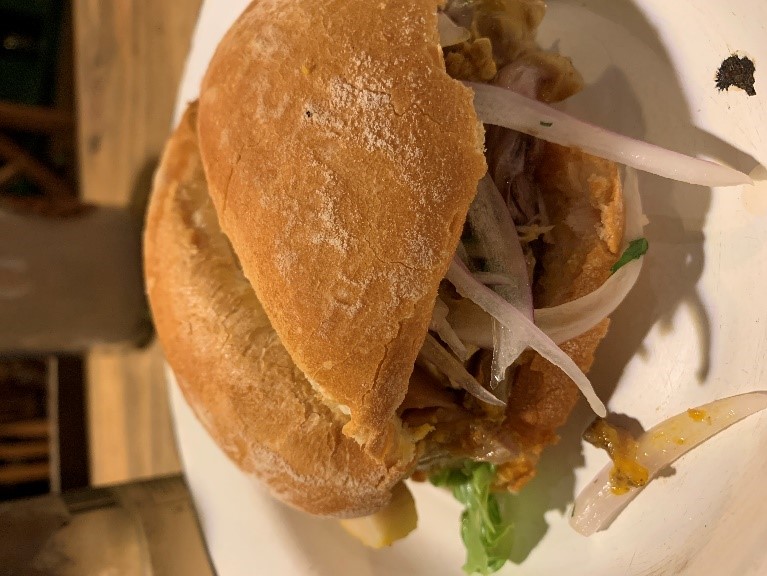 All that beige and bland color hides an absolute flavor and texture explosion waiting to be scarfed up.  A good piece of bread or ciabatta is essential but that can be said about every great sandwich.  The key to the excellence of a butifarra is jamon del pais.  Pork leg is boiled with garlic, oil, aji amarillo and rocoto chilis and sliced thinly for the base of the sandwich.  Lettuce, red pepper and salsa criolla are strategically added.  Sliced radish is optional.  Salsa Criolla might just be that little bit of culinary magic that makes everything in Peru taste amazing.  It's a super simple dice or julienne of onion, chilis and lime. The balance of crunch, salty savory porky goodness, onion tang and chili heat scrunched between two crispy pieces of bread is unbeatable.  The best thing about butifarra is that you can have one at every meal because they are served for breakfast, lunch and dinner… a trifecta of delicious possibility.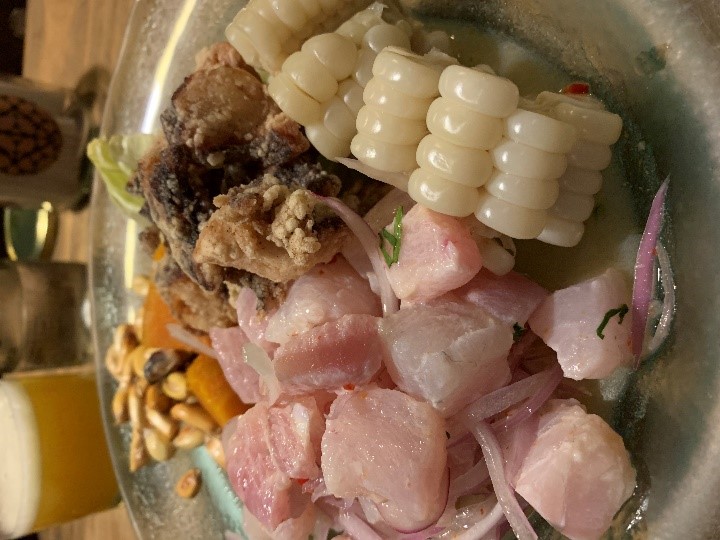 Our next course was a ceviche mixto.  Isolina prepares a classic ceviche with all the traditional elements:  choclo, which is the large kernel corn specific to Peru, boiled sweet potatoes, crispy corn kernels and lenguado, a local fish, lightly cooked in citrus juices called leche de tigre.  Their signature culinary twist is adding some lightly battered crispy calamari for an added savory flavor, fatty texture and warm temperature to contrast the high acid of the ceviche.  The combination of flavor is so special and so specific.  It's a dish that screams terroir. Cesar spoons up the leche de tigre liquid remnants.  If we were at his Mom's house, he'd pick up the dish and drink the last drops.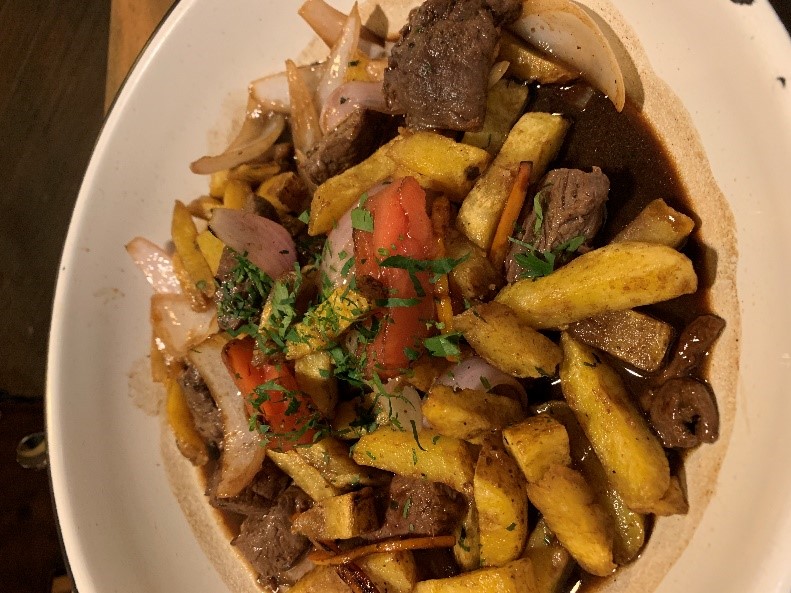 Our final dish was lomo saltado, a little bit of genius and a fusion of Peruvian culture.  Bits of beef are quickly stir-fried in a high heat wok with onion, tomato, aji amarillo chile, vinegar and soy sauce fusing the Spanish and Asian cultures.  French fries are added at the last minute.  The dish is served steaming hot over white rice.  The flavor is a gigantic mash up of umami, acid, heat and savory goodness.  It's filling and takes the bite out of a chilly, damp evening.
Itch scratched and fully sated, we strolled back to the hotel stopping to listen to music flooding the streets knowing we were about to have another great visit in Peru.
Also see: The Peru Diaries Part 2: My Favorite Restaurant, I Think…..