The following wines have all made my "Ian D'Agata's best wines of the year list" for 2021. Most of these wines were released during 2021, though some might have come out for sale a little earlier (the year before); however, most should be still available in the marketplace and were in fact wines so good I felt I needed to tell you about them some more. I have selected randomly a number of wines below to have tasting notes, while all others I limit myself to the final score.
A word about the wines in this list, which is not a list of "Italian best wines" but a list of "Italy's best wines of the year". This means that there is a preponderance of wines in the list that come from specific territories, because those territories had a banner year in terms of growing season, making for a stellar vintage. These same territories may in fact have been under-represented last year because that vintage was not as memorable. This is why in this year's list you will find so many, and so many high-scoring, Brunello wines: because the 2016 vintage is one of the three or four greatest all-time for that denomination and it cannot be that a best of the year list is not top-heavy with many such wines. For the same reason, those awards doled out always in the same numbers, every year, to wines coming from the same important regions (important advertisement-wise too) despite the fact it rained non-stop there are, to put it charitably, less than useful.
This specific list of wines was compiled through tastings of wines supplied by producers directly to me or through their importers. A number of wines on this list were assessed by two of my long time collaborators, Emily Huang in Taiwan and Michele Longo in Italy, with whom I have been tasting with for years and who I am proud to say I have trained, at least to the degree that I am comfortable in knowing how they will think, evaluate and score wines. The former is one of my better students who has progressively devoted herself to wine more and more, despite her father understandably preferring she stay in the family company; but her passion for Italy is such that she is not just working more and more in wine, but also actually learning to speak and write Italian and is doing splendidly at it (better than I am with Mandarin, though I am improving fast too). Michele Longo most of you are aware of: besides knowing each other for almost 20 years now and having penned four editions (at least, memory fails me now) as co-authors of the Italy section in "Hugh Johnson's Pocket Book of Wine" (world's best-selling wine guide with 34 editions and over 12  Million copies sold), he is also my co-author of "The Grapes and Wines of Italy: A definitive compendium region by region", the state of the art textbook on which to study Italian wine (available from Amazon Press, there is simply no better or more updated textbook with which to study Italian wines out there).
I trust you will enjoy reading the list we have come up with, safe in the knowledge that some choices you will agree with and others you'll be shaking your head at. But therein lies one of the many beauties of wine, too.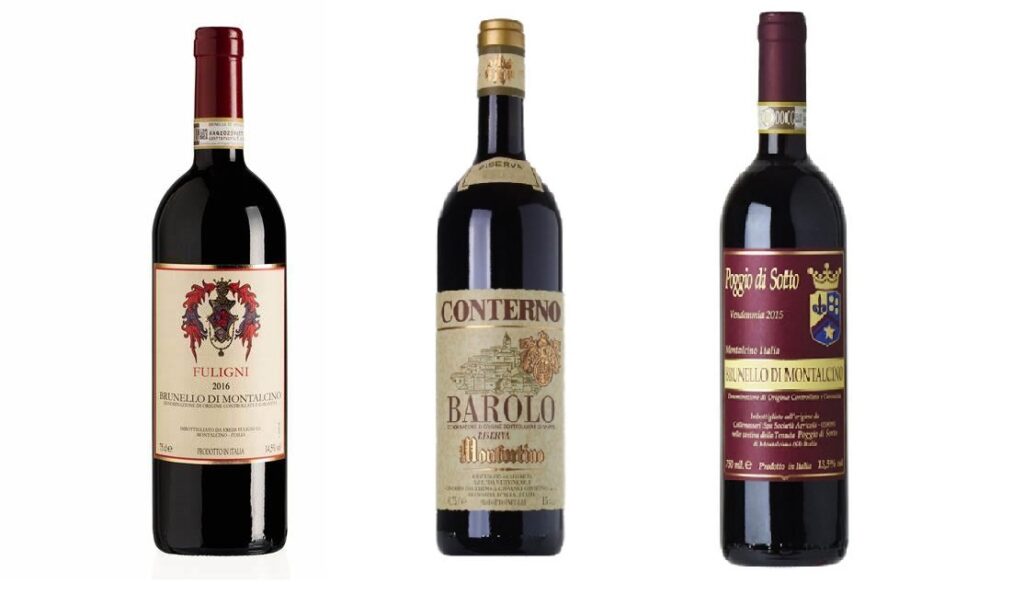 Fuligni 2016 Brunello di Montalcino                                                                                  99
Elegant and steely, yet deep and rich at the same time, an essence of Montalcino Sangiovese. Brunello doesn't get much better than this, and if you don't give top marks to a century vintage such as 2016, then as a wine writer you are doing the wine, the producer and the reader a disservice.
Giacomo Conterno 2015 Barolo Monfortino Riserva                                                       99
Not much to say here: great producer, great cru, great wine. It's almost like a mathematical equation. Beautifully deep and layered, this is everything we'd want a great Barolo to be.
Poggio di Sotto 2016 Brunello di Montalcino Riserva                                                      99
Costanti 2016 Brunello di Montalcino                                                                                    98+
Andrea Costanti has been turning out one great Brunello after another over the years and so you just knew he would ace this great vintage. Flint, red cherry, camphor, violet…they're all here wrapped up in a steely juicy core of elegance and power. I may have actually been too stingy with my score here, hence the plus sign.
Baricci 2016 Brunello di Montalcino                                                                                       98
Layered, complex, deep and yet very refined, this quintessence of Montosoli Sangiovese showcases the greatness of site. And confirms once again Baricci to be one of the top five or six producers of Brunello today.
Pian dell'Orino 2016 Brunello di Montalcino Vigneti del Versante                                98
The talented duo of Caroline and Jan can't make a bad wine if they tried and this 2016 is one of their best ever. Which is saying something, given how many great wines they have made over the years. Captivating perfume and silky tannins are the deal-breakers here, but I bet you'll love the extremely precise, pure, crunchy red fruit.
Benanti 2016 Etna Rosso Riserva Rovittello                                                                     97
Nothing to say when a wine is this good, all you can do is take your hat off. Tasted blind, I really thought it was a Barbaresco from Treiso, and I don't often make mistakes like that, so there you have it. Pure, precise, chiseled, seamless with an Etna-typical nervy minerality and seamless texture, this is just a mindbogglingly good wine, if you pass me the term.
Ca' del Baio 2016 Barbaresco Asili Riserva                                                                       97
The Grasso sisters are doing marvellous work at their estate and this 2016 Riserva wine is there to demonstrate it. Beautifully suave but with a steely core of Nebbiolo fruit that is the essence of Asili, it lingers long on the palate with wave after wave of ripe fruit and liquid minersality.
Capezzana 2013 Vin Santo di Carmignano Riserva                                                         97
Marco De Bartoli 1988 Marsala Oro Sup. Riserva                                                           97
San  Giusto a Rentennano 2018 Merlot La Ricolma Toscana                                       97
There really aren't too many people more talented in Italian wine than the Martini di Cigala brothers, and the 2018 La Ricolma, one of Italy's best Merlot wines, is a case in point. Readers know I have written about this wine before over the years, scoring some vintages extremely highly, and the 2018 is another in along line of La Ricolma wines that merit similar treatment. The 2018 is marvellously suave yet characterized by a steely core that will carry it effortlessly through the many years to come ahead; this beautiful Merlot speaks well of the greatness that this international variety can reach in Tuscan inlands, much more so than other international varieties the results with which have been questionable at best.
Sesta di Sopra 2016 Brunello di Montalcino                                                                      97
Ettore Spina and wife Enrica Bandirola are sitting on a jewel located in one of the two or three best vineyard areas of all Montalcino; their Sesta di Sopra estate is not just beautiful, but also makes some of Italy's best if least-known wines. The 2016 Brunello is another work of art and speaks about the southern reaches of the denomination but in an elegant way such that the plush fruit and earthtones typical of their wines are always lifted and precise.
Tua Rita 2018 Redigaffi Toscana                                                                                           97
An iconic Italian wine if there ever was one, Redigaffi is a 100% Merlot wine that never disappoints. The 2018 is a more elegant version that some behemoths of the past, but even so, this vintage manages to pack in plenty of punch and size offering nuances of dark cherry, ripe plum, coffee, cocoa, menthol and herbs. Nicely chiseled and positively seamless, the 2018 Redigaffi is another standout wine in a long line of standouts from owner Stefano Frascolla.
Biondi-Santi Tenuta Greppo 2013 Brunello di Montalcino Riserva                            96
Canalicchio di Sopra 2016 Brunello di Montalcino                                                           96
Absolutely smooth and precise as is common with all the wines of Canalicchio di Sopra, I love the purity in this wine, all up front gorgeous fruit aromas and flavours, but there are still elements of complexity that linger long in your memory and taste buds. The vintage was a great one in Montalcino and owner  Francesco Ripaccioli made one sensational wine after another.
Cogno 2016 Barolo Ravera Bricco Pernice                                                                          96
Domenico Clerico 2011 Barolo Percristina                                                                          96
Donnafugata 2018 Passito di Pantelleria Ben Ryé                                                            96

Gaja 2018 Barbaresco                                                                                                                  96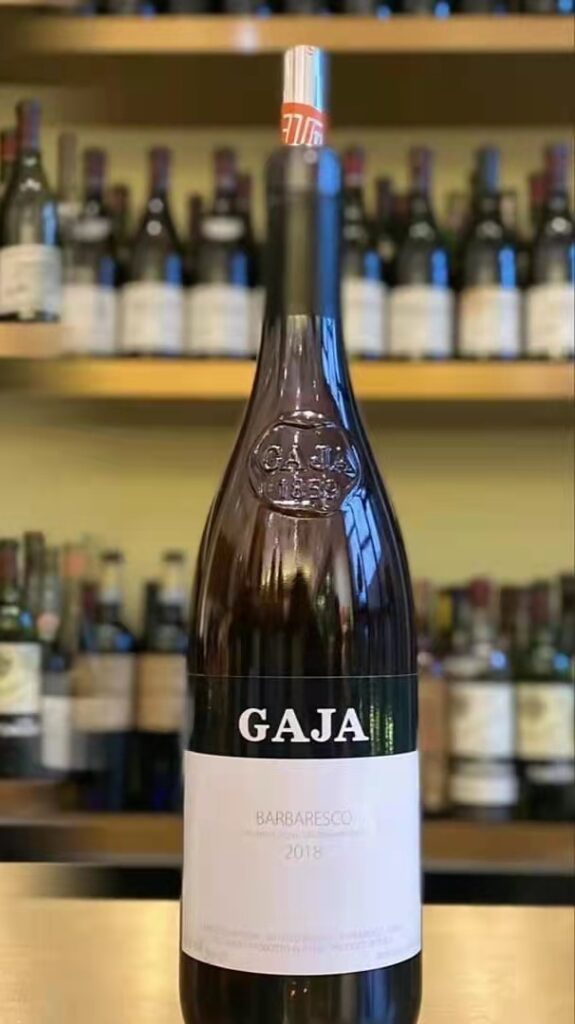 I jumped the gun last year and published my tasting note on this wine in my last year's report on the new and recent Barbaresco releases. Nothing has changed since the last time I tasted this beauty, a real work of art that speaks mostly of Treiso's Pajorè vineyard that makes up the majority of the blend given that about half the other Gaja parcels in other crus were hailed upon and the fruit not used to make this wine. Good full red. Bright, perfumed nose of fresh flowers, sweet spices and red cherry. Then more austere, but also very refined, precise and deep in its delivery of pure red cherry, raspberry and mineral flavours. Long, fresh and clean, this is a really outstanding wine given the difficult 2018 growing season. Really well done here.
Giovanni Corino 2017 Barolo Bricco Manescotto                                                             96
An absolute knockout, a simply amazing feat in a vintage as difficult as 2017. This is downright silky, not to mention powerful and well-balanced. Really, a masterpiece. I was literally blown away, for I really didn't see this coming, given the vintage and the cru. So what do i know? Great, great Barolo.
Il Marroneto 2016 Brunello di Montalcino Madonna delle Grazie                            96
Miani Ribolla Gialla 2019 Pettarin Friuli Colli Orientali                                                          96
Enzo Pontoni is a genius and what he achieves with Ribolla Gialla is a testament to his talent. While almost everyone else has to try turning the grape and wine into something orange, macerated, amphora-d, sparkling or sweet, Pontoni just goes about his business farming very low-yielding old vines in hillside locations and making one of Italy's ten best white wines in the process each year, and every year, he makes it. Complimenti!
Quintarelli 2013 Amarone della Valpolicella Classico                                                       96
Roagna 2016 Barbaresco Asili Vecchie Viti                                                                            96
It would have been too easy to write about the 2013 Barbaresco Crichët Pajé,  everybody's pick as a wine of the year from this winery, but the Asili is just mesmerizingly good and in a vintage like 2016, relatively cool-climate in which the signature of site is very well expressed, this wine really sings. Pure minerals, sour red cherry and berries are complemented by aromatic herbs and sweet spices. Closes long and suave.
Tiberio 2018 Trebbiano d'Abruzzo Fonte Canale                                                            96
Vallone 2016 Graticciaia Salento                                                                                        96
Aldo Conterno 2017 Barolo Romirasco                                                                             95+
Cavallotto 2015 Barolo Bricco Boschis Vigna San Giuseppe Riserva                     95+
Dal Forno 2015 Amarone Monte Lodoletta                                                                      95+
Ettore Germano 2016 Barolo Vignarionda                                                                       95+
Masi 2013 Amarone della Valpolicella Classico Campolongo di Torbe                   95+
Massolino 2015 Barolo Vigna Rionda Riserva                                                                  95+
Quintodecimo 2016 Taurasi Riserva Vigna Quintodecimo                                          95+
Tenuta di Sesta 2015 Brunello di Montalcino Duelecci Ovest Riserva                     95+
Valentini 2015 Montepulciano d'Abruzzo                                                                            95+
From one of Italy's most talented winemakers, another gem to a long collection of outstanding wines made over the years. Anyone who has tasted this estate's 2001 or 2006 Montepulciano wines knows exactly what I am talking about: deep, rich, multi-layered, complex, suave, this is the beginning and the end to what greatness can be achieved with the Montepulciano grape. A few come close (Emidio Pepe, Tiberio's Colle Vota, Valle Reale), each boasting its own uniqueness and charm, but nobody can match the best Montepulciano wines the Valentini estate is capable of making. In terms of Montepulciano d'Abruzzo, the 2015 harkens back to some other great ones from this estate.
Brigaldara 2016 Amarone della Valpolicella Classico                                                    95
Cascina delle Rose 2018 Barbaresco Rio Sordo                                                                95
Remarkably deep for the vintage, the Cascina delle Rose 2018 Barbaresco Rio Sordo is a very complex, layered and suave wine that lacks the elegance of the also magnificent Barbaresco Tre Stelle from this producer, but has more depth and power, without running the risk of being over the top. It will also age better than the majority of '18 Barbarescos.
Conterno Fantino 2017 Barolo Ginestra Vigna Sorì Ginestra                                         95
Cortese 2018 Barbaresco Rabajà
There's really not much better out there than a great wine from Rabajà, and when you have a great producer and a great vintage then the outcome is already written. Mesmerizing purity and seamlessness here in a wine that is surprisingly ready to drink but that will age for decades, and my suggestion is to give it another ten years in the cellar for maximum enjoyment.
Fontodi 2018 Flaccianello delle Pieve Colli Toscana Centrale                                         95
Frescobaldi 2018 Chianti Rufina Nipozzano Riserva Vecchie Viti                                 95
Feudo di San Maurizio 2018 Vuillermin Valle d'Aosta                                                        95
Varietally accurate, this full-bodied wine made from a rare local native grape is at once refined and delicious and showcases just how good the Vuillermin variety is. More producers should grow and make wine with it, rather than concentrating on more productive wine grapes. Less is more.
Isole e Olena 2018 Cepparello Toscana                                                                                   95
Köfererhof 2019  Sylvaner R Valle Isarco Alto Adige                                                         95
One of Italy's 20 best wines and a regular in my year-end "best of" columns, it is no different with Köfererhof's  2019 Sylvaner R (where the "R" stands for "reserve"), another in a long line of beauties from this estate. The regular Sylvaner is also one of Italy's best white wines, so you just know the R bottling is going to be special, and so it is. Nectarine, pear, tangerine, chamomile, apple blossom, chlorophyll, menthol, vanilla and grapefruit all vie for attention on the nose and in the mouth. The rich textured and multi-layered mouthfeel is suave and deep, and the aftertaste lasts minutes. Only a few Sylvaner wines from Alsace and the Franken, and perhaps one or two others from the Alto Adige's Valle Isarco area, can compete with this beauty.
La Fiorita 2016 Brunello di Montalcino Fiore di No                                                          95
Le Macchiole 2018 Paleo Rosso                                                                                                  95
Livio Felluga 2018 Terre Alte Rosazzo                                                                                     95
One of the great names ion Italian white wine, this is always close to being a work of art. While the estate was founded in 1956, Terre Alte itself was only made beginning with the 1981 vintage, with the express intent of creating a wine that could age like the best reds. The 2018 is a very successful Terre Alte, a wine of which there have been many great vintages of. Pale green-straw yellow in colour, boasting plenty of crisp, fresh fruit aromas and flavours complicated by thyme, cinnamon and sage, it lingers memorably on the palate leaving behind a wake of refreshing but balanced acidity but at the same time a glycerol richness that is captivating.
Mastrojanni 2016 Brunello Vigna Loreto                                                                                    95
A classic traditionally styled wine that's speaks of the southeast sector of Montalcino. Tar, camphor, red fruit and tobacco dominate on the perfumed nose and in the polished mouth. Will have a long life ahead.
Nales Margre Moscato Giallo Passito Baronesse Alto Adige                                               95
Luscious yet refined, Baronesse is almost always one of Italy's best sweet wines. It also showcases the characteristics and qualities of the Moscato Giallo variety, so different from Moscato Bianco and Moscato di Alessandria (called Zibibbo in southern Italy). Nales Margreid is a high quality Alto Adige coop more famous for its Pinot Bianco and Pinot Grigio wines, not to mention its standout Gewurztraminer and Schiava Galea, but the Baronesse, though made in much smaller volumes, is almost always the ultra star among a bunch of superstars.
Paitin 2016 Barbaresco Serraboella Sorì Paitin Vecchie Vigne Riserva                            95
A fantastic wine that showcases well the quality of the Serraboella cru in Neive, this is at once austere yet creamy, with textbook aromas and flavours of Nebbiolo with Barbaresco power and grace. Paitin is an estate to watch as its wines are really picking up steam of late.
Paolo Conterno 2013 Barolo Ginestra Riserva                                                                           95
Salvatore Molettieri 2013 Taurasi Riserva Vigna Cinque Querce
Big strapping wine as is usual with Salvatore Molettieri, but also blessed with real refinement and restraint, that really elevates this into a whole new dimension. Nicely perfumed with aromas that echo the flavours, with tobacco and licorice mingling with camphor, red cherry and herbs on the pristine, youthfully chewy mouthfeel and long finish.
Santa Maria Mariavalverde 2013 Amarone della Valpolicella Classico                             95
The large presence of Molinara in this Amarone makes all the difference: finally a perfumed, drinkable, polished Amarone that is seamless and concentrated at the same time, refined yet monstrous in power. Elegant red cherry, saline and sweet spicy notes dominate on the nose and in the mouth. A knockout Amarone that is easy to like, not just to drink. Great stuff, truly a must-get wine, don't miss it.
Silvano Follador 2020 Valdobbiadene Superiore di Cartizze Brut Nature                    95
Speri Amarone 2016 della Valpolicella Classico Sant'Urbano                                                      95
Tedeschi 2016 Amarone della Valpolicella Maternigo Riserva                                           95
Tenuta delle Terre Nere 2019 Etna Rosso San Lorenzo                                                          95
Tenuta San Guido 2018 Bolgheri Superiore Sassicaia                                                            95
Tommasi Viticoltori 2010 Amarone della Valpolicella Classico De Buris Riserva        95
Val di Suga 2016 Brunello di Montalcino Vigna Spuntali                                                        95
Vie di Romans 2019 Flor de Uis Friuli Isonzo                                                                              95
Now this is a gem. Flor de Uis, a mostly Malvasia Istriana blend (roughly 90% Malvasia, the rest is Riesling and Tocai Friulano) is always a great wine and has in fact been in my opinion owner Gianfranco Gallo's best white wine for some time (rivalled only by his Dis Cumieris Malvasia), but he absolutely nailed it in 2019. Lovely and fresh, and yet also powerful and textured, this magically well-balanced wine throws out oodles of pear, peach, pineapple, cinnamon, white flowers, lemon and lime at you, while maintaining amazing lift and precision. Those who don't care for aromatic whites (Gewurztraminer- and Muscat-haters beware) won't care so much for this, but everyone else will just love it.
Villa 2008 Franciacorta Brut 40 anni Riserva                                                                   95
Vini Felici 2020 Zibibbo di Pantelleria Casa Nika                                                                        95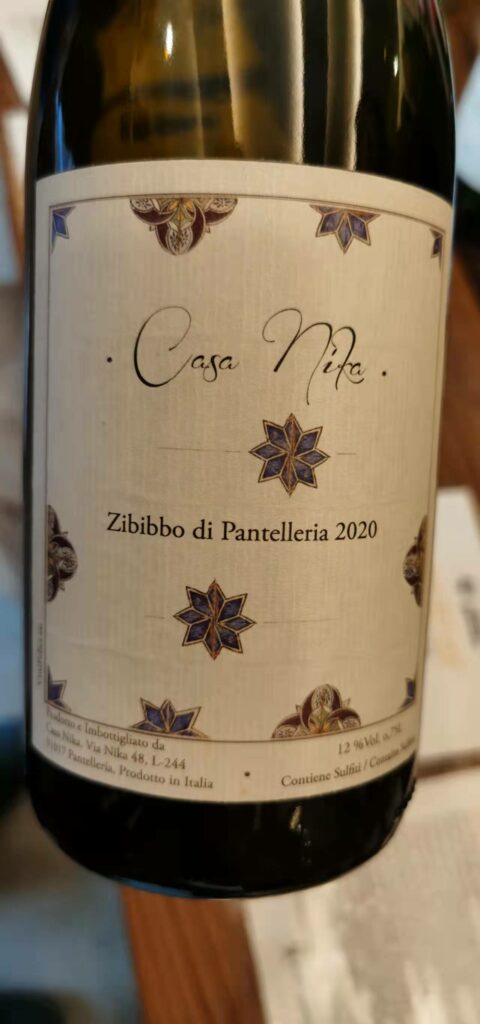 I normally don't like "natural wines" that rely on the name natural and try to spew off aromas and flavours that are unappetizing when not downright flawed; but when the wines are made with such skill, then my hat's off. This Zibibbo is very true to type, clean, pure, long and very typical of the island's style of wine. Very well done by this young couple.
Vini Franchetti 2019 Contrada P Terre Siciliane                                                               95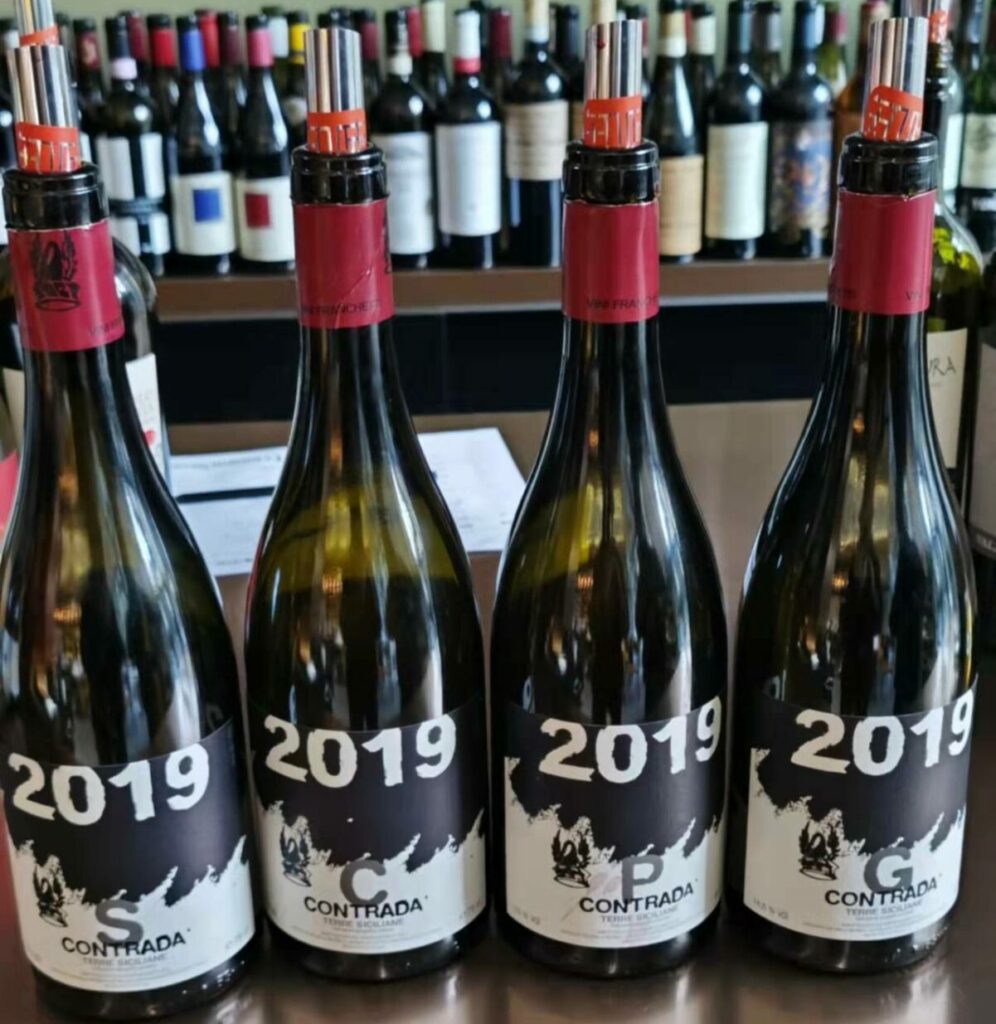 Antinori Solaia  2018 Toscana                                                                                                               94+
Brezza 2015 Barolo Sarmassa Vigna Bricco Riserva                                                        94+
Castell'in Villa 2015 Chianti Classico Riserva                                                                      94+
Ferrari 2010 Trento Brut Giulio Ferrari Riserva del Fondatore                                    94+
Fratelli Alessandria 2017 Barolo Monvigliero                                                                   94+
Honestly, I had a very hard time choosing between this wine from the Fratelli Alessandria and their Barolo San Lorenzo in Verduno. And asking the two Italian wine experts on my team and that I have been tasting Italian wines with for more than a decade (Michele Longo) and slightly less (Emily Huang) was no help, since the former picked the San Lorenzo and the latter the Monvigliero…big help they were! And so in what may ultimately amount to a coin flip, I'll go with the Monvigliero: blessed with a fragrance and velvety texture that are absolutely attractive, especially so in a Barolo from the hot 2017 vintage, I also liked its complexity and delicacy.
Girolamo Russo 2019 Etna Rosso Calderara Sottana                                                           94+
Mauro Molino 2017 Barolo Conca                                                                                                 94+
Monte Maletto 2018 Carema La Costa                                                                                         94+
Tiefenbrunner 2019 Müller Thurgau Feldmarschall von Fenner Alto Adige               94+
One of Italy's twenty best white wines, Tiefenbrunner's 2019 Müller Thurgau Feldmarschall von Fenner Alto Adige  is another in a long list of great Feldmarschall wines. Proving beyond any shadow of a doubt just how good Muller-Thurgau can be when planted in the right place and cultivated by the right people, the 2019 Feldmarschall is an ode to white stone fruit, minty herbs, sweet spices and minerals. It lasts and lasts on the refined aftertaste. Made from some of Italy's highest grapes (grown at roughly 1000 meters asl).
Antonelli-San Marco 2016 Montefalco Sagrantino                                                           94
Antoniolo 2017 Gattinara Osso San Grato Riserva                                                          94
Argiolas 2017 Turriga Isola dei Nuraghi                                                                               94
Ar.Pe.Pe 2017 Valtellina Superiore Sassella Stella Retica                                                94
Begali 2016 Amarone della Valpolicella Classico Monte Ca' Bianca Riserva                94
Bonavita 2018 Faro                                                                                                             94
Bruno Rocca 2018 Barbaresco Rabajà                                                                        94
As much as I love the Currà vineyard, I have to admit that in 2018 the Rabajà is a superior wine, richer, denser and longer, mostly because the cru avoided the hail episodes that struck large swaths of Neive and hence Currà too in the vintage. The 18 Rabajà is a beautiful wine that has much higher richness and density respect to the average of the 18 Barbarescos.
Ca' del Bosco 2011 Franciacorta Dosage Zéro Cuvéè Annamaria Clementi Riserva Rosè      94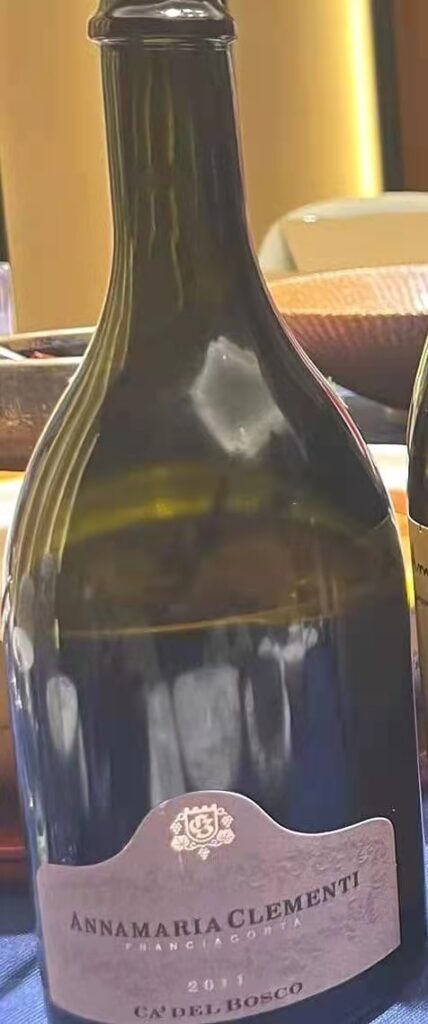 Slightly fatter and softer than usual given the vintage conditions, the 2011 flagship rosè from Ca' del Bosco is just a beautiful Franciacorta. Long and creamy, but boasting noteworthy levels of nuance to its ripe red berry and cherry aromas and flavours, complicated by herbs and sweet spices. A floral note dominates on the long impeccably balanced back end.
Caggiano 2017 Taurasi Vigna Macchia dei Goti                                                               94
From the vineyard located in the eponymous area not far removed from the main winery building, planted on clay-calcareous soils at about 350 meters asl, comes one of Italy's best red wines and certainly one that changed perceptions about what Taurasi could be all about. Harvested relatively late in the season, the grapes boast noteworthy richness and ripeness but the wine is more than just luscious and opulent, always boasting a refined elegance. The 2017 Macchia dei Goti has a powerful tannic spine but enough fruit not to come across as austere or tough, plus a touch of sexy chocolatey oak that adds interest on the long aftertaste.
Caiarossa 2018 Caiarossa Toscana Rosso                                                                          94
Caprai 2016 Montefalco Sagrantino 25 Anni                                                                    94
Caravaglio 2020 Malvasia Occhio di Terra                                                                       94
Cataldi Madonna 2018 Pecorino Supergiulia Terre Aquilane                                         94
Supergiulia but you might say superLuigi as well, given the talent and passion that owner Luigi Cataldi Madonna has brought over the years to the making of fine wines out of the Ofena town's territory in Abruzzo. Even more importantly, Cataldi Madonna showed to the world (along with the Marche's Cocci Grifoni estate) just how great the Pecorino variety could be, and this is why we have so many great Pecorino wines to write about today. Notes of lemon and sage, plus a glycerol note that is so typical of the variety that gives this Sauvignon Blanc look alike a much richer texture than that of any non-oaked Sauvignon wine you can think of, despite its piercing freshness.
Ceretto 2018 Barbaresco Bernadot                                                                                              94
Steely and pure are the two passwords when it comes to Ceretto's Bernadot and the cru in general. Red rose, violet, cinnamon and sour red cherries on the nose and in the mouth. Long and bright on the polished finish.
Chiaromonte 2018 Gioia del Colle Primitivo Muro Sant'Angelo Contrada Barbatto           94
Colli di Lapio 2020 Fiano di Avellino                                                                                            94
Clelia's dad Pasquale used to sell his grapes to Mastroberardino, then in the 1990s he decided to set out on his own, and the rest, as they say, is history. Colli di Lapio's 2020 Fiano di Avellino is another superb Fiano di Avellino wine from the estate that has made the best wines from this grape over the last twenty years. Nervous, fresh, mineral, loaded with aromas and flavours of jasmine, gin, tequila, liquid minerals and green apples, it is fresh, balanced and long. It won't outshine the mythical 1999, not so arguably the best wine Clelia has ever made, but it's right up there in quality. Well done, signora!
Contrada Salandra 2019 Falanghina Campi Flegrei                                                     94
There are some individuals that reach almost disgusting levels of talent and Giuseppe is one of them. Owner of arguably the best estate today at making Falanghina wines (from the Falanghina Flegrea variety, which is different, and gives different wines too, from the Falanghina Beneventana, but you'd never know it given the generally poor and inaccurate communication from producers everywhere and the fact that everybody has blissfully coplanted the two just about everywhere). This one boasts floral and orchard fruit aromas and flavours, plus a mineral nuance in the background, all coupled to a very variety typical menthol note that speaks immediately of Falanghina Flegrea (and not of Beneventana, but you knew that). Contrada Salandra's 2019 Falanghina Campi Flegrei is just superb, offering plenty of ripe fruit in this vintage as well, besides mouthwatering freshness. Readers take note of the fact that Contrada Salandra's Piedirosso wine is outstanding too.
Cosimo Taurino 2016 Negroamaro Notarpanaro Salento                                               94
Damiano Ciolli 2018 Cesanese di Olevano Romano Cirsium Riserva                          94
There is no better producer of Cesanese wines than Damiano Ciolli, an estate that bears its owners name but that is very much a duo, given that the wines are made by Damiano's ultra-talented life partner Letizia Rocchi (whose talent is such she has just begun making what is already, only a few vintages out, one of southern Italy's ten best white wines or so). The Cirsium (named after a local variety of cardoon) is made from extremely old vines of Cesanese d'Affile (some of which are pushing one hundred); classically rich, dense and textured, this boasts rather suave and refined notes of red cherry and sweet spices.
Di Barrò 2020 Mayolet Valle d'Aosta                                                                                      94
Mayolet is a difficult grape to work with and yet Elvira and her husband Andrea have never had much of a problem with it. The wine is mildly aromatic and just plain lovely, brimming with flowers and a mountain salinity that are captivating, but also boasting sneaky concentration and a polished tannic framework. Very well done, this is just a great wine, and it's also a steal, considering ti's cost.
Duemani 2018 Duemani Costa Toscana                                                                                  94
Elena Walch 2019 Bianco Grande Cuvée Beyond the Clouds Alto Adige                     94
A remarkably good wine every vintage, in fact a sure bet as far as Italian white wines go, Elena Walch's 2019 Bianco Grande Cuvée Beyond the Clouds is rich and suave, while boasting immense aromatic and spicy appeal. Rose petals, grapefruit, tropical fruit and sweet spices dominate on the nose and in the mouth, but its the combination of that aromatic personality and its marvellously opulent texture without ever risking being over the top that make this such a knockout. Unfortunately, it is described as a "predominantly Chardonnay wine",  which does everyone a disservice: clearly, if this really were a Chardonnay wine then nobody would have any reason to buy it, gioven how truly hopelessly bad the vast majority of Italy's Chardonnay wines are and how many really great ones are available from all over the world. Instead, the obvious presence of gewurztraminer raises the interest level of this beauty tenfold, making it a really super interesting, downright fantastic wine that you won't want to miss. Try it with roast chicken or pork dishes or even tuna or salmon steak with tropical fruit or citrus accented chutneys and sauces.
Felline 2016 Susumaniello Sum Salento                                                                     94
Intense aromas of red and dark berries, sweet spices and a slight mineral twinge for added complexity. Noteworthy balance, pleasant texture, long finish with fruit nuances repeating on the long back end. Splendid Susumaniello from the estate that rediscovered it first, identifying the old plants in an old vineyard near Torre Guaceto now many years ago. Congratulations to Gregory Perucci for having had the perseverance to find and make wine from what had previously been a forgotten local wine grape.
Ferrando 2017 Carema                                                                                                        94
Feudo Montoni 2017 Nero d'Avola Vrucara                                                                94
Fino 2019 Primitivo di Manduria Es                                                                               94
Fongaro 2012 Durella Lessini Durello Pas Dosè                                                         94
GB Burlotto 2017 Barolo Monvigliero                                                                           94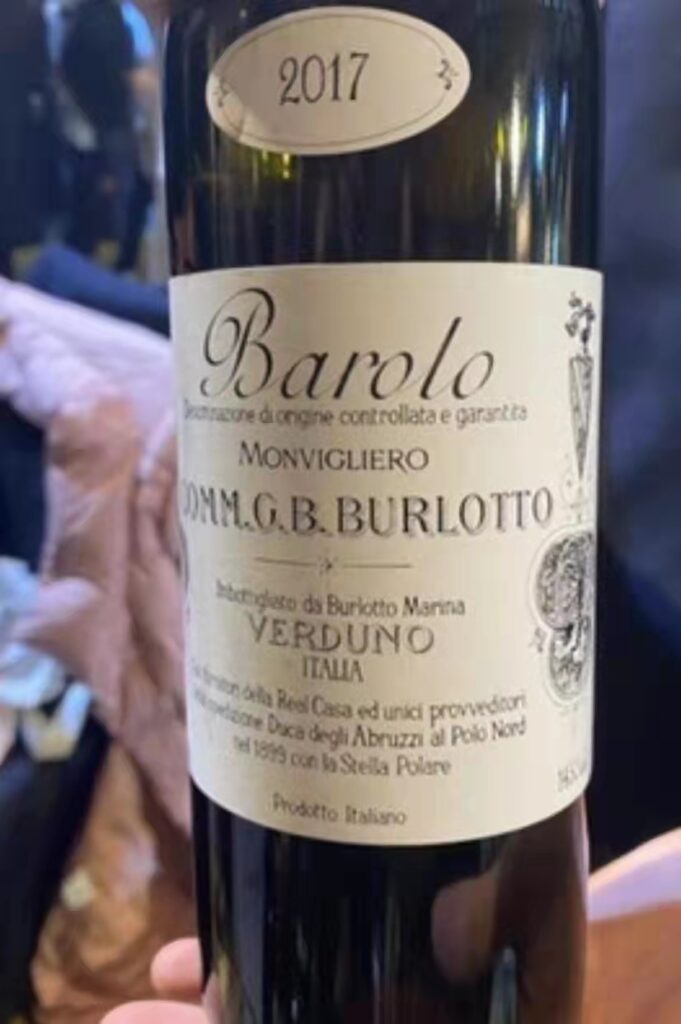 Not an easy vintage in Langhe, but the Monvigliero cru and the talented winemaker, Fabio Alessandria came through in the clutch with a wine that is for once really heads and shoulders above all their other Barolos, something that is not usually the case, given the high quality of all of the estate's wines. Perfumed and with polished tannins not showing any signs of the growing season's heat, this is a textbook Barolo redolent of sour red cherry fruit (admittedly a little less sour but rather riper than usual), wild flowers and sweet spices. Well done.
GD Vajra 2017 Barolo Bricco delle Viole                                                                          94
Giovanni Rosso 2017 Barolo Vigna Rionda Ester Canale Rosso                                    94
Grattamacco 2018 Bolgheri Rosso Superiore Grattamacco                                            94
Gulfi 2017 NeroSanLorè                                                       94
Guerrieri Rizzardi 2015 Amarone della Valpolicella Classico Villa Rizzardi Ris.            94
I Custodi delle Vigne dell'Etna 2018 Etna Bianco Sup. Contrada Caselle                     94
I Vigneri 2018 Etna Rosso Vinupetra                                                94              
Il Mosnel 2010 Franciacorta EBB Riedizione                                                                    94
La Montagnetta 2016 Freisa d'Asti Bugianen                                          94
From one of the recognized masters of Freisa wines, Bugianen is but one in a great lineup of Freisa beauties, always not just a great one, but also a steal for the money. Floral and fruity at once, with a delicate foam and fizziness but also tons of power lurking beneath, Bugianen offers a smorgasbord of red and black fruits, not to mention sweet spice and herbal aromas and flavours galore. Makes for a very complex drink and a highly satisfying one at the same time; try it with anything fried and chacuterie of all kinds, but make note that this will go very well with rich stews too. Another gem from Domenico Cappello, whose wines I really urge you to hunt down for they are some of the best of Italy in their genre.
Le Piane 2017 Boca                                                                                                             94
Le Ragose 2010 Amarone della Valpolicella Classico                                                       94
Concentrated and deep, but most importantly not jammy, boasting very deep ripe fruit but it's the suave texture that is most impressive in such a powerful wine that manages to come across as a ballerina, rather than the howitzer it is.
Les Crêtes Chardonnay Cuvée Bois 2018 Vallée d'Aoste                                                         94
This wine has long been the flagbearer at the extremely high quality, downright ground-breaking Les Crêtes estate, and it delivers once again this year. Buttery yet lifted, concentrated yet precise, long and minerally, it' is one of Italy's ten best Chardonnay wines every year. The Charrère family has long been studying individual parcels by which to hopefully make a series of crus one day.
Lilliano 2018 Chianti Classico Gran Selezione                                                                 94
Lo Triolet 2020 Pinot Gris Valle d'Aosta                                                                           94
Mamete Prevostini 2017 Sassella Valtellina Superiore Sommarovina                    94
While the 2018 is now on the market, the 2017 is still available and I could not help but give it its due by placing it on this list. Brilliant red in colour, and brilliant in its aromas and flavours too, of delicate red berries, sour red cherries and mountain herbs. The steely tannic spine nicely supports the flavours on the long, perfumed back end. Great Nebbiolo aged twelve months in oak, but the oak is completely fused into the background. Tasted twice in the last month and a half, this single vineyard wine proved just how spectacular it was in this vintage.
Marisa Cuomo 2019 Costa d'Amalfi Furore Bianco Fiorduva                                                94
The 2019 Costa d'Amalfi Furore Bianco Fiorduva from Marisa Cuomo is its usually spectacular self. The aromas and flavours of balsamic oils, vanilla, white orchard fruit and fresh citrus are rich, layered, ripe and yet fresh and lively at the same time. Though barrel-fermented, the fruit manages to hold its head above water, or oak, and you get a pure sip of Campanian sun-drenched fruit at every sip. The combination of rare Campanian coast varieties such as Ripolo, Fenile and Ginestra give just a mesmerizingly great wine that actually ages better than its soft acid mouthfeel would have one believe. No, don't hang on to this for ten years, but at four-five years from the vintage it will prove an even more gorgeous and complex drink than it already is today.
Mastroberardino 2015 Taurasi Radici Riserva                                       94
It's honestly hard to find fault with any of the venerable Mastroberardino firm's wines. Clearly, a large operation such as this one will produce everything from simple entry-level wines that may be more or less interesting depending on individual points of view and taste preferences, but there's no denying that the top wines rank amongst the country's best. Such is the case with Mastroberardino's Taurasi, almost always their best wine year in and year out, and of which they make many different versions. This year my vote goes to the 2015 Taurasi Radici Riserva, a superb Taurasi, all minerals, red cherry, herbs and spices, showcasing polished tannins and harmonious acidity. Fact is that the classic Taurasi is almost as good in most years, so wine lovers cannot go wrong when they pick either one of these two greats.
Montecappone-Mirizzi 2019 Verdicchio dei Castelli di Jesi Classico Superiore Ergo            94
The Mirizzi family has long been making outstanding wines that often fly under the radar of the cognoscenti; wines as good as this one ought to make sure that no longer happens. This 2019 Verdicchio showcases everything the grape does so well, delivering crisp yet ripe fruit flavours and a light mineral edge that adds to the wine's overall complexity on the long suave finish. Splendid mouthful of wine that will age very well.
Montevertine 2018 Montevertine Toscana                                                                         94
Oddero 2012 Barolo Riserva Vigna Rionda                                                                      94
Ornellaia 2018 Bolgheri Rosso Superiore Ornellaia                                                          94
Pieropan 2019 Soave Classico Calvarino                                                                  94
Pietracupa 2019 Greco di Tufo                                                                                           94
Sabino Loffredo is a very talented man and there is no doubt he pulls out the best of the Greco variety, at least to an extent that most other producers fail to do. The 2019 Greco di Tufo is splendid, rich ripe and yet vibrant, with typical Greco oiliness and power reined in by harmonious, not green, acidity, and rich, textured fruit flavours that last and last.
Princic 2020 Malvasia Collio                                                                                               94
Absolutely splendid rendition of Malvasia from a  master of the grape. Clean, pure, mineral, and vibrant, this is just brimming with orchard fruit and white stone fruit aromas and flavours. Beautiful balance and exceptionally concentrated yet light on its feet makes for a stunning white wine.
Riecine 2018 Chianti Classico Riserva                                                                              94
A real nice combination of vibrant acidity and ripe small red fruit makes for a very impressive showing. From an historic estate blessed with one of the better terroirs in all of Chianti Classico but that had not been living up to its potential for far too many years, making fatter wines than was necessary. I am glad to see recent wines are beginning to approach the glory years of John Dunkley and Palmina Abbagnano again.
Ricasoli 2018 Chianti Classico Gran Selezione Colledilà                                                  94
Ruggeri 2020 Valdobbiadene Superiore Brut Vechie Viti                                               94
Santadi 2017 Carignano del Sulcis Superiore Terre Brune                                             94
Tasca d'Almerita 2016 Contea di Sclafani Rosso Riserva del Conte                              94
Terlano 2019 Pinot Bianco Riserva Vorberg Alto Adige                                                 94
Made from Pinot Bianco grown on 5-75% gradients at 450-650 meters asl, the Vorberg Riserva is one of Italy's best and longest-lived wines. Fermented and matured in traditional, big, but above all neutral, oak barrels, the Monzoccolo section of the Terlano wine production area gives one of the world's greatest and most age worthy Pinot Bianco wines (what the Germans call Weissburgunder). The 2019 Pinot Bianco Riserva Vorberg is another beauty, all lemongrass, white peach, green apple and chamomile, with hints of peach, tangerine and mint adding complexity on the long suave fresh finish.
Tommaso Bussola 2016 Amarone Classico                                                                        94
Tramin 2020 Gewürztraminer Nussbaumer Alto Adige
If Nussbaumer isn't Italy's best Gewürztraminer wine, then I don't know what that might be. Wait a minute, i do know. Italy's best Gewürz wine is Tramin's Nussbaumer. So there you have it. All kidding aside, Tramin's own Epokale is a benchmark wine for the variety too, but the long track record of Nussbaumer is simply unbeatable and the 2019 Nussbaumer only adds to the collection of jewels produced by this standout coop over the years. Made from 10-40 years old vines growing at  350-550 meters asl on calciferous rock with loam over a porphyry bedrock, this beauty is aged on the lees for close to nine months and sees no oak whatsoever, so that what you get in the glass is unadulterated Gewurz sensuality in the classically dry style that is typical of Italy (there's 7.5 g/L residual sugar but the slightly more than 5 g/L total acidity offsets it nicely). The 2020 Nussbaumer is at once powerful yet refined, boasting not just tropical fruit and sweet spices, but also less explosive notes of flowers, orchard fruit and minerals, such that it will prove ideal for all those who love Gewurz and for those who don't.
Valle Reale 2019 Montepulciano d'Abruzzo Vigneto Sant'Eusanio                               94
The best example of cool-climate Montepulciano wine there exists in Italy today, Valle Reale's Montepulciano is always marked by outstanding flint and mineral notes that pair well with delicate red fruit and floral nuances. Another great red from this estate.
Viviani 2013 Recioto della Valpolicella Classico                                                                94
Abbazia di Novacella 2019 Sylvaner Praepositus Valle Isarco Alto Adige                     93+
The Novacella Abbey is a complex entity boosting among other things one of Europe's most important libraries of old books, but it has also been making wine for a 1000 years or so. Currently, Managing Director Urban von Klebelsberg, the dynamic and passionate Managing Director of the Abbey, oversees an excellent range of wines produced from all of the region's typical varieties, but there can be no doubt the Sylvaner (along with the Kerner) has always been the best wine made here. The roughly 60 employees of the Abbey can be rightfully proud of their 2019 Sylvaner Praepositus, teeming with pear, white stone fruit, apple blossom, chamomile and peach aromas and flavours, finished off on the long aftertaste with a dusting of talcum powder and lemongrass. Beautiful stuff, really: these are products that wine lovers everywhere would do well to take note of and search out for, as the Valle Isarco is a treasure trove of many outstanding Sylvaner wines (almost always made from rather old vines) of which Prraepositus is usually one of the best. I point out to readers though that the Abbazia's regular Sylvaner bottling, though less powerful and concentrated but more refreshing, is more often than not just as fun to drink as the top of the line Praepositus bottling I describe here (the Ababzia di Novacella 2020 regular Sylvaner is lovely, for example).
Bertani 2012 Amarone della Valpolicella Classico                                                            93+
Brovia 2017 Barolo Rocche di Castiglione                                                                         93+
Cottanera 2017 Etna Rosso Zottorinoto Riserva                                                               93+
Le Casematte 2019 Faro                                                                                                     93+
Pietradolce 2020 Etna Bianco Archineri                                                                                 93+
Prà 2019 Soave Cl. Monte Grande                                                                                    93+
Réva 2017 Barolo Cannubi                                                                                                 93+
Sandrone 2017 Barolo Aleste                                                                                              93+
Sottimano 2018 Barbaresco Pajoré                                                                                   93+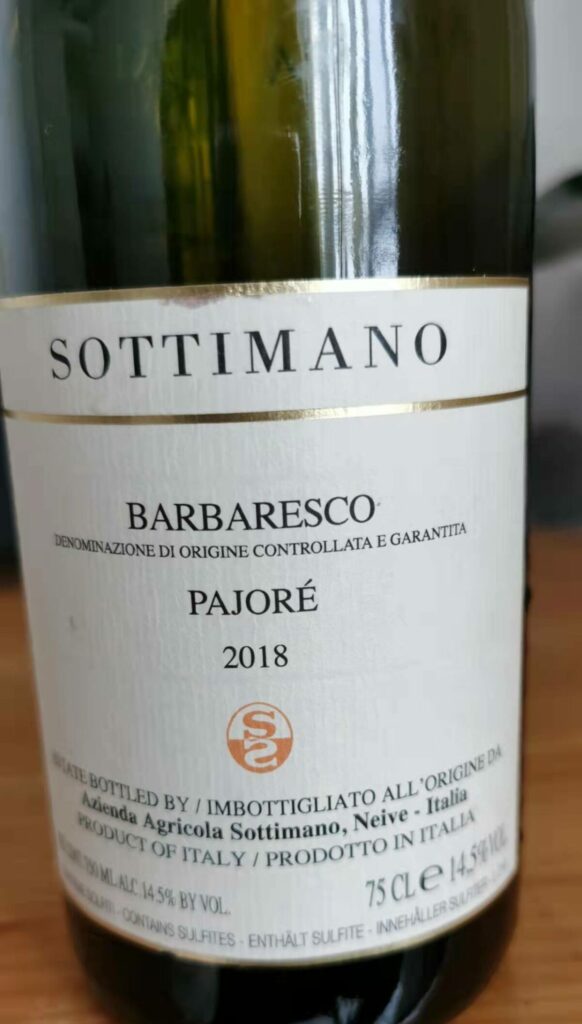 Vietti 2017 Barolo Rocche di Castiglione                                                                  93+
Abate Nero 2010 Trento Brut Cuvée dell'Abate Riserva                                                         93
Alois Lageder 2018 Chardonnay Löwengang  Alto Adige                             93
Barberani 2018 Orvieto Classico Superiore Luigi e Giovanna                      93
Barone Pizzini NV Franciacorta Extra Brut Animante                                                          93
A complicated but ultimately very successful blend of Chardonnay (77%), Pinot Noir (17%), Pinot Blanc (3%), and Erbamat (3%) sourced from twenty-five vineyards in the municipalities of Provaglio d'Iseo, Passirano, Corte Franca, Adro, this is just a beautiful bubbly that offers aromas and flavours of dried fruit, apricot and acacia honey in spades. Finishes long, pure and saline.
Bel Colle 2018 Barbaresco Pajoré                                                                                      93
Bellavista 2016 Franciacorta Brut Teatro alla Scala                                               93
Bibbiano 2018 Chianti Classico Gran Selezione Vigna del Capannino                          93
Bisci 2018 Verdicchio di Matelica Vigneto Fogliano                                                        93
Benito Ferrara 2019 Greco di Tufo Vigna Cicogna                                                         93
Boccadigabbia 2020 Ribona Le Grane Colli Maceratesi                                93
Maceratino is one of the many native wine grapes of Italy to have come back to everyone's attention only recently, and one sip of this beauty tells you why immediately. Rich and layered, yet also lemony and fresh, maceration offers white wines that are more austere and mineral than those of the Marche's Castelli di Jesi but more powerful and textured than those of the Bianchello del Metauro production area. The white and yellow flowers, the orchard fruit and minerals the 2020 Ribona Le Grane Colli Maceratesi is imbued with will drive that point home immediately. Boccadigabbia is a class act in Marche wine and they make many different wines worth getting to know, but there's no denying their immense success with their Ribona wine, always a standout.
Borgo del Tiglio 2019 Friulano Ronco della Chiesa                                                         93
One of Italy's best white wines, the Friulano Ronco della Chiesa rarely if ever disappoints and it is no different this year. Nicola Manferrari has an almost unique ability to make white wines rich in texture but that are also elegant, and uses oak generally to every good effect. This is a standout wine made from roughly sixty years old vines of Tocai Friulano planted on the classic flysch soil of alternating marl and compacted sandstone.
Boscarelli 2017 Nobile di Montepulciano Il Nocio                                                            93
Bucci 2018 Castelli di Jesi Verdicchio Classico Riserva Villa Bucci                               93
The master does it again. A vibrant, textured Verdicchio wine that has oodles of layers and fruit. Finishes long and suave.
Ca' La Bionda 2018 Valpolicella Classico Superiore Casalvegri                                     93
Cantina Produttori Bolzano 2019 Santa Maddalena Classico Moar Alto Adige           93
I'm not usually a fan of too much Lagrein in my Schiava wines (the Moar is a blend of 85% Schiava varieties and 15% Lagrein): now, I get it, really I do, that the Lagrein adds colour and body. But the reason why I buy Schiava wines to begin with (and most everyone else) is that I and they WANT to drink a light red wine from time to time, instead of always getting walloped across the nose and taste buds with the biggest behemoth every wine parvenu out there tries to make. That much admitted, the Moar is just an excellent Schiava wine, that despite the relatively high percentage of Lagrein remains true to type through and through.  Made from grapes picked at roughly 200-300 meters asl on gravelly porphyry soils of Santa Maddalena above Bolzano from one of Alto Adige's many truly outstanding coops, this little gem is redolent with aromas and flavours of crunchy red berries, flowers, bitter almond (even a touch of marzipan) and herbs, all complemented by a minerally sheen, while remaining admirably light on its feet and wonderfully juicy. When it's this good, and it usually always is, I want more Moar!
Cantina Toblino 2013 Trentino Nosiola Largiller                                                             93
Capichera 2018 Vendemmia Tardiva Isola dei Nuraghi                                                 93
Castello di Volpaia 2018 Chianti Classico Riserva                                                           93
Cave de Mont Blanc de Morgex et La Salle Blanc de Morgex et La Salle Vini Estremi         93
This outstanding alpine coop is very well-known for its lovely still and sparkling wines made with the local Prié Blanc grape. This beauty is one of Italy's best aperitif wines and is loaded more so than usual in this vintage with aromas and flavours of alpine breezes, fresh flowers, thyme and mint.
Cherchi 2020 Vermentino di Sardegna Tuvaoes                                                              93
Cenatiempo 2019 Biancolella Kalimera Ischia                                  93
As I described at length in the Biancolella chapter of my Italy's Native Wine Grape terroirs book edited by University of California Press (in fact one of the three or four best chapters of the entire book, detailing information on the great but little-known wines of Ischia that has never been published before), Kalimera is a grand cru of the island of Ischia for the Biancolella wine grape. And no wine will drive that point home more than Cenatiempo's amazing 2019 Biancolella Kalimera Ischia, one of the great island wines of Italy (not just of Ischia). Brightly floral and saline, with a textured mouthfeel that coupled to the fresh aromas and flavours of herbs and yellow fruit makes this wine a real winner in every wine lover's books almost every year. Pasquale Cenatiempo is a star vine grower and winemaker and his whole portfolio is worth getting to know well.
Collestefano 2020 Verdicchio di Matelica Collestefano                                                    93
Crivelli 2020 Ruche' del Monferrato Casalese                                                                  93
Bright ruby-red. Perfumed, aromatic aromas of red cherry, musk, botanical herbs and sweet spices, with a seamless set of tannins that are really a hallmark of Crivelli that makes some of the most intense yet smoothest wines of the denomination.
Farnete – Cantagallo 2018 Carmignano Riserva                                                             93
Fay 2018 Valgella Superiore Ca' Morei                                                                             93
Feudi di San Gregorio 2015 Feudi Studio Taurasi Candriano                      93
Feudi is a huge operation and so understandably enough, its wine portfolio runs from the cheap and uninteresting to the excellent and unique. Such is the case with the products in the Studio section of their portfolio, of which this Taurasi is a superb example. Smoke, red cherry, licorice and tar, complicated by herbs on the long rising finish. Boasts a good dose of elegance too, eschewing the completely needless over ripeness of many of today's "important" red wines; well done.
Gabbas 2018 Cannonau di Sardegna Classico Dule                                                        93
Gaudio/Bricco Mondalino 2020 Grignolino del Monferrato Casalese Bricco Mondalino        93
From an outstanding producer Grignolino, another standout wine that speaks of the variety in crystal-clear terms. Sour red berries, red cherries, sweet spices, quinine and violet dominate on the nose and in the mouth, finishing long and pure.
Giacomelli 2020 Vermentino Boboli Colli di Luni                                                             93
Giovanni Almondo 2018 Langhe Freisa                                                                            93
Delicious, that's all there is to it. Red cherry, plum, licorice, tobacco and a distinctive balsamic note. Balanced, refined and incredibly pleasant on the long finish, this is a glass of wine you just won't want to put down until you have emptied it. Always a good sign, I may add. And while I'm adding things, allow me to say that Almondos' Arneis Bricco delle Ciliegie 2020 is stellar too.
Inama 2019  Soave Classico Foscarino                                                                     93
Ioppa 2016 Ghemme Santa Fé                                                                                            93
Istine 2019 Chianti Classico Casanova dell'Aia                                                                93
La Sibilla 2019 Falanghina Cruna deLago Campi Flegrei                                               93  
The 2019 Falanghina Cruna deLago Campi Flegrei from La Sibilla is a really superlative effort but then there's no surprise here, given that thuis estate rarely ever messes up with this wine, one of the three best Falanghina wines of Campania and actually one of Italy's best white wines. A reserve bottling of sorts (all the best fruit from a specific terraced vineyard site – a truly beautiful one, I may add, and I urge you to visit the estate and walk it- that looks out to the sea is used to make this wine) it offers liquid mineral and floral nuance that enliven and  complicate the yellow fruit, mint and tarragon flavours that are so typical of the Falanghina Flegrea variety (which looks completely different from Falanghina Beneventana; and guess what, the wines are completely different too). Long bright and zesty on the finish, try this on serious seafood salads (easy on the lemon juice) and any pasta dish involving shellfish (especially) but crustaceans too. Big meat dishes need not apply, but who cares?
Lungarotti 2018 Torgiano Bianco Torre di Giano Vigna Il Pino                                    93
Malvirà 2019 Arneis Roero                                                                                                          93
Marotti Campi 2019 Lacrima di Morro d'Alba Superiore Orgiolo                                 93
Brightly perfumed and aromatic as any self-respecting Lacrima wine ought to be, Marotti campi si the recognized master of the variety and wine. The Orgiolo is always the most upfront and expressive Lacrima wine he makes and once again it is irresistible.
Meroi 2019 Malvasia Zitelle Duri Friuli Colli Orientali                                                    93
Founded roughly 100 years ago by paolo Meroi's great-grandfather, this estate has a sure hand with the Malvasia Istriana variety and rarely misses a beat with it. Lemony, pineapple and peachy at the same time, rich and dense, with varietally accurate aromas and flavours, this suave rich white wine (partial malo done) is just drop-dead gorgeous.
Negri 2018 Valtellina Sfursat 5 Stelle                                                                                 93
Ottaviano Lambruschi 2020 Colli di Luni Vermentino Sup. Il Maggiore             93
From the recognized master, or close to it, of the Ligurian version of Vermentino wines, Lambruschi rarely misses a beat. Anyone old and into Italian wines enough will remember this amazing Vermentino from the Sarticola vineyard (easily Italy's best at the time) but truth is, Il Maggiore is not the lesser wine. Sea breezes, oyster shells, thyme, fennel and orchard fruit soar out of the glass and into your happy nose and palate. And this will age too.
Piaggia 2018 Carmignano Riserva                                                                                     93
Pio Cesare 2017 Barolo Ornato                                                                                          93
Poderi Colla 2017 Barolo Bussia Dardi Le Rose                                                               93
Polvanera 2018 Gioia del Colle Primitivo 17 Vigneto Montevella                                   93
Porello 2020 Roero Arneis Camestrì                                                                                  93
Produttori Valle Isarco 2020 Sylvaner Aristos Valle Isarco Alto Adige                          93
OK, now this is just delicious. The Produttori Valle Isarco 2020 Sylvaner Aristos Valle Isarco Alto Adige is partly fermented in big acacia barrels (the Sylvaner variety does very well when coupled to this type of wood) and boasts intensely fruity and delicate herbal elements, complicated by hints of sweet spices and minerals on the long sultry but fresh finish. Well done, Sylvaner is such an unbelievable  success story in Alto Adige's Valle Isarco valley, with many a truly great wine made there with it.
Rocca del Principe 2018 Fiano di Avellino Tognano                                                        93
From vines planted on sandy-clay soils at about 550 meters asl in the cool-climate area of Arianello in the Lapio zone, comes what is often one of Italy's best white wines of the year and I am happy to report that Rocca del Principe's 2018 Fiano di Avellino Tognano continues in a long line of excellent wines. Apples, nectarine, minty herbs and ripe pear dominate on the nose and in the moth, but though ripe, there is also plenty of freshness and above all, Fiano true-to-type characteristics. Rather structured but less so than in some previous years when the lees contact dominated everything else, this is bright and zesty while maintaining admirable levels of purity and a multifaceted personality that is bound to attract and captivate. Nicely done!
Ronco dei Tassi 2020 Malvasia Collio                                                      93
San Michele Appiano 2019 Gewurztraminer Sanct Valentin Alto Adige                       93
Made from 5-35 years old vines grown in the communes of Appianbo, Caldaro, and Cortaccia on clay-calcareous soils mostly, the Sanct Valentin Gewurz is always one of Italy's best, though it is somewhat unfortunately forced to live in the shadow of some of its stablemates, such as the outstanding Sanct Valentin Sauvignon, perhaps this high quality coop's best-known wine. Always very intense and concentrated yet with a gorgeous easy drinking quality, the 2020 Gewurz Sanct Valentin boasts impeccable balance (4.65 g/L total acidity and about 6.5 g/L residual sugar), not to mention a beautifully lingering floral and ripely fruity finish.
Santa Caterina 2016 Grignolino d'Asti Monferrato                                                         93
Tenuta di Fessina 2017 Etna Rosso Erse Contrada Muscamento 1911               93
Tenuta Sant'Antonio 2018 Valpolicella Superiore La Bandina                                       93
Uberti 2014 Franciacorta Extra Brut Comarí del Salem                                                 93
Villa Guelpa 2018 Lessona                                                                                                  93
Volpe Pasini 2020 Pinot Bianco Zuc di Volpe Friuli Colli Orientali                               93
Zucchetto NV Valdobbiadene Prosecco Superiore Extra Dry                                                93
Andrea Felici 2018 Castelli di Jesi Verdicchio Classico Riserva Vigna Il Cantico della Figura      92
Andreola 2020 Valdobbiadene Rive di Refrontolo Brut Col del Forno                         92
Biancavigna 2020 Conegliano Valdobbiadene Rive di Ogliano Extra Brut                   92
Borgoluce 2020 Valdobbiadene Rive di Collalto Extra Brut                                           92
Bortolomiol 2020 Valdobbiadene Brut Ius Naturae                                                         92
Cantina della Volta 2016 Lambrusco di Sorbara Brut Rosé Metodo Classico                  92
Castel de Paolis 2019 Donna Adriana Lazio Bianco                                                        92
Cavalchina 2019 Custoza Superiore Amedeo                                                                    92
Cavicchioli 2020 Lambrusco di Sorbara Vigna del Cristo                                      92
Chiarlo 2018 Nizza La Court                                                                                              92
D'Ambra 2019 Biancolella Tenuta Frassitelli                                                                    92
Dal Cero-Tenuta Corte Giacobbe 2014 Lessini Durello Extra Brut Cuvée Augusto Metodo Classico Riserva                                  92
Garofoli 2019 Verdicchio dei Castelli di Jesi Classico Superiore Podium                       92
Kaltern 2020 Lago di Caldaro Classico Superiore Quintessenz Alto Adige                   92
Hard not to fall in love with Schiava wines when they are this good. Pale red, fresh, vibrant and lip smackingly good, this is variety that the Kaletrn coop has more or less always excelled with. Made from 30-70 years old vines (old vines is fairly typical thing when it comes to Alto Adige Schiava wines, and so that is something really worth bearing in mind when you are out buying wines), this throws at you red fruit (raspberry, strawberry) and gentle herbal nuances galore. Ideal as an aperitif, but will match well with chacuterie and grilled juicy meats of all kinds (sausages!).
La Staffa 2018 Castelli di Jesi Verdicchio Classico Riserva Rincrocca                          92
Loredan Gasparini 2017 Montello e Colli Asolani Venegazzù Superiore Capo di Stato   92
Negro 2019 Arneis Roero                                                                                                             92
Pala 2020 Nuragus I Fiori                                                                                                   92
Ottella 2019 Lugana Molceo Riserva                                                                                 92
Schiopetto 2020 Friulano Collio                                                                                         92
Serafini & Vidotto 2017 Montello e Colli Asolani Il Rosso dell'Abazia                          92
Sergio Mottura 2020 Grechetto Poggio della Costa                                                          92
Sorelle Bronca 2020 Valdobbiadene Rive di Rua Brut Particella 181                            92
Tappero Merlo 2017 Erbaluce di Caluso Kin                                                                   92
Terre Bianche 2019 Dolceacqua Bricco Arcagna                                               92