While the holiday season has come and gone, there's no reason to let that get in our ways of having a great, relaxing and happy time with friends and family in the company of wine. There are always plenty of reasons to raise a glass in January (and February, and March, and.). And while the cooler weather we are now faced with calls for richer, fireside-friendly wines, I actually find that my friends and I still drink a lot of white and pink wines all through winter.
Clearly, what exactly determines a wine to be a "best buy" and a "must have" is open to debate. There are many expensive wines that are memorable and many inexpensive wines that are undrinkable; however, the converse is also often true. In general, price can be a good guide, but it is not fail-safe: there are countless outstanding wines in Spain, Italy and Greece for example that can be had , in those countries for less than 10 USD a bottle. This means that they'll cost more than that abroad, such that you cannot expect to pay 1o USD or Euros in your country of residence. Which also means that at truly low price levels, the risks of picking something unpalatable are high. But do your homework, read up (like for example the TerroirSense Wine Review!), trust a good wine store person and you automatically increase your chances of hitting the bullseye by quite a margin.
When I speak of best buy wines, I mean those that are generally sold for less than 20 USD/Euros a bottle and offer outstanding drinking experiences and a faithfulness to the grape variety. "Must have" wines are more expensive, those are the typical wines that are worth a splurge. But this is not the place for me to tell you how great the latest vintage of Yquem or Montrachet is; there are other articles in which I broach those wines too. None of the wines I pick can have off-smells that some would like to pass off as terroir or natural traits: that's ridiculous, if a wine is flawed, it's flawed. If it stinks, for example, well, it stinks. And why would you buy a wine that is not going to give you and your friends pleasure?
In this year's round-up of must have and best buy wines, you will find wines made with wine grapes as diverse as Albarinho/Alvarinho, Bacchus, Cabernet Gernischt, Chardonnay, Cinsault, Freisa, Dolcetto, Gewurztraminer, Malbec, Marselan, Petit Manseng, Pinot Gris, Riesling, Silvaner, Trebbiano Abruzzese, and so much more. The list offers wines from places as far part as Greece and New Zealand, Canada and China, Chile and South Africa. Hopefully, there is something for everyone. It does not aim to be exhaustive and cover every wonderfully delicious and more or less affordable wine made in the world and released for sale in 2022; but it does hope to give you a large array of drinking and tasting choices. Enjoy!
The wines in this report
Beaulieu Vineyards 2019 Cabernet Sauvignon Georges de Latour Private Reserve  Napa Valley California           100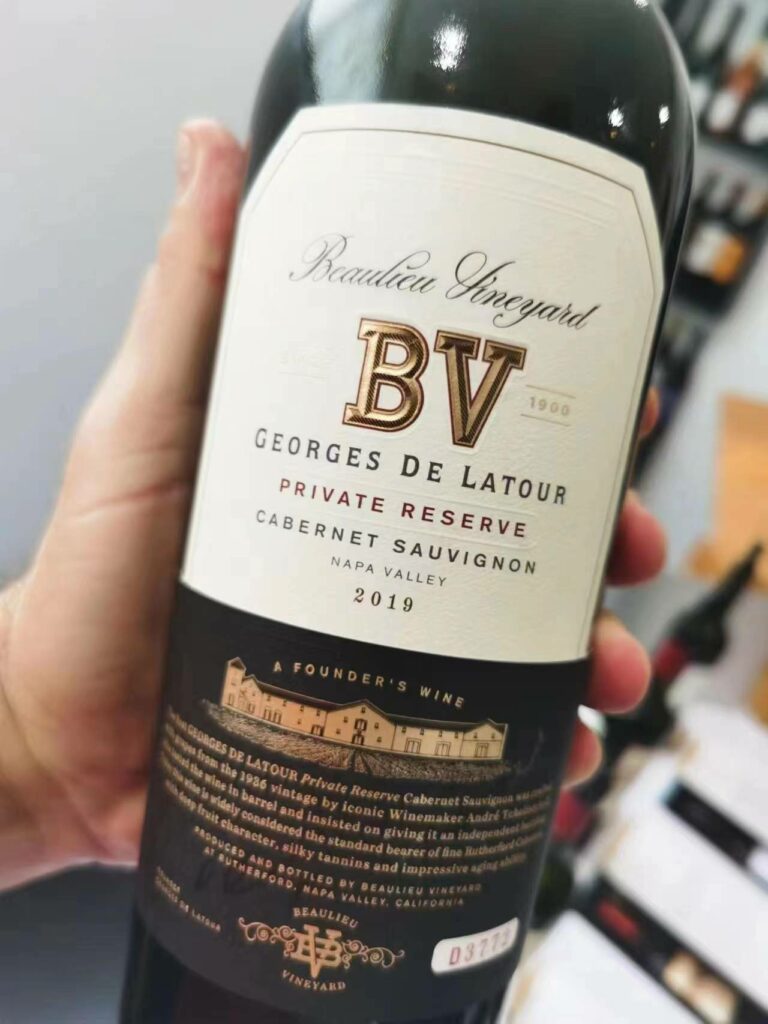 Catena Zapata 2019 Malbec Adrianna Vineyard Mundus Bacillus Terrae Argentina        98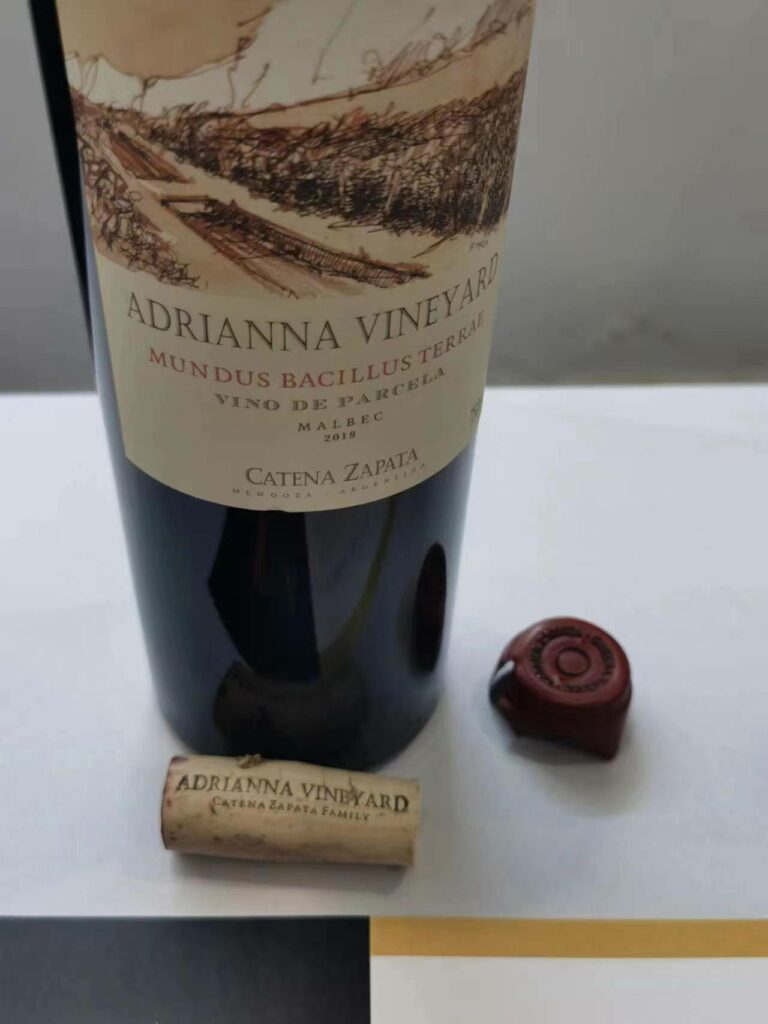 Château de Beaucastel 2019 Hommage à Jacques Perrin Châteauneuf-du-Pape  Rhone France                97
Künstler 2021 Hattenheimer Pfaffenheim Riesling Beerenauslese Rheingau Germany     97
Raúl Perez 2018 Ultreia Paluezas Spain                                         97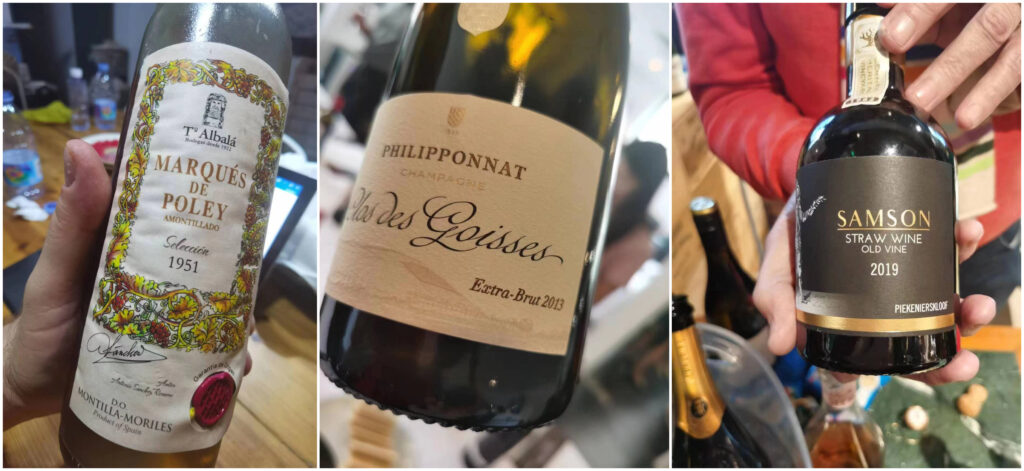 Ao Yun 2018 Yunnan China                                            96
Barone Ricasoli 2019 Chianti Classico Gran Selezione Colledilà Italy            96  
Emidio Pepe 2018 Montepulciano d'Abruzzo Italy            96
Domaine de la Taille aux Loups 2020 Remus Montlouis sur Loire France                         96
Gaja 2018 Barbaresco                                       96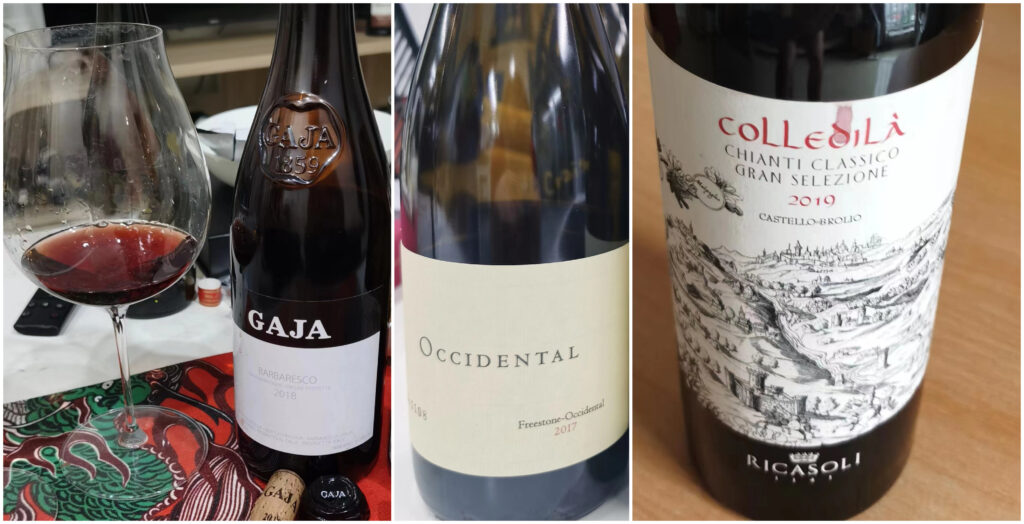 Louis Roederer 2014 Champagne Cristal Brut France             96
Occidental 2017 Pinot Noir Freestone-Occidental Sonoma Coast USA            96
Philipponnat 2013 Champagne Clos des Goisses France          96
Samson 2019 Straw Wine Old Vine Piekenierskloof South Africa                             96
Toro Albalá Marquéz de Poley 1951 Amontillado Montilla Moriles Spain          96
Valentini 2018 Trebbiano d'Abruzzo Italy                          96
Vega Sicilia 2009 Unico Rioja Spain                       96

Bell Hill 2017 Pinot Noir Canterbury New Zealand             95
Bodegas Valverán 20 Manzanas Sidra de Hielo Consejo de Sariego Asturias Spain      95
Boekenhotskloof 2017 Semillon Noble Late Harvest South Africa         95
Castellare 2018 I Sodi di San Niccolò Toscana Rosso Italy    95
Clos Mogador 2017 Vi de Vila Gratalopes Manyetes Priorat Spain      95
Domaine Franco-Chinois 2017 Petit Manseng Hualai Hebei China             95
Dönnhoff 2020 Oberhauser Brucke Auslese Gold Capsule     Nahe Germany          95
Forjas del Salnés 2020 Leirana Rias Baixas Spain                     95
Frescobaldi 2020 Gorgona Toscana Bianco Italy               95
Hanzell Vineyards 2019 Pinot Noir Sonoma Valley California USA           95
Klein Constancia 2018 Vin de Constance Natural Sweet South Africa               95
KWV 2018 Pinotage Mentors Stellenbosch South Africa         95
Mazzei 2017 Chianti Classico Gran Selezione Badiòla Italy        95
Pierre Gerbais NV Champagne Grains de Celles Rosé France                         95
Ridge 2019 Geyserville Sonoma County USA             95
Tiberio 2018 Trebbiano d'Abruzzo Fonte Canale              95
Viña Seña 2020 Seña Valle de Aconcagua Chile              95
Weingut Salomon Undhof 2019 Riesling Ried Kogl Erste Lage     Kremstal Austria              95
Ximénes-Spinóla 2019 Pedro Ximénes Delicado Spain                 95
Viña Almaviva 2020 Almaviva Puente Alto Maipo Valley Chile                  95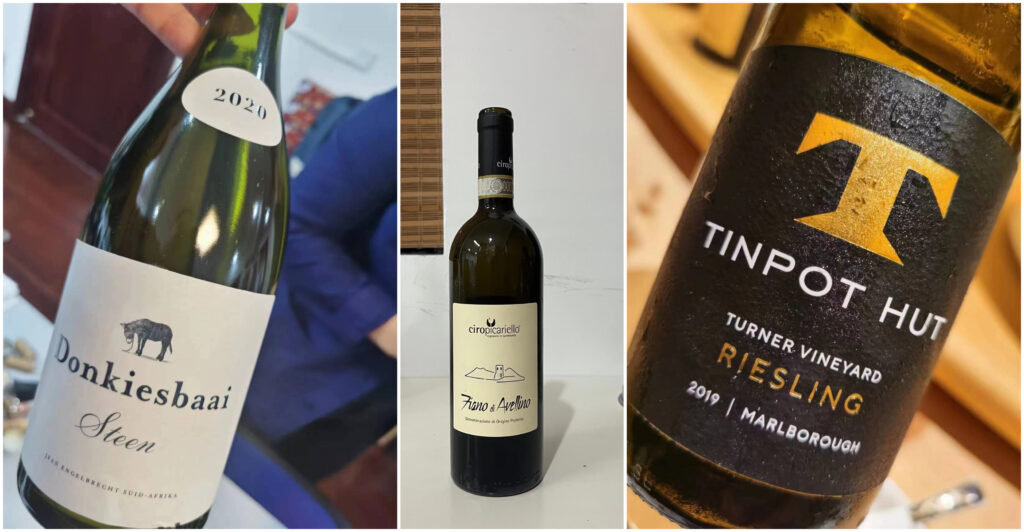 A.A. Badenhorst Family Wines 2019 Cinsault Ramnasgras South Africa         94
Ata Rangi 2019 Sauvignon Blanc Te Wa Martinborough New Zealand                   94
Attis 2019 Albariño Eimbaxador Rías Baixas Spain                      94
Bodegas Tridente 2017 Tempranillo Rejon Castilla y Leon Spain         94
Bürgerspital 2020 Würzberger Stein-­Harfe Silvaner Grosses Gewächs Franken              94
Camilo Castilla NV Moscatel Capricho de Goya Navarra Spain                      94
Cheval des Andes 2019 Mendoza Valley Argentina            94
Ciro Picariello 2019 Fiano di Avellino Campania Italy             94
Donkiiesbay Steen 2020 Chenin Blanc Old Vine Pikinierskloof South Africa        94
Envinate 2017 Migan Vinhos Atlánticos Spain                             94
Famille Dupont 2019 Cidre Réserve France                 94
Fillaboa 2016 Albarino Finca Monte Alto Riais Baixas Spain           94
Juliusspital 2021 Iphöfer Silvaner Trocken Franken Germany       94
Le Puy 2018 Le Puy Rosé Vin de France Marie-Rose France            94
Longting Vineyards 2019 Art Series Petit Manseng Bin Hai Penglai China           94
Marras 2019 Cinsault The Trickster Piekinierskloof South Africa                       94
Scarpa 2016 Freisa d'Asti Italy                               94
Schloss Saarstein 2019 Schloss Saarsteiner Riesling Spätlese Germany                        94
Tinpot Hut 2019 Riesling Turner Vineyard Marlborough New Zealand                  94
Vie di Romans 2018 Pinot Grigio Dessimis Friuli Isonzo Italy    94

Acústic 2017 Braó Montsant  Spain                                      93
Albamar 2020 Albariño Pepe Luis Riais Baixas Spain                93
Bellingham's 2021 Chenin Blanc Old Vines South Africa           93
Bila-Haut 2020 Cotes de Roussillon Blanc Les Vignes de Bila-Haut France          93
Bocale 2017 Montefalco Rosso Italy                                     93
Bodegas Garzón 2019 Tannat Reserve Uruguay                          93
Boscarelli Vino 2016 Nobile di Montepulciano Riserva Tuscany Italy          93
Château Clarke 2019 Listrac Bordeaux France                  93
Château de Rayne Vigneau 2019 Sauternes France                93
Celler del Roure 2018 Safrà Spain                                                93
Chartron et Trébuchet 2019 Savigny-Les-Beaune aux Clous Premier Cru Burgundy France        93
Compañia de Vinos Atlantico 2017 Atlántida Spain                     93
Contini 2016 Vernaccia di Oristano Flor Italy                              93
Domaine de Montille 2019 Pommard Pézerolles Premier Cru Burgundy France        93
Domaine Tempier 2021 Bandol Rosé France               93
Edouard Duval, NV Champagne Rose de Saignée Extra Brut Saignée d'Eulalie France     93
Emilio Moro 2018 Ribera del Duero Emilio Moro Spain             93
Gutierrez de la Vega 2018 Moscatel Dulce Cosecha Miel Alicante Spain           93
Hans Wirsching 2020 Iphöfer Kalb Silvaner Trocken Erste Lage Franken Germany            93
Jean Monnier& Fils 2020 Meursault La Barre Burgundy France                 93
Laurent Mouton 2019 Givry Clos Charlé Premier Cru Burgundy France         93
Little Beauty 2021 Gewurztraminer Marlborough New Zealand                             93
Maeli 2019 Moscato Giallo Veneto Italy                       93
Mission Estate Winery 2021 Gewürztraminer Hawke's Bay New Zealand         93
Neil Ellis 2016 Semillon Noble Late Harvest Elgin South Africa                      93
Nicolas-Jay 2018nMomtazi Vineyard McMinnville Oregon USA               93
Penner-Ash 2018 Zena Crown Vineyard Eola-Amity Hills Oregon USA        93  
Pol Roger 2015 Champagne Brut Rosé France                   93
Sileni Estates 2019 Semillon Late Harvest Grand Reserve Hawke's Bay New Zealand        93
Silk Road 2017 Cabernet Gernischt Vineyard Selection Xinjiang China                 93
Soalheiro 2018 Alvarinho Vinho Verde Portugal               93
Spier 2019 Chenin Blanc 21 Gables Stellenbosch South Africa              93
Tenuta San Guido 2018 Guidalberto Toscana Rosso Italy                       93
Tokara 2017 Sauvignon Blanc Noble Late Harvest South Africa         93
Vinisola Pantelleria Bianco Frizzante A Mano Libera Sicily Italy         93
Xige Estate 2019 Cabernet Gernischt Cuvée.X Ningxia China               93
Zilliken 2021 Ockfener Bockstein Riesling Spätlese Mosel Germany     93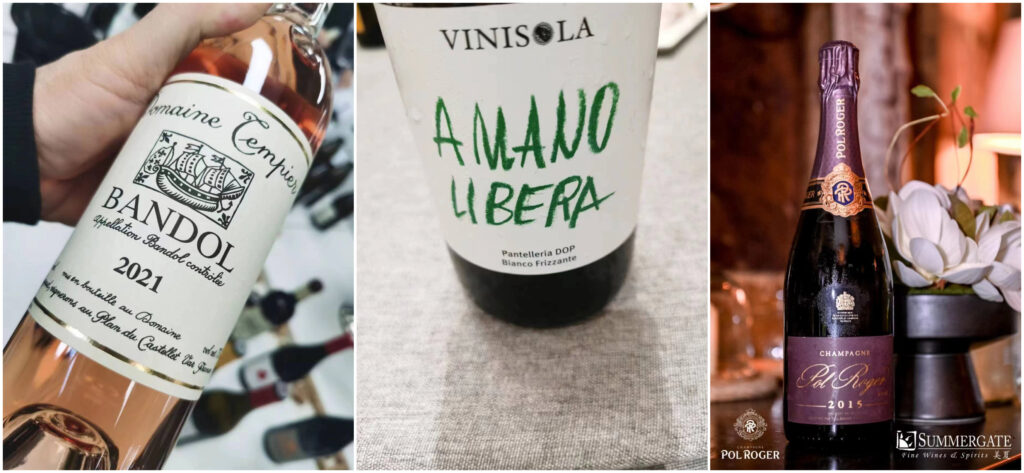 Abacela Winery 2021 Grenache Rosé Umpqua Valley Oregon USA        92
Amethyard 2017 Marselan Classic Hualai China                   92
Astrolabe 2020 Pinot Gris Kēkerengū Coast Marlborough New Zealand       92
Bodegas Muga 2015 Prado Enea Gran Reserva Rioja Spain       92
Burn Cottage 2019 Pinot Noir Central Otago New Zealand       92
Calera 2019 Pinot Noir Jensen Vineyard Mount Harlan California USA      92
Château Brulesécaille 2020 Blanc de Brulesécaille Côtes de Bourg Blanc France     92
Château Doisy-Daëne Sec 2019 Bordeaux Blanc France           92
Clos Cibonne 2020 Côtes de Provence Cuvée Tradition Rose France      92
Clos Haut-Peyraguey 2021 Sauternes France              92
Cos 2017 Contrada Terre Siciliane Rosso Italy                   92
Craggy Range 2018 Pinot Noir Single Vineyard Te Muna Road Vineyard Martinborough New Zealand      92
Domaine Huet 2021 Vouvray Le Haut Lieu Sec Loire France     92
Domaine Marie Bérénice 2021 Bandol Blanc France         92
Don Melchor 2019 Cabernet Sauvignon Puente Alto Vineyard      92
Felton Road 2019 Pinot Noir Bannockburn Central Otago New Zealand      92
Franz Haas 2020 Moscato Giallo Alto Adige Italy              92
Framingham 2019 Pinot Gris F-Series Marlborough New Zealand        92
Francois Carillon 2019 Puligny-Montrachet Burgundy France   92
Fürst Castell 2020 Casteller Kugelspiel Silvaner Spätlese Franken Germany               92
Jean-Paul et Charly Thevenet 2019 Morgon Cuvee Tradition Beaujolais France                    92
Le Pich 2020 Napa Valley Red Wine USA                   92
Melville Estate 2020 Pinot Noir Santa Rita Hills USA        92
Misha's Vineyard 2020 Pinot Gris Dress Circle Central Otago New Zealand       92
Moillard 2019 Gevrey-Chambertin Beauversant Burgundy France          92
Mount Boucherie 2018 Gewurztraminer British Columbia Canada       92
Penfolds 2019 Riesling Bin 51 Eden Valley Australia        92
Peller Estates 2018 Vidal Blanc Icewine Niagara Peninsula Canada         92
Puchang Vineyard 2018 Muscat Xinjiang China                92
Roberto Henriquez Moscatel Super Estrella Itata Valley Chile      92
Von Hövel 20 Oberellemer Hütte Riesling Mosel Germany                 92
Von Kesselstatt 2021 Kaseler Nies'chen Riesling Kabinett Mosel Germany       92
Jo Landron 2020 Muscadet Sèvre et Maine Sur Lie Amphibolite Loire France      92
Dr. H. Thanisch Muller-Burggraef Bernkasteller Badstube Riesling Kabinett Mosel Germany       92
Masseria Li Veli Verdeca Askos Salento IGT Puglia Italy         92
Tenuta del Travale 2020 Esmén Tetra Calabria Rosso             92
Woodward Canyon Cabernet Sauvignon Artist Series USA    92
Domaine Tissot 2019 Savagnin Amphore Arbois France           92

Al Vento 2019 Baco Noir Ontario Canada                                   91
Barberani 2020 Orvieto Classico Luigi e Giovanna Umbria Italy    91
Ca' Lojera  2020 Lugana Veneto Italy                             91
Chateau Talbot 2019 Saint-Julien Grand Cru Classé Bordeaux France       91
Château Thieuley 2020 Sauvignon-Semillon Bordeaux Blanc France        91
Ciabot Berton 2020 Barbera d'Alba Fisette Piedmont Italy     91
Divino 2021 Bacchus Feinherb Franken                       91
Domaine Douloufakis 2021 Crete Dafnios Vidiano Greece      91
Dr. Loosen 2021 Ürziger Würzgarten Riesling Kabinett Mosel Germany       91
Duckhorn Vineyards Merlot California USA                91
Francois Raquillet 2019 Mercurey Premier Cru Les Naugues      91
Giovanni Abrigo 2021 Dolcetto di Diano d'Alba Garabei Italy      91
Hermann J. Wiemer 2020 HJW Vineyard Riesling Finger Lakes NY State USA         91
Karavitakis 2022 Assyrtiko Nomatis Greece                91
Matias Michelini 2021 Malbec Esperando a los Bárbaros Uco Valley Chile         91
Podere Sabbioni 2021 Ribona Colli Maceratesi Marche Italy   91
Viberti 2021 Rosato La Gemella Rosata Piedmont Italy            91

Aveleda 2020 Alvarinho Vinho Regional Minho Portugal           90
Empire Estate NV Blanc de Blancs Brut Finger Lakes USA         90
Vincent Paris 2021 Syrah Sélection Vin de Pays des Collines Rhodaniennes France    90