Not all of these five wines qualify as the best –however you define "best"—wine I had in 2021. Instead, each of them taught me something. As a doctor—the word comes from the Latin docere, to teach—I do teach. I teach patients, students, and young physicians. But, I also like to be taught, so I chose these wines because they taught me something. Sometimes the very "best" wines are hard to describe. Jacques Lardière, Maison Louis Jadot's legendary winemaker of forty vintages, once told me that sometimes words—trying to describe a wine—actually detract from the wine's grandeur. I guess that's the definition of truly indescribable. As you'll see, many of these wines fit that description.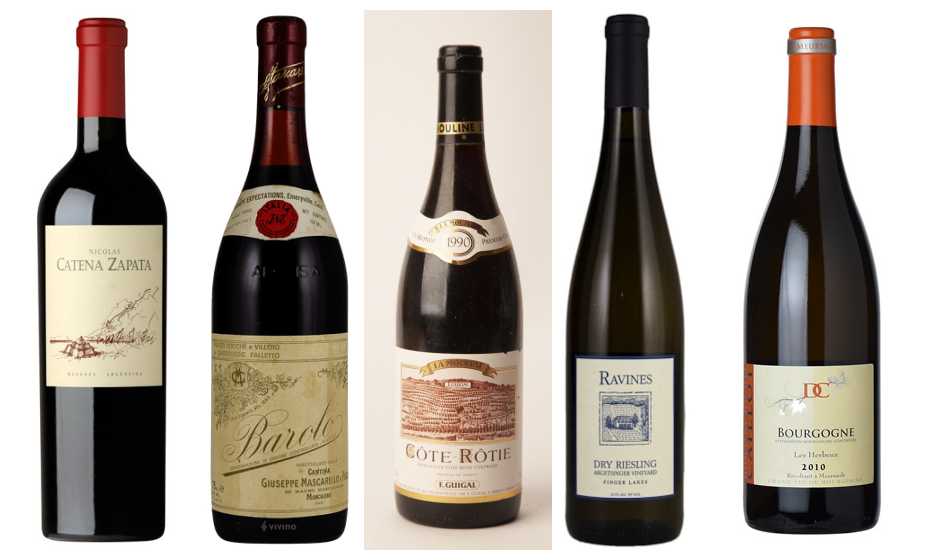 Catena Zapata 2017 Nicolás Catena Zapata, Mendoza Argentina               97
Nicolás Catena Zapata has been credited with putting Argentinian wines on the world's wine map. This wine, Nicolás Catena Zapata, the winery's flagship, is a multi-vineyard, multi-variety blend of Malbec, Cabernet Sauvignon, and Cabernet Franc grown in their high-altitude vineyards. The 2017 Nicolás Catena Zapata is bold, but not heavy. Its complexity is riveting. Each taste reminds you you're in for a treat. Acidity keeps it fresh and lively, which invites another sip. A youthful wine, to be sure, its texture and balance predicts a beautiful evolution. It taught me that those of us who focus on and gravitate towards European wines need to open our minds to other parts of the world. Drinking window: 2027-2037.
Domaine Michel Caillot 2014 Bourgogne Blanc Les Herbeux                       95
Founded in 1961 by Roger Caillot (Michel's father), this Meursault-based estate has just over twelve hectares of vines spread over the Côte de Beaune, including a piece of Bâtard-Montrachet. This Bourgogne Blanc comes from a lieu-dit that lies within the geographic limits of the village of Meursault, but is not entitled to the Village Appellation. I purchased a 12-bottle case of it in early 2021 from Berman's Wines and Spirits, an excellent Boston retailer, for about 20 US$ a bottle (it was likely being closed out, since it was a seven-year old "simple" Bourgogne Blanc.) I've happily consumed half the case already and look forward to the remainder this year. Startlingly expressive, it's has both good weight and excellent energy. A few herbal notes actually come through, which I guess explains the name of the lieu-dit. It taught me that white Burgundy need not be expensive and that even wines from the less prestigious appellations when made by talented producers can evolve and develop. It reinforces my mantra: producer, producer, producer. This is a seven—soon to be eight—year old refined Bourgogne Blanc that has developed complexity. And so, 95 points for what it is. Drinking window: Drink now until who knows?
Guigal 1990 Côte Rôtie La Mouline                            100
Guigal gets my vote as the Rhône's best producer. The La Mouline vineyard, about one hectares set in an amphitheater, is planted with Syrah (roughly 90 percent) and Viognier, a white grape indigenous to the Rhône Valley. The vines are very old, some dating to the 1890s. The two varieties are harvested and fermented together, so the exact ratio of Viognier in any particular vintage is unknown and depends on the climatic conditions in any given year. Of the three La La's, La Mouline, La Landonne, and La Turque, as they are known, La Mouline always gets my vote, likely because the Viognier in the blend provides finesse and refinement. I was fortunate to drink the 1990 La Mouline twice in 2021. Both times it was other-worldly. Meaty and spicy yet elegant and refined, it's an explosive and captivating wine. Burgundy meets the Rhône! It taught me that one, I should have bought more of it back then when it was actually affordable, and two, wines can truly be magical. Drinking window: now—2025.
Giuseppe Mascarello e Figlio 1961 Barbaresco                      100
Though today Mascarello is best-known for their gorgeous estate-grown Barolo, they actually purchased grapes for this Barbaresco. They stopped making Barbaresco in the early '80s after they acquired most of the Monprivato vineyard because they wanted to focus on estate wines, according to Fred Ek, his longtime U.S. importer. This was a magical wine, delivering the Burgundian sensibility of what I call "flavor without weight," buttressed by Italian acidity, which kept it fresh and lively throughout the meal. It taught me that in the right hands—producer, producer, producer—fabulous wine can be made from purchased grapes. Drink now—why wait.
Ravines Wine Cellars 2017 Dry Riesling Argetsinger Vineyard Finger Lakes New York State                               95
In its short two-decades of life, Ravines Wine Cellars is already making world-class Riesling. The Danish-born winemaker, Morten Hallgren, comes from a winemaking family—his parents own the top-notch Provence-based Domaine de Castel Roubine. Though the Castel Roubine produces no Riesling, Hallgren certainly understands that grape. Mineral-y and fresh, this Riesling has poise and penetration. The wine reminded me to look to the Finger Lakes region as a source of superb Riesling and that terroir matters, everywhere, because this single vineyard bottling stands head and shoulders about their multi-vineyard offering. Drinking window: now-2025.