by Ian D'Agata
One of the world's most iconic names in wine, this one-of-a-kind vertical tasting features Château Margaux's most famous vintages of the last forty years, almost all of which it is safe to say rank with the world's greatest red wines ever made.
Château Margaux is one of those hallowed names that even all those not especially into wine recognize right away, or have at the very least heard about. For while there are many amazing wines now being made all over the world, and many fantastic estates to visit, talk, write and dream about, there can be no doubt in anyone's mind that Château Margaux is one of the world's ten-twelve most famous wines, and wine estates. Its best wines are simply unforgettable, a rare combination of silk and power, such that, at least in this one case, the often-abused saying of "an iron fist in a velvet glove" could not be more apt. At its best, Château Margaux is unbelievably at once deep and satiny, rich and refined, plus of course it can age and actually improve for what seems like forever (age while improving, as opposed to just ageing, which are two different things, in wine as they are in human beings too). In fact, there are fewer red wines made anywhere in the world that will prove as satisfying and as memorable as a from an excellent vintage.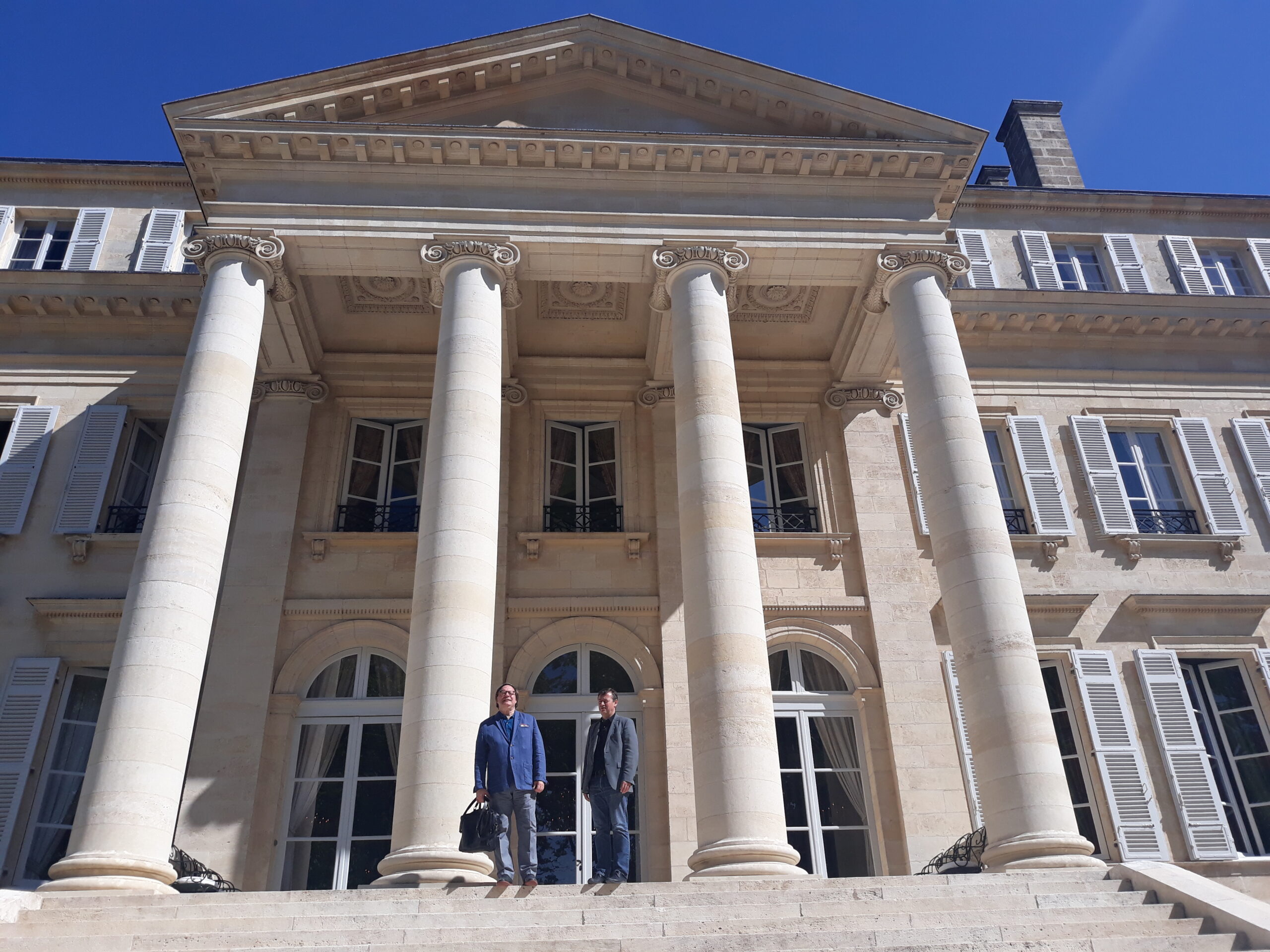 An amazing thousand years long history
Well, maybe not quite a thousand years long, and certainly not as the "Château Margaux" we know today, but this property has been around for almost that long. For already in the twelfth century (so that means the 1100s), what was going to one day become Château Margaux was known as "La Mothe de Margaux". The word mothe, or motte, is a very common one in Bordeaux and its surroundings, as it refers to a "hill" or hilly structure or mound"; many other famous Bordeaux estates have the same origin (for example, Château Haut-Brion). Back then, the estate served as a country retreat for nobles and royalty and was not yet associated with viticulture and winemaking, but it was clearly already at that time thought of as a beautiful venue.
However, just like with many other famous wine properties that have been around for centuries, things did not always go swimmingly even at Château Margaux, with some very rough patches characterizing the estate's history. Happily, these were few and far between, with the periods of splendour, such as the one that is being currently experienced under the current ownership, far outnumbering the dry spells.
Three families greatly contributed to making Château Margaux what it is today, or, at the very least, to putting it on a path to potential stardom. Everyone who knows about Bordeaux's history places the birth of Château Margaux as we have come to know and appreciate it with the de Lestonnac family's ownership. In fact, it was Pierre de Lestonnac, from roughly 1572 to 1582 who restructured the property and modified its agricultural focus from cereals to vines, though other crops remained an important source of the property's income for many centuries still. Following the happy and fruitful de Lestonnac ownership, it was the turn of the d'Auledes, the second family to leave a positive mark on Château Margaux's history, mostly by further increasing the size of the vineyards. Already then there were about eighty hectares planted to vines (amounting to roughly one quarter of the large Château Margaux property, with the rest being forests and fields), which is the same number of hectares under vine that the estate boasts today. The estate's wine was becoming well-known and sought after: in 1705, the London Gazette advertised the first ever auction of Bordeaux First Growths, listing among other wines, also "230 barrels of Margose". In fact, the 1771 Château Margaux is believed to be the first ever Bordeaux wine to have appeared in a Christie's sales catalogue. Last but not least, the third family to have played an extremely important role in the birth of Château Margaux as we know it today was that of Bertrand Douat, the Marquis de la Colonilla, who was responsible for building the château's cellars and main building that still stands today. True to his noble heritage and way of thinking, the Marquis apparently did not believe the buildings and surroundings were worthy of the wine's lofty stature, and presumably, of himself. And so it was that he hired Louis Combes, a well-respected architect of his time to design the new winery and associated buildings. Combes was obviously a talented man, and his design of the Château Margaux's main building proved not just beautiful but timeless, an unforgettably pretty Neo-Palladian villa that is immediately recognizable from afar. Nicknamed the "Versailles of the Médoc", Château Margaux is, still today, one of Bordeaux's most remarkably beautiful buildings, with very few others that can rival it for that title (perhaps Château d'Yquem; the two Pichons; Haut-Brion and La Mission Haut-Brion; Cheval Blanc; Palmer; de Sales, and very few others, if any). Unfortunately for the Marquis, he died in 1816, and therefore was never able to live in the finished Château building (in fact, renovations directed by a world-class talent are to be viewed as commonplace at Château Margaux: only about ten years ago, Pritzker prize-winning architect Lord Norman Foster was entrusted with a massive renovation of the cellars, completed in 2015).
Other families that also owned Château Margaux were less fortunate, either failing to leave a mark on the wine or, often through no real fault of their own, by being associated with poor wines unworthy of the estate's prestigious reputation, mostly the consequence of the very hard economic times. Alexander Aguado followed de la Colonilla in the 1830s, but will mostly be remembered not for the wines but for being the first banker to own a great Bordeaux property as well as being the sponsor and patron of the famous composer Rossini (who would compose a zarzuela, or song, entitled "Château Margaux"). In 1879, Emily Macdonnel, the wife of Alexander Aguado's son, sold the estate to the Count Pillet-Will. Unfortunately, that was the dark time in European history that saw the arrival of oidium, peronospora and phylloxera, three vine diseases that would ravage Europe's vineyards and which would do in many a European wine property. As luck would have it, they struck during the Pillet-Will ownership of the estate, a time when practically the entre vineyard had to be replanted, not exactly an easy chore during tough recession-filled times. The Ginestet family, one of Bordeaux's most famous, is another that did not fare well as owners of Château Margaux. Around 1950, Fernand and his son Pierre Ginestet, acquired the estate, and though they reorganized the vineyards and did the best they could (along with Pierre's son Bernard, who followed in his father's footsteps), the world economy was such that the wine world was nowhere near as profitable as it is today. Furthermore, climate change was nowhere to be seen, and Bordeaux's tough continental climate often meant that the Cabernet varieties never reached full optimal ripeness, making for weedy-green, thin, tough wines. The unforgettably horribly bad triad, weather-wise, of 1972, 1973 and 1974 essentially delivered completely unsellable wines and so the Ginestet family was forced to sell. And so, in 1977, Ginestet sold to André Mentzelopolous, a Greek tycoon (who made his money first as a grain trader to India and Pakistan and then as the owner of a chain of grocery stores founded by Felix Potin); through a combination of good luck, hard work, immense skill and uncommon levels of talent in identifying the right people for the right job, André and his daughter Corinne, who still runs the estate today upon taking over on André's death in 1980, gave birth to what is undeniably the golden period of Château Margaux, that in which the largest number of the property's greatest wines have been made.
Understanding Château Margaux today and its wines
When it comes to the Château Margaux and its wines that we all so admire today, one needs to realize and appreciate how the estate has been blessed over the last forty years with the services of some of Bordeaux's greatest viticultural and winemaking talents of all time. This is why I write "uncommon levels of talent in identifying the right people for the job". When Corinne started of at a relatively young and perhaps inexperienced age, she was lucky to have around her one of the greatest all-time Bordeaux and wine experts, winemaker Emile Peynaud (whom, among many other feathers in his cap, penned what is without any doubt whatsoever one of the ten most important wine books of all time). Philippe Barre, the estate director at that time, was also no slouch in the brains and capacity department. The team proceeded to rebuild, upkeep and modernize the winemaking buildings and cellars (finished by 1982) and also replanted a good portion of the vineyards, especially increasing their density and by better matching specific grape varieties to specific soils. Then, in 1983, the last piece of the puzzle needed to turn Château Margaux into one of the world's greatest winemaking estates materialized with the hiring of Paul Pontallier as technical director. Pontailler, who was an agricultural engineer trained in in enology, unfortunately passed away a few years ago, but it is not unreasonable to identify him as the person perhaps most responsible for propelling Château Margaux into the stratosphere of excellence it finds itself in today. He oversaw may if not most of the property's greatest wines, and he last Château Margaux wine he was responsible for, the 2015 vintage, is universally regarded as one of the three best ever made. And so it is only fitting that just under the label, close to the bottle's bottom, there is printed "Hommage a Paul Pontallier". Clearly, Pontailler deserves all the credit in the world for bringing Château Margaux's wines to the quality level that they are of today; but this cannot undermine the fact that he was greatly helped by having an owner such as Corinne Mentzelopolous backing him up, a lady that doesn't appear to have made many unwise business decisions in her life, first by solidifying her financial status by entering a partnership with the wealthy Agnelli family, owners of FIAT (ended in 2003) and by being also one of the largest shareholders of the wildly popular Perrier mineral water brand (for my readers that are somewhat longer in the tooth, back in the 1990s you basically never saw any other sparkling water brand on the world's finest restaurant tables).
In fact, you might say that great winemaking was always in the cards at Château Margaux and in its destiny. For already back in the earliest part of the eighteenth century, Steward Berlon, who was the winemaker at Margaux at the time, became the first to vinify red wine grapes and white wine grapes separately. This was not at all a given at a time when grape varieties were co-planted together and hence harvested at the same time. But that Berlon was a rather "awake" fellow is clearly indicated by the fact that he also insisted that grapes be harvested during the day, and not first thing in the morning, when they were still covered by dew. Clearly, Berlon realized that to do so meant making dilute wines, in terms of both colour and flavour. And as if that wasn't quite enough to elevate Berlon into the pantheon of "wine brains", the fact that he appears to have been aware, already at that early time in wine history that different parcels gave wines of different quality because of their different soil types, also crystallizes the man's position as one of the forerunners of "terroir thinkers". Pontailler basically continued such forward thinking at the property and implemented many modern changes at the winery, including the institution of small, well-trained teams to hand-sort the fruit (Pontailler experimented with optical sorting machines but wasn't their biggest fan), whole cluster vinification (using a very small portion of shole clusters, that is grapes still attached to their stems), gravity fed winemaking equipment, winemaking not just plot by plot but also within plots, a new laboratory, a glass-walled tasting room, and new stainless steel tanks and oak barrels. Finally, in 2017, Philippe Bascaules, who had been hired by Paul Pontailler in 1990 and had served as the property's technical director prior to leaving in 2011 to take on the directorship at Napa Valley's Inglenook, was brought back into the Margaux fold, where he has taken over from Pontailler as the new Managing Director (while Sebastien Vergne remains the Technical Director). Bascaules is a very bright and knowledgeable man, not to mention a really likeable one, and Château Margaux could not be in better hands today.
Château Margaux is a mostly Cabernet Sauvignon wine, and that only makes sense, given the wealth of high-quality gravel soils the estate can count on. Roughly eighty-two hectares large, the vineyard is planted to 75% Cabernet Sauvignon, 20% Merlot, 3% Petit Verdot and 2% Cabernet Franc, sub-divided in about eighty distinct plots, most of which are located right around the main building, with the remaining ones immediately north and south of it (only the Sauvignon Blanc vineyard, used to make Château Margaux's excellent white wine, Pavillon Blanc, is far removed from the main winery, in a colder, frost-bitten area that was not suitable for the late-ripening Cabernet Sauvignon (at least, not suitable in modern times, because in past centuries it appears the variety did quite well there).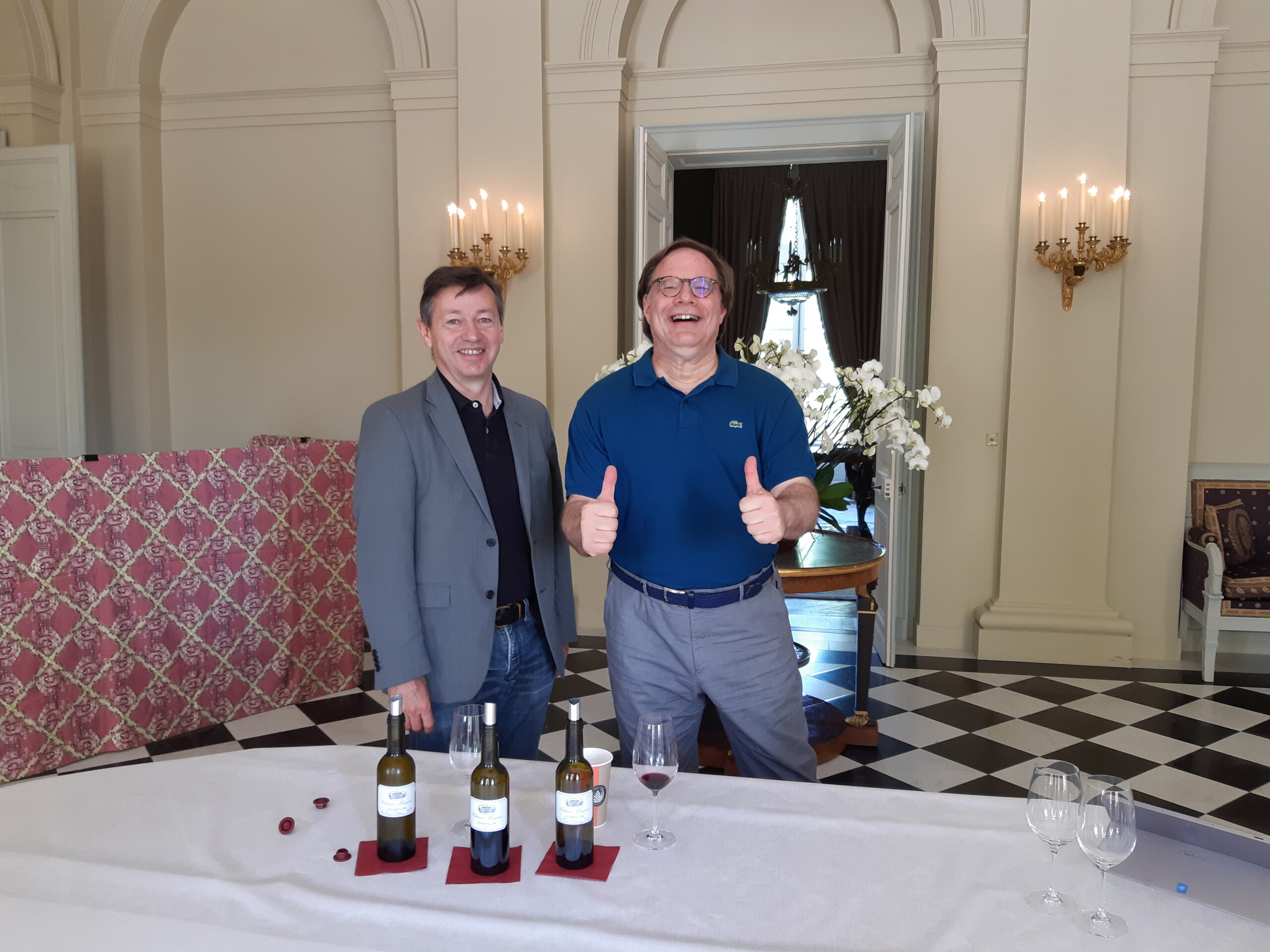 Over the years, I have been fortunate enough to take part in too many different Château Margaux verticals all over the world to remember them all (in the USA, in Canada, in France, in the United Kingdom, in Italy, in China, in Singapore, and I am probably forgetting a few other places in the process). Clearly, when it comes to old bottles, provenance is everything, and there is some truth to the saying that "there are no great old wines but just great old bottles". At its best, Château Margaux's grand vin offers a truly salty combination of dark berries, cedar, minerals and truffle, all tied together by violet notes of amazing intensity and purity. Even better, it really does exemplify the lightness of being that typifies the personality of the Margaux Appellation, capable of delivering Bordeaux blends of non-pareil refinement. For the most part, the most famous vintages of Château Margaux always seem to deliver the goods: for example, I have personally never had a bad example of the 1982 and 1983 vintages, two wines that bask in the glow of near-mythical status. Other vintages, such as the 1996, were probably overrated from the start and are less impressive, but they represent a huge minority in a great body of outstanding work carried out by extremely talented, passionate and hard-working teams of men and women over the centuries.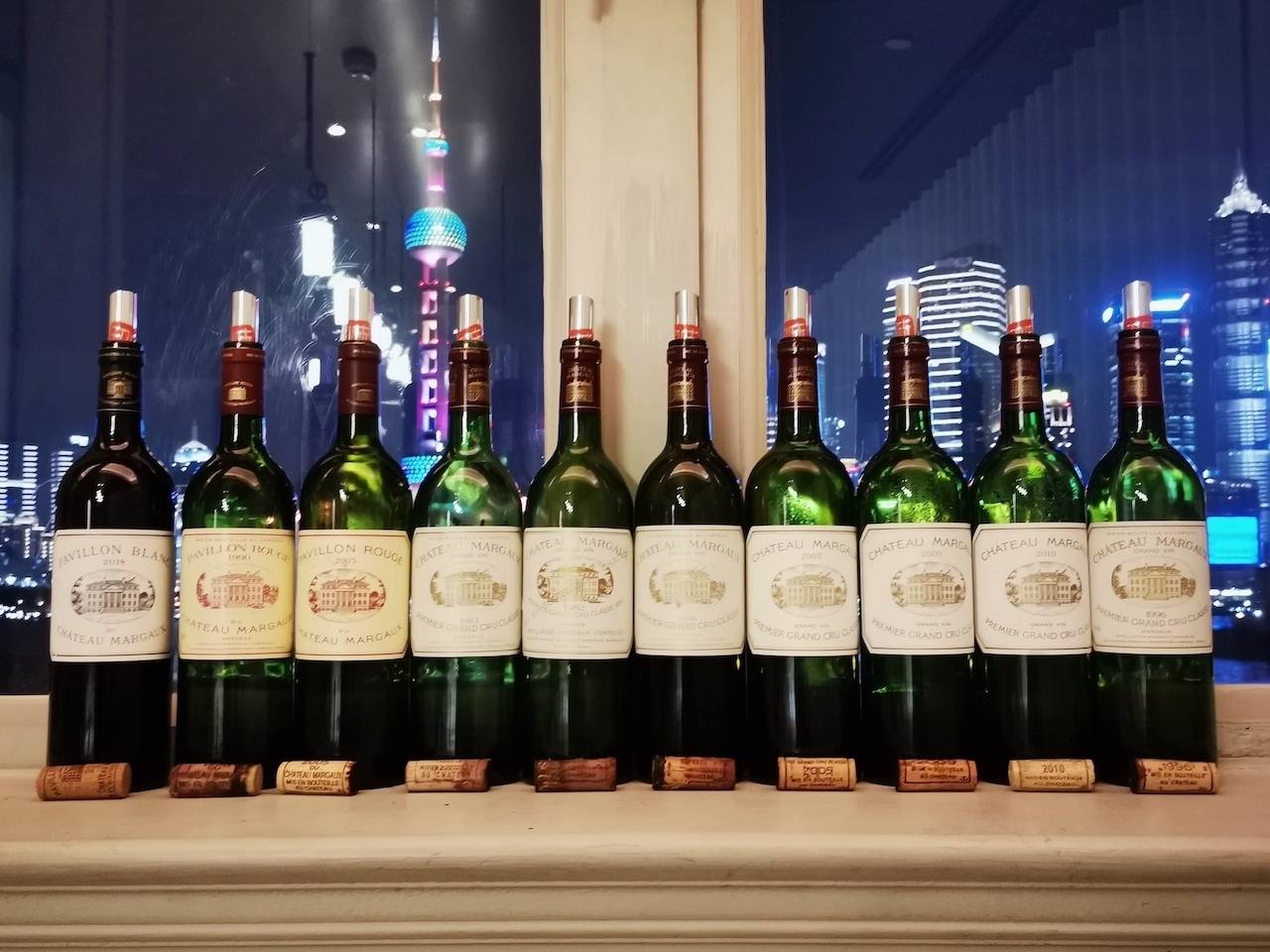 The wines in this vertical
The wines in this vertical were tasted in Shanghai during the Sixth Annual International Terroir Renaissance Symposium, save for two (1989 and 1990) that came directly from my cellar. It bears repeating that, save for those two wines, all the other wines in this report were sourced directly from the property's cellar, meaning that there was no issue of storage conditions or of authenticity. It is perhaps why the bottles performed so absolutely magnificently, indeed making this, by virtue of the exceptional quality of almost every single wine in the tasting, one of the best vertical tastings I have ever been involved in and it explains the bevy of high scores you will find in this report. The superb performance of wines in tastings organized with the wines obtained directly from the estate and consumed immediately thereafter is something I have witnessed repeatedly over the years that I have been writing about wine and that I have by now come to terms with. Simply put, as much as I admire and appreciate the passion and drive of many of the world's wine collectors, there is simply no comparison between tastings organized with bottles bought by said collectors and that were lying in their cellars for a number of years and the tastings carried out with bottles coming directly from the various domaines. As good as modern-day cellar-building capabilities are, and as careful as many (but not all) collectors are in buying wines from reputable sources, more often than not many wines in tastings organized all over the world are not what they should be. Petrus is certainly the most glaring example of this, with numerous old wines sourced from the past winemaker's private cellar performing exceptionally well, while the same vintages just as repeatedly score inexplicably low in many wine reports. When it comes to old vintages of famous wines, provenance really is everything. In this report, provenance was stellar, and it showed.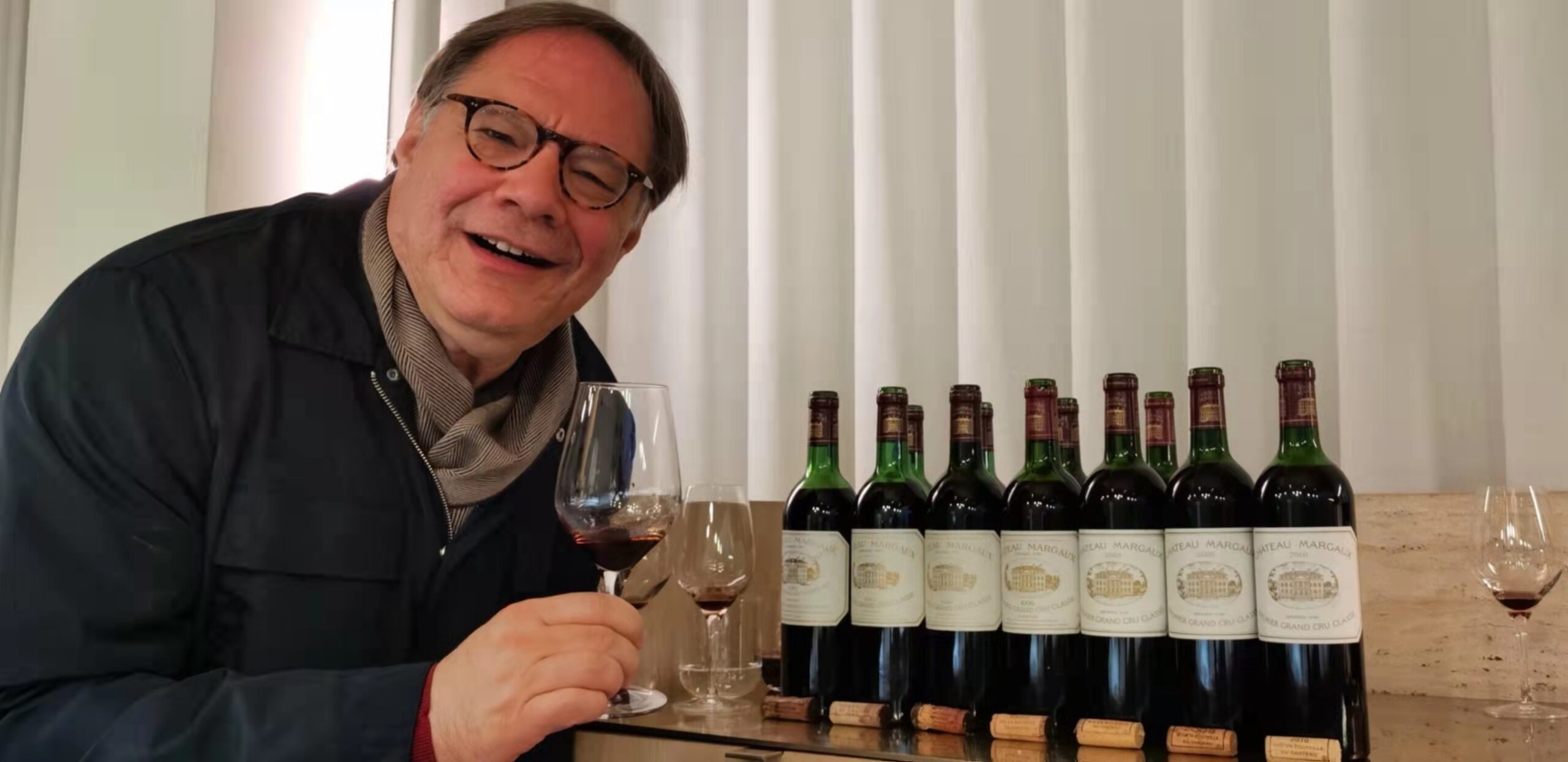 1982 Chateaux Margaux Margaux          100
Bright, deep ruby-red. Expressive, full-blown aromas of blackberry, black cherry, ripe dark plum, licorice, candied violet, dill. Dense, sweet and spicy but a bit youthfully folded in on itself; the hints of dill and fresh herbs carry through on the palate. Still today, this is a very intensely flavoured wine that is rich and deep yet magically silky. The finish is bright and energetic and features superbly polished tannins. What I like best about the 1982 Château Margaux is how it succeeds in magically combining the Margaux terroir's paradigmatic finesse and elegance with the 1982 vintage's richness and luscious power, a difficult feat to pull off and that helps make this a truly remarkable wine. And independently of just how good this is now, it has the stuffing to last another twenty-five years easily. Cabernet Sauvignon blends just don't get any better than this; or to put it another way, this is a wine that is so good even people who don't like Cabernet Sauvignon wines, and there are many more than you'd think, will fall in love with. Drinking window: now-2050.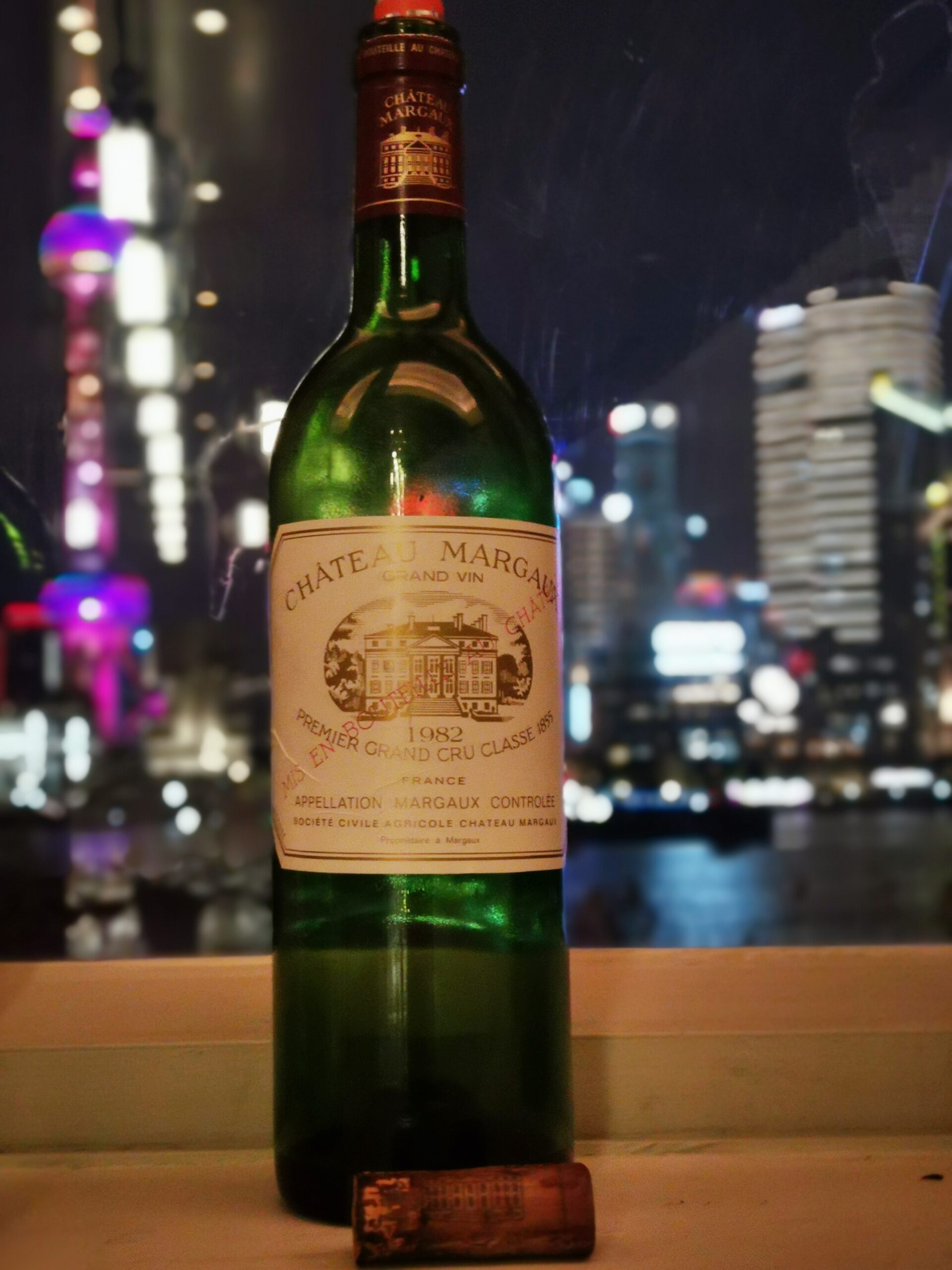 1983 Chateaux Margaux Margaux       100
Good full, bright red-ruby. Captivating, nuanced nose offers blackcurrant, blueberry, cedar, minerals and licorice, complemented by a hint of herbal roast coffee and a bright violet top-note of extreme purity. Sweet and subtle, with wonderful inner-mouth perfume and a firm tannic backbone providing the seamless, extremely precise dark fruit and herbal flavours noteworthy spine and texture. The 1983 Chateaux Margaux showcases remarkable balance and tannins that are wondrously fine. The delicately herbal finishing flavours of balsamic oils and sweet spices add further lift and length. Millionaires and wine experts have had a field day over the ears in trying to decide which is the better 1983 Chateaux Margaux: 1982 or 1983? In fact, the 1982 is a superb example of a Bordeaux wine from the 1982 vintage, while the 1983 Chateaux Margaux is a benchmark example of the Margaux Appellation. A marvellous red wine that is at once silky and concentrated and absolutely loaded with flavour, the 1983 Chateaux Margaux embodies the essence of the Margaux terroir like basically no other wine from the Margaux Appellation I can think of and is without question not just the single best First Growth of that year, but also the best 1983 Bordeaux wine of all. Drinking window: now-2045.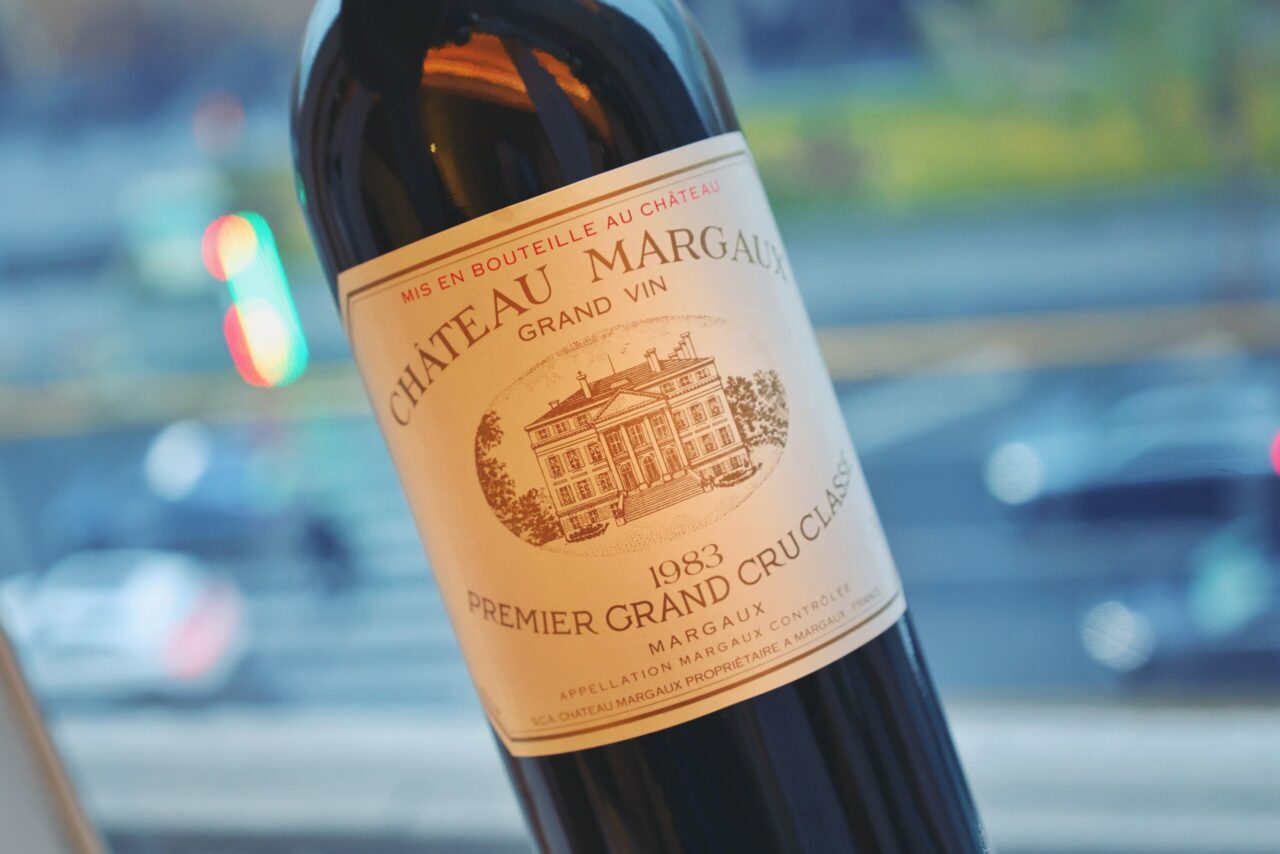 1986 Chateaux Margaux Margaux        98
Good deep ruby, darker than both the 1982 and 1983. The very deep nose combines dark fruits, violet, dried herbs and camphor, with a slight medicinal reserve and a note of olive that isn't really to my liking. Then very powerful but also silky and smooth, offering forceful intensity of saline and herbal nuances to the dark fruit flavours. This coats every section of the palate and is bigger, more structured Châteaux Margaux than is common for this property, but still, despite its weight, leaves no impression of weight, thanks to harmonious acidity and polished though substantial tannins, closing broad, suave, and extremely long, but with a strong saline, even salty herb and olive component that will please Gin Martini drinkers more than I. The 1986 Châteaux Margaux is a superb, still very youthful wine and one of the very best Bordeaux reds of the vintage, but this specific bottle was just a little less memorable than I expected and remembered, even though, make no mistake, it is a monumental wine.  Drinking window: now-2050.
1989 Chateaux Margaux Margaux        94
Medium red-ruby with just the slightest hint of garnet at the rim. Boasts a rather sexy nose combining blackcurrant, raspberry, dried violet, juniper, hawthorn and tobacco. Enters ripe and suave, with an almost candied sweetness in the mouth, but with a burst of harmonious acidity lifting the crystallized red cherry, blackcurrant and candied violet flavours. Finishes with fairly suave, ripe tannins and lovely floral persistence. Somewhat on the soft side (which is fitting for the vintage), but also elegant and scented, this is not the most powerful Bordeaux wine you will ever taste (nor the most concentrated Châteaux Margaux, for that matter) but it is typical of the Appellation and is drinking splendidly now, so don't hold on to this for more than ten years for maximum enjoyment. Drinking window: now-2032.
1990 Chateaux Margaux Margaux         96
Good full red-ruby. Captivating fruit aromas of dark cherry and blackberry are given class and lift by firm minerality plus hints of forest floor, leather and camphor. Compellingly sweet and rich, showcasing the silky yet textured nature of the year and boasting deep flavours of kirsch, sage, cloves and licorice. Finishes with plenty of definition and substantial broad, noble tannins. Years ago, I could never really decide which I liked better, the 1989 or 1990 Châteaux Margaux going back and forth from the charming soft ripeness of the 89 to the depth of fruit and mineral spine of the 90. Now, at twenty years out it seems to me, increasingly, that the 1990 is the much superior wine, most likely due in part to slightly lower yields (at least, it tastes like this was made from lower yields). Drinking window: now-2035.
1996 Chateaux Margaux Margaux        NR
Bright ruby-red. Floral and scented at first, but then also a very obvious weedy underlying note and a cooked component to the dark fruit aromas and flavours. A supple, spicy midweight that comes across slightly on the lean side, seamless and juicy, but with a herbal dryness that is not normal for this wine (that I have had on countless other occasions). Finishes with a light dusting of tannins and decent length. There's good size and grip here, but the flavours are slightly foursquare and the herbal presence detracts from the wine's overall charm. A second bottle showed the same profile but even worse, drying tannins and was clearly suffering from cork taint. I really don't think either one of these bottles was in good shape, so that is why there is no score attached to my review. A blend of 82% Cabernet Sauvignon, 12% Merlot, 4% Petit Verdot and 2% Cabernet Franc that has often been touted as the Bordeaux of the vintage, it's a real shame this specific set of bottles were both off on this night. Drinking window: now-2030.
2005 Chateaux Margaux Margaux      100
Fully saturated, vibrant red-ruby colour. Extremely dense and pure aromas and flavours of inky black cherry, blueberry, licorice and bitter chocolate on the nose, complicated by a whiplash of perfumed violet. Dense and still youthfully chewy on the palate, even brooding to a degree, with knockout intensity to its dark fruit, cedar, graphite and floral underbrush. Finishes with a pronounced mineral quality, utterly pure dark berry nectar and floral nuances, not to mention splendid vibrancy and ultra-suave tannins. This 85% Cabernet Sauvignon and 15% Merlot blend is a simply mesmerizingly great wine, one that magically manages to combine class and power. Drinking window: now-2065.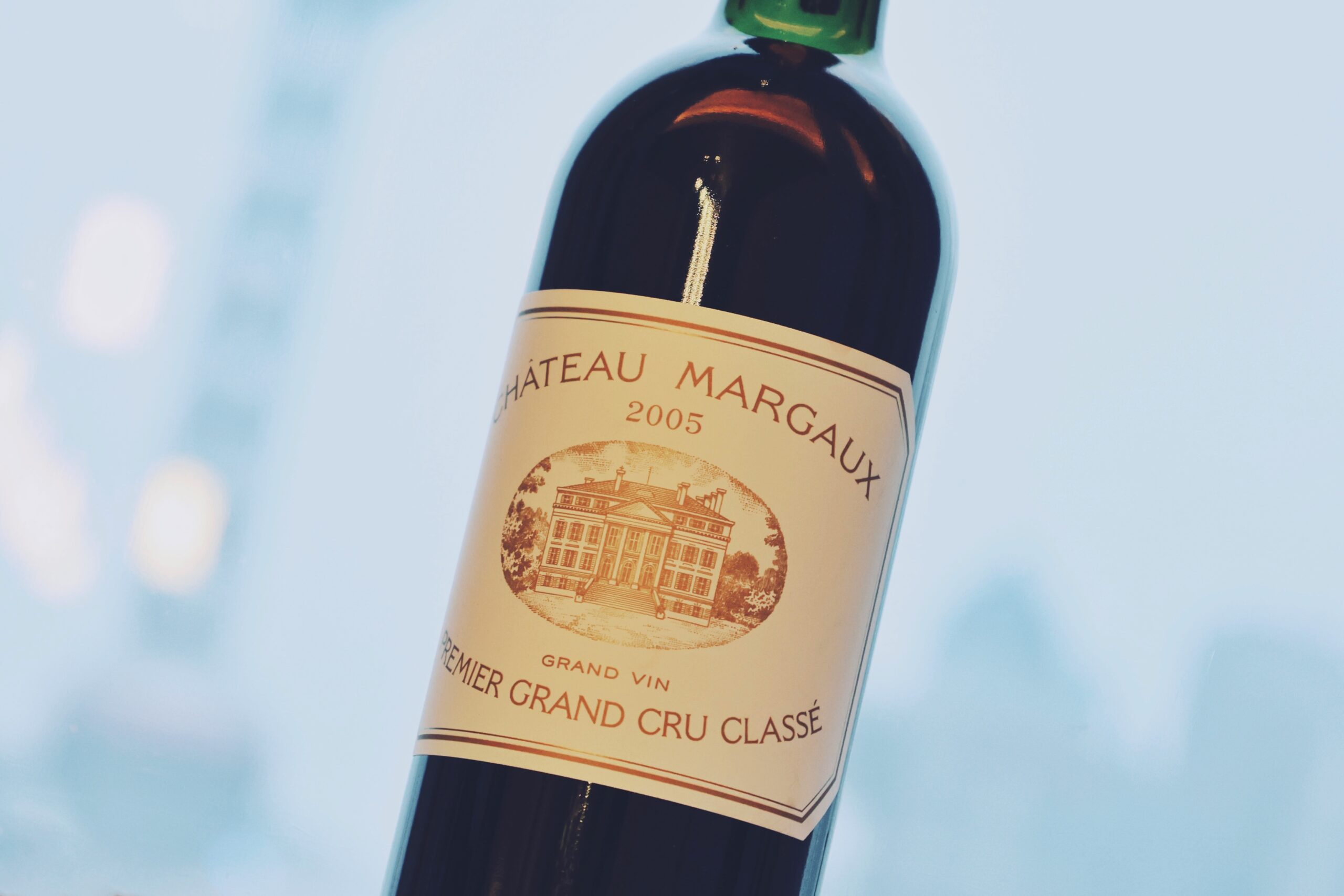 2009 Chateaux Margaux Margaux       99
Good deep red-ruby. Crushed blackberry and black cherry aromas are lifted by a violet top note and complicated by minerals and smoke. Tactile, sappy and fresh, with a sensual quality and a velvety texture  that is at once opulent, silky, and perfectly ripe. Closes long, dense and suave, this 87% Cabernet Sauvignon, 9% Merlot, 2% Petit Verdot and 2% Cabernet Franc blend is one of the great success of the vintage and of the last few decades. Drinking window: now-2050.
2010 Chateaux Margaux Margaux       99
Good full luminous ruby-red. Boasts complex aromas and flavours of dark cherry, black currant, eucalyptus, tobacco and camphor. Extremely dense, rich and powerful, this 90% cabernet Sauvignon wine (the rest made up of Merlot and Cabernet Franc) conveying an impression of intensely flavoured power and harmonious acidity to its steely core of truffle and blue fruit nuances on the long, refined finish, that features nicely lingering perfume. Drinking window:  2025-2065