L'Avenue Restaurant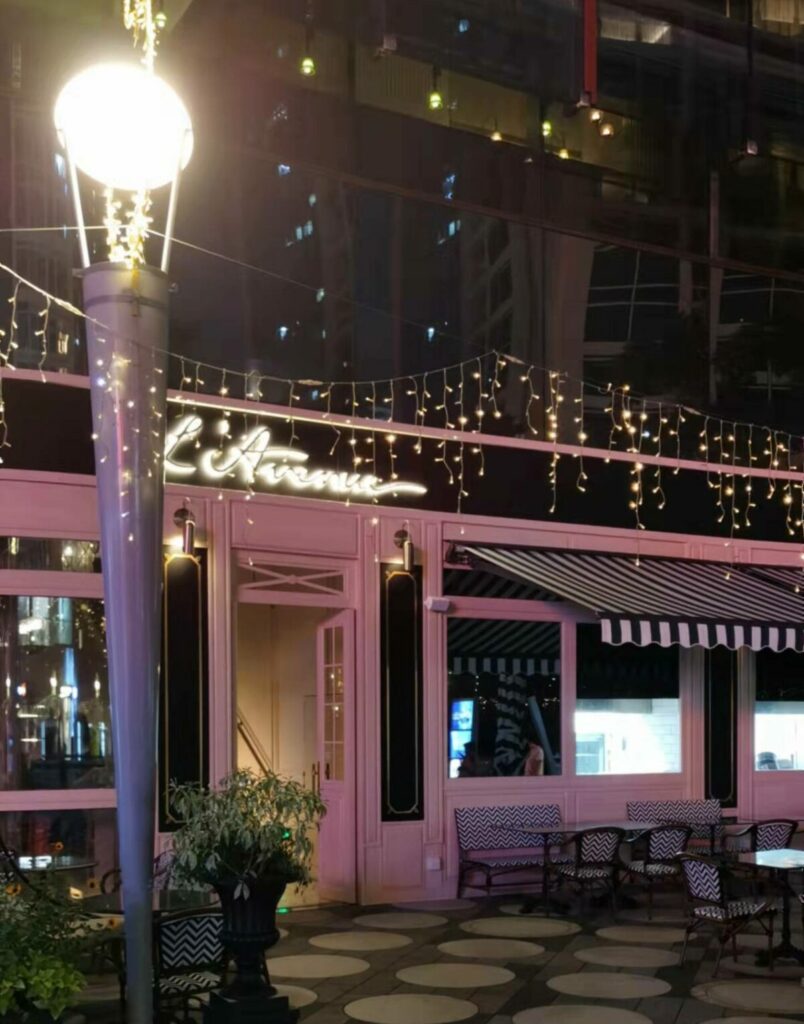 2005 Shennan Avenue, Futian District
Shenzhen, N131 (One Avenue North Zone)
Tel. +86 13554988810
The dishes
N.3 Gaboreau oyster with shallot mignonette
Shima Aji tartare with cucumber and oyster emulsion
Oeuf en gelée with veal tongue and fine herbs
Grilled octopus
Crêpe soufflée
The wines
2018 Clos de la Coulée de Serrant AOC Coulée de Serrant                   94+
2018 Chateau Grillet Côtes du Rhône                                         95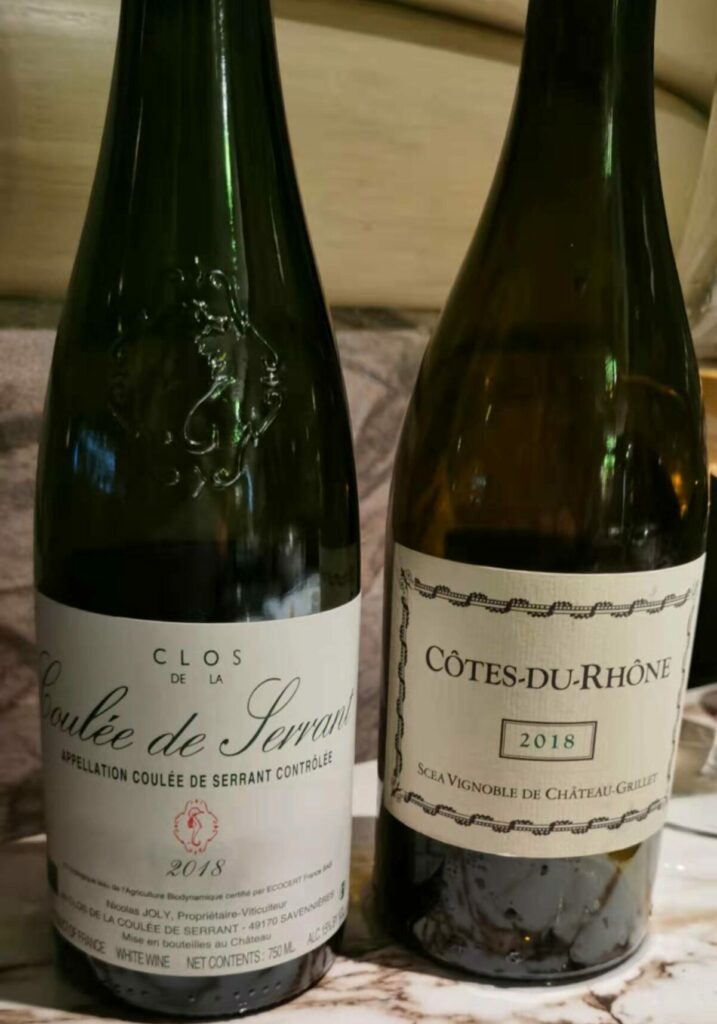 I don't know what it is about the name "L'Avenue", but it is one that is often associated with higher-end, quality restaurants. Food lovers and those in the know will no doubt hear that name and immediately think of the Paris dining spot at 41 Rue Montaigne in the 8th, or of the other L'Avenue Restaurant at Saks Fifth Avenue in New York, open since 2019 and featuring a Philippe Starck-designed interior. The most recent addition to the L'Avenue-named stable of dining establishments peppering the world is the L'Avenue Restaurant in Shenzhen, China. If first time impressions are anything to go by, it risks being one of the best of the lot.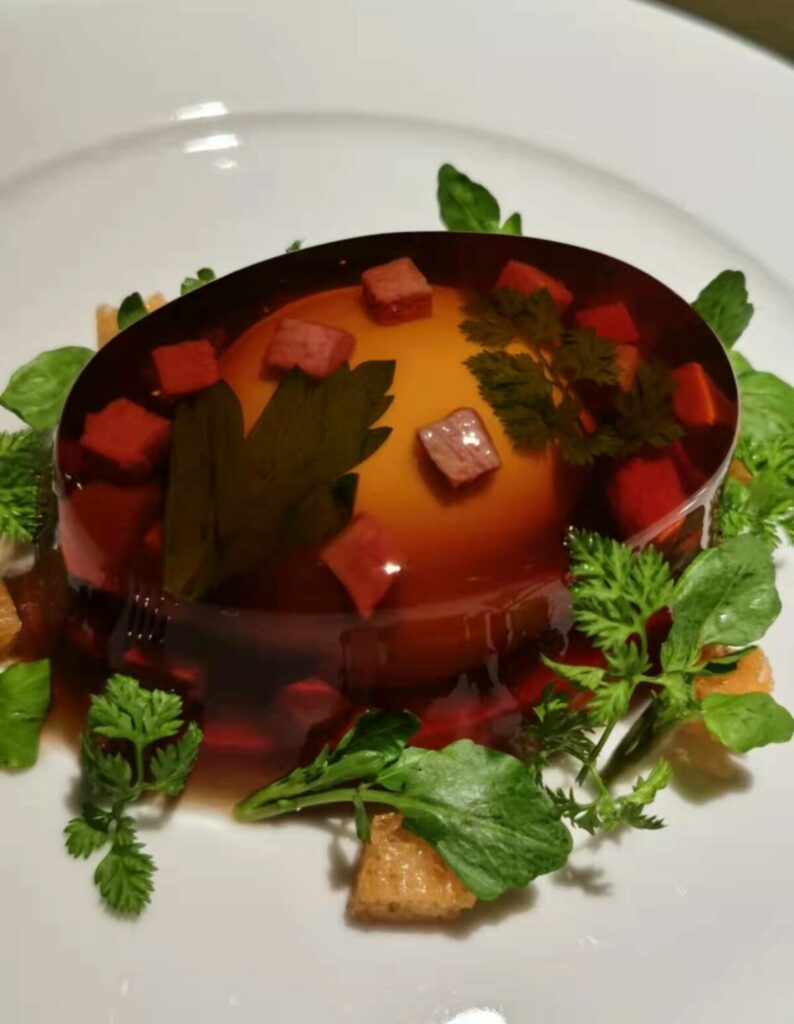 The chef at L'Avenue in Shenzhen is Arran McCredie, and from this one time I have been at the restaurant, I's say he's about as talented as they come. I will no doubt be back at L'Avenue again and again to verify that my first impression was the right one, but I do believe I will not be disappointed. McCredie started out in the United Kingdom, where he was part of the opening team at the Michelin-starred Kitchen Table and also world at Lyle's, named at one point at n.33 of the World's 50Best List. Later he went to work at the Quay, a three hat establishment in Australia, and most recently as sous-chef at Belon, a Parisian-styled bistro in Hong Kong that combined standout ingredients with flawless French cooking technique. Manned by Head Chef Daniel Calvert whom McCredie worked alongside, Belon made real waves and news, and was ranked at one time at n.4 on the Asia 50Best restaurants list, while also earning a Michelin star that same year. At L'Avenue, McCredie's wish is to bring his take on refined bistro food to the dynamic Shenzhen market (bistronomy, if you will). In his own words: "… Using only the best produce we can source coupled with the amazing team in place at L'Avenue, we feel we can really add to the already growing brilliant dining scene of the city".  His menu offers glimpses into great French culinary classics such as Pommes Boulangère, Sauce Bordelaise, Salade Paysanne, whole flounder (sole) meunière, Chantilly cream, crêpe soufflée, and more, with the goal being to deliver dishes that retain the essence of these timeless flavours while giving each a refined and lighter touch. McCredie will change the dishes on his menu based on the ingredients that are available at the various markets he sources them from. For example, the Ikura tart that was on the menu I saw was going to be available only until the end of November, while a new pigeon dish would soon become available because the restaurant had found a very good supply of quality pigeons from Foshan. Restaurant Manager Sam Wang has a great deal of experience in the restaurant world, having trained eight years at the Mandarin Oriental (as bartender and sommelier) and as outlet manager at several restaurants. The sommelier at L'Avenue is Ivan Ye, who had previously worked at the Peninsula Bejing and Rosewood Guangzhou, as both sommelier and beverage manager.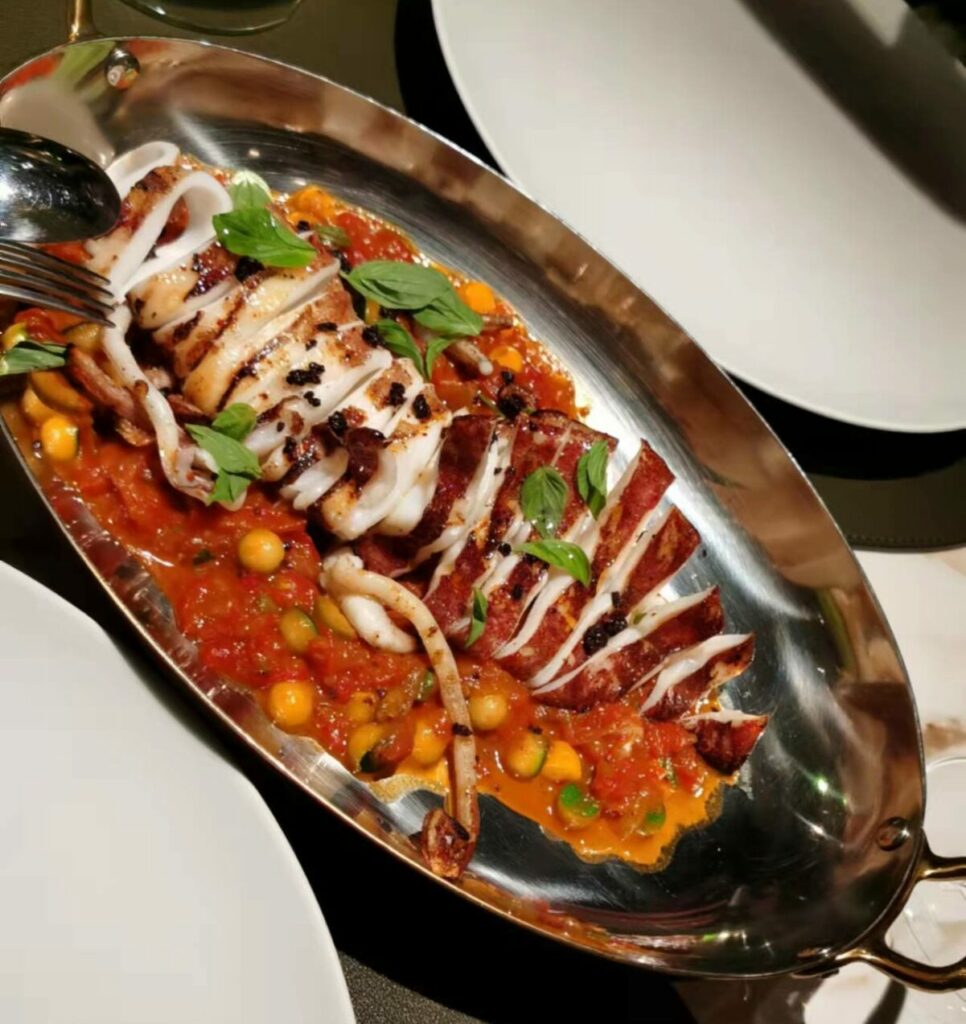 My evening at L'Avenue went splendidly: to be clear, this was without doubt my best bistro meal of 2021, and one that would give many fine restaurants a run for their money. The place has a sleek, elegant and clean décor, with tables close but not so close to each other that sitting there becomes uncomfortable. Yes, I get it that it's a bistro, but I want to go out at night and hear what my family member/friend/loved one has to say, and not to hear clearly what the people who I don't know at all at the next table are talking about. And besides, in this day and age of Covid, well… not having someone I don't know breathing right next to me is always a plus. The service is very fine indeed and professional. The food, well, that's simply stellar, and the wines very well chosen and priced. A good sign of the attention to detail that McCredie brings to the menu is in the selection of Gaboriau oysters that we started our dinner off with. Christophe Gaboriau is based in one of the most important and oldest oyster production areas of France, Marennes Oleron. He has oyster fields near the island of Oleron, the island of Ré and in the Gironde estuary. These oysters are not the fleshiest or the biggest you'll ever come across but they are imbued with the subtleties of the local regional flavours and have a very refined not just salt-dominated, taste. The shima-aji tartare was also top-notch. A common point of confusion for foodies and especially those who love sushi, is the many different mackerels that are available on menus all over the world, but that are in fact not at all the same fish, despite them all somewhat loosely carrying the name of "mackerel". To put it another way, Cabernet Sauvignon and Cabernet Franc do not give the same wine, and it's the same with the mackerel family. Mackerel is an oft-maligned fish for its oiliness and fishiness but that is ideal for tartare and sushi preparations; in fact, it is one fish with the longest history in traditional edomae-style sushi. There are essentially four types of mackerel used to make sushi; mackerel (saba); Spanish mackerel (sawara; but called kanzawara when it is the winter-fished variety); horse mackerel (aji), which actually belongs to a different family of fish (mackerel belongs to the Scombridae family while horse mackerel belongs to the Carangidae family); and mackerel pike (sanma) or Pacific saury, which also belongs to a completely different family of fish. But there are also many species of fish in each one of those bigger groups: so for example, there are at least three different fish lumped in the horse mackerel group: the horse mackerel proper, what the Japanese will call aji, the brown-striped mackerel scad, and the striped jack mackerel (which is called shima-aji). And so Shima-aji is the Japanese "striped jack", where shima means "striped" and aji is the horse mackerel, also known as 'jack". But aji and shima-aji make for two very different taste sensations (not to mention sushi). While both are just fine, shima-aji provides a much m refined flavour sensation than does aji: in fact, shima-aji tastes like a cross between the excellent and leaner yellowtail (kanpachi) and the fatter and oilier mackerel (saba). When shima-aji is very fresh, like it has to be in order to make a tartare, its flesh is very firm and has noteworthy hints of sweetness, and it's just a delight to eat. L'Avenue's rendition with a cucumber and oyster emulsion had me worried the delicate taste of the fish would be overwhelmed but this was not the case at al. The oeuf en gelée was literally a work of art, and without doubt the the best or at no worse one of the three best I have ever tasted, and I include in that long list of dishes many versions eaten at multi-starred French restaurants. Not just beautiful to look at, but the tongue-infused gelatin was simply memorable, one of the most flavorful renditions of this classic I have ever tasted. Really well done. But it was the whole meal that went well on this night.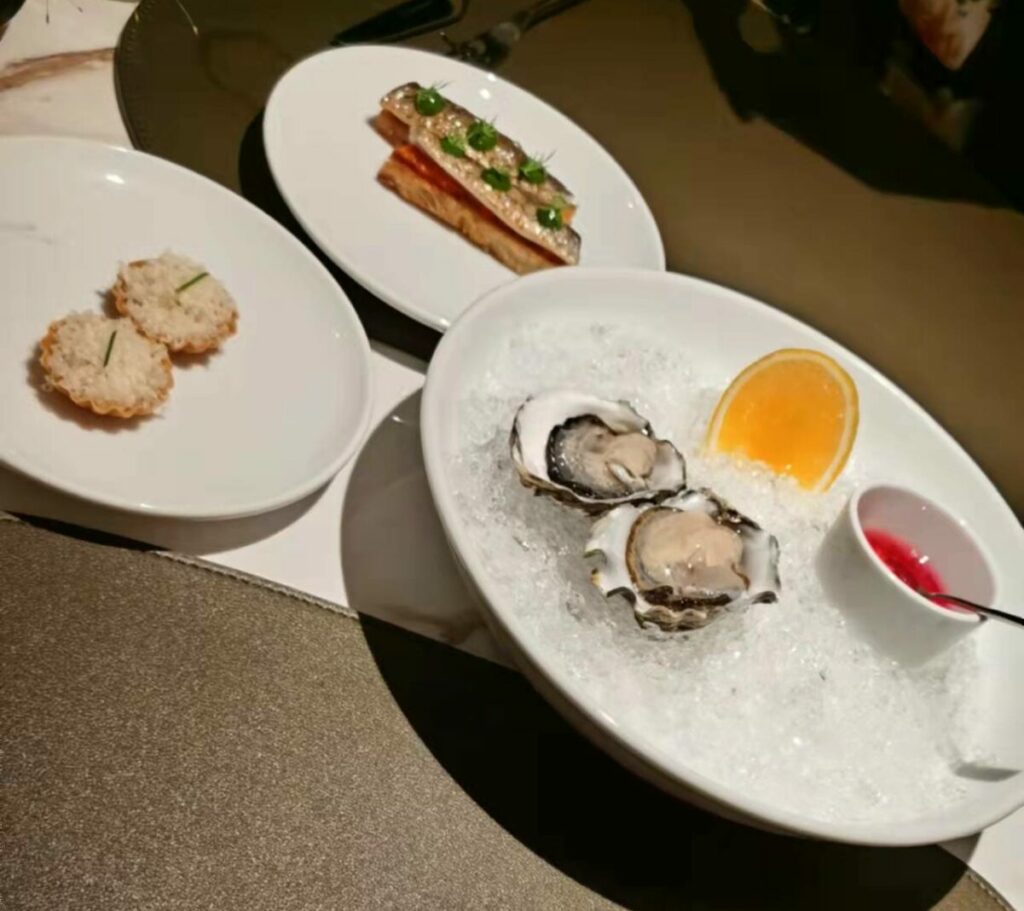 Much the same thing of course can be said about the wines at dinner, two of the more accomplished potables I have had the good fortune of enjoying all year long. The 2018 Clos de la Coulée de Serrant AOC Coulée de Serrant was in fine form and strikes me as one of the more balanced young versions of this famed wine made by the man mostly responsible for bringing attention to biodynamic farming in the wine world. Big rich and layered, but not flat or over the top, and without any signs of incipient oxidation, I'd say this is a very successful and highly promising Coulée de Serrant, one that has a long bright future ahead. Even better drinking presently is provided by the 2018 Chateau Grillet Côtes du Rhône. This wine, simply named Côtes du Rhône like the Appellation it belongs to (so technically this is not a Chateau-Grillet Appellation wine) was first made with the 2011 vintage, as the technical team at Chateau Grillet looked to be even more selective about the Viognier used to make the estate's top wine, Chateau Grillet. All I can say is that this may well be one of the top ten second wines I have ever tasted, a simply amazing mouthful of rich but lively, sultry but refined, extremely varietally accurate Viogneir aroma and flavour sensation. The wine is magically balanced and is downright addictive". I can't say enough good things about it.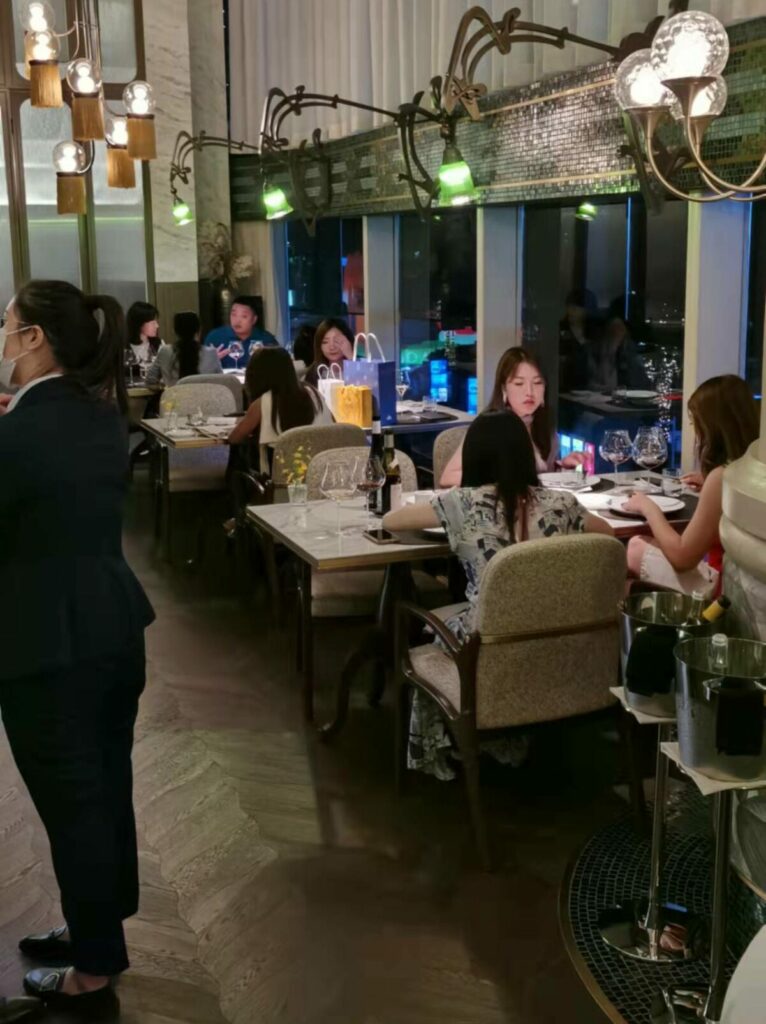 Come to think of it, those are exactly the same words I'd use to describe l'Avenue.
(The Alsace part 3 article due out today has been moved to tomorrow because of the late arrival of some tasting samples)