October, 2021.
EPISODE 3: "Pleased to Meat You"
Montana boasts a population of more cattle than people. It's big business. You cannot take a scenic drive without passing a ranch full of black angus cattle dotting the yellow ochre landscape.  Two recent soapy television shows that inspire romantic notions of the west are set in Montana and feature plotlines revolving around cattle ranching, "Yellowstone" and "Big Sky."
In addition to cattle ranches, recovering and restoring bison in Montana has been a top priority.  Bison, sometimes called buffalo, were diminished to a population of less than 1000 just a few decades ago.  Today there are more than 400,000 animals.  Raising bison is more environmentally friendly.  In 2016, the Bison was named the first-ever National Mammal of the United States by the Wildlife Conservation Society and the Inter-Tribal Buffalo Council.  Bison is naturally high in lean protein and vitamins and tastes delicious.
As we prepared for our trip, Mom had been dreaming about a 'big Montana steak' and I was dreaming about a bison patty melt I remembered eating a few years back in Bozeman.  Naturally, I shipped in some of my favorite wines to pair with the upcoming meat-a-thon.
We pulled into Bozeman, freshened up and headed to Montana Ale Works (611 E Main St., Bozeman, MT) Montana Ale Works opened in 2013 with a mission of partnering with local farms, ranches, breweries and purveyors bringing a farm to table ethos to their restaurant.  My mouth was watering remembering the savory bison patty melt of my dreams. It did not disappoint.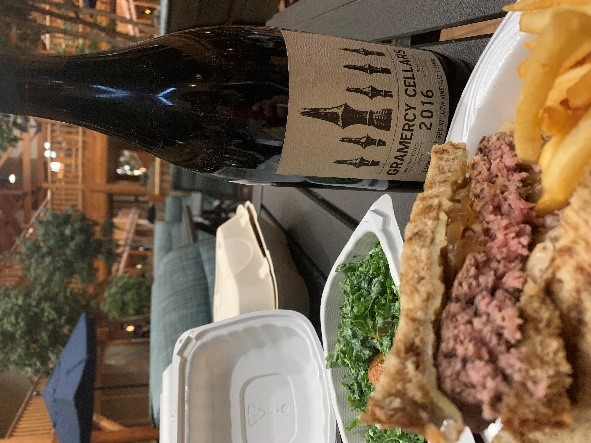 The patty melt features toasted rye bread, swiss cheese, 1000 island dressing and caramelized onions all playing supporting cast to the perfectly grilled ground bison.  Bison is not gamey at all.  It tastes like beef but a bit lighter and sweeter and with a touch of minerality.  I paired the burger with one of my favorite Washington Syrah's, Gramercy Cellars Syrah Red Willow Vineyards 2016.  The blue-black berry fruit and the slight pepperiness of the wine provided a deep backdrop for the lightness of the burger.  I know that sounds backwards but that really is how it worked.
We left Bozeman and headed to the Labor Day Rodeo in White Sulphur Springs.  It was my one "ask" for the trip.  The day started with a parade through town and we lined up with the rest of the spectators.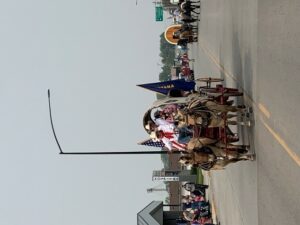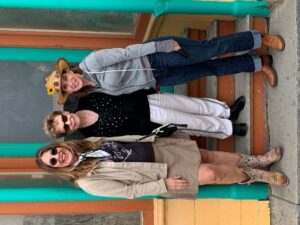 I'm sure we didn't stand out or anything in our faux-cowgirl outfits.  After the parade, we headed to a real local spot for what we were sure would be a hearty meal, Branding Iron Café (307 3rd Ave, SW White Sulphur Springs, MT)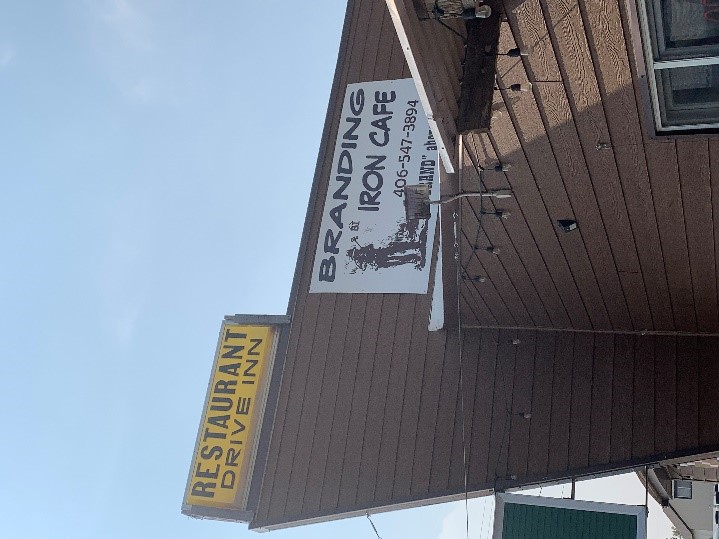 With the excitement of the rodeo in town, the joint was jumping.  Everyone seemed to know everyone, and they made us feel right at home.  Platters of BIG FOOD flew out of the kitchen and the very friendly staff barely kept up.  It was here that I was first introduced to the "Pork Chop John Sandwich."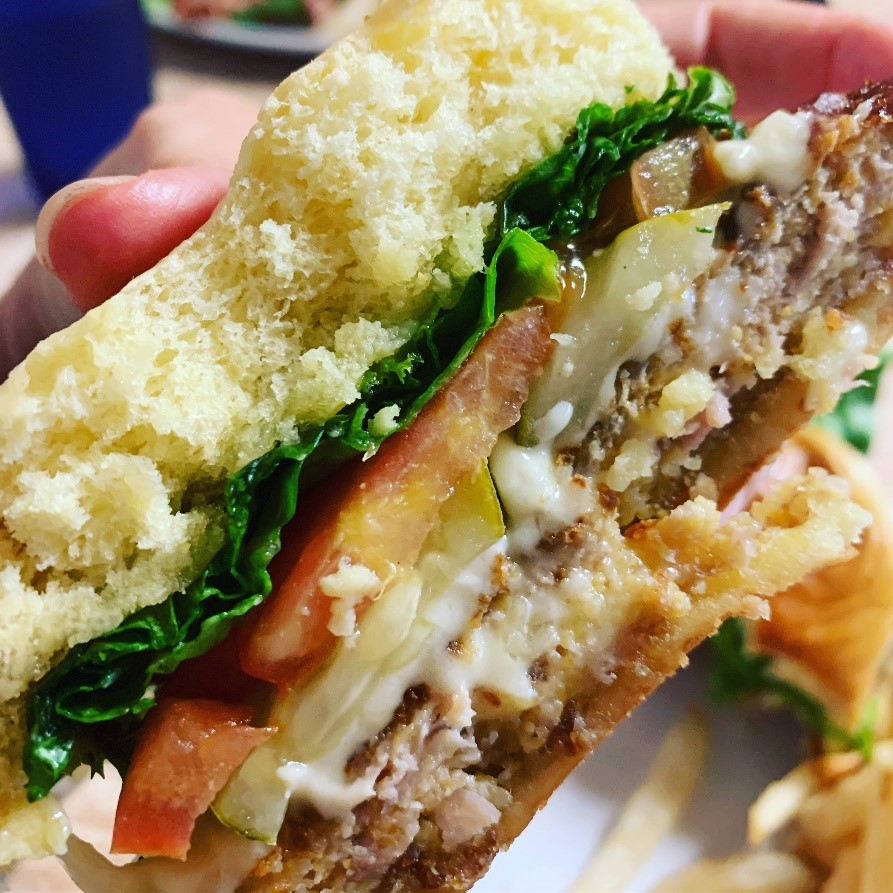 OMG.  Pork Chop John, where have you been all my life????   Try to imagine this:   A pork chop is pounded thin, breaded and fried.  Then while it's still piping hot it's surrounded by mayo, mustard, pickles, tomato and lettuce nestled between two soft squishy buns.  It's perfection.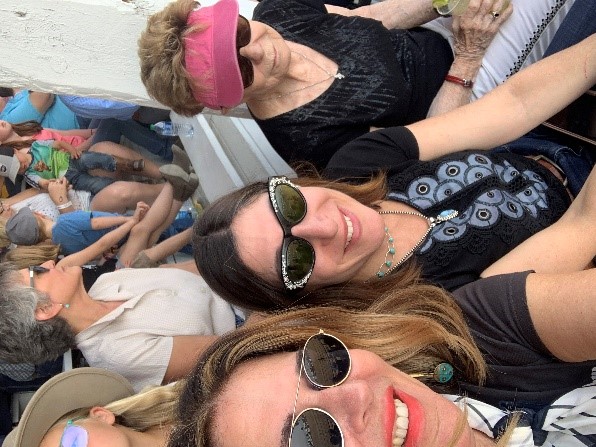 The rodeo was awesome.  Here's some pics…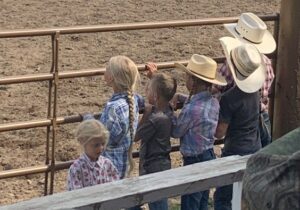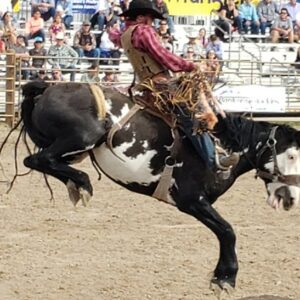 We had a blast. I loved every minute of seeing the courageous cowboys and cowgirls compete in highly skilled competition.  The whole time however, I kept thinking about Pork Chop John.  Who was he?  Where was he?  Why were we never acquainted earlier???  Leaving White Sulphur Springs and heading to Butte, MT, I must have really been distracted. The next thing you know, lights are flashing, and I'm being pulled over by the sheriff.  Ginger and Sara were NOT amused.  The sheriff was a prince and even posed for this selfie…. Sans Citation.  Thank you, officer!
We rolled into Butte at dusk and checked into the historic Hotel Finlen (100 E Broadway, Butte, MT).  Rumored to be haunted, we never did see a ghost, but I knew it was just up the hill from the original Porkchop John's.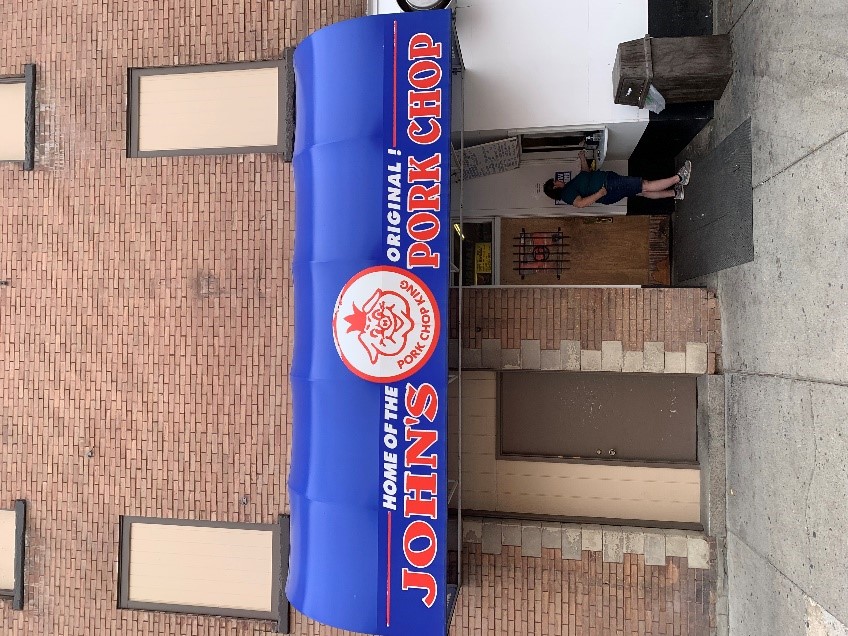 Pork Chop John's has two locations in Butte.  Pictured is the original location in Uptown (8 W Mercury St., Butte, MT). The sandwich was invented by John Burkland in 1924.  He originally sold these culinary wonders out of the back of a wagon on the corner of Mercury and Main Street.  If you remember from the Huckleberry Hound Episodes of the Montana Diaries, back then Butte was the thriving and colorful metropolis of the west due to the mineral mines and the spurious industries supporting the miners.  He moved his fledgling business into this location on Mercury St in 1932.  In 1969 the Orizotti Family purchased the business and has owned and operated it ever since.  There are only ten counter stools available for indoor dining.  Most people walk up to the outdoor window and grab their sammies to go. I think what makes this sandwich so incredible is the secret recipe for the breading.  It's a closely guarded secret coveted like the cuvee for Pol Roger's Sir Winston Churchill.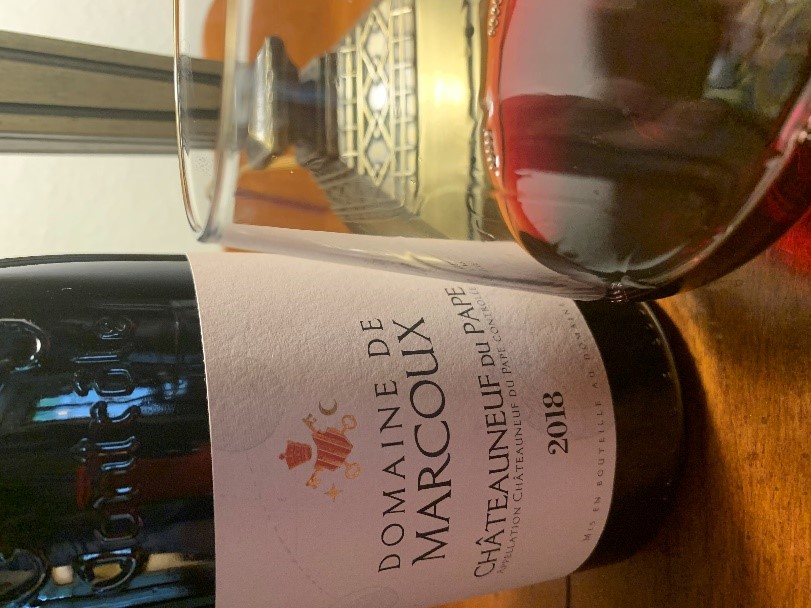 Domaine Marcoux Chateauneuf-du-Pape 2018 was the perfect accompaniment.  Owned and bio-dynamically farmed by sisters, Sophie & Catherine Armenier the wine is a classic blend of grenache, syrah, mouvedre and cinsault. Old vines produce a rich, juicy, spicy wine with layers of baking spices that cut through the savory sandwich.
Our next meat-venture took place in Missoula.  The Montana Club is a steak and chophouse with 5 locations in the state.  I ordered the bison ribeye and it was grilled to a perfect medium-rare.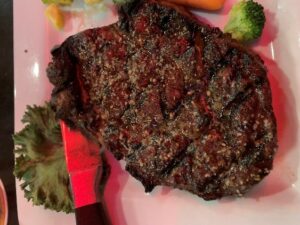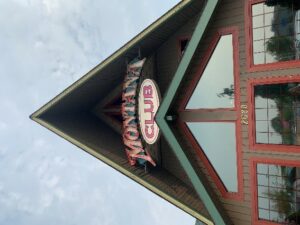 In general, my steak cut of choice is always ribeye.  I think it has more flavor.  The steak was huge.  I was really hungry and I still couldn't finish it.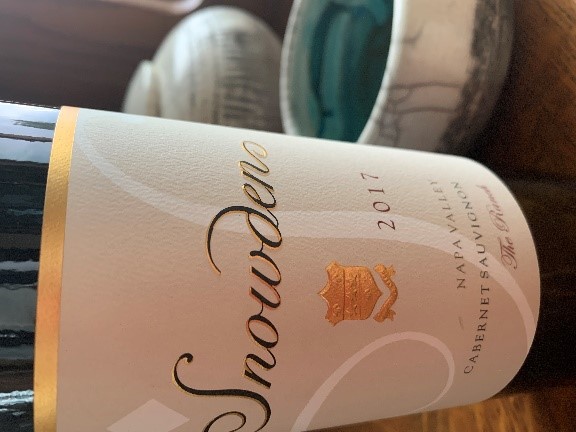 I went with a Napa Valley Cabernet Sauvignon as the wine pair.  Big Steak, Big Wine, Big Sky.  Snowden Vineyards is one of the most interesting stories in Napa Valley.  The grape growing history dates to 1878 and the original homestead site.  The Snowden family acquired the ranch in 1955 and sold the grapes to various well-known Napa producers including Stag's Leap Wine Cellars, Caymus, Silver Oak and Viader.  The very first vintage produced under the Snowden label was 1993.  I loved this bison steak and wine pairing with the Snowden Cabernet Sauvignon Napa Valley The Ranch 2017 because the Snowden wines are both powerful and elegant, but really allowing the subtlety and minerality of the bison to come through.
After so many meat-errific meals, we really needed to lighten things up with a serious vegetable centric meal and some white wine so we headed to Plonk Wine Bar Missoula (322 N Higgins Ave., Missoula, MT).  Plonk has gastronomic chops and a very significant wine program.  The wine list is awesome, but the reserve list is a treasure.  We splurged on the Domaine Roulot Bourgone Blanc 2016.  There is nothing like white burgundy.  The Roulot was just starting to show its true pedigree with hints of golden delicious apple, white button mushrooms, flinty minerality layered on top of a background of subtle baking spice and earth.  Ginger was in heaven.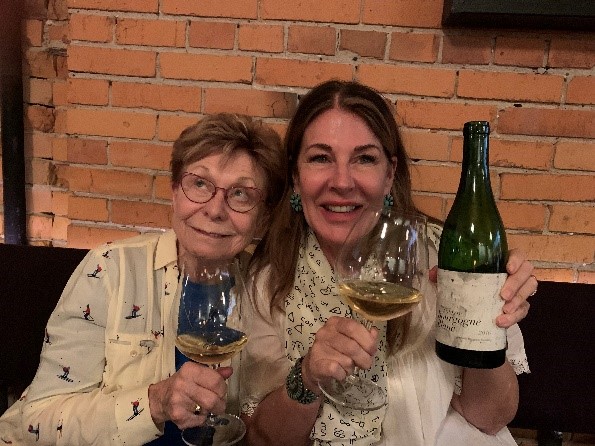 Refreshed and ready for more, our next memorable meal stop was Hop's Downtown Grill (121 S Main St, Kalispell, MT) where I really experienced some out of the box vittles.  The Slider Sampler at Hop's features three burgers:  Bison, Elk and Yak.  I've eaten elk previously, but yak was virgin territory.  There are a few elk farms in MT and you can pretty much find at least one restaurant in every town that serves it.  There happens to be a yak ranch in Kalispell so we checked the box on local and sustainable procurement.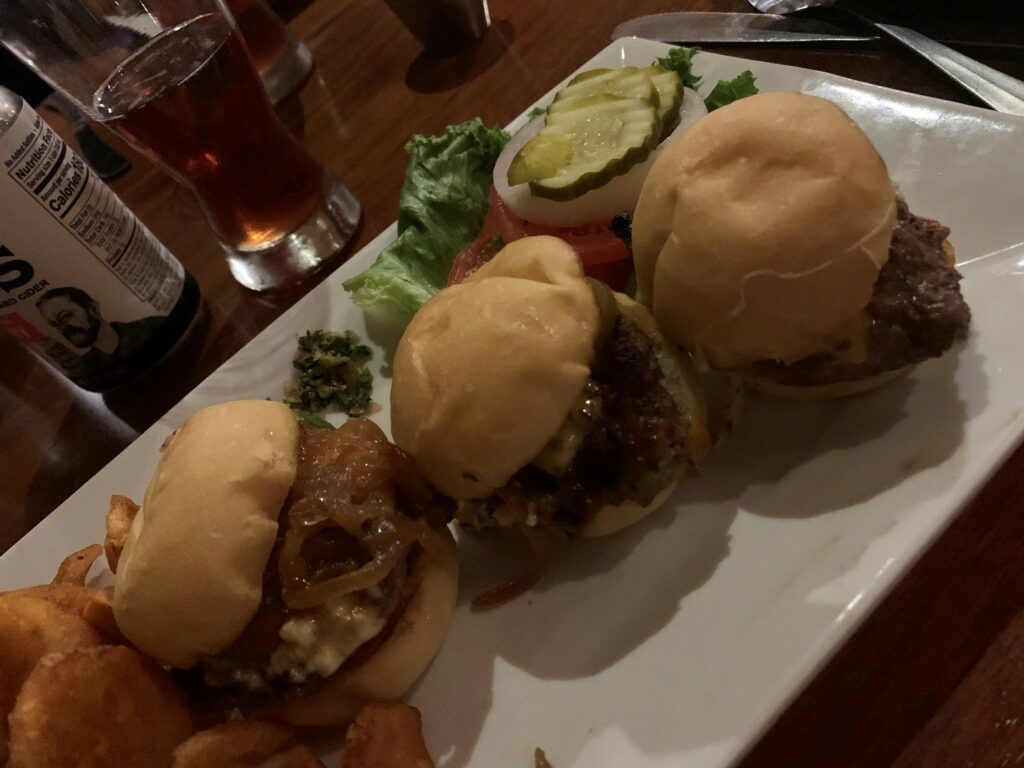 And the winner??? YAK!! With bison a close 2nd and elk a more distant 3rd.  I'm sure you're asking what elk and yak taste like?  Yak tastes like venison and beef got together and had a very juicy baby.  Elk has an iron taste and lacks richness.  Both meats are lauded for their leanness and health benefits.
Our wine pair is Raul Perez Ultreia St-Jacques from Bierzo, Spain.  Mencia is the primary grape and Raul Perez has quickly become an international wine star for his deft handling of the grape and commitment to a region that was lost to quality winemaking.  Ripe red cherries, earth, complexity and depth enhanced the meat flavors and added a refreshing zip to the finish.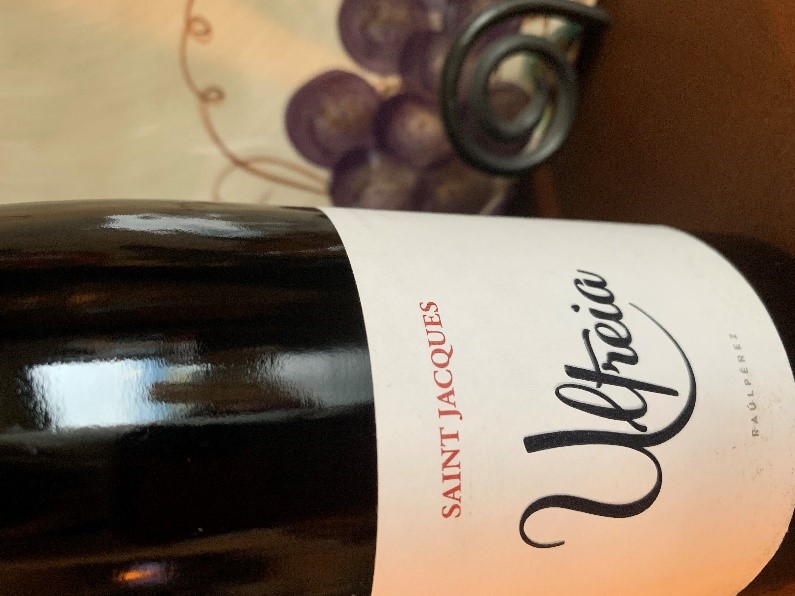 The final meat indulgence occurred on our way to Glacier National Park in Columbia Falls.  Thanks friends on Instagram for the tip!   Three Forks Grill (729 Nucleus Ave., Columbia Falls, MT) is an Italian restaurant.  We stopped for brunch.  Lo and behold, there on the menu was a bison patty entrée served on grilled sourdough bread with melted cheddar and arugula.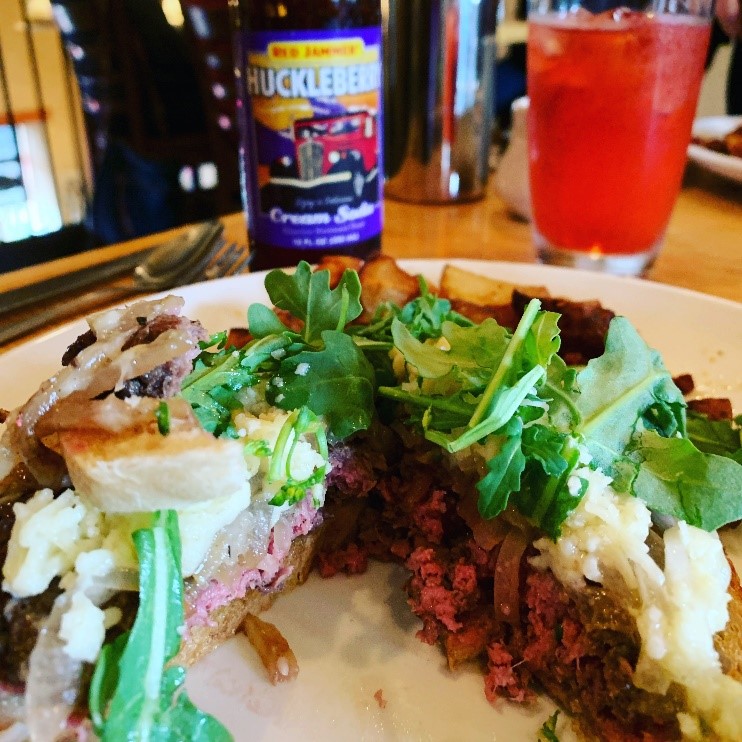 What did I pair this culinary delight with you ask?  A local huckleberry cream soda of course from Red Jammer…..once a huckleberry hound, always a huckleberry hound.