Von Hövel 2018 Scharzhofberger Riesling Kabinett                        94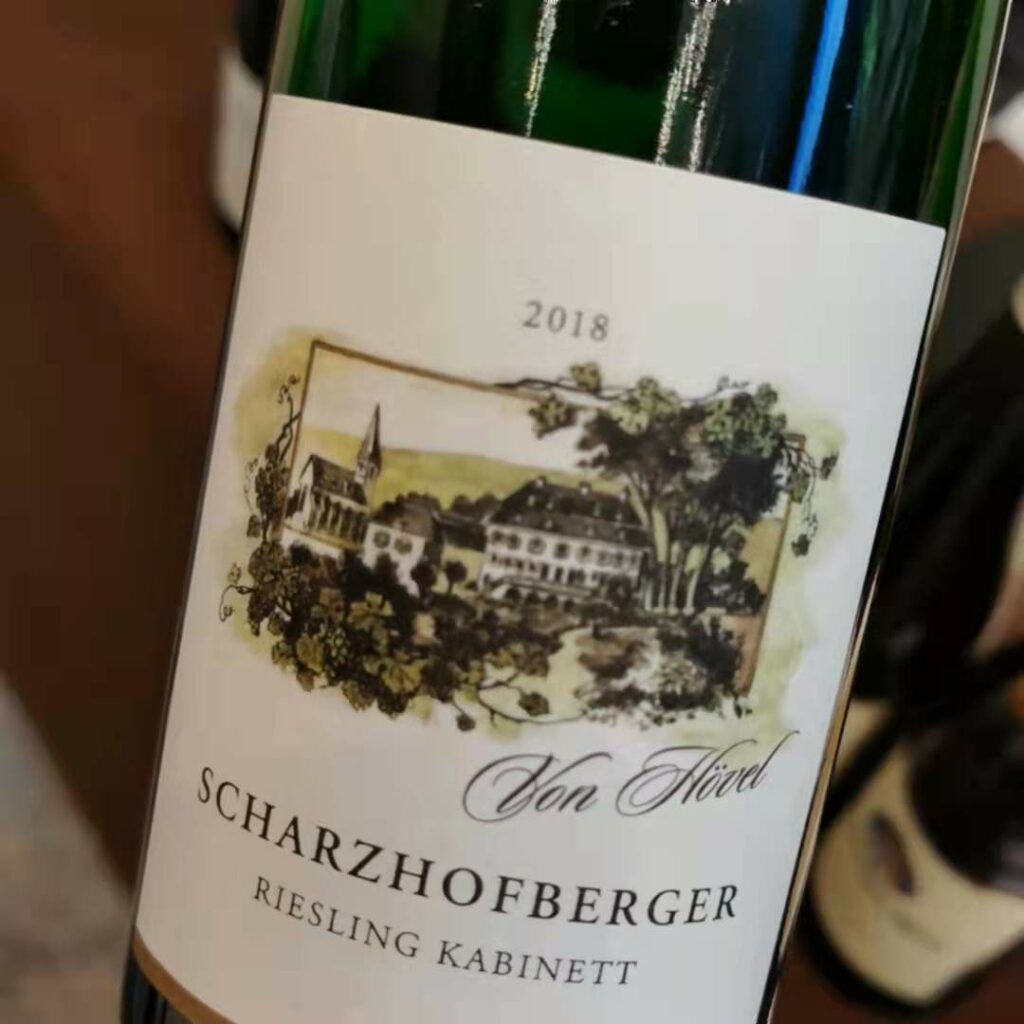 Dare I say that von Hövel has long been one of my five-ten favourite German Riesling estates of all?  All-right then, I will. Fact is, the estate today is a very different one than the one I fell in love with back in the 1980s. Ever since new owner Max von Kunow came on board (he took over the estate in 2010) von Hövel's vineyard extension has nearly doubled (a good thing, provided yields and production values aren't allowed to go the industrial route) and the estate has been converted to organic farming (another good thing). The estate's wine style is changing too, but mercifully not as much as that of some other Mosel and other German regions where many estates all seem bent on making wines that cows would be happy to munch on (meaning wines left so long on the lees that rather than Mosel Riesling's beautiful, downright wondrous, dainty fruity-juiciness all one gets is  notes of lees, herbs, butter, nuts and other stuff that personally I don't want to find in my German Riesling wines (or at least, not to the extent it is found in many of todays' comically overrated drier-styled German Riesling wines). And so, while some skin maceration is being attempted (and isn't it just everywhere?), notably so for the wines in the dry range of the estate's portfolio, the resulting wines are not unbearably grassy/herbal (in fairness, one might say that classically dry wines were never really made at the winery before Max showed up). A wine like the gorgeous Von Hövel 2018 Scharzhofberger Riesling Kabinett is a case in point. Pale straw-green in colour, it explodes from the glass with beautiful white peach, lemon verbena, jasmine, green apple and mineral aromas and flavours. It is also brightly acid but balanced, such that the flavours are neatly extended on the long crystalline, crisp finish. Though it is not quite like the beautifuly perfumed lively Kabinett wines his father used to make and excel at, there is plenty to like here, a wine that does justice to the 200+ years history of this iconic Mosel estate. Tongue in cheek, you might go as far as saying this wine is everything some soft New World white wines wish they were. The von Hövel estate has a long and distinguished history and its wines have long been benchmarks for the Riesling grape; for many years, its wines were sought after just like those of other famous Saar estates Egon Muller and Forstmeister Zilliken Geltz. The winery can count on some choice plots in fantastic, truly "grand cru" sites such as the Oberemmeler Hütte (5.8 hectares) and the Scharzhofberg (2.8 ha), some of which are true monopoles (the Hütte is the most famous, but the Herrenberg and Hörecker are also estate monopole wines).
Benanti 2015 Etna Rosso Rovittello Alberello Centenario Particella No. 341              97
It is only fair to recognize that Benanti is the estate that first believed in Etna wines, and was the first to make noteworthy Etna Rosso and especially Etna Bianco (save for a momentary lapse in quality about five-seven years ago, their Pietra Marina has long been one of Italy's ten best white wines). The Benanti 2015 Etna Rosso Rovittello Alberello Centenario Particella No. 341 is a work of art, really one of the best red wines I have tasted all 2021. Made with grapes grown on the volcano's northern slope (by far the best for Nerello Mascalese) in the Contrada Dafara Galluzzo, this is a magically balanced and refined Etna Rosso made from a small plot of centenary pre-phylloxerc vines. It boasts a translucent pale red colour that is in keeping with the lack of pigment strength that Nerello Mascalese is known for (remember, if someone serves you an inky or impenetrably dark ruby wine said to be made all or close to with Nerello Mascalese, either refuse to pay for it or take it to a lab and have fun). It is also magically perfumed, offering sour red cherry, redcurrant, strawberry and mineral aromas that go on and on, as do the very similar flavours of red berries, minerals and fine herbs. Silky and extremely long, this is macerated for a very long time on the skins, and aged in 15 Hl French oak barrels for roughly 24 months and another twelve months in bottle prior to going on sale. What can I say? The wine is so good it truly leaves you (left me) speechless: unbearably gorgeous, it's a dead ringer for a high class Nebbiolo wine (and though Etna Rosso wines are so good they don't need to mimic any other wine to be great, resembling Nebbiolo is hardly a bad thing). I'm not ashamed to say that tasted blind, that's exactly what I thought it was (a cool climate Alto Piemonte red from Gattinara, in fact). Live and learn, I guess: and so I just went back to tasting more of the stuff such that, Gerry Rafferty-like, I'll get it right next time. Drinking window: 2025-2035.