2005 Domaine d'Auvenay Meursault Les Gouttes d'Or 1er Cru      98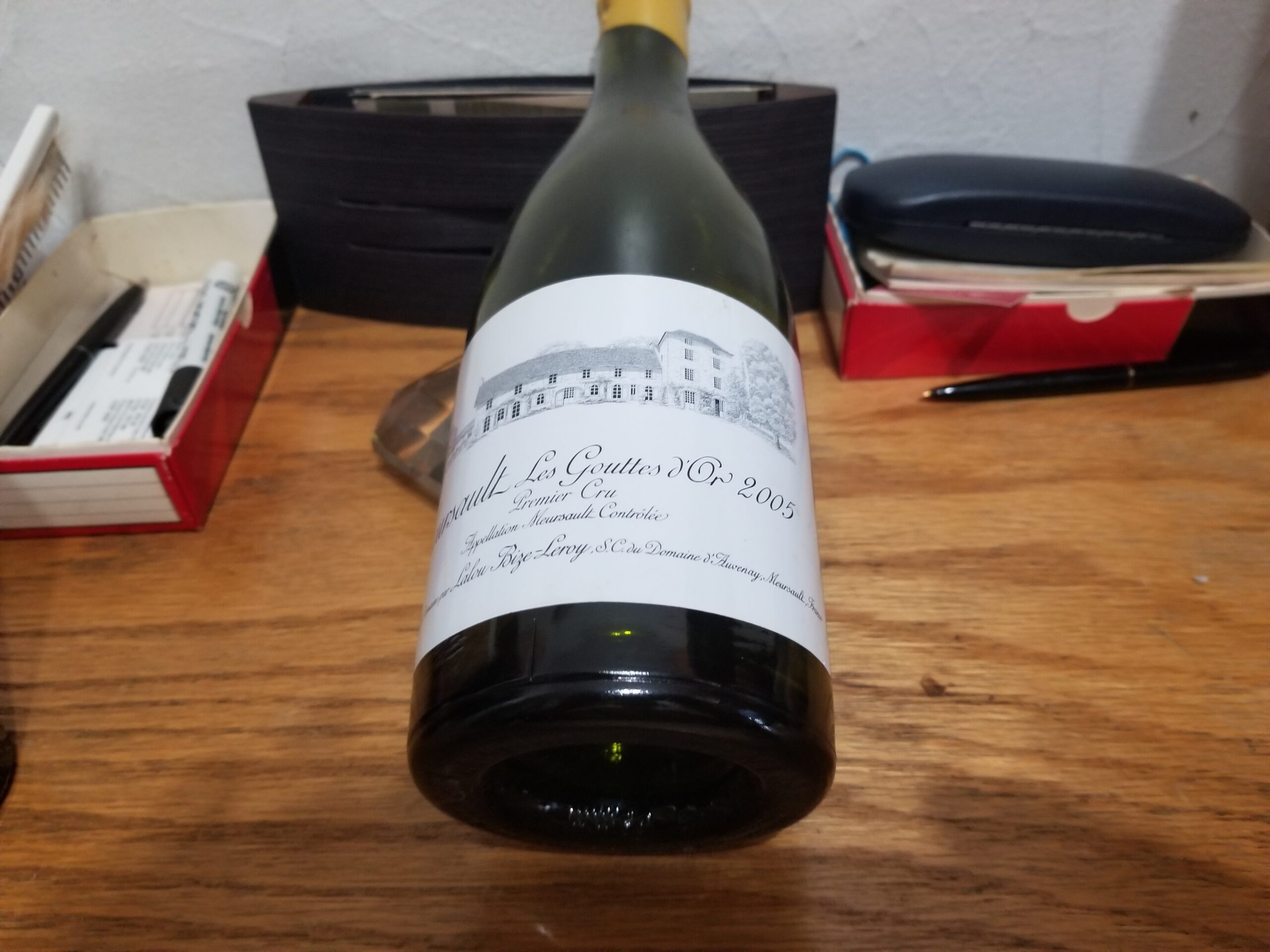 by Robert Millman
A few years before Covid, my Belgian friend Herwig Janssen brought a marvelous white Burgundy which we enjoyed together at Decoy, New York's finest Peking Duck restaurant. The wine was the 2005 Meursault Les Gouttes d'Or from the formidable Lalou Bize-Leroy. Herwig has been collecting and drinking outstanding Burgundy and Bordeaux for nearly 30 years. He has established cordial relations with many growers in Burgundy and has been able to buy directly from many estates. Domaine Leroy is one of them. In addition to the magnificent red wines from Domaine Leroy, Madame Bize-Leroy owns a completely separate estate in Meursault devoted largely to white wines: Domaine d'Auvenay. Here she and her team produce several village-level wines, one premier Cru Meursault and three Grand Cru wines including a Corton-Charlemagne, Criots-Bâtard-Montrachet and Chevalier-Montrachet.
The Les Gouttes D'Or has always played fourth fiddle to the three famous Meursault Premier Crus: Perrières, Genevrières and Charmes. One of the smallest of the Premier Crus, Gouttes d'Or is located 1000 meters north of Genevrières in the direction of Volnay. If I may be allowed to quote Pierre Morey, one of the finest white wine makers in Burgundy, "… Soils are rather shallow, very stony and directly on the rock. Meursault Gouttes d'Or ("Golden drop") is a beautiful gold colored white wine, with great deepness and density, and a very long aftertaste. There are usually spicy, peppery, and white flower aromas." This is a good description I have read. Now, the Les Gouttes d'Or terroir may not give wine with the finesse and elegance of the three better known grand crus, but it offers an earthy power which can be most arresting. This has never been exemplified to such a degree as in Madame Bize-Leroy's 2005 Domaine d'Auvenay Meursault Les Gouttes d'Or 1er Cru. Herwig and I were both a little nervous when he opened the bottle. The 2005 was a very warm vintage in Burgundy and many of the white wines were quite ripe and prone to early oxidation. But just one sip, and all concerns were put to rest: we were greeted with a fabulous bouquet of white pepper, liquefied rocks, apricot pits, toasted nuts and citrus overtones. Even more impressive was the density of the wine on the palate. It was as if the terroir had completely dominated the fruit and spice of the aroma. This was as chewy, meaty and fully packed as any white wine I had tasted up to that point. Really a wine of exceptional grandeur. Anyone who has been fortunate enough to taste Madame Bize-Leroy's wine knows that they are quite demanding in that they require full attention, dare I say even submission, to what is going on in the glass. In my view, her wines do not charm or seduce the taster, but leave a lasting impression. More than any other producer in France I know they bring us face to face with the terroirs from which they are made. That is quite an accomplishment by any standards. Drinking window: now.
2017 Riesling HJW Bio Seneca Lake Finger Lakes New York State        91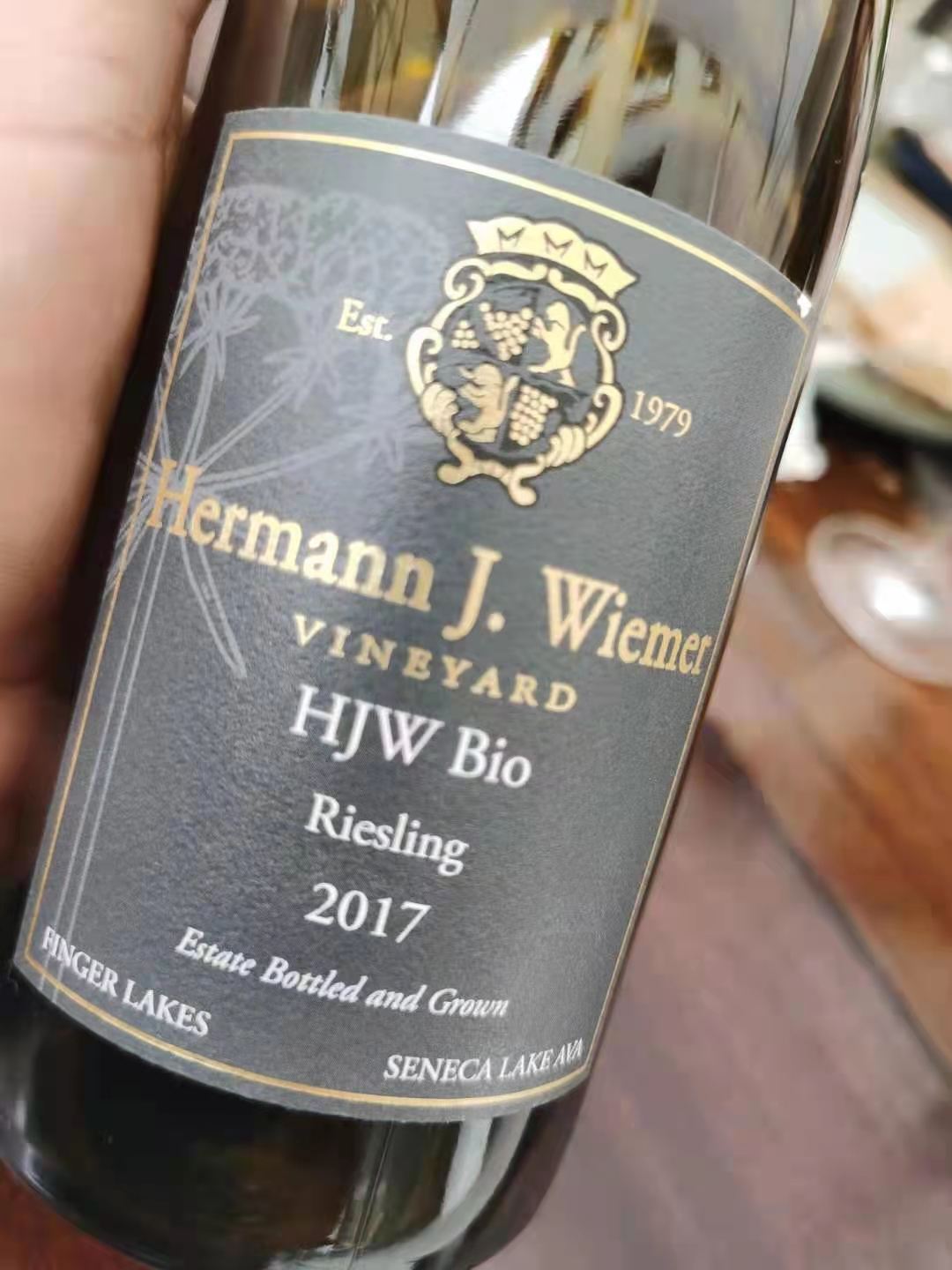 by Ian D'Agata
A lovely wine made in a difficult, or at the very least tricky, vintage but then you'd expect nothing less from what is undoubtedly one of the Finger lakes three best wine estates. Hermann himself is no longer involved (and I want to make it clear that in his time he made some of the USA's, not just the Finger Lakes, greatest wines) but his legacy lives on and the estate that bears his name in the very capable hands of the ownership duo of Fred Merwarth and Oskar Bynke (also owners of the not so distant Standing Stone winery). Planted in 2009, the Riesling grapes sourced to make this wine come from block 4 of the HJW vineyard (the estate owns another couple of single vineyards from which it makes noteworthy Riesling wines, the Josef and the Magdalena). First made in 2014, the 2017 is labeled as "bio" but the estate is in the process of obtaining Demeter certification so as to be able to label it as "biodynamic". The Hermann J. Wiemer 2017 HJW Bio Riesling 2017 Seneca Lake Finger Lakes New York State is a pretty straw-green in color and boasts archetypal Riesling aromas and flavours. Crystalline-like nuances of green apple, pear, jasmine, minerals and lemon verbena greet the nose and the taste buds and linger impressively on the long nicely ripe finish. The grapes were picked on October 16 and 26, 2017, whole cluster-pressed and fermented with indigenous yeasts. Clocks in at only 3 g/L residual sugar but while not falling over into the "off-dry" camp, it does not taste classically dry either because of its ripeness of fruit and succulent nature. Blessed with lively but well-integrated acidity, this is fresh enough to serve as a lovely aperitif but structured and weighty enough to pair well with fish and simply prepared white meat dishes. All that, but also, using the words of the winery, "… the HJW Bio Riesling highlights our commitment to ecosystem health and comprehensive viticulture practices." Just one more thing this little gem will have you talking about at the dinner table.  Drinking window: now-2029.