Freemark Abbey 2014 Cabernet Sauvignon Napa Valley           93
by Echo Miao Zhou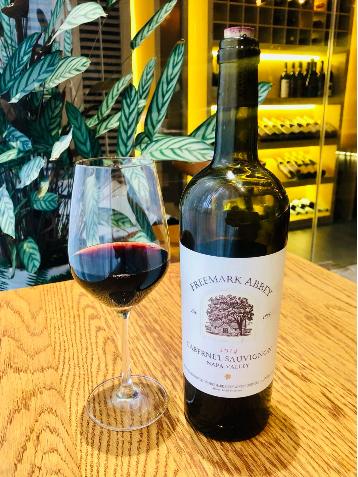 Freemark Abbey has a history that dates back to 1886, when Josephine Tychson, the first female vintner of California, built the original redwood cellar where the estate sits today. The name changed to Lombarda Cellars when ownership passed onto Italian immigrant Antonio Forni in 1894 during Phylloxera period, who promptly renamed the winery after his birthplace. The estate's name changed again in 1939, when Forni sold the winery to three southern Californian real estate developers, Charles Freeman, Mark Foster and Abbey Ahern: the new name chosen was the result of the combination of the names of the owners (Freemark Abbey). And so "Freemark Abbey" was born and that has been the estate's name ever since.
The fruits are sourced mainly from five well-recognized vineyard areas: Oakville, Keyes vineyard (Howell Mountain), Stagecoach vineyard (Atlas Peak), Bosché vineyard (Rutherford) and Sycamore vineyard (Rutherford). It's worth mentioning that Freemark Abbey's Single-vineyard Cabs from the Bosché and Sycamore Vineyards are showcased in one of the most extensive estate wine libraries in America with vintages back to 1967!
Freemark Abbey has been producing a large variety of wines ranging from very good to exceptional. The 2014 was produced by long-time winemaker Ted Edwards (currently winemaker emeritus after four decades at the helm). Edwards has since picked Kristy Melton to carry forward as head winemaker, becoming the only female winemaker in the winery's history since 1886 female founder Josephine Tychson.
The Freemark Abbey 2014 Cabernet Sauvignon Napa Valley has an opaque ruby color with purple rim; sweet ripe red plums with nuances of violet on the nose; and fresh chewy sour cherry and sweet raspberry flavours, nicely framed by well-integrated acidity on the palate. Nuances of sweet spices, milk chocolate, fragrant dried herbs add complexity. Soft and rich, this nicely coated the whole palate, with the extremely suave tannins providing welcome backbone on the lasting floral finish. An amazing wine with great balance, this is a blend of 78.2% Cabernet Sauvignon, 8% Merlot, 6% Petit Verdot, 5.6% Malbec and 2.2% Cabernet Franc. There were 36,160 cases produced in total. Drinking window: now to 2030.
Guigal 2005 Côte Rôtie La Mouline              100
by Ian D'Agata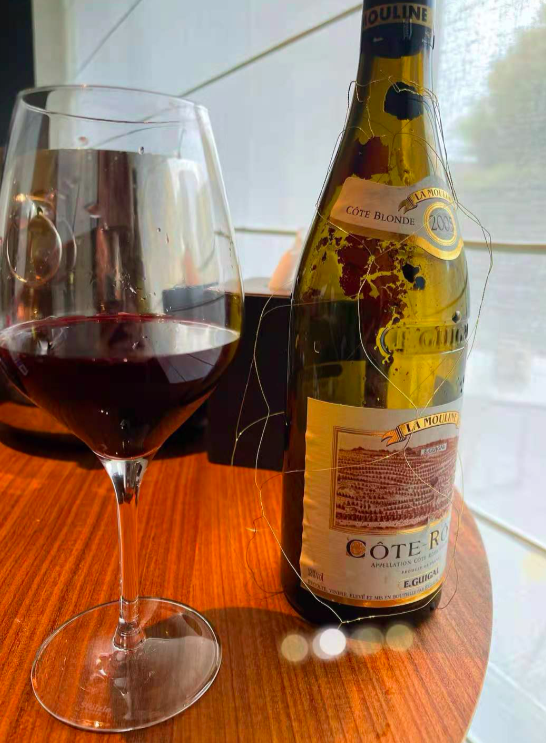 Guigal is one of the most important names in wine today, with three of their wines (the "La-Las") usually ranked in most wine expert's books in the top thirty reds on the planet. Unlike many other of the world's most famous names in wine, Guigal does not have a long and storied history, being founded only in 1946 by Etienne Guigal. In 1961, his son Marcel took over, and proceeded to catapult the company into wine's quality and fame stratosphere, managing the neat trick of creating a négociant-producer entity the quality of which had really never been seen before in this neck of the French woods. Today, it is the third generation, in Marcel's extremely talented winemaker son Philippe, that continues the work of his predecessors in admirable fashion. Philippe took over from his father in 1997, but had worked alongside him since the beginning of the 90s decade. Fact is, Guigal's entry level Côtes-du-Rhône wine is amazing value for the money, and the Côte-Rôtie, Châteauneuf-du-Pape and Hermitage are just delicious too, delivering plenty of bang for your buck.
But then you taste something like the 2005 La Mouline and you realize what the words "great wine" really mean. "La Mouline" is a Guigal proprietary name of a wine made in the Côte Blonde. The La Mouline lieu-dit is only one hectare large, an amphitheatre blessed with some of the region's oldest vines (its oldest vines were planted in 1893) but the history of the place dates back to over 2000 years, at least by the date of the terrace walls found there. The La Mouline wine is a mix of Syrah and Viognier (there's usually 11% of the latter variety in the blend) resulting from the grapes being picked all at the same time (a field blend, the Viognier is therefore superpipe when picked, adding further complexity to the finished wine). The two varieties are co-fermented, an ideal process because, among other advantages, it impedes a dilution of the La Mouline's colour. The Viognier's presence also adds noteworthy fragrance, and it, along with the soil surface silica and limestone (lying above a schist/granite/gneiss mix below), make La Mouline always the softer and more approachable of the three Lala's when young. Simply put, this is a wine that in most vintages will leave you and everyone tasting along speechless; and this is exactly what happens when you taste the Guigal 2005 Côte Rôtie La Mouline. An utterly profound wine, this beauty offers a mesmerizingly multilayered, remarkably powerful but suave red wine the likes of which I haven't really come across too many times in my life. Beautifully concentrated and amazingly pure, the raspberry and blackberry aromas and flavours are complemented by hints of violet, expensive woods, and grilled smoked meat. Hints of iron shavings and hoisin sauce linger nicely on the long beautifully seamless and pure finish that brings to mind something vaguely Burgundian. But most of all, the 2005 La Mouline is a wine of incredible harmonious balance and therein lies a big chunk of its greatness. Drinking window: 2028-2045.