Da Vittorio Shanghai
3rd floor, N3 Building 600, Zhongshan Road East No.2, Shanghai, China
Tel. +86 2163302198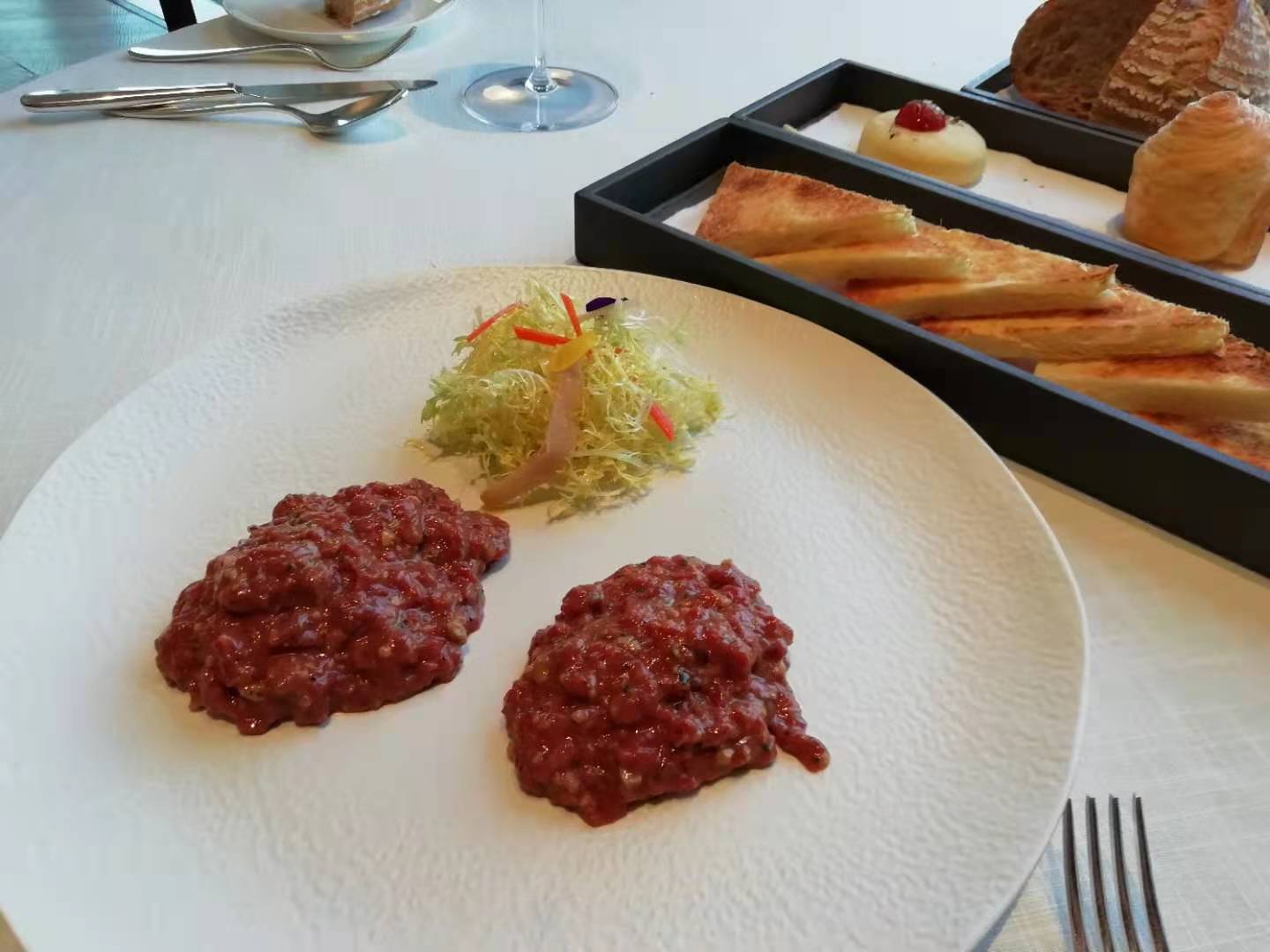 I won't waste any time and state outright that Da Vittorio Shanghai is one of the three best Italian restaurants in the world not located in Italy. I have been eating Italian food for longer than I care to remember, have tried every three Michelin star restaurant in Italy more than once as well as a great number of those similarly starred situated in other countries. Therefore, I know exactly what I am saying. The beautiful dining room, the truly exceptional service (Da Vittorio Shanghai's trump card), excellent food and fine wine list combine to make a lunch or dinner at Da Vittorio Shanghai an unforgettable experience.
You really wouldn't expect anything different, given that the original Da Vittorio, an historic dining establishment founded in the beautiful city of Bergamo by Vittorio Cerea and his wife Bruna in 1966 (and later moved to Brusaporto), is one of Italy's three best restaurants (and by far the country's best caterer). Cerea loved fish and the selling point of his restaurant was originally its piscatorial orientation: back in the 1960s, meat dishes were all the rage in Italy, and it was unusual to find fish on menus anywhere. And so it was that the finned creatures helped Da Vittorio grow in popularity and fame, such that Bergamo quickly became a must-pit stop for all the gourmets and sybarites of the world. And so the first Michelin star came in 1978, the second in 1996 and the third in 2010. But all this time, the Cerea family has not rested on its laurels: in 2012 they opened Da Vittorio St. Moritz in that pretty alpine town's Carlton hotel (gaining its first Michelin star just two years later and a second star in 2020), with Da Vittorio Shanghai opening in 2019 (and earning back to back Michelin stars, a first in 2019 and the second in 2020). And there is still more to come.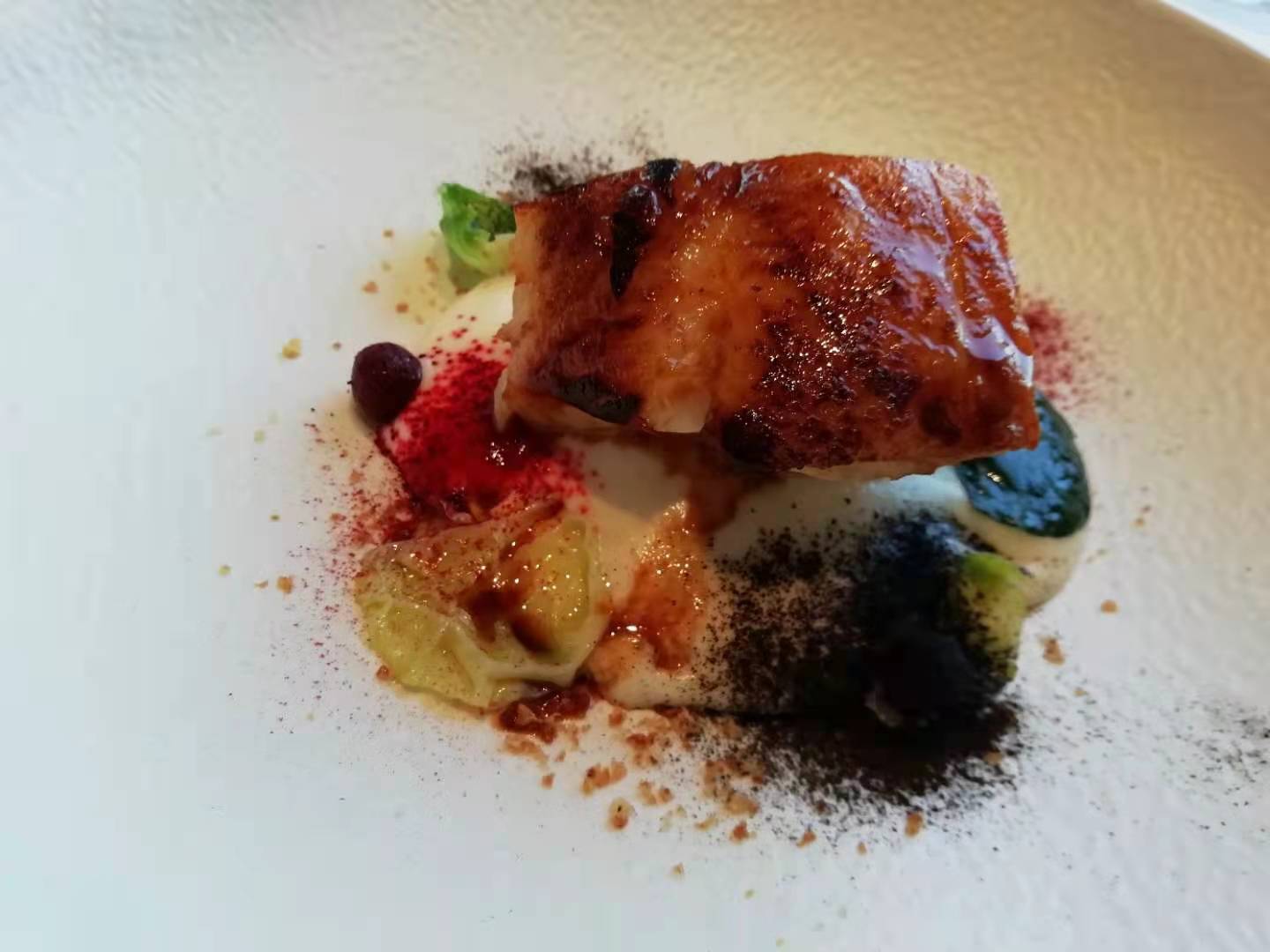 Da Vittorio Shanghai is Cerea family's first restaurant outside Europe, but it won't be its last, as plans and construction are already underway for a bistro and another restaurant in the city soon. The original restaurant sits about eighty people in very spacious surroundings with five private potentially interconnected rooms as well), housed on the third floor of a non-descript building from the outside but that is absolutely beautiful on the inside, offering spectacular views of Shanghai's Bund. The restaurant is extremely successful (reservations are hard to come by) and extremely stylish (so dress accordingly) and features many of the by-now famous creations of Da Vittorio's Executive Chefs Enrico (Chicco) and Roberto (Bobo) Cerea, such as "Paccheri alla Vittorio" or "Uovo all'Uovo", very well rendered by the talented staff in place at Shanghai. The concept of "Lombard tradition and creative genius" (the family motto) is the characteristic of the menu à la carte and the two tasting menus (given Da Vittorio's history, one of the two is rather appropriately entirely devoted to fish, crustaceans and shellfish only).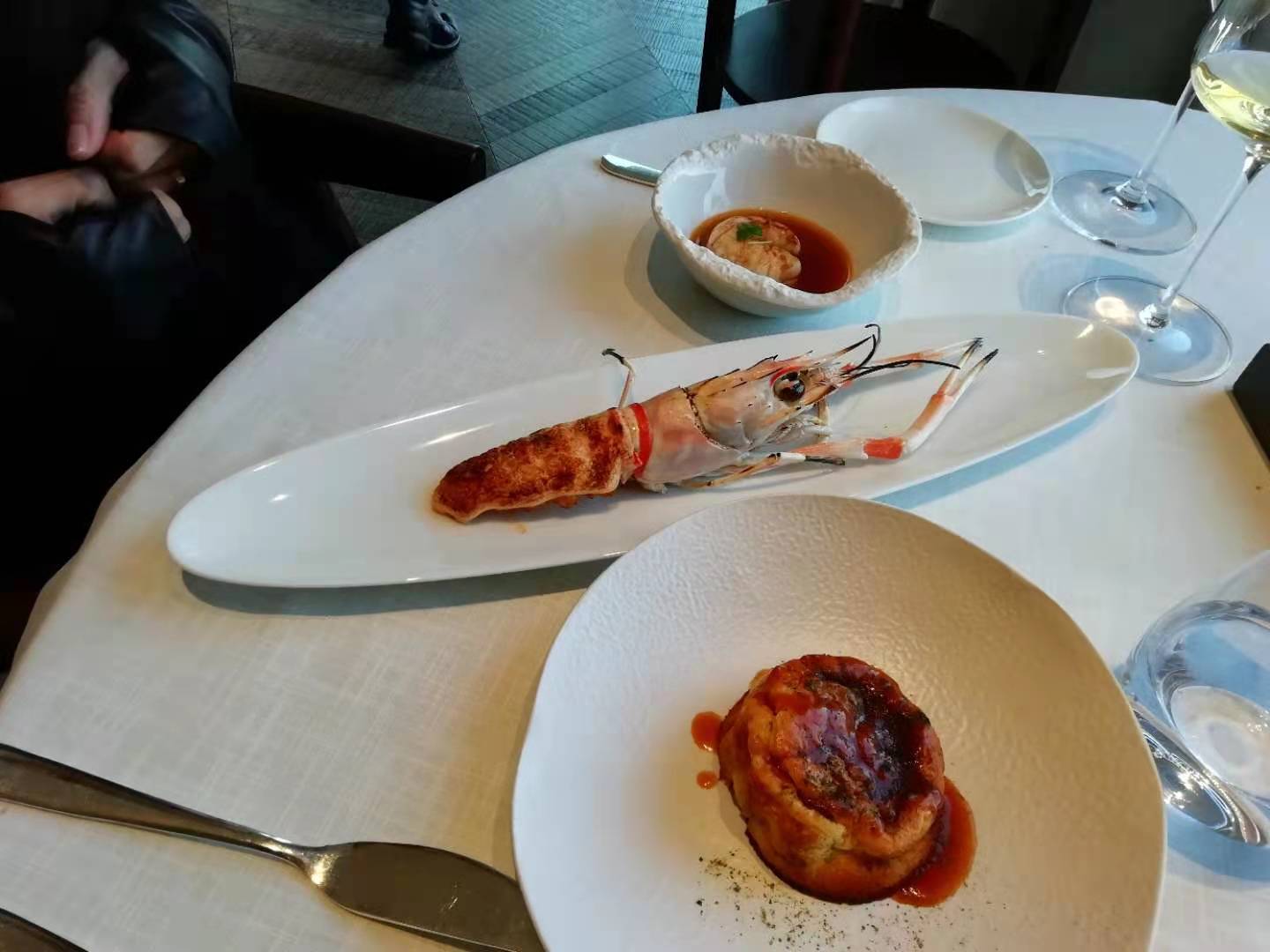 The food is light and airy, extremely well prepared and technically sound: it is not all truly Italian in scope or essence (the kinki fish dish is not really much Italian beginning with the ingredients used) but there is always a sound Italian base enlivened by Asian spices and other ingredients. But what dishes are Italian are perfectly rendered, offering a very accurate rendition of Italian food: by that I mean not a foreigner's interpretation of what Italian food is thought/believed to be about (no small feat, given the utterly nonsensical junk that is passed off as Italian food in many so-called "Italian restaurants" all over the world). On this night, we thoroughly enjoyed the "Da Vittorio" paccheri pasta, bathed in the most silky, luxurious tomato sauce you will ever eat (made by cooking five different tomatoes, two from Italy and three from China that Enrico Guarneri told me it took months to get just right, both in its raw ingredients and in its cooking preparation). It also comes at an especially inviting price, compared to practically all the other menu items. Compliments to the very talented group in the kitchen, from chef Stefano Bacchelli, sous chef Francesco Bonvini and pastry chef Frederic Jaros.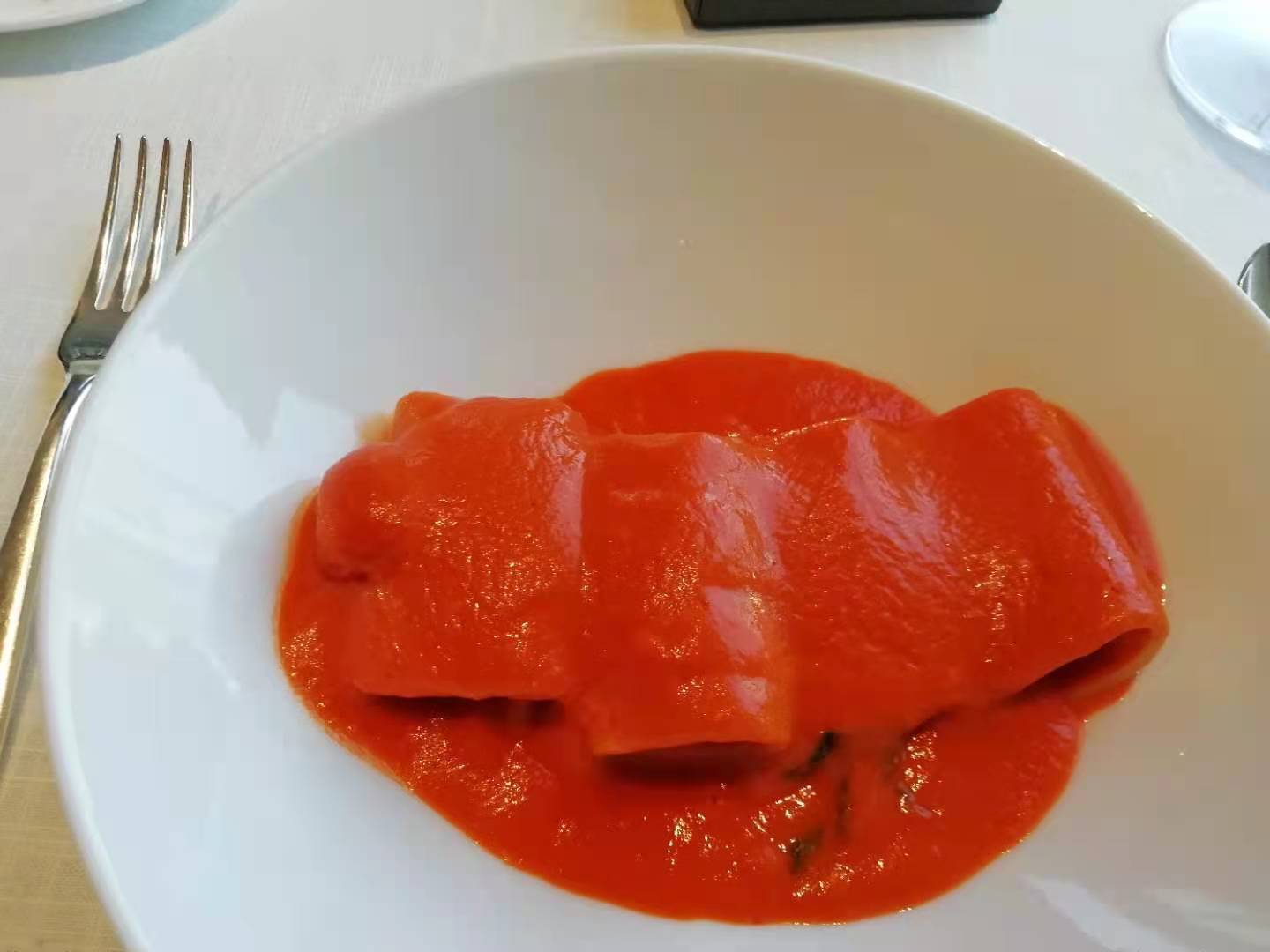 In ultimate analysis, the two things about Da Vittorio Shanghai that, for me at least, stand out the most for me are the service and the wine list prices. Service-wise, Da Vittorio Shanghai offers a dining experience that blows all others in the city right out of the water: serious and highly professional, but friendly and enjoyable at the same time, it establishes the benchmark by which all other Shanghai establishments have to be judged by. Congratulations are in order to general manager Levi Fu and restaurant manager Enrico Guarneri, maître Peter Tian and sommeliers Emanuele Restelli and Declan Tang and all the staff. And last but not last, I want to especially mention the restaurant's pricing policy.
Clearly, prices at Da Vittorio Shanghai are not cheap, but neither would you expect them to be in a two star Michelin restaurant. That said, they are markedly lower than at some other two star Michelin restaurants of the city (where the tasting menu is roughly 150 euros more than Da Vittorio's, which means that just for the pleasure of sitting there you and your date are forking over, for no other reason than just that of having decided to sit there, 300 euros more than at Da Vittorio). Even better is the wine list: though trophy bottles (with attendant prices) abound, the wine list offers many excellent wines at very fair prices to choose from, and for this Da Vittorio needs to be commended. There is nothing I hate more, and many of my wine loving friends feel exactly the same way, to go out to a restaurant and get gouged on wine, the prices of which we are all very knowledgeable about. Happily, this is not the case here.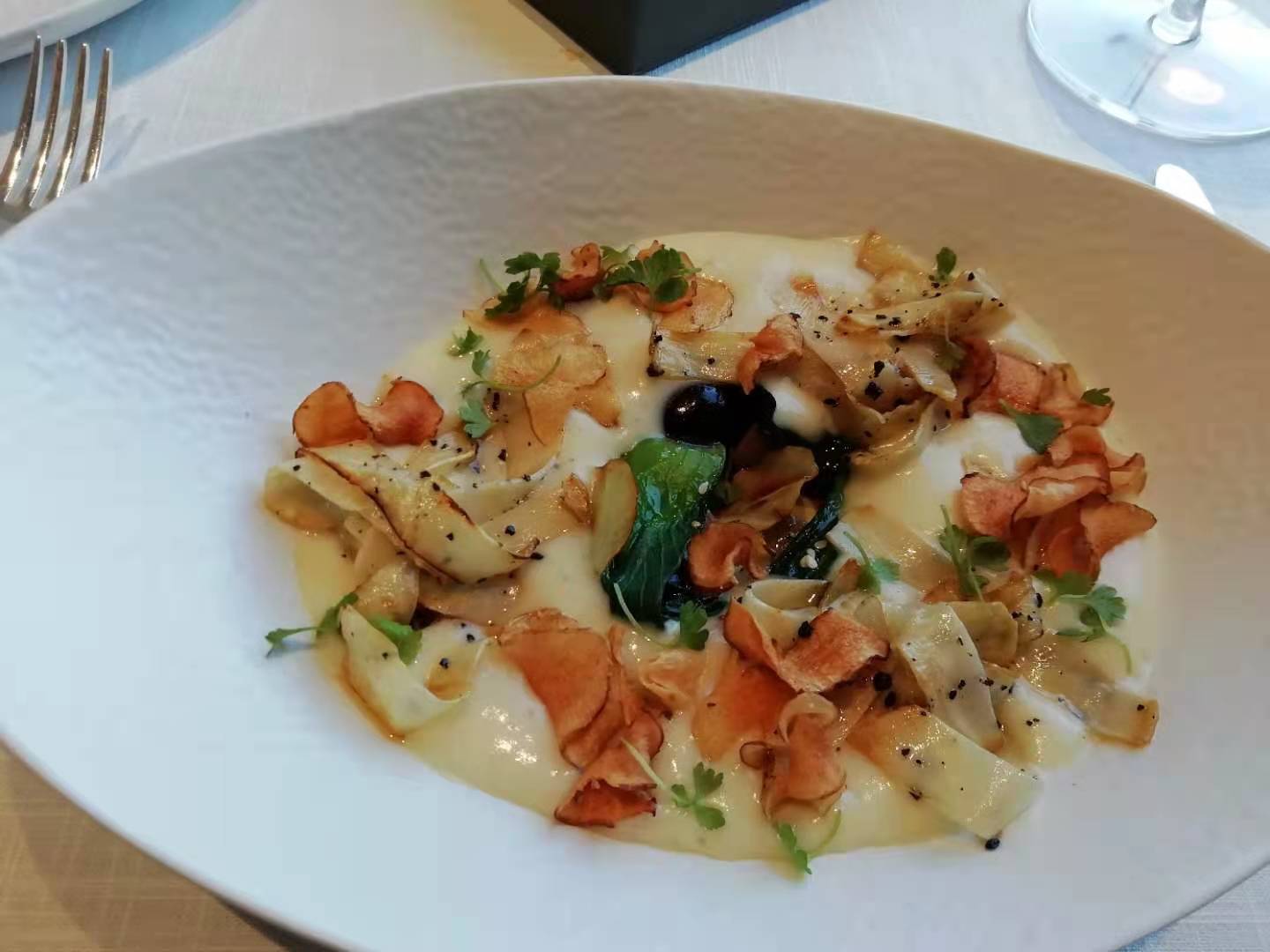 And during my last dinner at da Vittorio Shanghai I drank very well. The Quintarelli 2016 Bianco Secco Veneto is lovely, even though the light oaking the wine is now put through has reduced the lively freshness previous vintages of this wine exuded in spades. Still, the complex blend of Garganega, Trebbiano Toscano, Chardonnay, Sauvignon Blanc and the rare native grape Saorin shines with nuances of fresh flowers, orchard fruit and vanilla from first sip to last. As far as a dinner wine, it really does the trick, acting as a wonderful aperitif and starter to the meal, not overpowering any of the dishes in any way. I followed that beauty up with another one. Tenuta delle Terre Nere's 2018 Etna Bianco Calderara Sottana is without doubt the best Etna Bianco that the estate has ever made. Deep, luxurious, mineral, and long, boasting complex aromas and flavours of fresh and candied citrus fruits, complicated by herbs and flint, it showcases to full effect just how great a wine grape Carricante is. Last but certainly not least, I finished with one of the best red wines I have tasted all year. The Argiolas 2015 Carignano del Sulcis Riserva Is Solinas is a work of art: smooth, round rich and ripe, but very elegant and pure in its notes of red and blue fruit and herbs, it really conveys how the Sulcis is perhaps the best place in the world in which to grow Carignan.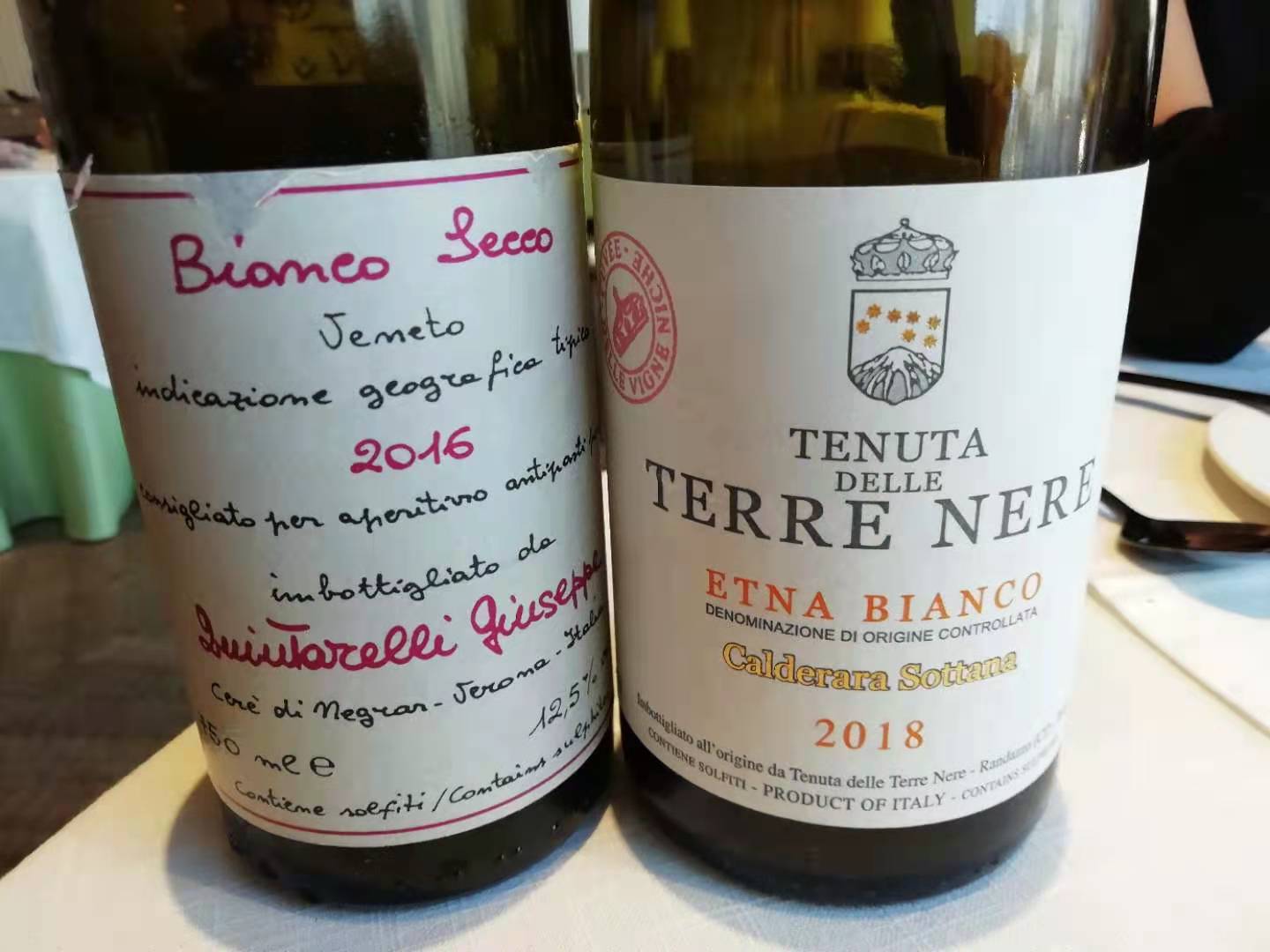 The dishes
New Zealand Black Angus tenderloin Italian style tartare
"Da Vittorio" style Paccheri pasta
Warm steamed fish salad (2 people)
Double duck: "plin al fazzoletto" and ginger broth
Te Mana lamb saddle and shoulder, roasted eggplant and almond
Cheese selection
The wines
Quintarelli 2016 Bianco Secco Veneto                                                                      92
Tenuta delle Terre Nere 2018 Etna Bianco Calderara Sottana                                 95
Argiolas 2015 Carignano del Sulcis Riserva Is Solinas                                            95