Felsina 2013 Chianti Classico Riserva Rancia 95
by Ian D'Agata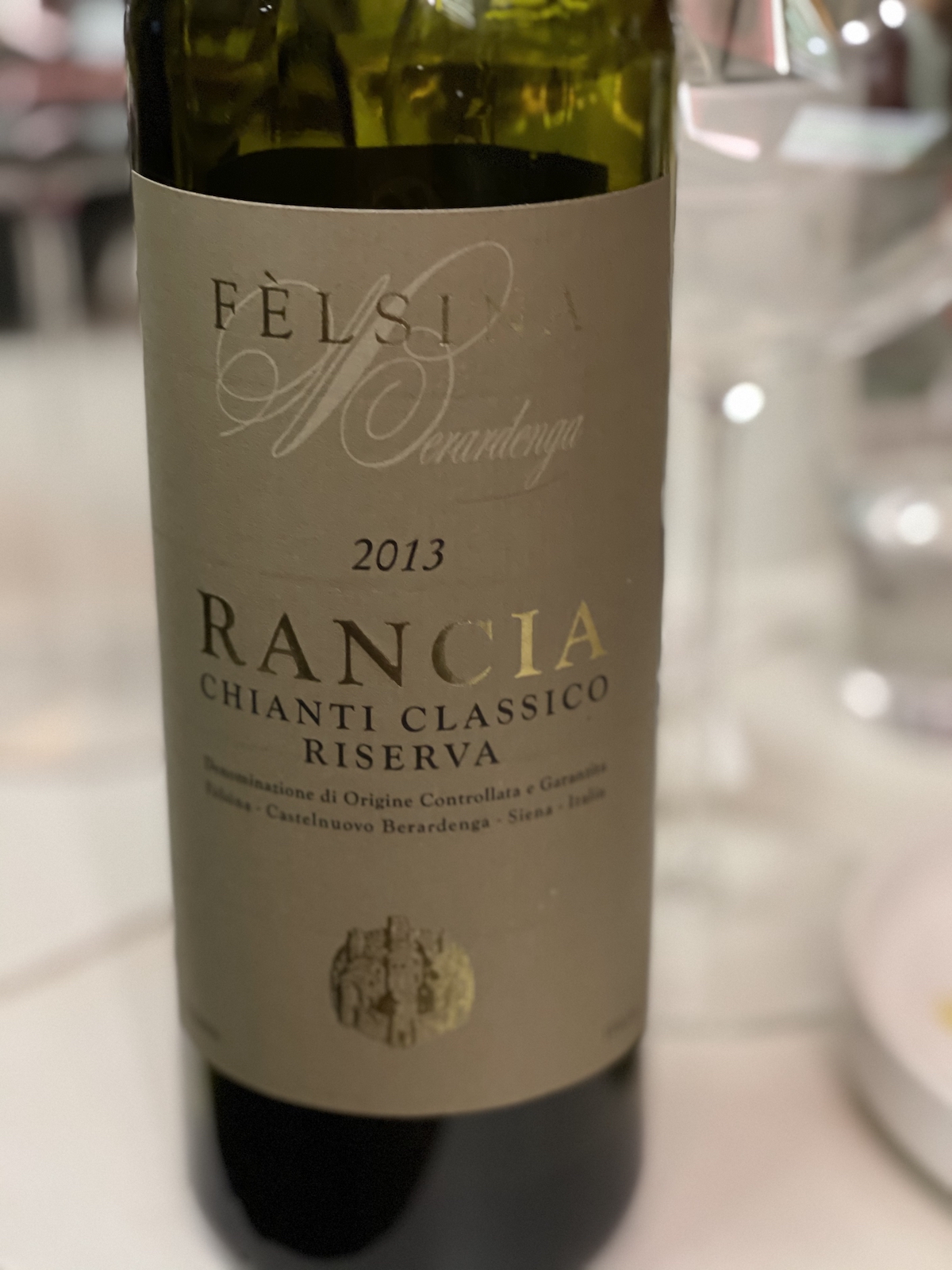 There are fewer better estates in Italy than Felsina, located in Castelnuovo Berardenga in the Siena portion of the Chianti Classico, and there are fewer better wines than Felsina's Chianti Classico Riserva Rancia. The wine has been an absolute classic since its birth, hitting the ground running with an amazing 1983 (I used to attend university in Rome at the time, and I can't tell you just how amazed I was by the wine already then), and then following that up with the even more remarkable 1985, 1988 and 1990 vintages. And in the process, making history, showcasing just how great a wine a properly made Chianti Classicos can be.
Situated at about 400-420 meters above sea level, the Rancia farmhouse was once a Benedictine monastery; the southwest-facing vines grow on alberese and galestro soils and were replanted in the early 2000s with old vine massal selections from the same vineyard. The grapes are destemmed, the must fermented and macerated in stainless steel tanks for roughly sixteen to twenty days at 28-30°C, with programmed punchdowns and daily pumpovers. The wine is aged for18-20 months in small French oak barrels and remains in bottle for another six to eight months before going on sale.
The 2013 Chianti Classico Riserva Rancia is one of the best Rancias made in some time, a real return to form for this great wine that in 2013 classically evokes the great old Rancias of the 80s and the 90s. Recent hot vintages such as 2009, 2011 and 2012 were less favorable to Rancia, giving wines that were very tannic and downright massive, but unfortunately totally lacking the elegance Rancia normally exudes in spades. Beautiful bright ruby-red in colour, with a complex nose of red berries accented by minerals, herbs and spices. Then very mineral on the palate too, with lively but harmonious acidity really extending and nicely focusing the red berry and spice flavours. This is a really elegant, refined Rancia is drinking well already now, but that will age extremely well too. Stock up your cellar! Drinking window: 2025-2040.
Chacra 2019 Mainque Chardonnay Patagonia 92
by Echo Miao ZHOU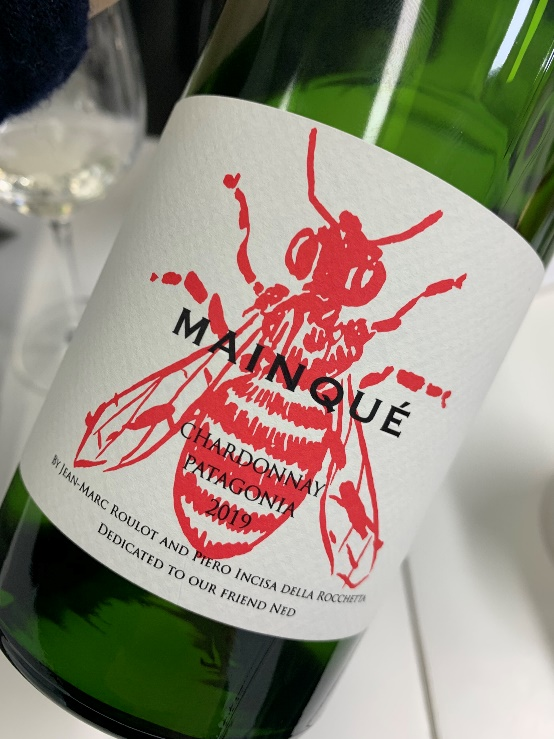 Chacra, located in Rio Negro Valley of Northern Patagonia, was founded in 2004 by Piero Incisa della Rocchetta, renowned winemaking family member from Tenuta San Guido, world famous Bolgheri estate that gave the world Sassicaia. The Chacra of today is a far cry from what it once used to be, nothing more than an abandoned vineyard of old vines (believed to have been planted roughly seventy years ago, around 1932). Apparently, Incisa della Rocchetta was intrigued by the goal of producing world-class Pinot Noir and Chardonnay from a virgin territory in the southern hemisphere. The estate  follows a strict organic and biodynamic approach, thanks to the not just beautiful but also very accommodating environment that offers very little in the way of disease threats. All the wines being made by the estate strike me as being marked by an obvious vibrant lift and to boast noteworthy purity.
The Mainque Chardonnay Patagonia 2019, made in collaboration with famous Burgundy winemaker Jean-Marc Roulot, showcases a bright straw-yellow colour, with upfront yet delicate white floral aromas and a refined mineral chalky-like undertone, perhaps lent by the calcareous components of alluvial soil. On the palate, it reveals beautiful melon and white pear flavours, lifted by vivid citrusy acidity but the mouthfeel is harmonious and suave. I loved the delicate and deep notes of white blossoms on the lively, very pure and lingering finish that lasts for minutes, evoking for me images of a beautiful angel flapping his wings. Aged in 18% in concrete eggs, 25% in stainless steel tanks and 57% in French oak barrels (12% new) for 10 months, this has only 12% alcohol, yet packs a ton of flavour. Drinking window: now- 2025
Chacra 2019 Cincuenta y Cinco Pinot Noir 91+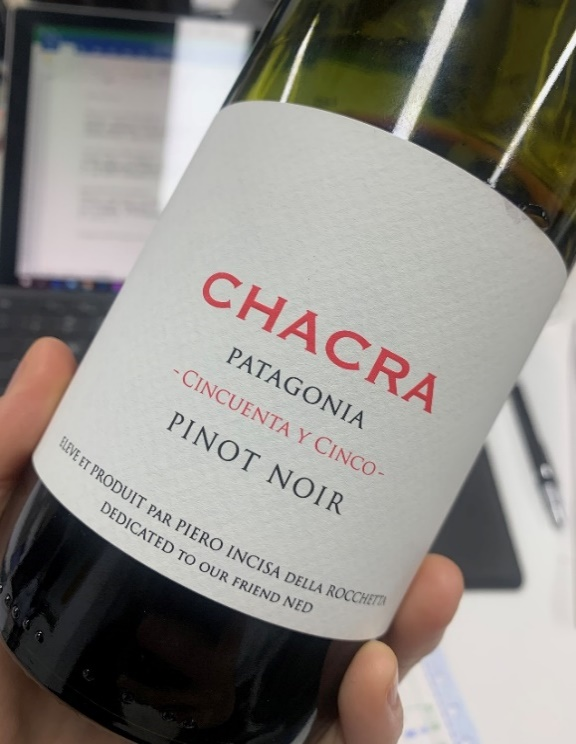 by Echo Miao ZHOU
Pale bright ruby with a purple rim. Vanilla and sweet wild cranberries and strawberries, with a deep, perfumed underlying violet nuance. Ripe mulberry and cherry flavours boast great tension and harmonious acidic energy throughout and are nicely supported by refined, soft tannins, not to mention undertones of minerals and Chinese Wuyi mountain tea. Lightweight yet loaded with abundance of fruit and a touch of dried rose petals providing an elegant touch on the slightly smoky finish. Made from organic and biodynamically farmed vines planted in 1955 on a riverbed-derived soil literally strewn with pebbles, this wine was whole cluster-fermented at very low temperatures, thereby explaining the greatly enhancing its floral characteristics. Half the wine was aged for 11 months in concrete tanks, while the other half aged in 2nd, 3rd and 4th use French oak barrels and it was not filtered prior to bottling. I found this very energetic wine to offer the highest amount of tension of all there reds I tried from the Chacra line-up, and I really liked its linear acidity leaving behind a memorable salivating kick to the taste buds. Drinking window: 2023-2027