Domaine Leflaive 2007 Montrachet grand cru                              97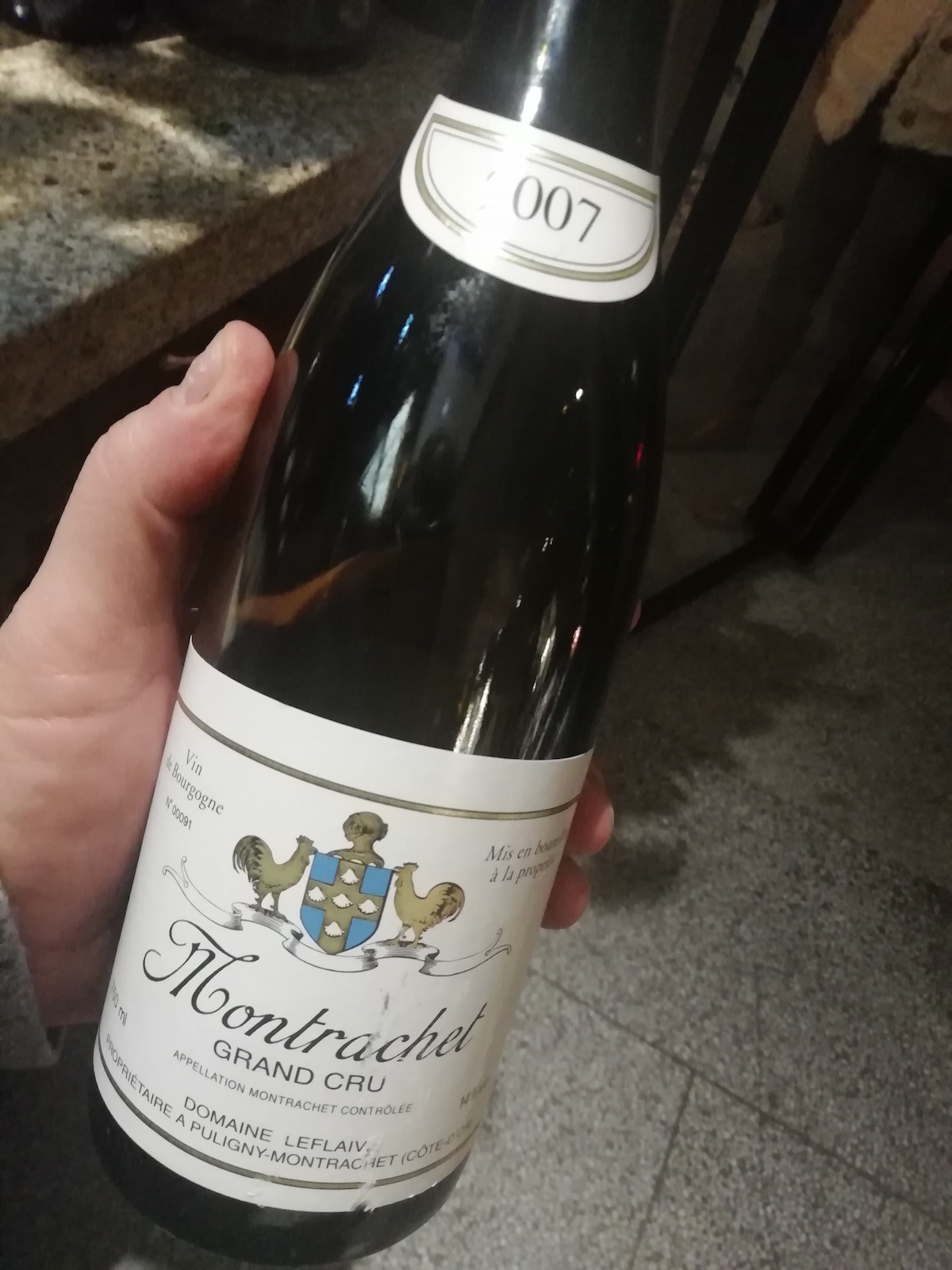 Sometimes, it's really all in a name, and it's admittedly hard to do better than Domaine Leflaive and Montrachet. Joseph Leflaive, who was born in 1870 and lived until the mid-1950s, was an engineer in the marine engineering corps (among other activities, he took part in the design and creation of the first French submarine); after marrying Camille Biétrix du Villars, he changed life, started following a metallurgic factory and tended to the family vines in Puligny-Montrachet that had been devastated by phylloxera. Back then, the wines produced by Leflaive were not at all famous as they are today, and were sold off to wine merchants, but Joseph changed the course and destiny of his wine estate by extensively replanting and improving his vineyard holdings (helped by his good friend and estate manager François Virot, 1890-1964). Over the years, his very talented descendants did the rest, such that the fame of the estate wines grew to the point that today Domaine Leflaive is universally considered as one of the world's five or six most important dry white wine producers.
But if at all possible, in wine circles everywhere, the name of Montrachet is even more famous. Perhaps first mentioned way back in the 1250s as the "Mont Rachaz", this roughly eight hectares large plot of hallowed ground is the world's most famous dry white wine vineyard. It straddles two communes, Puligny-Montrachet ("Montrachet": 4.01 hectares) and Chassagne-Montrachet ("Le Montrachet": 3.99 hectares) and is characterized by a fairly unique subsoil of thin marly limstone with slabs/pieces of marl throughout. Subdivided into many small parcels owned by many different estates, Domaine Leflaive's piece is parcel 134 and is 0.821 hectares large, planted in 1960 and situated in the Chassagne sector, very close to Le Montrachet's border with Bâtard-Montrachet. Domaine Leflaive bought the plot from Domaine Fleurot in 1991 of the Château du Passe-Temps in Santenay (over the years Fleurot also sold pieces of their Montrachet holdings to Edmond Delagrange Bachelet and Chateau de Puligny-Montrachet, for example) and farms it biodynamically (a huge believer and proponent of biodynamic farming, Anne-Claude Leflaive, whom I had the pleasure of tasting with at the estate during her time there, began conversion to biodynamics in 1990 with one initial hectare, but by 1997 the whole estate had been converted to this type of agriculture). The grapes are hand-harvested, and undergo long, gentle pneumatic pressing; decanting over 24 hours ensues, then racking. Alcoholic fermentation takes place in 100% new Allier oak casks; it ages twelve months in new oak, then another six in once used barrels prior to bottling.
The 2007 Montrachet grand cru is a marvellous wine that clearly showcases the grandeur of this magnificent, historicslly famous vineyard. A marvel of precision, this broad-shouldered, mineral-driven Chardonnay features a spicy nuance to its aromas and flavours of anise, honeysuckle, pineapple, banana, and melted butter, complicated by herbal essences and with honeyed and crystallized citrus fruit undertones. Fairly full-bodied and powerful but classy, this multi-dimensional, deep, and harmonious white is a very expressive rendition of Montrachet that is drinking beautifully, and will be at its best over the next six to seven years. The 2007 vintage wasn't the easiest in memory for the area and yet many brilliant white wines were made (there was an early budburst, hail on April 26, rain from May 10-16, with coolish and damp weather in both July and August, though the late season was fine, such that the harvest took place under ideal conditions). Truly a spectacular wine, it behooves wine lovers everywhere to at least try this nectar at least once in their lives (given there's only 300 or so bottles made a year, it's not even a matter of whether you are able to afford it or not, because first you have to find it).
Drinking window: now- 2028 (though it will certainly keep longer in a good cellar, why defer gratification and not drink this beauty at its apogee?).
Hidden Bench Estate Winery
2017 Pinot Noir Beamsville Bench Rosomel Vineyard                93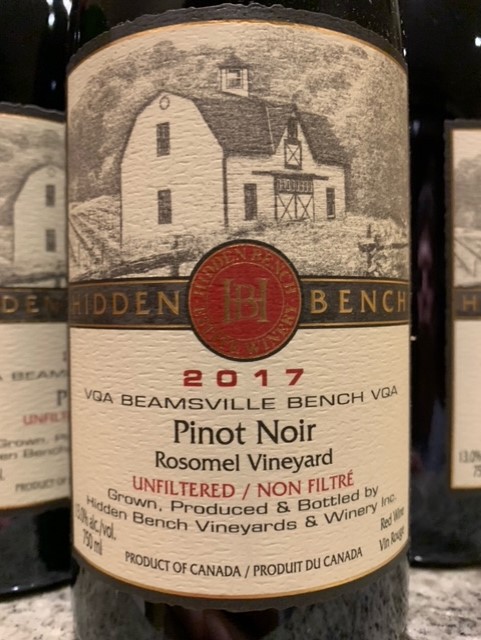 Hidden Bench Winery is located in Ontario's Niagara region prestigious Beamsville Bench sub-designated viticultural area. Owner Harald Thiel founded the estate in 2003 after a successful career in the audiovisual industry, and unless memory fails me, I believe the Rosomel vineyard was added to the estate holdings the following year (the estate owns 35 hectares of certified organically farmed vineyards). Originally planted some 40 years ago by Roman Prydatkewycz, an important figure in Ontario viticultural and wine history, the Rosomel vineyard has a long history of producing many different award-winning wines from different varieties (which is noteworthy, as this is not exactly common to all vineyards; and in that light, while I'll be the first to admit that Ontario's winter weather is not ideally suited to the variety, the Rosomel vineyard was also the source of one of the province's best Gewurztraminer wines – unfortunately now no longer made). The Hidden Bench Pinot Noir Rosomel vineyard wine was first made in the 2015 vintage; the Pinot Noir was planted in four different blocks numbered 213 through 216 to three different clones (in order of planting, clones 115, 828 and 777) for a total of 1.73 hectares of the vineyard's surface. The vineyard is certified organic by Pro-Cert.
The 2017 Pinot Noir Beamsville Bench Rosomel Vineyard boasts a medium-dark ruby colour and offers its typically savoury nose with aromas of raspberry, earth, herbs, and toast. It enters smooth and fruity, then turns slightly more austere in the juicy middle (6.17 g/L total acidity and 3.72 pH), with fine-grained tannins nicely framing the strawberry, sour red and earthy flavours complicated by hints of spicy oak and balsamic oils (this was aged in 17% new oak barriques for 10 months). Finishes with repeating herbal nuances and rather gently on the long aftertaste (with a nicely low alcohol content of 13%). Given that I have only tasted three different vintages of this wine (the 2015, 2016 and now the 2017), it's hard to speak with the utmost certaintly, but this wine always strikes me as perhaps the more refined of Hidden Bench's Pinot Noir trio (with the Felseck vineyard giving a slightly smokier wine and the Locust Lane vineyard a richer, fleshier wine: they're all different, so the one you like best will end up being a case of different strokes for different folks). In 2017, the Pinot Noir grapes were harvested on October 3, 100% de-stemmed, vinified with indigenous yeasts only, and was bottled unfined and unfiltered. The 2017 vintage was characterized by a wet spring, with heavy rainfalls leading to high humidity and potential disease pressure, so deleafing was essential to ensuring adequate grape ripeness (the east flank of the vine rows were exposed , with the western side appropriately aired out). The wet weather hampered the berry set and so bunches were more loosely-packed than usual (maybe not a bad thing in 2017). The local weather improved by late summer, and the harvest took place under ideal conditions. It all added up to a pretty good wine.
Drinking window: now- 2026.