The wines of Pomerol and Saint-Emilion wines are known all over the world and have made the fame of Bordeaux's right bank. But other appellations on that side of the Gironde also make very good to outstanding wines. On one hand these wines aren't very famous and won't get anyone bragging rights at a tasting or dinner party, but on the other they do cost only a fraction of their better known Pomerol and Saint-Emilion brethren. A number of these less well-known right bank Appellations have attracted a number of moneyed investors over the years (the Côtes de Bordeaux- Castillon, for example),  but despite the presence of some very good terroirs and highly skilled winemakers, the wines have mostly failed to great notoriety.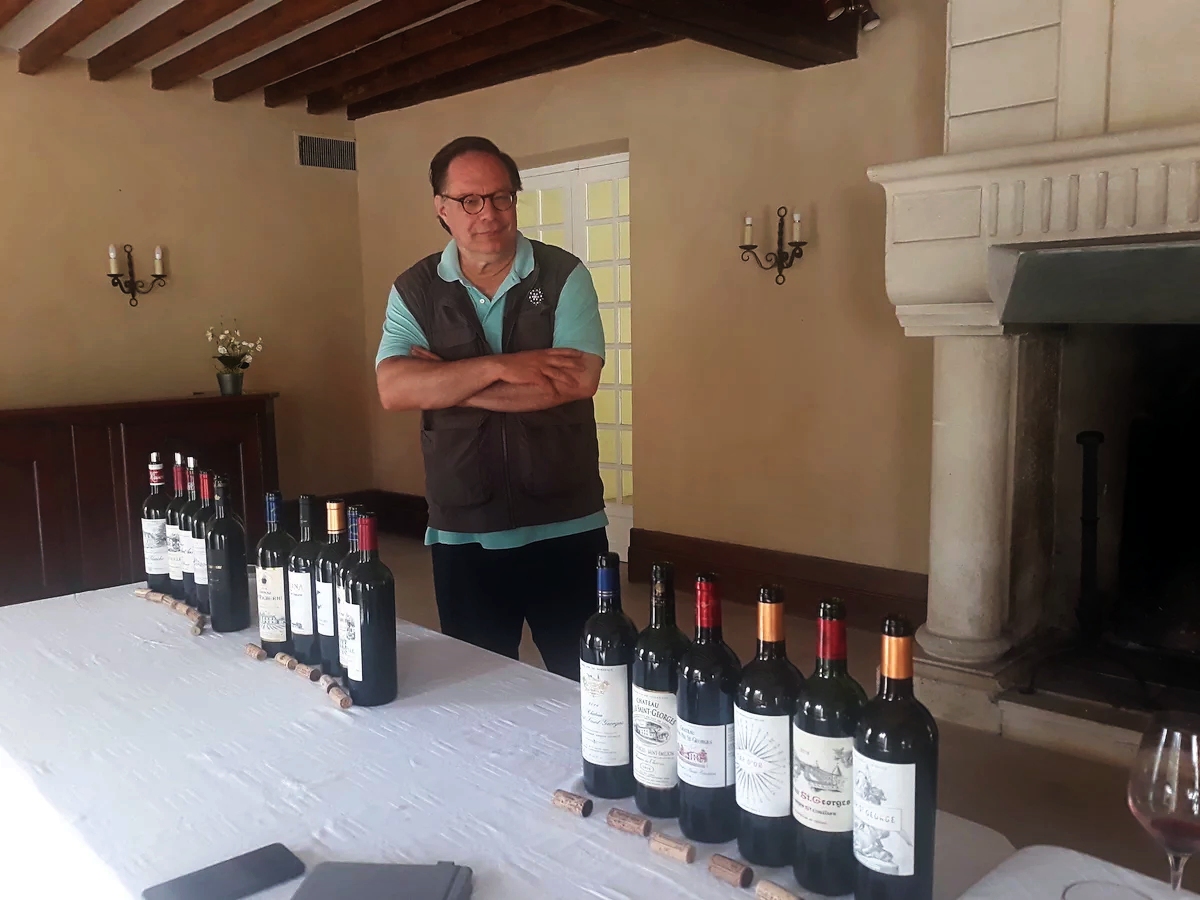 Some of the blame for this sorry state of affairs sits squarely on the shoulders of these newer kids on the block, many of whom tried getting "there" by making a big statement (always with the usual, and frankly tiresome, recipe: wines that are almost almost black in colour, super concentrated, low in acidity, fleshy bordering on the syrupy and sweet, and boasting some much new oak woodcutters all over the world could not have been more envious) in the hope that some famous critic might take a shining to their wine. Of course, given that many of the terroirs in which they had set up shop were less than stellar, such measures soon proved to have very short legs, and after a period of scores-chasing, the majority of wine lovers began listening to their palates that told them the wines they were tasting were maybe (very maybe) good in a tasting session but hardly something you'd want to drink come mealtime. For in the end, no amount of new oak or similar stratagems will ever elevate a wine from a bad terroir to anything more than a desperate wannabe. Happily, many estates in less famous appellations stayed the course and have continued to make highly classic right bank Bordeaux wines that do without lavish new oak and/or sweet, spicy and ultra-ripe flavours but that showcase instead refined and often youthfully austere mouthfeels and plenty of balancing acidity. In other words, wines that are not just easy to drink, but a joy. In this report, I will concentrate on the wines of two right bank Appellations only, the Saint-Emilion satellites and Lalande-de-Pomerol. I will get to other interesting appellations such as Fronsac, Canon-Fronsac, and Côtes de Castillon soon enough.
SAINT-EMILION SATELLITE APPELLATIONS
Save for a few estates, most of the wineries in the Satellites appellations of Saint-Emilion are not especially well-known to wine lovers. A real pity, for this section of the Bordeaux right bank boasts numerous outstanding properties and well-priced wines that are often better than many of the pricier ones made in nearby, and much more famous, Saint-Emilion.
The Satellites appellations are Lussac Saint-Emilion, Montagne Saint-Emilion, Puisseguin Saint-Emilion and Saint Georges Saint-Emilion. They are situated to the immediate northeast of Saint Emilion and just like that Appellation, make wines mostly with Merlot and Cabernet Franc (with a sprinkling here and there, depending on the property, of Cabernet Sauvignon and of Malbec).
Terroir
As recently as 1936, the satellite communes used to market their wines under the name of Saint-Emilion, but in that year their own appellations were born. Until recently, each satellite had maintained its independence and uniqueness, but today only St.Georges and Montagne-Saint-Emilion have remained completely independent. Lussac and Puisseguin-Saint-Emilion have separated from the "Satellites" group and have linked to Saint-Emilion. The thinking is that by maintaining closer ties with Saint-Emilion, the Lussac and Puisseguin producers and their wines might benefit from greater opportunities to meet wine professionals, thereby having more attention paid to their wines. How likely that is to really happen is of course another matter, but at least one manages to understand the logic behind such a move.
In order of appearance, when moving away from the Dordogne, the first wine appellation is Saint-Emilion, and then begin the satellites: Saint Georges, then Montagne, then Lussac and finally Puisseguin (there also used to be two other satellites: Parsac St. Emilion, which was annexed to Montagne St. Emilion, and Sables St. Emilion, which became a part of Saint Emilion). It is generally written that soils are very homogenous in this neck of the right bank woods, consisting mostly of molasses and clay-calcareous deposits, arranged in ridges that run parallel to the Dordogne river. For the most part that is true, and in fact all the satellites share the same geological origin, but there is in fact more soil and subsoil diversity than is commonly believed, said or written. And even when there are only minor individual differences in the soils, the water drainage and the climate of each satellite can be very different, such that each satellite region has its own characteristic terroir, and hence wines. And so, each satellite appellation has its own characteristics and peculiarities.
For example, at only 192 hectares, Saint Georges St.Emilion is the smallest satellite appellation and its soil is very homogenous; furthermore, this specific satellite benefits from a fully south-facing exposure, looking towards Saint-Emilion. It's terroir really isn't ll that different from Saint-Emilion, and the wines of this appellation have always been very highly thought of. It is also the appellation that has one of the higher elevations of the right bank (the high point in Saint Georges reaches eighty-nine meters above sea level: to help you put that in perspective, Petrus in Pomerol stands at forty meters above sea level). By contrast, at slightly more than 1500 hectares, Montagne-St.Emilion is the largest of the satellites; characterized by a topography made up of gently rolling hills (a reality that is quite visible to the naked eye), it is this landscape that perhaps accounts for the appellation's name (from montagne, or mountain). Montagne is only about five kilometers away from the town of Saint-Emilion, and so it is not surprising that sections of this appellation's terroir are viewed as the best of all the satellites (along with Saint Georges). As large as it is, Montagne's soil clearly presents noteworthy differences throughout its boundaries, with plenty of clay in some sections that give bigger, fleshier and rich wines than some of the more delicate ones of Saint Georges.
The same applies to the large appellation (almost 1400 hectares) of Lussac St.Emilion, that similarly to Montagne, is characterized by clay everywhere, but with more limestone on the higher slopes and more sand in the flatlands (Montagne has generally less sand), with gravel dominating the areas in between. In fact, there is very little sand present in both Saint Georges and Montagne, unlike the other satellites and the lower-lying lands of St.Emilion (cynics say that this is precisely why the Saint Emilionais wanted at one point in time to annex the satellites, given that the clay-calcareous soils in parts of the satellites are better than the sandy zones in the more famous appellation). Lussac sits between Montagne and Puisseguin, spreading out both to the north and the east, and tends to be one of the generally cooler satellites; therefore, springtime frosts are more common there than in Montagne, for example, from which it is separated only by the small Lavie stream. Lussac's name derives from an ancient Roman patrician (Lucius) who owned a large villa in the area. Puisseguin St.Emilion (over 900 hectares in size, of which a little over 700 hectares are under vine) takes its name from an ancient local word, puy, meaning "hill of the powerful wine" and seguin, which was apparently the name of a military person during the reign of Charlemagne. This satellite is farther away from the Dordogne and its temperature-calming effect, and so Puisseguin is characterized by a generally cooler mesoclimate; hence there grapes are often harvested a little later than in the other satellites (in fact, temperature-wise, it gets cooler and cooler as you move eastwards, away from the river, and admittedly, all of the satellites have a cooler climate than Saint-Emilion). Also, sections of Puisseguin-St.Emilion have less limestone compared to those of Montagne or Saint Georges St.Emilion. Clearly, these are generalizations that do not apply to every specific parcel of vineyard land in each satellite, such that top value wines are made in all of the Saint-Emilion satellites.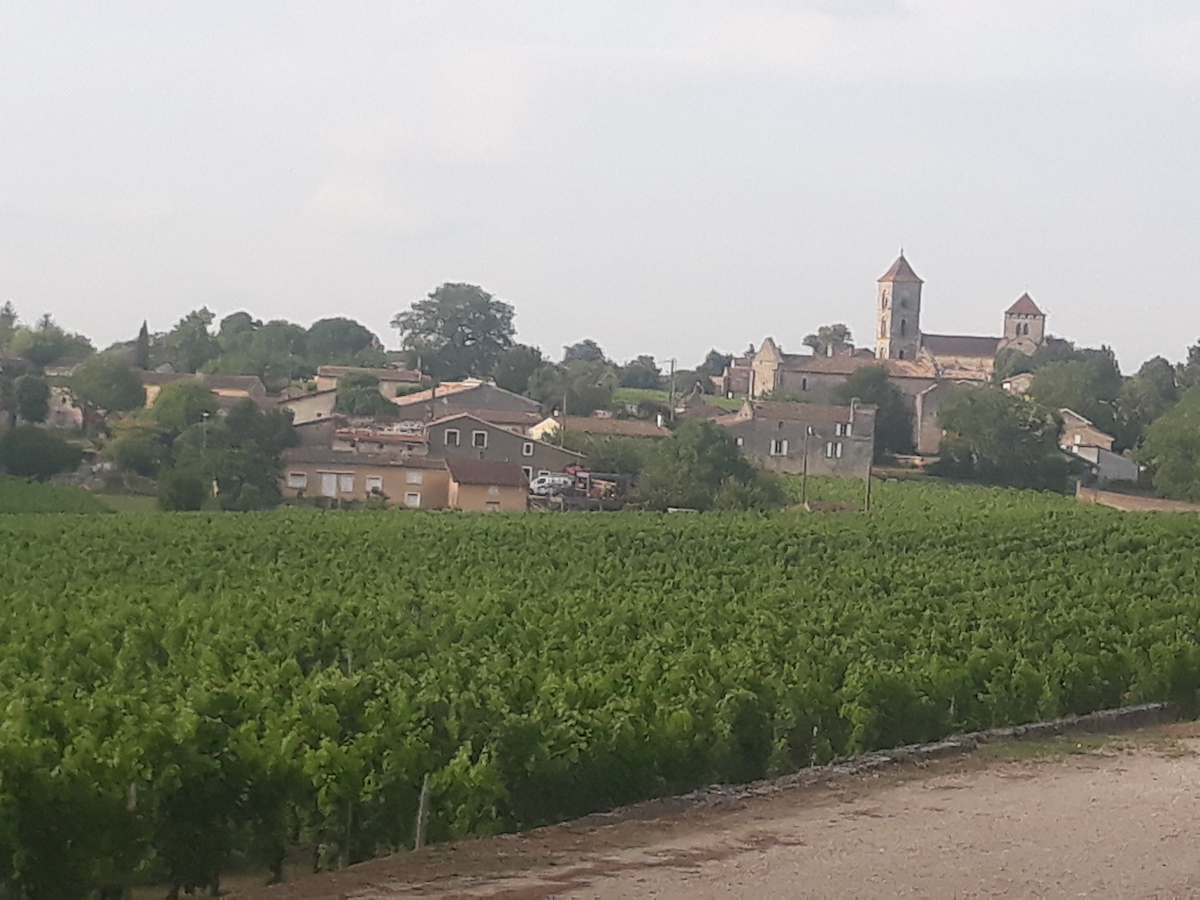 Another very important difference between the satellite appellations is that in Montagne and Saint Georges, family-run estates still dominate the productions scenery. This is in contrast to that of Puisseguin St.Emilion and Lussac St.Emilion, where the cooperatives play a much bigger role . For what it's worth, keep in mind that historically, it's the wines of Saint Georges and Montagne St.Emilion that have always been most sought after; and still today, it is the wines from those satellites that usually fetch the highest prices. Nonetheless, all the satellite wines are still remarkably affordable, and wise Bordeaux-lovers know to go looking for them. Further good news is that in 2019, all the satellites produced some really excellent, stylish wines; it follows that while this article concentrates on wines currently available for sale and that you are most likely to find on store shelves, there is plenty to look forward to as well.
The wines
Not surprisingly, the wines of the satellites of Saint-Emilion share many similarities in style to those of Saint-Emilion, without reaching the depth and concentration of Saint-Emilion's best (but admittedly, very few Merlot-Cabernet Franc wines anywhere do). Satellite wines are generally fruity and spicy during their youth, but just like all Bordeaux's wines worthy of their label, have a penchant for ageworthiness, maturing slowly into fleshier, more complex, smokier drinks as they age. But while a little bottle age goes a long way in increasing the enjoyment factor and the complexity of these wines, they cannot be expected to last forty years or more as do Bordeaux's best growths. Most of the satellite wines are best to drink roughly six to eight years after the vintage, and last (while improving or plateauing) for up to twelve-fifteen years of age, rarely more. As a general rule, I find these wines are really a joy to drink, depending on the vintage, at about ten years from the vintage on the label.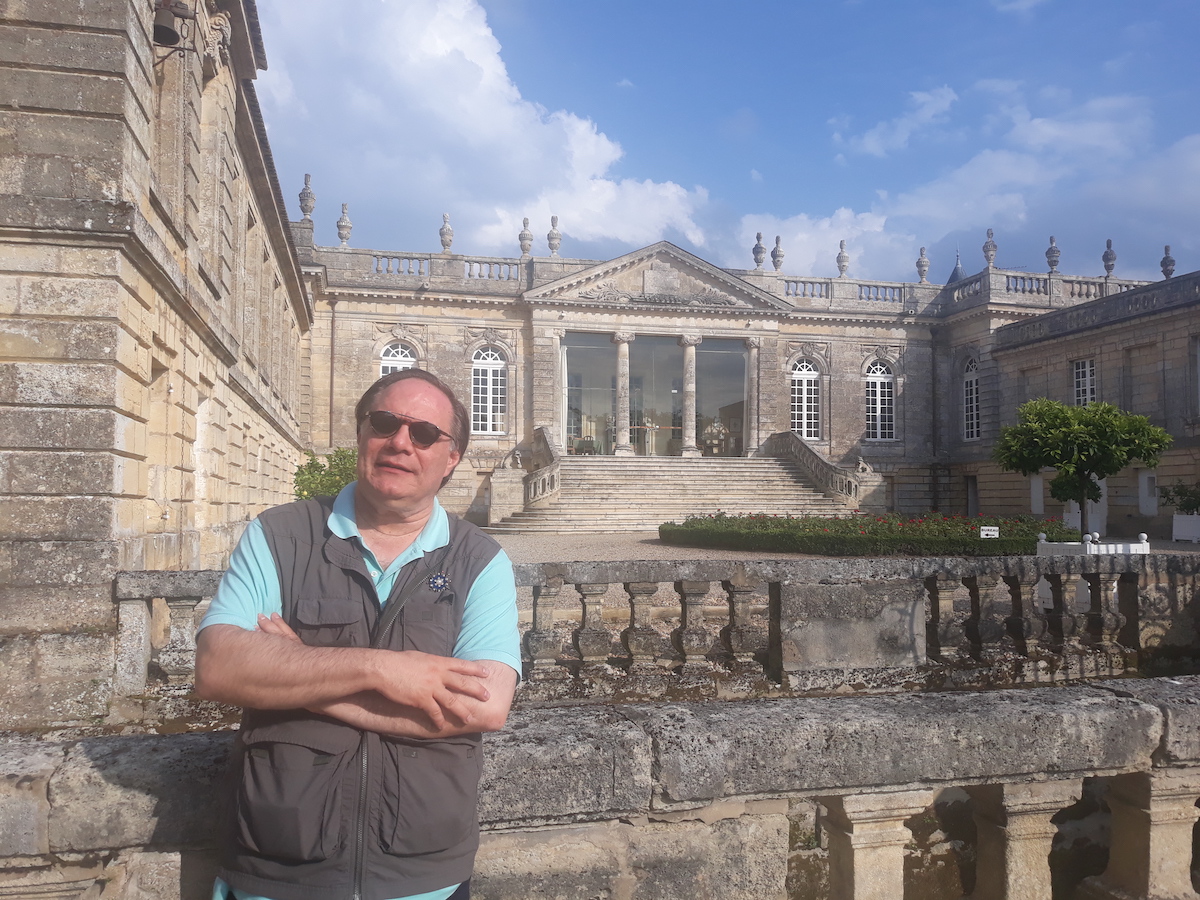 LALANDE-DE-POMEROL
Lalande-de-Pomerol makes lovely wines that while lacking the flesh and depth of the best from Pomerol, are noteworthy expressions of a cooler-climate Merlot and of the diversity the right bank terroirs offer. This appellation is situated roughly fifty kilometers to the east of the left bank city of Bordeaux and immediately to the north of the right bank city of Libourne, close to where both the Isle and Dordogne rivers converge. The Appellation was officially created on December 8, 1936, but the Syndicat viticole de Lalande-de-Pomerol (the producers consortium) was created well before that date, in 1884. Larger than neighbouring Pomerol, Lalande-de-Pomerol expands over the territories of two communes, Lalande-de-Pomerol and of Néac: in fact, few people are aware, even consummate wine professionals, that there also exists the appellation of "Néac", reserved for wines made in the territory of that specific commune, but to the best of my knowledge, no property chooses to use it, preferring, somewhat understandably, to go with the much better known Lalande-de-Pomerol appellation name for their wines .
Perhaps because Lalande-de-Pomerol shares much the same name as its more famous neighbour Pomerol, the wines from these two appellations are often said to taste the same but in fact aren't all that similar. Lalande-de-Pomerol wines are Pomerol are not look-alikes, and this shouldn't really surprise much, if for no other reason that the soil changes considerably from one appellation to the other.
Geographically, the Lalande-de-Pomerol terroir is situated on a series of successive terraces, dating back to the tertiary era and are made of alluvial deposits which were formed as the Pyrenees and Massif Central were formed; generally speaking, the soils are a mix of clays, gravel and sands (the sandy portions are more common as one moves westwards in the appellation, towards the river), with very little limestone to speak of throughout the appellation. Depending on where one stands, the clay in the soil can be more or less present and with varying degrees of dept. Terroir-wise it is these clay-richer sections that are the most interesting and potentially the best sections of Lalande-de-Pomerol (the soils of Lalande-de-Pomerol are in fact not similar to those of Pomerol, but only to specific sections of Pomerol). In my opinion, Lalande-de-Pomerol's best two viticultural zones are closer to Pomerol than not, where both gravel and clay are abundant (in fact, the amount of gravel here is much higher than in most of nearby Pomerol). The plateau of Néac, which is a continuation of the famous plateau of Pomerol, is certainly an excellent spot on which to grow grapes, as is the hillside area there around Chateau Tournefeuille. All that area spreading out towards route 89 is potentially very good: after this "checkpoint", the wines become less structured (but more floral) as there is less clay in the soils. Climate-wise, Lalande-de-Pomerol is, like all of Bordeaux, influenced by the Atlantic Ocean, with generally good climate conditions for grape growing, that thanks (?) to climate change are becoming sunnier, warmer and drier summers and less rainy autumns. Therefore, Lalande-de-Pomerol has the potential to make exciting easy-drinking wines with some cellaring potential (in fact, I think all the better wines benefit from being opened about five to eight years after the harvest and enjoyed for another eight or so after that, depending on the vintage). Smart wine lovers, not just the cash-conscious, know to do their homework and learn the names of those who have performed best in the appellation over the years, for there are many outstanding wines to be had in Lalande-de-Pomerol, and at very interesting prices.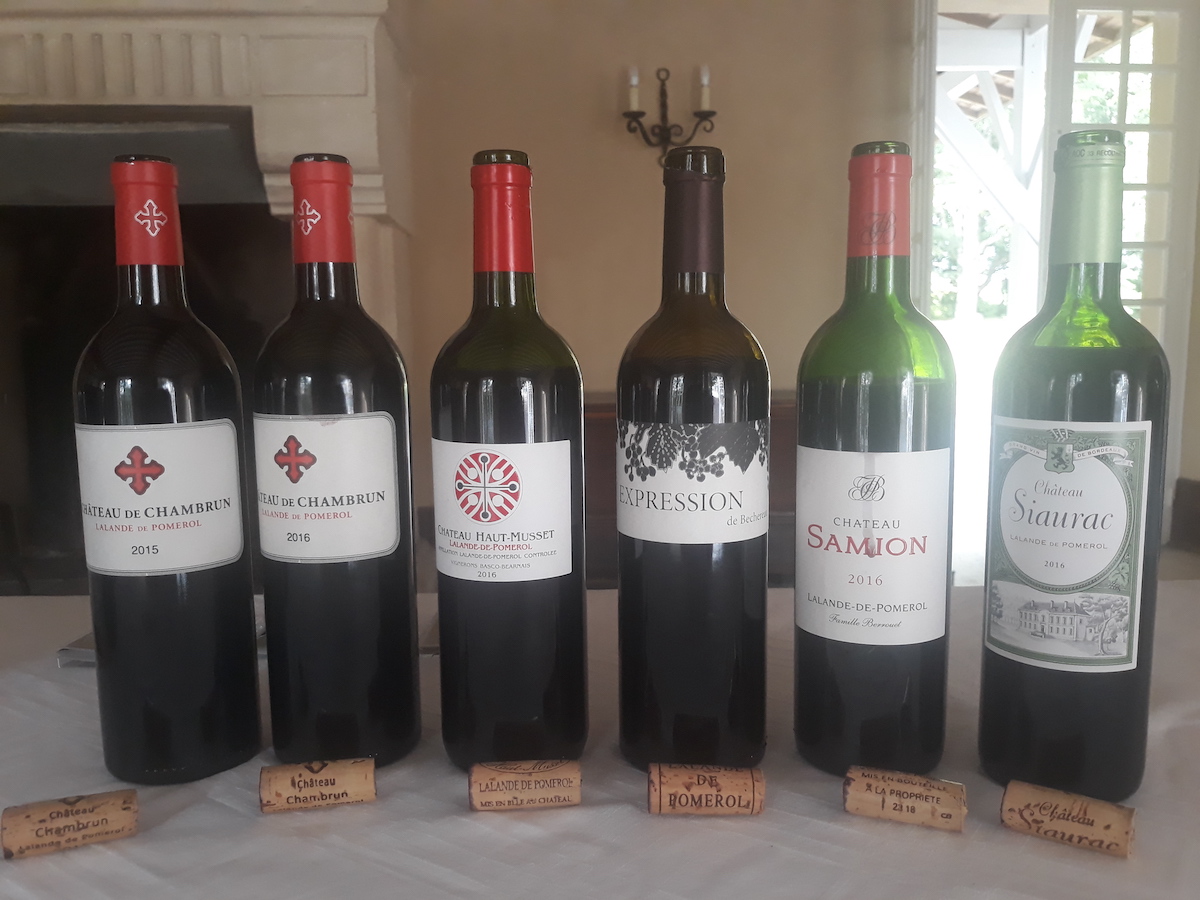 A quick note on recent Bordeaux vintages
The 2018 vintage was characterized by a wet spring and even hail, with noteworthy disease pressure. Then followed a hot, even torrid summer and a fine fall, so you might say it was a year of weather that ran the spectrum of possibilities (not all of them good). That said, the wines appear to have turned out remarkably well, if on the muscular, almost excessive, side. Less fortunate was the 2017 vintage, a year marked by heavy frost epiosdes that heavily curtailed yields. Much better on the left bank than the right bank, there is just too much wine around these days to spend much time on the 2017s, though there were undoubtedly some very good wines made especially in the top sections of the left bank. I'd say it's fair to qualify the 2016 vintage as exceptional. It started off inauspiciously enough, with a cool and wet spring, but a warm summer with cool nights ensued and the autumn was just perfect, allowing for long hang time. Wines are not just ripe and precise, but have vibrant acidity and are wonderfully fragrant. In 2015, wines show great fruit concentration and power thanks to a generally warmer year (June and July were practically rainless and torrid) that was saved by a cooler and damper than usual August (with storms raining down on vines everywhere four different moments). The harvest season also saw some rain, but for the most part grapes handled it all brilliantly; if anything, it was the early summer drought that proved most bothersome, causing some red wines to have gritty tannins. It is not unreasonable to say that the right bank fared best, though the left bank produced many fine wines too. A very good to excellent vintage overall, especially so for Bordeaux's dry white wines.
The majority of wines in this report where tasted either in France in July and August 2020, and between January-March 2021 in my office in Shanghai, where I live.
The wines
2018 Chateau Cap d'Or Saint-Georges St. Emilion           88
Fresh and easygoing notes of red fruit are accented by delicate herbal notes. I would have liked a little more juicy fleshy fruit, but this is pretty and ready to be drunk now. This 86% Merlot, 8% Cabernet Sauvignon and 6% Cabernet Franc blend is made from roughly 33 years old vines planted over nineteen hectares. Drinking window: 2022-2028.
2018 Chateau Cap St.Georges Saint Georges St.Emilion             88+
Dark luminous ruby. A little fruit-challenged, with slightly tough tannins presently and not enough fruit coming through. I think a little time spent in a good cellar will help this show better in a few years, as there's plenty of potential in the glass. An 82% Merlot, 10% Cabernet Franc and 8% Cabernet Sauvignon blend, 50% was aged in new oak barrels. Drinking window: 2024-2028.
2018 Chateau La Courolle Montagne St. Emilion                        87+
Dark bright ruby. Aromas and flavours of both red and dark fruit with hints of underbrush and spices. Enters fruity and promising, then tightens, becoming increasingly savory and compressed by over-extraction, leaving one to deal with harsh mouthcoating tannins. Red fruit notes linger nicely on the long finish, but this isn't much presently. Maybe cellaring for another three to four years will help those tannins come around, but I'm not sure. Drinking Window: 2024-2028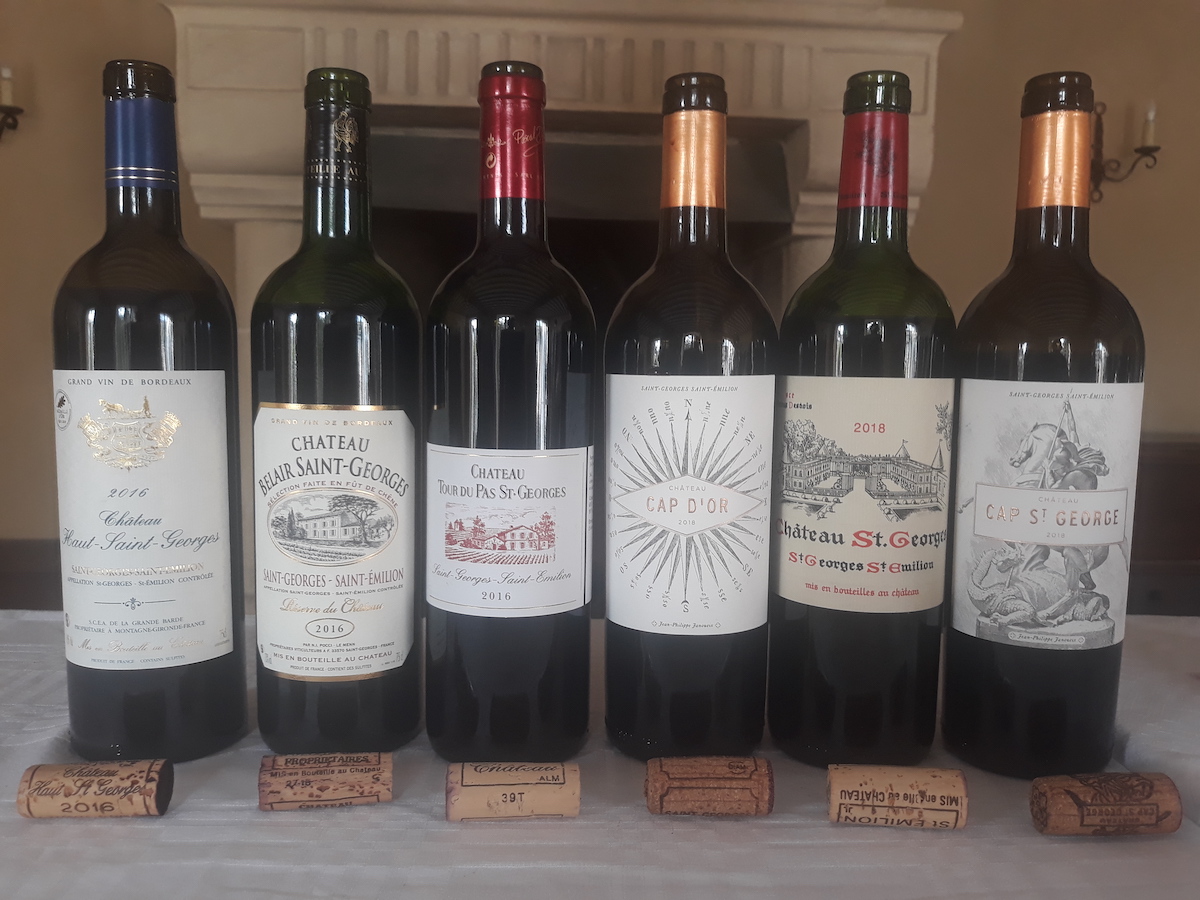 2018 Chateau La Picherie Montagne St. Emilion           89
Nice full ruby. Riper and sweeter than the 2016, this is long, clean, and fresh with an especially enticingly intense violet aroma on the nose. No blockbuster, but offers a clean and fresh mouthful of early drinking pleasure. Drinking window: 2023-2028.
2018 Chateau St.Georges Saint Georges St.Emilion           91
An outstanding 85% Merlot, 12% Cabernet Sauvignon and 3% Cabernet Franc bend that is clean, fresh and precise, boasting varietally accurate red and blue fruit aromas and flavours with a complicating presence of cedar and violet. Very nicely balanced, one of the star wines in my tasting. Drinking window: 2023-2030.
2016 Chateau Bechereau Expression de Bechereau Lalande-de-Pomerol           90
A 100% Merlot that is clean fresh long rich and round, offering noteworthy aromas and flavours of coffee, coconut and cocoa to go along with the typical violet and dark fruit notes of Merlot wines (but with a Bordeaux elegance to them) and some toasty new oak. The daughter of Jean-Michel Bertrand, who ran the property since the 1970s (an estate that has been in the same family since the middle nineteenth century) now runs the property, along with her husband Joël Dupas. Drinking window: 2023-2028.
2016 Chateau Bechereau Couleur Malbec Saint Georges St.Emilion           86
A curious, I dare say rare (for the area) blend of 82% Malbec, 9% Cabernet Sauvignon and 9% Merlot, this is slightly green on both nose and mouth, lacking a touch of ripeness. I'd certainly like to try this interesting wine in other, perhaps better, vintages, and will do my best to hunt down some other bottles to try. Drinking window: 2023-2028.
2016 Chateau Belair Saint-Georges Reserve du Chateau Saint Georges St.Emilion           87
Red fruit on entry, then too herbal and lacking in fleshy fruit, with nuances of orange peel persisting nicely on the medium-long back end. Could have used a little less extraction. Drinking window: 2023-2027.
2016 Chateau Carlina Montagne-St. Émilion           91
An extremely refined blend of 70% Merlot and 30% Cabernet Franc boasting a panoply of red fruit notes that are smooth, pure, long and very clean. This offers a lot of wine for the money, and is to my taste, a real winner. Drinking window: 2023-2028.
2016 Chateau de Chambrun Lalande-de-Pomerol                 91
Perfumed dark and red berries plus balsamic oils on nose and palate, this is silky and smooth. Finishes with lovely clarity and cut. Well done. Drinking window: 2023-2028.
2016 Chateau des Laurets Puisseguin-St. Émilion                90
Easygoing and juicy, with uncomplicated aromas and flavours of strawberry and coffee mixed with hints of potpourri and violet. Drink this lovely red over the next six years or so for maximum enjoyment. Owned by the Compagnie Viticole Baron Edmond de Rotschild, this is a roughly 80-20 Merlot-Cabernet Franc blend aged in about 50% new oak. Drinking window: 2024-2027.
2016 Château Haut Bernat Puisseguin St.Emilion                   89
Easygoing bright and fruity, with thicker notes of coffee and chocolate emerging on the back end to complement nicely the fresher blue and red fruit notes on entry. Bought by the Vignobles Bessineau in 1991 who set out to greatly improve the grounds and cellar, the estate has gone from strength to strength. Drinking window: 2023-2028.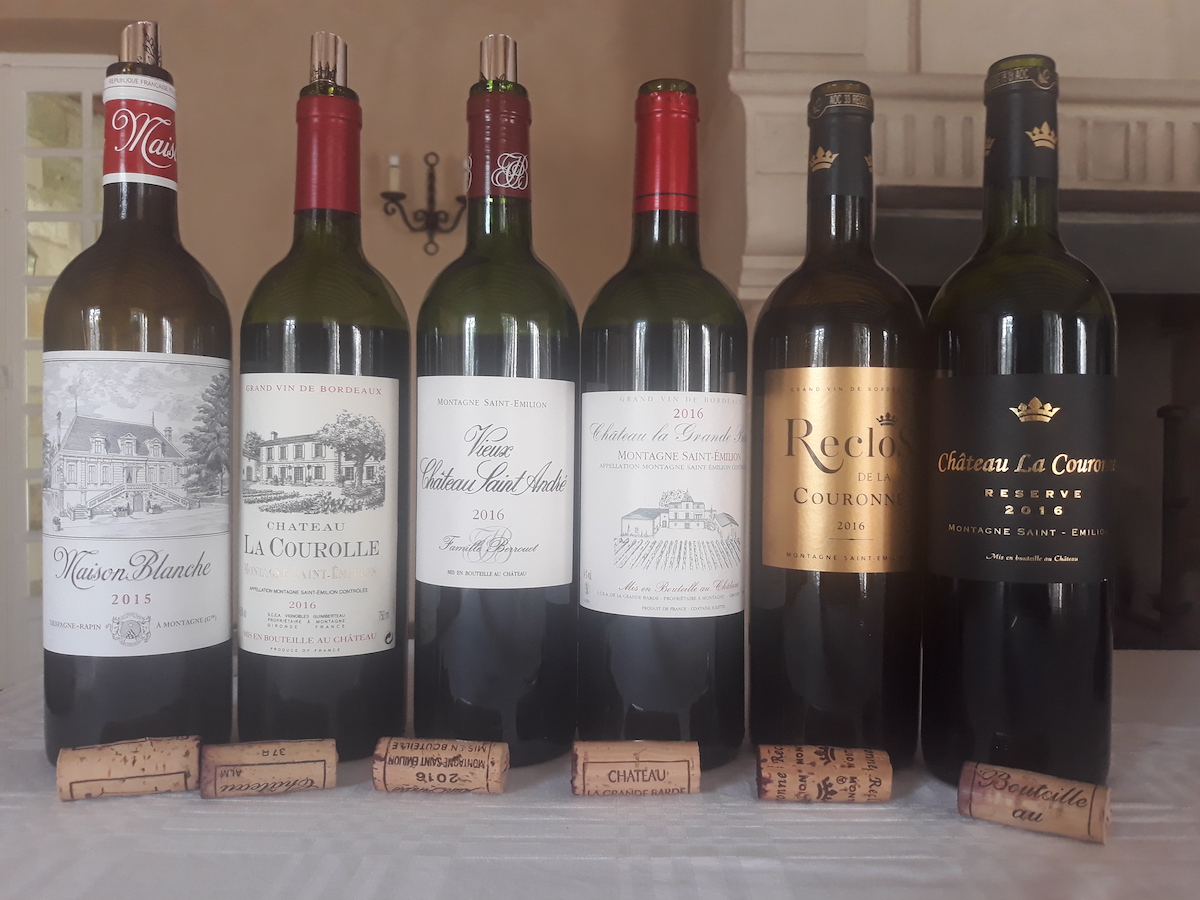 2016 Chateau Haut-Musset Lalande-de-Pomerol                         91
Downright lovely Bordeaux here offering gobs of pure balck fruit adnd noteworthy notes of spices (cinnamon, nutmeg, star anise) and a buttery, herbal fragrance. Long clean fresh and very pretty, with fine grained tannins. Drinking window: 2023-2028.
2016 Chateau Haut-Saint-Georges Saint Georges St.Emilion                   90
Savory red cherry, herbs and tobacco, plus mouthcoating tannins on the long slightly tight finish. This will need some time in the cellar still, but I wonder if the fruit will hold up. I'm betting it will. Drinking window: 2023-2028.
2016 Chateau La Courolle Montagne St. Emilion                  88
More red fruit and herbs than most such Merlot-Cabernet blends (usually more marked by blue and black fruits) with hints of juicy acidity due to the limestone in the soil. But I found this to be a little over-extracted, thereby making the minerality and fruit stand out less than they might have. Drinking window: 2024-2028.
2016 Chateau La Couronne Reclos de la Couronne Montagne St. Emilion                 91
This knockout 100% Merlot wine is the prestige cuvée made by Chateau La Couronne. First made in 1998 from a specific three hectare parcel of vines on the property, this is not at all over the top, neither too ripe nor unbearably chocolaty and massively tannic. It offers violet, blackberry juice and blueberry aromas and flavours in spades, finishing long and smooth with hints of coffee emerging on the aftertaste, which also features a nice smoky touch. Drinking window: 2023-2028.
2016 Chateau La Couronne Reserve Montagne St. Emilion              90
Another 100% Merlot wine but one where the vines are planted at a slightly higher altitude with more limestone in the soil than most. And you can tell, given the citrussy, balanced acidity that nicely lifts the blueberry and blackcurrant herbal-accented flavours nicely on the long back end. Not as extracted, or just plain better balanced, than some other wines I tasted from this property, owned by the Guimberteau family for 100 years. Drinking window: 2023-2028.
2016 Chateau La Grande Barde Montagne St. Emilion                  90
Located on the plateau of Montagne at about 100 meters above sea level, on lots of clay with some limestone, this wine is very representative of the appellation. The wine is just lovely, offering delicate nuances of red and blackcurrant, cedar and coffee. Drinking window: 2023-2028.
2016 Chateau La Grande Clotte Lussac-St.Émilion               88
Juicy and fruity, an easygoing medium-bodied, forward Bordeaux offering early drinking pleasure. In 2016, Julie et Mathieu Mercier took over at the estate after years of it having been rented out to Michel and Dany Rolland. Drinking window: 2022-2026.
2016 Chateau La Grande Clotte L'Envolée Lussac-St. Émilion                 90
A prestige cuvée made only in the best years, this enters and finishes with hints of violet, coffee, black cherries and blackberries. Drinks smooth, with sneaky concentration. Drinking window: 2022-2026.
2016 Chateau La Picherie Montagne-St. Émilion                 90
Delicately juicy and floral, with lively red and black fruit nuances lingering nicely on the clean, fresh and focused finish. A really lovely wine that would make a fine lunch companion. Drinking window: 2023-2028.
2016 Chateau La Tour Bayard – Montagne-St. Émilion          90
Black fruits, violet, chocolate and licorice notes are clean pure and fleshy. Nice balance and focus here. I have always thought of this wine as one of the best made in the Satellite appellations, rather modern in style with its seductively soft fleshy fruit and fine-grained tannins. This is aged for 12 months in a combination of cement tanks (60%) and new and second fill barrels (20% each). Grapes are organically grown,100% destemmed, and the estate vinifies each plot separately. The estate also makes a top cuvée called La Tour Bayard l'Angelot that is almost 100% Malbec. Drinking window: 2023-2028.
2016 Chateau La Tour du Pas St-Georges Saint Georges St.Emilion           91
A 65% Merlot and 35% Cabernet Franc blend, this is an absolutely lovely, light to medium-bodied red wine that boasts fresh red fruit, orange peel and herbs aromas and flavours. Finishes long fresh and savory. Very well done. Drinking window: 2023-2028.
2016 Chateau Les Cruzelles Lalande de Pomerol               92
Gently textured, downright silky even, with very pure blackcurrant, violet and mineral nuances, complicated by a pungent lavender element. This is a real winner. Finishes long and pure. Aged in 50% new oak, this is a blend of 90% Merlot and 10% Cabernet Franc that never disappoints. The estate's younger vines are used to make Chenade, another Lalande-de-Pomerol wine.  Drinking window: 2023-2032.
2016 Chateau Lyonnat Lussac St.Emilion                          90
Dark red in colour, with aromas and flavours that are equally dark red in nature (red cherry, raspberry), complicated by hints of licorice, espresso and dark chocolate. Smoothly full-bodied and juicy, this is quite nice. Even more importantly, it speaks of a wine from Lussac, and not some Saint-Emilion wannabe. Drink up over the next 10 years. Drinking window: 2023-2028.
2016 Chateau Samion Lalande-de-Pomerol                      91
Clean, fresh and smooth, this very nice Bordeaux is less tannic and savory than many wines of the Appellation and is an absolute joy to drink. Lovely, but with sneaky concentration and power. Drinking window: 2023-2028.
2016 Chateau Siaurac Lalande-de-Pomerol                   91
A 74% Merlot, 10% Cabernet Franc and 7% Malbec blend, this is silky and fresh, boasting dark fruit and dark chocolate aromas and flavours. Finishes long and smooth. Siaurac owns 46 hectares in a single, contiguous plot on the plateau of Néac and is well-known to wine lovers for its quality wines. Drinking window: 2023-2028.
2016 Chateau Tournefeuille Lalande de Pomerol                   90
Always a dead ringer for a wine from Pomerol (which is actually rarely the case) this offers juicy blueberry and blackberry aromas and flavours nicely complemented by smoky cocoa, graphite and herbs. Long and smooth on the pretty floral finish. Drinking window: 2023-2028.
2016 Chenade Lalande de Pomerol                 90
Always a fruit-forward beauty, this silky and very refined wine offers floral redcurrant and blackberry aromas and flavours that are gentle and pure. The aftertaste lingers long with smooth tannins and a rising violet note. It is a blend of 80% Merlot and 20% Cabernet Franc from the younger vines of Chateau Les Cruzelles, and estate bought in 2000 by star winemaker and Pomerol flagbearer Denis Durantou (who unfortunately passed away a few years ago: a genuinely nice man that was beyond talented and whom I greatly admired, his marvellous wines at Chateau L'Eglise-Clinet were some of Pomerol's best) picked on September 24-29 (the Merlot) and October 6 (the Cabernet Franc) at a paltry 39 hectoliters per hectare. Aged in roughly 40% new oak. Outstanding wine. Drinking window: 2023-2026.
2016 La Fleur de Bouard Lalande de Pomerol                          91
Blackberries, dark cherries, smoke, vanilla and licorice dominate on the nose and in the mouth. Happily less extracted than in the past, this offers very good purity of fruit and silky tannins. It is hard to express just how much better this is than the over extracted wines of the latter part of the 2000s and early 2010s. Drinking window: 2023-2028.
2016 Vieux-Chateau-Palon Montagne-St. Émilion                         90
Nicely floral and fruity, with smooth tannins and well-balanced acidity. Finishes long and precise. Owned by Gregory naullet since 1999, the estate is situated on the plateau of Calon. Drinking window: 2023-2028.
2016 Vieux Chateau Saint-André Montagne St. Emilion                      91
A simply splendid wine that is refined and perfumed, while offering admirable fruit-acid-tannin balance. An 87% Merlot and 13% Cabernet Franc blend that boasts lots of aromas and flavours of red fruit and medicinal herbs. This showcases well the estate's soil of clay with limestone patches. About 15% was aged in new oak. Drinking window: 2023-2030.
2015 Chateau de Chambrun Lalande-de-Pomerol                      90
Very ripe and round, with fleshy plum and cassis notes. Not the last word in elegance, but with an enticingly saline finish that provides noteworthy lift (despite the water deficit of 2015). Vinification takes place in a combination of 40 hectoliter French oak vats and barriques. The wine is aged in 75% new French oak for about 15 months before bottling. This is an important vintage for the property as it marks the passage of ownership from Silvio Denz (of Lalique and Chateau Lafaurie-Peyraguey fame) to Patrick and Sylvie Javanaud. Drinking window: 2023-2028.
2015 Chateau de la Couronne Montagne-St. Émilion                   90
Deep in color, with layers of ripe, dark fruits, licorice, espresso and crushed stones, this is a very pretty, well-made wine that offers lots of ripeness and relative size, but that is neither over-extracted nor rustic. Very well done.Drinking window: 2023-2028.
2015 Chateau La Rose Perrière Lussac-St. Émilion                        90
Fresh and juicy, with spice-accented ripe red and blue fruit aromas and flavours dominating, complemented by notes of mint and lavender. Smoothly tannic, and surprisingly powerful on the long slightly warm finish, I would drink this up over the next six or seven years. Owned by the Sylvain family, of tonnellier fame La Rose Perrière boasts one of the most ancient viticultural sites of all the Saint-Emilion satellites, given that monks planted vines here in the Middle Ages.Drinking window: now-2026.
2015 Maison Blanche Montagne St. Emilion                     90
An absolute stunner, this lovely wine hits all the right buttons. Long clean and pure, with lots of plums and blackberries dominating the expressive nose and palate. Insidiously sweet with a nectar-like quality, this is one of the best wines in the tasting. Located on softly rolling slopes with sandy-clay soils that are lighter than most. Note that this wine chooses not to carry the name "Chateau" butbthe somewhat more down to earth one of "Maison".Drinking window: 2023-2028.