I can safely say to be one of the world's biggest fans of the wines of Sauternes and Barsac. My cellars are full of bottles from these Appellations, and unlike most people today, will routinely drink the wines of Sauternes and Barsac through an entire lunch or dinner with foods/dishes these delicious sweet wines pair well with (which include many more options than just cheese and desserts). In fact, there is hardly a time in which Sauternes or Barsac wines cannot be enjoyed. And so it is that I love these wines young and I love them old; the lighter vintages as well as the opulent ones; and those that are intensely marked by noble rot (Botrytis cinerea) and those less characterized by it. In short, there has never been, more or less, a Sauternes and Barsac wine that I didn't think was just swell.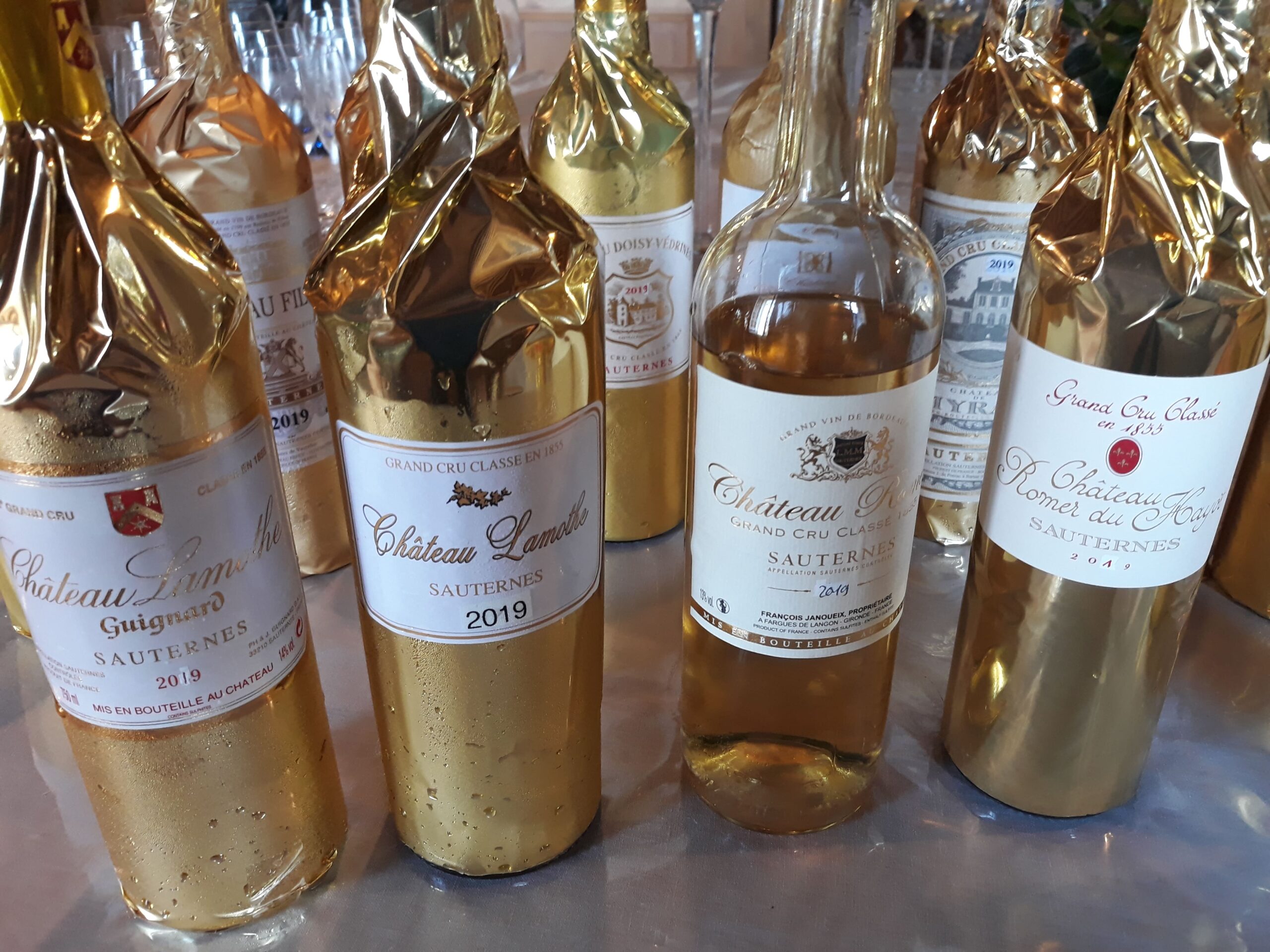 In general, the 2019 vintage should make all the Sauternes and Barsac wine lovers like me happy. The main caveat with 2019 wines is that careful selection of the grapes at harvest time was tantamount to making good wines, because grey rot and fruit flies caused headaches during the course of the year. Careful sorting was necessary, but this means that yields throughout Sauternes and Barsac were even smaller than usual (at a paltry 10 hl/ha, the average yield of the crus classes of Sauternes, you have to wonder how these estates manage to stay in business).
A few words on the Appellation and its terroirs
Sauternes is the most famous sweet wine denomination of Bordeaux, created in 1936, and located on the left bank of the Garonne river. It boasts five communes: Sauternes itself, Barsac, Bommes, Fargues and Preignac. Of these, only Barsac holds the privilege of having its own Appellation, and so Barsac wine producers have the option to bottle their wines as Barsac, instead of Sauternes. Most however choose to use the Sauternes monicker anyways, as it is the best known of the communes, a name that is strongly associated with sweet wine production the world over.
The official production guidelines for Sauternes (and Barsac) are identical. The only wine grapes allowed are Sauvignon Blanc, Sauvignon Gris, Sémillon and Muscadelle; however, the vast majority of these wines are made up of mostly Sémillon (many are 100% Sémillon) and a little bit of Sauvignon Blanc. Grapes may be picked by hand only when their must weight reaches 221 grams per liter. The wines are invariably luxurious and opulent, though in cooler, rainier vintages they can be remarkably politely-styled and not very opulent at all. In hot dry years, the wines will be marked by notes of passérillage (air-dried grapes directly on the vine) and will be thick and quite sweet; in years in which noble rot is prevalent the wines are marked by better overall acidity, more complex aromas and flavours, and less sugariness.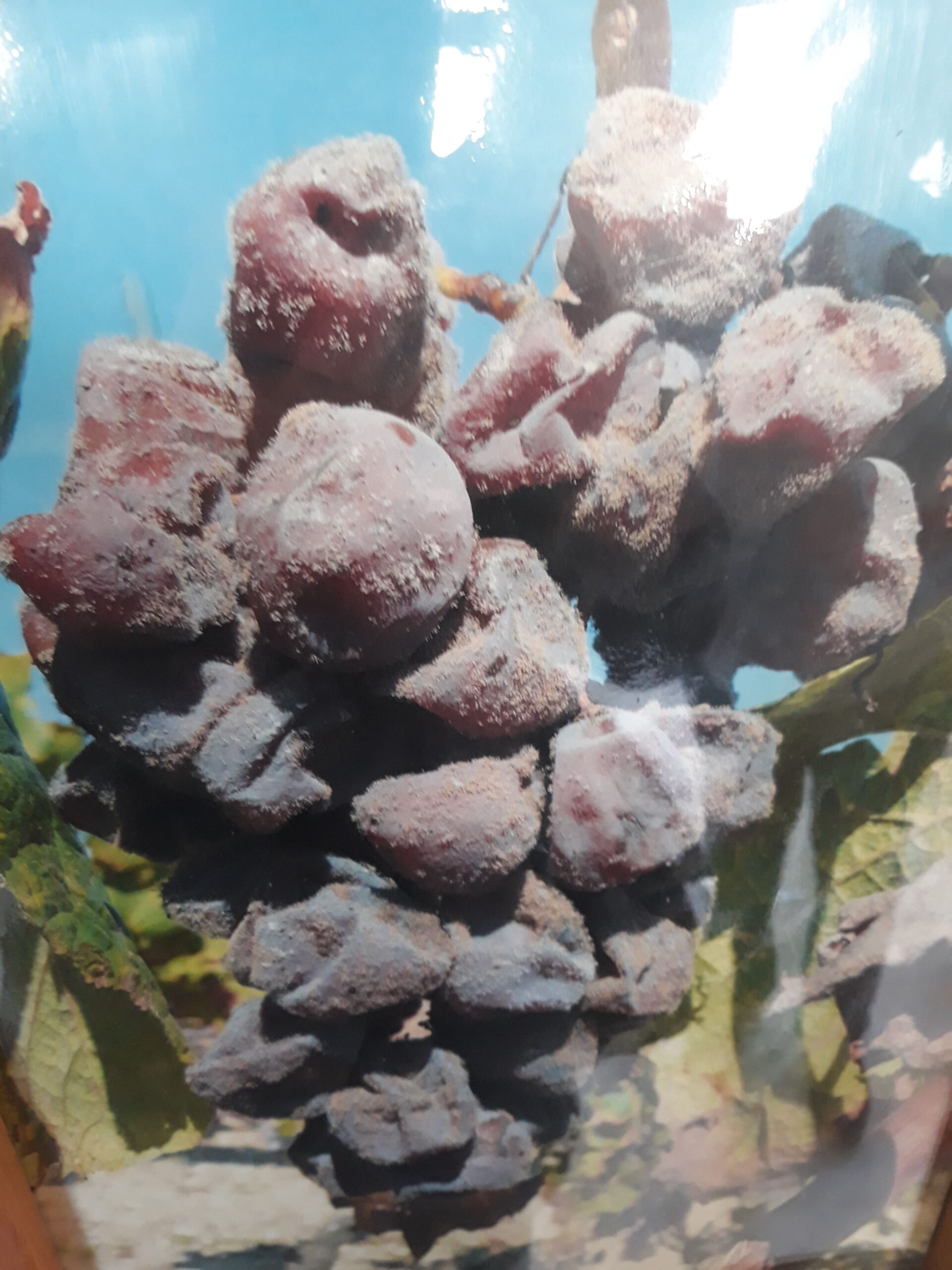 The Sauternes terroir is remarkably complex, and there are noteworthy differences between the wines of the five communes: though the majority of people cannot really tell a wine from Preignac and one from Bommes apart, in fact, the wines are different because of clear-cut differences between the terroirs of those two communes. Perhaps the easiest distinction to make is between the wines of Sauternes and Barsac. Geologically, Barsac soils are richer in limestone and sand that Sauternes, and the presence of these two account, at least in part, for the greater freshness (the limestone) and relative lightness of texture (the sand) of the wines of the former Appellation, which are undoubtedly the most refined of all Sauternes. By contrast, the wines from the commune of Sauternes are usually the richest of these sweet wines: this is mostly a consequence of the higher elevation and hillier topography of the commune, which allow for a different set of air currents and greater presence of noble rot and more concentration of the grapes. In general, the wines will offer aromas and flavours of pineapple, mango, dried apricot, fresh and crystallized citrus fruits, ginger, beeswax, and marzipan, with a highly characteristic note of saffron that is impossible to miss.
A word about vintage weather in Bordeaux
Generalized descriptions of the weather during a growing season are easy enough to find for all of the world's major viticultural areas, and it is no different for Bordeaux. However, unlike most world wine areas such as Napa, Barossa, or Barolo, Bordeaux is associated not just with red wines, but also very important dry white and sweet wine productions (indeed, some of the world's very best dry and sweet white wines). But in order to make truly stellar sweet wines, entirely different weather conditions are required than those ideally suited to making dry white and red wines. And so, what might be viewed as wonderful weather in Margaux or Pauillac might prove less than ideal for Sauternes and Barsac (which are the two best known and important sweet wine production areas of Bordeaux, but by no means the only ones). By the same token, climatic conditions that ensure the production of memorable sweet wines are almost always viewed as disastrous in the Médoc. It follows that even though Sauternes and Barsac are Bordeaux wines, generalized descriptions of the Bordeaux vintage weather are of little help in determining the exact quality potential of the wines of Sauternes and Barsac (or of any of Bordeaux's wines, for that matter).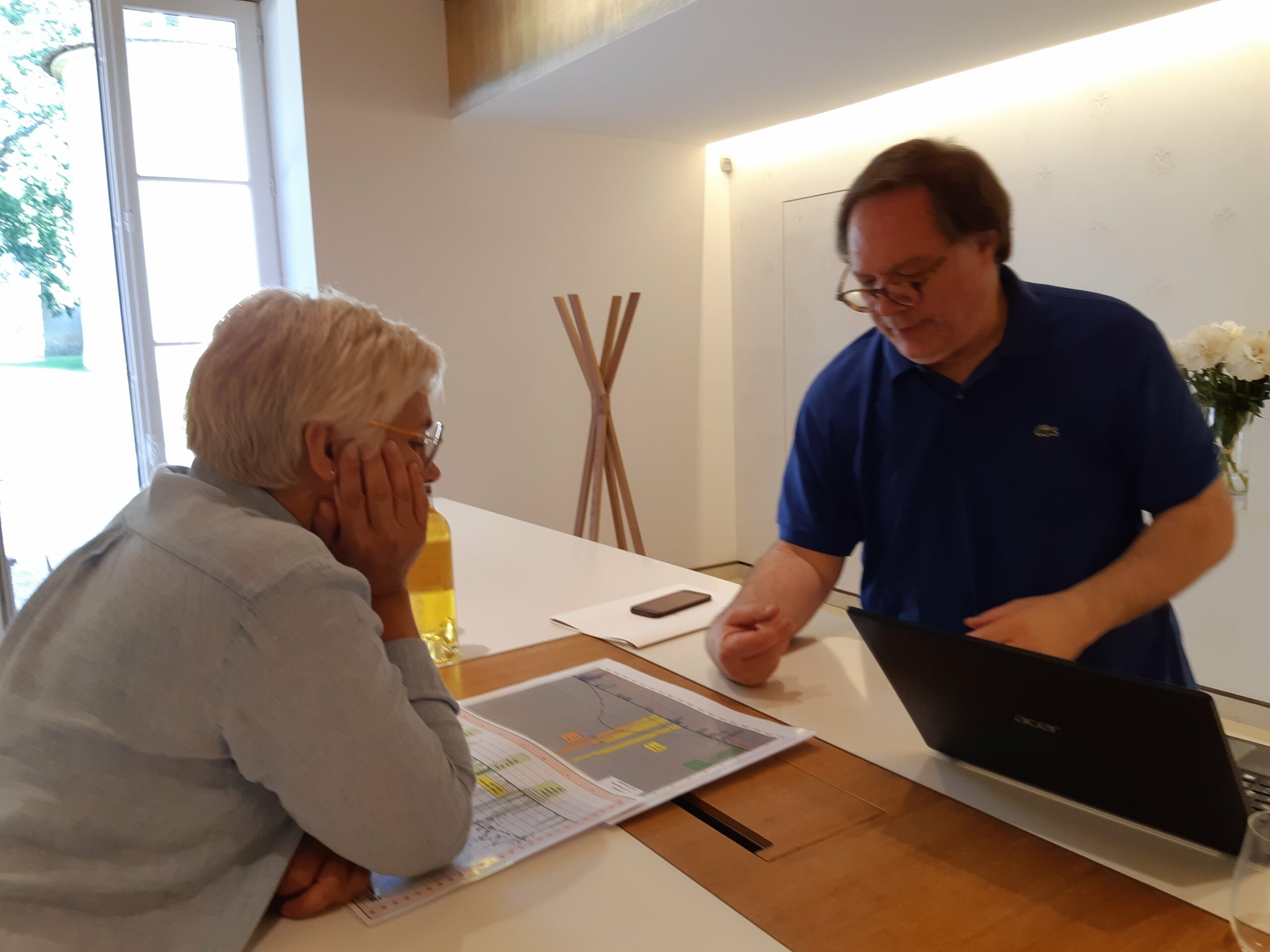 Weather patterns are all-important to understanding the wines of any vintage and any world wine area, but this is especially true of Bordeaux, given that the terroirs of the various Bordeaux Appellations differ considerably one from the other. For one, Sauternes and Barsac are made with (mostly) Sémillon and Sauvignon Blanc, not Cabernet Sauvignon and Merlot: all these grape varieties want very different growing seasons, climates and soils. Furthermore, an integral aspect of Sauternes and Barsac wine production is the presence or absence of Botrytis cinerea (noble rot) in any given year, something that is of no interest to those making a left or right bank dry red wine. Consequently, knowing how weather conditions specifically impacted grape ripeness (in particular, sugar and acidity levels) and the development of noble rot is of great importance and a real big help when evaluating the wines of Sauternes and Barsac. Therefore, in my annual coverage of the new vintages of Bordeaux wines, I always give a detailed description of the year's weather that is specific to Sauternes and Barsac.
The 2019 vintage's growing season in Sauternes and Barsac
Weather-wise, the early part of the 2019 growing season was much the same as for the rest of Bordeaux, with generally mild conditions; and though a little frost and berry shatter were present, these were not especially problematic. In July however,  a very sunny month overall with about seventy more sunlight hours than the previous twenty year annual average on record, Sauternes and Barsac saw a lot more rain than did the rest of Bordeaux (100 millimeters of rain compared to the northern Medoc's 40 millimeters), which combined with the warm temperatures, triggered the onslaught of acid rot (not the good noble rot, which develops later in the year). Mercifully, good weather ensued, allowing for an early harvest to take place in very good circumstances (and so water stress was not as big a problem for Sauternes and Barsac in 2019 as it was instead in other parts of Bordeaux; however, some estates did report berries dehydrating or shrivelling directly on the vines, so some water stress was undoubtedly present). Because August was especially dry and warm, noble rot arrived late, beginning in mid-September and while most estates did not carry out a huge number of passes or tries in their vineyards looking for noble rot-affected berries, they did so into the first half of October.
Most of the estates began picking their Sauvignon Blancs around the end of August, and the Sémillon about two weeks later, well before more rain hit the area at the end of September. For this reason the grapes came into the cellars not quite as loaded with sugar as they might have been had the harvest occurred later, but also marked by fresh acidities. At most properties, the harvest was done by mid-October, a good thing since rain hit again in the last ten days of the month.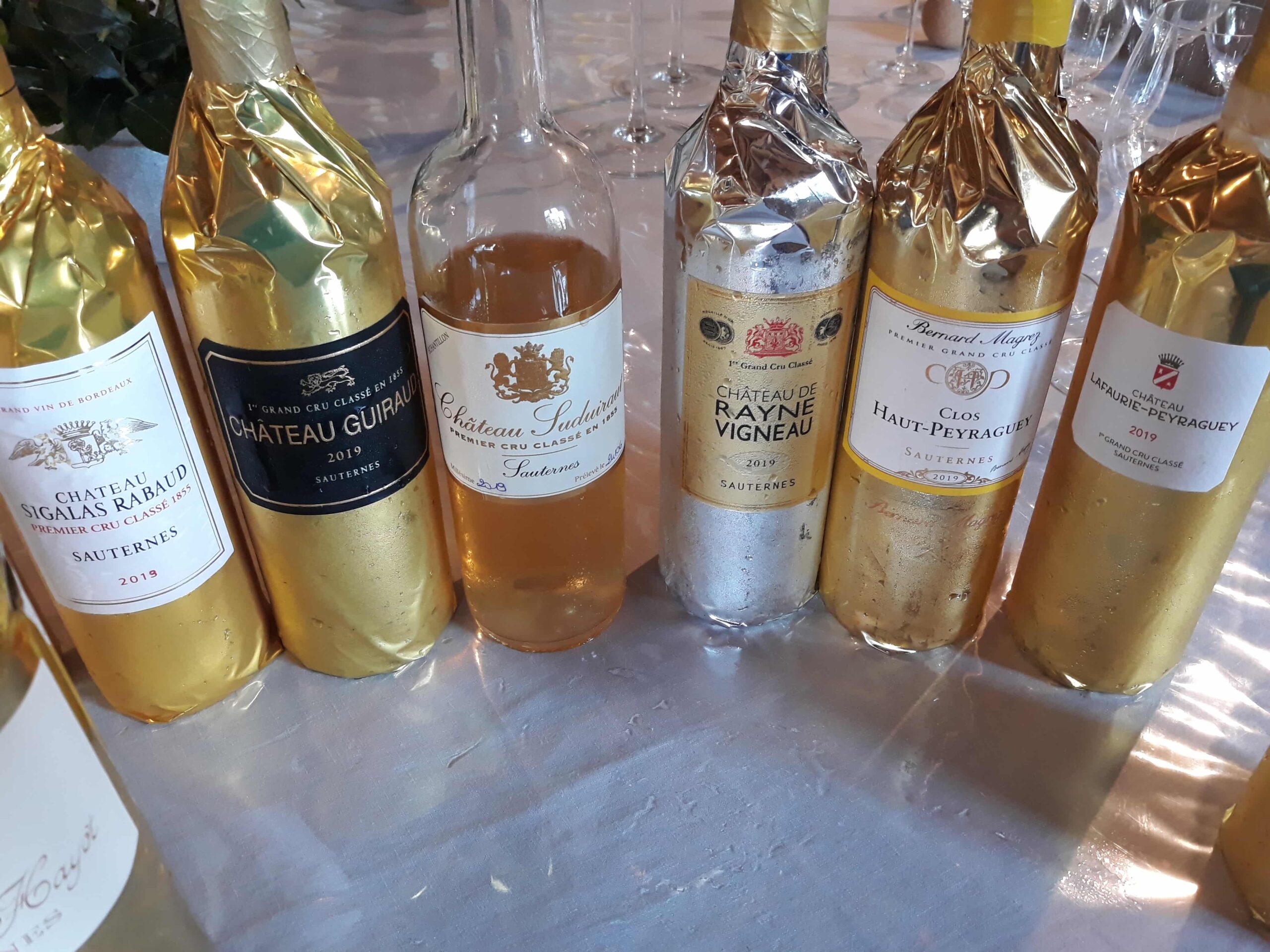 In conclusion…
I liked the 2019 Sauternes and Barsacs. They are wines that have just enough richness to make them voluptuous, but enough harmonious acidity to make them graceful and relatively lithe on their feet. Care has to be taken in choosing the right wines, because fruit flies and acid rot were problematic, and those who did not sort carefully did make slightly bitter wines marred by green herbaceous streaks (an outstanding property such as Chateau Nairac did not produce its wine in 2019). To help you put the sweet wine style of 2019 in perspective, most producers I talked with compared the 2019 sweet wines to those of 2003 and 2009, two vintages well-known for very luscious, even downright opulent sweet wines (though in my opinion, opulence is the only thing the 2003 and 2009 wines have in common, with the latter a vintage of far superior wines). In fact, though the 2019s are certainly rich, even sultry wines, they are not nearly as unctuous as either of those two years and while fresher than both of them, they are certainly superior to the wines of 2003 but for the most part lack the complexity of the best 2009 wines. I think the best 2019s will keep well and will provide outstanding drinking experiences for all those lucky enough to have bought and cellared the most successful wines of the vintage (readers should note that this report includes the 20198 Chateau d'Yquem, not the 2019, because that is the vintage the estate was serving at the time of the Primeur tastings. I will write up a separate note on the 2019 Yquem shortly enough).
Despite the Covid plague that befell on us all in 2020, the wines in this report were tasted directly in Sauternes and Barsac during my numerous winery visits in the summer months of 2020. I want to thank the Planty family of Chateau Guirad especially for rounding up the majority of the samples for me and allowing me the opportunity to taste directly at their magnificent property.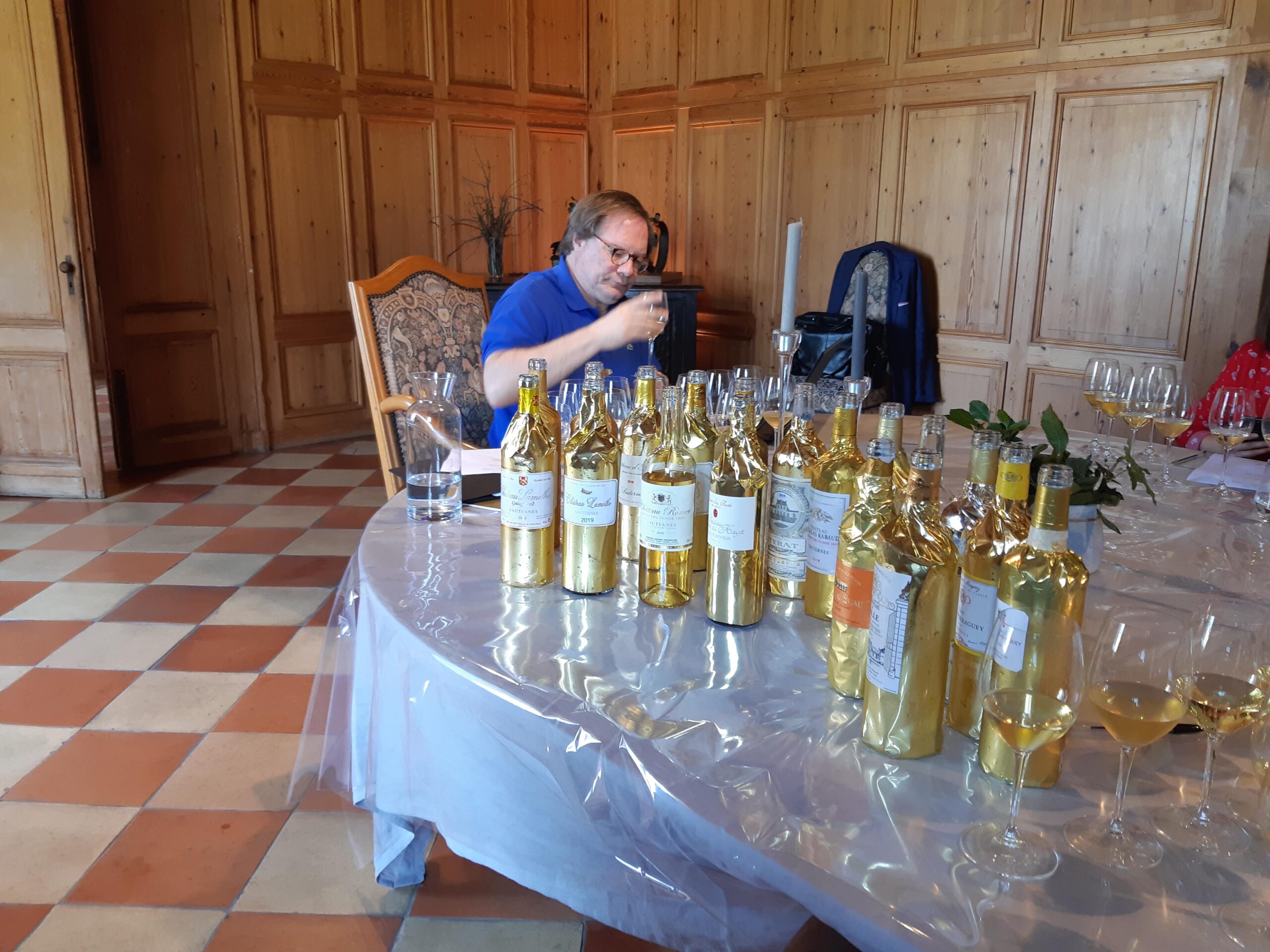 Broustet.
Not that many people know that the barrique, the 225 liter oak barrel associated with most great French wines, is believed to have been first used at Broustet, where a cooperage was first set up many centuries ago. The property sits on clay-calcareous and sandy soils that can give wines of sneaky concentration, but I don't think this property's full potential has yet been attained, with variation from vintage to vintage that can be marked, so taste ahead.
Chateau Broustet Sauternes                                                             88-90
Bright deep yellow. Green tea, white flowers, tangerine jelly and hints of dried herbs and woodsy underbrush on the nose and in the mouth. Suave and juicy on entry, then a little tighter in the middle, picking up a stronger herbal note on the long, slightly bitter and astringent finish (though the herbal presence is less strong and bothersome here than in some other 2019 Sauternes, it's still not much to my liking).
Clos Haut Peyraguey.
2019 Clos Haut Peyraguey Sauternes                                            92-95
Bright deep yellow. Enticing aromas of orange marmelade, almond, vanilla bean, peach and crystallized ginger. Then rich, luscious and dense, with yellow fruit jam and honey-roasted yellow fruit flavors. Always in the richer, thicker and denser style that is highly typical of the wines of Clos Haut Peyraguey, the 2019 Clos may not be the last word in refinement, but it's hard to argue with this wine's lusciousness and sweet sultry charm. The estate belongs to Bernard Magrez, who bought in 2012.
d'Arche.
Chateau d'Arche Sauternes                                                              89-92
Deep luminous yellow. Rich aromas of quince, dried apricot, pineapple, honey and a hint of coffee reduction. Big, fat, and ripe on entry, then more nervous in the middle and on the long back end that features noteworthy tannic bite. Showcases very good balance overall. This pretty wine could have used a little more fruity fleshiness to stand up to its tannic backbone, but I like the sense of precision it exudes.
de Malle.
Chateau de Malle Sauternes                                                           94-97
Vibrant yellow. Perfumed aromas and gentle flavours of lemon curd, grilled pineapple, lime jelly, saffron and dried ginger. This beautiful wine is one of the most precise and pure Sauternes of the 2019, though in typical de Malle style it is politely-styled and light on its feet. Finishes very long with iodine, smoky and medicinal twists. One of the best young de Malle's I have memory of at a similar stage of development.
de Myrat.
Chateau de Myrat Sauternes                                                           93-96
Deep golden-yellow. Pungent floral notes (lavender, peony), candied apricot and crystallized kumquats vie for attention on the nose and in the mouth. This actually smells and tastes as if it the grapes were partly air-dried. This knockout 92% Sémillon, 4%Muscadelle and 4%Sauvignon Blanc showcases outstanding sugar-acid balance (135 g/L residual sugar and 7 g/L total acidity) and closes very long, round, ripe and smooth. Note that this is one of the many properties that though situated in Barsac, prefers to use the better known name of Sauternes on its label.
Doisy Daëne.
Chateau Doisy Daëne Barsac                                                           94-97
Vivid yellow with deep golden tinges. Offers explosive aromas of vanilla and lemon custard cream, complicated by white flowers and nuances of tropical fruit. On the palate, this boasts extremely pure, voluptuously intense flavours similar to the aromas and a creamy texture that makes it truly hard to put the glass back down. Fr such a rich thick wine, this is not at all over the top and has just enough acidity to keep it dancing on your taste buds rather than come across as chunky or cloying (there are roughly 156 g/l residual sugar and 7 g/l total acidity). Finishes long and clean, with a mineral tinge that is typical of Barsac.
Doisy-Védrines.
Chateau Doisy-Védrines Sauternes                                                    92-93
Bright medium-deep golden-yellow colour. The deep nose offers pineapple, canned peach, caramel, almond syrup and spicy oak. Big, rich and voluminous, as is in the usual house style with this wine, boasting a thick, unctuous mouthfeel with decadently sweet flavours of tropical fruits, sweet spices and honey. Closes long and sweet. Though maybe not the last word in refinement, this is an outstanding sweet white wine that will have many admirers: there's a lot of wine here for the money.  is one of the many properties that though situated in Barsac, prefers to use the better known name of Sauternes on its label.
Filhot.
An extremely ancient estate founded in 1709 by Romain de Filhot, a conseiller of the Bordeau Parlament, it is now run by Gabriel de Vaucelles a direct descendant of de Filhot (meaning more than 300 years of the same family ownership, practically unheard of in today's wine world). The Chateau and estate grounds are some of the most beautiful in all Bordeaux: 350 hectares large, Filhot boasts sixty-two hectares under vine (roughly 50% Sémillon, 48% Sauvignon Blanc and 2% Muscadelle) and a beautiful English-style garden designed by famous landscapist Louis-Bernard Fischer in 1845. The wines are always shut and closed down at first and so are a little tough to judge when young but blossom beautifully in the bottle and in my experience tend to be spectacular with ten-fifteen years of age under their belt.
Chateau Filhot Sauternes                                                           93-96
Very bright pale yellow. An initially quite strong note of reduction blows off with aeration, to then reveal enticing aromas of fruit salad and flowers along with nuances of grilled nuts, marzipan, orchard fruit, vanilla and a strong note of ginger. Offers lovely inner-mouth perfume and bright, balanced acidity to frame the sweet fruit salad flavours. Finishes with a restrained sweetness and outstanding lift and perfume. This is a really lovely Filhot, well done.
Guiraud.
Chateau Guiraud Sauternes                                                           93-96
Full, vibrant yellow-gold. Subtle yet very complex nose offers saffron, lemon peel, orange marmalade and caramel, complemented by a sexy marzipan undertone. Dense and luscious but with excellent focus and energy to its high-pitched orange, sweet spice and honeyed flavours, complicated by a very good, clean botrytis character. Boasts lovely freshness so does not seem nearly as sweet as it really is but did become more rich and viscous as it sat in my glass. Finishes clean, firm and long, with a saline and caramel complexity. In 2019, Guiraud had to throw away 70% of its harvest because of acid rot, and so was one of the many Sauternes estates that reported an average yield of 10 hL/ha for the year (not that at Guiraud it is much higher even in other years, as normally yields at the property hover around 15-18 hl/ha, but at these levels even a modest drop is threatening to financial well-being).
Lafaurie Peyraguey .
2019 Chateau Lafaurie Peyraguey Sauternes                                                          93-96
Luminous pale golden-yellow. Subdued nose of yellow apple, pear and peach, complicated by honeyed nuances. Then rich, ripe and luscious in the mouth, with pure, penetrating flavours of exotic fruits toffee, canned peach and crystallized ginger. Despite its refreshing acidity, this delicious Sauternes' texture is very creamy. Closes extremely long and precise, denoting outstanding sugar-acid balance and a delicate, refined sweetness that is not at all over the top. Sneaky concentration and complexity here.
Lamothe.
2019 Chateau Lamothe Sauternes                                                          93-96
Vivid pale yellow gold. Intense, precise aromas of peach, nectarine, lemon peel, honey and saffron. Suave, sweet, rich and round in the mouth, yet at the same time remarkably elegant and fresh. Closes long and clean with very pure lifted flavours of fresh citrus fruits, cinnamon and almond paste. Unless memory fails me completely, this is either the best or at no worse one of the three best Lamothe wines I have ever tasted at a similar stage of development. Very well done.
Lamothe-Guignard.
2019 Chateau Lamothe-Guignard Sauternes                                                           93-96
Bright good pale yellow. Lemon peel, pineapple nectar, and sweet spices on the nose. Lively, suave and moderately glyceral, with seamless, refreshing flavours of yellow peach, lime, coconut and vanilla. Boasts wonderful inner-mouth perfume and vibrancy leaving a lingering impression of great elegance and freshness on the long, saline close.  Nicely done here. Another outstanding young 2019 wine that is one of the best samples I have ever tasted at a similar stage of development from this property.
Rayne Vigneau.
Eighty-four hectares large, Château de Rayne Vigneau is an extremely ancient Sauternes property the history of which dates back to the seventeenth century. Records show the founder, Gabriel de Vigneau, was present at the Domaine du Vigneau already back in 1635; in 1834, Madame de Rayne, born Catherine de Pontac, bought the property but it was only much later, thanks to one of her descendants, Albert de Pontac, that the estate comes to its present day name of RayneVigneau. Today Chateau de Rayne Vigneau belongs to the Trésor du Patrimoine groupe and is directed by Vinceent Labergère, with the consultant winemaking help of Henri Boyer. The sixty-two hectares are planted to 74% Sémillon, 24% Sauvignon Blanc and 2% Muscadelle on mostly sandy gravel soils resting on a clay bedrock. However, for the past ten years, Rayne Vigneau has been renewing its vineyards, and increasing its plantings of Sauvignon Blanc taking special care to plant it on those parcels that were once historically associated with it at Rayne-Vigenau; it is an effort by the current technical team to bring Rayne-Vigneau back more in tune to its origins, when the wine was known to be amongst the most elegant of all sauternes (and in fact was at one time considered the best Sauternes right after Yquem). In this light, the estate has devised a new winemaking protocol for its Sauvignon Blanc, aimed at highlighting the precision of its Sauvignon lots; according to Labergère, this technique paid off handsomely in vintages such as 2017 and 2019.
2019 Chateau de Rayne Vigneau Sauternes                                                           93-96
Medium-deep golden-yellow. High-pitched aromas of lemon custard cream, honey, orange marmelade, and fresh apricot, with nuances of sweet caramel oak and of noble rot adding further complexity. Rich, ripe and round, this wonderfully pure and precise young Sauternes has a nectar-like quality to its flavours of yellow apple sauce, orange and spices. Finishes long and with an exhilarating chewy texture and superb aromatic persistence. This beautiful 76% Sémillon and 24% Sauvignon Blanc blend showcases really outstanding sugar-acid balance (149 g/L residual sugar and 6.3 g/L total acidity).
Rieussec.
Founded by Carmelite monks located in Langdon (and after whom Rieussec's second wine, Les Carmes de Rieussec, is named), Rieussec's ownership following the French revolution passed on to various well-known Bordeaux wine families, including the Marheilac (at the time also owners of Chateau La Louvière, a property famous for white and red wines located in what is today's Pessac-Léognan appellation) and the Gasqueton (also owners of Chateau Calon-Ségur in Saint-Estèphe) families. In 1984, the estate was sold to Domaines Baron de Rothschild (of Lafite-Rothschild fame); in 1985 Charles Chevalier was appointed general director and the property lived through a boom period, making some of the greatest wines in its history (in my view, those of the mid-1980s to the late 90s are especially noteworthy, though some later vintages are also nothing short of exceptional, witness the magical 2010). This past summer, I tasted the 2019 directly at Lafite-Rothschild with talented and likeable winemaker Christopher Congé, and was very pleased with the wine, a suave, very refined yet at the same time powerful Sauternes. In 2019, the dry summer guaranteed happy rot-free days, but unfortunately the early September rains caused rot not just to appear but to spread very quickly. Congé told me they had to pick very fast and so fewer than usual passages (tries) were made. Those grapes that were felt likely to give the most elegant wine were reserved for Rieussec. In fact, I think Rieussec's staff did an amazing job in 2019: not only is the Rieussec a major success, but the second wine, Les Carmes de Rieussec may well be the best second wine of the vintage.
2019 Les Carmes Rieussec Sauternes                                                           91-94
Pale yellow-gold. Peach, lemon curd, white flowers and sweet spicy scents of vanilla on the nose. Beautifully silky in texture, with a hint of glyceral ripeness to the fresh, floral flavours of orchard fruit, minerals and guava nectar. The long aftertaste is juicy and lively: this remarkably well-balanced Sauternes leaves you wanting to drink another glass the minute you've swallowed the previous one. This 85% Sémillon,12% Sauvignon Blanc and 3% Muscadelle is an absolutely magnificent second wine; more importantly, it's just a magnificent lighter-styled Sauternes.
2019  Chateau Rieussec Sauternes                                                          93-96
Bright golden yellow. Exotic aromas of orange oil, peach, pineapple and white flowers are complicated by vanillin oak and saffron. Then very dense and complex in the mouth, with smooth and very sweet fruit, caramel and honeyed flavours. The closing peach and spice flavours linger impressively with a building bittersweet note due to the strong presence of noble rot. In 2019, Rieussec is a 89% Sémillon, 9% Sauvignon Blanc, and 2% Muscadelle blend.
Romer.
At 3.5 hectares, Chateau Romer is by no means one of the bigger estates in Sauternes but its somewhat underrated wines often deliver well above their weight class. One of the secrets is the old age of the vineyard (Romer's vines average roughly 70 years of age) and it is entirely planted to Sémillon only. From a geological perspective, the terroir is characterized by soils consisting mostly of gravelly sands with marine deposits (presence of fossils), and that are poor in organic matter but offer excellent drainage. Yields are slightly higher than at some other Sauternes estate but owner François Janoueix (whose family owns eleven different chateaux in nine different prestigious appellations) aims at making fresher-styled wines that are easy to drink and pleasant already in their youth, though having the capacity to age well too.
2019 Chateau Romer Sauternes                                                           90-93
Luminous pale yellow. Slightly subdued aromas of honeycomb, roasted oats and peach become slowly more expressive with aeration. Rich, sweet and moderately viscous on the palate, with thick honeycomb and toasted grain flavours repeating, complicated by pear nectar, cinnamon apple pie and light saline nuances. Not the most concentrated or multilayered Sauternes of the vintage, but lovely and easy to drink, with a rather palate-caressing texture. This would pair very well with roast scallop or shrimp dishes. In 2019, the harvest at Romer started on October 15 and was completed in two passes: the wine boasts 120 g/L residual sugar and 6.75 g/L total acidity.
Romer du Hayot.
2019 Chateau Romer du Hayot Sauternes                                                          91-94
Vivid yellow. Enticing aromas of honey, caramel, fresh nectarine and peach. Rich and round flavours of canned peach and field herbs have a gentle, precise quality. Finishes long, clean and very-well balanced, this is a really lovely Sauternes but I was left wishing for a bit more definition and thrust. Currently a little shut down so as to seem simple, but I have no doubt it will develop nicely and be just delightful in five years time.
Sigalas-Rabaud.
2019 Chateau Sigalas-Rabaud Sauternes                                                           92-95
Bright deep yellow with an orange tinge. Perfumed aromas and flavours of orange peel, crystallized ginger, mango and pineapple. Outstandingly rich and dense, but very-well balanced (131 g/L residual sugar and 5.7 g/L total acidity) and elegant at the same time, this 95% Sémillon and 5% Sauvignon Blanc blend continues the trend of being much richer than were this estate's wines in the '80s and '90s. Just a tad more lift and freshness on the long thick finish and I would have scored this lovely wine even higher..
Suau.
2019 Chateau Suau Sauternes                                                           89-91
Bright pale yellow with dark gold tinges. Clean and fresh on the nose and in the mouth with orchard fruit, ginger and caramel notes. Maybe a little dilute on the nicely persistent finish, but also showing an attractive plumpness, this clean and precise wine may not exactly be the last word in concentration but is an absolutely lovely Sauternes that isn't especially sweet. Suau is one of the many properties that though situated in Barsac, prefers to use the better-known name of Sauternes on its label.
Suduiraut.
2019 Chateau Suduiraut Sauternes                                                          93-96
Luminous deep yellow-gold. Very floral on the nose, but currently only hinting at ripe yellow fruit, honey and ginger. Then less floral and light on its feet than the nose suggested, with instead a very big, textured, rich mouthfeel and a strongly saline and herbal bent to the rich, deep tropical and orchard fruit flavours present. This slowly building wine hints at a very positive and long evolution in the bottle so buy whatever you can and cellar it away for a good ten years prior to popping a cork. Should you decide to try a bottle sooner than that, then consider that as this wine improves markedly with aeration, decanting ahead (always a good idea with Sauternes in general) will certainly help it unleash its noteworthy concentration of aromas and flavours.
Yquem.
2018 Chateau d'Yquem Sauternes                                                           93-96
Bright pale yellow. Nuanced aromas and flavours of orchard fruit, lemon peel, orange jelly, white flowers and minerals. Finishes long and crisp, with good juicy cut and length. Not the richest Yquem in memory, but rather a graceful, charming one, it is clean and very pure, thanks to the estate sorting away the air-dried (passerillés) grapes. The 2018 Yquem is an 85% Sémillon and 15% Sauvignon Blanc blend, sporting 145 g/L residual sugar and a relatively high pH at 3.95, which explains why the perceived acidity of the wine is low. Differently from 2019, the 2018 growing season was a very dry and almost tropical one in parts, so a number of the grapes air-dried directly on the vine and had to be removed from the blend (at Yquem they don't like to include such grapes in the grand vin). As if there weren't enough problems for Sauternes in the 2018 vintage due to the heat, rain on September 21-23 and then heavier rainfall still on October 6 and October 13 destroyed the hanging grapes and so the third and last passage in the vineyards was limited to picking grapes that mostly ended up in the generic Sauternes.