La Taverne Alsacienne
99 Rue de la République
68040 Ingersheim
France
Tel. +33 3 89 27 08 41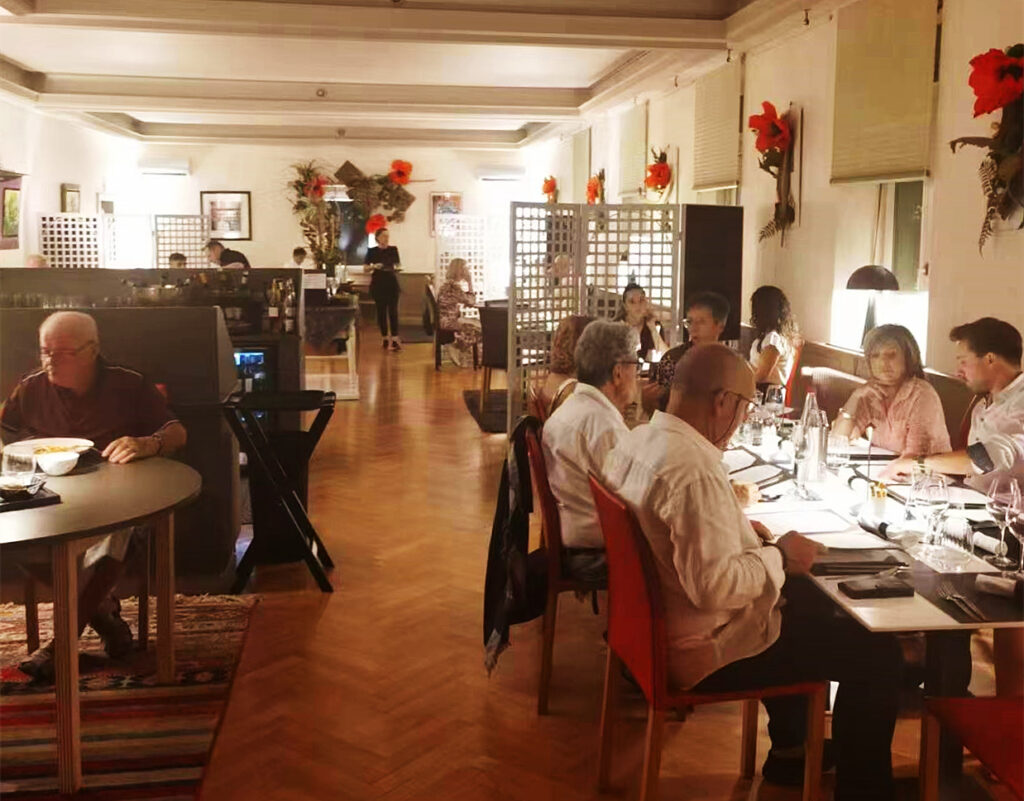 The dishes
Cassolette d'escargots de chez Caro, morilles et ail des ours (Snail casserole with seasonal mushrooms and cream)
Gravlax de saumon aux agrumes, cream cheese and gele d'agrumes (Citrus salmon gravlax with creamy cheese and citrus gelatin)
Lotte sauvage, safran d'Alsace, risotto, poêlée de légumes, gambas "Black Tiger" (Wild monkfish with Alsace saffrom, vegetables, "Black tiger" shrimp, and risotto)
Fricassée de ris de veau au champignons (Veal sweetbreads with mushrooms and asparagus)
The wines
Paul Blanck 2022 Sylvaner Vieilles Vignes            91
Bott Frêres 2020 Muscat Tradition Alsace             90
Albert Mann 2022 Pinot Gris Alsace        90
Ostertag 2018 Pinot Gris Les Jardins             90
Maurice Schoech 2018 Gewurztraminer Vendanges Tardives Alsace            92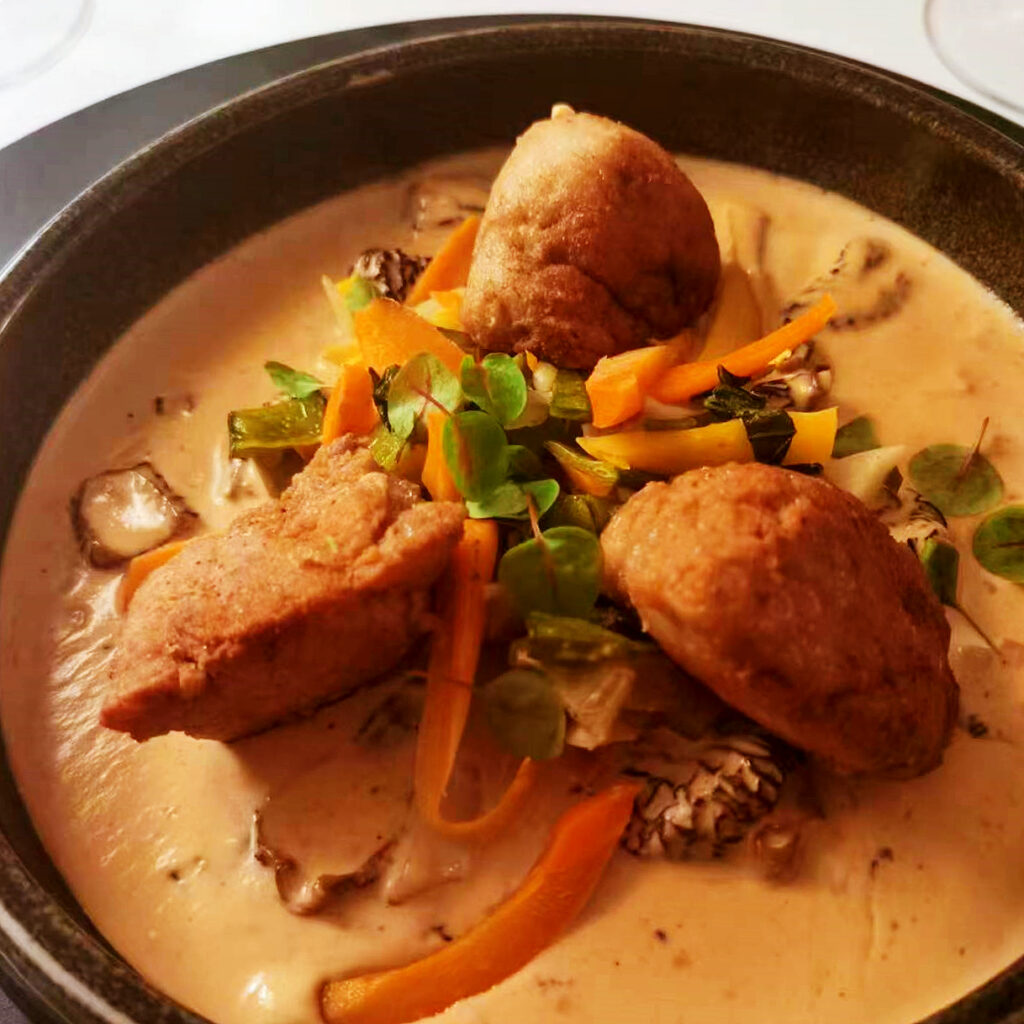 The Taverne Alsacienne is the dining world's equivalent of a Linus blanket: warm, comfortable, secure, it will rarely let you down. The Guggenbuhl family ahs been manning its stoves for years, mostly to rave reviews as the foie gras and seafood dishes have admirers everywhere, as does the genuinely friendly service and the excellent, much above average, wine list.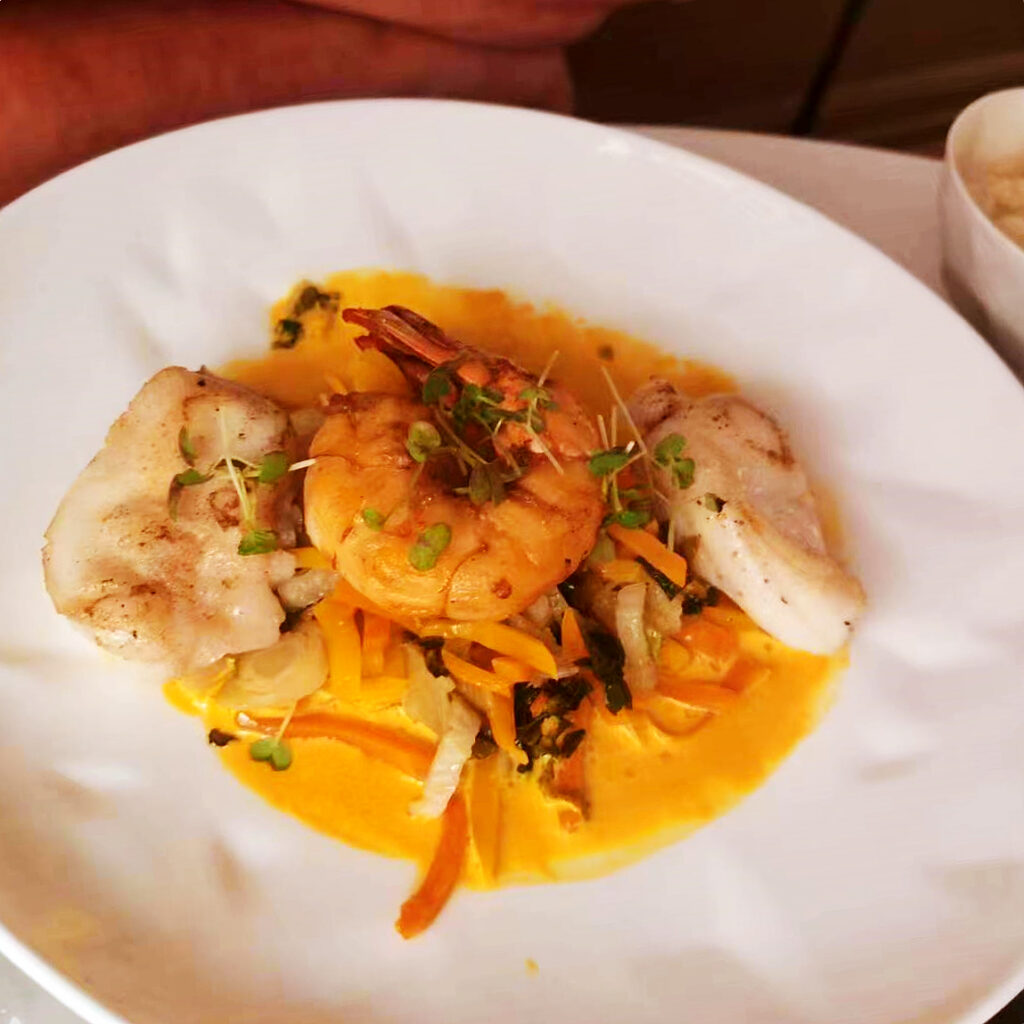 Another plus this restaurant deserves real credit for is its pricing policy:  menus (prix-fixes) are very affordable, ranging from Euros 25-50, and that does not apply only to the lunch menu but to dinnertime as well. The only menu exceeding those numbers is the dinnertime "inspiration menu" (Euros 65) where chef Alexandre cooks up four courses following the whims of his fancy and market produce availability; a nice option, if you like, is the three wine glasses paired with the menu at only Euros 21. However, should you decide to eat à la carte, rest assured you won't need to go out and rob a bank first, or mortgage the house. And for the vegetarians among us, there is also a vegetarian and/or vegan menu too (for only Euros 24).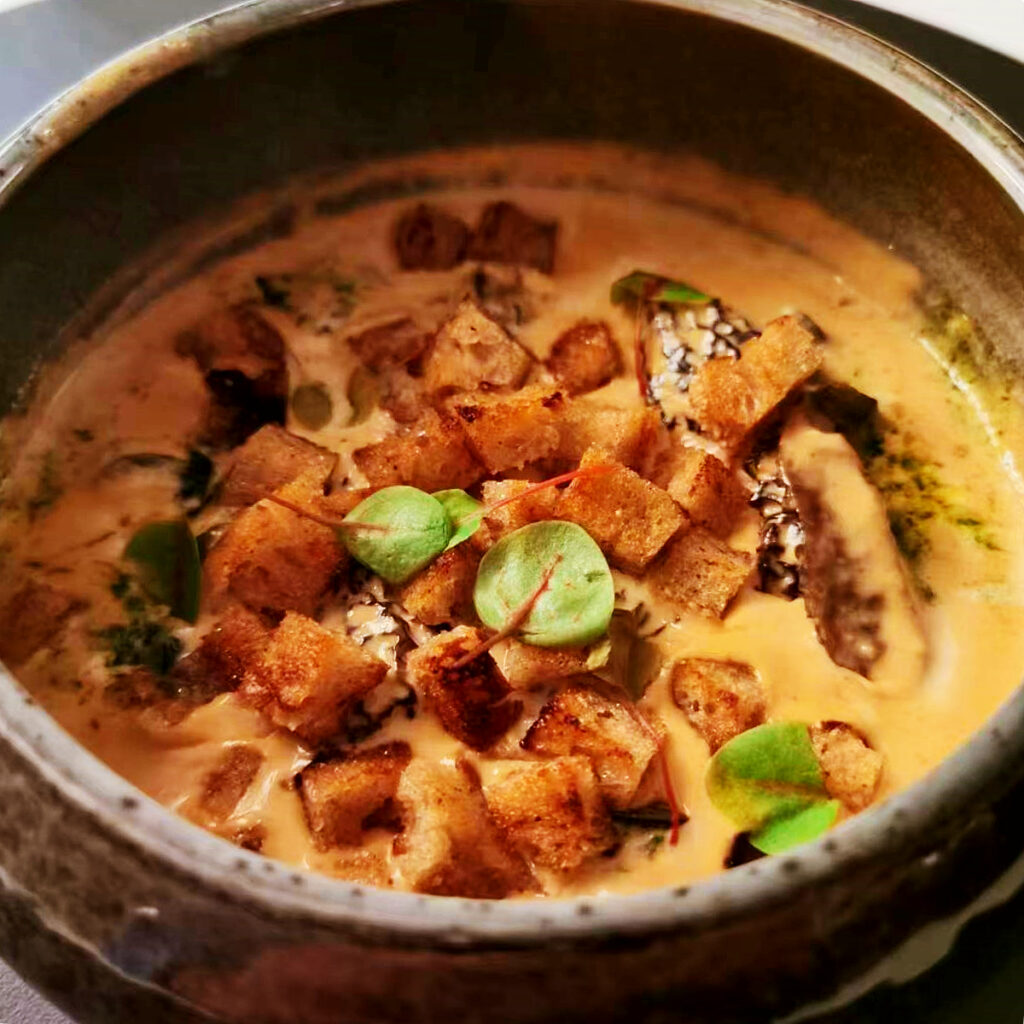 I loved our dishes and had a hard time picking a favourite. If I have one quibble, the cream content of the snails dish was on the high and very evident, which is fine enough given that's what the dish requires, but on this night I didn't find the snail flavour, already delicate by definition, to emerge from their pool of dominating mushroomy-laced creaminess. By contrast, the sweetbreads dish, also heavy on the cream quotient, was much better balanced, with the ris de veau presence easily discernible and very tasty indeed. That much said, I liked the snail dish too: very satisfying, it's a hearty rendition I'd order again in the blink of an eye, just hoping for more flavour from the snails next time.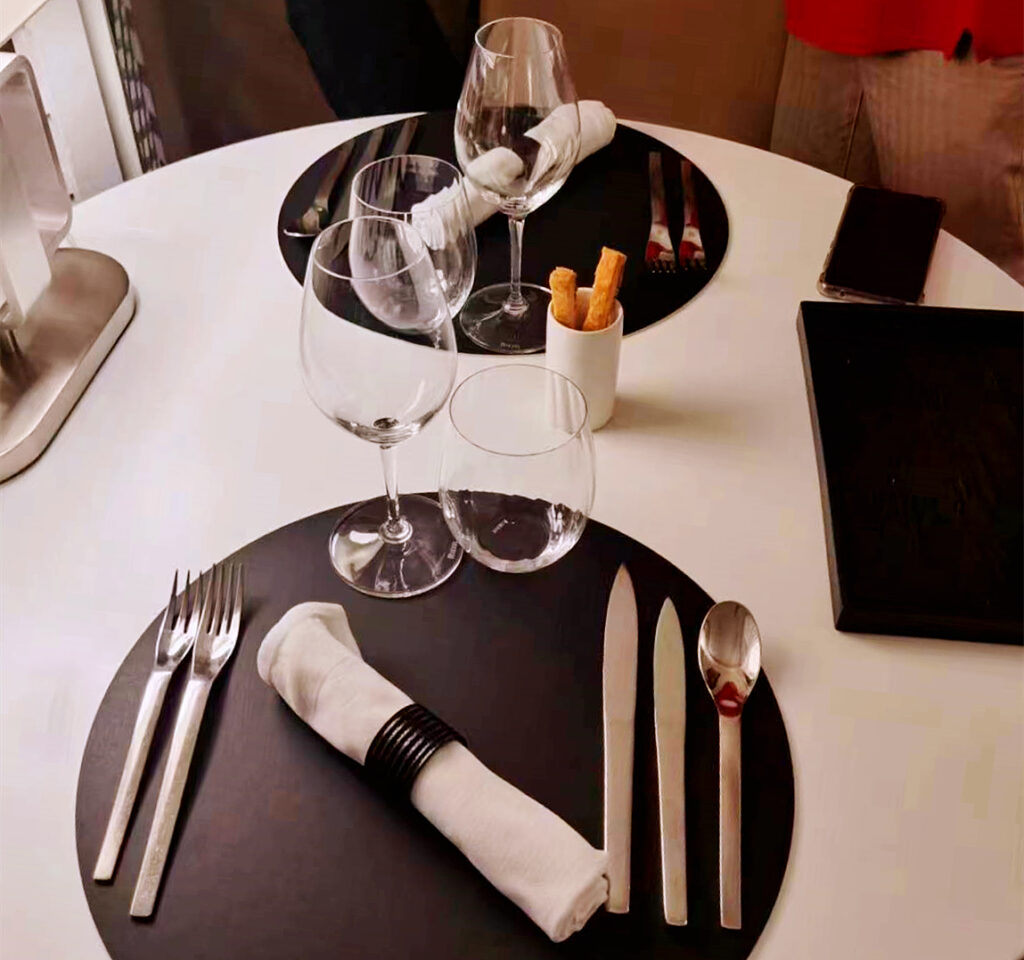 Given this was our first night of a very busy, unfortunately highly compact time visiting wineries in Alsace, we chose a bunch of relatively new releases to get our palates in tune with what was to come over the following six-eight days. We started things off with two wonderful whites that proved ideal aperitifs: the Paul Blanck 2022 Sylvaner Vieilles Vignes and the Bott Frêres 2020 Muscat Tradition Alsace are both airy and fresh, with the Sylvaner crystalline and pure, and the Muscat more aromatically enticing, as you'd expect a wine made from Muscat d'Alsace and Muscat Ottonel to be. With lighter, more Mediterranean-styled fare they would have easily stood up to many main dishes, but with Alsace's cuisine being rich in butter, cream and generally not too on the light side of the texture, ingredient and flavour spectrum: with such dishes, Pinot Gris proves the better suited variety. Both the Albert Mann 2022 Pinot Gris Alsace and the Ostertag 2018 Pinot Gris Les Jardins did the trick, the Mann wine being more chiseled and steely (as is typical for this winery) and the Ostertag richer and riper. Clearly, the former performed very well with the monkfish but was overcome by the creamy sweetbreads, while the Ostertag Pinot Gris matched perfectly to it, while being perhaps too much for the fish dish. Ah, the joys of wine and food pairing. I know some of these musings may seem arcane and "too much" for some readers, but trust me: in the end, knowing what to do when it comes to matching the right wines to the right foods really does make for a much better, more satisfying, and ultimately memorable meal. Last but certainly not least was the Wine Of The Night (WOTN), a splendid, well-balanced Gewurz that was delicately sweet and very spicy-aromatic, as really only Alsace can manage. Do look for the Maurice Schoech 2018 Gewurztraminer Vendanges Tardives Alsace, and you'll come away happy.

So is La Taverne Alsacienne worth its generalized good reputation? For the most part, yes. I have been eating at this restaurant for years and never come away disappointed. Clearly, you do need to like Alsatian cuisine, which hovers on the "heavier" range of the food/cuisines spectrum (I mean, cream, onions, pork, butter and then more cream are everywhere) and there are perhaps no culinary fireworks to be had, but it's not fireworks you come at La Taverne Alsacienne for. Rather, the place's draw is to come bask in a homey, relaxed, comfy yet silently upscale atmosphere, to enjoy good, fairly-priced food and wines, while being able to see your dining companion's face and actually hear what is he/she/they is/are saying. You will admit, that last part in and of itself is already pretty darn good, especially if you stop to think for a moment what you are faced with in many well-hyped and recommended restaurants today (well-hyped and recommended for no clearly discernible reason).