Ensue
40F, Futian Shangri-La Hotel
4088 Yitian Rd, Futian District, Shenzhen
Tel. +86 18823437333
The dishes
Pangqi Crab Paté, steamed brioche, aged citrus jam
Fujian squid, radish, caviar, almond
Essence of shrimp, drunken bouncy shrimp
Steamed whiting, fish maw, avocado
Grilled mackerel, luffa, grape tomato, fig
Eight fairies, chicken and welk
Chaoshan goose liver, sesame, sour plum
Dailian Wagyu ribeye beef, chili cake, Hainan cocoa
Aloe, peach gum, tangerine
Loquat cheesecake, almond, orange blossom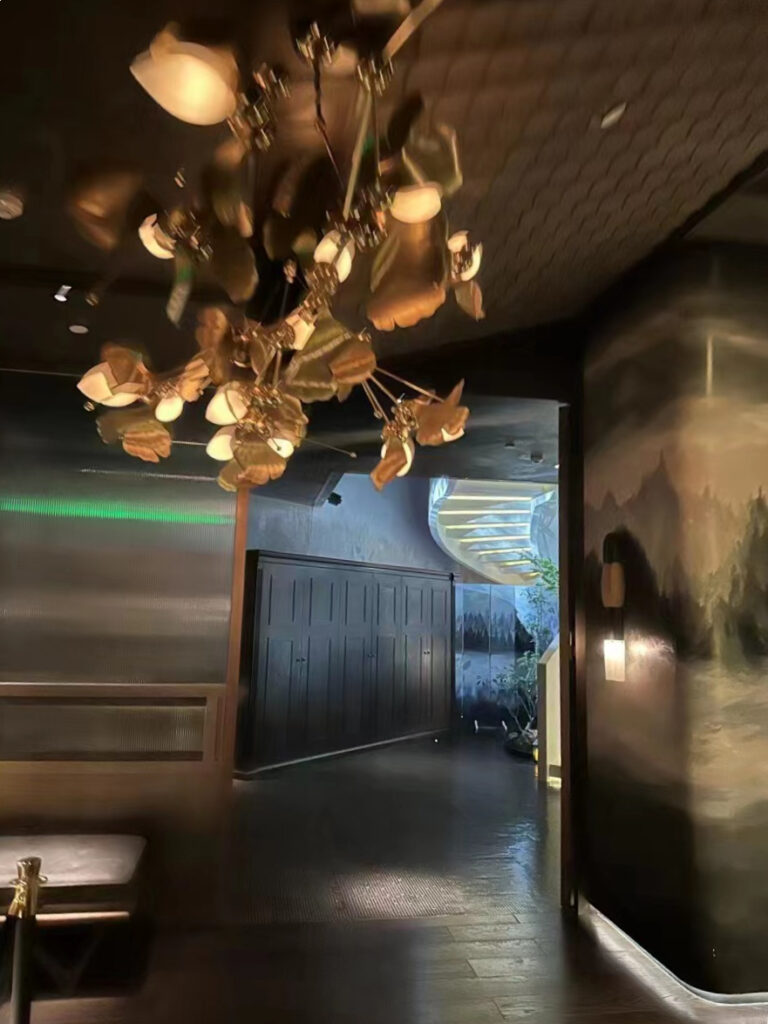 Fewer restaurant openings have been talked about more in China than that of Ensue, Shenzhen's top table and an ideal landing spot for worldly epicures. Opened by Christopher Kostow in 2019 (the youngest American-born chef ever to win three Michelin stars), Ensue brings a bit of California's famous Meadowood restaurant mentality and cuisine to southern China (Kostow is The Restaurant at Meadowood's Executive Chef). Manning the stoves in China is Miles Pundsack-Poe, a Canadian chef that had been working at the Meadowood prior to moving to China and take over the pots and pans at Ensue. In 2022, the restaurant placed in nineteenth position in Asia's 50 Best restaurant list, and was thirty-first in the 2023 edition.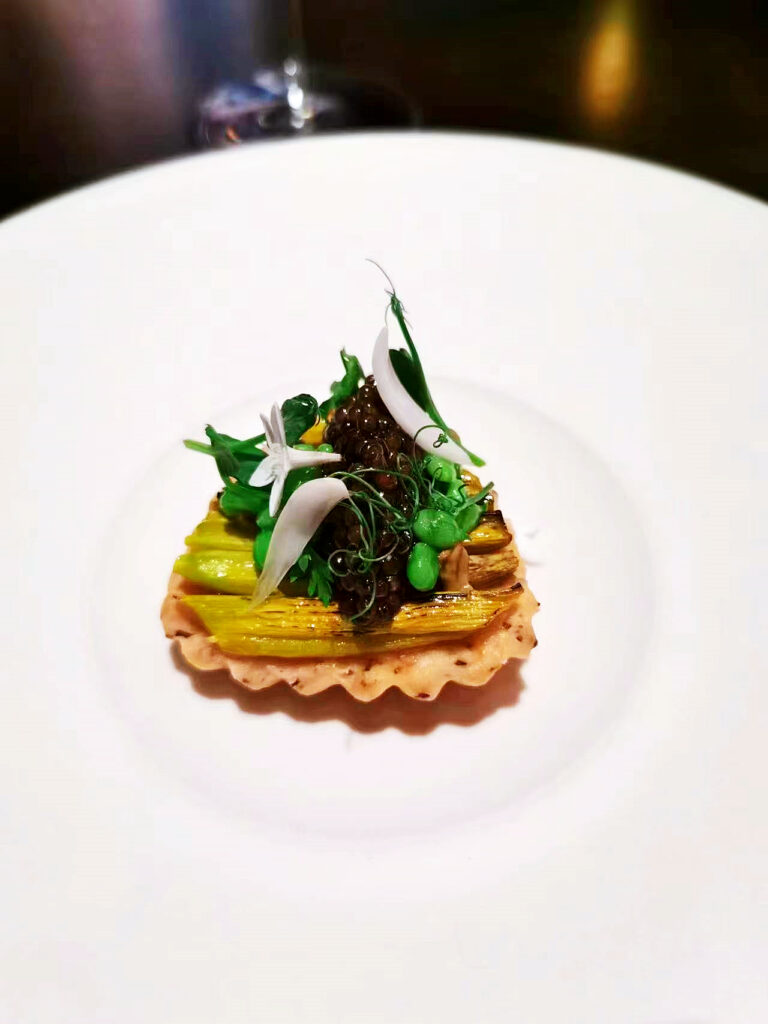 Clearly, the cuisine at Ensue is of a very high standard, and anybody who frequents the world's top dining tables, be they in France, Italy, Spain, the United Kingdom, Denmark, Canada, the USA or just about anywhere else, will recognize the tell-tale touches and realities that nowadays characterize all of the world's top dining establishments (typically those graced by two to three Michelin stars or other similarly prestigious awards). Everything from the food to the atmosphere to the wines to the service at Ensue is characterized by a flawless precision. You might even go as far as saying that "precision" is Ensue's code word. Precise is the plating and the description of the dishes (it couldn't be otherwise, given that Kostow trained in France, then with Daniel Patterson and Daniel Humm in the USA, and has been at the Restaurant at Meadowood since 2008 and where he's had three Michelin stars since 2008; and that Miles Pundsack-Poe trained in some of Spain's best-known restaurants including Nerua and Asador Etxebarri prior to moving under Kostow's wing in California). Precise is the wine list, with many gorgeous bottles; and happily, it harbors a few older vintages that aren't exorbitantly priced (kudos to the team for not gouging their clients: in this day and age, finding liquid gems in high-end restaurants without having to mortgage the house is always a tough go). Precise is the ambience and décor, with a truly refined but unpretentious and natural look based on greys, blacks and neutrals (at Ensue the food is the focus, after all) by New York-based Chinese designer Chris Shao; a nice touch is provided by the many custom pieces everywhere in the restaurant that stem from Chinese artisans and manufacturers. And also very important, even more so than the restaurant's beautiful panoramic views (which though described as "incredible" and "remarkable" are actually not too dissimilar to those of umpteen top restaurants in Asian cities all situated on the highest floors possible of skyscrapers dotting skylines from Hong Kong to Shanghai to Tokyo), is the large tables nicely spaced apart that makes the restaurant, and you, feel special (I don't know about you, but I don't go out at night looking to be amused by the marital problems of the couple at the table far too close to mine and whom are all too-often speaking or barking right into my ear). And precise is the service, which is, without doubt, Ensue's single best feature: everyone at the restaurant, led by General Manager Anthony Ghislain Julien Trova, from the people at the reception to the somm team to the waitstaff, does a superlative, friendly, job without becoming bothersome and invasive. It is a team that makes Ensue worth coming back to even if you weren't impressed by all the rest that the restaurant offers.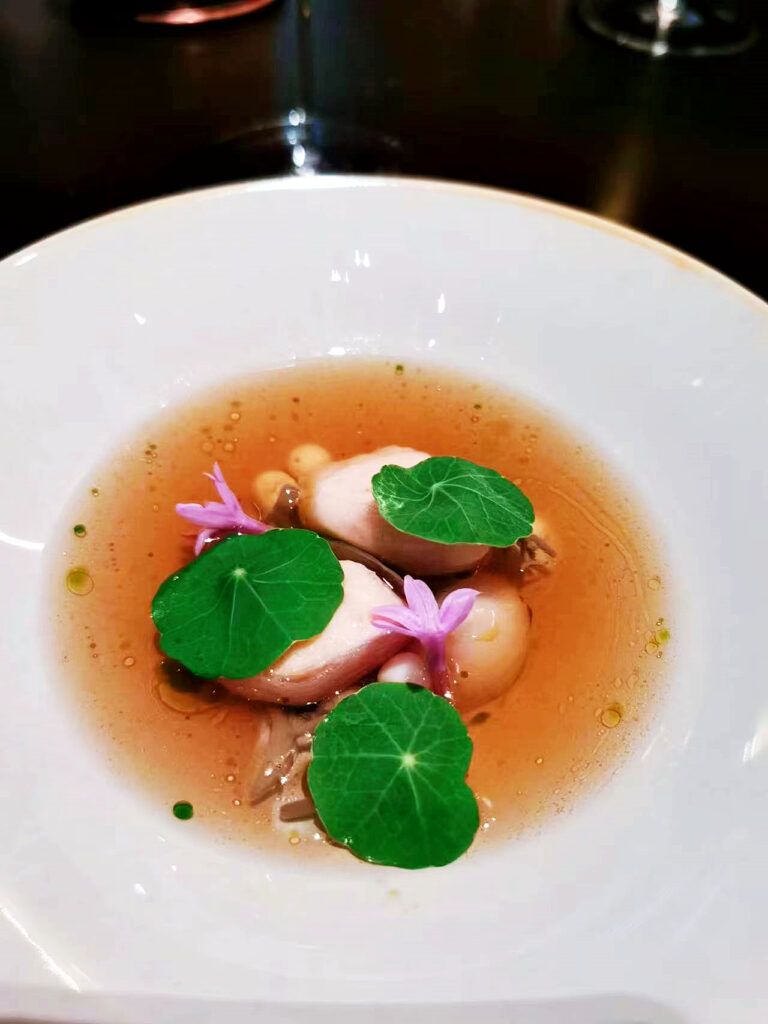 But Ensue does offer a whole lot more.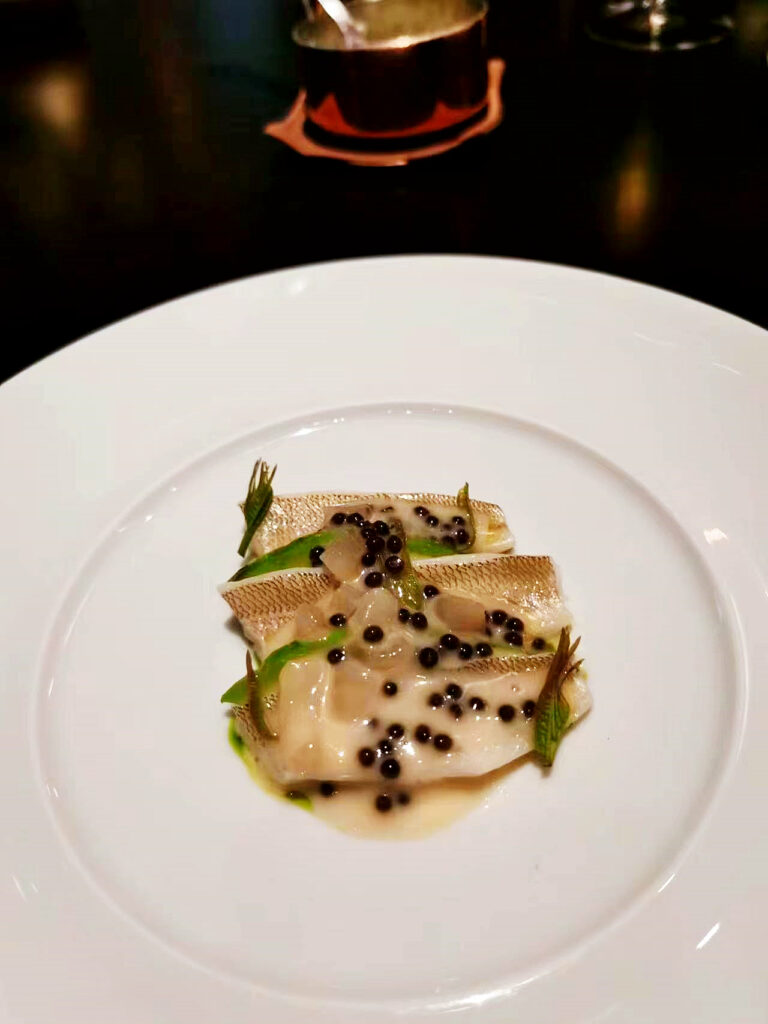 The restaurant combines a very fashionable, present-day California zero-kilometer approach to sourcing its ingredients with the soul and heart of Cantonese cuisine. For sure, at Ensue everyone believes in sustainability and the team does its best to cook with local, regional, organically-grown ingredients, the origin of which is shown to you with the aid of a map brought tableside before you start eating. Rather than proving heavy-handed or boring, it is a clever idea and a nice touch providing yet another pleasurable moment to the Ensue dining experience; and after all, most people who come to Ensue are likely to be very interested in what it is they are eating and where it comes from. The name Ensue refers to "constant motion", to "continue", and in its name and approach wants to emulate Shenzhen itself, a Chinese city destined for future greatness and growth and that already now is at the forefront of modern innovation, trade and technology. The restaurant features only a tasting menu that changes seasonally, inviting the diner to a journey of discovery through Canton and China. Chinese cooking traditions and techniques are applied and foodstuffs are cooked, you guessed it, in a very precise manner.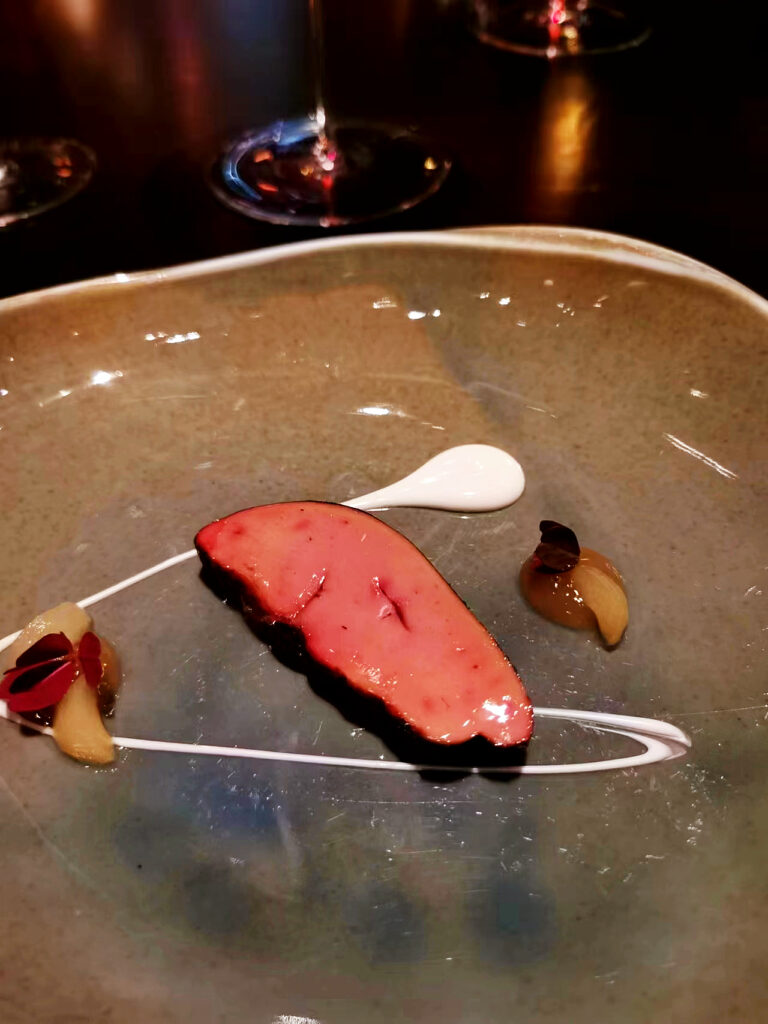 All of the dishes on my most recent meal at the restaurant ranged from very interesting to outstanding. Amongst those I preferred, the "Essence of shrimp, drunken bouncy shrimp" featured a sauce accented with "drunken prawn head liquor", or shrimp heads drowned in Shaoxin yellow wine (see photo), a technique of marinating and infusing flavour that is very typical of some dishes of the cuisine of the Jiangsu and Zhejiang provinces. Another standout for me was the "Eight fairies, chicken and welk" dish, a creation that speaks of the spring season that provides not just a tasty experience but also an intellectual one, given that it is an obvious reference to Jiangnan's eight aquatic crops (the "fairies" in the dish's name). Also good was the "Steamed whiting, fish maw, avocado" which I actually appreciated more for its clear-cut California connection (California, where I lived for close to three years, is a place where you can't even have coffee in the morning without having avocado shoved in your face: the State produces about 90 percent of the USA's avocado crop); but apparently, finding a suitable avocado in China with which to make this dish was no easy task. They ultimately found a suitable local variety in (truly beautiful) Yunnan.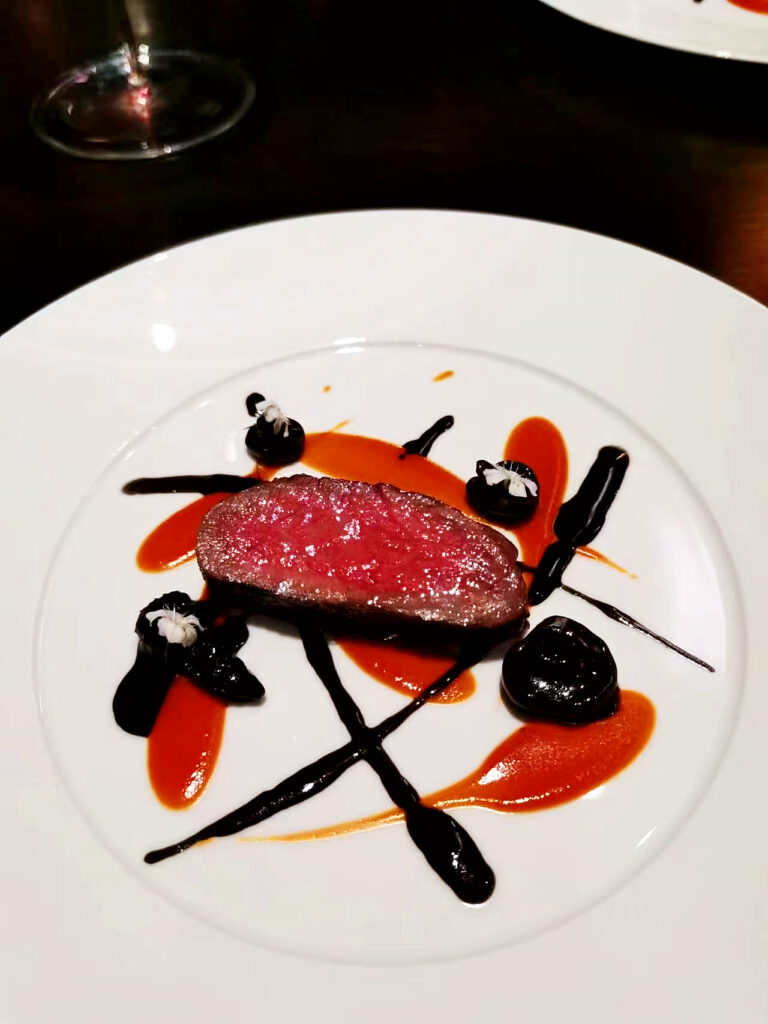 The wines
Piper Heidsieck Rare 2002 Champagne                 94
Ao Yun 2017 Grand Vin Yunnan China                93
Heitz Cellars 2000 Cabernet Sauvignon Martha's Vineyard Napa Valley California                             94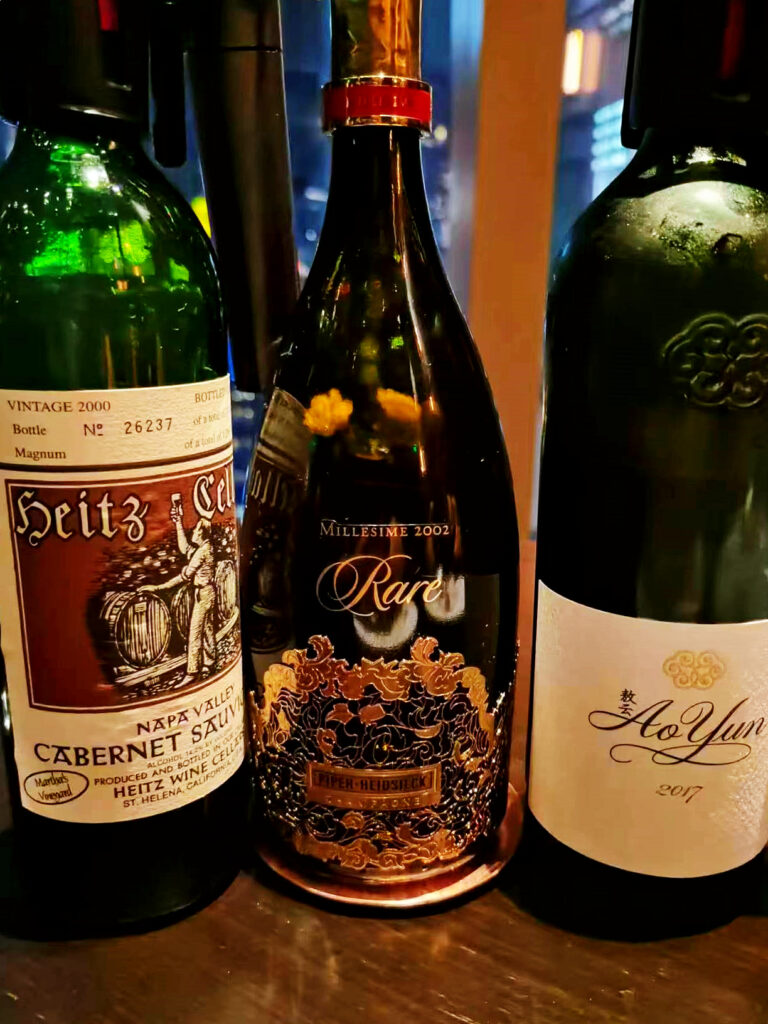 Just as the food is interesting and enjoyable at Ensue, so it is easy to enjoy wine there, thanks to past-Wine Director and Head Sommelier Della Tang (winner of the "Beronia Asia Best Sommellier award last year) and former Assistant Head Sommelier Danni Wang (now the Head Sommelier after Della recently left Ensue to pursue other interests). Both Della and Danni are of very knowledgeable and enthusiastic, and the restaurant is in excellent hands with Danni. She is not just passionate and devoted, but literally bright and bubbly like my first wine of the night, the Piper Heidsieck Rare 2002 Champagne, from an exceptionally great Champagne vintage: this specific Rare is drinking beautifully at present, nicely mellow but vibrant, and boasts noteworthy multilayered complexity. Danni also brought over a glass of the excellent Arianna Occhipinti 2019 Il Frappato and was happy and curious to talk about the characteristics of the grape variety and its terroir; it's always a pleasure to see interested, passionate young ladies (and men) who love their jobs and are always willing to find the time to share impressions with their customers and in the process, maybe learn something new. My next wines were red, and they were two beauties. I am maybe the single biggest fan ever of Yunnan's Ao Yun winery, a truly world-class wine estate owned by the LVMH group of Château Cheval Blanc and Château d'Yquem fame. Technical director Maxence Delou is brilliant and he is fashioning one outstanding wine after another: for example, the 2013, 2015, 2016 and 2018 wines are absolutely brilliant. That said, the 2017 vintage has always been my least favourite of the bunch: it's still a delicious wine, but the mostly Cabernet-Merlot aromas and flavours are slightly marrred, to my taste at least by notes of game and underbrush that I personally find bothersome. That said, this was the best bottle of the Ao Yun 2017 Grand Vin Yunnan China I have ever had, with no hints of game or earthiness whatsoever, so there: egg all over my face, and I am solidly put in my place. My more astute and attentive readers will notice that my score for it this time around is higher than what I have attributed to it at other times. It showcased beautiful aromas and flavours of silky red and blue fruit, coffee, spices and Oriental woods. Last but not least, the Heitz Cellars 2000 Cabernet Sauvignon Martha's Vineyard Napa Valley California is just as memorable, a California Cab from Napa Valley that is remarkably elegant and in no way over the top and jammy as many much-praised Cab wines from that neck of the woods have unfortunately tended to be over the years (I have had to pour many such liquid blackberry jams into the sink over the years because they were useless with dinner, or even on their own). But nothing of the sort with this beauty, a wine of brilliantly delineated minty dark red and blue fruit, cedar, cocoa and herbs, long and silky on the rising back end. A wine made that much more special because Joe Heitz, who had first made a Martha's Vineyard can in the 1966 vintage (by renting fruit from Tom May who had named the vineyard after his wife Martha), passed away in December 2000. I should mention that at Ensue, they rightly believe that tea is an indispensable element of Chinese culture, and so not surprisingly the restaurant offers diners a chance to experience it with their meal, in set tea-and-food pairings that are well-worth exploring. The wine list is impressive in its breadth, but also for the care that has gone into it. For example, the Italian wines on the list are not copious, but those present are very well chosen with an eye to quality, and the selection has been steadily improving. For this reason, Ensue was awarded the 2023 Great 100 Italy Rising Star Italian Wine List of the Year award this past July in Shanghai.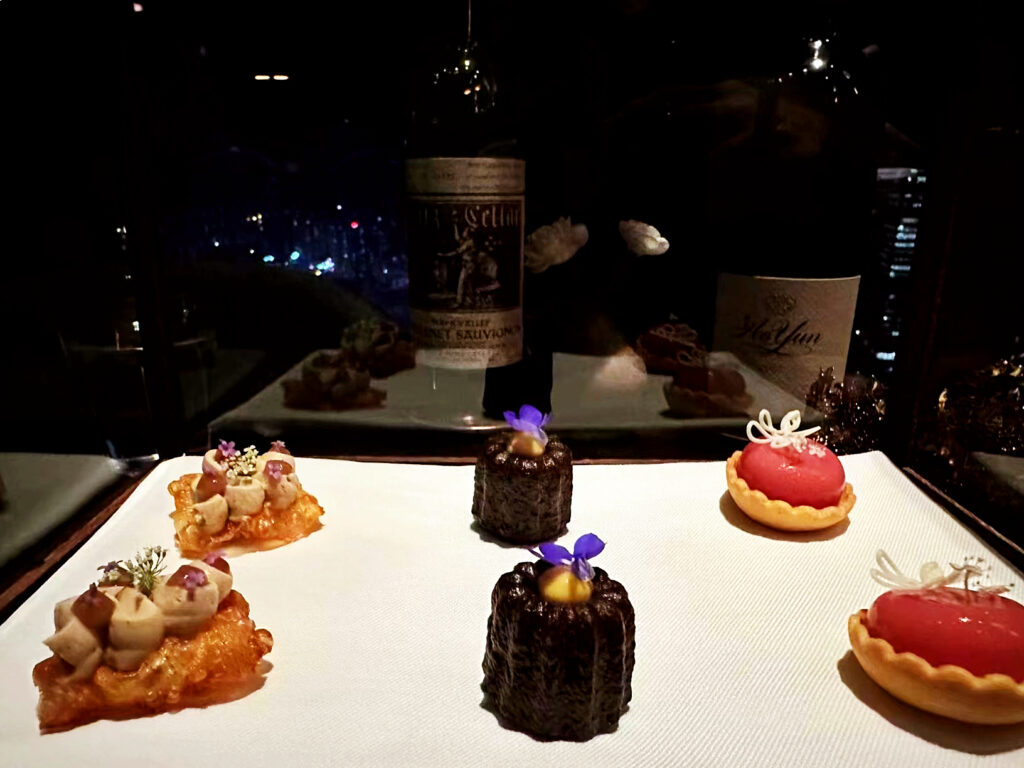 At meal's end, I left Ensue content. Will that be true of everyone dining there? Through no fault of anyone or anything at Ensue, I wonder. There is no doubt that the restaurant provides an outstanding, even memorable, dining experience. But just like an orchestra delivering its rendition of a sublime piece of music, the final results depends on a that orchestra's specific combination of players, instruments and conductor (or the staff, ingredients, and chefs) and at these high levels, each ensemble leaves an indelible and recognizable mark. Overall, the food at Ensue embraces a minimalist philosophy of "less is more" that replicates the zen-like atmosphere of its interior. I for one admire its laudable proposition, but it's also a risky one, given that if ingredients aren't as amazingly steeped in aroma and flavour as one might like them to be (or thinks them to be), then the culinary creation incorporating them, reduced as it is to its very essence, risks disappointing ever so slightly. Undeniably, there is also an element of déjà vu to this type of cuisine, that, faint though it may be, anyone who has dined at the likes of Kadeau or Per Se won't have any trouble spotting after just a few dishes. Is that a bad thing? Clearly not, given those are two of the world's greatest restaurants. But I suspect the degree to which cultured diners enjoy their time at Ensue will depend a great deal on the direction the needle of their sybaritic compass points in: for example, Martin Berasetegui, Auberge de l'Ill, Le Calandre and Mugariz, all deliver unforgettable dining experiences of one kind or another but they do so while taking you on culinary journeys that could not be anymore different. But in ultimate analysis, no matter the direction that compass needle points in, Ensue will provide everyone lucky enough to dine there with yet another wonderful dining experiences.