This month's Odds & Ends feature boasts wines mostly from France and Italy, but wines from Argentina, Austria, Chile and the U.S.A. are also in the mix. Grape varieties as diverse as cabernet Sauvignon, Chardonnay, Freisa, Furmint, Grüner Veltliner, Malbec, Merlot, Moscato Fior d'Arancio, Pinot Noir, Riesling, Sangiovese and Verdicchio, as are can you believe Lecinaro and Maturano? Also part of the equation are that wines described are from both recent and older vintages: it all adds up to some hopefully mighty fine summertime drinking and reading too.
Relative to France, many different French regions are featured: Beaujolais, Bordeaux, Burgundy, the Jura, the Loire, and the Southeast.  Relative to the Bordeaux wines tasted recently by Robert Millman, he states that: "The quality of Bordeaux has never been higher. Wine after wine since 2015 has been excellent. Yes, each taster has preferences. But professionally there were no disappointments. I believe that I could throw a dart at a dart board of Château names and almost any wine would be first rate. The 2018s are a little rich for my blood—the most extroverted of the vintages from 2015 through 2021. They will age for many years".  A number of excellent US wines (not just California but Oregon too) are in this report too, and more will follow in future reports. Relative to Italy, we just wish to point out how outstanding wines are made from less well-known grapes: if you've never had a great Fresia or Verdicchio wine before, well, you are in for a treat.
All wines in this report reviewed by Robert Millman carry the (RM) designation at the end, as opposed to those tasted and reviewed by Ian D'Agata that have a (ID) at the end of the tasting note.
The wines in this report
Argentina
Le Enemigo 2018 Gran Enemigo Mendoza        95
The Gran Enemigo is blend of 50% Malbec and the balance Cabernet Franc, the Merlot and Cabernet Sauvignon. This is a strikingly intense yet compact and complex wine which manages to taste smooth and etched at the same time. This is one of the best Malbec blends I have tasted. From one of Argentina's best wineries, the name of this winery means "enemy" and is meant to refer to the struggle necessary to elicit the best from grapes and nature. Their Cabernet Franc is one of the best wines made anywhere from this elusive grape. Drinking window: 2023-2032. (RM).
Austria.
Schloss Gobelsburg.
Schloss Gobelsburg Tradition Heritage Cuvee 3  Edition 851                                  94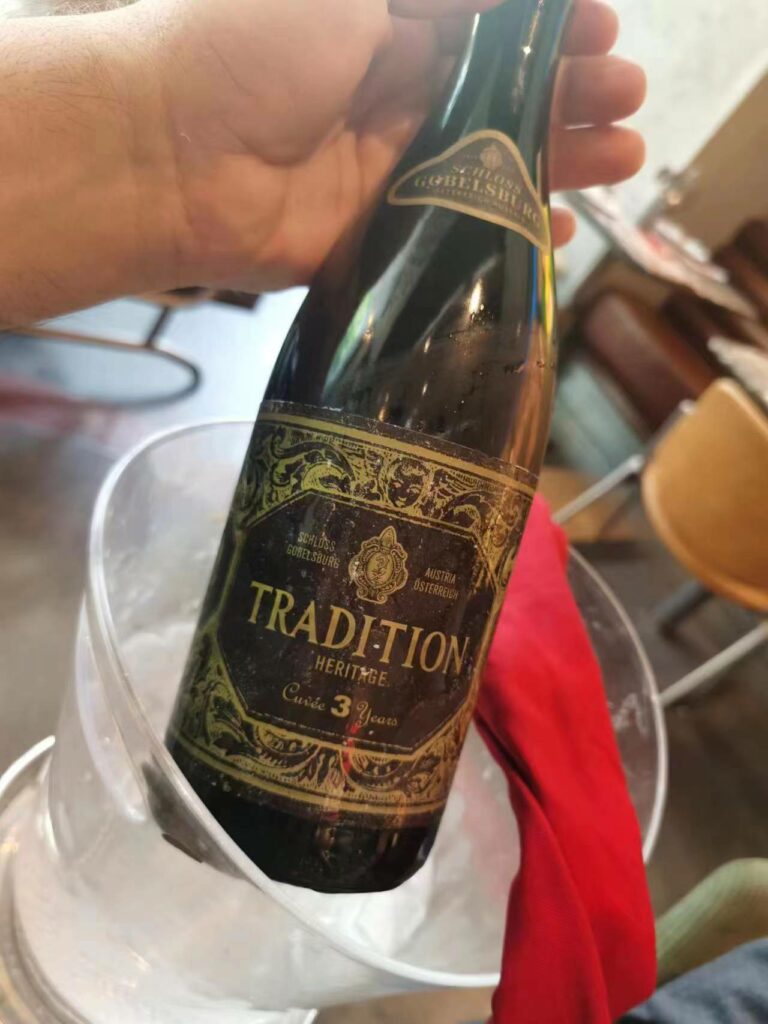 Bright pale golden-yellow. Rich and dense on both the nose and in the mouth, with a luscious, rich set of aromas and flavours of creamy yellow fruit, vanilla, herbs and ripe orchard fruit lifted by lime and white pepper. A multi-vintage blend of 2019 and 2017 of Riesling Gaisberg and Grüner Veltliner Renner (but dominated by the Veltliner), this is beautifully layered, viscous, precise and long. The "Tradition" line of wines is a series of wines made in the manner of the early-nineteenth century. The wines are fermented without temperature control in 25 hectoliter Manhartsberg oak casks (essentially a double foudre). Drinking window: 2023-2032. (ID).
Chile.
Seña.
Seña 2017 Valle de Aconcagua           96
Arguably Chile's finest red wine and world-class by any standards, this wine is a blend of up to five-six wine grapes, though Seña is mostly Cabernet Sauvignon with significant contributions from Carmenère, Malbec, Petit Verdot and Merlot. The cool volcanic sites impart a special sensation of deep, dark, earthy fruit in a reserved manner which is as fascinating as it is distinctive. The 2017 is a cool beauty -a wine which can very well be savored by itself. Drinking window: 2025-2032. (RM).
France – Beaujolais.
Domaine de Vissoux.
Domaine de Vissoux 2021 Brouilly Pierreux                        92
Perfect expression of Brouilly's frank, delicious fruit and fine support system. An excellent wine from a great estate, available for less than twenty dollars a bottle in the United States. Drinking Window: 2023-2027. (RM).
Jean Loron.
Jean Loron/Chateau de la Pierre 2020 Régnié Sans Soufre Ajouté          92+
A gorgeous wine from a Beaujolais Cru the wines of which get better and better. Lovely ripe juicy fruits with good acid support. Believe it or not, this costs under $13 a bottle in the United States. Fabulous value! Drinking window: 2023-2027. (RM).
Jean Loron 2015 Saint Amour Clos des Billards Réserve              94
A masterpiece of terroir definition, depth and harmony. Saint Amour is another Beaujolais Cru in a major upswing. The must cap is kept submerged during fermentation, so not a carbonic maceration wine! As good as red Burgundies selling for three times the price. Drinking window: 2023-2027. (RM).
Jean Loron 2017 Moulin-à-Vent Vieilles Vignes Réserve              93
The bottle age helps release the depth and power of the wine. Big body, silky tannins. Calm and majestic wine. Absurdly cheap at $15/bottle in the United States. Drinking window: 2024-2028. (RM).
France – Bordeaux.
Château Bélair Monange.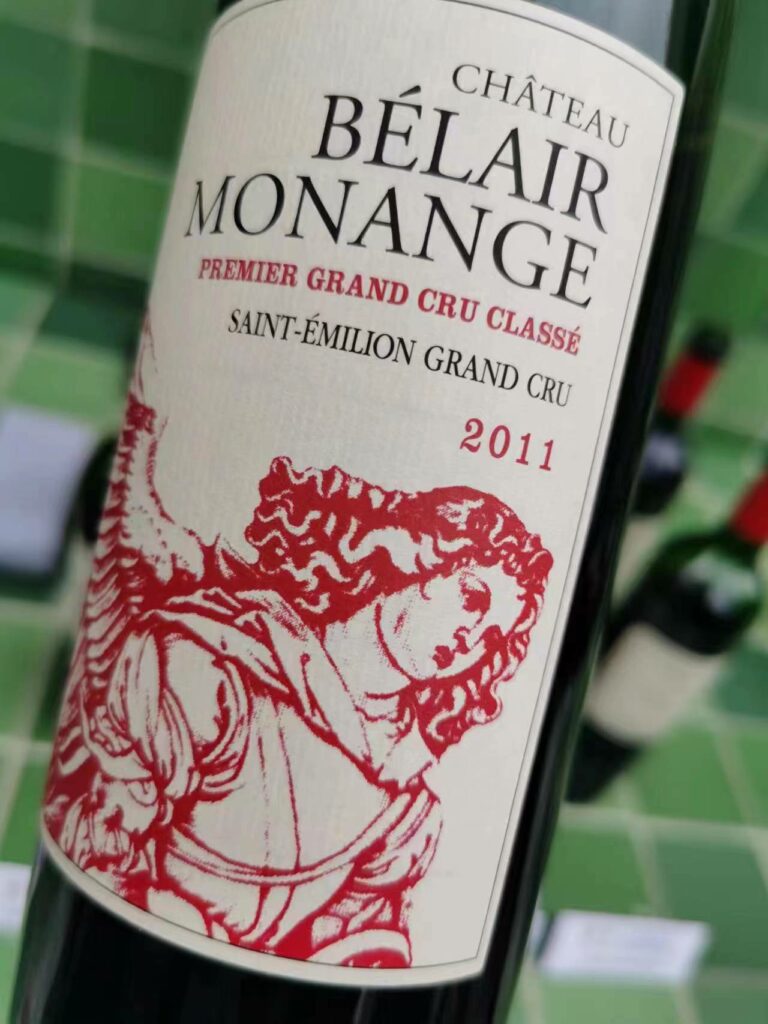 Château Bélair Monange 2011 Pomerol         93
Bright deep ruby-red. Perfumed aromas of kirsch, strawberry jam, balsamic oils and violet. Fresh and lifted yet also powerful and dense, with a very harmonious acidity that nicely extends the flavours similar to the aromas on the long suave back end. A knockout Bordeaux for the year, I have always thought Belair-Monange to be one of the most underrated great wines of the right bank. A blend of 90% Merlot and 6% Cabernet Franc. Drinking window: 2023-2033. (ID).
Château d'Issan.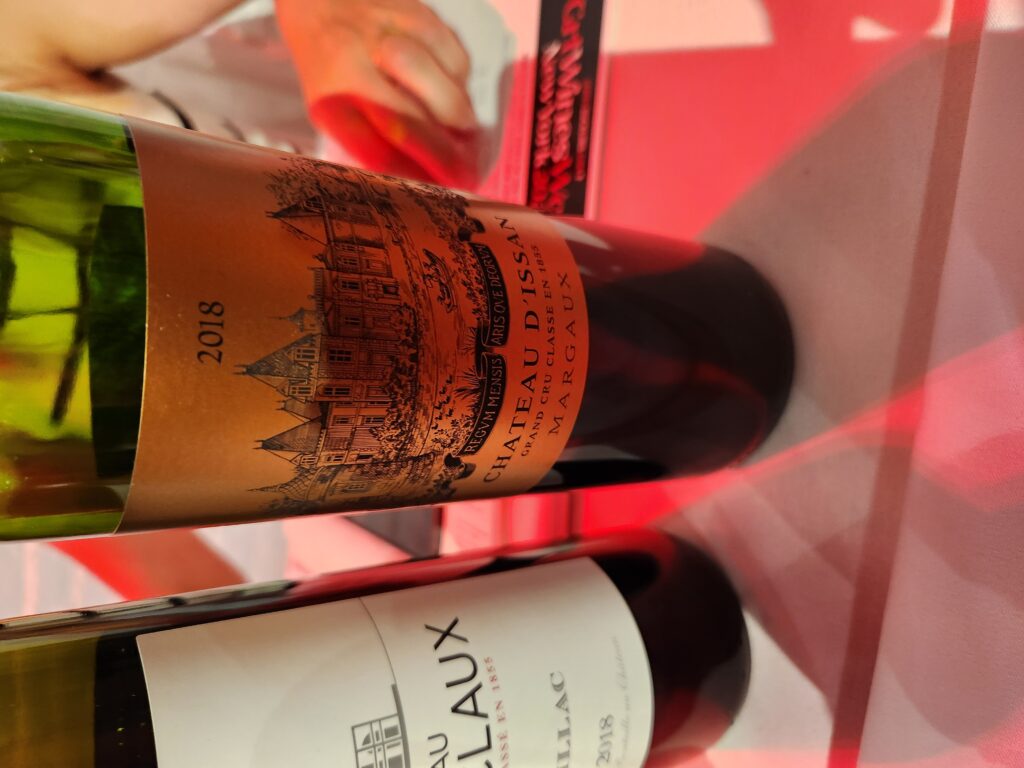 Château d'Issan 2018 Margaux Bordeaux            95
A gentle elegant beauty which captures the "feminine" aspect of Margaux to perfection. No signs of excessive heat or extraction. Drinking window: 2025-2035. (RM).
Château La Fleur-Pétrus.
Château La Fleur-Pétrus 2018 Pomerol       94
Deep purple-ruby. Perfumed aromas of blackberry, redcurrant, mint, violet, and licorice. Lively and focused in the mouth, with a very pure set of flavours that echo the aromas but turn up the concentration dial, finishing long with hints of prunes and black fruit jelly. Very fine, energetic La Fleur-Pétrus that will age splendidly. The 2018 La Fleur-Pétrus is an excellent wine, but I caution readers about buying all the hype and high scores it has been endowed with. For my money, and I realize I may be splitting hairs here, Trotanoy, Hosanna and Belair-Monange are all superior to it in this vintage. A blend of 91% Merlot, 6% Cabernet Franc and 3% Petit Verdot. Drinking window: 2028-2043. (ID).
Chateau La Pointe.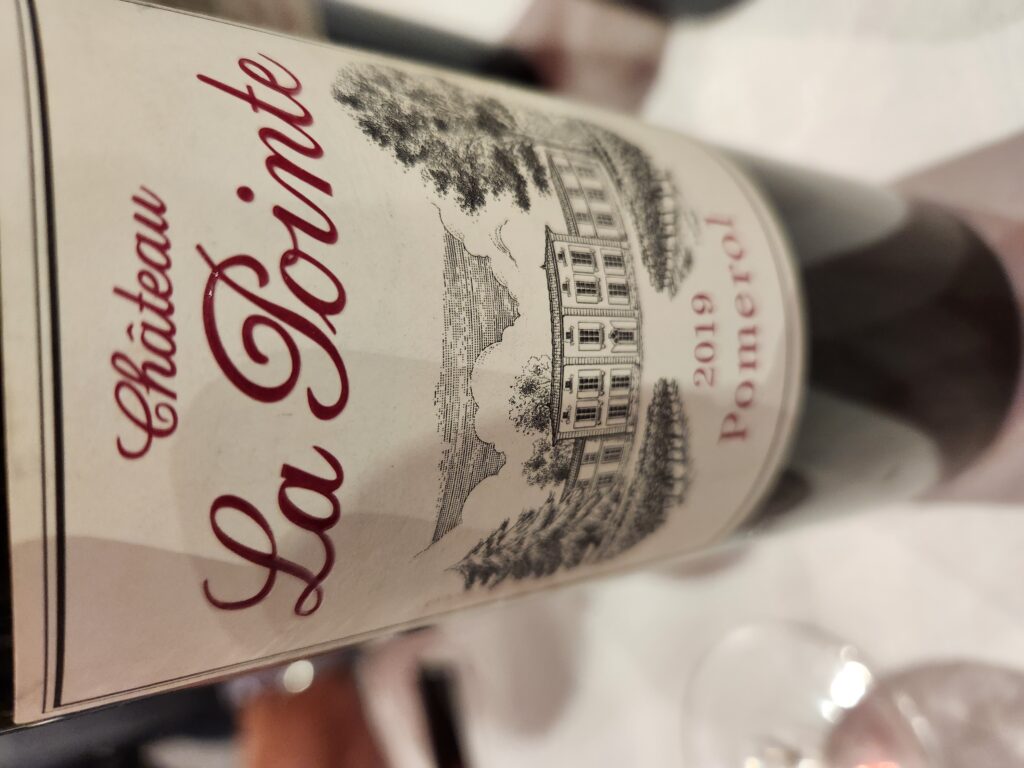 Chateau La Pointe 2019 Pomerol Bordeaux      92
A quite secondary Pomerol which has been turned around into a very good wine. The manager of this large property is really an agronomist. His focus has been centered on uncovering and improving the terroir. The 2019 is the first vintage to full express this focus. The wine is rich, dense, ample and tannic by Pomerol standards. A very solid and interesting wine if not the most refined made in Pomerol, but this will age. Drinking window: 2024-2032. (RM).
Chateau Léoville-Las Cases.
Chateau Léoville-Las Cases 2015 Saint-Julien Bordeaux         96
Does anything need to be said about the remarkable wine made at Las Cases? Yes, it takes a long time to soften up and makes great demands on the taster. But surprisingly the 2015, about five years in bottle, is remarkably drinkable. The tannins are full yet not at all harsh. A beautiful, elegant wine with lots of iron and dark fruits and lively acidity. Will age indefinitely yet can be approached now. Drinking window: 2024-2040. (RM).
Chateau Lynch Moussas.
Chateau Lynch Moussas 2018 Pauillac Bordeaux       93
For many years a justly neglected Fifth Growth Pauillac, but what a delightful transformation! Clear, clean, and aromatic with medium body and pure Pauillac flavors. A lovely wine! Drinking window: 2025-2035. (RM).
Chateau Pape Clément.
Chateau Pape Clément 2016 Pessac-Léognan Rouge Bordeaux                             93
I do not always fancy Pape Clément, finding it perhaps a little too glossy and massaged for me. The 2016 however is a wine of refinement and exemplary balance. In general, the 2016s are marvelous low-key Bordeaux showing terroir clearly, and this is exactly what can be tasted now in this very fine wine. Drinking window: 2023-2032. (RM).
Chateau Smith Haut Laffitte.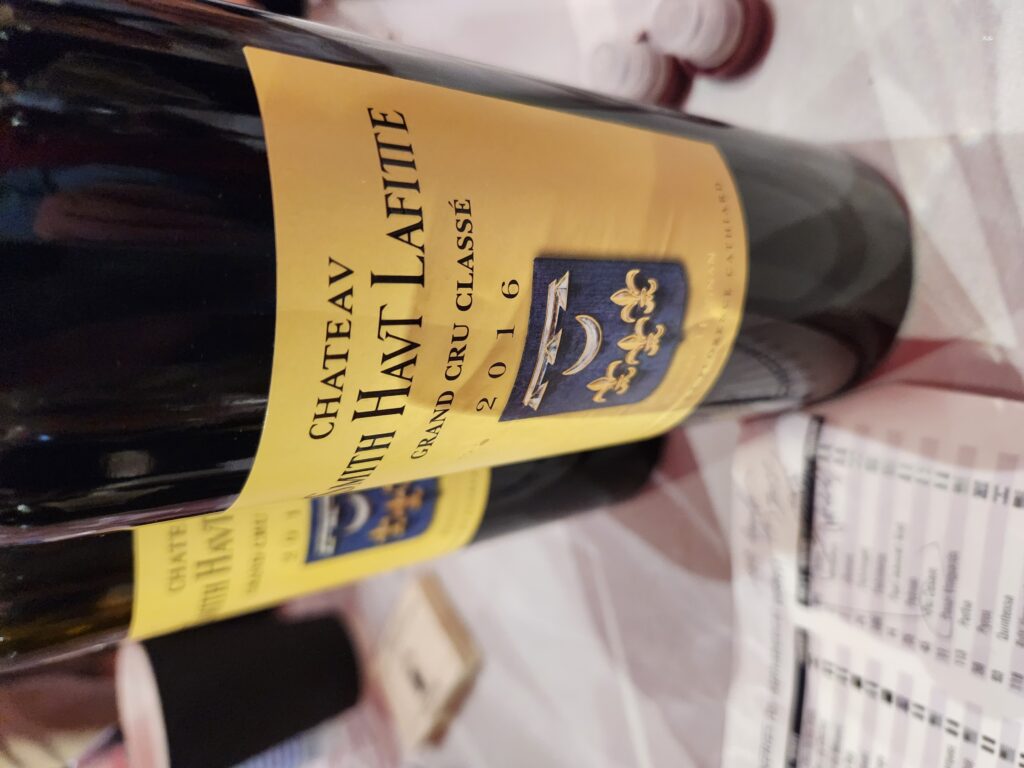 Chateau Smith Haut Laffitte 2016 Pessac-Léognan Rouge Bordeaux                               95
After Haut-Brion and La Mission Haut-Brion, this is for me the best wine made in Pessac-Léognan and for some time (the white version is equally good). I could taste right through to the mineral support system. Impeccable balance. Not a bloc buster, which for me is a virtue. (I point out the property also makes a Napa Cabernet called Cathiard, the name of the family which owns Smith Haut Laffitte. A big clunky, extracted wine as different from the Bordeaux as one could imagine. I wonder why the family felt it necessary to make a wine so very different from what has made their name so highly regarded). Drinking window: 2023-2035. (RM).
Château Trotanoy.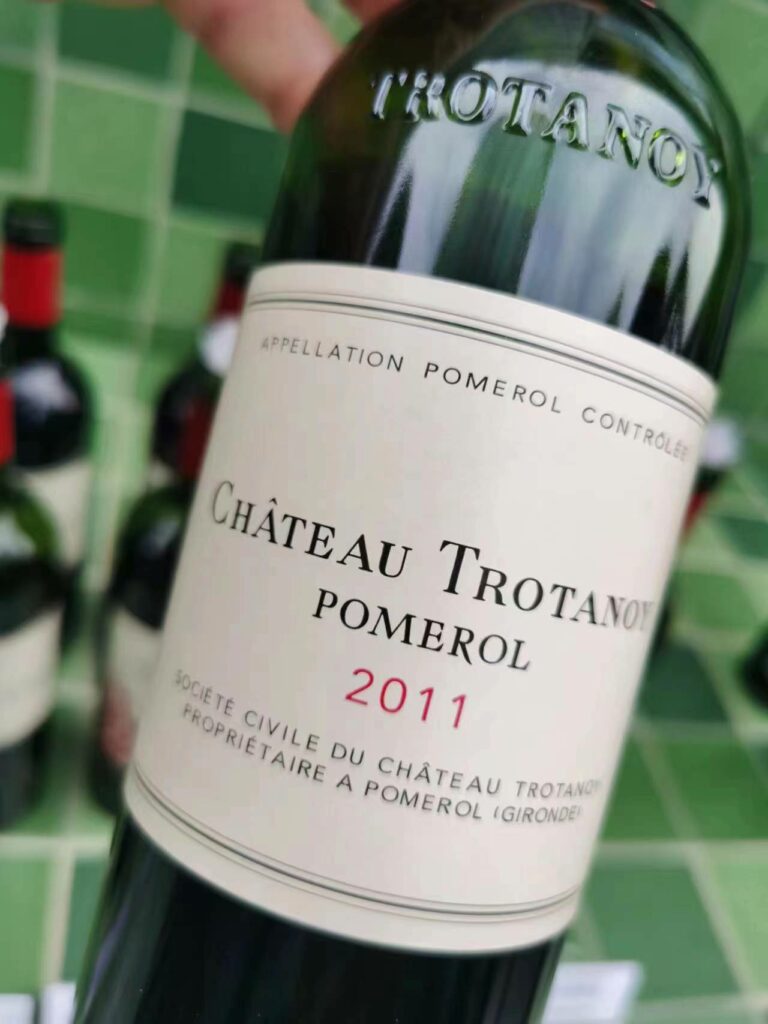 Château Trotanoy 2014 Espérance de Trotanoy Pomerol            90
Good full ruby. Fresh aromas of dark berries, herbs and coffee. Fresh and lively in the mouth, with zippy if simple flavours of blueberry and herbs finishing long with complementing notes of coffee and cocoa. Trotanoy's second label, but better than many grand vins, the 2014 Ésperance is an excellent wine in a difficult vintage. 100% Merlot. Drinking window: 2023-2029. (ID).
Château Trotanoy 2011 Pomerol       94
Fully saturated ruby. Still somewhat brooding aromas of blackberry, black cherry, minerals and violet. Very deep and concentrated, with complex blackcurrant and cassis flavours lifted by juicy mineral tang and aromatic notes of cocoa. The aftertaste is very long and suave. There's a real step-up in concentration and depth compared to most 2011 Bordeaux wines, a vintage that I have always thought to be slightly overrated right from the start. Drinking window: 2023-2040. (ID).
France – Burgundy.
Berthenet/François Berthenet.
Located in Montagny-les-Buxy, this family-run domaine is run by the father and son team of Jean-Pierre and François, with the latter officially taking over from his father in 2009. Despite having grown grapes fro close to four centuries, it was only in 1974 that Jean Berthenet bought small parcels of land planted to Aligoté, Chardonnay and Pinot Noir with which to bottle their own vines. Even though he built up the domaine's holdings, he and Jean-Pierre originally limited themselves to selling their grapes to the local Buxy coop. Today the estate currently owns about twenty hectares of vines and is well-regarded for its excellent Montagny wines.
Berthenet 2020 Montagny Tête de Cuvée       90
Pale, green-tinged color. Rather withdrawn nose hints at white flowers, nectarine, spearmint, menthol and crushed stone. Fresh and zingy on entry, then suave and energetic, with strong acidity providing excellent cut to the middle palate and carrying the wine's lemony orchard fruit. At once broad and precise on the longt fresh back end. Made with grapes picked in plots extending over roughly 6.75 hectares that are roughly 25 years old vines and planted on clay-calcareous soils. Drinking window: 2023-2025. (ID).
François Berthenet 2020 Montagny Les Macles   90
Bright straw yellow. Aromas of green apricot and lemon. Juicy, brisk and penetrating on entry, then dense but light on its feet offering subtle hints of toast and butter to the fine-grained orchard fruit flavours. Closes long while perfuming the palate with repeating notes of lemon and apple. Partly aged in oak barrels, but the oak is very well dosed here. Lovely wine of which this is the first vintage ever, made from the highest altitude vineyard the domaine owns, planted on a very steep slope (40% gradient) at about 420 meters above sea level on clay-calcareous soils with a very high content of gravel. Drinking window: 2023-2027. (ID).
François Berthenet 2020 Montagny Les Platieres Premier Cru      91
Pale, bright yellow. Slightly exotic aromas of green pineapple, dried apricot, honey and flint. Then boasts expansive flavours of peach, nut oil and banana. Very fresh but also rather powerful, but quite lithe in the typical Montagny way even though this is a rather big boy for the appellation's standards. The oak is well-absorbed and carries the flavours nicely through to the end that is nicely lifted by a whiff of lime oil on the long creamy finish. Much more concentrated than the other two wines I tasted from this domaine, as you might expect from a premier cru, but each has its charms. Roughly thirty-five years old vines planted on a heavy clay soil at mid-slope. Drinking window: 2024-2029. (ID).
Chateau de la Tour.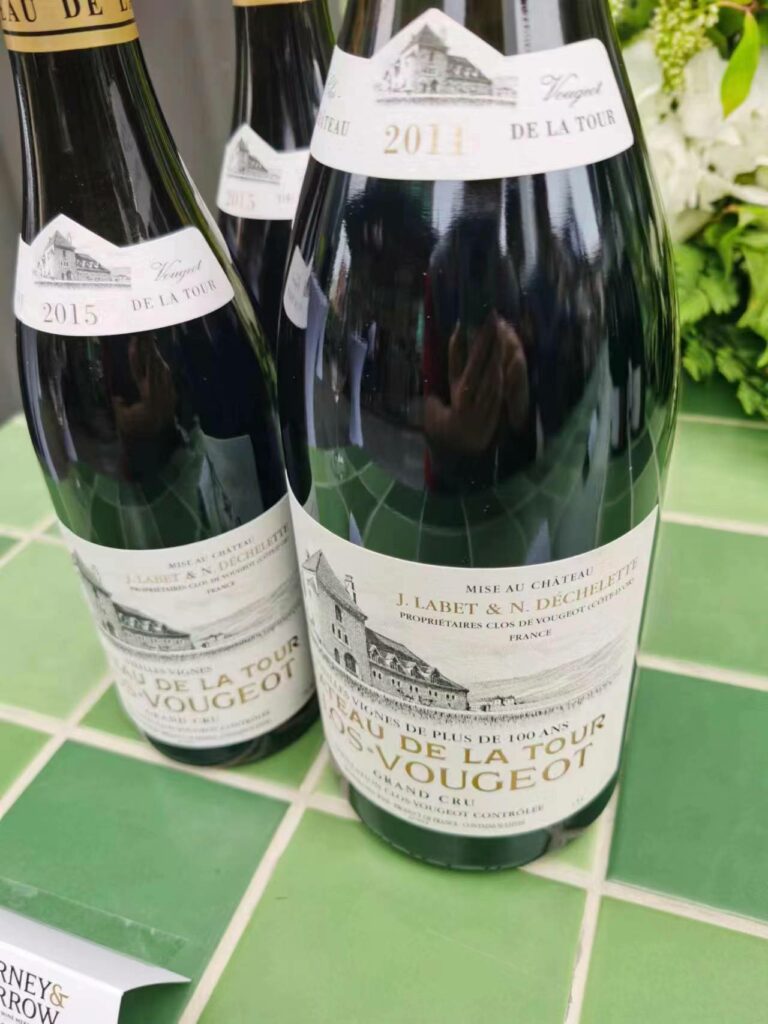 Chateau de la Tour 2015 Clos-Vougeot Vieilles Vignes Grand Cru            95
Medium ruby. Spicy aromas of raspberry, blackberry, flowers, miont and smoky minerality. Dense, fleshy and concentrated, conveying a strong impression of tannic backbone to the energetic black fruit and floral flavours. Deep, serious wine with a very long finish late offering late-hitting notes of nutmeg and underbrush. Drinking window: 2028-2036. (ID).
Chateau de la Tour 2011 Clos-Vougeot Vieilles Vignes Grand Cru                                  94
Bright, dark ruby. Floral and peppery high notes lift aromas of blackberry, dried herbs, earthtones and cocoa on the complex nose. Saline, tactile, ripe and concentrated, with nuanced flavors of blackberry, minerals and musky underbrush. Finishes long with ripe, suave tannins and excellent length. Tasted from magnum, this has turned out far better than I might have imagined when I first drank this soon after release. Splendid Burgundy made in the old school way. Drinking window: 2023-2033. (ID).
Domaine Saint-Jacques Christophe Grandmougin.
This estate, bought in 1955 by Christophe-Amédée Grandmougin and then taken over by his son Christophe in 1991, is yet another of the many recently much trumpeted "rising stars" in Burgundy: and yes, you could be excused for smirking at those words, given that with the prices fetched by the region's wines nowadays there seems to be a rising star anointed there every day or so. Ho-hum. But wait a minute now: here we have the real mccoy, someone truly talented the wines of which really are worth hunting down and that won't make you feel you've been taken for a ride. The owner and winemaker of Domaine Saint-Jacques is Christophe Grandmougin, and he does make some of the most interesting and good Bourgogne Aligoté, Rully and Rully Premier Cru wines you are liable to find. Even better, I find the wines from this estate keep improving from year to year, a very good sign. The winery's curious name, "Domaine Saint-Jacques" is derived from the wine label image depicting a scallop shell (scallop, or coquille saint-jacques in French). In fact, the name is also in relation to the area offering shelter and food to pilgrims on their way to Santiago de Compostela (St. Jacques de Compostela).
Domaine Saint-Jacques Christophe Grandmougin 2019 Rully Marissou Premier Cru            92
Bright straw yellow with golden tinges. Aromas of pear, apple, lime and pineapple, gently complemented by a touch of vanilla. Rich and ripe and very enjoyable presently, with open-knit flavours that recall the aromas, but this hints at even more flavour complexity to come. Closes long and broad with excellet cut and clarity. Made from a 0.7 hectares plot planted to 40 years old organically grown vines, this beautiful white wine still has plenty of life left. Drinking window: 2024-2028. (ID).
Jules Desjourneys.
For more than twenty-five years, Fabien Duperray worked as an agent for top-level Burgundy producers (including Coche-Dury and Arnaud Ente), but began producing wines of his own only as of 2007, becoming famous for his Beaujolais cru wines. Since 2012, Duperray was able to expand the number of his offerings by picking up vines in new Beaujolais crus, but also by a collaboration with Domaine Thibert in Southern Burgundy. And so, in 2014 he produced a range of Chardonnay wines for the first time (organically farmed vineyards in Pouilly-Fuissé, Pouilly-Loché, Pouilly-Vinzelles, and Saint-Veran) and with 2016 from Macon-Verzé and Macon-Fuissé as well.
Jules Desjourneys 2018 Macon-Verzé      90
Bright pale golden-yellow. Rich aromas and flavours of ripe citrus fruits, grilled nuts, crushed rocks and sweet spices. Dense and bright in the mouth, but with good lift on the long, nicely fresh finish. The limestone and marl soil makes for a rich big wine that is however not devoid of finesse. Drinking window: 2023-2025. (ID).
Jules Desjourneys 2018 Saint-Veran         91
Pale bright golden-tinged yellow. Expressive but subtle aromas of fresh citrus, stone fruits and white flowers, complicated by hints of nougat and lime oil. Silky-sweet, lush and easygoing, offering harmonious acidity nicely extending the orchard fruit and floral flavours on the long, fine-grained finish that is at once creamy and zippy. Drinking window: 2023-2026. (ID).
Pierre Boisson.
When Bernard Boisson retired in 2016, his two children, Pierre and Anne, took over and share the family estate, called Boisson Vadot, each making wine under their own names. Pierre owns 3.5 hectares of vines and is a very traditional winemaker choosing long barrel aging, but the oak is always extremely well dosed in all his wines.
Pierre Boisson 2020 Bourgogne Aligoté          93
Pale luminous straw yellow. Penetrating but utterly pure and downright gorgeous Aligoté aromas of lemon, lime, oyster shell and white flowers. Juicy, classically dry and penetrating, with noteworthy inner-mouth perfume to its bright flavours of fresh citrus fruits and minerals. Finishes very long and youthfully tight, with terrific lift and a whiplash of lemony acidity that obtains two things: it leaves the mouth feeling fresh and clean and you like having another glass right away. It's not often you drink a wine this good, so faithful to its declared variety on the label, and at this price point, all of which explains my high score. We all need more wines like this one. Very very well done, chapeau! This beauty is made from old Aligoté vines plated in Meursault and you would never guess it's been aged in oak. Drinking window: 2023-2028. (ID).
Pierre Boisson 2020 Macon-Bray Les Essarts            90
Pale, bright yellow. Lemon peel, nectarine, apple, and oyster shell on the nose. Suave and fresh in the mouth; builds slowly and maintains a very light touch, with plenty of concentration here to its orchard fruit and floral flavours, delivered in a refined, feminine style. Given this strikes me as being a little reticent presently, I'd actually give this for another six months to a year before opening a bottle to have it really show what it has to offer. Drinking window: 2024-2028. (ID).
Serafin.
Serafin Père & Fils 2011 Gevrey-Chambertin Vieilles Vignes           91
Lively dark medium red. Deep but initially reticent aromas of black and red cherry, underbrush, aromatic herbs and licorice; this really opened nicely becoming spicier and fruitier with aeration. Then dense, sweet and fine-grained, with plenty of energy, concentration and depth of the rich flavours of strawberry, leather and licorice. Solidly structured, even somewhat old-fashioned red Burgundy with fine but firm tannins and excellent lift and length of its very pure, deeply perfumed red fruit nuances that speak of old vines. Decant this a couple of hours ahead and enjoy! There's really a lot of wine here for the money. Drinking window: 2024-2028. (ID).
France – Jura.
Labet.
About forty-five plots of vines are spread out over four communes and roughly thirteen hectares planted to very old vines, some even hitting the centenary mark. The wines are fermented with indigenous years and aged in used (up to fifteen years old) small oak barrels. The estate, a real wine icon for those who love the wines of the Jura, is devoted to expressing its terroirs to the utmost, producing numerous wines identified by the lieu-dit where the grapes are grown; all of the Jura's typical grapes are grown, from Chardonnay to Poulsard to Savagnin to Trousseau.
Labet 2019 Chardonnay La Bardette Côtes du Jura            92
Pale, green-tinged yellow. Tangy lemon oil, mint, herbs, faded white flowers and crushed stone on the pungent nose. Spicy, herbal and deep on the palate, with very classically dry and high acidity framing the fresh citrus and orchard fruit flavours. Closes long and extremely saline. This will likely live another eight to ten years in a good cellar, and will probably be at its best in another two to three years. Drinking window: 2025-2032. (ID).
France – Loire.
Eric Morgat.
Eric Morgat 2019 Savennières Fides                 94
Having tasted the excellent Baumard Clos du Papillon the day before, I was even more impressed by Morgat's Grand Cru white. Fantastic texture and harmony of rich minerality and fluid acidity. Dense but not heavy, and with an endless finish. A masterpiece. Drinking Window: 2024-2029. (RM).
France – Southeast.
Domaine Les Grands Bois.
Domaine Les Grands Bois 2019 Rasteau Cuvée Marc            92
The wine is named for the Parisian Sommelier who moved from Paris to make wine in the Rhône. Wonderfully rich, dark, mellifluous wine which is hedonistic yet restrained at the same time. Top quality Rasteau. And at $15 cost/bottle, allow me: also very inexpensive. Drinking Window: 2023-2027. (RM)
Germany.
Julia Schittler / Schittler Becker.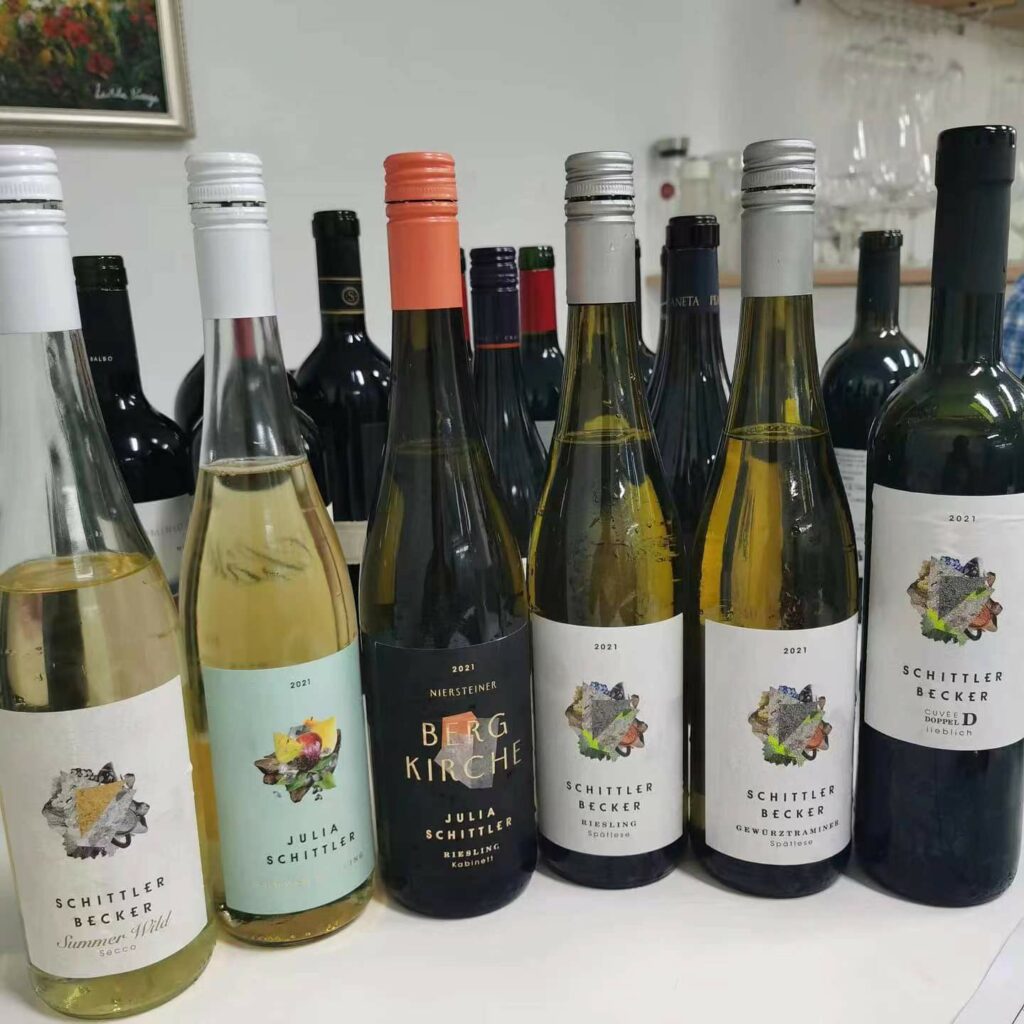 Julia Schittler came back to the family wine business in 2015, after travelling and apprenticing in different wine destinations. Her parents owned their winery, one in Zorheim (the highest village in the Rheinhessen) and one in Weinolsheim, a convenient ten kilometers apart. The Schittler Becker portfolio of wines had always been charcaterized by approachable, easy-drinking very and I want to add very well-made wines, but Julia wished to make wines that would age longer and give a different representation of what each grape and site could express, and so was born the higher-end Julia Schittler line of wines (with dark labels that refer to the soil and hence the fauna and flora that live in that particular vineyard, as opposed to the Schittler Becker line, that sports pale cream/white labels). Though the lineups offer many different takes on the wine possibilities that Germany's various aromatic and non-aromatic grapes offer, and despite there being many Riesling wines available, I have always felt, and still do, that the best wines in the Julia Schittler and Schittler Becker portfolios are, unfailingly, the Sylvaners (at every level of sweetness: check out the Sylvaner Eiswein made here, it's excellent) and the Gewürztraminers…the wines made with the latter variety are at the quality vertices of Germany's efforts with this grape.
Schittler Becker 2021 Summer Wild Secco Rheinhessen          89
Very pale bright straw colour. Tropical fruit and hay on the nsoe and in the mouth. Simple, fresh juicy, and medium-long, this is actually a lot of fun to drink. A blend of Scheurebe and Sauvignon Blanc. Drinking window: 2023-2024. (ID).
Julia Schittler 2021 Summer Sparkling Rheinhessen           89
Luminous straw colour. Aromas and flavours of guava, peach and pineapple. Fresh and juicy, with a medium-long juicy and sappy aftertaste. Drinking window: 2023-2024. (ID).
Julia Schittler 2021 Niersteiner Berg Kirche Riesling Kabinett Rheinhessen               91
Bright straw green. Jasmine and lemon verbena complement guava, green fig and grapefruit on the perfumed nose. Lime and loess in the soil combine to give a lovely wine marked by gentle acidity and spicy orchard fruit flavours, with a hint of residual sweetness on the long back end. Drinking window: 2023-2028. (ID).
Schittler Becker 2021 Riesling Spätlese Rheinhessen              90+
Bright straw-green with golden highlights. Aromas and flavours of lemon drop, peach, minerals and herbs. Dense and saline, with soft acidity framing the wine's middle palate and leavening the mineral and floral impressions. Shows plenty of verve but is not especially delineated currently. Closes long and fresh. Try cellaring for another year or so to allow it to express more nuance (which I'm thinking will happen, hence the + sign on my score). Drinking window: 2024-2030. (ID).
Schittler Becker 2021 Gewürztraminer Spätlese              94
Now this is excellent. Golden-tinged straw yellow. Varietally accurate aromas and flavours of sweet spices, grapefruit jelly, rose petal, ripe peach and crystallized mango. Flesgt, suave and fairly sweet, but with strong spice undertones that carry nicely on the long sultry-sexy finish. This may not be the most complex Gewurz wine you will ever drink, but it boasts impeccable clarity and cut not to mention varietally accurate Gewurz aromas and flavours. I have no doubt this lovely wine (not the first time Schittler Becker has made an outstanding Gewurz wine with some residual sweetness, I may add) will have Gewurz lovers swooning. Drinking window: 2023-2028. (ID).
Hungary.
Balassa.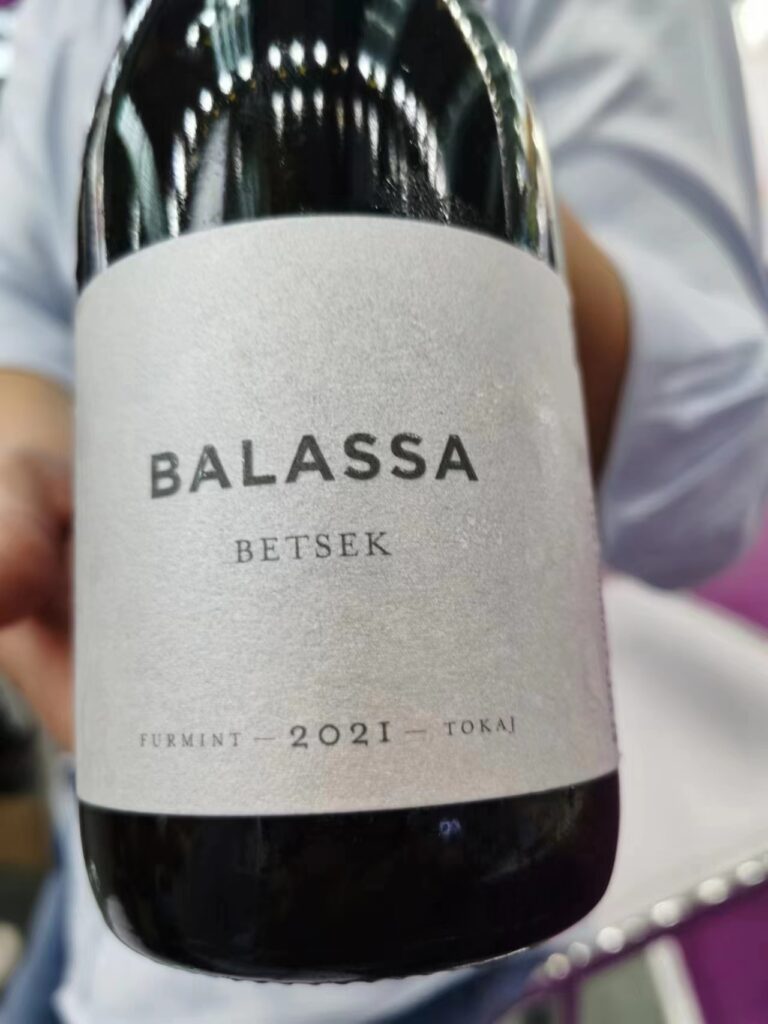 István Balassa is an Hungarian winemaker who has been producing some head-turning wiens since the early 2000s. Perhaps not as well-known as some other Hungarian producers, Balassa's wines are precise and well-balanced at all degrees of dryiness and sweetness and well-worth seeking out. It only helps he can count on as many as six vineyards with different terroirs from which to make wines, including some of Tokaj's very best such as Hangács, Dorgó, Betsek, Kakas e Szent Tamás. From these he makes not only his estate blend (recognizable by a cute duck nicknamed "Marty McFly" on the label), but also makes single-vineyard wines such as the Furmint Betsek and the Furmint Nyulászó.
Balassa 2021 Furmint Betsek Hungary           92
Bright golden-tinged yellow. Aromas and flavours of quince and orange marmalade are complemented by herbal and mineral nuances. Enters creamy but stays precise throughout the middle and on the close thanks to Furmint's laser-like acidity which  nicely frames and extends the saline flavours on the long luscious but classically dry finish. 100% Furmint grown in the Betsek, one of the best vineyard districts of Tokaj, easily the equivalent of a very high-ranking Premier Cru (think Les Amoureuses-like level of Premier cru). Drinking window: 2023-2028. (ID).
Italy.
AnnaFrancesca.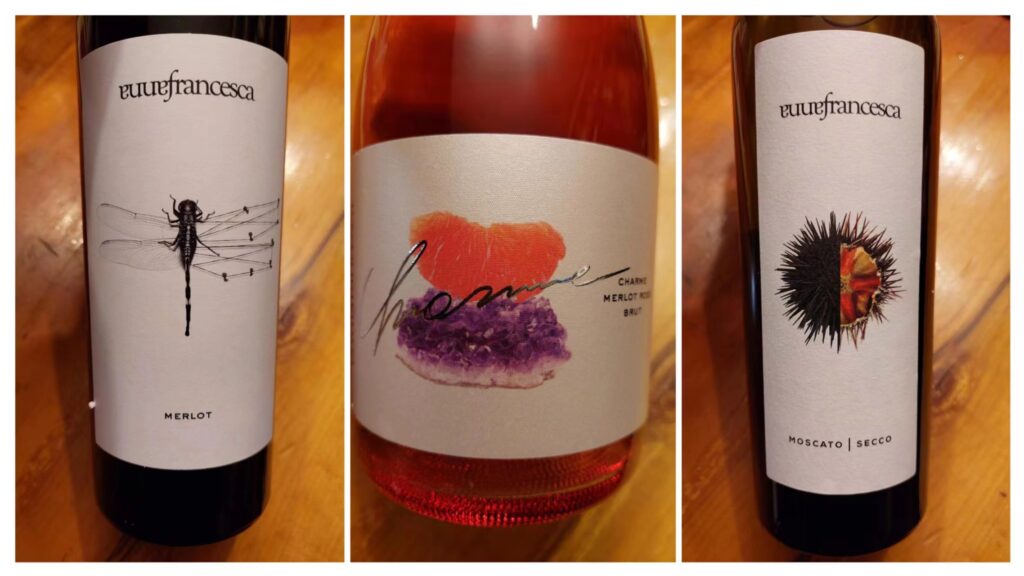 One of my greatest joys in decades devoted to wine writing, has been not just the rediscovery, and the bringing back to everyone's attention, of Italy's many native grapes that had been all but forgotten as recently as the 2000s, but also the discovery of many small wineries that deserve to be better known. Such si the case with the very promising AnnaFrancesca winery,  founded in Legnago (Veneto), immediately south of Verona only in 2013, by the talenmted sibling duo of Anna and Francesca Gobbi. They launched into this adventure with passion and respect to traditions and family loves, such as for example giving visibility to their very old vines of Merlot (65 years and counting), planted by their grandfather Battista. (Merlot wine may not be the first thing that comes to your mind when thinking of Veneto wines, but in fact it is a traditional variety of Veneto that was first planted there around 300 years ago.) The sisters proceeded to also expand their vineyard holdings, planting Moscato Fior d'Arancio (similar to Moscato Giallo and that makes wonderful dry and sweet wines in Veneto's Colli Euganei), more Pinot grigio and even some PiWi resistant vines. Time will tell, but the wines made are already very promising.
AnnaFrancesca 2021 Vino Spumante Rosé Brut                91
Lovely dark pink with a steady stream of medium-small bubbles. Aromas and flavours of small sweet spicy red berries and violet are expressive and fresh. Closes long and juicy. There aren't too many sparkling wines made from Merlot (a grape variety one does not usually associate with sparkling wines) as fun to drink and as well-made as this one. 100% Merlot that was vinified in tank method for three months on the lees. Drinking window: 2023-2026. (ID).
AnnaFrancesca 2022 Moscato Secco Veneto                90
Deep yellow. Concentrated aromas and flavours of yellow fruit (ranging from apple to peach to mango) with a honeyed nuance in the background adding interest to the fluid, diffuse mouthfeel. Finishes long and classically dry, with a saline edge that adds freshness. Made with 100% Moscato Fior d'Arancio, a distinct variety from Moscato Giallo, Bianco or any of the many other member of the Moscato family, it gives wines that are reminiscent of those made with Moscato Giallo but that are usually lighter-bodied and not quite as sweet or thick as those can be. Each has its charms, and this one by AnnaFrancesca is lovely, a wine that will match well with shellfish and clam dishes, for example. Drinking window: 2023-2026. (ID).
AnnaFrancesca 2019 Merlot Libellula Verona     92
Deep purple-ruby. Coffee, cocoa and violet complement black cherry and blackberry aromas on the nose. Bright and fresh in the mouth, with a light on its feet approach and plenty of freshness to the delicate, well-delineated flavours similar to the aromas. Closes long and crisp. This might not be the most concentrated Merlot wine you'll ever drink, but it's absolutely delicious and gorgeous, easygoing and nicely approachable. Perfect for summertime brunches and lunches/brunches. Made from 35-65 years old vines, vinified in steel and oak, it's remarkably reminiscent of Pinot Noir. Imagine that, Merlot that doubles as a Pinot Nopir, who would have ever thought that possible? Drinking window: 2023-2026. (ID).
AnnaFrancesca 2020 Merlot Riserva Verona Fiorliste      92+
Good full ruby-purple. Aromas of black cherry, tar, smoke, chocolate, mint and underbrush. At once juicy and suave, with powerful dark fruit and chocolate flavours lingering on the rising finish, nicely supported by polished tannins. Made from slightly air-dried grapes for about one and a half months and aged for two years in 500 liters barrels, this very promising wine will improve with a little bottle age. This should be out for sale this coming autumn. Drinking window: 2025-2030. (ID).
AnnaFrancesca 2019 Moscato Passito Veneto              94
Deep golden-yellow. Very inviting aromas of orange peel, lemond curd, tropical fruit nectar, honey and sweet spices. Multilayered and vibrant on the palate, but with very good lift thanks to harmonious acidity nicely carrying the rich fruit flavours on the long back end and it having aged in stainless steel tanks for a year guaranteeing further freshness. Made with grapes that were air-dried for about three months, this is most impressive because of its very good acid-sugar balance (about 5.9 g/L and 110 g/L r.s. respectively). Gorgeous stuff. Drinking window: 2023-2028. (ID).
AnnaFrancesca 2019 Merlot Passito Battista Veneto  93
Deep ruby-red with some purple highlights. Black cherry, raspberry jam, coffee liqueur and dark chocolate on the expressive nose. Then elegant herbal nuances enliven the rich, ripe flavours of dark fruit and herbs. Very thick on the palate but seems less sweet than it really is thanks to very good acid-sugar balance (5.5 g/L total acidity and about 95 g/L r.s.), this finishes long and suave with repeating refined minty herbal and coffee liqueur nuances. This will prove perfect with rich chocolate desserts such as brownies or dark chocolate puddings, but try it too with long cooked beef stews and aged blue cheeses. Made with 100% Merlot grapes that were air-dried for three months, and aged for at least one year in small oak barrels, the wine is named after Anna and Francesca's grandfather, whose first name was Battista. In some respects, I find this to be the winery's best wine, given how hard it is to find a sweet/late harvest/air-dried merlot wine. Well done. Drinking window: 2023-2028. (ID).
Casato 1922.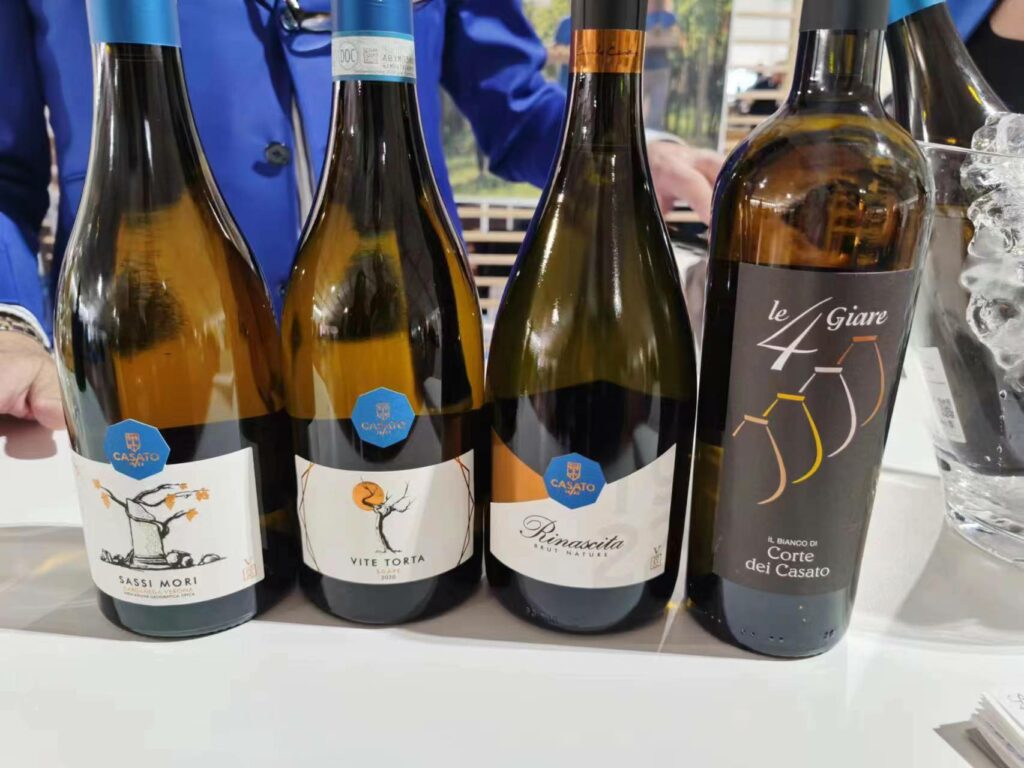 Celeste, Claudia, Letizia and Carlo Casato (a medical surgeon by training) run this four hectares estate that is yet another example of what makes Italian wine so potentially great and fascinating.  The estate only makes wines from the Garganega white grape, which has always been the backbone of the local once-famous and much sought-after Soave and Gambellara wines, but the reputation of which has mostly been ruined by industrial productions and dilute wines. There are however some outstanding producers of Garganega wines and the grape can in fact give amazingly pretty, delicious and ageworthy wines quite unlike any other made in Italy. Casato is making an amazing array of outstanding Garganega wines, and today has to be considered one of the ten or so best producer of such wines (right up there with Pieropan and a few others). Carlo Casato's very old vines (65 years and more) are planted facing mostly eastwards on steep volcanic hills of Colognola ai Colli and express the greatness that Garganega is capable of.
Casato 1922 2020 Spumante Brut Nature Rinascita                  90
Pale golden-accented straw yellow. Crisp aromas of apple and pear are complicated by eucalyptus and flint. Juicy and saline in the mouth, with penetrating flavours of orchard and citrus fruit that are nicely persistent on the fresh finish. Made with 100% old vine Garganega (60 years old and counting) grown in east-facing vineyards on the volcanic hills of Colognola ai Colli. About fifty percent of the wine was made as a classic white, while the remaining fifty percent spent the whole of the alcoholic fermentation on the skins to extract more aromas, flavours and body. Very elegant and pretty label too. Drinking window: 2023-2026.
Casato 1922 Il Bianco di Corte dei Casato Le 4 Giare               91
Bright straw yellow with golden tinges thanks to prolonged skin contact. Piercing aromas and flavours of white and yellow acacia flowers, peach and fresh citrus fruit. Closes lomg and vibrant marked by noteworthy refreshing salinity. A 100% Garganega grown on volcanic soils is aged in ceramic vessels, kept in contact with the skins for the duration of the alcoholic fermentation. It's a very approachable, easy-drinking wine that delivers lots of flavour and only 12.5% alcohol. Drinking window: 2023-2025.
Casato 1922 2020 Soave Vite Torta          91
Green-tinged yellow. Fruit-driven aromas of lemon, lime and grapefruit, complicated by a note of licorice and lifted by a pretty white floral note that is very Garganega. Light on its feet, offering precise citrus and orchard fruit flavours and a refined texture. Bitter lemon peel adds freshness and lingers on the mineral finish. This is the freshest version of Garganega wine made by Carlo Casato and his team, with 20% whole bunches used and only 20% of the must spending time in contact with the skins, and I like its purity and straightforward fruity appeal. Drinking window: 2023-2028.
Casato 1922 2020 Garganega Sassi Mori Verona               93
Bright yellow. Precise, subtle but building aromas of stone fruits, minerals and nutmeg.  Bright and energetic on the palate, not to mention extremely complex on the palate, offering a wild array of dried fruit (apricot, almond, hazelnut), mineral and herb flavours, a youthfully chewy but polished texture and remarkable focus. Hints at gingerbread on the long, saline, fresh and tactile finish. Macerated on the skins for close to the duration of the fermentation period, aged on the lees for fifteen months (60% in stainless steel, 35% in large oak barrels and 5% ceramic vessels). This will age well; though it can certainly be enjoyed now, I would give it another year in the cellar to let it blossom some more. Drinking window: 2024-2028.
Colle Manora.
Colle Manora is an absolutely unique estate of the Monferrato hills run by a couple of remarkably talented individuals, Giorgio Schön and Marisa Orlandi Contucci Ponno, both of whom have along background in wine. Schön is the sone of Mila Schön, one of Italy's most famous fashion designers of all time, and is a former race car driver of real note. For this reason, the winery, which is located in one of Piedmont's most beautiful areas, is well worth a visit, as besides great wines and lovely vineyards, you will also have the opportunity to visit one of the greatest racing car museums anywhere (with splendid models of Ferrari and much more waiting for you) and the museum of Mila Schön's amazing clothes, that are under glass for everyone to admire). It's really all pretty remarkable, and made even more so by the fact that the wine makes noteworthy wines from both indigenous (Barbera, Nebbiolo, Albarossa) and international varieties (Chardonnay, Viognier, Pinot Noir, the Cabernets…). The estate also makes a fine Barolo wine that will be reviewed in next month's Barolo article here at the TerroirSense Wine Review.
Colle Manora 2022 Mimosa Monferrato Bianco              90
Bright straw-green. Crisp and fresh aromas of orchard and citrus fruits with delicate complicating hints of rosemary. Then round and mellow in the mouth, with the peach and grapefruit flavours that could use a touch more acidity for even better freshness. Closes long and focused. Made with 100% Sauvignon Blanc and aged on the lees, this wine offers a good middle of the road interpretation of the variety, neither quite as pungently green as New Zeland's versions nor as layered, rich and ripe as some of the Loire's. Drinking window: 2023-2026. (ID).
Colle Manora 2018 Collezione Mila               91
Light green-tinged gold. Fresh aromas of lemon drop, green pineapple, white pepper and mint. Vibrant and juicy, with a distinctly lemony and peppery impression and classic dryness to its cool-climate flavours of minty stone fruit. Closes long and fresh. Obviously the product of a cooler year than the 2017 Mila, this is much lighter and livelier: these 2018 and 2017 Mila wines really could not be more different, so keep that in mind when you buy: that said, each one will have its fans, depending on whether one's palate prefers fresh steely whites or richer, buttery more opulent ones. The 2018 vintage saw an uptick in the Viognier in the blend: this is a blend of 60% Chardonnay and 40% Viognier, picked in the Tre Querce vineyard ('three oaks", in English) that faces south/southwest. The Chardonnay ages in small oak barrels on the lees for about six months while the Viognier spends its time in stainless steel tanks. Drinking window: 2023-2026. (ID).
Colle Manora 2017 Collezione Mila               90
Deep straw yellow. Ripe broad showy aromas of yellow fruit and sweet spices. Very spicy and honeyed in the mouth, with strong notes of butter and yeasty bread complementing the ripe tropical fruit flavours. Finishes ripe and broad. Compared to the 2018, the 2017 vintage saw a slightly different blend of white grapes percentage white, with slightly more Chardonnay in the blend (65% Chardonnay and 35% Viognier). I think the Chardonnay sort of overtakes the Viognier here, the presence of which is somewhat dumbed down aromatically limiting it to conferring mostly opulence and texture. Drinking window: 2023-2025. (ID).
Colle Manora 2022 Barbera del Monferrato Pais              92
Red-ruby. Initially very reduced aromas hint at savory underbrush, then the nose opens with aeration to showcase of nuances of violet, dark plum, maraschino cherry, minerals and chocolate. Ripe but very fresh in the mouth, this offers building nuance and definition to its saline, juicy and long dark blue flavours. Lovely Barbera meant to be enjoyed early: try it with pizza, tomato sauce pasta dishes and grilled steaks and hamburgers, and you won't regret it. Drinking window: 2023-2026. (ID).
Colle Manora 2020 Barbera d'Asti Superiore Manora              91+
Deep purple ruby. Saline and savory aromas and flavours of cocoa, plum, blackberry and aromatic herbs. Rich and layered but very oaky presently, that leaves a unidimensional impression on the long thick finish. This needs plenty of time to shed its oaky veneer, but I think there's plenty of fruit lurking beneath. As I think it will develop very nicely, I have placed a '+' sign next to my score. Drinking window: 2025-2028. (ID).
Colle Manora 2020 Albarossa Ray Piemonte              94
Moderately saturated bright red. Perfumed aromas and flavours of peppery red cherries and berries, complicated by ink, tobacco and lavender. Juicy and suave on the vibrant long finish. This strikes me as the freshest, lightest on its feet version of Ray ever made: I liked it! Made with the little known Albarossa (100%) variety (a very successful laboratory crossing of Barbera and Chatus varieties that now boasts close to twenty fine producers, from Chiarlo to Prunotto), I find Colle Manora's Ray excels in any vintage. The 2020 Ray continues this wine's long tradition of fun to drink, flavourful red wines that you and your friends will have no trouble falling in love with. Think of this very pretty wine in terms of what a mix of Pinot Noir and Zinfandel might taste like; for sure, it will prove very flexible at the dinner table, matching well with both simpler and more complicated dishes. Drinking window: 2023-2026. (ID).
Colle Manora 2019 Rosso Barchetta Monferrato Rosso              91
Medium-deep ruby. Reticent aromas and flavours of black cherry, licorice, violet and mint blossom with aeration. Ripe, savory and suave in the mouth; very smooth and fleshy, with lowish acidity adding to the fleshy impression. Finishes with soft tannins and good length. A 60/40 blend of Cabernet Sauvignon and Merlot. Drinking window: 2024-2029. (ID).
Colle Manora 2016 Pinot Nero Palo Alto Piemonte              89
Deep bright ruby. Slightly herbal notes mark the blue fruit aromas and flavours. Easygoing and juicy, this will show well with juicy meat dishes. The close is floral and fresh. Only 2960 bottles made; the next vintage of what is a promising Piedmont Pinot Noir wine will be the 2019. Drinking window: 2023-2026. (ID).
Fantinel/La Roncaia/Tenuta Sant'Helena.
Fantinel is a large winery that has been making wine for generations, and that over the years expanded its holding so as to now also own the prestigious Tenuta Sant'Helena in the Collio region and La Roncaia in the Friuli Colli Orientali, arguably Italy's largest producer of Ramandolo and Picolit wines among many other classic Friuli Venezia Giulia wines. Now run very well by Marco Fantinel, the winery has never made better wines; and I have been drinking and tasting them regularly since the very early 1980s, so I know exactly what I'm saying. By any measure, the Fantinel saga is an Italian wine success story.
Fantinel 2021 Prosecco Brut Single Vineyard One&Only              90
Bright straw yellow with a delicate mousse. Easygoing and nicely creamy with apple and pear nuances lingering nicely on the sift but bright finish. Well-made and fun to drink: believe me, none of your friends will complain should you serve them a glass, and that's more than you can say for far too many generically labeled "Prosecco" wines out there. Drinking window: 2023-2024. (ID).
Tenuta Sant'Helena 2021 Pinot Bianco Frontiere Collio              93
Bright golden-tinged yellow. Penetrating, complex and pure aromas and flavours of white stone fruit, apple, pear and sweet herbs, complicated by white and yellow acacia flower notes. A hint of menthol emerges on the long suave finish. Made from fifty years old vines planted in Vencò, a high-altitude cool-climate area of the Collio, this is partly barrel-fermented, something that is always is very risky with as delicate a variety as Pinot Bianco (its aromas and flavours usually get overcome by the barrel and all you end up smelling and tasting is oak). Not so in the case of Frontiere, that is very well balanced: in short, this is excellent. Drinking window: 2023-2027. (ID).
La Roncaia 2020 Eclisse Venezia Giulia               91
Bright deep straw-yellow. Citrus and orchard fruit on the nose, with floral and herbal notes.  Ripe and fairly fat, with a glyceral impression to the classically dry tangy citrus and orchard fruit flavours. Finishes long but a little simply. A blend of mostly Sauvignon Blanc and a little Picolit, partly barrel-fermented in French oak. Drinking window: 2023-2025. (ID).
La Roncaia 2016 Refosco Friuli Colli Orientali                 93
Bright deep ruby-red. Black cherry, dark berries, coffee, cocoa and violet aromas are complicated by notes of iron and licorice. A touch of coffee and cocoa on entry complement the sweet dark berry character in the middle palate and increase complexity on the long suave finish, which features clinging sweetness and a note of smoky minerality. Made with 100% Refosco del Peduncolo Rosso grapes that are partly air-dried; the wine is aged for two years in new and second-fill oak barrels. This is remarkably good: and quite bright too given it is made with partly air-dried grapes, a technique that unless carefully used and properly mastered, can often lead to green or heavy wines. If you've never tried a Refosco (del Peduncolo Rosso) wine before, or just haven't yet found one you like, give this one a whirl and I trust you will not be disappointed. Drinking window: 2023-2028. (ID).
La Roncaia 2015 Picolit Friuli Colli Orientali                   93
Vivid deep golden yellow colour. Aromas and flavours of honey, peach, orange marmalade, raisins and caramel. Bright, luscious and long in the mouth, with a suave hioneyed mouthcoating wave of orchard, citrus and tropical fruit lingering long and prettily. At eight years of age, this still tastes remarkably fresh and light on its feet with no evidence of fading anytime soon. Well-done. Made with Picolit graes that were air-dried for six weeks grown on the hills of Attimis; the wine is partly barrel-fermented and aged long in small French oak barriques. La Roncaia is probably the largest producer of Picolit wine in the world. Drinking window: 2023-2027. (ID).
Il Casale della Regina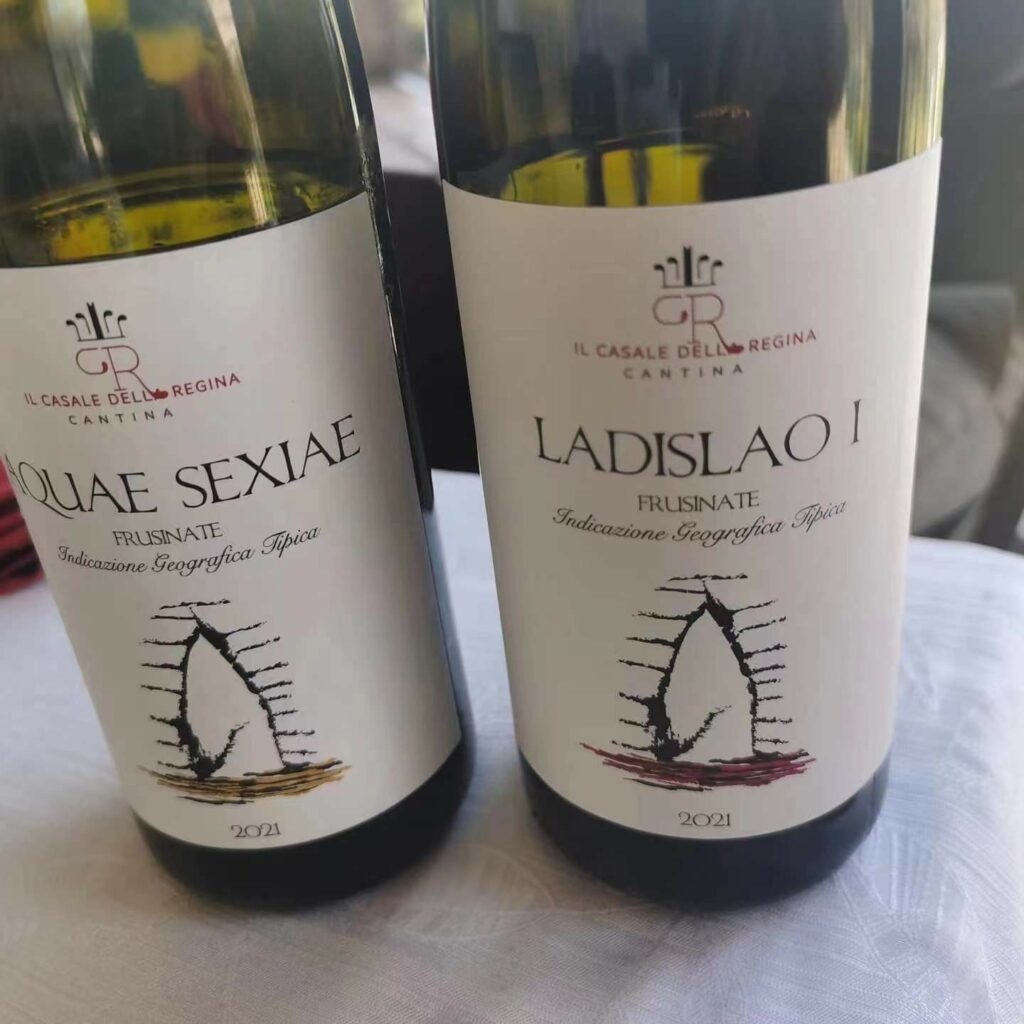 Young Cristofer di Ruzza is a real story that deserves to be narrated in full: so check out my upcoming piece here in the TerroirSense Wine Review on him and his wines. For now, suffice it to say that he has resurrected old vines of the frusinate area in southeastern Lazio such as Pampanaro, Maturano and Capolongo, grapes that are not much used outside of the immediate area and that had long been forgotten. My hat's off to this likeable, hard-working and extremely bright young man who deserves to be better-known: and mark my words, he will be.
Il Casale della Regina 2021 Frusinate Bianco Aquae Sexiae               91
Straw geen. Nectarine, apple, bread crumbs, grapefruit and white flowers on the intriguing nose. The similar flavours, but with a bittersweet twinge that adds interest on the long steely finish. It's asimple, easygoing nicely approachable lemony white that will serve wonderfully as an aperitif and uncomplicated vegetable and fish dishes. A blend of the little-known 50% Maturano, 35% Capolongo and 15% Pampanaro native grape varieties, the wine's name is derived from the ancient battle where Gaio Mario defeated the Germanics and the booty of which went to the town of Arpino, close by where this winery is located. Only about 4000 bottles a year are made so far, but with the 2022 vinatge these will increase to 7500. From 10-12 yers old vines, this rare white is an example of why Italy's wines can be so exciting and innovative. Drinking window: 2023-2025.
Il Casale della Regina 2021 Frusinate Rosso Ladislao       91
Bright red with a slightly purple tinge. Very perfumed, almost decadent red and black cherry and kirsch on the nose, with hints of toasted coffee beans and of black pepper (that's the Cesanese d'Affile variety). Then extremely high acid on entry, but turns fuller in the middle and sweet and roudner on the long floral and spicy finish. Only 13% and lovely, this is a real mountain wine made with grapes grown on steep slopes at over 400 meters above sea level. A blend of 60%Lecinaro and 40% Cesanese d'Affile that nicely combines the fruitiness of the Lecinaro and the spicy tannic clout of the Cesanese d'Affile. Aged in second-fill used barriques for six months. Drinking window: 2024-2028.
La Montagnetta.
Domenico Capello is Italy's foremost producer of Freisa wines at his La Montagnetta estate, something that everyone, his wine producing colleagues included, recognize and readily admit. A remarkably talented man, he achieves things with this often difficult variety that most other people can only dream of. And that talent extends to other grape varieties too: for example, you will be hard-pressed to find better Barbera wines anywhere.
La Montagnetta NV Vino Spumante Rosé Brut Insolito              88
Earthy, savoury nuances complicate the red fruit and herb aromas and flavours that have a  strongly bitter nuance to them. Made by the tank method (Charmat-Martinotti) it spent 6 months on the lees. It's an interesting wine, but maybe a little too much for me. Drinking window: 2024-2025. (ID).
La Montagnetta 2022 Chardonnay La Fiur Piemonte               91
Vibrant straw yellow. Fruity and easygoing on the nose and in the mouth, with pleasant notes of apple, pear and banana lingering nicely on the round mellow finish. Easily approachable and quite good, Chardonnay lovers will lap this up. Drinking window: 2023-2025. (ID).
La Montagnetta 2021 Viognier A-Stim Piemonte                90
Bright fresh and easygoing, with hints of white peach, wax, orange oil and white pepper. Approachable and easygoing on the long suave finish. 100% Viognier grown in the territories of the communes of Roatto and San Paolo Solbrito, planted in 2013 in three plots with the help of Nicola Argamante, one of Piedmont's most illuminated grape scientists. Drinking window: 2023-2024.
La Montagnetta 2022 Il Ciarèt Rosato Piemonte              90
Bright red-pink. If unripe Freisa grapes are used, the colour of the wine is unfailingly pale pink (not surprisingly, Freisa is Nebbiolo's closest relative), so a deeper colour in Freisa Rosato wines is a good sign the grapes were ripe. Very perfumed aromas and flavours of red berries, rosehip and sweet spices. Only 3 g/L of residual sugar, but this seems like it is slightly sweeter than that. The slightly off-dry impression is likely due to a glyceral grape sweetness and it helps round out this pretty pink wine on the long floral finish. Drinking window: 2023-2025. (ID).
La Montagnetta 2021 Barbera d'Asti P-CIT               94
Purple-ruby. Ripe, full, complex aromas of violet, dark plum, black cherry are spiced up by hints of pepper. Fresh and juicy, with sneaky concentration and complexity, this finishes long and wonderfully perfumed. Another wine from la Montagnetta that seems to hint at some residual sugar to me, but let's not quibble: this is excellent, one of the best Barbera wines I have tasted all year. Drinking window: 2023-2025. (ID).
La Montagnetta 2021 Freisa d'Asti L'Altra                95
Bright red-ruby. Crunchy red cherry and berries have captivating perfume and fleshiness, uncommon length. Juicy, precise and energetic, it's simply an irresistible red wine. A 100% Freisa wine made with grapes picked on the I Ronchi hillside in the commune of San Paolo Solbrito off clay-rich soil, 10% whole bunches are used and the wine is aged in cement tanks. This is about as outstanding a Freisa wine as you'll drink all year. Drinking window: 2023-2030.
La Montagnetta 2020 Freisa Anphora Piemonte               93
Birght red-ruby. Aromas and flavours of red cherry, herbs, spices, earth, licorice and underbrush. Quite m,outhcoating but the tannins are noble, this very broad, ample wine  differs considerably from other Freisa wines you might have tried, but it is also very promising. It needs to be cellared extensively though for it to show all its got, so my advice is not to touch a bottle for a couple of years yet. A 100% Freisa wine made with grapes picked on the I Ronchi hillside in the commune of San Paolo Solbrito off clay-rich soil, this was aged twelve months in a earthenware (cocciopesto, in Italian) amphora. It is a much more successful wine than the 2019 that evolved too quickly. Drinking window: 2025-2028. (ID).
La Montagnetta 2019 Barbera d'Asti Superiore Piovà              94
Deep purple-ruby. Initially reticent on the nose, only hinting at the concentration and complexity that obviously lie below, offering nuances of dark plum, coffee, and minty underbrush. Then much sweeter, mellower and more forward in the mouth, with very well-delineated dark fruit and spice flavours that linger impressively. This is a big, rich, ripe and very serious. For all those out there who like Barbera wines, this is a must buy. Drinking window: 2024-2029. (ID).
La Montagnetta 2017 Freisa d'Asti Superiore Bugianen               96
Good full red-ruby. Redcurrant, strawberry, red plum and rose on the nose, complemented by sexy sweet spices. Broad, lush and sweet on entry, with copious red berry and cherry falvours boating noteworthy inner-mouth perfume, then more austere and vibrant in the middle thanks to laser-like but harmonious acidity that confers a well-delineated, precise dimension to what is a really beautiful red wine. The acidity gives the wine shape and balance while extending the flavours on the finish, which is impressively broad and horizontal, and features very smooth, ripe tannins and lingering spicy perfume. Sophisticated, knockout wine that is about as good a Freisa wine as you will taste all year -or any red wine, for that matter- and that is bigger than usual thanks to the warmer year, the 10% of late harvested grapes added to the must and the 24 months in used oak 500 liter tonneaux (in 2018, Cappello logically reduced the time in oak by six months given that vintage's  more subtle wine). Drinking window: 2023-2035. (ID).
Ridolfi.
With vineyards located in what is one of the two best areas in which to make Rosso and Brunello in all of Montalcino, Ridolfi is blessed with a true grand cru terroir comparable to what Musigny and Chambertin are for Pinot Noir in Burgundy. The wines have immense potential, and more often than not it is realized in the bottle, all of which are graced by the northern side of the Montalcino denomination's cooler-climate personality. The estate's history can be traced back to 1290, when three Ridolfi families stemmed from an ancient Tuscan lineage. One of these families – the Ridolfi of Borgo – originated the Sienese branch called "dalla Contrada" and that is the Ridolfi family that gives their name and crest to this Montalcino winery. The estate was bought in 2011 by Giuseppe Valter Peretti, and is making outstanding, steely, perfumed wines that require a little patience (and a good cellar) to resolve their oaky component and round out fully. But make no mistake about it, this is a very underrated winery.
Ridolfi 2019 Rosso di Montalcino             93
Good medium red colour. Red berries, minerals, spices and a whiff of blood orange on the nose and in the mouth. Bright and fresh, but with a lush, almost sexy element and a fine-grained, suave texture to the well-delineated flavours of red fruits and minerals. A step up in intensity and structure from most Rosso di Montalcino wines but in keeping with the excellent vintage.  Finishes with lingering perfume.  Drinking window: 2023-2027. (ID).
Ridolfi 2016 Brunello di Montalcino              94
Good full, deep red. Offers dark red berry, violet and licorice flavors complicated by a note of graphite and chocolaty oak. Tight and juicy in the mouth, with a medicinal cast and very good energy to the steely dark red berry, clove, star anise, orange peel and nutmeg flavours.  Less sweet and plush than many other 2016 Brunellos in keeping with the cooler-climate northern site, but with more refinement and more structure for aging than all those wines. And like all Ridolfi wines, this needs at least a few years in bottle to show all its got. Drinking window: 2023-2026. (ID).
Sartarelli.
Devoted to one grape only, the Marche's great Verdicchio that gives some of Italy's most ageworthy white wines (twenty and more years are not a stretch), Sartarelli is not just one of the region's most important and talented producers, but of all Italy. They make five different Verdicchio wines, from sparkling to sweet, with the single-vineyard Balciana that is hands down one of the world's great white wines.
Sartarelli NV Vino Spumante Brut          90
Bright straw. Fruity and floral on the nose and in the mouth, with a clean fresh long and creamy personality. Not unlike a very good quality Prosecco, but made with Verdicchio. Drinking window: 2023-2026. (ID).
Sartarelli 2022 Verdicchio dei Castelli di Jesi Classico      90
Pale straw-green. At once approachable and easygoing with its orchard and citrus fruit aromas.  Then also very uncomplicated and easygoing in the mouth, with juicy, saline white stone fruit and herbal nuances that linger nicely. Made with 100% Verdicchio grown between 300-350 meters above sea level that guarantees freshness. Drinking window: 2023-2026. (ID).
Sartarelli 2021 Verdicchio dei Castelli di Jesi Classico Superiore Tralivio              93
Bright straw green. Acacia, honey, apple, pear, almond and linden dominate the nose and in the mouth. Bright lemony cut emerges on the long back end to provide freshness and extend the flavours. From 30+ years old vines, an excellent version of Tralivio. Drinking window: 2023-2030.
Sartarelli 2020 Verdicchio dei Castelli di Jesi Classico Superiore Balciana              96
Luminous straw yellow. Musky aromas of apricot, green apple, ginger, citrus skin, flint and almonds have amazing intensity. At once supple but tight and classically dry in the mouth, with considerable incipient complexity, offering plenty of texture and richness but also very good lift. Clean, rich, and honeyed on the long, deep complex finish. Boasts lovely acid-fruit balance (less than 4 g/L r.s. and about 5.7 g/L of total acidity), one of the secrets to what is one of Italy's best white wines in almost every vintage. I personally liked the Balciana wines even more when they had a bit more residual sugar, making them taste remarkably like top-end Alsatian Pinot Gris wines, but I get it that the world right now wants white wines that are as dry as possible. Drinking window: 2024-2033. (ID).
Sartarelli 2021 Verdicchio dei Castelli di Jesi Passito              90
Golden amber. Slightly monolithic on the nose, where it strikes me as being a little less perfumed than usual, buty nicely textured and layered with copious notes of yellow fruit, honey and sweet herbs. Showcases good acid-sugar balance (70 g/L r.s. and 5.7 g/L total acidity) which doesn't make this seem especially sweet. Try with rich shellfish and egg dishes, including pastas and aged cheeses. Drinking window: 2023-2026. (ID).
U.S.A. – California
Mount Eden Vineyards.
Mount Eden Vineyards 2018 Chardonnay California              93
Among the most Burgundian Chardonnays made in California from original Wente Clones brought to that US State in the 1940s. The spice and texture are Santa Cruz. The acidity and sheer mid-palate presence are Burgundian. Great Chardonnay wine by any measure. Drinking window: 2023-2027. (RM).
Mount Eden Vineyards 2018 Pinot Noir California                 93
Smooth, ripe palate but notable mineral details emerge. Over all, the impression is very Burgundian with a sense of location and balance which are simply outstanding. This and Mount Eden's 2018 Chardonnay, well, what is there to say except what a pair of wines! Drinking window: 2023-2028. (RM).
Ramey.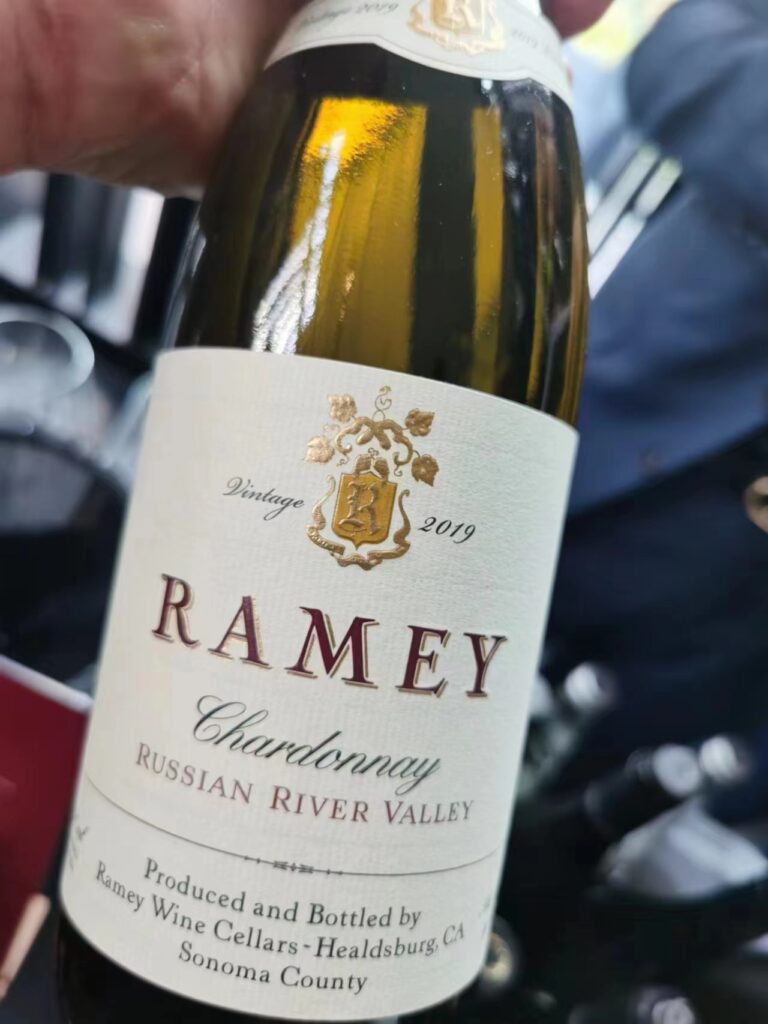 Ramey 2019 Chardonnay Russian River Valley                93
Vivid gold. Oak-driven but nuanced aromas of butter, hazelnut and vanilla complement the delicate lemon, tangerine, beeswax and herbal aromas. Supple and quite subtle in the mouth but with plenty of fat and breadth to its pear, banana, apricot and tangerine flavours. Finishes nicely restrained but broad, with excellent clarity and length. This won't let go of the palate, but does so in a refined, gentle manner, not in the buttery/caramelly/vanilla/fruit cocktail two-by-four manner it ravaged tasted buds with years ago. I for one welcome this more refined, food-friendlier style of Chardonnay wine: really lovely wine. Drinking window: 2023-2028. (ID).
U.S.A. – Washington State
Andrew Will.
Andrew Will 2016 Two Blondes Vineyard Red Blend Washington State                 92
This Merlot-dominant wine (60%+) shows just how well the variety does in Washington State. The lush, rich entry is well supported by the tannins and acids from the two Cabernets in the blend. A long finish gives the wine dimension of depth. Very fine indeed. Drinking window: 2024-2032.  (RM).
Gramercy Cellars.
Gramercy Cellars Syrah Walla Walla Washington State         92
A 90% Syrah and 10% Viognier blend with the grapes picked from two sites: Les Collines and Forgotten Hills. Spicy, spiky, dark-toned fruit with excellent Syrah acidity. Tannins quite accessible. At $23/bottle in the U.S.A., this is a real value. Drinking window: 2023-2028. (RM).