2016 J&J Archambaud Vosne-Romanée         94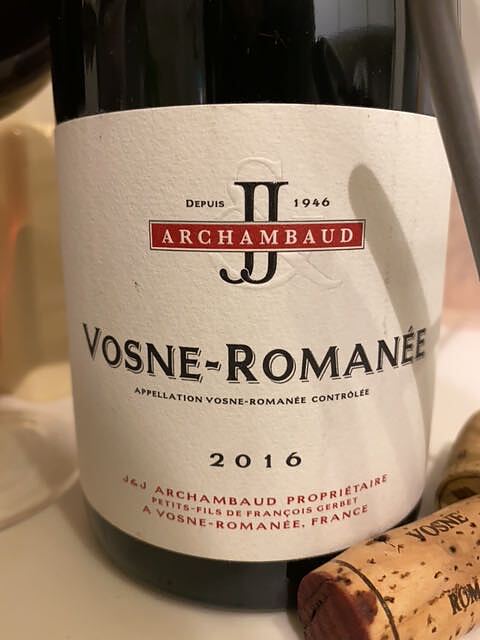 by Robert Millman
I doubt that most serious Burgundy lovers have heard of this small estate. Importer Peter Weygandt discovered the wines a few years ago and is just making them available. I had never seen the wines before an early May tasting in New York. A new Vosne-Romanée? I thought all the estates making wine from Burgundy's most famous and sought after village would have long ago come to market. The estate is not even mentioned in Jasper Morris' monumental  Inside Burgundy, second edition.
Anyone reading this knows that I must have really liked the wine or I would not be bothering TerroirSense's subscribers. In fact this 2016 is the most exciting village Vosne-Romanée I can remember tasting in the last decade. Yes, that good. The estate's founding goes back to 1946. The current version is named for the owners two sons: Jean-Philippe and Jean-Christophe ("J&J"). In total there are all of five hectares—about 12 acres. The estate produces five wines; an Haut-Côte de Nuits, a village Vosne-Romanée, a Vosne Aux Réas—a highly regarded lieu-dit-, Vosne-Romanée Premier Cru Petites Monts and an Echézeaux from a climat near the Clos Vougeot called Les Treux which was planted in 1935!  The village Vosne, with which I was so taken, is a blend from three lieu-dits with plantings going back to the mid-1940s. Even with replantings, the average age of the vines is fifty years or more. I always approach a new Burgundy with a little trepidation: Will the wine disappoint as so many Burgundies do or will it live up to our admittedly high expectations? The 2016 surpassed even my fondest hopes.  The color is bright red with a Vosne brilliance distinctive to the region. The nose was a delight. Intense fragrant red fruits with a lovely spicy undercurrent which carried right over into the taste. Lively, brimming with Vosne aromatics and a near perfect harmony of fruit, acid and minerals. The mid palate was expansive and the finish as long as the taster can pay attention. Had I been told that this was a Premier Cru I would have said, quite! (The 2019 by comparison is much more closed, fuller bodied but lacking nuance at this stage.) The 2016 has achieved an ideal stage of expression. The terroir is on even par with the fruit. This is simply the best Village wine from Vosne Romanee I have ever tasted. Bravo!  Drinking window 2023-2030.
Lungarotti 2005 Rubesco Vigna Monticchio Torgiano Rosso Riserva         94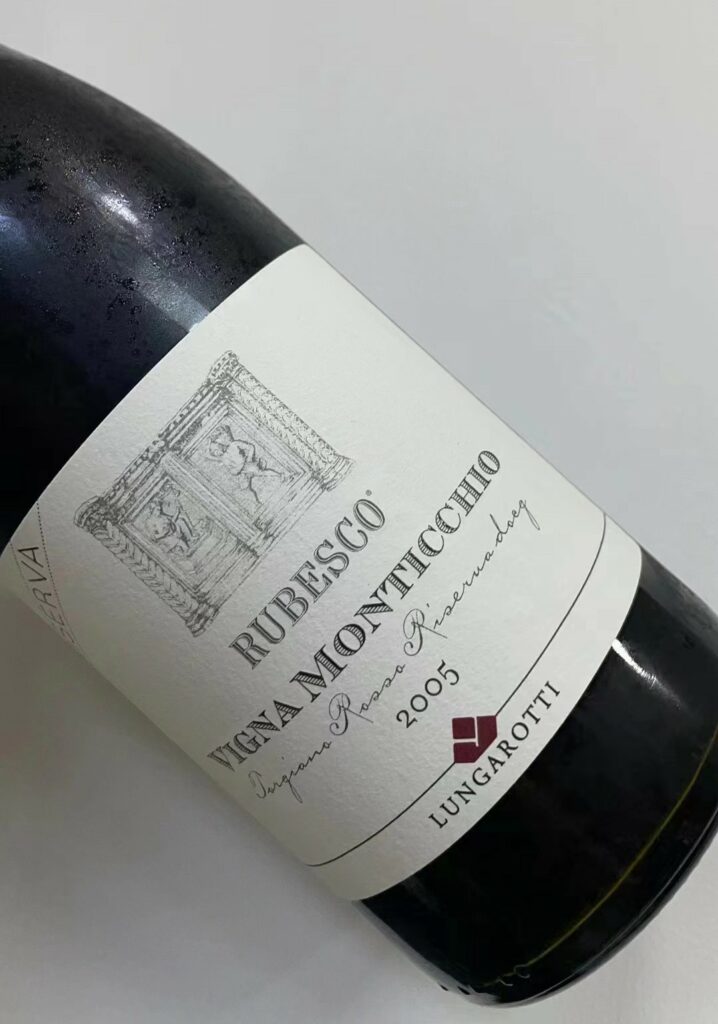 by Yumi Liu
Deep red-ruby: this is quite a deep colour for a Sangiovese wine and it speaks of the 30% Colorino in the blend. Fresh and fruity on the nose and in the mouth, with aromas and flavours of red cherry, raspberry and blackberry, complicated by botanical nuances and lifted by perfumed notes of rose bush. Hints of leather and wood linger nicely on the very elegant, and smoothly tannic finish. Even better, this now eighteen years old red wine does not look, smell or taste old at all, and still has excellent ageing potential. For the longest time, the Rubesco Riserva Monticchio was said to be a 70% Sangiovese and 30% Canaiolo Nero blend, but tasting a number of the different vintages of this wine showed that this could not be the case. As explained by Ian D'Agata in his brilliant, award-winning and benchmark book Native Wine Grapes of Italy, the Canaiolo Nero had been misidentified and it was in fact Colorino del Valdarno that was in the blend, explaining why some Monticchio wines of the late nineties and early 2000s especially were extremely dark and tough, almost Cabernet Sauvignon-like in colour, aroma and flavour profile (beginning with the 2009 vintage, and since then, Lungarotti's Riserva Monticchio is 100% Sangiovese). By Chiara Lungarotti's own admission, the 2005 represents a milestone in the production of this wine, the first example of the new generation at work (she and her sister Teresa had taken the estate over in 1999 upon their father Giorgio's death). This 2005 is a truly splendid wine, very refined and light on its feet that just glides along the palate much like liquid silk; I preferred it to the also very good 2004, though I imagine those who like bigger, textured, fleshier wines will love that Monticchio too. Each will have its fans. Drinking window2023-2035.