Grgich Hills Estate 2018 Cabernet Sauvignon Napa Valley California                                 93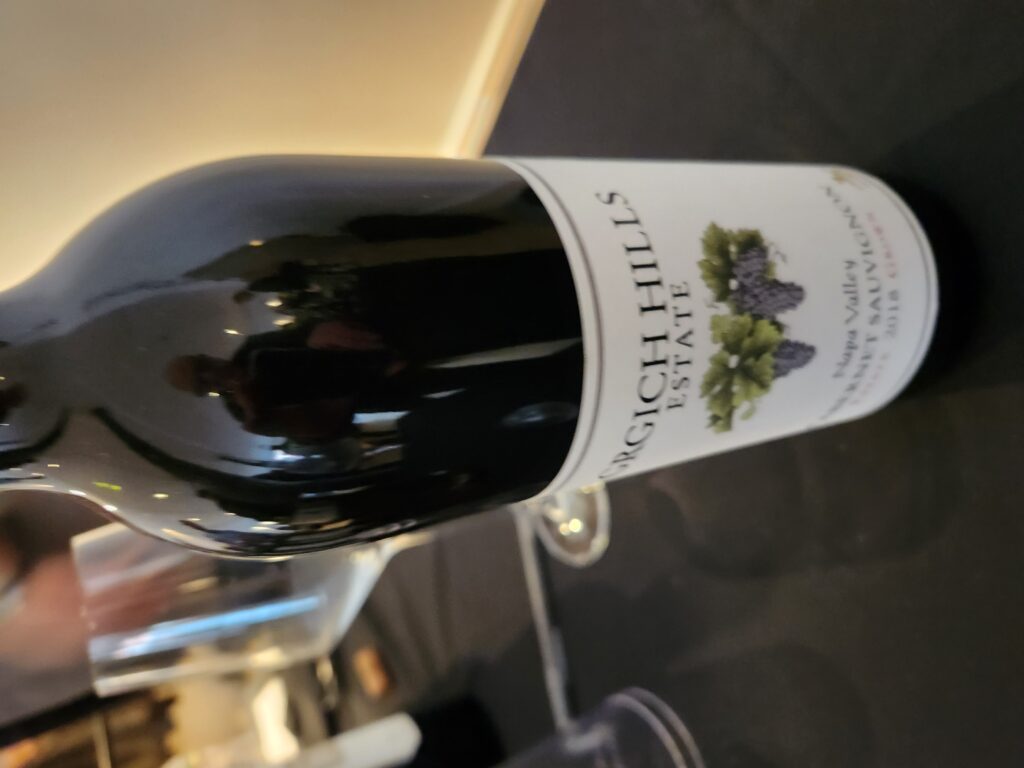 by Robert Millman
Mike Grgich is one hundred years old and still working in the vineyards. He would likely attribute his longevity to his eighty years of growing grapes and making wines. For those who may not recall, he made what turned out to be the most famous Chardonnay wine ever produced in America: the 1973 Napa made when he was the wine maker at Chateau Montelena.  This was the wine that bested all the famous white Burgundies at Steven Spurrier's Paris Tasting in 1976. That embarrassing moment for the French was what propelled the great boom in California's red and white wines. I was blessed to have tasted that remarkable Chardonnay when it was 10 years old.  I would have guessed a Bâtard-Montrachet from a ripe vintage. The spice and interior muscularity of the wine along with astonishing acidity—no malolactic as I recall—made a memorable impression. In the meanwhile, French wine making, perhaps due in part to the Spurrier event, has improved to such a degree that the earlier drubbing by start-up California wines is no longer a source of embarrassment in France.
Mike Grgich went on to form a partnership with Austin Hills of Hills Brothers Coffee after leaving Chateau Montelena. Grgich is partly responsible for elevating the Zinfandel grape variety to being a source of wine worthy to stand by Cabernet Sauvignon. The last twenty years has seen the rise of the Cult Cabernets and their elevation to Mt. Rushmore status by the wine press and collectors alike. I do not want to say that wines like those of Grgich Hills have been forgotten, but they are no longer thought of they way they once were. I am quite certain that Grgich is in no way envious of the changes that have come to his adopted state. Frankly, I have not tasted a Grgich wine in some years for no particularly good reason. I was in fact intrigued when I had the occasion to taste the 2018 Grgich Hills Cabernet Sauvignon. How would a wine produced under the supervision of the then 95 (!) years old Mike Grgich do? Very well indeed. For someone like me with an old-fashioned Bordeaux/Cabernet palate the wine was sheer pleasure. No excess sweetness, extract oak and dense tannins. The wine is firm yet graceful with a gentlemanly balance of pure Cabernet Sauvignon cassis/dark plum fruit and clean, refreshing acidity with keeps the wine moving in the mouth. The tannins are dry but not to excess so the finish is in harmony from front and mid plate. I was amused and not surprised to see that the wine has received scores in the 88-90 range by most of the reviewers. For those who need their music at fortissimo levels and their red wines exploding out of the glass, the 2018 Grgich Cabernet is not the wine to drink. But for those of us who want wines that respect the person drinking them and their terroirs, it is an ideal Cabernet Sauvignon wine. I wish more of the Grgich style New World Cabernets were readily available. Drinking Window 2024-2034.
Au Bon Climat 2020 Pinot Noir Isabelle California                          91
Au Bon Climat 2018 Pinot Noir Knox Alexander Santa Maria Valley California                    94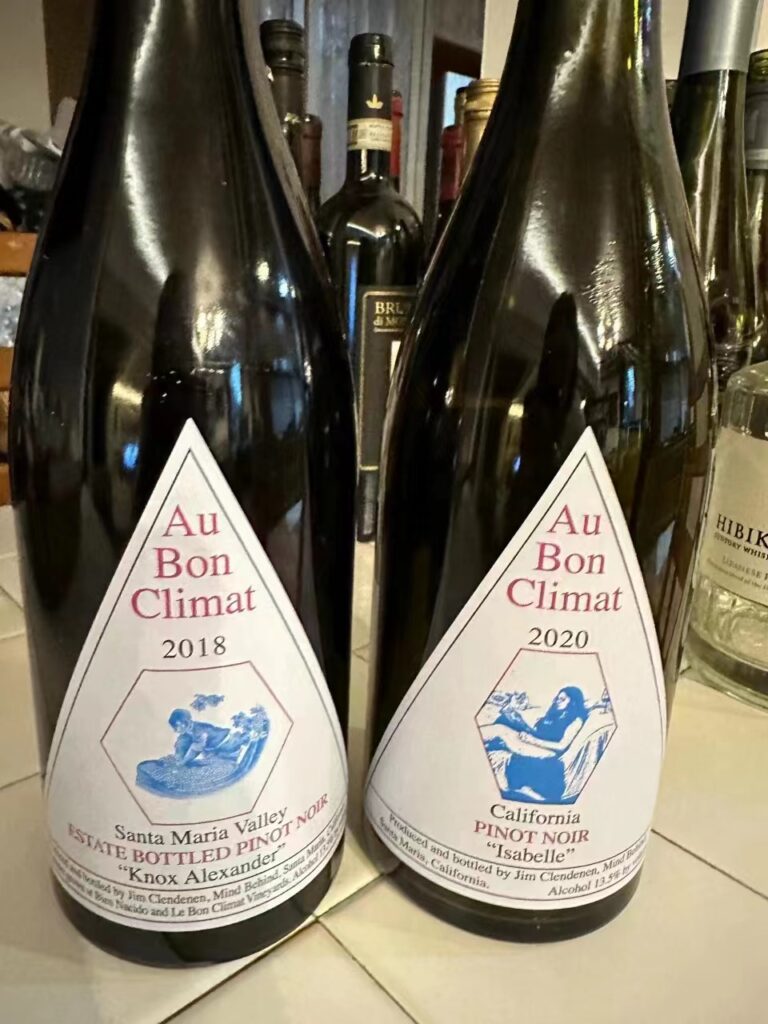 by Yumi Liu
I normally drink much more Burgundy than I do US Pinot Noir wines. but when you get the good ones from the cooler parts of California and from Oregon then I find there are some excellent buys to be had. The wines from Au Bon Climat are a case in point, as these two beauties I tasted recently attest.
The 2020 Pinot Noir Isabelle California is bright cherry-red in colour. Juicy and fresh on the nose, with strawberry, redcurrant and rose aromas complicated by woody nuance. The similar flavours to the aromas that are just as focused. The finish, if not exceptionally long, is supple and sweet, with mineral undertones adding even more verve to what graceful beauty. A cross-appellation wine, with fruit sourced from Mendocino, Santa Barbara and Sonoma, this is excellent. Differently from the Knox Alexander" bottling, which is more Gevrey-Chambertin in style and power, the "Isabelle's" is more in the vein of Chambolle-Musigny. "Isabelle", the wine was named by past-owner Jim Clendenen's after his daughter. Drinking window: 2023-2030.
The Au Bon Climat 2018 Pinot Noir Knox Alexander Santa Maria Valley California is a superb American Pinot Noir wine. Saturated ruby-red, its aromas of pungent, smoky red berry fruit are immediately recognizable as of Pinot Noir, with complicating mineral notes adding vivacity and energy. Dense and pliant but lively in the mouth, with deep rich flavours of red and dark fruit and spices. Finishes persistent and ripely tannic, both impressively and nuanced for a wine in this price range.  "Knox Alexander" is made from a selection of the best grapes in Bien Nacido and Le Bon Climat, and it is more of in a Gevrey-Chambertin style to the "Isabelle's" Chambolle-Musigny. The wine's name, is also that of past-owner Jim Clendenen's son. Drinking window: 2023-2032.