Osteria al Duca
Via Arche Scaligere, 2
37121 Verona VR
Tel. 0039 045 594474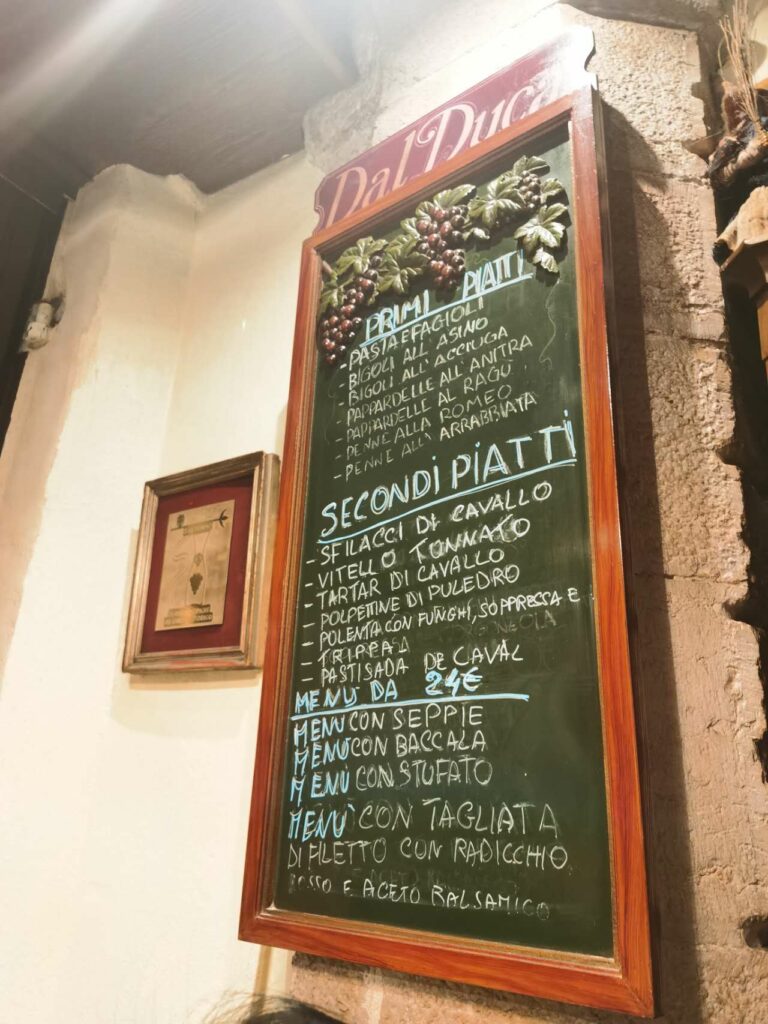 The dishes
Bigoli con ragù d'asino (bigoli pasta with donkey meat)
Bigoli aglio olio e peperoncino (garlic, oil and chile)
Pappardelle al ragù d'anitra (duck ragù)
Lumache trifolate con polenta (sautéed snails)
Bistecca di cavallo alla griglia (grilled horse meat steak)
Sfogliatine con crema all'arancia (orange-flavoured cream pastry)
Semifreddo di Giulietta (nocciole) con salsa al cioccolato (hazelnut semifreddo with chocolate sauce)
Tiramisù
Ananas al naturale (pineapple)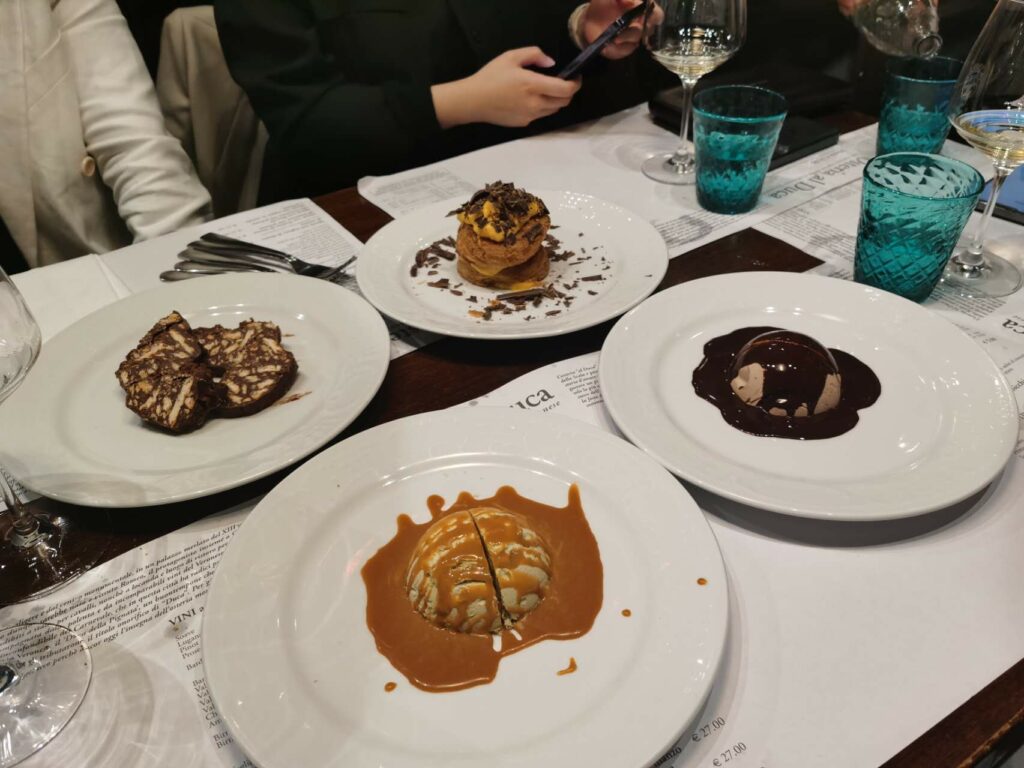 Verona's Osteria "al Duca" is the city's oldest, located in a thirteenth century palace in the heart of the city not far from its most important downtown sites and the Arche Scaligere. Originally built by Verona's important Della Scala family, it was later owned by the noble Montecchi family, a very famous clan mostly because Romeo (of the unforgettable Romeo and Juliet love story) who was born and lived in the palace. The palace's ground floor was eventually transformed into the horse stable and the next logical step was to then create a dining spot for travellers, where they could rest their horses while dining on tripe and pastissada  de cavàl, (a famous local dish based on horse meat: in this part of Veneto, horse and donkey meat are eaten regularly still today) along with the ubiquitous polenta and the local wines. The "al Duca" in the Osteria's name refers to a funloving member of the city's wealthy, Siro Zuliani, nicknamed the "Duca della Pignata", who in 1884 brought back to Verona, at his own expense, the Carnevale, that magical Italian feast where children and adults alike dress up in colorful costumes nas masks and buzz through the streets partying merrily. The city's grateful populace bestowed upon Zuliani the honorific title of duca (duke, in English), while the "pignata" (a large-bellied pot) part of the nickname came from the man's own claim that he had built his wealth by finding just such a pot, filled with gold, in a basement.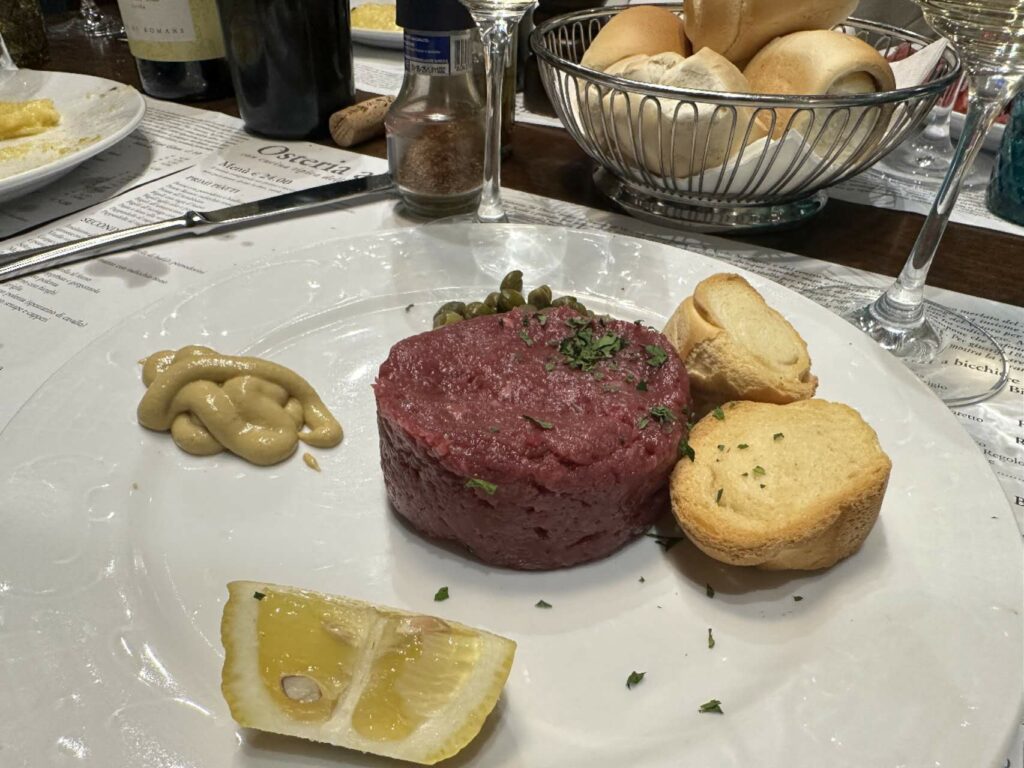 Well, I don't know just how much faith to place in this story, legend or otherwise, but for sure the modern-day Osteria al Duca is the dining equivalent of a pot of gold (and the restaurant's logo is, not surprisingly, a pignata). Very inexpensive, the food is really quite solid: if not the equivalent of what you'd get in a one, two or three Michelin star restaurant (and at 24 Euros for two courses, it would be really strange if it were so), it is much better than that of many of the city's other dining spots, even famous and pricey ones (pricey for no clearly discernibile reason other than someone's inflated ego). The bigoli con ragù d'asino (donkey meat ragù) is served in a hugely generous portion: a little more of the ragù would have made a memorably good dish even better but for the price, the dish was excellent. Similarly, the pappardelle al ragù d'anitra (large pasta bands with duck ragù) might have benefited from a little extra kick in the sauce, but the pasta was flavourful enough as it was, so I'm just splitting hairs now (and besides, they will serve you two different types of chili pepper preparations, in flakes and oil, so you can kick everything up a spicy notch or or two or seventeen, as per your liking). The lumache trifolate con polenta are instead very flavourful, in an oily garlic and tomato sauce that relies on the yellow polenta to offset some of this preparation's savoury bite. Last but not least, keep room for dessert as they are generally above average.
The wines
Vie di Romans 2020 Flor de Uis Friuli Isonzo              94
San Michele Apiano 2020 Gewurztraminr Alto Adige        93
Pieropan 2007 Recioto di Soave Le Colombare                 92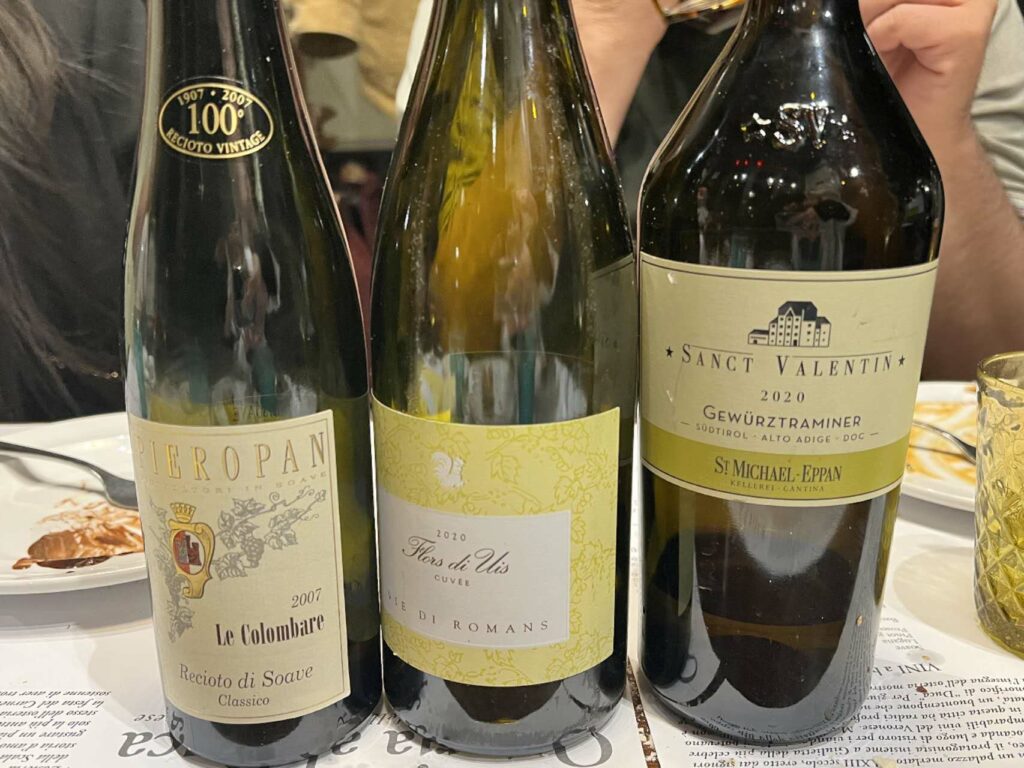 We didn't just eat well on this night, but drank well too. The Vie di Romans 2020 Flor de Uis Friuli Isonzo is one of the best recent bottlings of this marvelo9us wine, a complicated blend of Malvasia Istriana, Sauvignon and. Rich and layered, but also lively and fresh, it married very well with the Osteria's hearty cuisine. The San Michele Apiano 2020 Gewurztraminr Alto Adige is refined and smooth, and thug recognziably gewurztraminery" is not so over-the-top in style that it marche well to this rich northern Italian fare. To clasoe things off, the Pieropan 2007 Recioto di Soave Le Colombare, in one of the richest versions ever of this wine and not one of my favourites for that very reason, was nonetheless a splendid tipple redolent of pineapple, mango, honey and vanilla bean, smooth ann luxurious, and it allowed us to call it a night in the sweetest, best fashion possible.