Chanson 2021 Chassagne-Montrachet 1er Cru Les Chenevottes                     94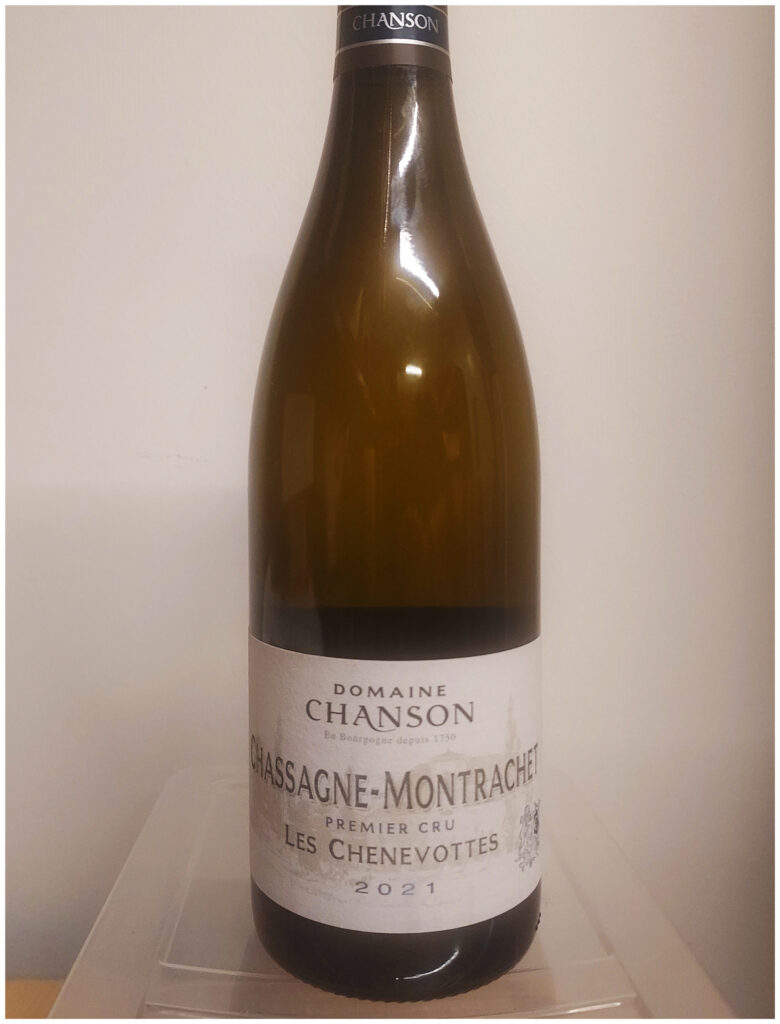 by Robert Millman
By now everyone who is interested in Burgundy—what wine lover isn't!—knows that 2021 was an exceptionally problematic vintage due to hideous frosts which destroyed much vineyard land, especially in the Cote de Beaune. Burgundians are used to short crops—2020 and 2019 to say nothing of 2012, 2013, 2014 and especially 2016 were well below historical norms for yields. But 2021 carried this unfortunate trend to a new low. Many vineyards in the Cote de Beaune produced a mere 30-35% of normal expectations. Production levels were better in the Cote de Nuits but hardly respectable.
Having been invited to a tasting of the Chanson red and whites—all drawn from cask—I had my first opportunity to taste what turned out to be 8 wines—three whites and five reds—from the 2021 vintage. Any misgivings or concerns I might have harbored about the quality of the wines was put to rest: The wines on the whole were true to their respective vineyards, elegant and precise with a lovely clarity and persistence. Compared with the richer, more phenolic 2019s and 2020s the wines have a welcome precocity. They should drink well young. As in every tasting a few wine stood out: Among the reds the Savigny Les Dominodes and among the whites the Chassagne Montrachet 1er Crus Les Chenevottes. The Chanson estate is comprised of 45 hectares divided among 20 plots in Beaune, Chassagne Montrachet, Corton, Pernand Vergelesses, Pommard, Santenay, Savigny and Volnay. Over 80% are premier Cru vineyards. Chanson's claim of terroir fame is its monopole, the Beaune Clos des Feves, a 4-hectare site in the heart of the Beaune vineyards which was ranked a Grand Cru in the 19th Century. (I have previously reviewed the Clos des Feves).
I want to focus on the magisterial Chassagne Chenevottes in this review. Chanson owns nearly 2 hectares in this 11 hectare vineyard—the 8th largest in Chassagne Montrachet. The vineyard is just south and west from the Chassagne portion of Le Montrachet. It is a flat vineyard with poor top soil and among the coolest sites in Chassagne Montrachet. Of course, proximity is never identity in Burgundy. Even 20-40 meters of separation can bring very different terroir properties. The 2021 version of the Chanson Chenevottes is a wine of considerable richness, density and assertive minerality. The wine fills all the spaces of the palate and hand on for as long as the taster wishes. The wine is a vinous meal as it were. This is a good example of the triumph of terroir over weather conditions. Drinking window: 2024-2030
Ceretto 2005 Barolo Cannubi San Lorenzo                    97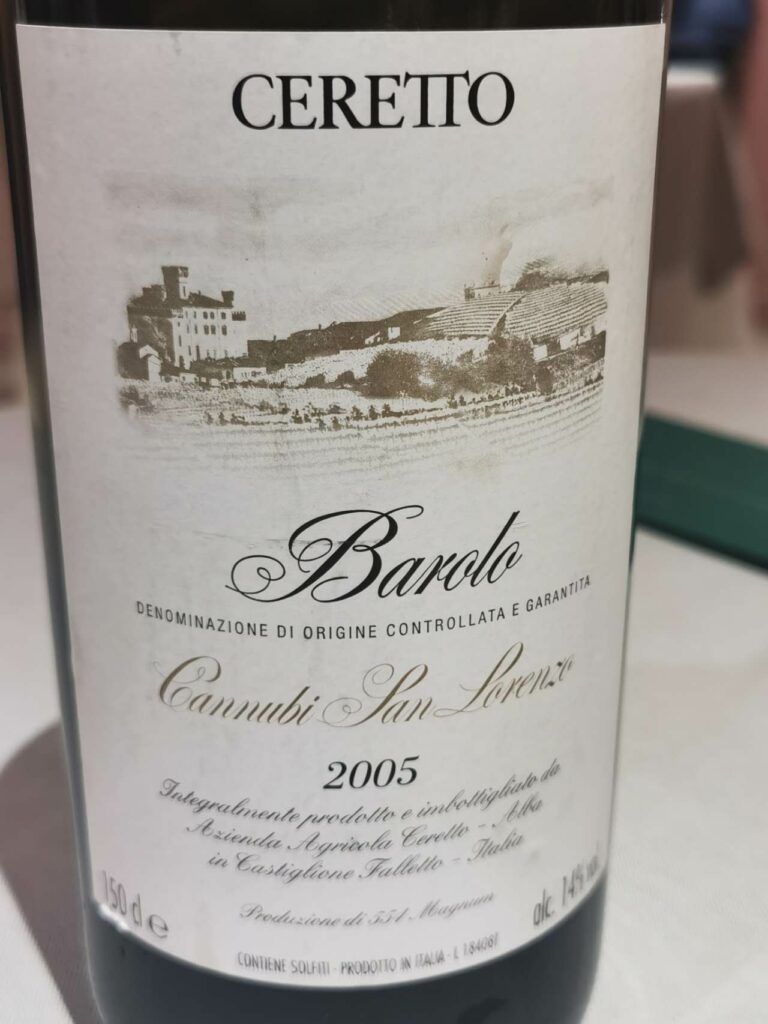 by Ian D'Agata
Though many in Barolo would like you to think of and speak as if there one large, extended Cannubi only, and in fact have pushed for legislation in that sense, things are not so at all. Just like Charmes- Chambertin and Mazis-Chambertin are separate from Chambertin, so are the various sectoons of Barolo's Cannubi hill, which are not one and the same an neither are its wines. To believe that, or want to believe that, is a sad joke.
It's not that one part of Cannubi is better than the others: they're different and so are the wines. Charmes gives a different wine from Mazis and from Chambertin proper, but they can all be equally great wines. It depends on a lot of factors.
And so it is with Cannubi. The Cannubi San Lorenzo is one of the highest and sandiest of the various parts of the Cannubi hill, and so it's wines are completely different from those of, for example, Cannubi Boschis (Sandrone -their Aleste-, Francesco Rinaldi, Giacomo Fenocchio and Virna all make Barolo "Cannubi" wine that are in fact Cannubi Boschis). The Ceretto 2005 Barolo Cannubi San Lorenzo is magically good and showcases just how great this specific Cannubi vineyard really is.
Bright pale red with some rim. Truffle, licorice and underbrush delicately complicate red cherry and tar on the nose. Then also delicate in the mouth, with suave red cherry and sweet spice flavours that linger impressively, nicely supported by unimaginably silky tannins. The finish is very long, compellingly sweet and complex. One sip and you immediately realize this is nothing like any other "Cannubi" wine you taste, or any Barolo from Serralunga or Monforte, for example. It is very much a Barolo of the Barolo commune, and of Cannubi San Lorenzo (not "Cannubi"). The light end-of-season rains that characterized the 2005 vintage here did no harm thanks to the site's high sand content (not as true of Cannubi Boschis or Cannubi Valletta, though all 2005 Barolo are underrated to an extent). Like I wrote: this is a magical Barolo. Bravo! Drinking window: 2023-2038.