When it comes to wine lovers, Burgundy is on everybody's mind and wish list of late. If and when people know that I will be visiting estates there, the lineup of calls and emails I receive pleading with me to take them along is almost endless. And of course, attendance at dinners in which Burgundy's finest are heavily featured are always paid for at a premium and much sought after. Even among friends, those who bring a famous Burgundies to dinner, red or white, becomes the instant life of the party.
But is all that glitters really gold? Hardly. As amazing as Burgundy's best wines are, there are many that are not so interesting when not downright flawed. It behooves you to do your homework before you buy. Viticultural and winemaking decisions and the weather in this northerly part of France all play an important role in the amount of happiness you will derive from your Burgundy wine drinking experience; and as it usually costs a pretty penny, you will be much better off indeed if you do do some homework before you buy and imbibe.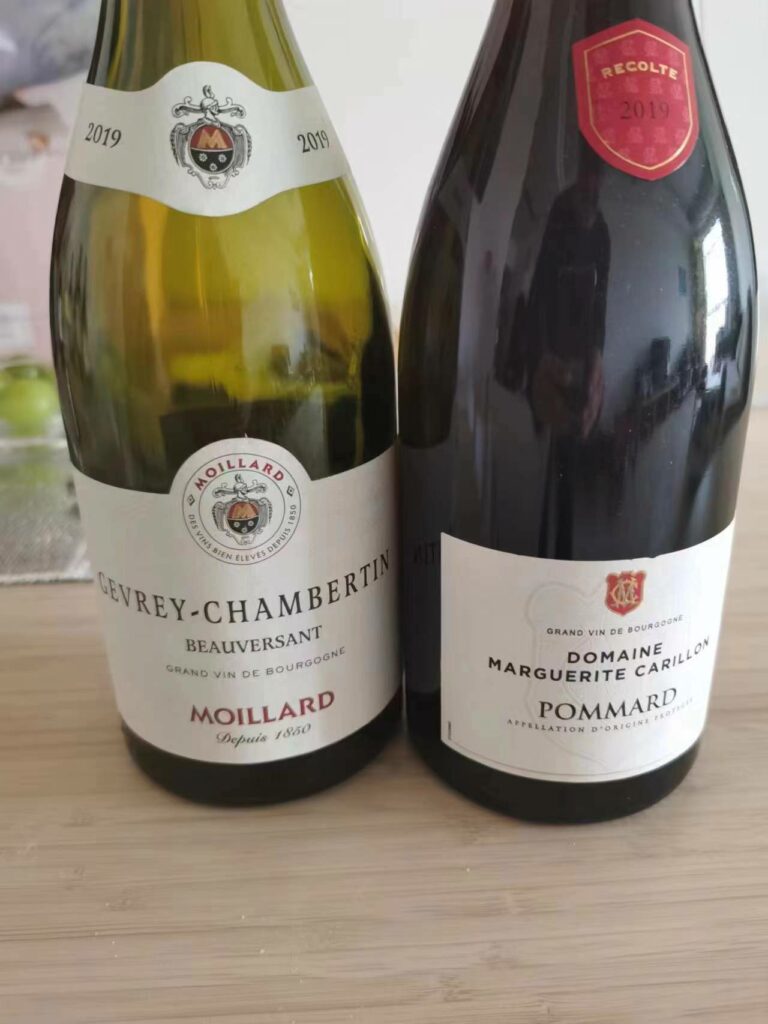 In part 1 of this two-part series devoted to Burgundy's wines, I will tell you about some producers that often fly under the radar but that make at times outstanding wines, for a fraction of what you'd pay for better-known addresses. In part 2, you will get a steady diet of Burgundy's jet set, but even in that piece of wine journalism, there will be plenty of less expensive wines for you to have fun with.
Chartron et Trébuchet.
The house of  Chartron et Trébuchet was created in 1984 when Jean-René Chartron joined forces with Louis Trébuchet, who was then managing a wine trading company. I well remember when its wines first hit the market and took the wine world by storm with many excellently made and fairly priced white Burgundies especially. After a slightly difficult spell in which the wines fell off the radar of wine collectors somewhat, in 2016 the company was bought by François Martenot, who has brought it back to its former glory; under his stewardship the company has continued to excel in the production of precise, energetic white Burgundies, but the red are noteworthy too. Depending on the wine, the Appellation and the vintage, about 20-40% new barrels are used, but it all starts with the fruit, given that the house is careful about sourcing its grapes in some of the region's best vineyard sites and most prestigious crus. Recent vintages have been a very good  source of well-made dependable Burgundies that are often much better than those of some famous names out there.
Chartron et Trébuchet 2019 Rully                                             91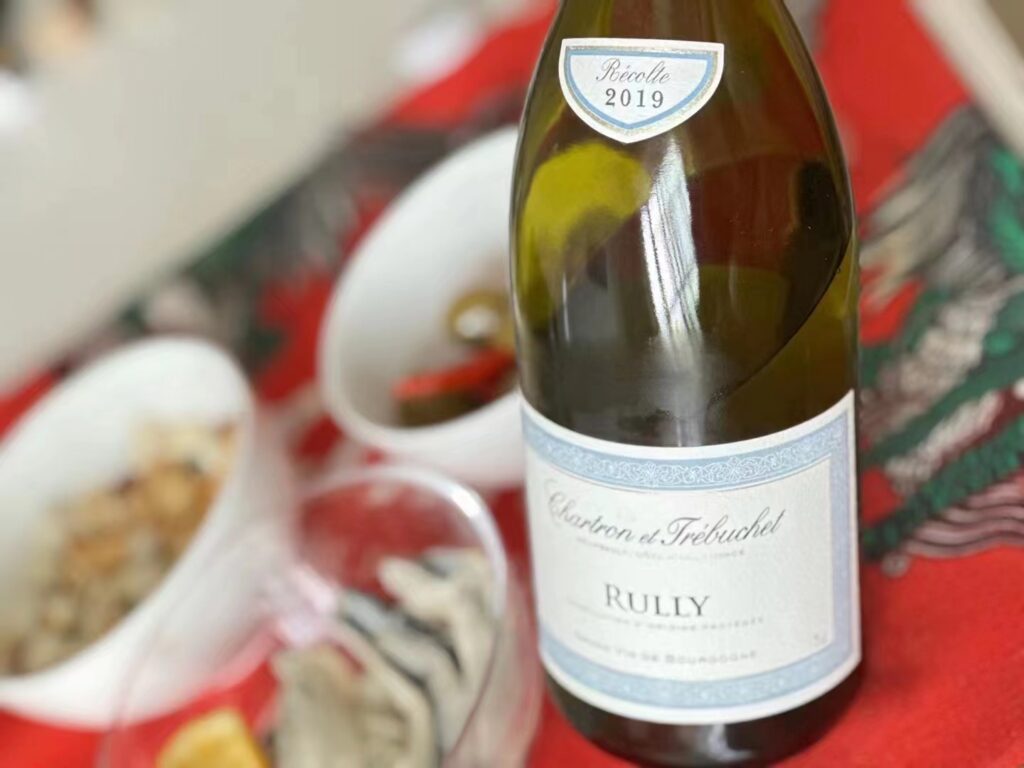 Bright pale yellow. Intensely mineral and lemony nuances to the white flower, fresh citrus and hazelnut aromas and flavours. Balanced acidity gives this a very nicely delineated mouthfeel. Closes long and vibrant. This is a really beautiful, extremely refined white Burgundy that punches way above its weight class: it offers a ton of value and flavour for the money. Great buy, so I'll be generous with my score, but this will prove a crowd-pleaser. This winery also makes an excellent Rully premier cru Gresigny well worth hunting down. Drinking window: 2022-2027.
Chartron et Trébuchet 2019 Montagny Les Bouchots Premier Cru             90
Vivid medium-dark yellow. Ripe aromas of tropical and crystallized fruit, orange marmalade and nuts on the nose and in the mouth. Rich and buttery, with flavours of orange nectar, mango, and bananas Foster enlivened by hints of anise and pink grapefruit, and with just enough acidity to keep it dancing on your taste buds. Finishes long and creamy but with good lift. The wine's name 'bouchots" refers to bushes. Drinking window: 2022-2026.
Chartron et Trébuchet 2019 Savigny-Les-Beaune aux Clous Premier Cru                        93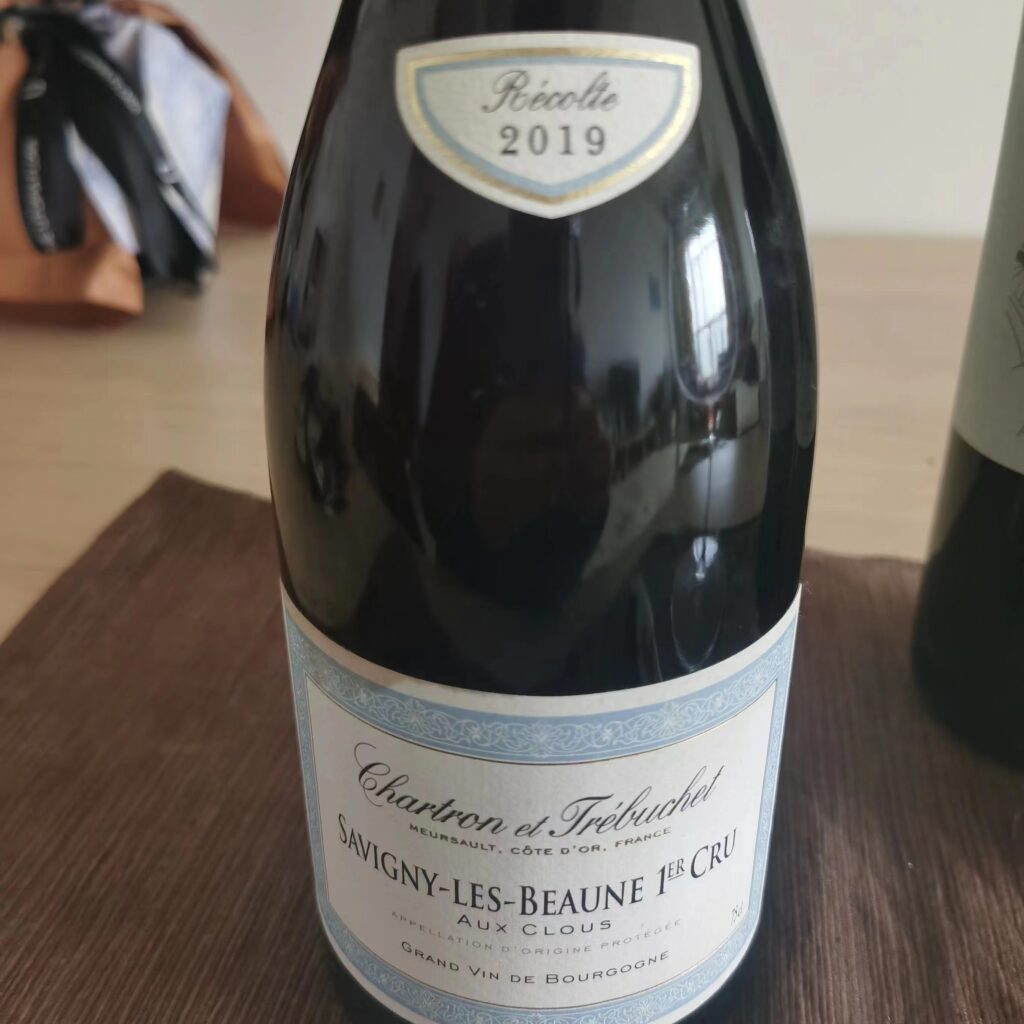 Now this is very pretty. Good bright medium red.  Sexy aromas of sappy red cherry, redcurrant, orange peel and minerals, plus an enticing violet topnote. Offers very lively and energetic floral elements to its red fruit and saline flavours. Very precise and light on its feet, the pure finish offers terrific length and cut. This is precisely the type of Pinot Noir wine that only Burgundy can produce: lively, focused, and dainty, yet pure, concentrated and precise, with an intriguing mineral core. This isn't at all over-oaked as some past vintages struck me as being. It's not a blockbuster (but you wouldn't and shouldn't expect Savignyu to be so) and is rather well-balanced, a wine where it's the bright fruit, floral and mineral nuances that do the talking as opposed to having to rely on sexy sweet oak and ultra-ripe creamy fruit. Very pretty wine: well done. Drinking window: 2022-2026.
Domaine du Bois Noël.
A member of the properties owned by the François Martenot estate in Meursault, this is an especially good domaine. The Maison François Martenot saw the light of day at the beginning of the twentieth century when Lucien Gustave Martenot bought his first ten hectares in Savigny-Les-Beaune, so this is the Appellation the Martenot property traces its roots back to (the estate actually was founded in 1859 by Léonce Bocquet, then sole owner of the Château du Clos Vougeot). The Bois Noël name refers to the fact that this winery's vineyards are found on both slopes of the valley in between the 409 meters high Beaune mountain to the south and the forest Bois Noël to the north. The large estate is almost entirely devoted to red wine production, about a third of which is based on premier cru grapes. Very importantly, it bought the vineyards of the famous very well-regarded Maurice Ecard estate, one of Savigny's leading lights.
Domaine du Bois Noël 2019 Savigny-Les-Beaune                      90
Good bright medium red. Pure but slightly subdued aromas of red berries and herbs. Then nicely pure and intense, with lively, cool flavours of red berries, peony, truffle and herbs. At once precise and vibrant, yet round and ready to drink offering plenty of easygoing charm. Drinking window: 2022-2025.
Domaine du Bois Noël 2019 Savigny-Les-Beaune Les Narbantons Premier Cru       92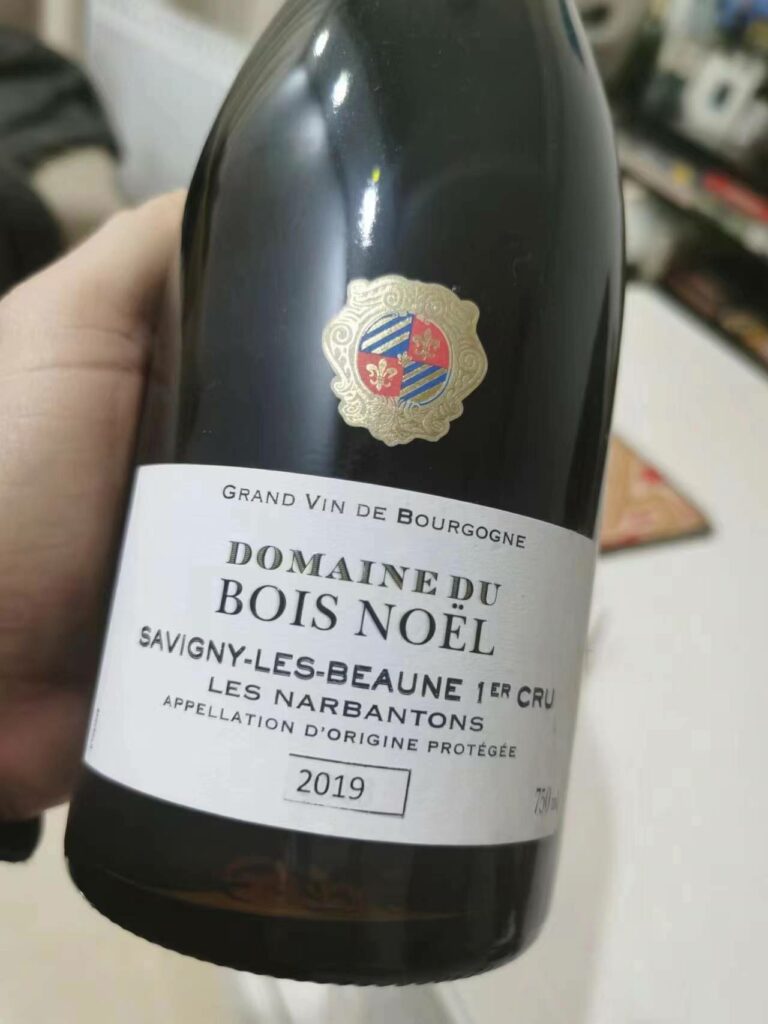 Bright ted-ruby colour. Effusive, irresistible aromas of ripe red cherry, violet and Oriental spices. Then layered, ripe and suave, with juicy, compellingly sweet red cherry, blueberry, coffee and sweet spice flavours. Boasts truly noteworthy acid-fruit-tannin balance, this is downright gulpable. The finish is long creamy and spicy, not to mention crammed with fruit. Not the most refined Savigny you'll ever drink, but oh-so-enjoyable right now, I'd drink this on the young side for maximum enjoyment. Well done here. Located between the vineyards of Les Jarron and Les Peuillets, Les Narbantons is one of Savigny's most famous crus. Drinking window: 2022-2029.
Domaine du Vieux College.
Situated in Marsannay-la-Côte,the estate has been run by Eric Guyard since about 2006, a family-run estate that is now at seven generations and counting. The estate counts twenty-five hectares over the communes of Marsanny, Fixin and Gevrey-Chambertin of roughly forty years old vines. The winery is well-regarded for its bio wines (in organic conversion since 2014 and certified "biological agriculture").
Domaine du Vieux College 2018 Marsanny Les Recilles                        90
Luminous ruby-red. Rich, dense and spicy with an inviting sweet and sour nuance to the coffee- and black pepper-tinged red cherry and dark berry aromas and flavours. Closes long and pure, with a repeating hint of coffee. From clay-calcareous soils, a big, strapping, juicy mouthful of Marsannay. Drinking window: 2022-2026.
Domaine du Vieux College 2018 Fixin Les Champs de Charmes           91
Lively ruby-red. Inviting aromas of strawberry, raspberry, cloves and mineral. Then light, clean and floral in the mouth, with pure flavours of red and dark berries that linger nicely on the herbal-accented finish. Lovely stuff here: this is really a pretty good wine for the money, and it confirms, if any confirmation was needed, just how underrated the better Fixin wines are. Shows more refinement than the 2018 Marsannay from this producer but slightly less power, so each wine will have its fans. The Champs de Charmes plot is 1.2 hectares large and is located in the southern part of the Appellation. The wine ages about 12 months in oak. Drinking window: 2022-2026.
Domaine Marguerite Carillon.
Domaine Marguerite Carillon 2019 Pommard                                  93
Deep ruby-red. Smoky, spicy and herbal nuances complement the ripe dark berry and plum aromas and flavours. Big rich and full-bodied, but with a real measure of refinement to its ripe dark fruit flavours, this finishes long and suave with excellent grip and a polished if fleshy mouthfeel. Very Pommard, this will be just splendid with lamb, but in a pinch, no worries, grilled steak and potatoes will do just fine too! A Burgundy that will prove ideal for all those who like their Pinot Noir wines on the slightly bigger side as you'd expect this wine to be just so, not just because it is a Pommard but because the 2019 vintage in Burgundy was an exceptionally ripe one the wines of which show no shortage of flesh and power. Excellent wine. Drinking window: 2023-2030.
François Raquillet.
About fourteen hectares are farmed by this winery in Mercurey (roughly 3.5 hectares are of premier crus), a family-run estate counting eleven generations and run by François and his wife Emanuelle since 1990. (Their daughter Jeanne has joined them at the estate as of 2018.)
Francois Raquillet 2018 Mercurey Vieilles Vignes                           89
Good medium ruby-red. Wild aromas of red and dark cherry, spices, game, licorice and earth; this is fairly big for a Mercurey!  Supple and spicy, if a bit foursquare in the early going, with flavours of licorice and bacon and eggs dominating the dark berry notes.  Finishes long with a nice light touch. Quite juicy, which suggests this might improve further in the bottle. Made from two hectares of roughly sixty years old vines planted on mostly marly soil (plus a little limestone) facing south and east in three plots named Le Meix, Les Chazeaux, and Les Ormeaux. Drinking window: 2022-2026.
Francois Raquillet 2019 Mercurey Premier Cru Les Naugues               91
Bright red. Easygoing on the nose and in the mouth, with notes of strawberry, rhubarb, forest floor and tea leaves. The clean aftertaste is zippy and medium-long. The roughly fifty years old vines are planted mid-slope facing south, in one of the best vineyard sections of all Mercurey; the grapes are completely destemmed, the wine is barrel-fermented and aged about twelve months in oak. Drinking window: 2022-2026.
Guy & Yvan Dufouleur.
When you name one of your wines "sixteenth generation" you are certainly trying to get a specific message across; and in fact this family oiperation has been in the business of wine for close to 400 years. In fact, the estate was founded back in 1596 and is currently ruin by Yvan Dufouleur and his uncle Xavier. Previously, the winery also featured a negociant business as well ("Dufouleur Père et Fils") but sold it off in 2006 wishing to concentrate on estate-grown fruit and estate-bottled wines only. The family now owns close to thirty hectares of vines. Very interestingly, this domaine is the exclusive owner of Fixin's most famous or at no worst second-most famous site, the 4.78 hecatre Clos du Chapitre vineyard (which is hence a monopole). Readers might have seen wines bottled with this cru's name by Méo-Camuzet, Domaine Gilbert et Christine Felettig (only with the 2018 vintage) and others, which happens when the Dufouluer family will sell some of its grapes to colleagues.
Guy & Yvan Dufouleur 2019 Bourgogne Hautes-Côtes de Nuits 16ieme generation                90
Luminous deep ruby-red. Ripe aromas and flavours of Kirsch, ripe cherry, and dark plum nectar. Very clean and fresh, this closes with lovely clarity and cut on the delicately spicy back end. From two roughly 2.20 hectare plots planted in the territory of Chaux facing east roughly thirty years ago on generally very poor clay-calcareous soil. Aged ten months in 500 liters oak barrels (but no new oak is used(Drinking window: 2022-2026.
Guy & Yvan Dufouleur 2019 Nuits-Saint-Georges Aux Saint-Julien           91+
Good medium red-ruby. Tight aromas of dark berries, cocoa, licorice, iron and tobacco. Juicy and taut, with a subtle sweetness suggesting that this wine will require a few years to reveal itself more fully. A big deep red wine in the style of Nuits-Saint-Georges, finishing long, vibrant and mineral, but also a little on the oaky side. Give this a couple of years in a good cellar before popping a cork. The name of the vineyard derives from a sixth century chapel, now no longer extant, built by Saint Martin: a cross in one section of the Aux Saint-Juliens vineyard stands where the chapel once did. Drinking window: 2025-2032.
Guy & Yvan Dufouleur Nuits-Saint-Georges Premier Cru Clos des Perrières         88+
Vibrant red-ruby. Aromas of ripe strawberry, raspberry nectar, plums and sweet spices, with a touch of balsamic oils. Enters with plenty of red fruit notes, then turns chalky and a bit too austere in the middle and on the long back end. Finishes tannic and chewy, with a building mouth-coating, dry finish. Try cellaring this for three or four years but I don't really think that oak will ever resolve fully. The vines are still fairly young (about 15 years old) and planted facing east/southeast. Grapes are fully destemmed and the wine is aged for twelve moths in one third new oak roughly. Drinking window: 2022-2026.
Huber-Verdereau.
The estate was founded in 1994 by Thibalut Huber, partly Alsatian from his father's side and partly Burgundian from his mother's. In fact, the Verdereau estate was growing vines in Volnay already in the nineteenth century, and Thiebault's grand-father, Raoul Verdereau, really expanded the property between 1928 and 1976, then splitting it among his two daughters. Thibault's parents inherited about 3.5 hectares but limited themselves to selling grapes. Thibault Huber was instead very interested in wine, and it could not have been otherwise given that he trained in hotel management and wine in Starsbourg, and worked at the Marcel Deiss in Bergheim and Jean-Marc Bouley (his cousin) in Volnay. He also worked as a sommelier at the super-famous and multi-starred Moulin de Mougis restaurant, an iconic French dining address made famous by chef Roger Vergé, so that Thibault would have one day been bitten by the wine bug and decide to make wine is neither hard to imagine nor understand. It follows that it was a natural for him to take over the family vineyards in 1994, proceeding to turn the estate into an organically farmed one in 2001 and a biodynamic one as of 2005.
Huber-Verdereau 2019 Bourgogne Hautes-Cotes de Beaune Le Cretot à Droite        88
Bright dark red. The nose offers ripe red fruit and spice aromas. Currently on the austere side, but certainly offers enough hints of rich ripe fruit to hope for a good evolution in the bottle, but a slightly musty note of wet moss detracts from my overall score. Organically grown and biodynamically farmed, this is made with a very interesting field blend of 85% Pinot Noir and 15% Pinot Beurot (essentially Pinot Gris) that were planted back in 1962; the plot is 1.41 hectares large and faces east, hence its name "Le Cretot à Droite". Aged 50-50 in 100% new oak and concrete tanks for ten months. There's very good fruit here but the off-aromas spoil the drinking experience, at least to my taste, which is a real pity because there's plenty to like here otherwise. Drinking window: 2022-2026.
Huber-Verdereau 2019 Pommard Les Vaumuriens Hauts            90
Vivid medium-dark ruby-red. Boasts pretty floral aromas and flavours that are clean and precise, but a slight green streak emerges on the long back end which detracts slightly from my score. The Vaumuriens Hauts is one part of the Les Vaumuriens cru, the two parts of which are separated by a narrow road, so narrow in fact that only one car can pass at a time. Drinking window: 2025-2031.
Jean Monnier & Fils.
Roughly seventeen hectares large today, the Domaine Jean Monnier was founded in 1720 but in fact the Monnier family was working in wine already before that; current owner Nicolas Monnier (who follows in the footsteps of his father Jean-Claude) is the seventeenth generation of his family to be working in wine. The estate boasts a bevy of old vines (some over sixty years of age) planted in the territories of numerous famous Burgundy communes (including Beaune, Volnay, Puligny-Montrachet, Meursault, and others) and is failry unique as far as Meursault properties go in that it produces about as much red wine as it does white.
Jean Monnier& Fils 2020 Puligny-Montrachet                         89
Goof full straw yellow. Creamy and very spicy, with ripe citrus fruit and clove aromas and flavours dominating.  Maybe lacks a little tension but is appealing in its easy-drinking charm on the clean medium-long finish. The Puligny-Montrachet is sourced from a single plot of marly brown limestone and treated to an extended fermentation in stainless steel after which it is aged in oak. Drinking window: 2022-2026.
Jean Monnier& Fils 2020 Meursault La Barre                          93
Luminous green-tinged straw yellow. Offers very pretty ripe melon, pear and tangerine scents and a subtle anise quality. Juicy and round, but at the same time very fresh, with citrus and orchard fruit flavours complemented by exotic cardamom and custard notes. Very clean, fresh and pure this out Puligny's this estate's Puligny-Montrachet in 2020: tasted blind, I would have mixed the two up! The aftertaste is long, penetrating and lively. This is really quite good. Drinking window: 2023-2027.
Jean Monnier& Fils 2020 Meursault Vieilles Vignes                 91
Good full straw yellow. Exotic aromas and flavours of grilled nuts, vanilla, cumin and guava, with fresh citrus nuances providing lift. Richer than the 2020 Meursault La Barre from this producer, creamier even, but not as penetrating and boasts noteworthy spiciness on the long ripe finish. The Meursault Vieilles Vignes is a blend of old vines from the lieux-dits of La Barre, Clos du Cromin, and Chevalière, characterized by soils of Jurassic marls and fossil limestone.  Drinking window: 2024-2028.
Jean Monnier& Fils 2020 Meursault Les Malpoiriers              87+
Medium-deep red-ruby. Musky aromas of smoke and tobacco, with pure red fruits in the deep background smothered by vanilla and oak-derived spices. Enters ripe and fleshy-sweet, but quickly turns tight and chewy in the mouth, in a distinctly masculine style, with red berry and spice flavors currently cut off by substantial dusty tannins. Boasting good intensity and energy, this rare red Meursault wine also offers pretty good ripeness and cherry fruit but I found it unfortunately over-oaked especially on the long drying, very mouthcoating finish. I hope a little time spent in a good cellar will help turn it around, but I'm not so sure. The Malpoiriers cru is a blessed site for grapes (but not for pear trees, hence the vineyard's name, which means "bad for pear trees" or even "bad pear trees") located to the southeast of town on a small mineral-rich slope. Some of the vines are more than forty years old. Drinking window: 2025-2030.
Jean Monnier& Fils 2020 Volnay                                  87
Bright medium ruby. Nicely perfumed, musky, aromas of redcurrant, blackberry and violet. Fresh and juicy, offering good breadth of dark berry and licorice flavours, but turns astringent on the aftertaste. Another wine in this vintage that starts very pure and light on its feet (as you'd expect a Volnay to be), but finishes almost bitter, with gritty, astringent tannins, that are just a bit much for the fruit. Drinking window: 2022-2026.
Jean Monnier& Fils 2019 Pommard Grand Épenots Premier Cru Clos de Citeaux                   92+
Deep red-ruby. Closed, currently subdued nose but less oaky than the two 2020 reds I tasted from this estate this year, showcasing more balance and lovely precision of red and dark fruit aromas and flavours. Finishes youthfully chewy but not over-oaked, thought the fruit is currently a little under wraps, and with good vibrancy. I'd give this about four years in a good cellar. Differently from Pommard's other very famous premier cru Les Rugiens that is close to Volnay, Epenots and Grand Epenots are closer to Beaune and tend to give less virile, more approachable red wines in their youth, though clearly still meaty and full-bodied (after all, it's still Pommard we are talking about here). Drinking window: 2025-2032.
Laurent Mouton.
Laurent Mouton follows in the footsteps of his father Gerard and is fortunate to be able to work with roughly ten hectares of vines that range between 30-50 years of age.
Laurent Mouton 2019 Givry                            91
Medium-dark red. Initially subdued but then nicely vibrant with aeration, offering aromas of red cherry, dark berries, cloves and forest floor. Enters with lovely red cherry nectar flavours complicated by vanilla, strawberry jelly, earth tones and sweet spices. Not especially long and a little high in alcohol on finish, but this easygoing charmer will have plenty of fans. I'd serve it slightly chilled and decant it about an hour ahead to allow its complex aromas to show fully. Made from vines planted at 220 meters in altitude from five different vineyard sites [La Pierre (planted in 1969); Les Plants Sont Fleuris (1970); Tambourinette (1973 and in 2019); La Virgaudine (1974 and 2000); Les Brusseaux de Charron (2007)] and aged for eight months (75% of the wine is aged in oak barrels). Drinking window: 2022-2026.
Laurent Mouton 2019 Givry Clos Charlé Premier Cru                   93
Vivid red-ruby. Very pure and rich aromas and flavours of red and dark fruit have excellent inner-mouth perfume. Closes long with a refined palate-presence bordering on the elegantly austere. Made from grapes planted facing southeast in two plots, a 1.9 parcel planted in 1992 and a smaller 0.5 hectares plot planted in 1998 at about 230 meters above sea level on mostly limestone-rich soil. The grapes are 100% destemmed, undergo cold-soaking prior to fermentation and are aged in oak barrels for roughly twelve months. Drinking window: 2023-2029.
Laurent Mouton 2018 Givry Clos Jus Premier Cru                  92
Bright pale ruby. Musky aromas of red cherry, sassafras and truffle, lifted by a violet note. Juicy and youthfully imploded, with a lean, refined quality to its peppery, spicy, herb-accented red berry flavours. A more austere, less fruity Givry boasting a steely personality. Closes with nice citrus acid lift and excellent length. This ought to develop nicely. These Pinot Noir vines were planted in 1990 at about 260 meters in altitude, 2.05 hectares on mostly limestone soil facing east. Like all the Mouton wines, 100% destemmed, cold-soaked and aged for twelve months in oak barrels. Drinking window: 2024-2029.
Moillard.
Moillard is an historic Burgundy négociant (how historic? Suffice it to say that old documents in Nuits-Saint-Georges attest to the family owning vineyards already before the French Revolution) the production of which is fairly evenly split between red and white wines; importantly, about 50% of its wines are of premier cru level. The estate's viticulture is eco-friendly, and is classified as being of High Environmental Value Level 3 (Haute Valeur Environmentale). Winemaker Batiste Corrot has turned out many rich riper fleshier easy to like styled wines under his tenure, but all of which retain a good dose of elegance and lift.
Moillard 2020 Vosne-Romanée Aux Brûlées Premier Cru       94
Medium red-ruby. Fresh strawberry and clove spice on the dense, fruity, ripe nose. Then juicier and tighter in the mouth, conveying an impression of brooding energy. Solid, savoury and still youthfully imploded wine with lovely balance and a long, perfumed and richly fruity finish. Ought to have a very graceful evolution in the bottle. This is really outstanding, and it's still a baby, though with plenty of baby fat thanks to the rich ripe year. The Aux Brûlées is one of the greatest sites in all of the Appellation, certainly one of the best of all premier crus, sitting on both slopes of a combe such that half of the vines look north and half look south. It is characterized by shallow, hard to work soils. Drinking window: 2025-2032.
Moillard 2019 Gevrey-Chambertin Beauversant                92
Bright medium red.  Red fruits and minerals on the nose: this is quite fruity and in your face for a Gevrey. Then almost fat, sweet and open-knit, but with a vibrant sappy quality to its pure, sweetly spicy red fruit flavours. Very round and plush, with a sweet, persistent finish. Maybe not the most complex red wine you'll ever drink, but there's plenty to like here. Vinified like the Nuits-Saint-Georges but with 40% new oak. Drinking window: 2023-2029.
Moillard 2019 Nuits-Saint-Georges Vieilles Vignes            92
Bright, dark red. Blackcurrant, red cherry, sweet spices and a good bit of sweet vanillin oak on the nose.  Richer and lusher and not at all animal or earthy like you might expect (at least some) Nuits-Saint-Georges wine to be, and showing an almost chocolatey ripeness to its sweet, spicy red fruit flavours. Finishes sweet, broad and pliant but with a very sound spine of tannins and acids. Another lovely 2019 red Burgundy from Moillard vinified in stainless steel and that was aged in 30% new oak for about twelve months. Drinking window: 2023-2029.
Moillard 2019 Pommard Les Grands Epenots Premier Cru          94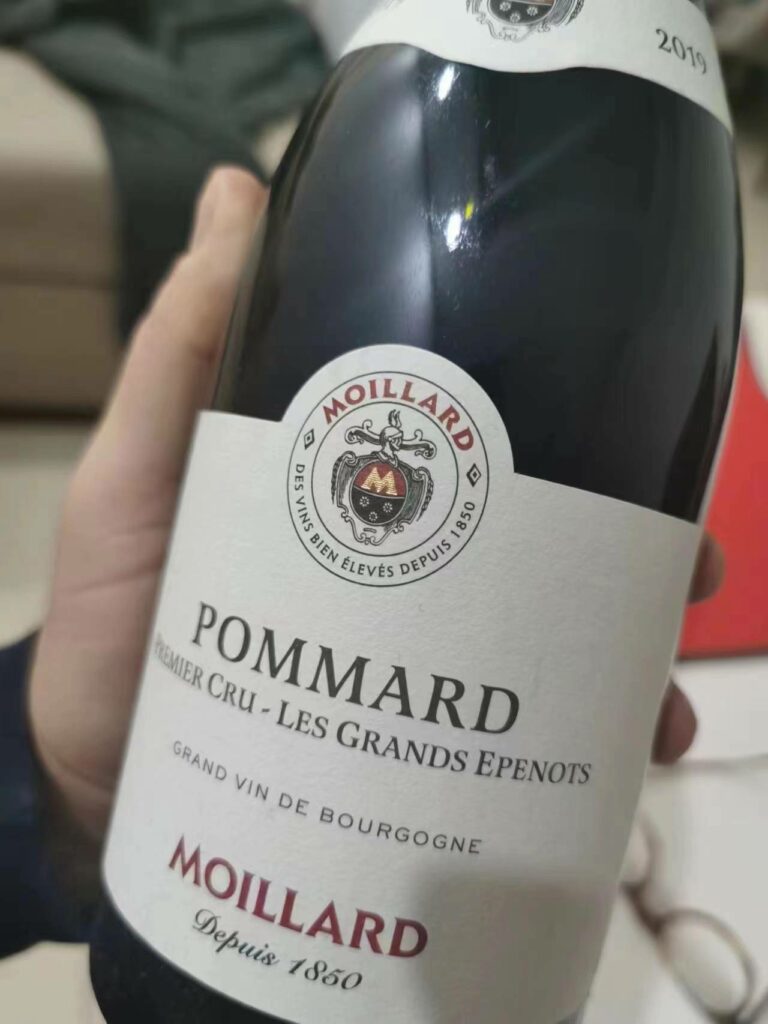 Good bright red-ruby. Black cherry, plum sauce, flint and a whiff of forest floor and game on the inviting nose. At once dense and precise, with lovely cut and penetration to its dark fruit and spice flavors. Thicker at the core than the 2019 Gevrey or NSG from Moillard, and perhaps not quite as elegant, but this boasts more stuffing for its tannins and plenty of ageworthiness. Knockout Pommard from one of the best crus in the Appellation. Drinking window: 2024-2032.