This is the second installment in the TerroirSense Wine Review's three-part series on what wines are best with pizza. In this second part, we turn the spotlight on Old World beliefs and preferences, presenting a series of opinions and comments by leading wine experts, somms, educators, importers, and chefs in Europe. To help out with this endeavour, who better than a European to help write it? And so it is that my long-time friend and bonafide wine expert, Michele Longo, has penned the introduction and main body of the article. At its end, I summarize the concept and replies of the wine experts that participated in our "What Wine with Pizza" world-wide poll.
What to Drink with Pizza, Whether You Are in A Pizzeria or Comfortably Seated at Home?
by Michele Longo
Something that has taken Italians a while to figure out is that as much as we all love beer, it is not the ideal beverage with pizza. In time we learned that the answer to "What do we drink with our pizza?" is no longer, and not only, "beer"; on the contrary, if you want to avoid the "yeast on yeast" effect on digestion (given by the yeast of the beer and the yeast of the pizza dough), it is advisable to perhaps focus on a good wine instead. In fact, our grandparents, and their grandparents too, knew this well. Historically speaking, in ancient times in Naples (where pizza was born) it was not ever paired with beer; there, they were used to pairing pizza with a good glass of Asprinio di Aversa (quoting Luigi Veronelli, Italy's father of wine writing: "The best wine in the world to drink with a simple tomato pizza"), that very light bodied white wine characterized by almost shrill acidity made with the local Asprinio Bianco grape. Pizza Margherita, instead, they used to pair with the light wines from Vesuvius (either white or red) or with the light to medium-bodied reds from the Sorrentine Peninsula (which are mostly blends of Aglianico and Piedirosso, plus whatever else might have been planted in the vineyard).
In my opinion, to choose the best pizza and wine pairing it is advisable to pay attention to the ingredients in a simple, two-step process. First, you recognize the difference between Italy's two classic pizza types, red pizza (with tomato) and white pizza (without tomato); second, you pay attention to the presence of meat, of fish or vegetables as the (main?) topping.
Red pizza, having tomato as its basic ingredient, already has a strong acidic component and it is therefore inadvisable to pair it with wines with a marked acidity, or even with excessively tannic wines, but obviously it depends on the topping chosen. Then again, you cannot choose a wine that is too low on acidity or it will become flabby in contact with the tomato sauce, high-acid by definition.
White pizza, in which the presence of dairy products and fatty cheeses prevails (but again, it is "white" not because of the whitish cheese/dairy but because it is without tomato), asks for a pairing with white and sparkling wines (that are usually characterized by noteworthy acidity, freshness and aromatic intensity), such that the acid component of the wine can balance the fatness of the ingredients.
Here are some of my favourite pizza and wine pairings:
RED PIZZA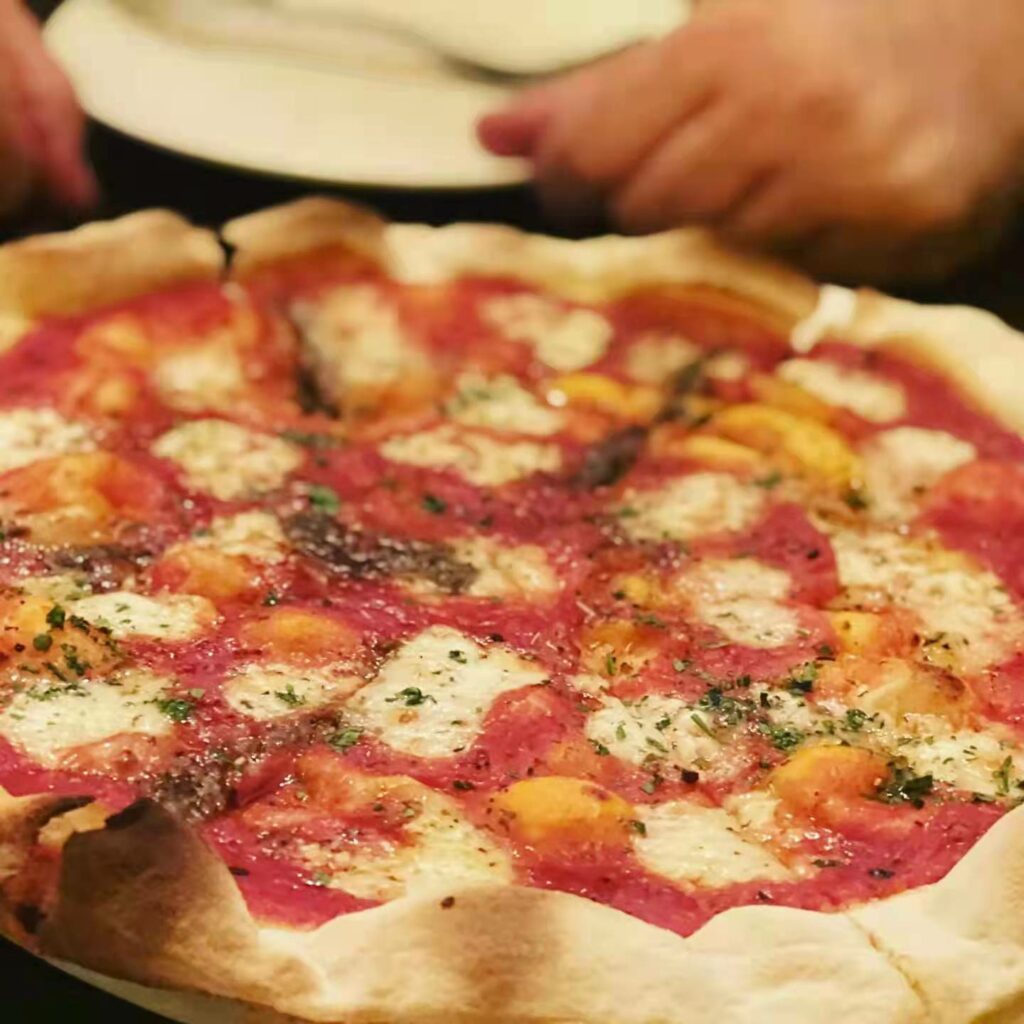 Pizza Margherita with buffalo mozzarella
I would choose a white wine, fresh, vibrant and savory, but without excessive fruity and floral notes. So, with a pizza Margherita made with the earthy, moist, and ultimately pungent, buffalo milk mozzarella, I inevitably reach for the delicious, lightly saline wine from the gorgeous island of Ischia, (just a short ferry ride from Naples), made with the Forastera grape variety. Try the following two wines, and you won't be disappointed. Alternatives include a solid Verdicchio wine or a light red wine with plenty of acid backbone, like a Lambrusco di Sorbara (Lambrusco Grasparossa is much too tannic for this pairing). Of course, the best match of them all is a medium-bodied Rosato such as a Cerasuolo d'Abruzzo or a Salento Rosato (so most definitely NOT the pale-as-water and way too light Provence-styled Rosé wines).
Forastera:
D'Ambra Ischia Forastera
Cenatiempo Ischia Forastera
Verdicchio dei Castelli di Jesi:
Bucci Verdicchio dei Castelli di Jesi Classico Superiore
Montecappone Verdicchio dei Castelli di Jesi Classico Superiore Federico II A.D. 1194
Fattoria San Lorenzo Verdicchio dei Castelli di Jesi Classico Campo delle Oche Integrale
Fattoria Coroncino Verdicchio dei Castelli di Jesi Classico Gaiospino
A red wine, pleasantly juicy-fruity and not too structured, like a Lambrusco di Sorbara, will also work wonderfully well:
Ermete Medici NV Lambrusco di Sorbara Dry Phermento
Paltrinieri NV Lambrusco di Sorbara Metodo Classico Brut Grosso
As stated above, I for one believe there is probably nothing better with a good pizza Margherita than one of Italy's many standout Rosato (Rosé) wines. For example:
Tiberio Cerasuolo d'Abruzzo
Proprietà Sperino Piemonte Rosato – Rosa del Rosa
WHITE PIZZA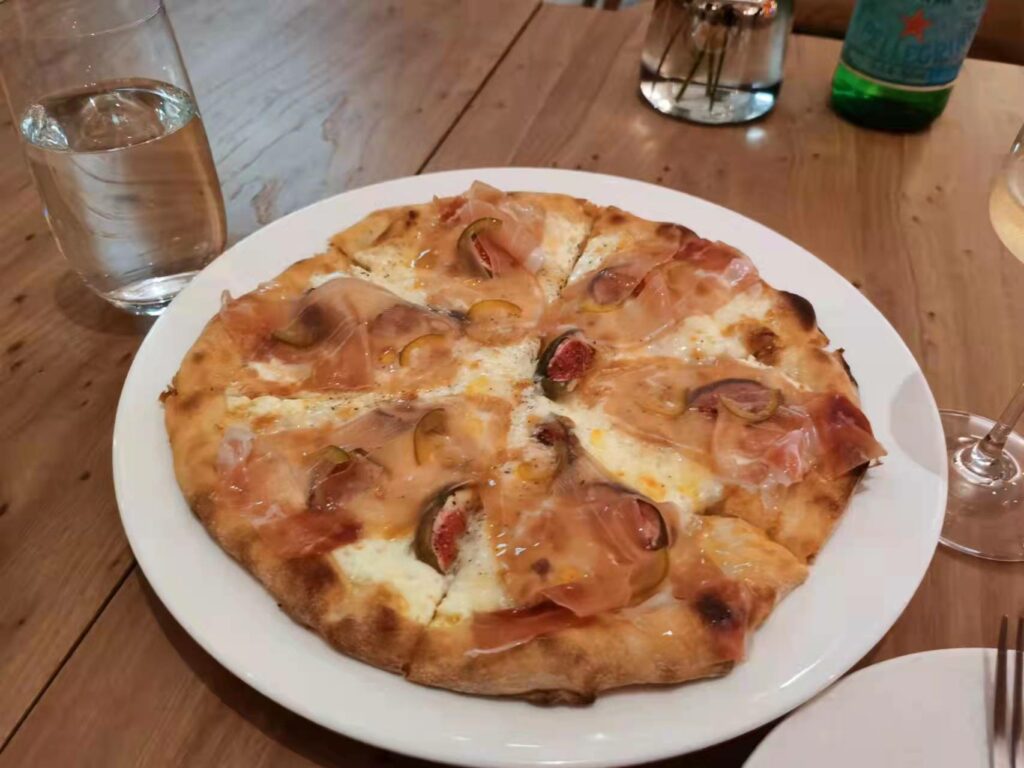 Pizza with Salsiccia and friarielli (aka. Caserta pork sausage, broccoli rabe, and either smoked buffalo mozzarella or provola cheese).
This is a demanding pizza, because of structure, texture and flavour complexity; one which requires a wine with enough body so it can stand up to such tasty, flavourful, ingredients. At the same time, a wine with a soft and caressing mouthfeel that can balance the slight bitter, slightly harsh, twinge of the friarielli (broccoli rabe, in English).
Therefore, this pizza can match well with a structured and elegant Fiano di Avellino:
Colli di Lapio Fiano di Avellino
I Favati Fiano di Avellino Pietramara (White Label)
Mastroberardino Fiano di Avellino More Maiorum
or a Vermentino di Gallura or Vermentino di Sardegna:
Capichera Vermentino di Gallura Vendemmia Tardiva
Siddura Vermentino di Gallura Beru
Argiolas Vermentino di Sardegna Is Argiolas
or a Primitivo
Felline Primitivo di Manduria Zinfandel
Morella Salento Primitivo Old Vines
Gianfranco Fino Salento Primitivo Es
Pizza Napoletana (with tomato and anchovies)
Careful, I wrote Pizza Napoli, not "Napoletana" (the latter has a tomato base, the "Napoli" does not): An excellent pairing for this pizza with anchovies can be the famous Campanian white wine Greco di Tufo. The saline flavor, as well as the oily and tannic texture of the Greco are able to balance the flavours of the ingredients without introducing excessive aromatic notes which would take over the more delicate aspects of the capers, putting the identity of this specific pizza on the back burner.
Greco di Tufo:
Benito Ferrara Greco di Tufo Vigna Cicogna
Colli di Lapio Greco di Tufo Alexandros
But there are other possible good matches in the realm of white wines: the natural acidity of a white, or a sparkling wine, can smoothen out the excessive flavor of anchovies and capers on the palate.
Etna Bianco:
Benanti Etna Bianco Superiore Pietramarina
I Vigneri Etna Bianco Superiore Caselle Vigna di Milo
Tenuta di Fessina Etna Bianco A' Puddara
I Custodi delle Vigne dell'Etna Etna Bianco Ante
Pizza fritta (Fried Pizza)
A classic of the Neapolitan pizza tradition, but with different versions you can come across. In the two most common versions [(either the highly traditional one, with the savory filling of ricotta, cicoli (or cracklings/pork fat in English) and pepper; or the more modern vegetarian one, with endive, olives and capers)] we have pizzas with strong flavors. We therefore need a sparkling wine, since the presence of carbon dioxide and greater acidity help balance the fatness of the fried medium. All the following suggested wines are therefore characterized by noteworthy, vibrant but harmonious acidities and a general lightness of body.
An Asprinio di Aversa (also made as sparkling wine or Spumante):
I Borboni NV Asprinio di Aversa Vite Maritata or Asprinio V.S.Q. Brut
Or a Vintage Lessini Durello:
Fongaro NV Lessini Durello Spumante Riserva Pas Dosé
Or a Blanc de Morgex et de La Salle (Prié Blanc), either in sparkling Vintage Metodo Classico version, or in the more classic still wine version:
Cave Mont Blanc Blanc de Morgex et de La Salle Metodo Classico Brut Nature Cuveé du Prince (Vintage) or Vallée d'Aoste Blanc de Morgex et de La Salle
Ermes Pavese Blanc de Morgex et de La Salle Metodo Classico Pas Dosé (Vintage) or Blanc de Morgex et de La Salle
 Pizza Capricciosa
This is a pizza rich in ingredients and quite fatty (eggs, sausage, fried vegetables) and so it needs a structured wine but one that also has good/sufficient acidity and freshness and aromatic intensity. A touch of spiciness will also help better complement the delicate spicy undertones of the ingredients used. Therefore, how about….
A Refosco dal Penducolo Rosso:
Ronchi di Cialla Refosco dal Peduncolo Rosso di Cialla Friuli Colli Orientali Cialla Sub-zone
Vigna Petrussa Refosco dal Peduncolo Rosso Friuli Colli Orientali
Or a lightly spicy, fresh red wine such as the Verduno Pelaverga from Piedmont
lli Alessandria Verduno Pelaverga Speziale
G.B. Burlotto Verduno Pelaverga
Castello di Verduno Verduno Pelaverga
Or, not too dissimilar from the Pelaverga choice, a good Rossese di Dolceacqua (or Dolceacqua):
Maccario Dringemberg Rossese di Dolceacqua Posaù
Terre Bianche Rossese di Dolceacqua Terrabianca
Pizza Quattro Formaggi
As the name implies, this is a pizza boasting four different cheeses as its topping, with no tomato whatsoever, and therefore is the ultimate white pizza. It is suitable, even necessary, to pair it with a wine that has a marked acidity and freshness, in order to cut through and balance out the fatty exuberance of the cheeses.
A sparkling Metodo Classico wine can be a good choice:
For example, a Vintage Trento:
Abate Nero Domini Nero Millesimato Brut Trentodoc
Ferrari NV Perlé Bianco Riserva Brut Trentodoc
or a Vintage Franciacorta (all of my choices below are wines bearing a vintage date, save where the Non-Vintage, or NV, is indicated):
Mosnel NV Franciacorta Pas Dosè
Villa Crespia Franciacorta Millè Riserva Brut
Uberti Franciacorta Sublimis Riserva Pas Dosè
Ca' del Bosco Franciacorta Dosage Zéro Noir Riserva Pas Dosè
Villa Franciacorta Diamond Pas Dosè
or a Vintage Alta Langa:
Cocchi Alta Langa Blanc de Noirs Pas Dosé
Ettore Germano Alta Langa – Riserva Blanc de Noir 65 Months Pas Dosè
Rizzi Alta Langa Pas Dosè
Pizza with Porcini Mushroom (white and red versions)
Here the key is not just the quality of the mushrooms (do they have aromas and flavours, or not? How intense are they?) but to know if there is tomato or not, because there are both piazza bianca and pizza rossa with mushrooms. So how to pair a pizza with mushrooms and wine? If there is tomato sauce, then the slight acidity given by the tomato requires a red wine with soft and velvety tannins and a bit of acidity, such as a good Barbera d'Asti or Chianti Classico.
Braida Barbera d'Asti Bricco dell'Uccellone
Cascina Castlet Barbera d'Asti Litina
Spertino Barbera d'Asti Superiore La Mandorla
Bersano Barbera d'Asti Superiore Cremosina
or a Chianti Classico:
Isole e Olena Chianti Classico
Fattoria San Giusto a Rentennano Chianti Classico
Fontodi Chianti Classico Gran Selezione Vigna del Sorbo
Frescobaldi / Tenuta di Perano Chianti Classico Gran Selezione Rialzi
Querciabella Chianti Classico
In the case of a pizza bianca with porcini, then perhaps a richer white wine, not necessarily buttery but just with more glyceral oomph, might do well.
a Pecorino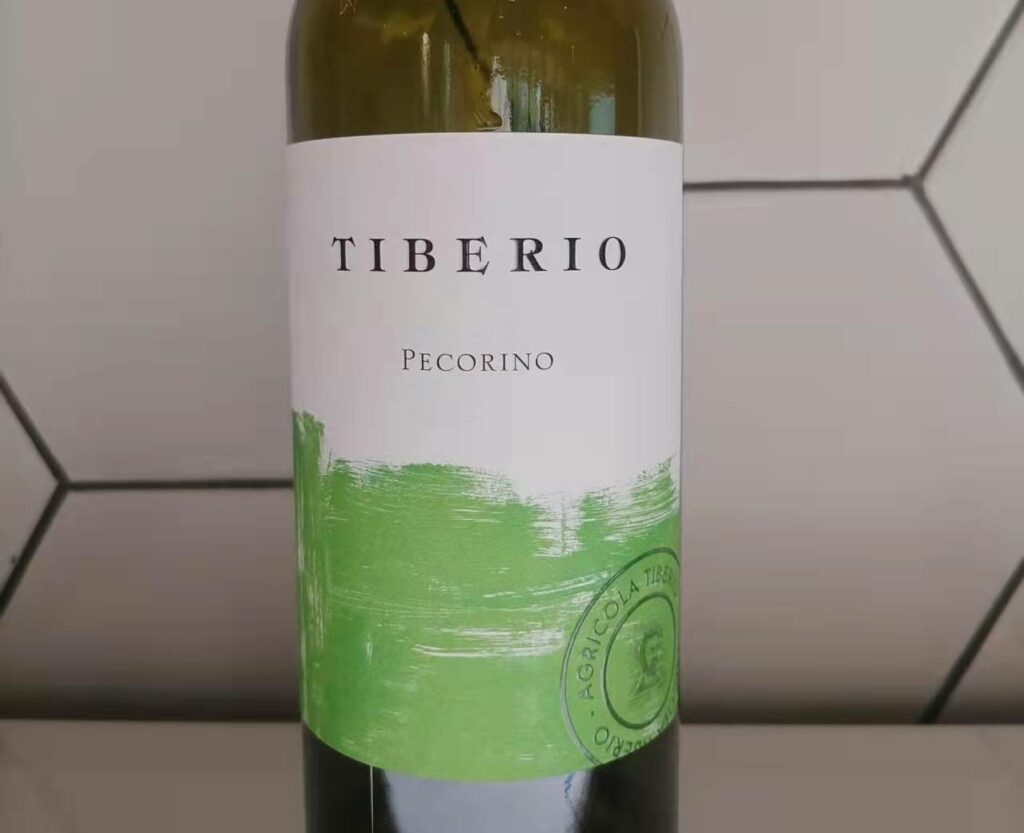 Tiberio Pecorino Colline Pescaresi
Cataldi Madonna Pecorino Supergiulia Terre Aquilane
or a Chardonnay (but one on the more elegant side: in other words, not a buttery, tropical fruit-loaded, overly-caramelized bomb):
Les Cretes Chardonnay Cuvée Bois Valle d'Aosta (a rare example of Italian Chardonnay where the oaking is gentle, or if more prominent, well-integrated)
Isole & Olena Chardonnay Collezione Privata Toscana
Miani Chardonnay Zitelle Friuli Colli Orientali
Borgo del Tiglio Chardonnay Collio
or a Soave:
Pieropan Soave Classico Calvarino
Graziano Prà Soave Classico Staforte
Inama Soave Classico Du Lot
or a Pinot Bianco (Pinot Blanc for the francophiles  and Weissburgunder for the German-loving public reading this):
Cantina Terlano Pinot Bianco Riserva Vorberg Alto Adige Terlano
Niedrist Weissburgunder Limes Alto Adige
Castel Juval Weissburgunder Alto Adige
Schiopetto Pinot Bianco Collio
or a Timorasso
La Colombera Colli Tortonesi Derthona
Vigneti Massa Vino Bianco Derthona
White pizza with stracciatella (cheese) and Cantabrian anchovies
The fattiness of the stracciatella cheese and the savory-umami note of the anchovies require a Metodo Classico sparkler, such as for example:
A Spumante made with the Lambrusco di Sorbara grape variety
Paltrinieri NV Lambrusco di Sorbara La Riserva Spumante Brut
or a Frappato Spumante Rosé from Sicily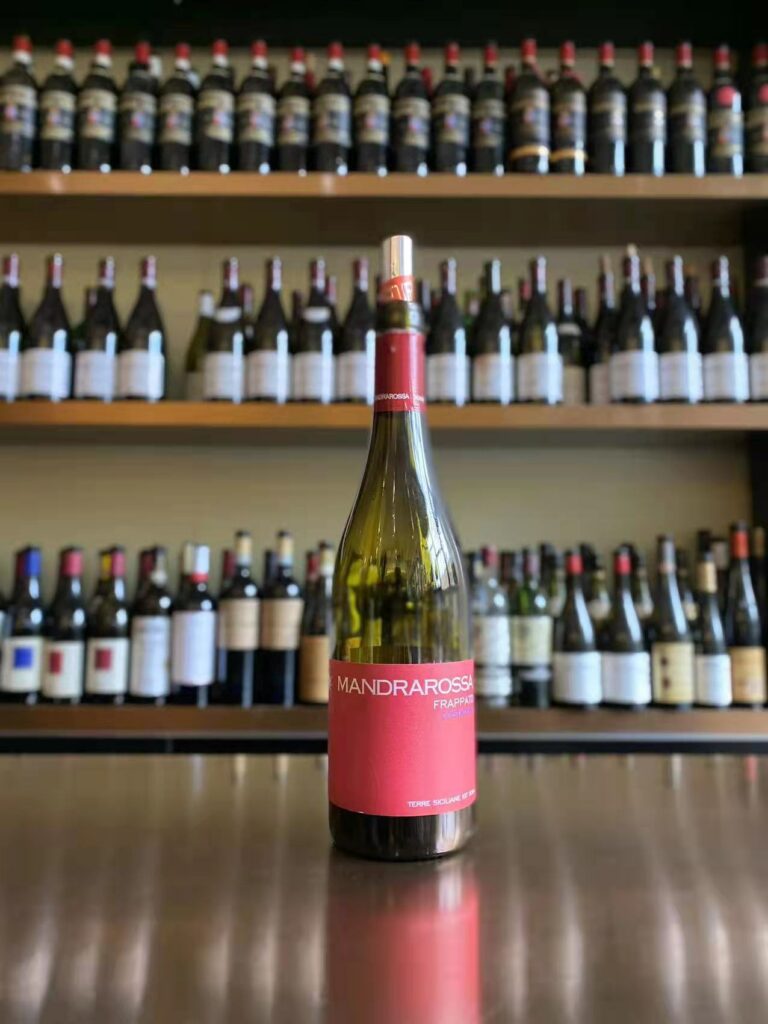 Paolo Calì NV Frappato Spumante Mood Terre Siciliane
or a Vintage Trentodoc:
Abate Nero Trentodoc Cuvèe dell'Abate Riserva Brut
Maso Martis Trentodoc Rosè Extra Brut
Ferrari Trentodoc Perlé Zero Pas Dosè
White pizza with buffalo mozzarella and San Daniele prosciutto
Similar to the previous. We have to balance the fatness of the mozzarella and the savory of San Daniele prosciutto (dry cured ham) with a wine with a marked acidity and freshness, so as to be able to clean and refresh the palate.
a NV or Vintage Franciacorta:
Contadi Castaldi Franciacorta Pinò Nero Natura Pas Dosè
Cola – Franciacorta Millesimato Non Dosato Pas Dosè
Cavalieri Franciacorta Dosaggio Zero Pas Dosè
Ca' del Bosco NV Franciacorta Cuvèe Prestige Extra Brut
or a Vintage Alta Langa:
Cocchi Alta Langa Bianc 'd Bianc Brut
Enrico Serafino Alta Langa Zero 140 Pas Dosè
Fontanafredda Alta Langa Vigna Gatinera Pas Dosè
Gourmet Pizzas
And what to do with gourmet pizzas? This is where it is essential to take care and pay attention to the dough: true gourmet pizzas are such not just because of a mass of more (usually) or less expensive toppings thrown all over the place, but because of a careful selection of flours and long leavening, strictly with a mother yeast (lievito madre). Here the dough, very refined in its texture and flavour, made with high quality flours, is only the basis on which the chef's imagination is unleashed, therefore we have to focus mainly on the topping(s).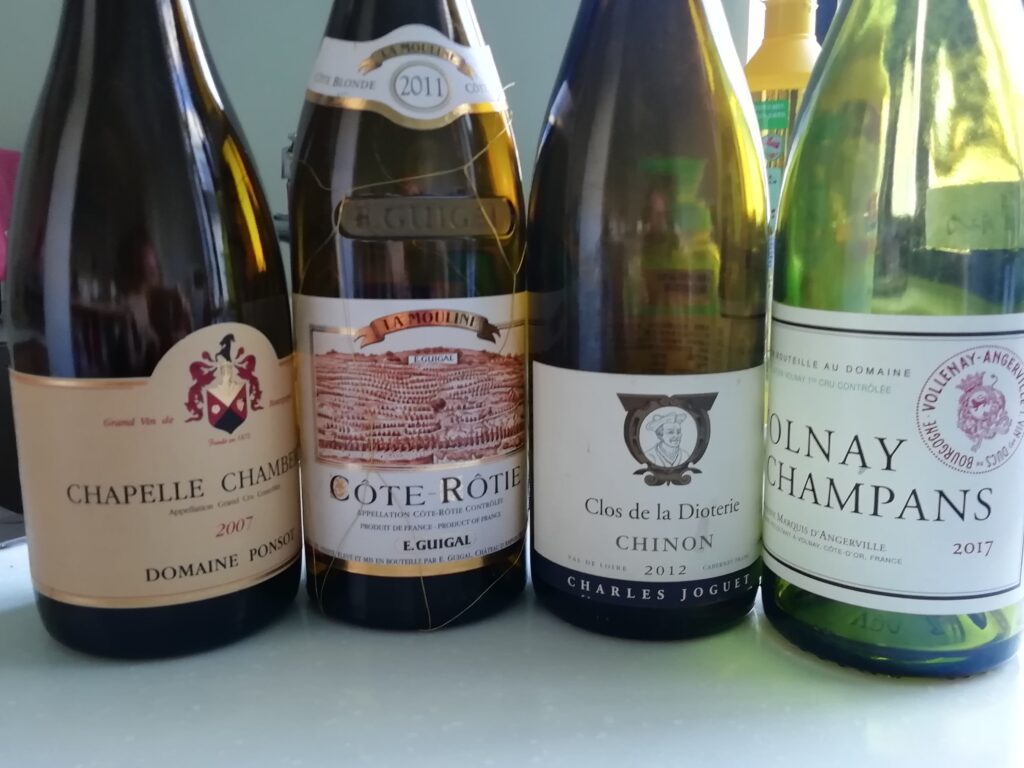 An Introductory Guide to Matching Specific Pizzas and Wines: The Euro View
by Ian D'Agata
For the most part, the European experts seem to share the same tastes: pizza Margherita seems to be just about everybody's favourite or second favourite pizza. I will point out that an important caveat with pizza Margherita is the type of cheese that is used, because "pizza Margherita" may mean different things to different people. In today's gourmet-driven and ingredient-obsessed world, pizza Margherita is often made with buffalo milk mozzarella, the latter in of itself one of the greatest foods in Earth. However, classic "Margherita" was never intended to be made with that cheese, but rather with the lowlier fiordilatte, which is the correct name of the mozzarella cheese made with "normal" cow's milk. In other words, while people everywhere always tend to speak of "mozzarella" without making much of any distinction, it is not correct to do so: mozzarella is the name that ought to be used only for a mozzarella cheese made with buffalo milk, while those made with cow's milk ought to be called by its real name, fiordilatte. Those who argue this point out that the term "mozzarella" refers to a methodology by which the cheese is made, that of "mozzare" the cheese that is being made so as to give it its finished look, and so "mozzarella" can in fact apply interchangeably to both cheeses. However, people should then always specify "mozzarella di latte di bufala" (buffalo milk mozzarella) versus "mozzarella di latte di mucca or latte vaccino" (cow's milk mozzarella), something that in practice, especially outside of Italy, is rarely if ever done, leading to a less than ideal situation. Pizza Margherita is a shining example of why it is very important to specify the kind of mozzarella cheese you want with or are using on your pizza. Why? Well, as great a food as buffalo mozzarella is (and it really is GREAT), it is fiordilatte that is best for pizza. This is because while the profound aroma, springy texture and earthy moisture of buffalo mozzarella is one of life's most inescapable pleasures, the humidity content of it is such that when cooked buffalo milk mozzarella loses so much liquid that the pizza is inevitably turned into a soggy mess, or close to it. This does not happen with fiordillate, which has a lower water content, and that stays firmer and so, when cooked, does not affect the texture of the pizza crust to the same extent as does buffalo milk mozzarella. This is also why many pizzaioli who still like to make pizza with buffalo milk mozzarella will choose to add it only at the end, after the pizza has been taken out of the wood fire oven so that the cheese will not lose water to the same extent. For those who really cannot do without a little cooked buffalo milk mozzarella with their favourite pizza, there are a couple of other options. One possibility is to cook the mozzarella separately, on its own, so the liquid it wll throw out can be removed without it drenching your pie's crust; the cooked mozzaella is then added to the pizza. Another option is to search out for very specific mozzarellas, something that the very best among Italian pizzaioli will do, but beware we are talking about the "who's who" of superstar quality pizza makers, and to tell it like it is, you don't exactly find them in your corner or neighbourhood pizzeria. By specific mozzarella I measn some artisanally amde ones in whcih the cheese maker has proceeded to wring the liquid out of the cheese more than he would normally: one such buffalo mozzarella is the treccia di bufala di Amaseno, a mozzarella that is twisted into a braid-like shape and that has much firmer flesh than does the buffalo milk mozzarella you are used to (to a degree, this is always true of the treccia as opposed to the mozzarella ball, because making the treccia or braid always involves twisting and bending the mozzarella so more liquid will always be lost in the cheesemaking process than it is in making the mozzarella ball). Of course, if you love raw buffalo milk mozzarella so much that you can never get enough, and you don't mind a little sogginess in your pizza, then have it on your pizza anyways, just like many food lovers out there choose to do. Interestingly, they all don't seem to have any problem putting academia and science aside when a (wrong) combination is so darn tasty!
Another topping that is much liked in Italy, especially in the country's southern reaches is friarelli,  better-known as broccoli rabe in English speaking countries; you will find they are called  broccoletti in Rome – because they look like broccoli, but in fact are a dfferent leafy green- and cime di rapa in the deep Italian South, such as in Puglia. The slightly bitter twinge given by this vegetable will find a welcome sparring partner in co-existing toppings such as sausage and other pork meats, which are inherently sweet to a degree, and/or roasted vegetables such as potatoes. In this case, the pizza achieves a magical balance, at which point your job as a wine lover is not to ruin that delicate balance by choosing the wrong wine to drink along with it! For the most part, the European experts appear to agree on which pizzas they like best, and also on which pizza and wine matches work: their suggestions follow more or less the same lines of thought. That much admitted, some of the analysis and comments that follow will likely surprise and leave some of you wondering, while sparking hopefully stimulating debate. Come to think of it, that's exactly what good food and wine ought to do, besides providing energy (calories): to deliver pleasure, for sure, but also, with every sip and bite, to provoke a thought process (or two) and to offer an opportunity of learning. And by so doing, to create a better awareness of who we are, what we do, how we live… who we are, even. I hear you thinking: wait a minute, now that's way too complicated for such a simple matter as pizza and wine! Really? You now, I'm not so sure: after all, socially responsible farming, ecofriendly agriculture (viticulture), protecting and respecting biodiversity, and a whole lot of other food and wine-related matters ultimately lead, to use an Anthony Bourdain quote, to finding "the history of the world is on your plate". And, allow me, it's future too.
The opinions of European wine professionals
Kristel Balcaen (Wine and Food Educator, Belgium)
Pizza Quattro Formaggi
I am a huge cheese lover, and matching cheeses with the right wines is one of my favourite gastronomic activities. So my first favourite here is the Quattro Formaggi. Hugely popular all over the world, at least in Belgium it comes as a 'rossa'/red (with tomato sauce) or 'bianca'/white (with just the cheeses, which is the typical Italian way to eat this type of pizza). Even though different cheeses can be used, there's usually moist and creamy mozzarella, a spicy blue cheese such as Gorgonzola, and semi-hard or hard, highly savoury cheeses such as Fontina, Parmigiano or Provolone. They bring a wide range of intense flavours, a gooey texture and fat to the pizza, so for the perfect wine pairing, you need high acidity and a good flavour intensity and concentration in the wine. Bubbles help too.
Therefore, I particularly like the Quattro Formaggi with cool-climate traditional method sparkling wines, such as Champagne, English or Belgian Sparkling Wines, or – to stay in Italy: Franciacorta, Trentodoc or other metodo classico wines. They have the high acidity, helped by a fine mousse, to cut through the fat. And for an extra special flavour experience, look for sparkling wines with long lees ageing, with a higher proportion of reserve wines or a few extra years of bottle ageing. All those create aromas and flavours in the wines that emphasize the Maillard reaction on the pizza and the savoury sotolon (also known as sotolone) character of the cheeses. Also: don't underestimate the pairing power of Blanc de Noirs and Rosé Champagnes, such as Champagne Fleury Blanc de Noirs, Champagne AR Lenoble Rosé Terroirs, or a mature Charles Heidsieck in white or rosé.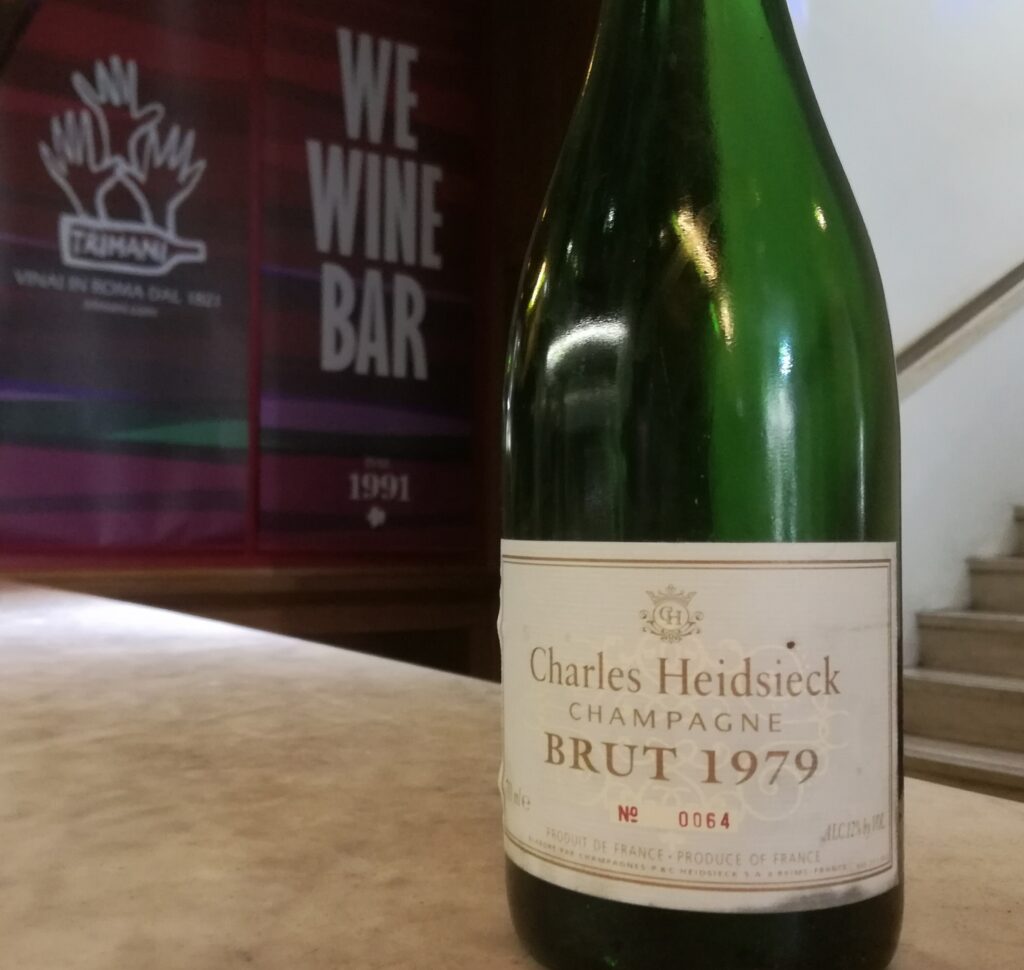 Pizza Frutti di Mare
In Italy you can find some of the world's most fantastic seafood, even on a pizza. Especially with fresh fish or shellfish, a well-made Frutti di Mare is simply fabulous to enjoy with a glass of lightly chilled, vibrant white wine. Again, you're looking for a wine blessed with high acidity, but also for some roundness, purity of fruit and good flavour concentration. To name but a few: Derthona Timorasso; a Petite Arvine such as Grosjean's Vigne Rovettaz from Valle d'Aosta; Elena Walch's Alto Adige Pinot Bianco, or – a grape variety which continues to delight me – Abruzzo Pecorino, especially in the hands of competent winemakers such as Pietramore, Cingilia and Tiberio.
Melania Battiston (Head Sommelier / Wine Buyer, Medlar Restaurant, London, UK)
My favourite pizzas and wine :
Butternut squash cream base pizza with speck, walnuts and Gorgonzola with the 2016 Langhe Bussiador Aldo Conterno. This intense, rich Chardonnay wine has a creamy texture that recalls the butternut squash base of the pizza. Since the Gorgonzola is cooked, the tannins of a red wine will be clashing with the acidity of the cheese, however the well-integrated and soft oaky notes of this wine are the ideal partner for the rich blue cheese and the toasted walnuts, also recalling the delicate nature of the wine.
Pizza with panna, mozzarella, smoked salmon, dill (and no tomato sauce) with the Trimbach 2009 Riesling Geisberg, the first vintage from this vineyard for Trimbach. The viscous texture of the Riesling wine will match the creaminess of the pizza's base and the mozzarella. In addition, the zesty acidity of the wine, still driving, will cut through the fattiness of the smoked salmon leaving a refreshing aftertaste accompanied by the vibrant note of the dill.
Giovanni Luigi Brumat (Brand and Export Manager, Cantina Toblino, Madruzzo, Italy)
Pizza is by far one of the most difficult food and wine pairings out there. It only looks easy, but it is not, for it depends on stuff nobody ever gives much thought to, such as the dough, hydration level, type of flour and of yeast, the cooking method, not to mention the temperature at which the pizza is cooked, and for how long…and of course, all the toppings, starting from the "basics", like tomato, oil, salt, mozzarella, basil. The quality of each one will greatly affect the aroma and taste profile of the pizza we will be eating. I will always believe that pizza is somehow just like wine: you can have a simple pizza with only some tomato and olive oil on it, but at the same time you can go with a wonderfully topped gourmet pizza. Same with wines, that run from the cheap and cheerful to the very rich and expensive. Therefore, wine and pizza pairings can be a very interesting challenge even for the most experienced sommeliers.
That much said, I would like to start with a really 'easy' pizza and wine pairing. My first choice of pizza is a classic Romana. Here a sour dough (lievito madre) pizza with good hydration of its dough leads to a very fluffy and digestible pie, topped with fresh tomato sauce, just a few drops of mozzarella, taggiasca olives, salted capers and anchovies (if these are from Cetara or Sciacca, then even better). This pizza smothers the palate with the taste of the sea and the Italian coast, provided by the saltiness of the anchovies and capers, the sour bitterness of the olives, the softness of mozzarella, the sweet acidity of the fresh tomato sauce. This mix of tastes and flavours works well with white wines with high acidity and minerality (I know, sometimes this latter term is abused). I would try this pizza with a pair of two very opposite wines, frst and foremost because they come from different viticultural environments.
The first pairing is with a Malvasia Istriana (or better, an Istarska Malvazija). If you want something from Italy, I would go with Raccaro or Zidarich (the latter is in a macerated style), or if you rather go with Croatia, I would choose Kozlovich. The second choice of pairing is Kerner, a crossing of Trollinger and Riesling. This time I would choose something from Trentino Alto Adige, like Cantina Toblino's Kerner coming from the foothills of the Dolomites. It's a wine I know well, and that brings a crispy acidity, balance and an intriguing mix of fruity and spicy tones that all pair extremely well with the pizza. For my second pizza and wine pairing, I would like to try to do the opposite by picking a wine and then pairing it with pizza. The choice is a fragrant, fresh and velvety styled Nero d'Avola, like for example the Mandrarossa Costadune bottling from Sicily, even served lightly chilled during warm summer days. Last but not least, a very nice pairing can be had with another great classic, the pizza Diavola. The savoury spiciness of pepperoni sausage or, if you are 'brave' enough, with nduja from Calabria, can be perfect with the soft tannins and high acidity of the Nero d'Avola. But beware, choosing a red wine to match with pizza can be challenging, because the dough (and carbohydrates in general) tends to clash with wines that are too rich and sturdy, characterized by tough and even drying tannins. Therefore, when the choice will be made easier if you look for unoaked or gently oaked red wines, and even better, those with grapes blessed with soft tannins and juicy textures.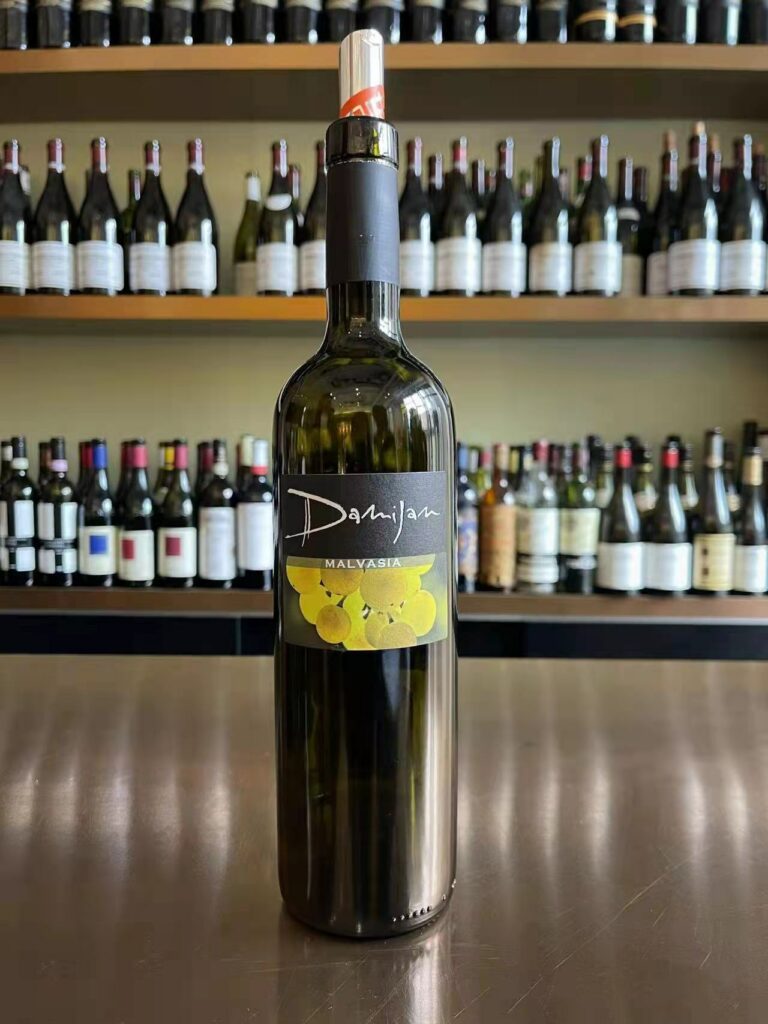 Davide Canina (professional sommelier, Costigliole d'Asti, Italy)
Pizza friarielli and salsiccia with a Timorasso
Why? Because it's a vry flavourful pizza thanks to the sausage and the friarelli, and so you need just as flavourful a wine but at the same time fresh and savoury…thus, a powerful-acid-mineral wine like Timorasso. My suggestion? Vigneti Repetto Timorasso Origo
Pizza ai 4 formaggi with an Alta Langa Pas Dosè
Why ? Because the pizza with four different cheeses is, let's face it, very fatty, and so it really needs freshness and the bubbles further help cleanse the palate. So a classic method sparkler , but I think that some Bruts, despite their category, are still too sweet, so I prefer a really dry bubbly, like a Pas Dosè without dosage (no sugars) and one that ahsn't been put through a full malo may even be better. My suggestion? Rizzi Alta Langa Pas Dosè
Fiona Chin (MBA Wine & Spirits Business candidate at Burgundy School of Business)
My favourite pizza: pizza piccante or pizza diavola, I like my pie hot! A nice tomato-based pizza with scorched red bell pepper, salame piccante di Calabria and a generous amount of mozzarella cheese. I would pair it with a Chenin Blanc pet-nat from the Loire Valley, like the one from Table Rouge. The acidity first stirs up your appetite, then cuts through the fat and cleanses your palate perfectly. The Chenin's honey and apple notes go surprisingly well with the spicy salami and pick up the sweetness of the red pepper. In general, a bubbly Chenin is my everyday solution to anything fatty and salty!
Guilherme Corrêa DipWSET (writes about wine and food pairings monthly for Revista de Vinhos in Portugal).
Certainly, my favourite pizza is the anchovy pizza. The classic Neapolitan with a nice cornicione, or thick crust, San Marzano pomodoro, bufala mozzarella and top-quality anchovies. Like any pizza, this one also requires wines with a good freshness, sapidity and perhaps some carbonic gas, to confront the tendency to sweetness of the impasto (dough) and cheese. But the presence of the anchovies, a bomb of savouriness and umami, reinforces the need for a white rather than a red wine – the umami pushes the tannins out of balance -, and a more imposing white than the typical Asprinio d'Aversa that is instead so interesting with the classic pizza Margherita. In Portugal, I really like to propose with this unbeatable pizza an Arinto from the limestone soils of Lisbon, whose more restrained and savoury character marries very well olfactively with the anchovy pizza, the acidity and limestone sapidity clean all the tendency to sweetness, and where the mineral side is further enhanced by the umami note. The saltiness of the anchovies, on the other hand, finds comfort in the texture of the fruit and the alcohol level of these wines, which is around the 13.5% range.
Less classic, a pizza that fascinated me was tasted at a Neapolitan pizzeria in Tuscany when I lived there. It featured cubes of aubergine fried in olive oil, spoonfuls of fresh stracchino cheese, and bits of the spicy n'duja from Calabria. Here clearly we can up the structure to a red wine, but as with the other more intense pizza flavours, we don't need to reach to the level of a Barolo, Aglianico or Brunello. From the extensive universe of Portuguese red wines, the ones I most enjoy with pizza are those from the Dão region, mainly entry or mid-range, without much extraction or oakness. The cool climate, surrounded by mountains, and the granite soil of the Dão give a huge vibrancy to these wines, and make them excellent companions for pasta or pizza. The controlled alcoholicity does not clash with the hot spiciness of the n'duja. And the light tannins are not astringent with the bitter tendency of the aubergines. Great Italy-Portugal harmony!
Michele Gargani (Chef/Owner and Wine Director, Al Gjal Blanc restaurant, Tarcento, Friuli, Italy)
As already mentioned in part one of this article out last Wednesday, usually pizza in Italy had been eaten mostly while drinking beer, but is more and more paired with wine. I love pizza as much as anyone else and I believe that mouth-watering wine and pizza matches can come from pretty much every wine-producing region in the world. Two of my absolute favorite pizzas are:
Pizza with 'Nduja and Burrata: here I'm looking for something with the warmth of Southern Italy or California's Central Coast, a wine with medium acidity, medium low tannins, a lot of red fruit in its profile but with some dark fruit tones and a round body that is inherited from the grape variety and not from the wood. Great choices are Sardinian Cannonau, California Zinfandel, and Sicilian Frappato wines, but I'll go with the irresistible Villa Creek Garnacha: the rich and vibrant fruit oof the west side of Paso Robles in California responds well to the fatty, salty, fiery personality of the cured and slightly smoky pork. The wine brings equilibrium, body and spicy aromatics along with bright and soft texture that helps unite the loud character of the pizza making it an intense yet harmonious pairing, delivering a rare experience of true pedigree.
Pizza Bianca with Ham, Braised Onions and Black Pepper: here, the absence of tomato sauce makes for an easier and more versatile pairing. You can go several directions here, medium-sweet Riesling Spatlese, Falanghina from Campania or even a dry Loire Chenin Blanc. What these wines have in common is the semi aromatic personality (a bit less so for the Chenin Blanc) and bright acidity that help clean the palate from the fatty and so delicious cheese. My pick and personal favorite which brings all the elements mentioned above together is Vie di Romans Flor di Uis: a successful blend of predominantly Malvasia Istriana followed by Rhine Riesling and Tocai Friulano. The unique combination of continental/mediterranean cool climate and complex geology of the Isonzo plain in Friuli Venezia Giulia contribute to make a sophisticated white wine with intense floral, fruity and alpine herbs notes, and combined with bright acidity it pairs heavenly with the sweetness and richness of cooked ham, melted Fontina, Taleggio and braised onions. A match for real connoisseurs.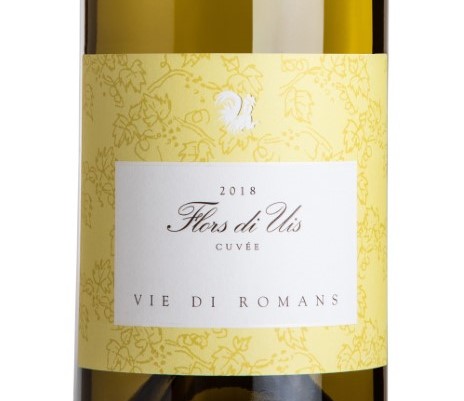 Niklas Jensen (chef, private functions, homes, and events, Denmark)
My first pizza choice: tomato sauce, pepperoni, artichokes, Gorgonzola and olives. My second favourite pizza is with sour cream, chives, potatoes, and fresh black truffle. Both of these I would pair with either a Barolo or Barbaresco.
Nadia La Milia (Export manager, Agricola Francesco Rotolo, FVG, Italy)
When we think about pizza we rarely think of it as part of a slow-paced meal, including a ritual of glasses and cutlery. As a matter of fact, we rarely think about the matching of pizza and wine, especially when it is in the proximity of a comfortable sofa and a good movie on TV. But there are exceptions when it comes to my two favorite pizzas that I absolutely love to taste in company and with the right wines. The first pizza that comes to my mind is the Margherita with lots of bufala cheese and some basil leaves. An Italian classic that sums up the essential ingredients of pizza but with the addition of a cheese made from buffalo milk, intense and flavorful, gives vigor and strong identity to what is considered the simplest pizza, the mother of all pizzas, par excellence. The acidity of the tomato and the freshness of basil complete the overall balance of the dish which cannot ask for, even imagine, anything else but an approachable, easygoing wine that accompanies rather than overcomes or invades the pizza and its ingredients. A still white wine such as those from Campania and Friuli are always great choices, but clearly, since I am influenced by my adopted region, I will opt for a Ribolla Gialla made in the Collio or the Colli Orientali del Friuli. My second choice, but not in order of enjoyment, is the sausage and porcini pizza. A pizza that puts on the throne the flavors of the earth, directly, sincerely. In this case, I would pair it with a precise wine that is delicate but without losing its capacity to reduce the fattiness of the pizza. I propose two solutions to the picking quandary. Either a classic method sparkling wine, such as a Franciacorta or Trentodoc Brut Rosé that cleanse the palate and prepares it for the next bite without leaving any particular trace; or a good Pinot Noir wine , stripped of tannins, which takes sausage and porcini arm in arm and brings them to the next level, that of extreme satisfaction.
Icy Liu  (Sales Associate, Becky Wasserman & Co, Beaune, France)
Eggs and Bacon Breakfast Pizza + Ettore Germano Alta Langa Metodo Classico Extra Brut
During college, one of my friends from Barnard invited me to their bi-annual tradition "Midnight Breakfast", where breakfast is served on the night before finals to hungry, studious students. That event inspired me to host a "brinner" party (breakfast for dinner) where I cooked an Eggs and Bacon Breakfast Pizza. This pizza pairs well with the Ettore Germano Alta Langa Metodo Classico as the delicate bubbles cleanse your palate to prepare you for the next bite of runny eggs and fatty bacon. Who doesn't love sparkling wine for breakfast and dinner?
Paulie Gee's Sopressata Honey Hellboy + Bret Brothers Beaujolais Lantignié "Glou des Bret"
This Paulie Gee pizza was described by Eater NY as the "crack pie" of pizza. I have since recreated a version at home with fresh mozzarella, Italian tomatoes, soppressata, Parmigiano Reggiano, and Mike's Hot Honey. I like pairing this with Bret Brother's Beaujolais "Glou des Bret" because the juiciness of the wine matches perfectly with the sweetness of the hot honey and can stand up to the soppressata as well!
Matteo Montone MS (Wine consultant, London UK)
Here are my favourite pizza-wine pairings.
Pizza with porcini mushrooms and truffle: I like this pizza to be matched with the 2016 Barolo Cascina Fontana, redolent of sour red cherries, Campari, dried tomatoes and truffle notes, juicy but with firm tannins and refreshing acidity. The wine flavour perfectly mirrors the flavours of the pizza.
Pizza Napoli with Anchovies : 2018 Assyrtiko Monsignori Argyros.
Rich and textured with plenty of fruit, the wine's mineral-salty acidity naturally complements the anchovy's salty character and the pizza's tomato sauce.
Michael Nissen (wine retail, Rotunden Hellerup Foodmarket, Copenhagen, Denmark)
My favorite pizza is a simple variation on Margherita with fresh basil and mortadella with a Mosel Kabinett from Zilliken Forstmeister Geltz or Egon Müller (if you can get it!).
My second favorite pizza is a potato rosemary with bacon and a 2018 Barbaresco La Vedetta or any vintage of Giuseppe Mascarello Barolo Monprivato (as far as I am concerned, they are all to die for).
Tommaso Mascolo (Sommelier, Indaco Restaurant, 1 Michelin star of the five star luxe Albergo Regina Isabella, Ischia, Italy)
The most classic pizzas of the Neapolitan tradition are:  "Napoli" (tomato, capers and anchovies), Margherita, Salsiccia and Friarielli, Pizza Fritta (Fried Pizza). If we want to choose a pairing with Campania wines I recommend: a white Coda di Volpe for the former; a Piedirosso of the Ischia Island for the Margherita; a Lacryma Christi Bianco (a blend mainly of Coda di Volpe) or a Lacryma Christi Rosso (a blend mainly of Piedirosso and Sciascinoso) for the Salsiccia and Friarielli; a Falanghina Spumante (sparkling) for the Pizza Fritta.
Franca Pulcini, sommelier, Pizzeria SP 143 of the Credenza Group, Turin)
A one Michelin star that takes pizza seriously, and Pulcini does too. I try to understand customer preferences, but the pairing also depends on the pizza that is chosen. If the clients like sparkling wines, I propose a sparkling Rosé Metodo Classico from Freisa (for example, the excellent Rossotto – Marchesina Brut Rosé); if they prefer still wines, I propose either a Rosé from Alto Piemonte (Nervi Il Rosato, 100% Nebbiolo) or even an outstanding Grignolino d'Asti, such as the one made by Spertino. Among white wines I recommend an Etna Carricante (Valenti Etna Bianco Enrico IV) or even a Muscadet from France. If, on the other hand, they prefer a red wine, I suggest Terre di San Leonardo (a blend of 50% Cabernet Sauvignon, 40% Merlot, 10% Carmenère from San Leonardo estate) or alternatively a red from Calabria: Rosso Viola (100% Magliocco, Cantine Viola).
Karoline Reinhold (Freelance wine and food expert, opening a new wine club in Tallinn, Estonia)
I love when pizza's are kept simple, classic, and the ingredients shine. Three toppings and we can already have a flavoursome meal! Two of my favourite pizzas are very simple, the classic Margherita and Prosciutto. They are quite similar when it comes to the base ingredients like tomato sauce and cheese, but when you add prosciutto you can play around with the wine pairing quite a bit.
With prosciutto and burrata pizza I would stay classic to its Italian origins; therefore, I would go to Lombardia, and specifically to Valtellina, for the Ar.Pe.Pe Rosso di Valtellina 2018. Valtellina wines are made mostly from he tNebbiolo grape which is best known for its Barolo and Barbaresco wines. When it comes from Valtellina, Nebbiolo generally gives more fragrant wines (wild rose, mint and wild berry) with silky textures, crunchy tannins and delicate herbal finishes which on the one hand help us to cut through the cheese part of the pizza but on the other, all the herbaceousness and fragrance of such wines will complement the prosciutto.
With pizza Margherita I would go for a Rosé. I am not, unfortunately, a Rosé drinker, but cheesy Margherita with mozzarella and basil on top, and a Rosé in my glass (one that has a touch of body and herbal freshness) works perfectly. I would go to the 'Kingdom of Rosés', in other words to France and Provence in particular, choosing the Bandol AOC and the Domaine Tempier Bandol Rosé 2019. The wines from Domaine Tempier show wonderful interplay between complexity and freshness. Usually mostly Mourvèdre-dominated blends, with Grenache and Cinsault, I find they offer a rounder palate than the classic Provence Rosés which helps us keep up with the body of the pizza, while their fresh finish helps us to balance all the richness of the dish which comes from cheese.
Snezhana Revchuk (Co-owner and Import Director of Diletant wine company, Russia). 
My first favorite pizza pairing is prosciutto and mozzarella pizza with Lambrusco dell'Emilia. I really like when this wine is amde with a blend of different Lambrusco grapes- Grasparossa or Sorbara with a percentage of Salamino. I especially like this for its smoky note. Lambrusco and prosciutto is a great food pairing for me, fresh, juicy and easy to drink sparkling red wines that with nutty and salty prosciutto work just great! I really like the wines from Silvia Zucchi and her family's  traditional line., Fattoria Moretto or  Berganti TerreVive…. J'adore!
A second favorite  is Pizza vegetariana with macerated wines based on aromatic grapes, and in this case the food and wine pairing for me will depend on the region I find myself in. In Emilia, I will choose wines based on the Malvasia di Candia Aromatica, Ortrugo, and Trebbiano Romagnolo grape varieties like the La Stoppa 2019 Argeno 2019 or wines from Azienda Agricola Denavolo by Giulio Armani. In Piemonte, for example the Roero area, I might opt for an Arneis that ahs undergone a short maceration…for example, I like one from Bricco Ernesto or the Cantina Val del Prete Arneis. Then again, if I am in a mood for red wine,  I will order a glass of Grignolino or Ruché, because I like the combination of vegetal sweetness that slightly and very aromatic grapes can deliver (I know Grignolino is not really anaromatic grape variety at all, but it's perfume is so piercing and memorable that it feels like it should at least be qualified as a semi-aromatic grape in my view). If the wiens amde with some maceration, then there's added complexity that will balance the stroing aromatic presnce, though I realize not everybody likes such wines.
Anna Rönngren (Content- and wine club manager, Tryffelsvinet, Stockholm, Sweden)
I am the biggest pizza fan – and in my opinion it all comes down to choosing a few, high quality ingredients. My favorite tomato pizza is probably burrata pizza, with a simple homemade, flavor packed tomato sauce, a big chunk of burrata smack in the middle that just melts out all over and maybe a few basil leaves. I would probably go for a Barbera wine to match – it has the acidity to match the creaminess of the cheese but it won't be too tannic to overpower this delicate pizza. Biodynamic Rivetto Dal 1902 Barbera d'Alba Zio Nando is one of my absolute all-time favorites, but I'm also really excited about Sara Vezza's (wine maker at Josetta Saffirio) own new label. The first vintage of her Barbera d'Alba Superiore Villar'o was really energetic and vibrant.
I'm also really into pizza bianca. I often make my own special potato pizza – just very thinly sliced potatoes over a bianca sauce made of crème fraiche, garlic, lemon zest and rosemary. I cover everything with parmigiano cheese and a nice olive oil and I'm done! I like to go with white wine for this one, Chardonnay and Chenin Blanc works nicely, but I'd rather go Italian. Fiano di Avellino from Mastroberardino is a really nice match – both latest vintage, but also, should you have the good luck to find a five year old bottle in the back of your wine cellar, go for it!
Tom Segers; Belgium
The combination of a good quality Frappato or lightly chilled fruity Bardolino always does the trick. They both have that acidity and vivacity to cut through the fat of the cheese and never clash with tomato or umami-like toppings. For me pizza is – or should be- happy, easy and fast food (of quality). So you need likewise happy, easy-drinking wines (of quality). Of course that Charles Heidsieck will work out fine but it might suit better a Ferrari than a Fiat 500!
Julio Tauste (Head Sommelier, Orrery, UK)
Pizza alla marinara with the 2015 Honorio Rubio Viura Lias Finas Doca Rioja
Pizza mortadella and pistachios with the 2018 William's Selyem
Pizza Gorgonzola and pears with the 2020 E.Pira/Chiara Boschis Dolcetto D'Alba
Carla Trimani, co-owner, Trimani Wine Bar and Enoteca Trimani Rome.
My all-time favourite pizza has always been a variation of the Margherita, in this case with olives, with which I love the outstanding Bruna Pigato U baccan or a Fiano from the Cilento, such as the Maffini Kratos….and the party can start!
But I'm not so boring and so when I see something a bit more extravagant such as pizza with potatoes and bacon I immediately grab a bottle of Franciacorta Gatti Nature, Alta Langa Marziano Abbona or Champagne Roederer Collection 242.
Paolo Trimani, co-owner Enoteca Trimani and Trimani Wine Bar, Rome
White pizza with broccoli rabe and sausage is one of my favourites, in which case the best pairing is a medium-bodied but flavourful red such as a Rossese di Dolceacqua (for example, the Nino Perrino Testalonga), a Barbera (such as Giacomo Conterno Francia) or a Cesanese del Piglio, such as the iu quartu by La Visciola. You like French? Then any good Morgon or Bourgueil. With the classic pizza rossa and anchovies (that few people realize we call Neapolitan in Rome while in Naples they call it Romana!) my love match is with Lambrusco di Sorbara: the Paltrinieri Radice or the Cantina della Volta Metodo Classico Rosé. Last but not least, a moment of sheer magic was matching Valentini's Cerasuolo d'Abruzzo with the chick pea and salt cod (baccalà) focaccia (the ancestor of pizza) by Giancarlo Casa, owner of Rome's famous La Gatta Mangiona pizzeria, a real trumph of good taste and harmony that I still remember after so many years.