What I find absolutely cool about Spain, a country that's actually fairly hot in wine (both in terms of weather and of sales right now), is its wine grapes. Anyone who knows me even just a little or has read my writing over the past twenty years or so will say it really couldn't be otherwise; but bear with me, and after reading this article, I bet you'll come away thinking that your various Cabernets and Chardonnay-tinted (tainted?) lives have been a waste. OK, I jest of course, it could hardly be so, as both Chardonnay and the Cabernets give some of the world's greatest wines; but let's face it, there is just so much more to drink out there than wines made only with those those grapes. And Spain, much like Italy, is a veritable treasure-trove when it comes to native grape varieties, ranking in the top four countries world-wide when it comes to officially recognized native grapes.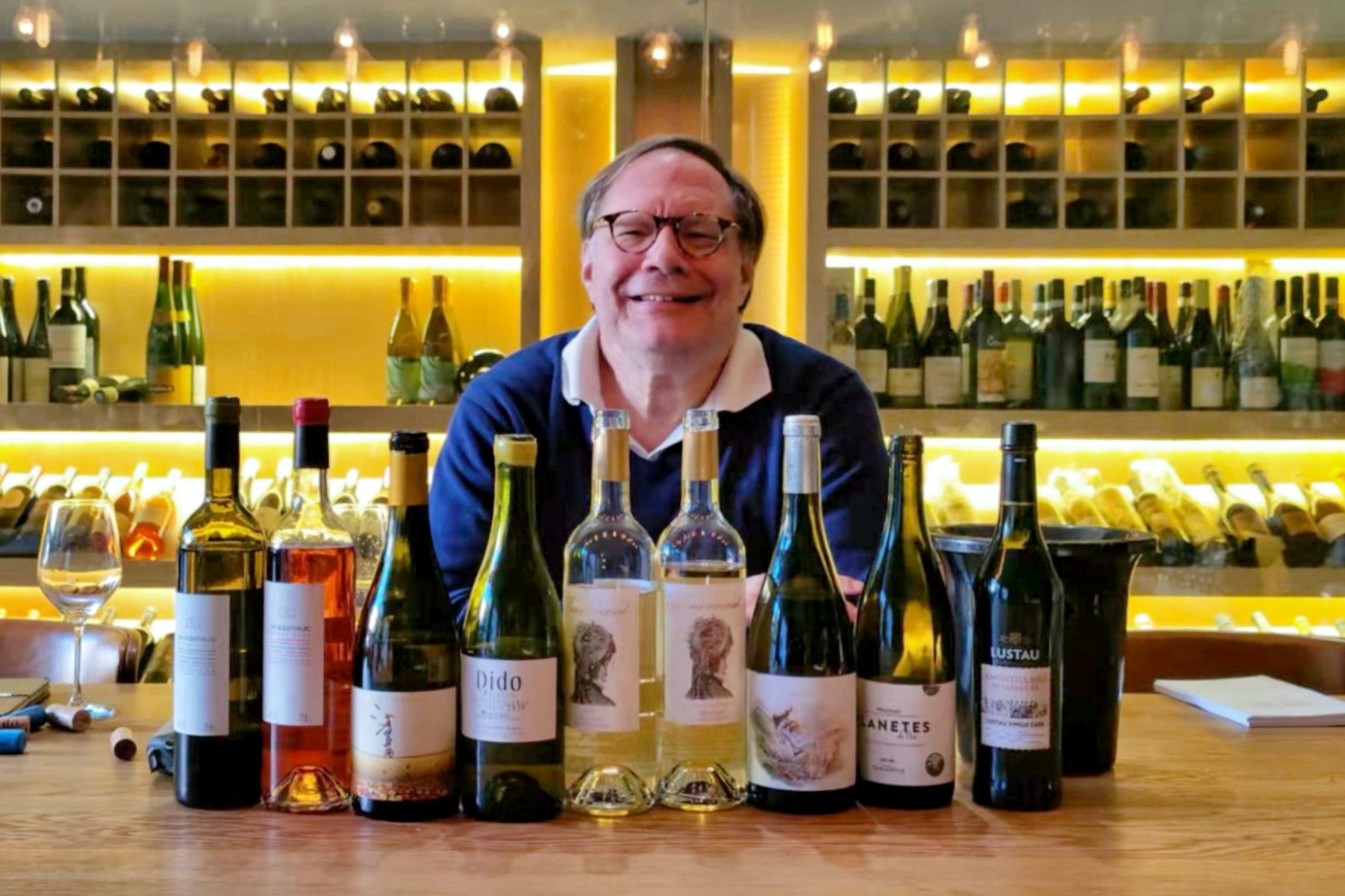 Take for example the rare Carignan Blanc variety, resurrected only recently by Carles Ortiz and Ester Nin of the familia Nin-Ortiz estate, with which they make a standout white wine from massal selections of old vines they sourced in their vineyards. Keep in mind that nobody was growing this grape variety before our dynamic duo got to it, and it is thanks to their efforts that Carignan Blanc was finally added to Spain's official list of grape varieties recently. You just got to love a story like that: and anybody out there is still wondering why I like native grapes so much?
But in fact, the list of Spanish native grapes is long (and complex: it always is when broaching the subject of native grapes, but if it wasn't like that, then where would be the fun?). For example, the Canary islands, besides being absolutely beautiful and one of the world's premier vacation destinations, are crammed with very old vineyards with multiple varieties still growing undisturbed by the likes of Chardonnay and Cabernet Sauvignon plaguing their habitat. Many are old, ungrafted, bush vines of the likes of Listán Prieto, Listán Blanco and Tintilla, but there are many more. And getting confused is easy. Apparently, Listán Blanco, better known as Palomino almost everywhere else except in the Canarias, really does originate from Spain; but more often than not, it turns out that one man's or woman's Listán Blanco is someone else's different Listán. For example, many people, wine "experts" included, regularly get this variety confused with Listán de Huelva, but despite similar names, the two are distinct varieties. Of course, just like any self-respecting native wine grape, Listán de Huelva boasts a plethora of different names it goes by, amongst which you just knew there had to be a "Malvasia" monicker too.  And so it is: Malvasia Rasteiro, only one of an infinite number of unrelated "Malvasia" varieties grown all over the world (Italy tops the "Malvasia" sweepstakes, boasting nineteen different ones all on its own (and that's not even counting all the "Malvasia"-something named varieties that are actually well-known other grapes altogether, but then, when it comes to Italy and native grapes, you'd almost expect the country to show off). But if you stop to consider for amoment that most people can't even get their Palomino and Palomino Fino sorted out, then there's really very little chance of getting a less common group of varieties straight, at elast at the present state of scientific knowledge. Listán Prieto is another Listán, but it's not a red, not white grape. And you shouldn't confuse it with Listán Negro, another red-berried Listán. "Prieto" means dark or black, so at least that's helpful (given that nobody really knows where they got the word "Listán" from). It was once more commonly known as Palomina Negra (once as in the sixteenth century, once) so I guess that the affinity between Palominos and Palominas and the Listáns has always been high. But Listán Prieto's parentage is unclear and it grows not just in Spain (really only in the Canary Islands nowadays; it's the Listán Negro that is found on the mainland) but in South America too (Chile, especially), where it's actually a preponderant variety; for sure, it is neither a colour mutation nor a biotype of the other Listáns while it has given rise to many other varieties of its own [(Cereza, a couple of different Torrontes (Sanjuanino and Riojano) and Moscatel Amarillo are the first to come to my mind, but there are many others)] by crossing in the field with Muscat of Alexandria (a very old variety that's been around the block a few times, so to speak). You might also have heard of the Albillo variety, or taste wines made from it. Well, that's just dandy, but unfortunately there's more than one Albillo out there, and guess what, they give different wines: no, when the wines taste different, short of weird enological alchemy, it's not because of the "terroir", though that's what everybody will always fall back on. For example, there is the Albillo Mayor of Ribera del Duero, often locally referred to as Pardina, but also the completely unrelated Albillo Criollo and the Albillo de Albacete. But trith is, just about every Spanish region boasts myriad different grapes most people have never heard of and that even fewer have ever tasted truly monovariety wines of. For example, Galicia in northwestern Spain is most famous for Albariño wines, but offers plenty more too, with Mencía demonstrating itself to be also a standout grape; but it is by no means the only red grape in the area as Merenzao and Garnacha Tintorera (Alicante Bouschet) also thrive there. Vineyards are planted on steep slopes such as those over the Miño and Sil rivers in what is an extreme, rugged region. In Extremadura, red wines made from Trincadeira Prieta, a variety that is very well adapted to the area, gives floral, herbaceous, fruit-driven reds. I could go on and on.
And you thought it was only the Italians having fun with native grapes.
The following tasting notes are of wines tasted in my office in Shanghai courtesy of importers and wine estates who sent me the sampels to taste for the TerroirSense Wine Review. Unfortunately, due to some samples arriving in a fractionated manner over a series of weeks and months, you will find that the estates in each one of the three parts of this very long "Wines of Spain"article are not in exact alphabetical roder. This is why you will find some estates that begin with the letter "B" or "C", when they would have more logically found space in part 1 of this series of articles. In part 3, due ot in the second week of January (like each year, the first week of the new year is devoted to a series of "Best of the Year" wines and articles), the last in this three part series dedicated to Spanish wiens, you will find many of Sapin's best known wineries (and wines), from Alvaro Palacios to Torres to the various Marques-something estates and much more.
Bodegas El Regajal.
2016 Galia Villages Castilla Y Leon                                            94
Luminous ruby. Very perfumed on the nose, with aromas of violet, wild herbs and spices, plus a whiff of chocolate. Then rather elegant in the mouth, creamy but without being over the top and not too oaky, and rich, dense flavours similar to the aromas. Closes long and suave with a fine-grained mouthfeel. Made with grapes grown at high altitidue (900-1000 meters asl) by Jerôme Bougnaud, a very good vigneron who believes strongly in biodynamics, this is a blend of  87% Tempranillo, 9% Garnacha and 4% Albillo (one of many white varieties in Spain with that name; see introduction), grown in nine different villages (including for example Hontangas, Cuevas de Provanco, Piquera de San Esteban, Fuentelcesped, and Trigueros del Valle) from north-facing vineyards. The wine is bottled as a Castilla y Leon, rather than a Ribera del Duero which it has every right to be, but the goal here is to give visibility to specific subareas. In a previous life, Bougnaud used to be the viticulturalist at Pingus after having been introduced to Peter Sisseck by Alvaro Palacios. Drinking window: now-2030.
Cortijo Los Aguilares.
The Cortijo los Aguilares is a family that boasts 800 hectares devoted to viticulture, cereals and olive groves, but the estate also breeds a local species of Iberian pig. The winery is located near Ronda, an historic city with a centuries-long tradition in winemaking (dating back to the age of the ancient Phoenicians), in the Serranía de Ronda, one of the southernmost wine regions in Europe; and at 900 meters above sea level, also one of the highest. Characterized by a truly unique terroir, blessed by its proximity to the Mediterranean Sea and the Atlantic Ocean, it can count on generous amounts of rainfall (800-900 millimeters/year) and marked diurnal temperature differentials, allowing, in theory at least, even cooler-climate varieties such as Pinot Noir to thrive in the clay-limestone soils and to give lifted wines of noteworthy freshness.  The estate grows certified organic grapes (CAAE certification).
2016 Petit Verdot Serranía de Ronda Sierras de Málaga Tadeo                   94
Dark ruby, but the 2016 Tadeo is not as dark as I might have imagined a 100% Petit Verdot wine to be. Very elegant, perfumed nose with a strong violet component (which really is instead very Petit Verdot-like) to its black and Morello cherry aromas. Then more black and Morello cherries in the mouth, plus cocoa, oriental spices and black tea nuances for added complexity. The finish of this truly outstanding, downright irresistible wine is dense, long and vibrant. It bears repeating that the 2016 Petit Verdot Serranía de Ronda Sierras de Málaga Tadeo really is exceptionally good for a monovariety Petit Verdot wine, a grape variety much prized for its deep colour but that in my experience rarely gives wines of much complexity. Aged fifteen months in 225 liter and 300 liter French oak barrels. In all honesty, I wouldn't have thought that the late-ripening Petit Verdot variety would have proven an ideal choice in a viticultural zone not blessed with large amounts of heat (given that Petit Verdot is not exactly a grape with which it is easy to achieve full physiological ripeness) but the long relatively warm summers allow for protracted hang time theoretically giving the grape a chance to ripen fully, though I heard rumours that the winery was considering adding a little Syrah in future vintages. Based on this 2016, there doesn't seem to be much need for the addition of another variety. Drinking window: now-2030.
C.V.N.E.
C.V.N.E. stands for Compañia Vinicola del Norte de España, currently led by the fifth generation of the family, with Victor Urrutia and his sister, María Urrutia, at the helm. An extremely old winery founded in 1879, the company has done nothing but grow over the years and now boasts seven wineries, four in the Rioja (with 545 hectares of vines in both the Rioja Alta and Rioja Alavesa), and one winery each in Penedès (Cava), Ribera del Duero, and Valdeorras. For those who don't yet know Spanish wines well, C.V.N.E. is a dependable source of well-made, high quality traditional Spanish wines that rarely disappoint.
2018 Rioja Blanco Seco Monopole Clásico                                        93                       
Medium yellow hue. Chamomile, almonds, grilled hazelnuts, pear and peach on the nose and in the mouth. Saline and fleshy at the same time, this rather powerful medium- to full-bodied white has a long suave aftertaste. A blend of mostly Viura and other varieties, among the many unique aspects of this wine is the presence of a little manzanilla, aged under a thin film of flor that contributes the notes of nuttiness and balsamic herbs. Monopole is Spain's oldest white wine brand, produced since 1915: C.U.N.E.'s Monopole Clásico was remade after forty years, prepared in the same way as it was in the 1970s. The grapes are picked in part from the east-facing, fifteen years old Villalba de Rioja vineyard, slightly more than five hectares large and characterized by mostly calcareous soils. A windy site, the vines are trellis-trained to offer protection from the wind. The 2017 vintage was marked by higher-than-average temperatures, drought and frost, but I'd say this wine turned out just fine. Drinking window: now-2028.
2016 Rioja Blanco Seco Monopole Clásico                                        92
Medium-bright green-tinged yellow. Winter melon, and pear dominate on the nose, but also offer strong notes of diesel fuel and citrus oils. Then at once saline and nutty, with an oily texture to its lime oil, crushed rock, fennel, coriander, cucumber, and apple flavours. Closes long and zingy, with a salty nuance. First made again with the 2014 vintage (but C.U.N.E. had made this wine since 2015, resurrecting this thicker, saline, nutty style from the doldrums of the past; once quite popular, white wines that weren't crisp and fresh fell by the wayside in the '80s and '90s only to pick up steam again of late. And so it was that the Monopole Clásico was born again. The wine's characteristic nuttiness derives from a small addition of Manzanilla sherry purchased from Sanlúcar de Barrameda's very well-known and much-respected Bodegas Hidalgo. A new wine, the 2014 Monopole Gran Reserva, aged six years in used sherry barrels, has now joined the regular Monopole Blanco in the CUNE portfolio as well. Drinking window: now-2030.
2015 Real de Asua Rioja                                                 95
Good full purple-ruby. High-toned, almost exotic aromas of black cherry, smoke and licorice, complicated by hints of cocoa and vanillin oak. Ripe and broad, with enticing mouth-filling flavours of blackberry and plum, licorice, chocolate and sweet spices, plus a suggestion of smoke and tar on the long, powerful finish. The outstanding 2015 Real de Asua is a knockout Spanish red wine, benefiting from an excellent vintage; it is made with 100% estate-grown Tempranillo grapes from the Rioja Alta's Villalba area, harvested slightly earlier than usual (about ten days), and the wine was aged eighteen months in new oak. Born in1994, the wine's name is a tribute to the Real de Asúa brothers, who founded the winery. Drinking window: now-2035.
2014 Imperial Gran Reserva                                          91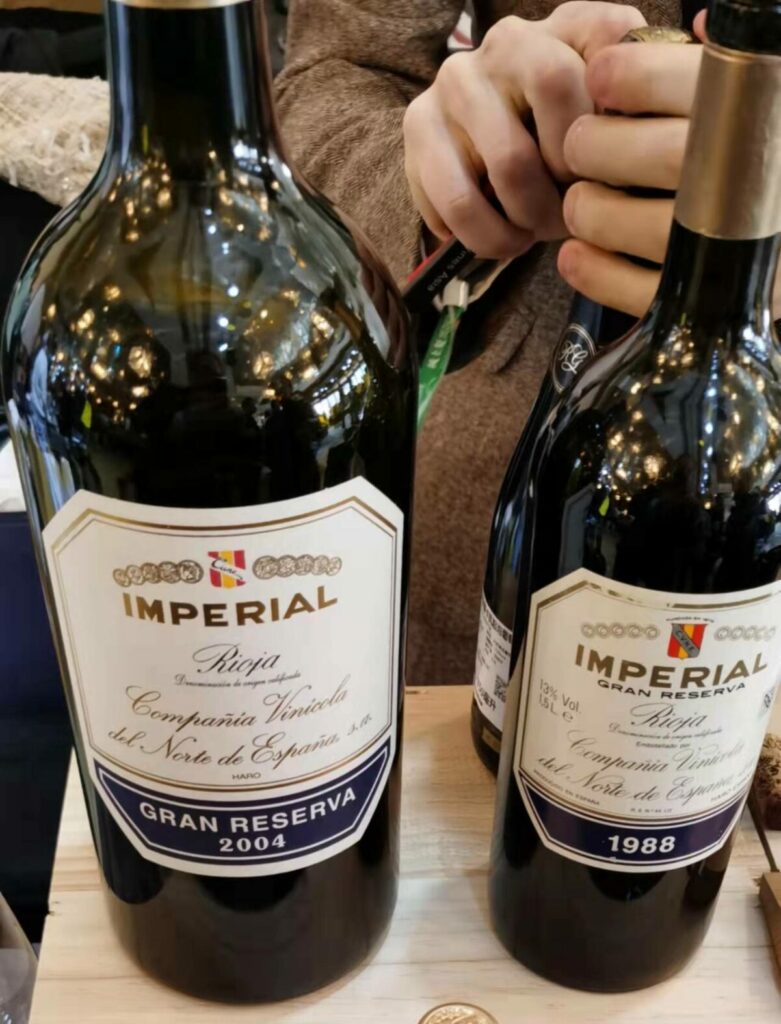 Bright red-ruby with a garnet rim. Flowers, iodine and sweet spices at first, then the nose opens with aeration to also offer aromas of cassis, licorice and smoky oak; later still, hints of cherry cola and pastrami emerge as well. Juicy, earthy red and dark fruit flavors are lifted by racy but harmonious acidity, with flavours of crystallized violet and spicecake given shape and body by gentle tannins. The vanilla-accented finish is long and very smooth. The Imperial Gran Reserva is made from C.V.N.E.'s finest Rioja Alta vineyards and is a blend of 85% Tempranillo, 10% Graciano, and 5% Mazuelo: it is the company's flagship wine and only made in what are deemed to be exceptional vintages. The 2014 vintage was made with grapes selected from the 40-years-old Barbarroja and Antoñanzas estates as well as smaller scale vineyards in Torrentalvo. These are non-irrigated vineyards with head-trained, south-facing vines planted in clay soils poor in organic matter and strewn with some rocks. The wine ages normally for at least twenty-four months in new French and American oak barrels (bit the 2014 aged for only twenty-two months in oak), racked every eight months and then kept a minimum of thirty-six months prior to being released for sale. This wine left me wondering a little after repeated sips, even hours later after the first one; maybe it's just me or perhaps that I caught it at an awkward stage, but I just feel the 2014 Imperial Gran Reserva, as good as it is (and it is a very, very good wine), lacks the complexity and depth of some more successful vintages of Imperial Gran Reserva. Drinking window: now-2032.
Dominio del Águila.
Dominio del Águila was founded by Jorge Monzón and Isabel Rodero in 2010 in the village of La Aguilera (which means 'eagle's nest', given its position atop a steep hill). The estate is situated in the Ribera del Duero Denominación of the Castilla y Leon region, and focuses on making elegant wines from native regional varieties and organic/biodynamic farming practices (only indigenous yeasts used, grapes are pressed by foot, and fermentations take place very slowly in very cold cellars and are aged for long periods of time in used oak barrels). Monzón certainly has an impressive resumé relative to his training: first he studied oenology in Bordeaux and Burgundy, then interned/worked at the Domaine de la Romanée-Conti and followed that up at Vega Sicilia in Spain. You can certainly do worse than that! His wife Isabel is an architect by training and she redesigned and renovated their old fifteenth century cellar. It was in the years he spent as technical director of Bodegas Arzuaga-Navarro (he was there for roughly nine years), Monzón became aware of the potential of very old vineyards planted to local, indigenous grape varieties and so started buying what he could afford, in order to one day make his own wines. At that time, the grapes of many of such vineyards were sold to bigger companies and used to make wine blends; not unreasonably, Monzón felt that the grapes ought to be allowed to, and could, shine on their own. And so it is that at Dominio del Águila he concentrates only on local native wine grapes: Tempranillo of course, but also Albillo [(careful: "Albillo" (which means "white") is a  name often used in generic fashion in Spain to indicate just about any white grape variety, but in fact there are distinct Albillo varieties; here it is the Albillo Mayor of Ribera del Duero, often locally referred to as Pardina, which is completely unrelated to other Albillos such as the Albillo Criollo and the Albillo de Albacete)] , Garnacha, Blanca del Pais, Bobal and others still. Most famous for his reds (as just about everyone in the denomination), the white wines here are in fact outstanding and the estate makes an excellent pink wine as well, the "clarete", produced with a mixture of red and white grapes.
2016 Albillo Vinas Viejas Ribera del Duero                               97
Penetrating aromas of fresh citrus fruits, smoke and oyster shells, complicated by fennel and iodine and lifted bya bright jasmine topnote. Boasts wonderful purity of white stone fruit and herbal flavours, showcasing impeccable acid-sugar-fruit balance. Closes long, vibrant and juicy with noteworthy mineral tension and a complex, multifaceted personality. Barrel-fermented (but there's no trace of untoward oak), and bottled unfined and unfiltered, it spent thirty-two months in barrel. Another knockout white wine from Dominio del Águila and one of the first whites from the Ribera del Duero appellation which only approved this category as of September 2019, this is only the fourth vintage bottled of this exceptional wine. To be clear, it puts many more famous wines to shame. Drinking window: now-2032.
2015 Albillo Vinas Viejas Vino de España                                         96
Bright medium yellow colour. Flinty notes of oyster shells and iodine mingle with yellow fruit and green apple on the vibrant nose. Then rich and textured, showing notes of apricot, peach, pear, almonds, and apple skin. Finishes long and minerally, with delicate nuances of smoke and sweet spices. Strikes me as richer and fatter than the 2016. Made with Albillo (the Albillo Mayor from Ribera del Duero unrelated to the other Albillo (Real Criollo…) from seventy to as much as one hundred years old organically farmed vines vines (in the case of the centenary vines, clearly pre-phylloxeric and ungrafted) planted on soils rich in clay, limestone and sand, at average altitude of 880 meters above sea level near the town of La Aguilera. The wine is aged in French oak barrels for thirty to thirty-six months in total. An exceptionally good wine made in the extremely difficult 2017 vintage (one of the toughest in memory, marked by severe frosts, drought, and a hot summer which led to an early harvest), all one can honestly say here is "well done!". If it weren't that the 2016 is so superlatively great, I'd say this would duke it out for the best white wine title of those I have had from Spain this year. The estate first made this white wine in 2012; note that like that wine and other past vintages, the 2015 vintage is labeled with the monicker "Vino de España", and not with the DO Ribera del Duero, because the Ribera del Duero category for white wines officially came into existence only in 2019, and so the first Albillo Blanco wine to be so-labeled is the 2016. Drinking window: now-2029.
2018 Tinto Picaro del Aguila Ribera del Duero                                93
Good full opaque ruby. Ripe, pure aromas and flavours of black and blue fruits, with more floral hints emerging with aeration, and complemented by peppery nuances. Suave and supple, this medium-bodied red is brimming with pure fruit and though it's not the longest wine you'll ever taste it really is remarkably focused and energetic. This is the entry-level red, very approachable and easy to like from the outset, but in fact punches way above its weight class, delivering far more concentration and complexity than more famous and expensive wines. Made from mostly Tempranillo and a field blend of grapes picked from old vines and all co-fermented together, aged eleven months in neutral French oak barrels (of which about 15% are new). Drinking window: now-2030.
2016 Reserva Ribera del Duero                                             95
Deep purple-ruby. Knockout, very pure aromas of violet, dark berries (blueberries, blackberries, blackcurrants) complicated by mineral nuances and just the slightest hint of sweet spices make for a very complex, deep nose. Then similarly pure on the palate with flavours that echo the aromas, with a silky, seamless texture and a very log harmonious and suave finish. Made from the estate's oldest vines (many of which are one hundred years old or more), it was aged almost thirty months (in other vintages even more) in French oak barrels. A product of a cooler year, this is very different from the richer, fleshier 2015 Reserva: more elegant, but also less concentrated, each wine will have its legion of fans. Drinking window: now-2033.
2014 Clarete Picaro del Aguila Ribera del Duero                             91
One of the better Rosé wines you'll taste this year, the Clarete is made from a mix of white and red grapes (Tempranillo, Albillo, Garnacha, and Bobal, but in fact the white grapes make up at least half of the blend). Dark pink. The nose offers orchard fruit, white flowers, aromatic herbs and spices with a strong earthy undertow. In the mouth the oak is more present, but the wine is fresh and boasts very good complexity to its spicy white and red fruit flavours. Long, citrussy and spicy on the aftertaste, this will appeal most to all those who like their Rosé wines on the bigegr and savoury side. Drinking window: now-2026.
Dominio do Bibei.
Dominio do Bibei takes its name from northwest Spain's Bibei valley in the Denominación de Origen Ribeira Sacra where it is located in the Quiroga-Bibei subzone near the village of Manzaneda. Owned by Javier Domínguez, the grapes are planted in terraced vineyards at 500-600 meters above sea level on mostly clay-slate soils, and are biodynamically farmed (hand-harvesting and indigenous yeasts are the norm here); vinification takes place in concrete eggs and used oak barrels of different volumes.
2017 Lalama Ribeira Sacra                                                          93
Bright deep ruby-red. Plum, red cherry, minerals and flowers on the slightly reduced, closed nose: for maximum enjoyment, make sure you open the bottle an hour ahead of serving or give it thirty minutes in a decanter to aerate before serving. Then lively and juicy, with a vibrant medium-bodied mouthfeel and plenty of inviting inner-mouth perfume to the crunchy red fruit, coffee and floral flavours. Finishes clean and long. A little reticent right now on the nose as the oak tends to dominate, but fresher and livelier on the palate, where the fruit is not overcome by the oak. Made with a blend of local grapes in the Ribeira Sacra Denominación of Galicia: mostly Mencia, but also Mouratón, Brancellao, Sousón, and Alicante Bouchet Locally referred to as Garnacha Tintorera, given that it is a teinturier grape), and was aged in large and then smaller oak barrels for roughly a year and a half. This 2016 has a more refined personality than the richer, more concentrated 2015, when over 50% of the grapes were lost due to hail, but the two are downright outstanding wines. Drinking window: now-2035.
El Perro Verde.
The winery's name means "the green dog", perhaps apt given the many green-tinged white wines that are made here. But though they may harken to the green colour, the wines made by the project of Ángel Lorenzo Cachazo and his son Javier, in collaboration with Vila Viniteca, are anything but dogs, as they are bright, fresh and flavorful, and cost a fraction of what they are worth. The smart money knows to buy here.
2020 Fenomenal Rueda                                                   92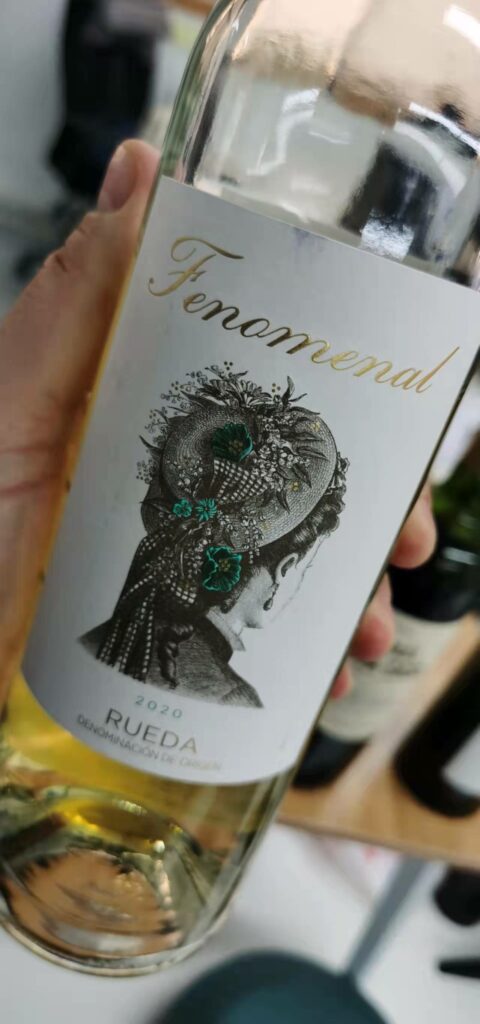 Luminous straw-green. Boasts an explosive nose of melon and peach, complicated by herbs and white flowers. Then fresh clean and lovely in the mouth, with a hint of licorice complicating the crisp citrus and orchard fruit flavours. Zippy, saline and juicy on the long, very pure aftertaste. This is lovely. A blend of 98% Verdejo and 2% Viura (for added colour). Drinking window: now-2028.
2020 Sauvignon Blanc Fenomenal Rueda                                   89
Straw-green. Clean and fresh on the nose and palate, where light notes of gooseberry, lime and herbs dominate; the finish is log and zingy. There is a building green streak that happily stays just this side of acceptable, but this is not as fruity or juicy as the Verdejo. Drinking window: now-2026.
Envínate.
Let me tell you, there's a blast of talent at work at Envinate (Spanish for "wine yourself", always a noble proposition in my books), with wine after wine that punches way above its weight (price and quality) class with some that are downright memorable. In short, there isn't a bad apple, er wine, in the bunch, or at the very least, not amongst the ones I have had occasion to taste over the last few years. The project was thought up and created by four friends (José Angel Martínez, Laura Ramos, Roberto Santana, and Alfonso Torrente) whose viticultural and winemaking talents are such that they would have wasted themselves at whatever else they might have thought of doing instead of wine. Then again, there wasn't much of a risk of that happening, given that the four met while studying oenology at the Miguel Hernández University in Alicante. The quartet focuses on the previously little-known internationally Atlantic Ocean-influenced terroirs of the Ribeira Sacra, the Canary Islands and Almansa. They work both as oenological consultants and as winemakers making their own range of wines (most of which are made in the regions where they consult such that they can easily rent space at their clients' bodegas). No matter: by applying traditional farming and wine-making methods to mostly native local grapes (hooray), they are making some of Spain's most interesting, exciting and best wines right now, though unfortunately often only in small volumes. Each member of the groups follows a specific project, all of which fall under the Envínate umbrella: in alphabetic order, these are Albahra in Almansa followed by Laura Ramos and José Angel Martínez; Lousas, overseen by Alfonso Torrente in Ribeira Sacra (born near Ribeira Sacra, and is the one to have added Galicia and its wines to the Envínate portfolio: the name "Lousas" refers to the Galician slate soil); Táganan (the ancient named of Taganana (Anaga), on the far northeastern corner of the Canary island of Tenerife) and Benje (the name in the old Guanche language of the crater next to the Teide volcano) under the direction of Roberto Santana in Tenerife (who was a former consultant for Suertes del Marqués in the Canary Islands Valle de la Orotava, which runs in between the a valley the Taganana on the east and Santiago del Teide on the west along the north side of the Teide volcano). In general, the Envinate team believes in using natural yeasts, reductive winemaking styles, protecting the wines with carbonic and to avoid racking after malolactic fermentation. Most importantly, they do not necessarily always follow the same winemaking recipe (though for sure all their wines are characterized by a certain freshness and lightness of touch), and they adapt winemaking practices to the characteristics of the growing seasons of each vintage (so, for example, while the consequences of whole cluster fermentation are clearly present in many of the wines they make, it may or may not be used in all their wines, depending on the vintage and other considerations). In my experience, all their wines benefit from plenty of aeration (reductive winemaking), so don't be scared to decant ahead even the less expensive wines.
2019 Palo Blanco Vinos Atlánticos                                                     93
Pale straw yellow. White flowers, tangerine and lemon on the nose and in the mouth, buffered by a hint of welcome flintiness and peachy fruit adding a creamy note. This is still painfully young and its lemony sharpness really hits home on the long back end but comes across as harmonious and balanced, with a surprisingly textural mouthfeel and a long, minerally, saline close. This is a really great white wine that boasts a ton of flavour and only 11.5% alcohol. All in all, I'd say they have a winner here! Made from 100 years old plus vines of Listan Blanco/de Huelva grown just outside La Orotava but at higher altitudes on the northeast slopes of Pico del Teide (Tenerife island's mountain volcano), there is a noticeably less strong Atlantic Ocean influence here than in some of this group's other Canary Island wines. It's whole bunch pressed and aged ten months in large oak casks from Friuli. Simply put, this is absoltely delicious and unique. Though you'll see this wine written up in other wine magazines as 'Canary Islands" (fair enough, that's where it's made), be aware that the label carries the appellation name of Vinos Atlánticos. Drinking window: now-2032.
2018 Blanco Benje Ycoden-Daute-Isora                                             92
Bright straw yellow. Mineral, lemony aromas and flavours of fresh orchard fruit and citrus, with a solid saline spine adding freshness on the long saline finish. Made from roughly 90% Listan Blanco and other local grapes organically farmed and grown at 1000 meters asl on the volcanic slopes of Tenerife, so much like the Taganan parcels, the Benje wines are made from volcanic soils but from grapes planted at even higher altitudes). In this vintage, about 60% of the wine spent extended time on the skins, and the wine is aged in 60% concrete tanks and 40% old French barriques. The cordon trenzado (braided cordon) pruning method allows the vines to grow up to fifteen meters long so that they can be spaced twenty to thirty meters apart. Drinking window: now-2030.
2019 Táganan Parcella Margalagua Vinos Atlánticos                             96
Bright ruby-red. Intensely fruity (red cherry, strawberry) and floral, with notes of licorice and flint adding complexity on both the nose and the palate. Closes long, mineral and very fresh, with repeating notes of volcanic ash and roses. The copious, laser-like acidity here makes for a lively, very refreshing drink, but have no fear, it's all in balance. This is still a very young wine, but excellent, and I was impressed. Well done. Margalagua (meaning "mother of the waters") is made with grapes picked in a small, exceptionally steep single parcel organically farmed by farmer José Angel Alonso at about 200-250 meters asl and co-planted with numerous different varieties (Malvasia Negra, Baboso, Negramoll, Listan Negro, Listan Prieto and others), as was customary of days gone-by in which poor farmers needed to hedge their bets, and putting all their eggs in one grape basket by growing only one variety didn't make much sense. Barrel-fermented, it was aged in 500 liter neutral oak casks. Though you'll see this wine written as 'Canary Islands" in other wine magazines (fair enough, that's where it's made), be aware for accuracy's sake, that the label carries the appellation name of Vinos Atlánticos. Drinking window: now-2035.
2018 Vinas de Aldea Lousas Vinos Atlánticos                                    93
Deep pale ruby. Stemmy aromas and flavours are fragrant and and very perfumed; a faint hint of refined floral and green elements provide spine to the small red berry fruit. Closes long and fresh, with arepeatng pungent floral component. The grapes are sourced from roughly sixty years old vines grown at 400-600 meters asl in the Amandi, Ribeiras do Sil and Bibei subzones og Galicia and the wine is aged for about eleven months in barrels of different sizs (228, 500 and 600 liters large) and cement tanks. The "Vinas de Aldea" in the wine's name refers to "village wine", while "Lousas" means slate. Whole bunch fermentation here, and you can tell that it is just so after the first sniff, or sip (on average about 40% whole bunches are used, but it depends on the vintage characteristics). Drinking window: now-2030.
2019 Lousas Seoana Vinos Atlánticos                                                98
Bright ruby-red. Very intense rose notes on the nose, with a pungent florality really lifting the ripe red cherry and mineral aromas and flavours. Finishes dense and multilayered, with an enticing penetrating quality and utmost purity. This smooth beauty is not just excellent, but very great. Made mostly with Mencia picked in sixty years old vineyards planted at about 400-500 meters asl, this is a single-vineyard red made from plots located in the Amandi sub-zone, in this case the Parcela Seoane (another single vineyard wine is called Parcela Camiño Novo). This is also the wine to really showcase the potential and quality of the Mencia variety, that had once risked oblivion but has come deservedly back with a vengeance in the last twenty years. Better late than never, and given the myriad beyond-boring Cabernet Sauvignon wines made all over the world nowadays, I can only hope, and wine lovers out there everywhere too, that more and more producers all over the world start turning to more interesting varieties such as this one when replanting vineyards on their properties. Drinking window: now-2035.
2017 Tinto Benje Ycoden-Daute-Isora                                               88
Luminous deep ruby colour. Very reduced and very funky on the mineral nose; this may not be for everyone. Then much better on the palate, with a sharp but relatively harmonious acidity nicely extending the flavours of red fruit and herbs on the long fresh palate which features inviting lingering chalky mineral nuances. This is a 95% Listan Prieto and 5% Tintilla blend that was fermented in concrete vats and aged eight months in used French barriques, then bottled unfltered. Drinking window: now-2033.
Familia Nin-Ortiz.
The Familia Nin-Ortiz estate was founded in 2004 by Ester Nin and Carles Ortiz. Carles Ortiz is a native of Barcelona and a trained winemaker who purchased almost five hectares of vineyards at Finca Les Planetes just outside Porrera. In love with the local native grapes, he safeguarded many of the old vines but also replanted with a massal selection of Garnatxa and Carinyena. Nin Gradated in Biology at the University of Barcelona, then got her Enology degree (tellingly, focused on biodynamic and organic viticulture) at the Public University of Tarragona. A native of the Priorat, she worked at Mas Martinet before becoming the viticulturist at Clos i Terrasses (where she helped transition to biodynamic farming). It was during those years that in 2004, she bought 1.5 hectare terraced plot of old vines (Carinyena, Garnatxa Negre, and Peluda) planted on schistous soil at roughly 650 meters asl in Mas d'En Caçador, a famos vineyard area sitting on the fence between Porrera and Gratallops. An atypical Priorat family in that they wish not to make wines that require long cellaring but rather make user-friendly, more accessible wines from ecologically friendly agriculture. Though the vines the winery boasts aren't quite as old as some others that have made the Priorat and its wines famous, they are still about 40 years old on average (this because those were the vineyards they had access to when they started out in 2004) which is still a great deal older than the average age of the vines used by many well-known, famous wine brands that get lots of publicity and writeups all over the world. Great believers in biodynamics, and members of Nicolas Joly's organization, "La Renaissance des Appellations," the wines of Familia Nin-Ortiz are some of the best biodynamic wines coming out of Spain today, boasting noteworthy freshness and purity, elevating them far above the pack of many such wines.
2019 Planetes de Nin Blanc Priorat                                             93
Deep straw yellow. Aromas of oyster shells, sea breeze, crystallized lemon peel, plus warmer notes of hay and chamomile. Earthy notes on entry, then rounder smoother (5.9 g/L total acidity and 13% alcohol) in the middle full of fennel and lemon flavours, but a bitter edge merges on the long finish. Closes saline, with a streak of iodine. Overall, this struck me as a complex wine, the result of a slightly warmer vintage than usual, but with good freshness to its multiple layers; try decanting an hour ahead for maximum enjoyment. This is a single vineyard wine made from Carignan Blanc grapes sourced from the Planetes in Porrera plot, planted to a selection massale of about twenty different Carignan Blanc grapevines (the sub-title on the front label says "VI Blanc de Varietas antigues", or made with old local varieties). Keep in mind that nobody was growing this grape variety before our dynamic duo got to it, and it is thanks to their efforts that Carignan Blanc was finally added to Spain's official list of grape varieties. Whole cluster crushed and left on the skins for twenty-four hours, it was aged for nine months in neutral oak barrels. Drinking window: now-2029.
2017 Planetes de Nin Garnatxa VI Natural d'Amfora                                  89
Deep ruby. Smells somewhat like a "natural wine" (and frankly, I don't mean that in a good way) with some funkiness that blows off only slowly. Then very fresh and juicy, even downright bright in the mouth, with notes of red cherry, rosemary, and beef bouillon; actually more than bouillon, of grilled steak. Smooth tannins provide spine and earth tones add complexity on the finish on the long back end. This wine has a truly remarkable taste of steak: I swear to you, close your eyes, take a drink and you'll literally think you are eating a steak or a beef stew. My score is an average of the low score for the too funky nose and the bright, fresher palate. Drinking window: now-2030.
2017 Planetes de Nin Priorat                                                       94
Good full deep red. Very pretty red berries and cherry on the nose and in the mouth. Glides smoothly on the palate in Grencahe's typical tannin-less mouthfeel, finishing juicy and with compelling sweetness of fruit (I stress it strikes me of fruit sweetness, not residual sugar) and noteworthy length. The 2017 Planetes de Nin comes from the four hectares large Planetes vineyard in Porrera planted at 450 meters in altitude to roughly twenty years old Garnacha and eleven years old Carignan (Cariñena). The actual blend is about 60% Garnacha (some of it Garnacha Peluda, a different variety from the better-known Garnacha or Grenache) and 40% Cariñena (Carignan) , harvested early. Fermented with indigenous yeasts and matured in 3,200-liter oak vats (and one 1,000-liter amphora) for seventeen months. Drinking window: now-2033.
Finca Sandoval.
2007 Victor de la Serna Collecion 75 Anniversario Tres Patrias Manchuela                   92
Good full ruby. A little reduced at first but clears with aeration to offer aromas of licorice, tar, herbs and red cherry, complemented by vanilla and cocoa nuances. Thick powerful and rich, but not devoid of elegance, on the long risingly smooth finish that features flavours similar to the aromas. A blend of Bobal, Syrah and Touriga Nacional (and no Tempranillo, like you'll read on other websites), each from a different vineyard. Therefore, three "patrias" becase it showcases varieties from three patrias or homes, Spain, Portugal and France. Drinking window: now-2035.
Gonzales Byass.
Gonzalez Byass was founded in 1835 in the town of Jerez, Andalucia, when  Manuel María González Angel established it. Later, he was joined in the business by his English agent, Robert Blake Byass, leading to the company's new name. Remarkably, this bodega, far and away one of the best-known Sherry bodegas of all Spain and hence the world, is still in the hands of the founder's family. The wines are refined rather than blockbusters, but quality is always high and you can consider this estate about as a sure bet as there is in the world of wine.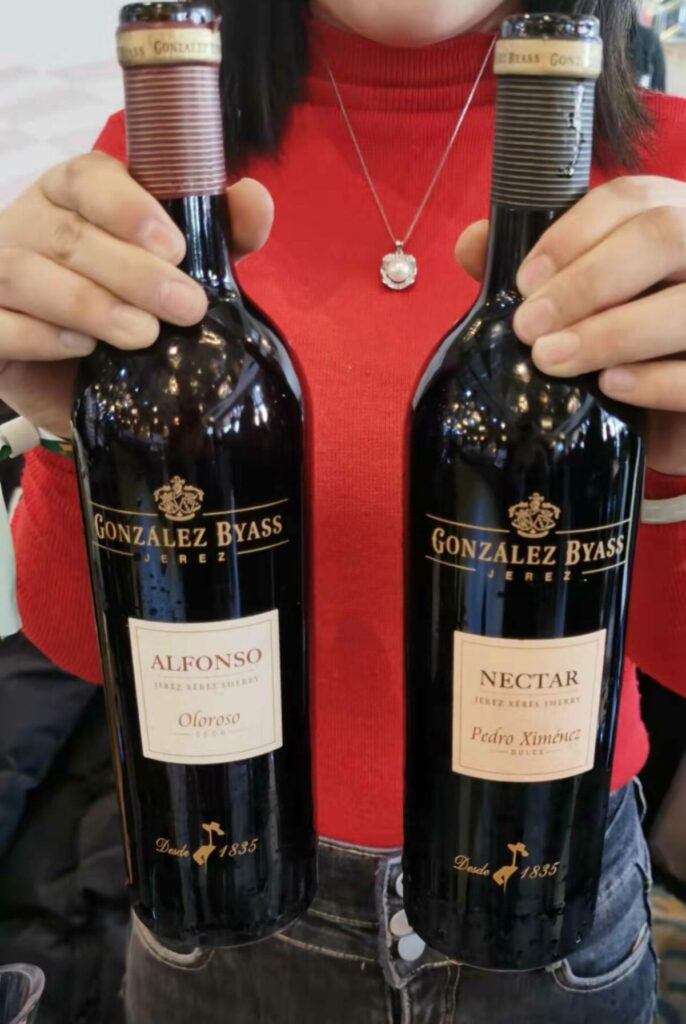 NV Amontillado VQRS Del Duque                                              94
Honestly now, it gets ahard to find fault with anything this good. Dark amber in colour, the Gonzales Byass NV Amontillado VQRS Del Duque literally explodes from the glass with powerful but fresh aromas of hazelnut, toasted almonds, grilled embers, candied fruit and orange peel. In the mouth there is the typical interplay of salty, sour and sweet sensations that make Amontillados so eminently drinkable and refreshing, while also providing much more depth and texture than a Fino would. The long close is characterized by impeccable balance and a whiplash of caper, sea urchin, peanuts, coffee and fresh citrus nuances that are absolutely captivating. Made with at least 30 years old Palomino from the Tio Pepe solera (these soleras are believed to be more than 300 years old, most likely were purchased from the Duke of Medinacelli back in 1835). Drinking window: now-2045.
NV Oloroso Alfonso                                                        92
Vivid golden amber color. Hazelnuts and walnuts dominate the bright nose, but alos oaky nuances and hints of leather and underbrush. Then hints of white chocolate and vanilla leave a hint of sweetness on the classically dry palate. Closes long and dense, such that this well-balanced, refreshing beauty will pair well with oxtail, braised pork cheeks and belly, anything involving bacon and stews, given that it has the acid cut to rip through the fattiness of the foods listed. The must used to make the Alfonso derives from the second pressing of Palomino grapes so that the liquid obtained will have slightly more structure and body. Fermentation goes on until between 11% and 12% alcohol is reached, then the wine is fortified to 18% alcohol and is put into a solera system consisting of American oak casks in which a large empty space is left so as to allow a controlled oxidation to take place over an average of eight years. Drinking window: now-2040.
NV Pedro Ximenez Nectar                                                    93
Let's face it, only someone who doesn't have a sweet tooth cannot like something this good. Burnished ebony-gold in colour. Monumental nose of dates, figs, vanilla, white chocolate, roasted almonds and penauts plus toffee. Rich, sweet and velvety in the mouth, thick and chewy as Pedro Ximenes wines tend to be, yet lifted and complex flavours of caramel, dried fruits, figs, and mocha. The finish lasts minutes and is so well-balanced you'll find yourself filling up your glass again and again. Drinking window: now-2050.
Javier Sanz.
2020 Verdejo Malcorta Rueda                                              93
Brioght straw-green. Lemon and lime dominate the nose and in the mouth, with a dusting of fresh minerals adding interest. This remarkably pure, refreshing wine finishes long and zingy. Remarkably similar to a good Sauvignon Blanc wine ("good" meaning that the grepaes are picked neither ridiculously green nor unripe in the name of freshness) in the way of a really good Sancerre or Pouilly-Fumé. Sanz is the only person in the world making a wine from the Malcorta biotype of Verdejo, a grape variety that has a bunch that is half the size of "normal" Verdejo but also much more compact. The "malcorta" means it is" diffcilt to cut", so if you add that characteriic to its ultra small and super compact bunch, you understand why this grape variety risked extinction. To the best of my knowledge, sanz is the only one making a monovariety wine with it in commercially viable numbers. Drinking window: now-2025.
Jorge Ordonez
2018 Moscatel Dulce N.2 Victoria Malaga                                                96
Pale golden-copper colour. Honey, crystallized fruits, flowers, and minerals on the nose and in the mouth. Very sweet (190 g/L r.s.) but the sweetness is nicely buffered by high acidity; this is very clean and fresh (the strong diurnal temperature variation present in these high altitude vineyards guarantees high, harmonious acidities and noteworthy lift for what is a very sweet wine). The finish is suave and lively, not to mention very long. Very concentrated yet light on its feet, it takes about 4.5 kilos of grapes to make one little 375 mL bottle of wine! Made with 100% Muscat of Alexandria grapes planted in 1902 and 1935 and grown in the Frontilla, Panderón, Navarrete, Villazo, and Villalto vineyards in the Vélez-Málaga, Alta Axarquía, the most historic subzone D.O. Málaga. Many of the vines are ungrafted and are planted directly into the decomposed slate soils that have small a small percentage of white quartz and virtually no organic matter. The wine is made by using late harvested and partially dehydrated bunches that are whole cluster pressed in a pneumatic press. Fermentation takes place in small (1,500L) stainless steel tanks and when 10% alcohol is reached, the temperature of the tank is lowered so as to halt fermentation, with a small amount of SO2 added to ensure fermentation stoppage. Drinking window: now-2050.