2004 Domaine Raveneau Chablis Butteaux Premier Cru                                   95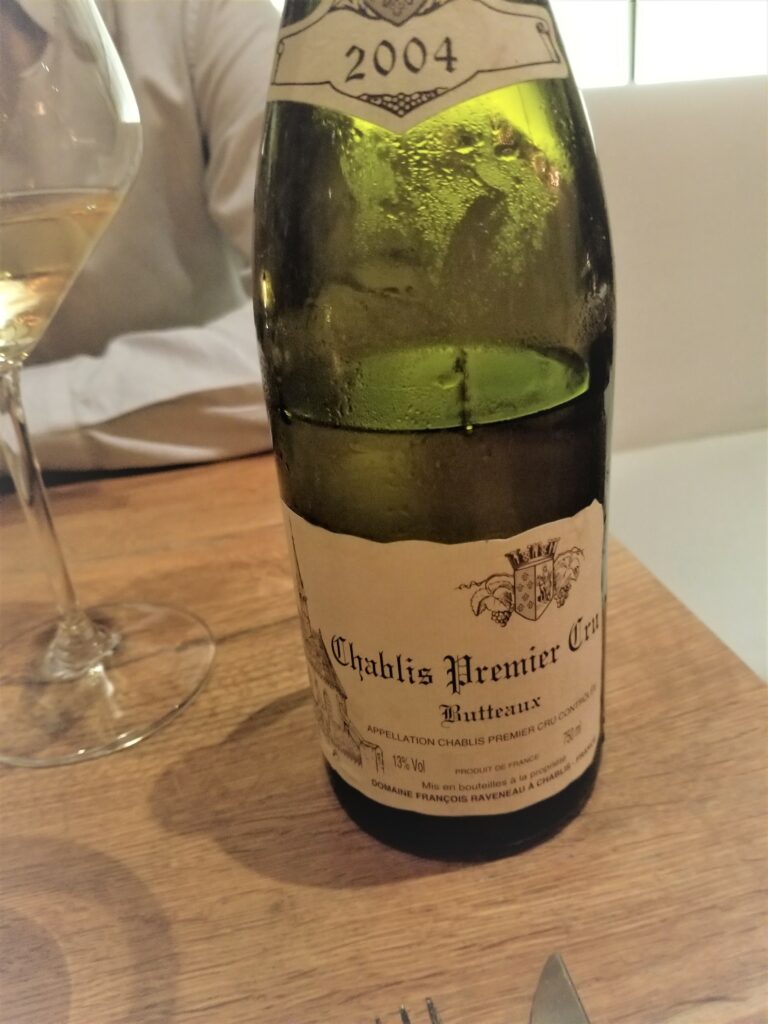 by Robert Millman
Burgundy aficionados regard the Chablis from the small and singular Raveneau estate as belonging to a small elite of white Burgundy producers that includes Domaine Leflaive in Puligny Montrachet, Coche-Dury and Comte Lafon in Meursault, and Madame Leroy's d'Auvenay estate in Saint Roman. The reputation of each of these estates is such that their wines sell for multiples of their fellow producer's wines. Due to the generosity of my Belgian friend Herwig Jannsen, I was able to taste a bottle of the 2004 Raveneau Chablis Butteaux at an excellent Japanese/French restaurant in Manhattan called Mifune (named for the great Japanese actor). The wine worked wonderfully well with most of the many courses served over a 2+ hour period.  This was a 17 years old Chablis which had been aging under perfect cellar conditions for many years. Had I been served a glass blind I would have known immediately that this was a first-rate Chablis. My professional guess would have been that it was perhaps 5–7-year-old at most. How wrong I would have been. This 17-year-old beauty was not merely well preserved: It was gleaming with an ageless precision and energy which suggest that the other bottles in Herwig's cellar could easily go another 10 years before showing signs of age.
The Raveneau estate is as small as it is famous—a mere 7.5 hectares comprising three Grand Crus and parcels in six Premier Crus. The most available of the Raveneau wines are those from Montée de Tonnerre, a superb, steely, mineral saturated wine of all but Grand Cru quality and the lovely, seductive, floral Butteaux which is the most accessible of the Raveneau Chablis. One of the most interesting aspects of the Raveneau estate is it use of feuillettes in the aging of the wines. Feuillettes are barrels which are about half the size of the much more common barrique (225 or 228 liters). Raveneau's feuillettes are a minimum of five years old, so there is never any oakiness in any of the Raveneau wines. The little barrels  contribute to oxygen absorption which imparts a welcome note of creaminess to what are austere wines by nature. For me the bouquet of older Raveneau Chablis wines set them apart from those of all other growers in Chablis. In addition to the limestone/citrus notes which are more deeply integrated into the wines than in most other wines of Chablis, I find there are delightful hints of sunshine, peach and almond as the wines get to about the ten-year mark. If there is one producer of white wines who has made time their friend, it is Raveneau. Th 2004 is so fresh and firm that it defies explanation. Also, as the evening progressed, something remarkable happened to the wine, and to the three of us inhaling the wine: It started to smell like freshly shucked oysters. After all, the Kimmeridgean bedrock underlying Chablis is composed of tiny oyster shells compressed into a perfect terroir for Chardonnay. I have never experienced a Chablis which was such a perfect manifestation of its terroir! What a privilege it is to taste such an inspiring wine with good friends! Drinking Window: Now to 2030.
2018 Tenuta San Guido Guidalberto Toscana Rosso                                     93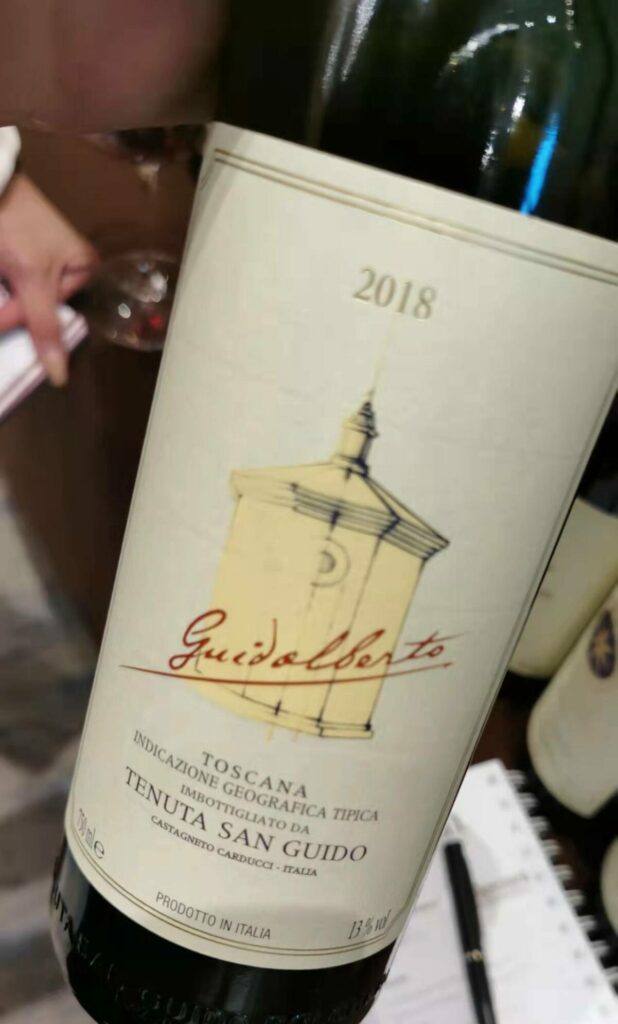 by Ian D'Agata
Often referred to, erroneously, as the second wine or the "little brother" of Sassicaia, Guidalberto is in fact anything but. This is because Guidalberto is another wine altogether, characterized by a completely different grape blend from that of Sassicaia (and the grapes are sourced from different vineyards), though both are made by the same estate, Bolgheri's ultra-famous Tenuta San Guido. Differently from Sassicaia that has always been a blend of roughly 80-85% Cabernet Sauvignon and 15-20% Cabernet Franc (depending on the vintage), Guidalberto is made with a hefty dollop of Merlot; again, it depends on the vintages, but most often, Guidalberto is a blend of 60% Cabernet Sauvignon and 40% Merlot. It was precisely the desire to see what the estate could achieve with Merlot, a grape that had never been used to make wine at the property but that has given really noteworthy results in the Bolgehri area (outstanding Bolgheri 100%Merlot wines such as Masseto/Ornellaia's Masseto and Le Macchiole's Messorio are a case in point). Furthermore, the estate wished to make a wine that was somewhat more approachable at a younger age than is Sassicaia, that not just in their experience, but mine too, is all-too often consumed at far too young an age, when it really isn't still showing its best, or at the very least, all it can really deliver.
First made in the 2000 vintage, Guidalberto is named after Guidalberto della Gherardesca (the great great great grandfather of Tenuta San Guido's current owner, Niccolo' Incisa della Rocchetta) who in the early nineteenth century was a pioneer of modern agriculture in Bolgheri. As if that wasn't reason enough to be forever remembered in posterity, he is also famous for having planted the cypress alley that Bolgheri is so famous for and that inspired Giosuè Carducci, one of Italy's all-time most famous poets. Actually, Guidalberto the wine was not always a 60-40 Cab Sauv-Merlot blend. The first two vintages (2000 and 2001) were 40% Cabernet Sauvignon, 40% Merlot and 20% Sangiovese; the next two, 2002 and 2003, were instead 45% Cabernet Sauvignon, 45% Merlot and 10% Sangiovese. With the 2004 vintage, the estate settled on what was to become Guidalberto's definitive blend of 60% Cabernet Sauvignon and 40% Merlot (not at all a surprising choice, given that Sangiovese does not do especially well in seaside locations such as Bolgheri, and has never given stellar wines in that specific part of Italy where it has been uprooted at most local estates). The vines are are cordon spur trained, planted at 100-300 meters above sea level with a south-west exposure, on soils that are mostly limestone-clay, galestro and gravel. The grapes for Guidalberto are manually sorted in the vineyard and at the sorting table. After soft pressing and destemming of the bunches, alcoholic fermentation takes place by way of natural yeasts in stainless steel tanks at controlled temperatures (ranging around 26-28 degrees Celsius), with frequent pumping overs and délestages to favor the aromatic extraction from the grapes. Malolactic fermentation also takes place in stainless steel vats and the wine ages in French and a small percentage of American oak barriques (fifteen months in 2018). The 2018 vintage in Bolgheri was characterized by rain and cooler weather during parts of the growing season, resulting in longer hang time for the Merlot (that was picked about ten days later than the annual average) though July was very hot, and so was early August. What this translated to was aslightly fresher than usual Guidalberto, that in recent years had become somewhat dominated by a very ripe Merlot presence; in fact, the 2018 Guidalberto still falls in the category of "ripe" wines, and is fleshier and rounder than the 2018 Sassicaia (which is more austere and vibrant), but certainly this is one of the lighter-styled, livelier Guidalbertos in recent memory. Bright ruby in colour, with hints of chocolate and coffee dominating the blackcurrant and herbal nuances on both the nose and in the mouth, the 2018 Guidalberto is superb, boasting at once a plump, ripe personality but noteworthy liveliness and freshness too. Readers might want to take note that Guidalberto ages remarkably well too, becoming more refined and less showy with time. Drinking windw: 2024-2032.