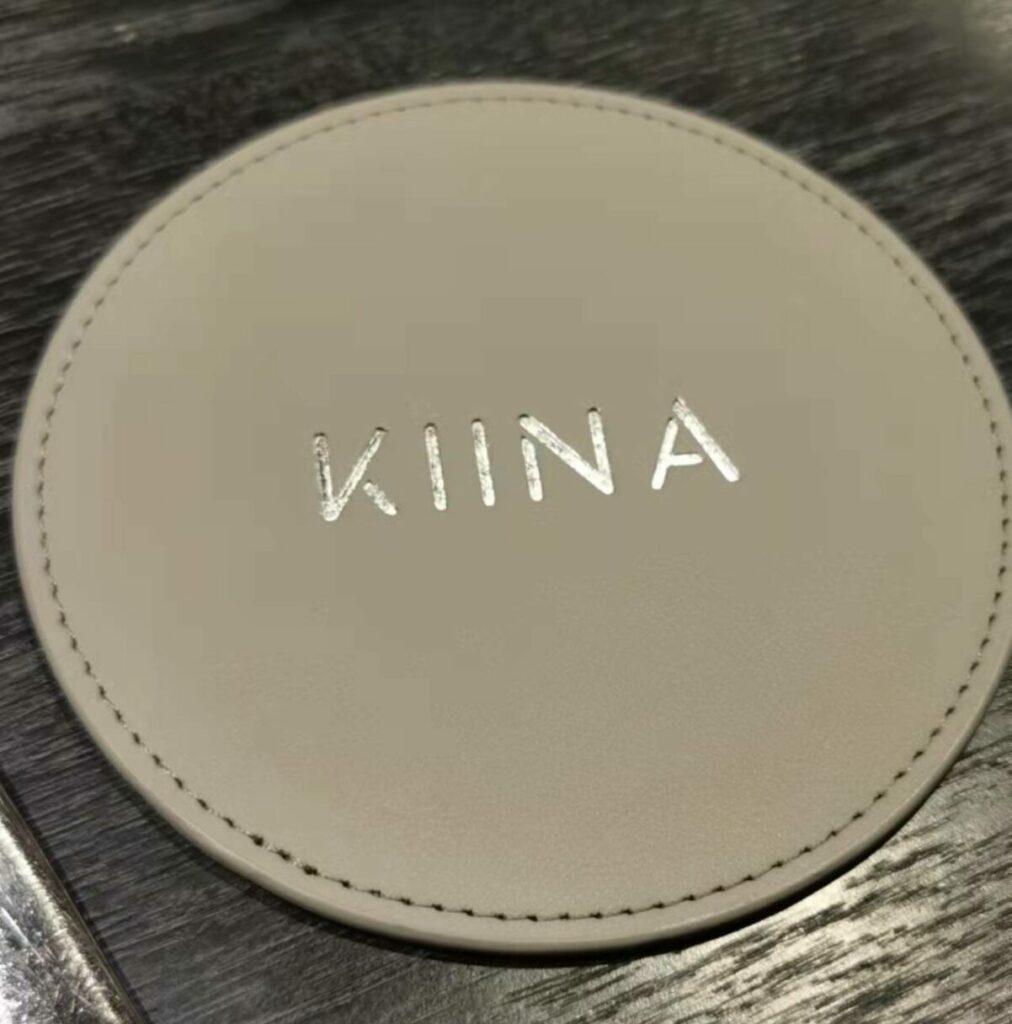 Room 301, 568 Zhongshan South Road,
Huangpu District, Shanghai
Tel. +86 021 63888807
Open only since roughly four months, Kiina is a wonderful new addition to Shanghai's vibrant, ever-bustling and rather hip fine dining scene. Not just wonderful, but interesting too. The name of the restaurant, Kiina, is Nordic language for "China" and therein lies part of the interest in this story: Kiina's raison d'être is the application of Western cuisine principles to the freshest and locally sourced Chinese ingredients; the latter are chosen and sought with an appropriately enough (given the restaurant's name) Nordic-like foraging mentality. The specific locally sourced ingredients used in each dish are clearly listed on the menu. The stated intention is to shine a different light on Chinese ingredients and their potential uses by combining old and traditional cooking methods with the most scientific cooking technologies available today.
Kiina's chef is Zhou Bo (Peter Zhou) who has a long and distinguished career in fine dining. Besides having worked at prestigious dining establishments such as a two Michelin star restaurant in Catalunya, Spain, and the three star Benu in San Francisco, he is an expert on molecular gastronomy and was among the first to bring this type of cuisine to China (and has been Chairman of the Molecular Gastronomy Association of China-Hong Kong). The head Sommelier is likewise talented and passionate: Walter Liu Jia Lun started his career as as Sommelier in the Mandarin Oriental Shanghai and is a past winner of the Young Sommelier Award and second runnerup in the Chinese National Sommelier competition. He has served as a Senior sommelier at Hakkasan Shanghai, then Chief Sommelier at Little Universe, part of an important group of high-end bistros and quality wine bars run by the Little Somm group. The house is run with care and professionalism by Wayne , who has years of experience in guiding the fine dining experience at numerous quality establishments. He has a wonderful working relationship with Walter, and that sort of camaraderie and synergy shows throughout the evening of what is a smoothly efficient meal. The wine list is exceptional indeed, and that won't come as any surprise to those who know Walter Liu Jia Lun, someone I have gotten to know over his previous restaurant experiences and have always been impressed by the passion and competence. For example, Kiina's wine list boasts twenty-five wines by the glass (and good ones too: Jean Collet Chabis Grand Cru Valmur, Georges Vernay Condrieu Coteau de Vernon, Willi Schaefer Graacher Domprobst Riesling Spatlese, and reds such as the CUNE Imperial Gran Reserva and the Colla Barolo Dardi-Le Rose, not to mention the amazing Huet Vouvray Clos de Bourg Moelleux. The by-the-bottle list is excellent too, featuring wine from all over the world, including China. Really well compiled, there's six red wines from Sicily alone (bnot a given in a non-Italian restaurant), and even one from Uruguay.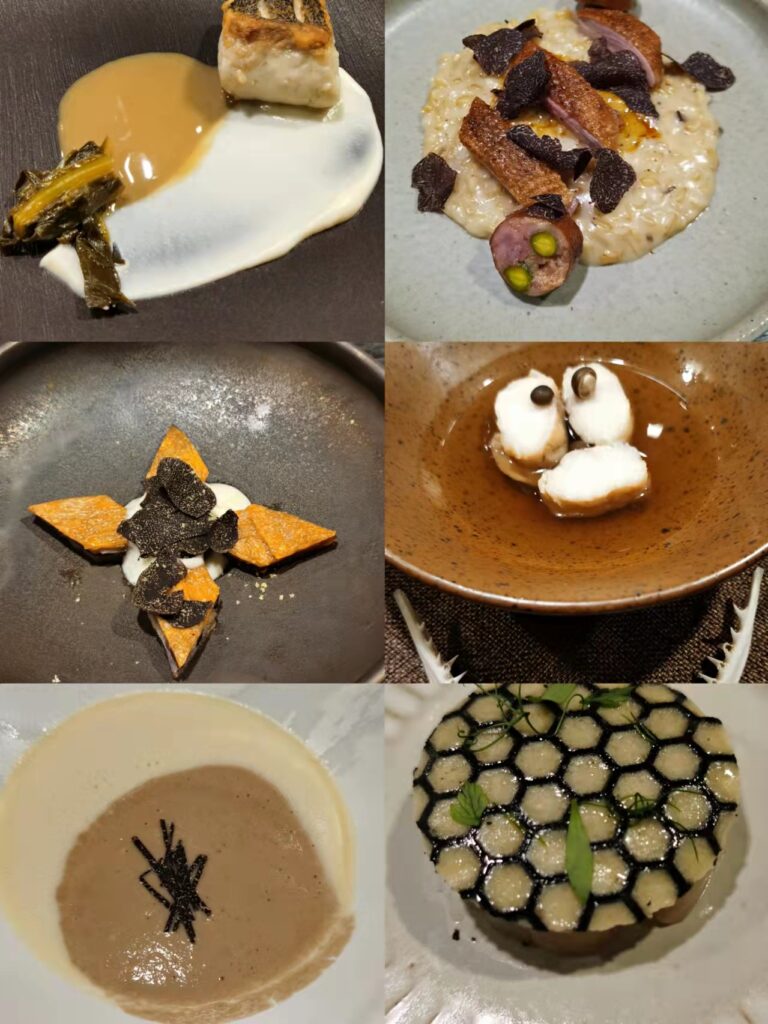 On my most recent night at Kiina I sampled a number of the restaurant's best-known dishes and paired them with a bunch of different wines from Cascina delle Rose, a high quality Barbaresco producer that makes many fine wines characterized by a good deal of refinement to go along with Nebbiolo's well-known power and size. Both the wine and food were wonderful, though the combinations didn't always work to the best effect (as good as Barbaresco is, and it really is, there just isn't a much better wine to go with most Asian cuisines than Riesling or even Sylvaner; and for some regional cuisines such as those of Sichuan and Yunnan, Gewurztraminer). On this night I really enjoyed the black truffle soup, the spectacular Bailu duck and the best dish of the night in my opinion, a smashingly good ox tail dish that could have come straight out of a very serious, competent kitchen in Rome (where preparing oxtail is a way of life, and perhaps even an art form). About the only dish I had trouble understanding, probably through no fault of the chef but due to my own failings, was the sea urchin, where I couldn't really relate to the lack of "sea urchiness" or the lack of typical texture and intense briny-sweet flavour I associate with uni.
Starting off any dinner with a bubbly, be it a Champagne or a Frabnciacorta or Cava is always a good idea, and so it proved once again on this night. There's really not much one can say about Huré Frères that isn't just about wonderful. This small Champagne house located in Ludes in the Montagne de Reims area is as high quality an operation as you'll come across, with one great Champagne after another just waiting to show your taste buds juts how great they are and to make them (and you) buyers. The Huré Frères NV Champagne Mémoire is a blend of roughly 45% Pinot Noir, 45% Pinot Meunier and 10% Chardonnay. A lovely Champagne wth real size and texture, it proved wonderful at the start of the meal as an aperitif but matched very well to most of the dishes in the dinner (and often better than the Barbarescos, that though wonderful wines were not always especially well-suited to the delicate fish and vegetable nuances of Kiina's preparations). However, there was no such problem with the delicious 2020 Cascina delle Rose Nebbiolo Langhe, a very smart entry-point into the marvelous world that is the one of Cascina delle Rose. A baby Barbaresco, it is both juicy and suave, and rather light on its feet despite boasting noteworthy power lurking in the background, but has the refinement and lightness of touch to match non-meat dishes (especially if you take care to chill it just slightly before serving). In fact, it matched very well with the duck liver appetizer and the black truffle soup (the latter matched very well with the Barbarescos too). Certainly, this lovely Nebbiolo Langhe speaks well of the 2020 vintage in Barbaresco, at least at Cascina delle Rose. The 2018 Cascina delle Rose Barbaresco Tre Stelle is a really lovely wine in the moluld of the 2018 vintage, but with above average power and better balance than the 2017 Barbaresco Tre Stelle. The upfront juicy fruit is a delight, and the tannins are very suave. Not likely to be the longest-lived Barbaresco you are ever going to try, but for drinking over the next ten-fifteen years or so, this is just beautiful. Nothing to say but great things about the 2018 Cascina delle Rose Barbaresco Rio Sordo, in which the nobility of the cru is apparent at first sip. Very deep, complex and rich, it showcases lovely rich red cherry and herbal nuances, plus all the harmony and softer Barbaresco qualities of this specific site, one that always gives less powerful wines than say Asili or Rabajà, but often with better balance especially in the first ten-fifteen years of life. The hot and droughty 2017 vintage was not always kind to Barolo and Barbaresco, with many showing gritty tannins and a certain drying finish. That said, Cascina delle Rose's talent is on show here again, with tannins of decent polish providing a nice framework in support of the ripe, almost decadent red fruit and spice flavours. Not as immediately accessible as the 2018 Barbaresco Tre Stelle, and most likely never as much fun to drink even with a little more bottle age, the 2017 Cascina delle Rose Barbaresco Tre Stelle is nonetheless a very serious Barbaresco that punches way above its weight class in a difficult year. It has a ripe, showy personality that some wine drinkers will be smitten with, and that will help them forget about the slightly tough tannins. Last but certainly not least, the 2017 Cascina delle Rose Barbaresco Rio Sordo is a rather massive wine by this cru's and estate's standards, but offers the depth and richness to offset any concerns that the droughty year might have brought on. It ahs lovely acidity that nicely extends Nebbiolo's typical aromas and flavours of red cherry, violet, rose and sweet spices on a long finish of noteworthy complexity. Overall, this was a very good showing for Cascina delle Rose, a small Barbaresco producer that might not be very well-known to the masses, but that is one of thee surest bets in the whole denomination: essentially, I can't say I have ever had a bad wine from this winery, and based on experience alone, I can almost virtually guarantee that the 2019 wines will likely be even more impressive than the 2018s and 2017s.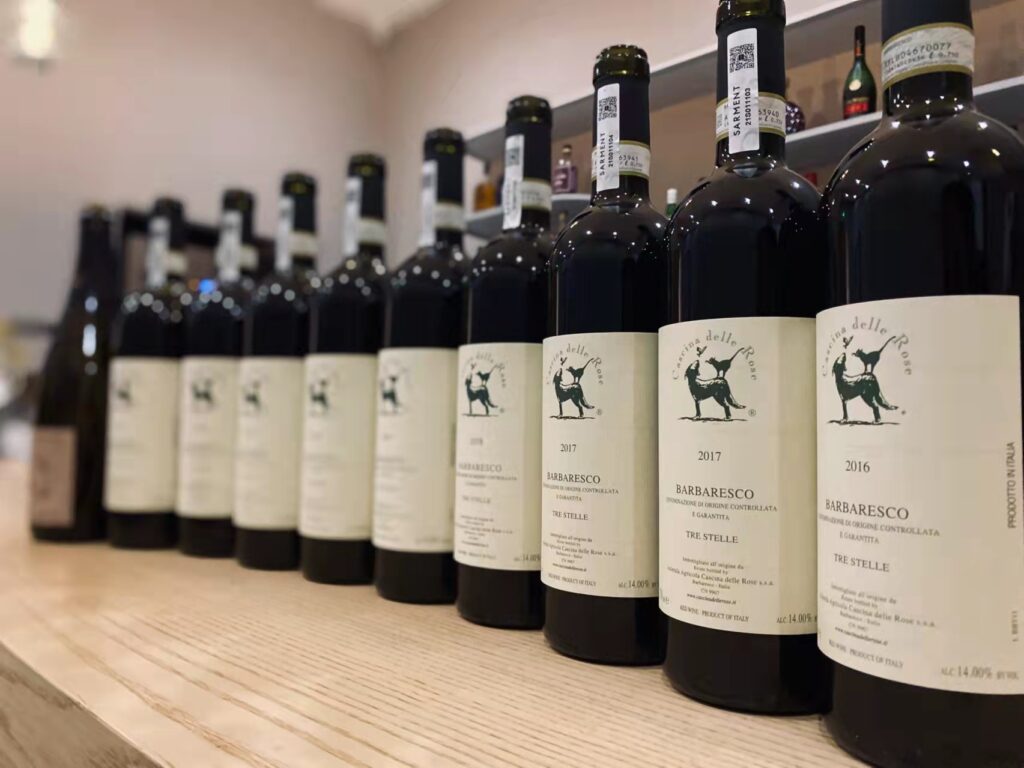 Overall, I had a wonderful evening at Kiina, meeting old and new friends and enjoying both the food and the wines. Undoubtedly, it proved a successful dining experience, with most of the dishes resonating and the wines holding up to them with flair, something that I might not have imagined at first, in looking at the list of ingredients that I and everyone else might have expected to clash with Nebbiolo wines. And yet, for the most part, wines and food made out well. Molecular gastronomy is a tricky business. Those who are truly talented, such as chef Ettore Bocchia in Italy or chef Peter here at Kiina in Shanghai, can pull it off without any problem whatsoever. Others try hard at serving you every amorphous mass they can think of, but their panoply of foams, deconstructions and reductions are ultimately all too often utterly tasteless and boring. And the foraging part of this new-wave, apparently forward-thinking, and very modern but ultimately all-too faddish cooking equation is of interest only if it makes sense: I for one am not amongst those who enjoy paying an arm and a leg to eat ants or locusts, at least not in a starred establishment in the middle of a cosmopolitan city (when I am on vacation in the wild, it may be another matter. But even then, sorry, I still don't wish to pay multi-starred establishment prices for the privilege of eating insects). In fact, at Kiina, modern cooking techniques are applied judiciously, and nothing is done for the sake of its own sake: dishes have textures and recognizable for what they are supposed to be (for example, a piece of fish that actually looks like a piece of fish). At Kiina, there is a sense of respect and awareness, awe even, of the past, but while looking to power forward in new and innovative ways that are rooted in logic and actual good taste.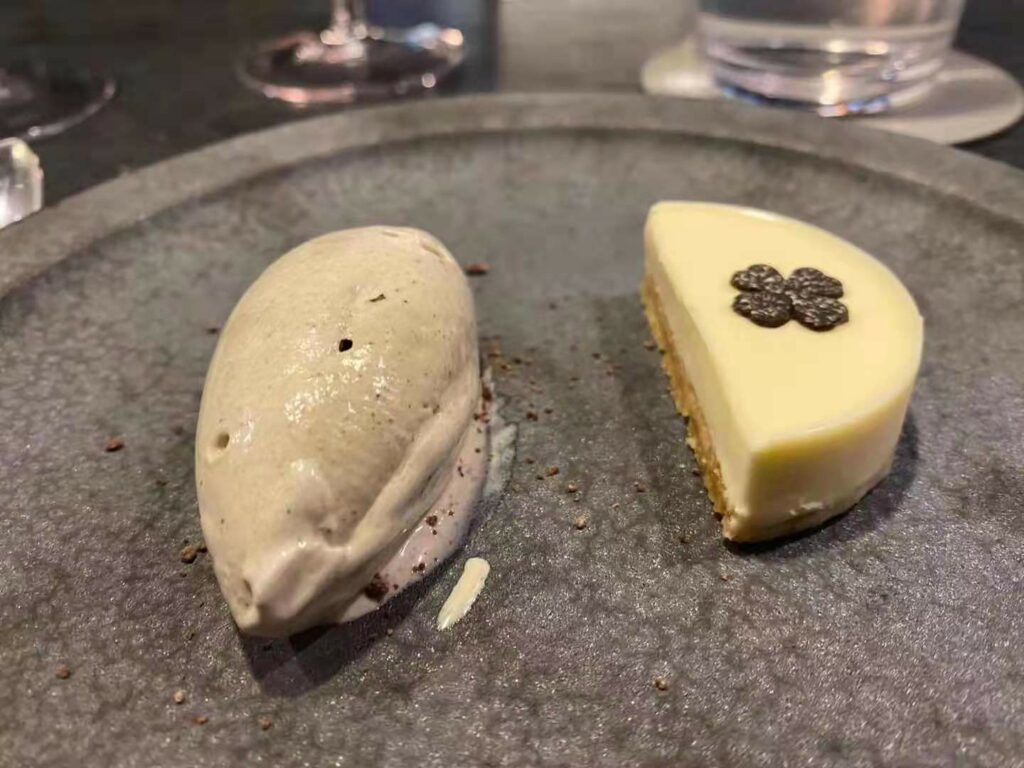 For the reality is that fine dining rests on a few unshakeable, unmoving, cardinal foundation pieces: if there's something truly memorable to take back home from the dining experience, all the better, but it is not an absolute necessity. What counts is the quality of the food, wine and service; the décor and ambience; and the cleanliness of the place (bathrooms included, that cannot and should not look like war zones by evening's end). The last thing any truly successful restaurant should want is making you feel like you were ripped off or that you wasted your time and money on someone having fun showing you just how creative he or she are, forgetting that creativity for creativity's sake fatefully means, always, that in ultimate analysis, they're the only people having any fun with the food. Thankfully, such sad considerations do not apply to Kiina, where everything is clean, precise, thoughtful and refined, and where you will have just as much fun as those working there.
The dishes
Amuse bouches
Truffle tart (and black truffle, celeriac, Shimeji mushroom: Main ingredient production place: Sichuan, Jangsu, Yunnan)
Hairy Crab (and kohirabi, basil from: Jiangsu, Shandong)
Black garlic (and lettuce, razor clam from: Shanghai, Shandong)
Appetizer
Scallop (and black truffle, eggplant, fennel, green mango from: Sichuan, Dalian, Guangxi, Panzhihua)
Duck liver (and Longji chili, zucchini from: Beijing, Guilin)
Sea urchin (and potato, onion from: Dalian, Gansu)
Soup&bread
Black truffle (and mushroom from: Sichuan, Yunnan)
Main courses
Monkfish (and sturgeon mushroom sauce from: Bohai bay, Yunnan)
Vegetables tart (and black truffle, roots from: Sichuan, Jiangsu, Shandong)
Fish from south ocean (and fermented vegetsables, cauliflower, fish bone soup from: South ocean China, Jiangsu)
Bailu duck (and black truffle, green wheat kernel, duck neck sausage from: Fujian, Sichuan, Gansu)
Ox tail (and sweet potato, "baozi" from: Neimenggu, Shanghai)
Dessert
Black truffle (and rice wine from: Sichuan, Fujian)
Pumpkin (and pumpkin seed powder, pumkin cake, pumpkin ice cream from: Shanghai)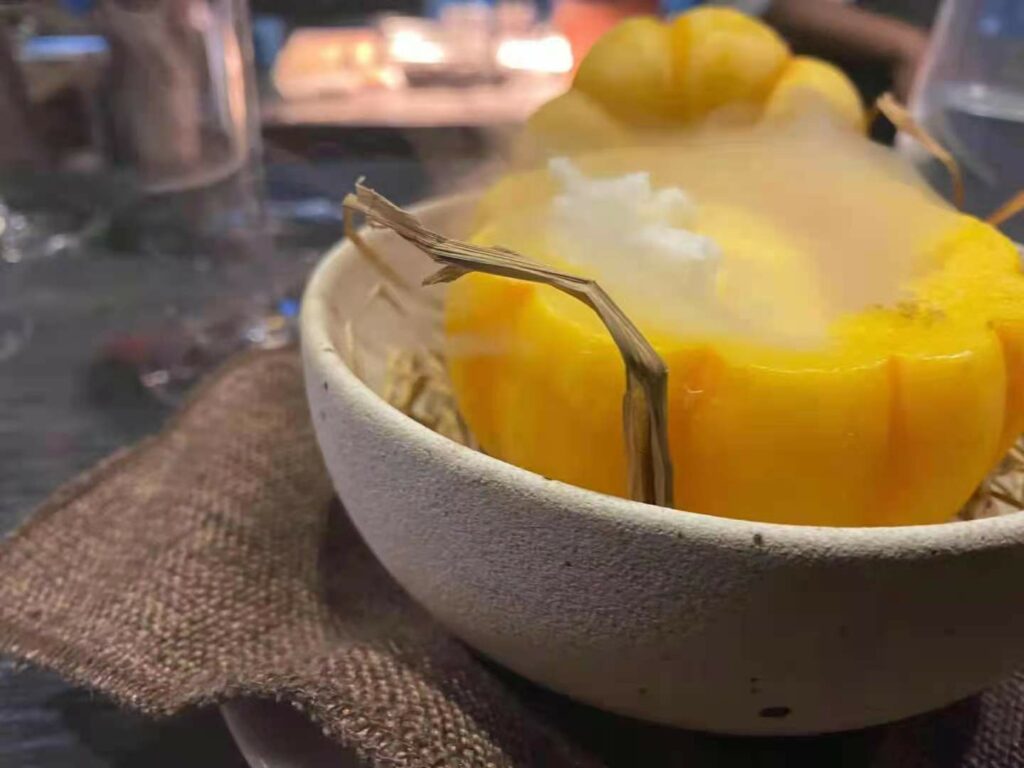 Petits fours
The wines
Huré Frères NV Champagne Mémoire                                    93
Cascina delle Rose 2020 Nebbiolo Langhe                                     91
Cascina delle Rose 2018 Barbaresco Tre Stelle                              93
Cascina delle Rose 2018 Barbaresco Rio Sordo                             94
Cascina delle Rose 2017 Barbaresco Tre Stelle                              91
Cascina delle Rose 2017 Barbaresco Rio Sordo                             93