Domaine Georges Noellat 2018 Vosne Romanée 1er Cru les Beaux Monts                95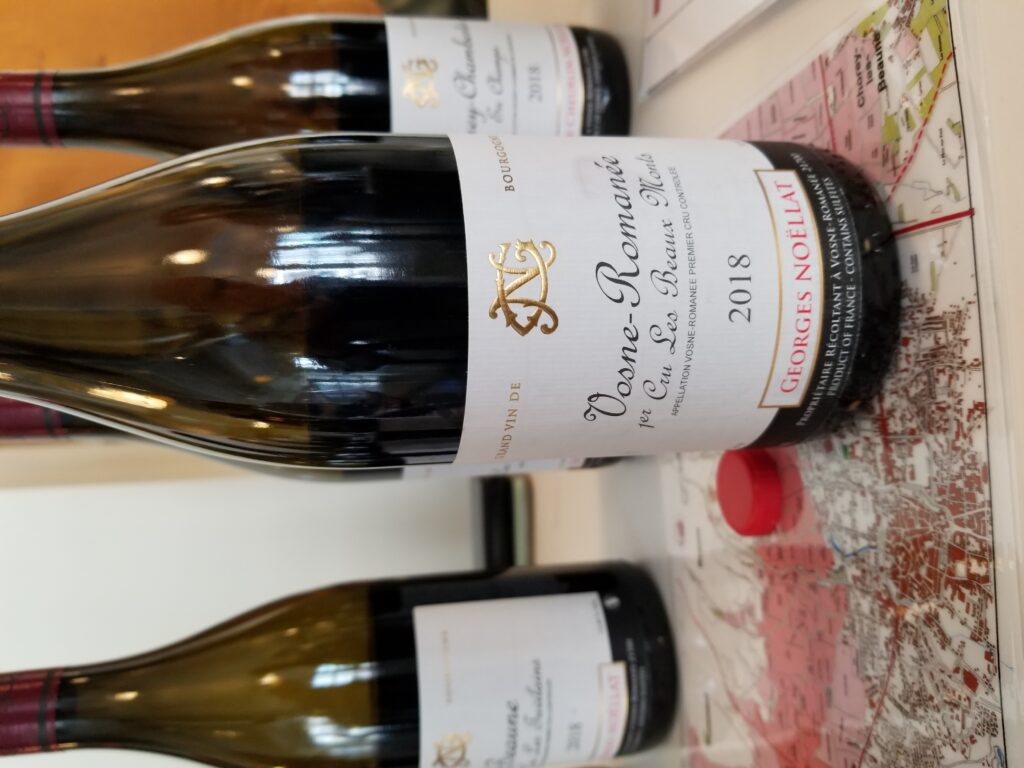 I recently had the opportunity to taste many of the 2018 Burgundies made by Maxime Cheurlin who took over the reins at Domaine Georges Noellat in 2010. His grandmother bequeathed the roughly six hectares estate to him at the ripe old age of twenty. He is related by a circuitous path to the Jayer family whose most famous member, Henri Jayer, made some of the greatest Vosne Romanées since 1945. Maxime has added an additional 4.45 hectares to his holdings, rents another 0.8 hectares and buys fruit from several growers whose vineyard practices he admires. I met him about six years again when he was already being spoken of at the next great vigneron in Burgundy. One might expect flamboyant, rich, intense wines from a talented young man. The truth as was confirmed by the 2018s—a very ripe vintage, suitable to over-the-top wines—is that he makes wines or remarkable delicacy and finesse. Allen Meadows of The Burghound describes his Burgundies "as impressively crafted wines that emphasize purity of fruit and refinement."
When you taste through nine red Burgundies, ranging from a humble yet delightful Haute Côtes de Nuits all the way to a simply brilliant Vosne Romanée Premier Cru Les Beaux Monts, you get a clear picture of the intentions and accomplishments of the wine maker in question. Even the color of the wines is lighter than that of many other growers. The clarity in appearance portends precision of flavors and textures. Every wine spoke its own vinous dialect so to speak. The constant was fragrance and balletic energy. In keeping with his goal of seeking finesse, Maxime rarely does any pumping over of the fermenting juice. He likes new oak for the best cuvees. Aging is 14-18 months. He lets each wine develop itself.
It was difficult for me to single out one wine as the exemplar of Maxime Cheurlin's work. I chose the Beaux Monts because it is perhaps the best version of the wine from this large, steeply slopped vineyard I have tasted since I tasted the 1999 Domaine Leroy Beaux Monts. In my experience, the wines from Les Beaux Monts can seem pedestrian in comparison with such Premier Crus as Petite Monts, Les Suchots and Aux Reignots. Not here!  I was first struck by the gorgeous spice and bright red fruits in the nose. Terroir translated into floral brilliance. On the palate there is an interplay of "Asian" spices, sweet cherry and raspberry flavors, all enlivened by the freshest acidity imaginable in a red wine. Tannins support the wine—all but invisible even in such a young wine. One might be tempted to drink this beauty young. I would wait for its second life to emerge, and keep in mind I think this beauty will drink beautifully for another twenty years. The wine lighted up my day. Alas the Georges Noellat wines are in great demand and are expensive. They are worth it. Drinking window: 2026-2040
Clusel-Roche 2018 Côte-Rôtie Les Schists                                        93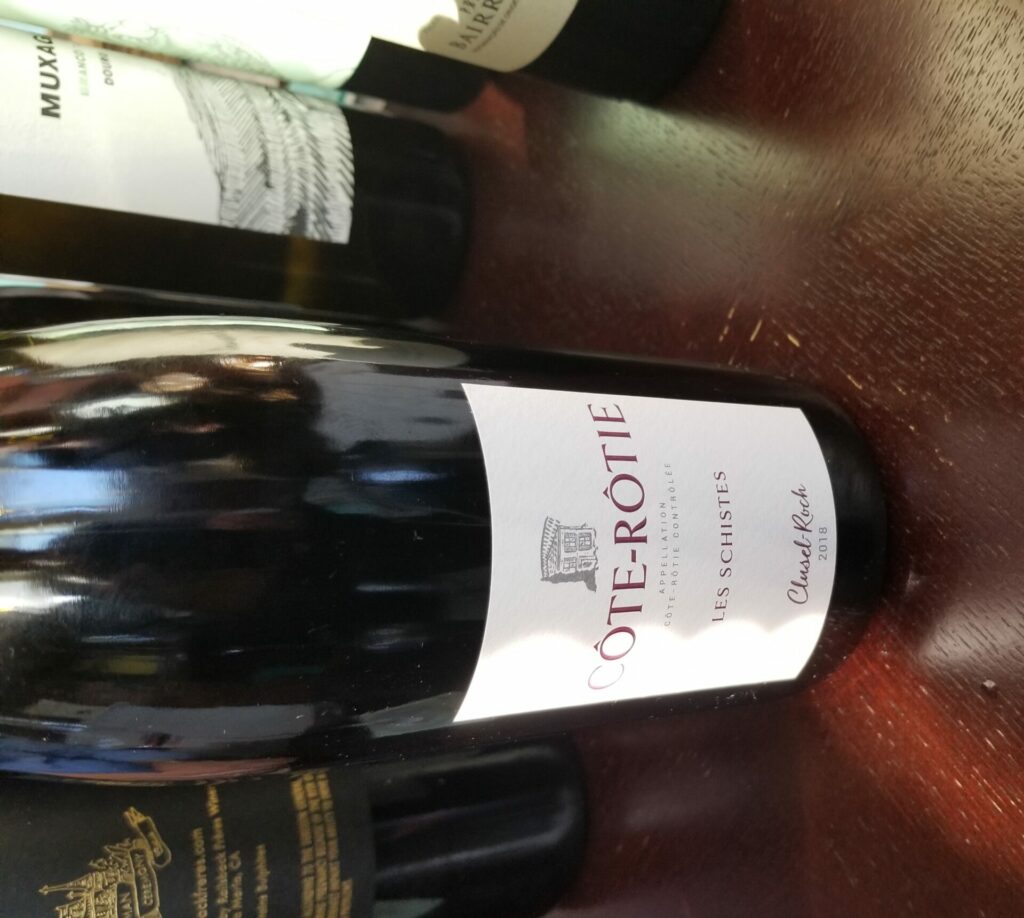 There are wines which by their very nature are demanding. From my experience I will say that Barolos and Côte-Rôties are wines which are never just opened on the spur of the moment in a pop-and-pour expectation of immediate palate comforting pleasure. There are dozens of red wines which fit that important bill. It is the very nature of Nebbiolo and Syrah—the Syrah from Côte-Rôtie in particular– to produce wines which are a real challenge even to the experienced taster: High levels of tannin and acidity act as a sort of chastity belt on the palate. You have to wait for this resistance to give way and allow the beauty hidden behind the structure to emerge. As a rule of thumb, ten full years of bottle aging is all but obligatory both for Cru Barolo and lieu-dit Côte-Rôtie. Of course, global warming has mitigated this severity to some extent. Still, it is almost always best to allow Barolo and Côte-Rôtie to age in your cellar. There is always plenty of wine around to drink tonight.
A visit to the Côte-Rôtie region is already a significant clue as to what the wines will be like: The very steep, gnarly hills are quite blunt and in your face. Context is always important in understanding wine geography. Unlike even the steepest vineyards of Barolo which are situated in beautiful rolling hills undulating over the landscape or the succession of very steep yet very long vineyards of the Mosel, the Côte-Rôtie region is harshly in your face, with a strikingly limited vertical ascent. Steep and short. There is very little mitigating beauty around Côte-Rôtie. The Romans must have regarded this particular area as a real challenge. Yet for all the forbidding geography there is hidden beauty. Like good Barolo, good Côte-Rôtie, even early in its life often produces a haunting aroma unlike anything else in the world of wine. A pungent, even exotic scent of tobacco, cassis, leather, black pepper and something wild and untamed. Barolo tends towards the autumnal, Côte-Rôtie to mid-summer. Rôtie means after all, roasted. One rarely finds the wildly floral scent of a Côte-Rôtie anywhere else in the Northern Rhone let alone in Australia or America.
This leads me to a wonderful Côte-Rôtie I tasted recently: The 2018 Clusel-Roche Côte-Rôtie Les Schists. This tiny estate of merely 9.5 acres makes 4 Côte-Rôties, one Condrieu and two regional wines. Their top wine is from the outstanding Grande Place vineyard, one of Côte-Rôtie's unofficial Grand Crus. Established in 1935, Clusel-Roche is run by Gilbert and Brigit Clusel with their son Guillaume. The estate has been run organically since 1990 well before that was anything like the practice in the Rhone. Most of the vines are planted to the original tiny-berry version of Syrah called Serine. The family uses an old vertical press the virtues of which as an ideal extractor have been re-discovered in the Rhone and Beaujolais. The Côte-Rôties are aged for about 2 years in older and new Burgundy barrels. The wine I tasted, Les Schicts, sees only 15% new oak. The wine is a blend from lieu-dits of "Viallière", "Champon", and "le Plomb." The soils are ferrous mica schist.
Of the many producers of Côte-Rôtie with whom I have experience, those from Clusel-Roche allow the taster to experience fruit and terroir at an early age in a most attractive manner. Terroir and fruit do not self-translate. The Clusels appear to have the kind of palates and skills which have enabled them to conquer the forbidding aspect of Côte-Rôtie without suppressing the underlying power. The 2018 Schists demonstrates that magical touch which separates the Clusel-Roche wines from most other growers in the region: The lovely aroma of wild flowers, dark berry spiciness and the right accent of new leather is followed by a wine of detailed texture which fills the mouth with minerals, dark fruits and gentle tannins. This is a most charming Côte-Rôtie. This is a descriptor I do not often use in connection with Northern Rhones. It certainly fits this lovely wine. Drinking window:  2023-2033