Louis Jadot 1985 Bonnes Mares                                    98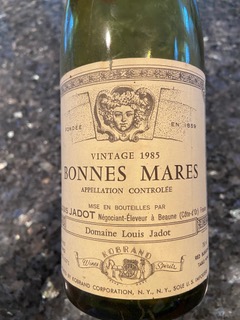 Chambolle-Musigny is home to two grand cru vineyards: Musigny, whose name was appended to the village's original name in the nineteenth century, and Bonnes Mares (the latter name is almost always written with a hyphen between the words Bonnes and Mares, but at Louis Jadot they prefer the spelling without it, as you can see from the photo of this wine's label). A decade ago, François Millet, long time winemaker at Comte de Vogüé, compared the two wines while we were tasting them in the cellar: "Bonnes Mares grabs you, while Musigny gently takes you by the hand to lead you." Less poetically, Bonnes Mares is more muscular and powerful, displaying more black fruit compared to the more red-fruited and floral Musigny. Though expensive like all Burgundy grand crus, Bonnes Mares is, dare I say, a bargain compared to Musigny, which usually sells for at least twice the price. Indeed, Bonnes Mares is occasionally less expensive even than Chambolle's most famous premier cru, Les Amoureuses, which abuts Musigny.
Bonnes Mares, one of Burgundy's thirty-three grand cru vineyards, is unique. It's the only Côte de Nuits grand cru that spans two villages, Chambolle-Musigny and Morey-St. Denis.  The vineyard faces east and lies on a slope that ranges in elevation from 250 to 280 meters above sea level. Ninety percent of its 15.06 hectares lie in Chambolle, while the remainder extends into Morey. Most of the roughly twenty-five producers have vines in both villages though Domaine Fougeray de Beauclair makes a Bonnes Mares exclusively from its vines in Morey-St. Denis. Some could argue Bonnes Mares should have two appellations, based not on the village boundaries but rather based on its different soil compositions: About one-third of the vineyard has white soil, while the remainder has a darker soil. A diagonal line that runs from the northeast corner of the vineyard to the border with the premier cru Les Fuées on the southwest demarcates these two basic soil types, with the white soil lying at the top of the slope. Importantly, Domaine Louis Jadot has a long narrow strip of vineyard that goes from the base to the top of the slope, encompassing both soil types. The Jadot holding of 0.27 hectares in Bonnes Mares dates back to 1985 at the time of its acquisition of the Clair-Daü estate. As part of that acquisition, Jadot also acquired plots in Chambertin Clos de Bèze, Chapelle-Chambertin, Musigny, Les Amoureuses, and Clos Vougeot, making it the most significant transfer of top vineyards in modern Burgundy history. In fact, Maison Louis Jadot bottled Bonnes Mares as a négociant prior to 1985, but the 1985 is the first vintage of Bonnes Mares bottled under the Domaine Louis Jadot label (estate-owned vineyards).
Domaine Louis Jadot's 1985 Bonnes Mares is quintessential Burgundy, what I call "flavor without weight." Explosive mineral-like dark flavors appear while the wine dances on the palate, light as a feather. Even at thirty-five years of age, it remains fresh, continuing to evolve in the glass throughout the meal. Each sip brings new delight. The seductive texture of Chambolle speaks loud and clear as its prominent tannic structure of youth has melted away. There's a grandeur to this wine. What a way to be grabbed! Drink now and over the next decade.