Lanson 2000 Champagne Noble Cuvée             94
Hervé Dantan is only the third winemaker or chef de cave at Lanson in the last fifty years. He has held this prestigious post for eight years now (since July 15, 2013), after having compiled work experiences at Gloria Ferrer in California and then Mailly (where he was also chef de cave for twenty-two years). Dantan himself recognizes that he was lucky to join Lanson when he did, as the house had experienced years of turmoil before his arrival: in fact, Lanson had lost its prime vineyards after being acquired by LVMH in 1991 (the latter kept 210 hectares of excellently-situated vineyards before selling Lanson off less than six months after having bought it). Today Lanson is part of the Lanson-BCC group and boasts an excellent array of new vineyards from which to source grapes once again, having patiently and judiciously rebuilt its vineyard portfolio (Lanson now owns vineyards in much the same areas as before LVMH's arrival). Over the years, the tasting room and cuverie have been redone; and plot by plot vinification and increasing the reserve wines are also new measures implemented. Most notably, Dantan has relented on Lanson's traditional anti-malolactic stance: prior to his arrival, the house never wavered from the style created by his predecessors Bernard Gasco and Jean-Paul Gandon, one that eschewed malolactic transformation in order to maintain freshness and crispness (or the vitalité of the French), not to mention ageworthiness (although it's only the non-vintage wines that might see up to 25% of the malo done: it is still not done for the vintage wines).
The 2000 Champagne Noble Cuvée Brut is a 70% Pinot Noir and 30% Chardonnay blend, made with grapes picked in grand cru vineyards. It boasts a pretty steady stream of small bubbles, but most of all a real blast of vanilla on the nose, along with hints of pear dried peach and apricot, yellow melon, with hazelnut and iodine nuances emerging with aeration. Then offers a luscious mouthfeel with a savory herbal note that emerges on the long citrus-accented very suave, mellow finish. This ripe, perfumed Champagne enters bigger and broader than it finishes, and is big enough to stand up to (rather easily) to white meat dishes as well as the usual panoply of shellfish and fish dishes one might pair it with. It is splendidly rich and yet light on its feet Champagne that costs a fraction of the price of many more famous but often less satisfying vintage Champagnes. Drinking window: 2025-2032.
Erath 2017 Pinot Gris Willamette Valley Oregon        91
I first visited Erath winery in 1992, and have always been a big fan of the estate's wines. Clearly, this Oregon address has always been best known for its Pinot Noir wines, but I think that Erath has long had a very fine hand with white grapes too. Located in the Dundee Hills American Viticultural Area (AVA) of Oregon, one of the greatest wine terroirs in all the USA, Erath has to be credited and remembered as one of the original Oregon's quality wine estates. Founder Dick Erath, whom I first met at the International Pinot Noir Celebration held in McMinville, actually begun making wine in California in 1965, only to relocate to Oregon in 1968 (premium wine production was launched in 1972, and the winery building was built in 1976). After decades of success, he sold the estate to Ste.Michelle Wine Estates in 2006, but quality at Erath remains just as high as it was under him (this despite a huge increase in production volume, but Ste.Michelle is especially adept at producing large volumes of fine wine and wine lovers know that even its entry level wines are often remarkably good buys).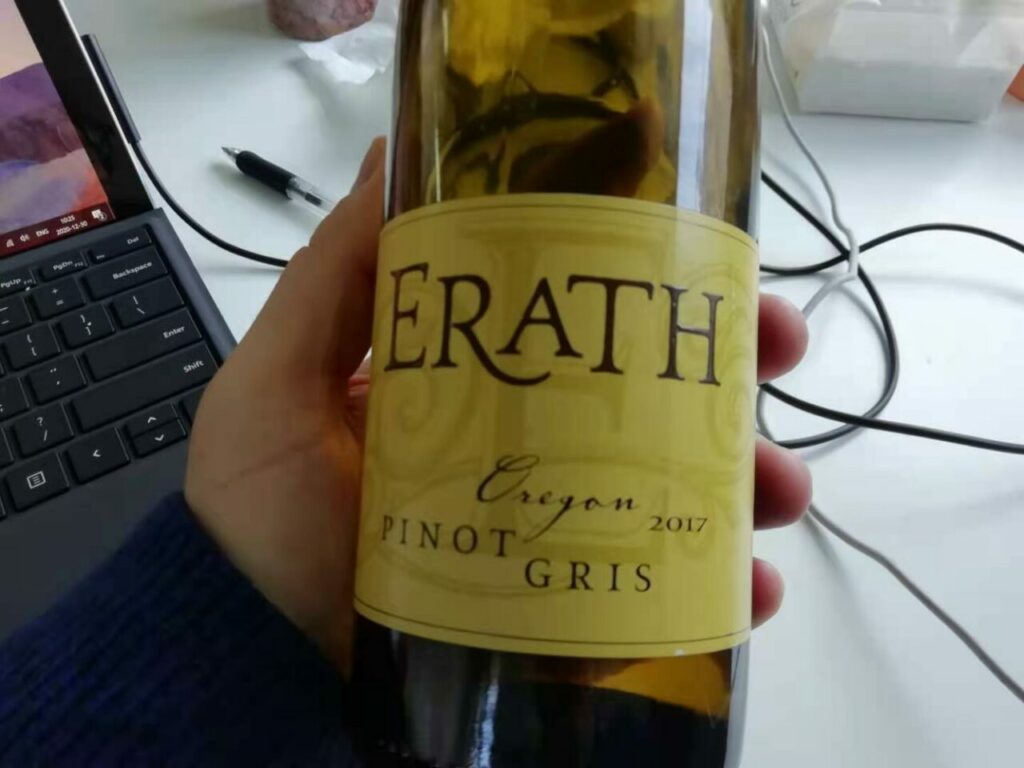 The Erath 2017 Pinot Gris Willamette Valley Oregon is a case in point. Bright straw in colour, the nose offers an explosion of Anjou pear, green apple, and honeydew melon aromas, complemented by hints of Key lime jelly and fresh herbs. Then bright and juicy in the mouth too, with lively acidity lifting and extending the crisp fruity and honeyed flavours of apple and pear on the long juicy and suave finish. Not the last word in complexity, but a lovely, very well-balanced wine that punches way above its weight class, it is, quite simply, just absolutely delicious. It will make anyone longing for their usual Chardonnay fix think twice next time they hit their favourite wine store, and so it should. Well done! Drinking window: now-2022.