2017 Sanzay Saumur Champigny Les Poyeux                     92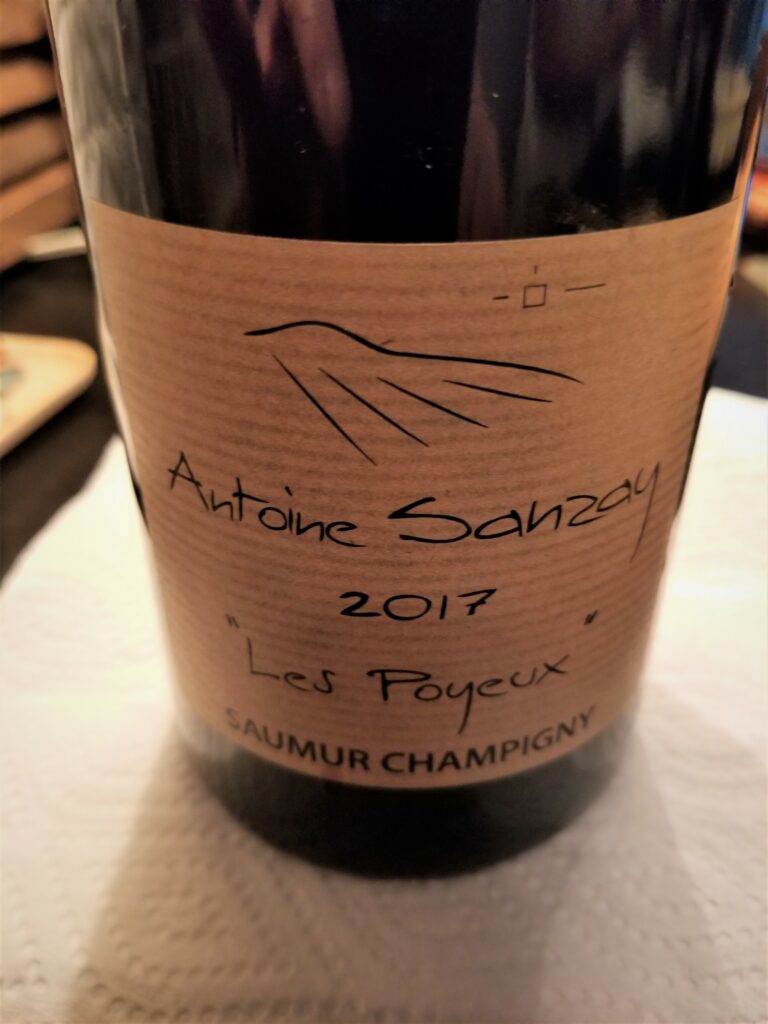 Hardly a household name even among Loire aficionados, Antoine Sanzay has been quietly transforming his father's estate since taking over full control in 2002 as a very young man. It took him ten years to end older contracts to sell the fruit to others so that he could finally concentrate on estate bottling. He was fortunate enough to have two neighbors of outstanding reputation to help achieve autonomy: The cult estate Clos Rougeard, and Theirry Germain's Les Roche Neuves. Antoine has 26 acres and is always looking to add small plots to his growing stable of Cabernet Franc wines. He currently offers four reds and small amounts of Chenin Blanc wine. His top wine is the Les Poyeux, one of the most highly regarded vineyard sites in all Saumur. He is fortunate enough to own slightly more than four hectares of this grand cru quality site. The terroir is a mixture of sandstone and limestone, and is also characterized by being a very windy one. The Sanzay holdings were planted in 1965 and the old vines always ensure the grapes  achieve full ripeness. The 2011 vintage was Sanzay's first commercial release of the Poyeux.  Production ranges from as few as 7000 bottles (2017) to as many as 18,000 in a "normal" vintage. I use quotations marks because normal has all but vanished from the Loire in the past decade. Sanzay farms organically, keeps yields in the 40-45 hectos/hectare range, and uses a wide range of aging vessels, but new oak is never part of the regime. Sanzay favors a relatively long maceration of thirty days. Aging for the Poyeux is 15 months followed by 6 months in tank before bottling, and Sanzay never fines or filters his wines. Sulfur addition before bottling is minimal.
I had previously tasted several vintages of Sanzay's basic Saumur Champigny—usually a blend of the younger vines from his several sites. This was my first encounter with the Poyeux. I decided to taste the wine over a twelve hour+ period to experience the effects of aeration and my adaptation to the wine. Spot judgments are important but never definitive. I will admit that I find pure Cabernet Franc wines challenging. In Bordeaux it is never stand-alone—for good reasons. Until the recent warming trends, the majority of Loire Cabernet Francs almost invariably exhibited a green, vegetal taste which can be off-putting. Under-ripe fruit almost invariably elicits palate rejection. It is much easier to cope with in white wines-where it can even be attractive at times. The vegetal days are largely gone in Saumur.
Acidity defines the essence of good Cabernet Franc. Decidedly less tannic and lighter on its feet than its child Cabernet Sauvignon (Cabernet Franc is the older of the two varieties and is the parent of Cabernet Sauvignon: see Ian D'Agata's upcoming huge two part series focusing on Cabernet Franc and its wines from all over the world here in TerroirSense), Cabernet Franc lights up the palate, but rarely caresses it. Sanzay's Poyeux's permeates the palate with dark cherry, unsweetened cocoa powder and a suggestion of bitter herbs: A little bitterness is a fine counterpoint to ripe fruit. Importantly, the fluid acidity keeps everything moving and alive and this will age well: Drink this beauty now through 2026. But here is the best news, from my perspective: I liked the wine increasingly over the twelve hours of tasting: Adaptation is important for many red wines. My palate said: "Yes, keep tasting." I believe that yours will as well. As far as food pairings might go, good Saumur Champigny needs food with some fat to challenge the acidity: Beef and lamb do just fine with a good Cab Franc wines, and their high acidity makes them excellent partners to creamy cheeses. A final point: the wine is vibrantly alive. It will surely maintain ten years of useful life. But I see no good reason to wait. Just allow your taste buds to get used to this fine wine—as I did.